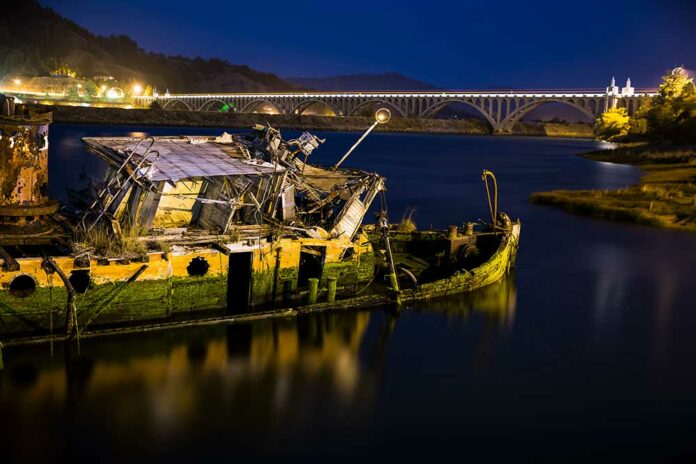 Gold Beach, Oregon, is the gem of the Pacific Northwest, offering a temperate climate ideal for beachgoers and adventure seekers alike. Its location as the meeting point of the Pacific Ocean and the mouth of one of Oregon's most famous wild rivers, the Rogue, Gold Beach, about an hour south of Bandon, provides a unique vacation spot for those seeking old-world charm with a modern twist.
The History Of Gold Beach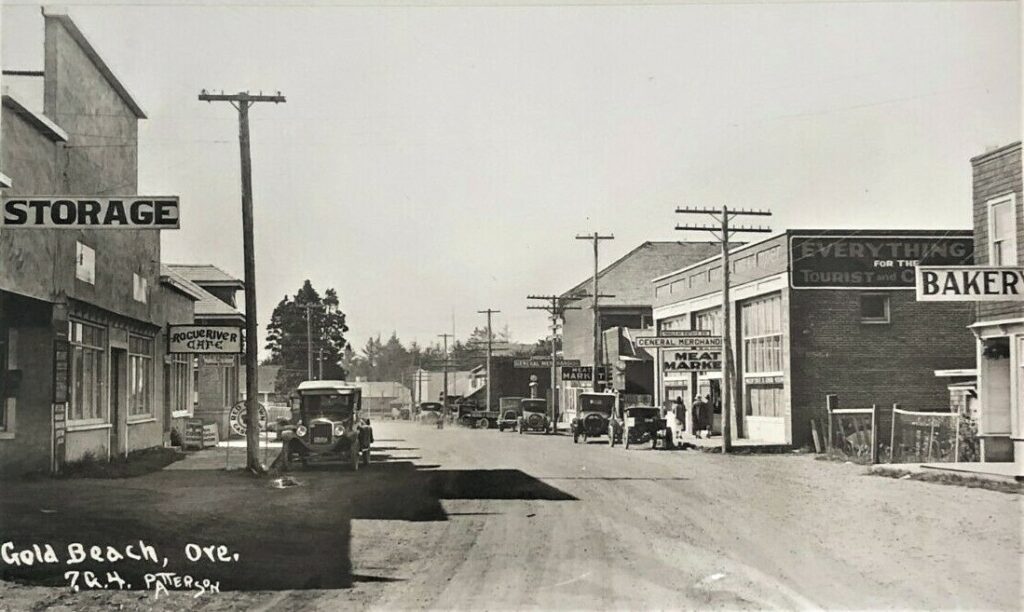 Gold Beach began as a small coastal settlement where minors in search of fortune panned for, you guessed it, gold. Originally named Ellensburg after Ellen Tichenor, the sea captain who notably founded the neighboring city of Port Orford, the discovery of gold on the shores of the Rogue River would draw settlers from across the nation. However, facing many hardships, including battles with local Native Americans and waning gold deposits, the settlers began turning to other industries, finding success with Salmon fishing and canneries.
Gold Beach thrived as a commercial fishing hub for nearly a century until 1935, when over-fishing took its toll, and the Rogue River was closed to all but sport fishermen. As a result, timber harvesting grew in popularity, quickly becoming the city's largest industry, until the inevitable effects of over-harvesting took its toll. In 1986, Gold Beach's last timber mill closed, marking a new era for this picturesque city.
Gold Beach, Oregon Today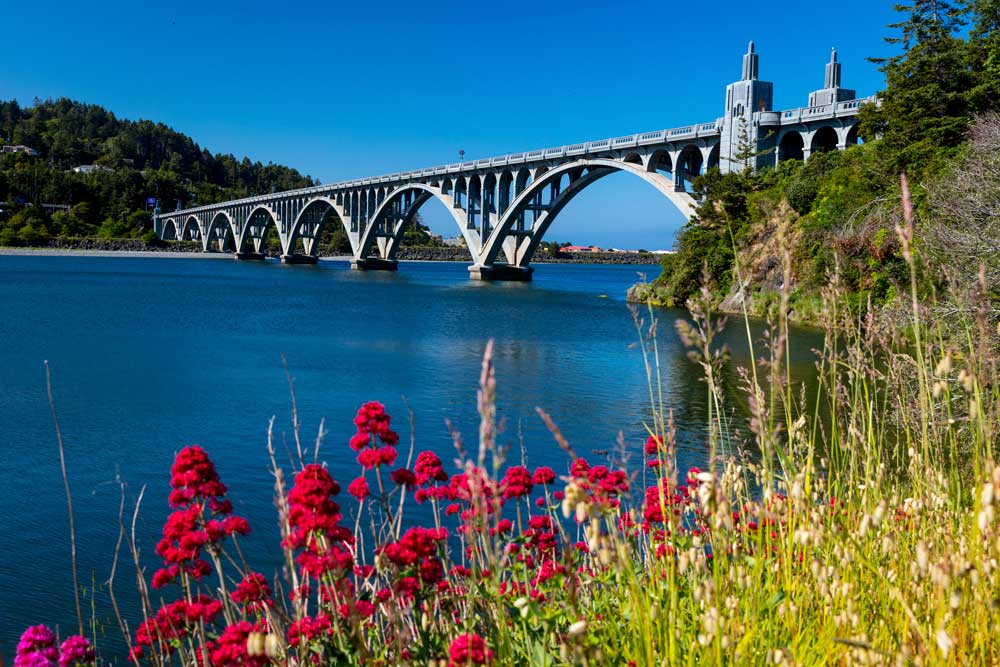 While its role as an industrial town came to a close, the stunning natural resources of the area drew tourists from around the globe. From the miles of sandy beaches to the dense national forests, thrill seekers and outdoor enthusiasts flock to Gold Beach to experience the one-of-a-kind adventures and family-friendly activities that are the backbone of this unique city. Year-round festivals like the Rogue River Salmon Derby Competition, Curry County Fair, and Bike the Rogue, along with delicious restaurants, historical museums, and quaint local shops, ensure Gold Beach, Oregon, remains one of the state's most beloved treasures among locals and tourists alike.
Things to Do In Gold Beach, Oregon
The Oregon Coast offers endless activities for those who enjoy the outdoors, and Gold Beach is no exception. There are so many exciting things to do and see you'll wonder why you didn't visit sooner. Whether you're exploring on your own or with the family, there's something for everyone in Gold Beach!
Sign up for monthly emails full of local travel inspiration and fun trip ideas. In each newsletter we'll share upcoming events, new things to do, hot dining spots and great travel ideas.
Gold Beach, Oregon Restaurants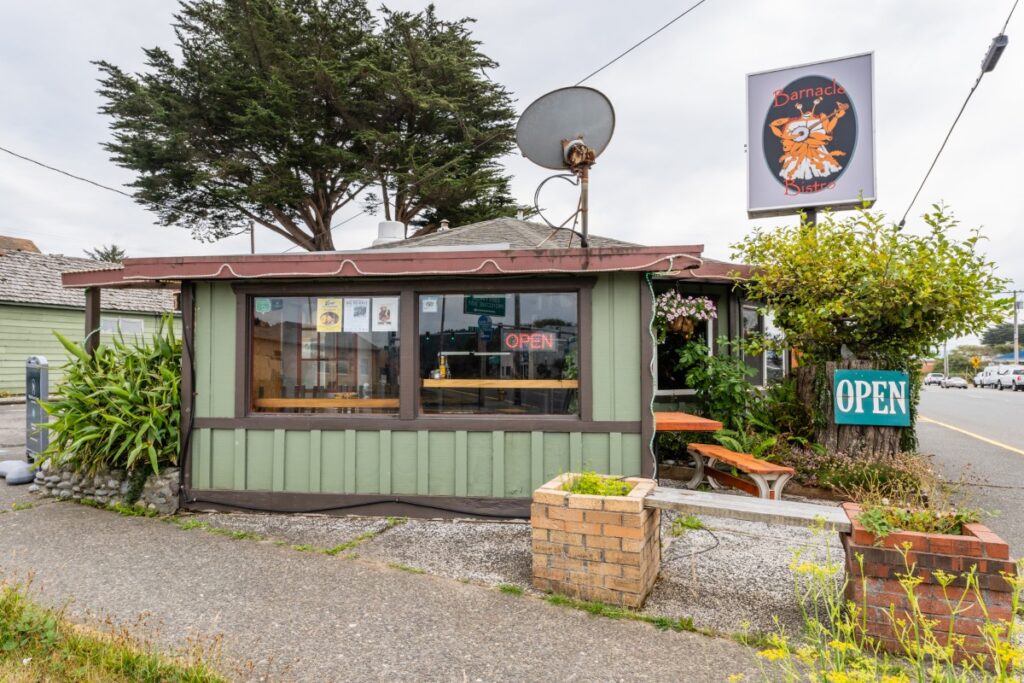 If you're craving delicious seafood, you have to check out Barnacle Bistro. This unassuming restaurant may not look like much from the outside, but it sources the highest quality locally grown and caught ingredients, making it a favorite among foodies and locals. Virtually every menu item is made from scratch, and with the fully stocked bar, you're sure to have a meal you'll never forget.
Take a look at the Barnacle Bistro's menu here.
If you love barbeque, head on over to the local favorite, mouthwatering Gold Beach BBQ. With an authentic small-town, mom-and-pop feel featuring nostalgic red checkered tablecloths and friendly staff, you're in for a treat at this fuss-free restaurant.
Take a look at Gold Beach BBQ's menu here.
The Port Hole Cafe is a family favorite, thanks to its welcoming atmosphere and an extensive array of microbrews on tap. All the menu items are fresh and in season, and the waterfront location overlooking the mouth of the Rogue River provides the perfect backdrop for a tasty meal.
Take a look at the Port Hole Cafe's menu here.
Spice things up with a delicious meal from Gold Beach's Tortuga Mexican Bar and Grill. From the moment you walk in the door, you're surrounded by a warm ambiance and a welcoming staff. All of the food is authentic and full of vibrant flavors, making it a favorite spot among locals.
Take a look at Tortuga Mexican Bar and Grill's menu here.
If you're looking for top-quality seafood, steak, and chops, be sure to make your way over to Spinner's. All the food is fresh and cooked to perfection, and you'll love the coastal theme featuring beautiful wood carvings and locally drawn artwork. When you want to experience a piece of Gold Beach history, Spinner's is a must-visit.
Take a look at Spinner's menu here.
Pacific Northwest Hiking Near Gold Beach
If you're looking for a hiking trail that offers astonishing views, you won't want to miss the Oregon Coastal Trail from Belleview Road to the beach. Along this 3.1-mile round-trip excursion, you'll see stunning forest, mountain, and beach views, making it an ideal trail for running, hiking, and fishing. The average length to complete this moderate trail is around 1.34 hours. Dogs are welcome.
The Lola Lake trail is a favorite among locals thanks to its moderately easy route and expansive views. As a fairly quiet trail, it's an excellent location for camping, bird watching, and fishing, especially from April to October. Hikers will travel along a 2.7-mile round-trip loop, which takes around one hour to complete. Dogs are welcome.
Meyers Creek to Cape Sebastian Trail
The Meyers Creek to Cape Sebastian Trail is ideal for those who love paddle sports, making it a unique option compared to other trails. Hike or paddle your way along the 4.8-mile round-trip route, which takes an average of 1.53 hours to complete, and enjoy fishing and sightseeing along the way. Dogs are welcome.
Mouth of the Pistol River to Oregon Island Wilderness Trail
While it may sound intimidating, the Mouth of the Pistol River to Oregon Island Wilderness Trail is an excellent option for beginners. The easy-to-navigate terrain and breathtaking views make it a favorite among those with young children seeking year-round outdoor fun. Walk along the 3.4-mile round-trip trail, taking an average of one hour to complete, enjoying fishing and bird watching along the way. Dogs are welcome.
If you're looking for a quick and easy outing, you can't go wrong with the Rogue River Wetland Walk. Clocking in at only 0.8 miles round-trip, you can complete this fun trail in around sixteen minutes. Bring along your fishing pole, or enjoy a nice run as you take in the pretty scenery. Dogs are welcome.
If you enjoy being surrounded by trees and taking in the sights of nature, you'll love the Belleview Lane to 333 Trail. Considered a moderately challenging route, this trail loops 1.7 miles round-trip and takes an average of fifty minutes to complete. Trail goers can enjoy hiking, walking, and running on this relatively quiet route, which is open for year-round enjoyment. Dogs are welcome.
The Lola Lake Fern Trail is another short excursion, but its unique topography makes it a can't-miss. Weave your way through the 0.8-mile round-trip route surrounded by whimsical fern bushes and towering pines. The entire trail only takes, on average, 17 minutes to complete, but it's an excellent spot for hiking, walking, and running. Dogs are welcome.
Shops Around Gold Beach, Oregon
If you love reading, Gold Beach Bookstore is the holy grail for new and used books. This impressive shop features over 75,000 works of literature and proudly holds the record as the largest bookstore on the Oregon Coast. Browse through the rows of books and take a seat in one of the many comfortable nooks scattered throughout the store. It doesn't stop there; Gold Beach Bookstore also has a delicious coffee shop and proudly features local art and live entertainment.
Celebrate Christmas year-round at Gold Beach's festive Christmas Shoppe. Find gifts for everyone on your list, along with unique decor that will get you in the spirit. There is a wide selection of coastal and whimsical wares, so head on over and see what you can find.
Old Agness Store is a must-see country store, full of locally made gifts and goodies. You'll find everything from garden and crafting supplies to delicious food, including a large selection of gluten-free options. Located within a big red barn, it's a favorite among tourists and locals alike.
When you need to stock up on outdoor supplies, shop like a local at the Rogue Outdoor Store. Here you'll find everything you need to hike, camp, fish, and more, thanks to the impressive selection of quality-made products. There is plenty of gear, clothing, hats, and shoes for the entire family, along with a friendly and knowledgeable staff that can answer questions and give you insight into all the best outdoor activities in Gold Beach.
Rogue River Myrtlewood has a great selection of gifts and souvenirs to remember your Gold Beach adventure. The quaint store is comfortable and welcoming, and the staff is always ready to help you choose the perfect item on your wish list. With reasonable prices and unique wares, you should definitely check out this delightful store on your Gold Beach trip.
Other Things To Do In Gold Beach, Oregon
Jerry Rogue River Museum AndRogue Jets
Immerse yourself in Gold Beach's rich history at the Jerry Rogue River Museum. As part of Jerry Rogue Jets, you can spend your day exploring the great outdoors on a wild ride along the Rogue River aboard a motorized white river boating tour, then head inside the museum and learn more about the stunning wilderness you just experienced. Don't forget to pick up some fun souvenirs at the gift shop to help you remember this one-of-a-kind excursion.

The Curry Historical Society Museum
History lovers will enjoy touring the Curry Historical Society Museum, which brings Gold Beach's history to life with well-crafted displays and exhibits. Discover more about the area's rich heritage and talk to the knowledgeable staff who are passionate about sharing their love for the beautiful Oregon Coast.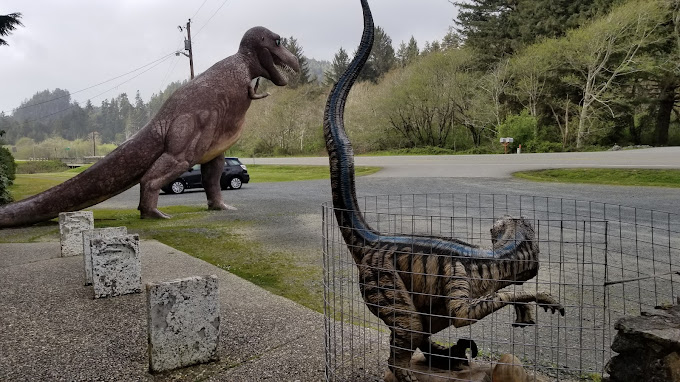 Step back in time and experience the thrill of living with dinosaurs at the Prehistoric Gardens. Kids and adults will have a blast walking through the dinosaur exhibit, which features large recreations of these ferocious beasts. Head over to The Rainforest to experience the rich biodiversity, including hanging moss, woodland creatures, ferns, and old-growth trees. During your tour, you'll wander through this breathtaking 300-year-old forest and the visitor-favorite arboretum, where you'll learn more about Oregon's complex plant life, like the towering Redwoods and prehistoric algae!
If you're looking to plan your Gold Beach vacation, be sure to include a stop at the visitor's center. Travelers will appreciate the extensive information about Gold Beach activities, including free travel brochures and itineraries, that make your trip to this beautiful destination easy and enjoyable. There is always something fun and exciting going on, whether it's a beach cleanup or a glass bottom tour; you'll be glad you didn't miss this immersive location.
Beaches In Gold Beach, Oregon
South Beach spans seven miles from the Rogue River to Cape Sebastian, offering easy entry for those looking for a day in the sun.
Bailey Beach is a favorite among outdoor enthusiasts thanks to its vehicle access and stunning views. Located near the Rogue Reef, it's a great spot to take a dip or drive along and appreciate the beautiful scenery.
Nesika Beach is the go-to location for those seeking fresh, clean air and unforgettable wildlife encounters. During season you can spot whales or search the beach for treasures, and the waves make it ideal for surfers looking to hang ten!
Samuel H Boardman State Scenic Corridor
Are you ready to experience the awe-inspiring beauty of the southern Oregon coast? Look no further than the Samuel H Boardman State Scenic Corridor. This stunning 12-mile stretch of coastline boasts some of the most breathtaking vistas in the Pacific Northwest and the entire Oregon coast. From a rugged coastline to secluded coves, there's no shortage of natural wonders to explore.
RELATED: The 16 Best Oregon Beaches to Dip Your Toes in The Sand
The population Of Gold Beach, Oregon
According to the 2021 census, Gold Beach, Oregon's population is 2,365.
You can visit the Gold Beach Visitors Bureau to download a FREE Gold Beach travelers guide!
More Oregon Coast Towns To Visit