I adore the charming town of Baker City, Oregon. Located in the Blue Mountains near the Snake River Valley, Baker City is an ideal spot for those who seek to explore the history of times gone by. Whether you're planning a staycation or just passing through I-84 on your way somewhere else, stop in town for even just a moment. You'll find that Baker City is so easy to fall in love with.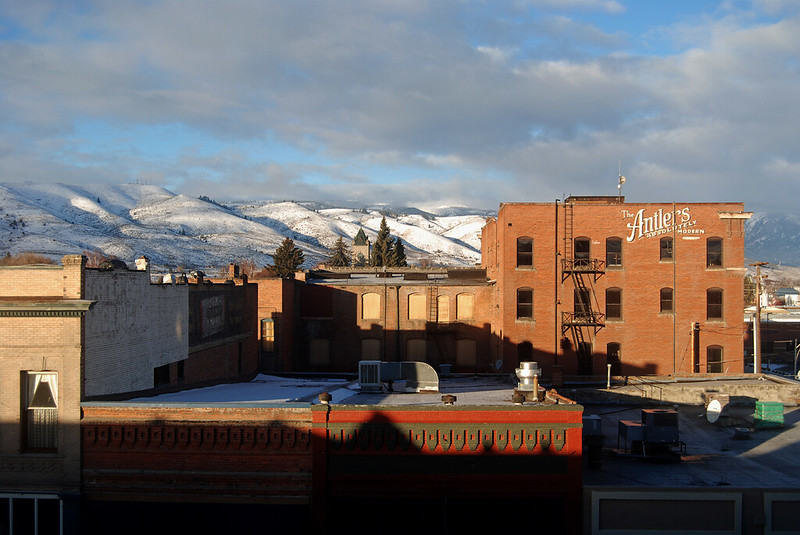 Read on as we dive into some of our favorite spots in and around Baker City.
Sign up for monthly emails full of local travel inspiration and fun trip ideas. In each newsletter we'll share upcoming events, new things to do, hot dining spots and great travel ideas.
An Overview of Baker City – Population, Climate, and Location
Nestled in the heart of eastern Oregon near the Powder River, Baker City offers a unique blend of history, culture, and natural beauty. With a population of just over 10,000, this charming city is known for its rich gold mining heritage, Victorian-era architecture, and scenic mountain vistas. Renowned for its four distinct seasons, the town enjoys a mild summer climate and snowy, picturesque winters. Whether you're a history buff, nature enthusiast, or simply seeking a small-town escape, Baker City offers something for everyone.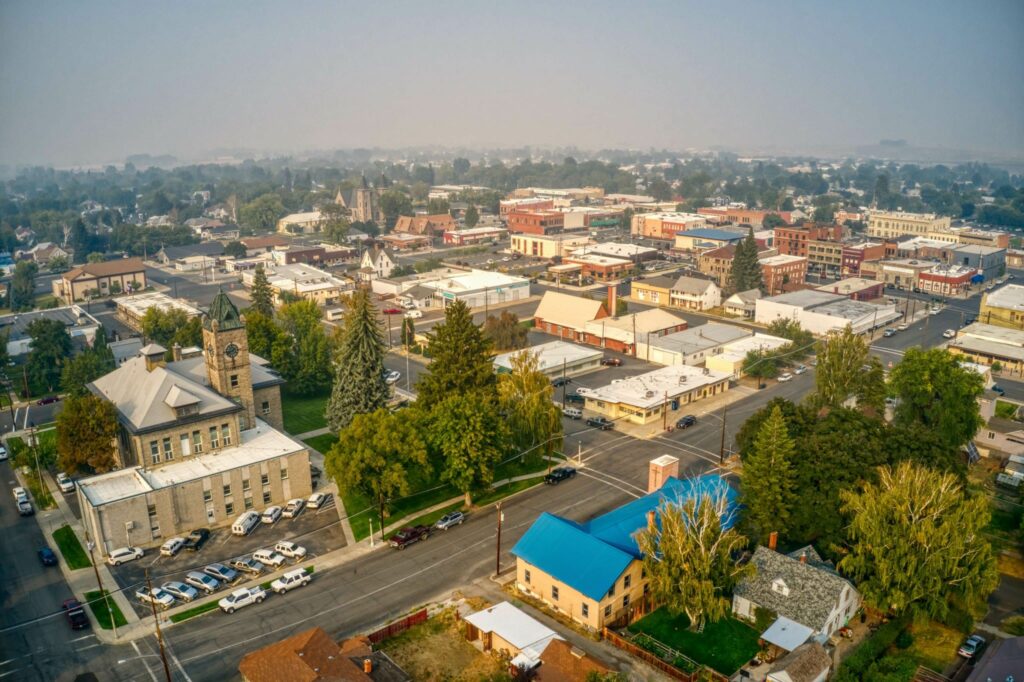 Baker City has emerged as a hub for regional tourism, drawing visitors with its proximity to ghost towns, the Elkhorn Mountains, Anthony Lakes Mountain Resort, Eagle Cap Wilderness Area, Hells Canyon Recreation Area, and the Snake River; a mecca for hiking, skiing, and outdoor adventure.

Exploring Baker City, Oregon: A Traveler's Guide
The city boasts a well-preserved Victorian commercial district listed on the National Register of Historic Places, featuring the iconic Geiser Grand Hotel. Additionally, just outside the city limits lies the National Oregon Trail Interpretive Center, which has been open since 1992 and is managed by the Bureau of Land Management. Here you can walk on the wagon ruts, left behind by some of the first pioneers to travel to the fabled Oregon Country.
---
RELATED: This Ghost Town Road Trip in Oregon is The Perfect Adventure
---
The History of Baker City, Oregon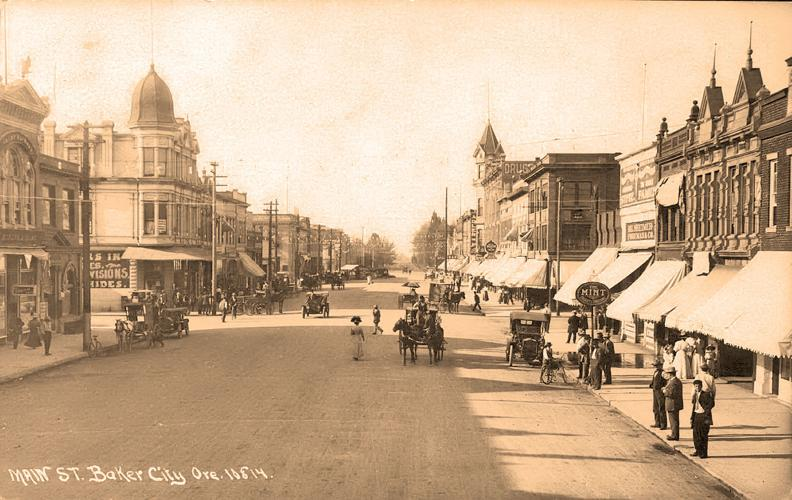 Historic Baker City has a fascinating past. It was named after US Senator Edward Baker, a colonel in the Union Army. Unfortunately, Baker lost his life at the Battle of Balls Bluff in 1861, (the only sitting member of Congress to ever be killed in a Civil War military engagement) but left his legacy in the town name.
The Seat of Baker County
Attorney Royal Pierce platted out the new townsite in 1865. Officially incorporated in 1874, Baker City became the new county seat but grew slowly at first.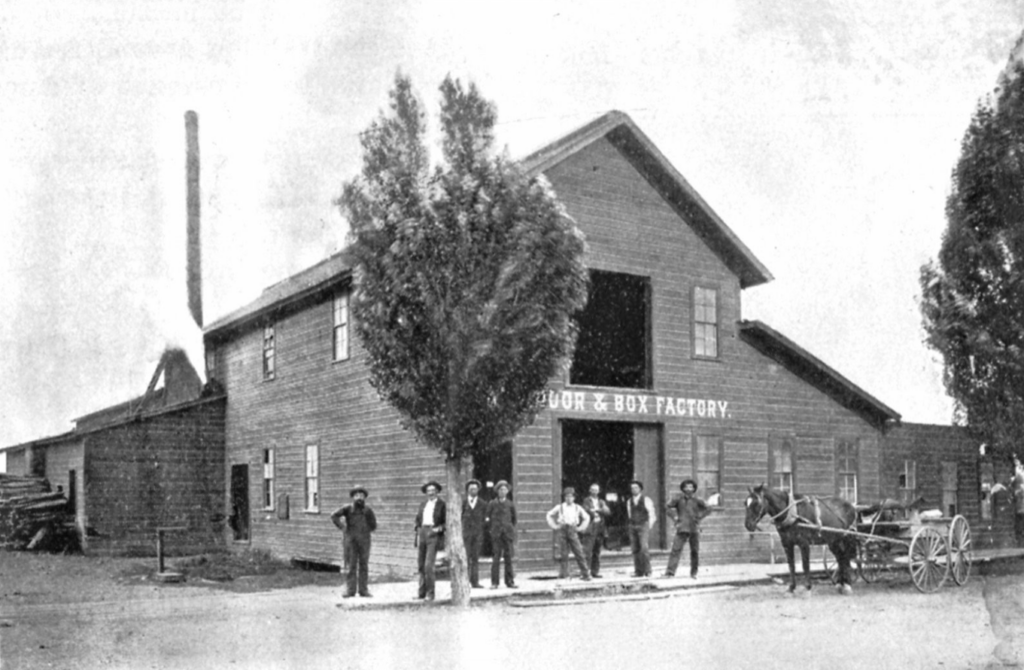 In 1861, four mining prospectors had settled in the area. G. W. Shriver, David Littlefield, William Stafford, and Henry Griffin all had gold fever, but so did many other Americans at that time. By 1862, over 4,000 of them had rushed into the area, leading to the opening of a blacksmith shop, saloon, hotel, and post office. Just a few miles south of town, miners mostly stayed in the tent city of Auburn, but Baker City was growing. On this eastern edge of Oregon, Baker County was designated by the Oregon legislature.
Portland to Salt Lake City
When the Oregon Short Line Railroad came to town, Bakey City finally began to boom. By the turn of the 20th century, it had become the largest city between Salt Lake City, Utah, and Portland, Oregon, functioning as a crucial trading center and nicknamed the "Queen City of the Inland Empire". In 1900, it even held the distinction of being the third largest city in Oregon behind Salem and Portland.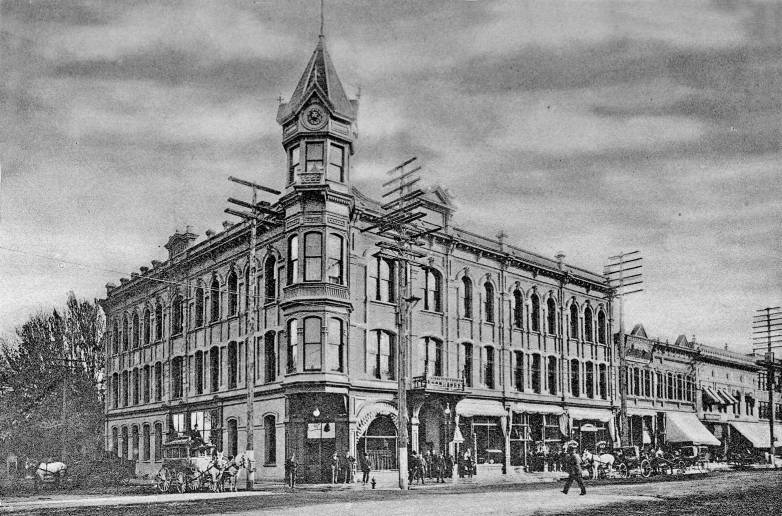 A city hall went up, as did three lumber mills, prompting growth from the influx of building materials. The Sumpter Valley Railway went in, a narrow gauge railroad transporting even more lumber from the rich Ponderosa pine forests nearby.
For a period of time from 1910-1989, the town was officially known as simply "Baker". Baker City residents voted to change it back eventually, but many old-time Oregonians still sometimes refer to it by the shorter name.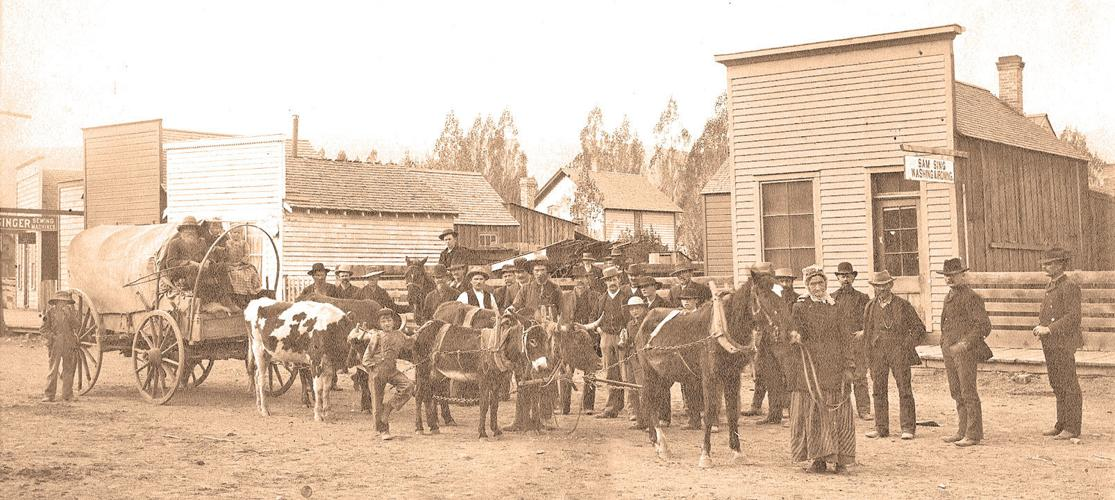 Baker City Today
The Best Time of Year to Visit Baker City
If you're all about those sunny vibes, head to Baker City during August, July, and September, where you'll find the least chance of any rain. Being high-desert, the town and surrounding region is well below the national average for rainfall but does get plenty of snow in the winter months, averaging eight inches or more in December. Wanna dodge both raindrops and snowflakes? Then late spring into summer is your best bet.
Things to Do in Baker City, Oregon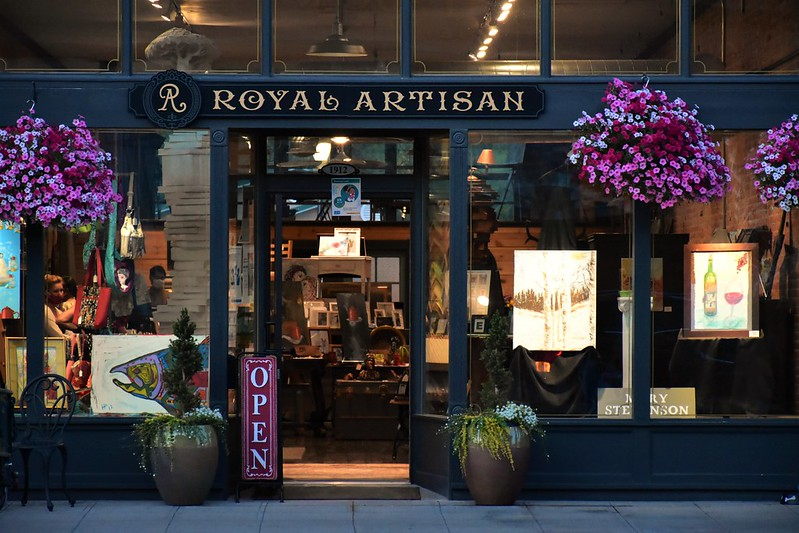 Explore the Baker Heritage Museum
This century-old landmark, recognized on the National Register of Historic Places since 1977, now houses a two-story interpretive museum that brings Baker County's rich history to life.
Step back in time as you explore the exhibits, which cover everything from the region's major industries like logging, ranching, and mining, to the fascinating Chinese heritage that helped shape the area. Marvel at the native and non-native wildlife displays and discover the impressive collection of regional Native American artifacts, including ancient stone tools. With so much to see and learn, the Baker Heritage Museum is a must-visit for history buffs and curious travelers alike.
Check Out Baker City's Historic District and Downtown Baker City
Baker City boasts a remarkably preserved and authentic Victorian business district, one of the largest and most intact from the early 1900s on the west coast. The local Main Street program has devotedly revitalized the area, transforming it into a lively downtown district brimming with locally-owned shops, eateries, galleries, and artists.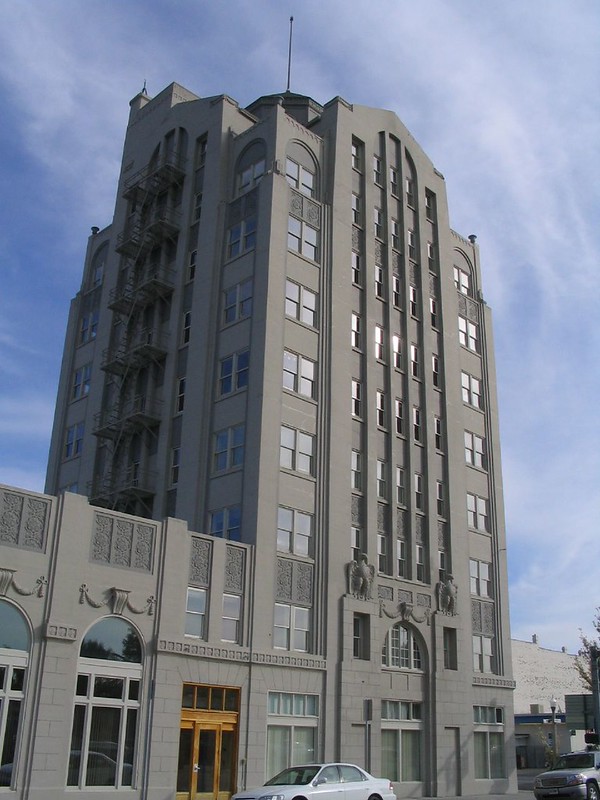 Along the way, you'll see landmarks like the 1889 Geyser Grand Hotel, and the 1929 Art Deco Baker Tower, famous for being the tallest building east of the Cascade Mountains in Oregon.
The district features a rich collection of notable buildings, including the city hall, county courthouse, former post office, former library, former social clubs, a Roman Catholic cathedral, and an Episcopal Church. These architectural gems offer a glimpse into the history and culture of the area, and are a must-see for anyone interested in the region's heritage.
Visitors can enjoy the thriving arts, music, and culinary scene in Baker City, providing a distinctively urban yet authentically local cultural experience in Eastern Oregon. Visit the Baker County Chamber for more information.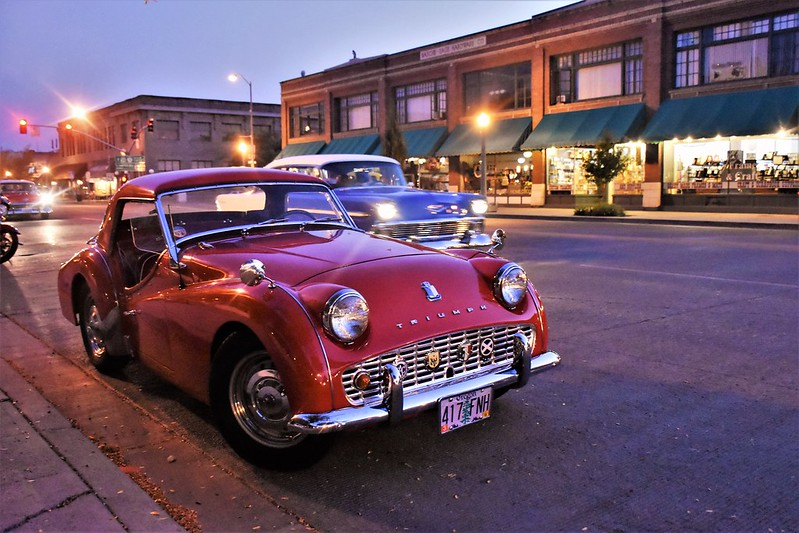 Drive to the National Oregon Trail Interpretive Center
Baker City played a significant part in the mid-19th-century odyssey of pioneers venturing along the Oregon Trail. Gazing upon the Blue Mountains from Baker City signaled to weary settlers en route to Oregon's Willamette Valley that their arduous journey neared its end.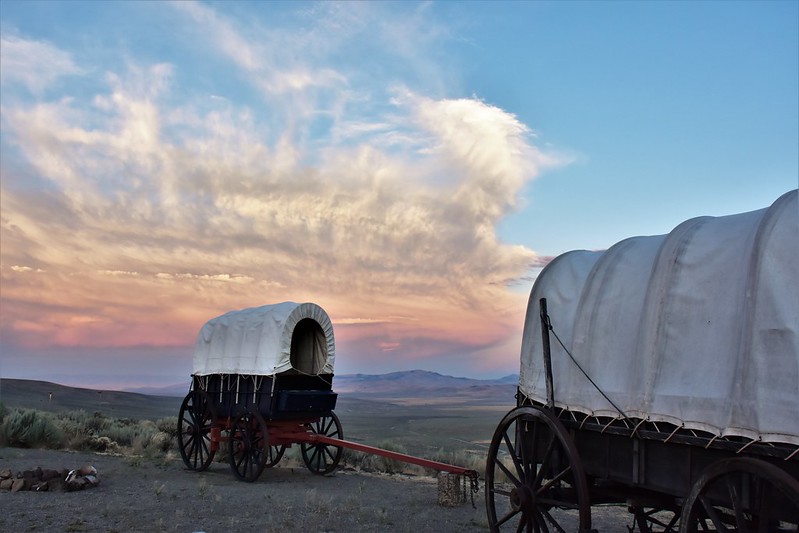 Today, Baker City remains a testament to its storied past, with large wagon ruts left by Oregon Trail pioneers still visible. Spanning 7 miles, these tracks serve as a lingering reminder of the area's intrepid spirit.
The Interpretive Center is a fascinating place, with living history demonstrations, interpretive programs, exhibits, multi-media presentations, special events, and more than four miles of trails. Currently, the facility is closed for renovations, although visitors can still drive up to view the wagon ruts. A temporary exhibit will open in downtown Baker City in spring 2023. Check back with the official Bureau of Land Management Site for the opening date and hours of operation.
Come For the Numerous Annual Events
Throughout the year, Baker City hosts an array of events such as the Baker City Cycling Classic, Baker City Bronc and Bull Riding Rodeo, Hells Canyon Motorcycle Rally, Baker Artist Studio Tour, Taste of Baker City, the Snowmobile Poker Run and Vintage Snowmobile Races, and a variety of festive holiday celebrations.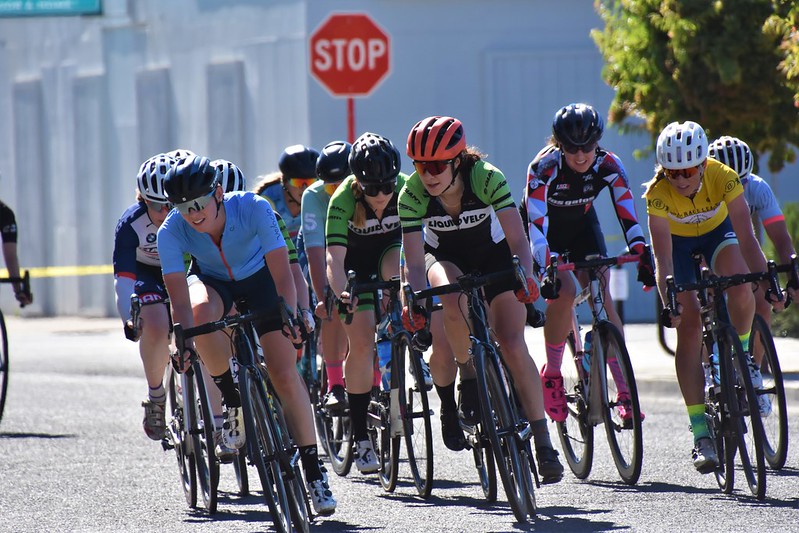 Pay Your Respects at the Historic Chinese Cemetery
Chinese laborers were sadly common during the early gold mining and railroad days of Baker City. Despite facing systemic discrimination and being denied the right to vote, the small Chinese community worked tirelessly and lived modestly to send money back to their families. The cemetery on this site, which dates from 1880 to 1940, served as the final resting place for many of these hardworking individuals.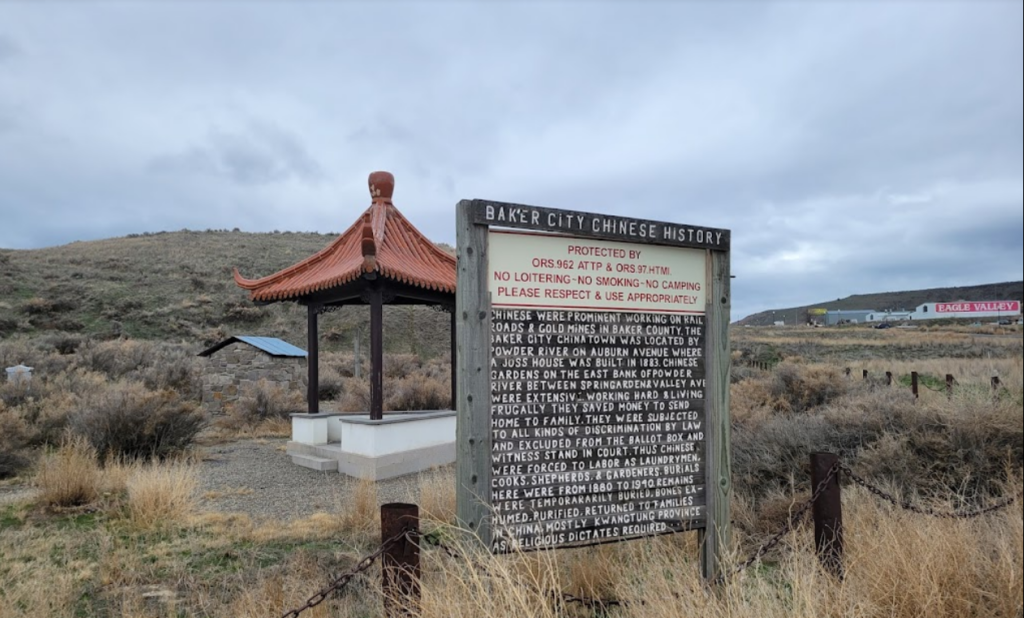 Their remains were initially buried here and, in accordance with religious customs, later exhumed and purified before being returned to their families in China, mostly from the Kwangtung Province. Despite the challenges they faced, the resilience and dedication of these individuals are a testament to their strength and determination.
Make a Day Trip to the Ghost Town of Sumpter
Setting foot in Sumpter is like stepping back into the days of the wild west.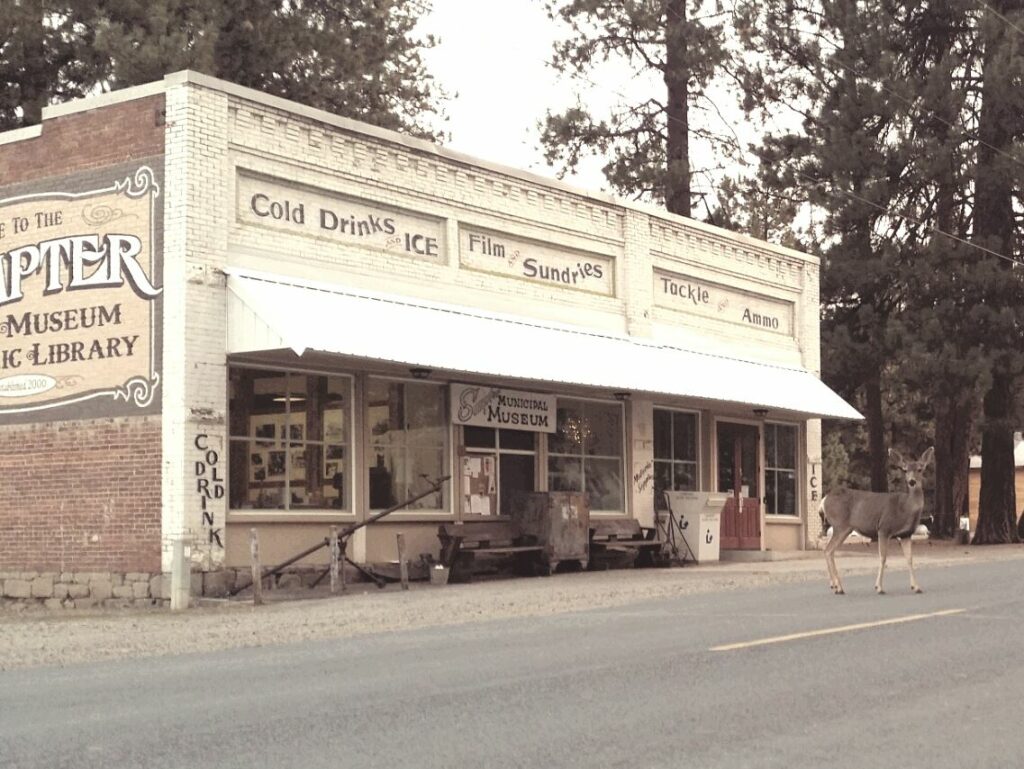 Growing from a small hovel of log cabins in 1889, the gold rush brought with it 2,000 people and Sumpter became a small thriving town. By 1917, Sumpter had electric lights, churches, saloons, a brewery, sidewalks, three newspapers, and an opera house. Most of this was destroyed by a massive fire, but some of the old buildings have survived to the present day.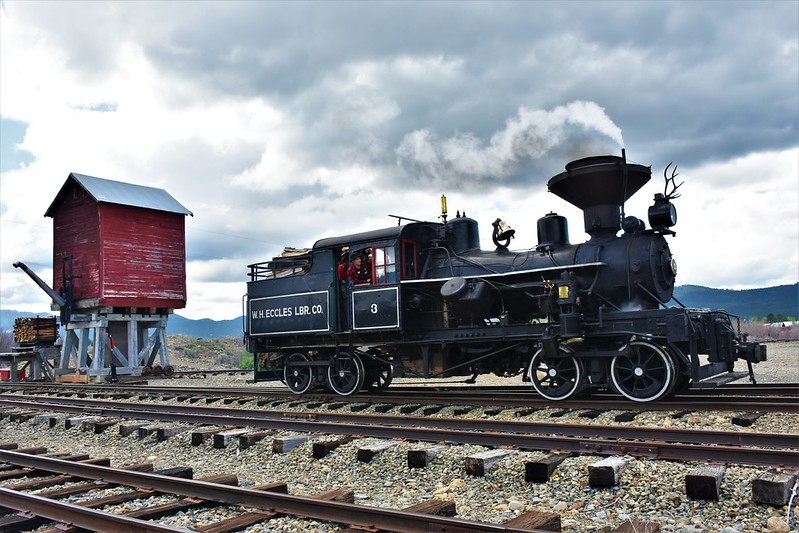 Walk around inside the massive old mining dredge, take a stroll along Main Street, or take a ride through the Elkhorn Mountains on the Sumpter Valley Railway.
Baker City, Oregon Restaurants
The culinary scene in Baker City offers a surprising array of options for a small American town.
Eagle Cap Grill
Baker City's no-frills steak house, serving burgers, seafood, pasta, and local beer. Eagle Cap frequently wins awards for Best Steak and Seafood in the area.
Sweet Wife Baking
This little patisserie serves homemade sweet and savory treats daily. Famous for its pecan cinnamon sticky buns, Sweet Wife also serves delicious breakfast and lunch, with salads, soups, and grilled sandwiches on the menu.
Inland cafe
This local-favorite diner made our list of 41 Best Mom & Pop Restaurants for 2023. They serve delicious homestyle meals and apple pie, just like your grandma made it.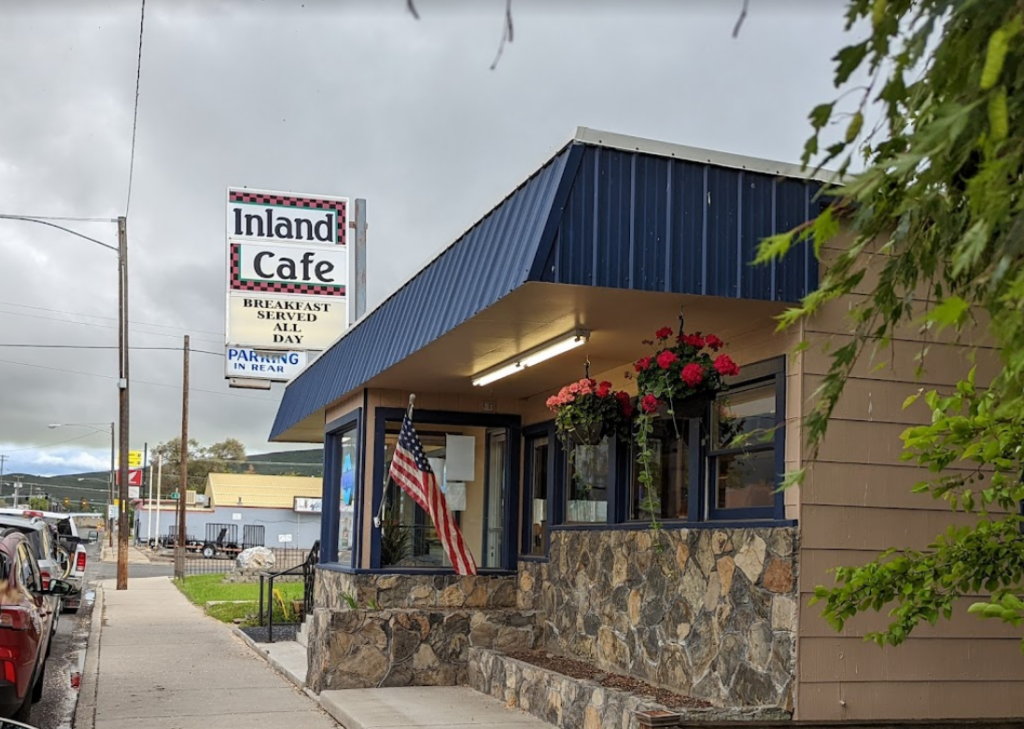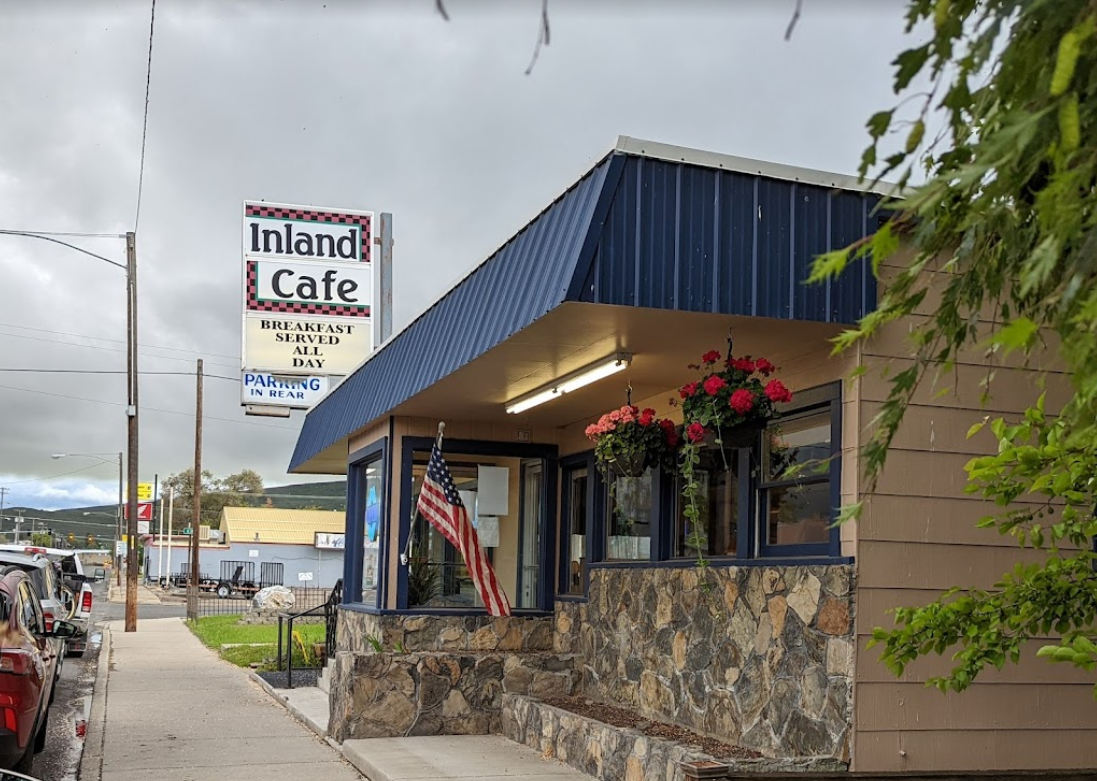 Paizano's
It's all about the famiglia. The yeast for their homemade dough is over 110 years old, and everything is made from scratch whenever possible. Locals rave about the fresh salads and amazing pizza crust.
Barley Brown's Brewpub
An awesome, family-friendly brewpub in one of Baker City's historic downtown buildings. Excellent local craft beer and food.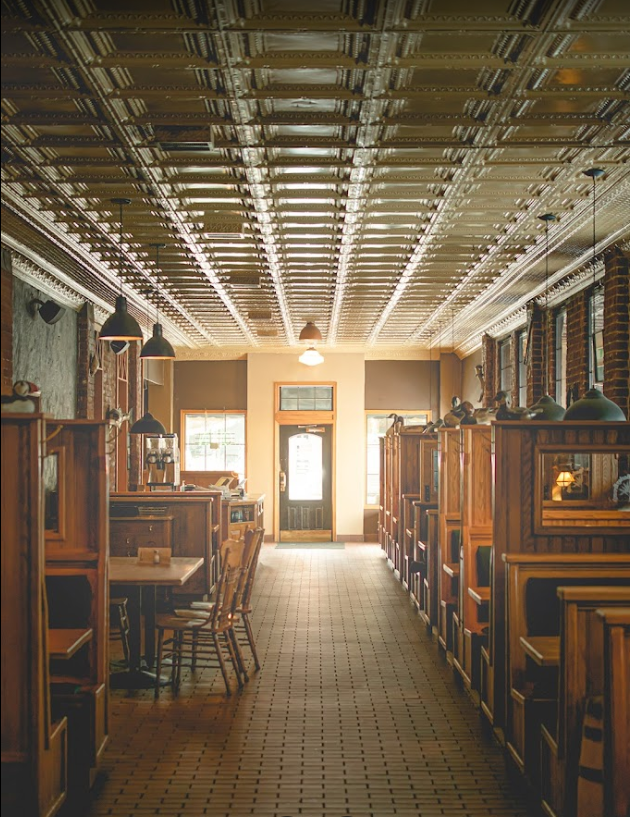 Frequently Asked Questions About Baker City, Oregon
Where is Baker City Located?
Located in an Eastern Oregon valley, the city lies between the Wallowa Mountains in the east and the Elkhorn Mountains, which are part of the Blue Mountains, in the west. The Powder River, on its way to the Snake River, flows through the heart of downtown. The closest city is La Grande, 44 miles north via I-84.
Baker City is about 300 miles from Portland, Oregon, and 128 miles from Boise, Idaho.
Is Baker City worth visiting?
We certainly think so!
For those who love outdoor activities, Baker City serves as an excellent starting point. The Wallowa-Whitman National Forest, which spans over 2.4 million acres, covers the Blue and Wallowa mountains and stretches all the way to the Idaho border where it meets the Snake River. This expansive region includes several natural wonders, like the awe-inspiring Hells Canyon. Anyone interested in history will love Baker City as well.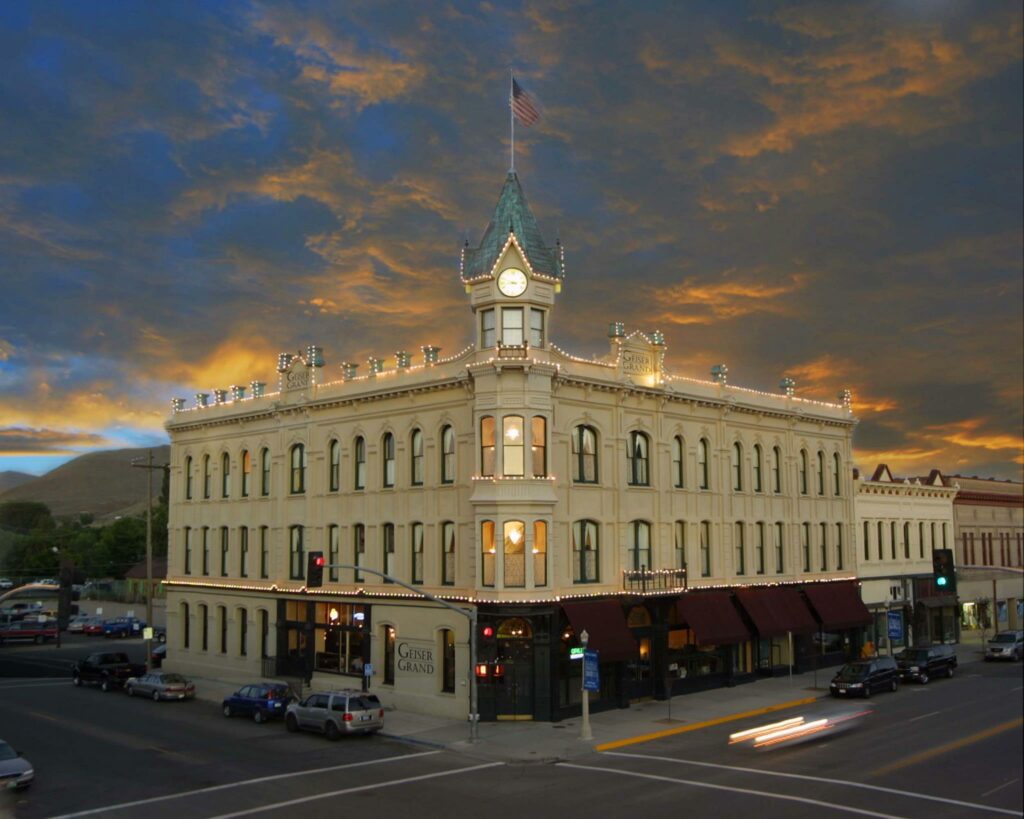 Is Baker City a good place to live?
Baker City frequently makes lists of the safest cities in Oregon. You'll find that life in small Eastern Oregon towns tends to be slower-paced and very community-oriented with a focus on family and ranch life. It's not for everyone, but those who live here tend to stick around.
Is Baker City Growing?
Although Baker City grew slowly in its early days, with a population of 10,349 in 2023, it now ranks as the 54th biggest city in Oregon. Its population has grown by 2.65% since the last census in 2020, which recorded a population of 10,082. At present, the city is experiencing an annual growth rate of 0.88%.
Other Oregon towns worth a visit