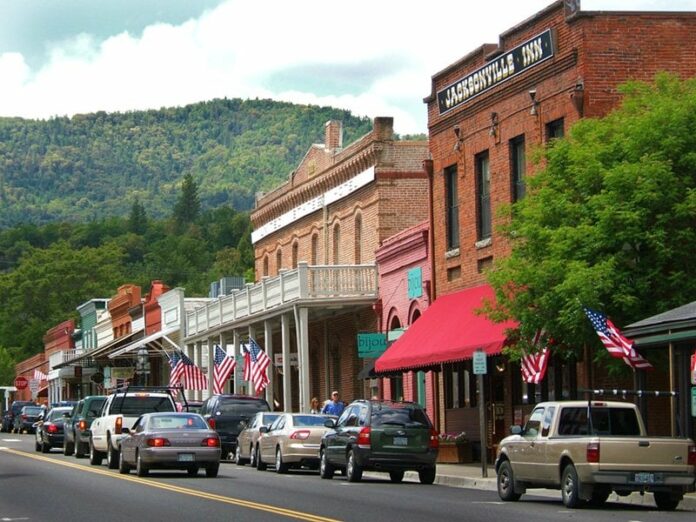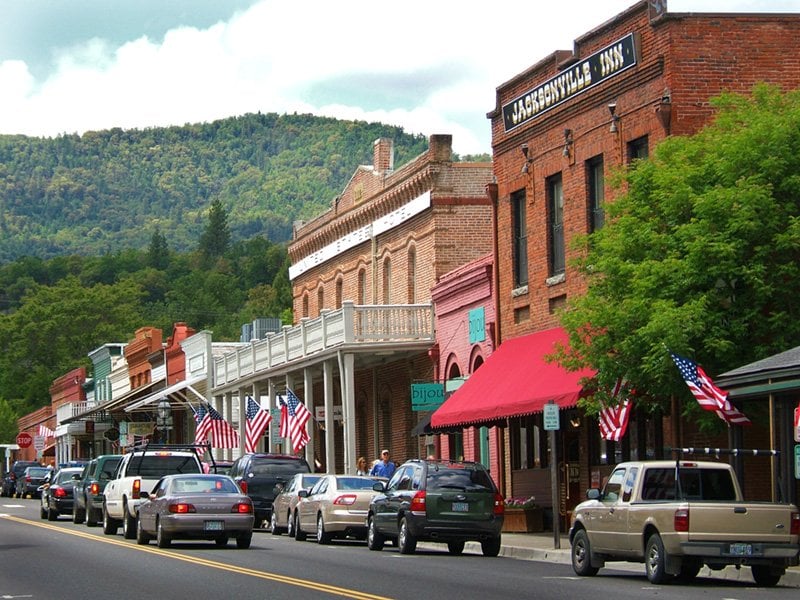 Welcome to Jacksonville, Oregon - a charming, historic small town nestled in the heart of the Rogue Valley! Teeming with a vibrant culture, diverse outdoor activities, and captivating historical attractions, Jacksonville offers a unique and unforgettable travel experience in southern Oregon. In this comprehensive guide, we'll take you on a journey through the quaint city as we discover the best of what Jacksonville has to offer.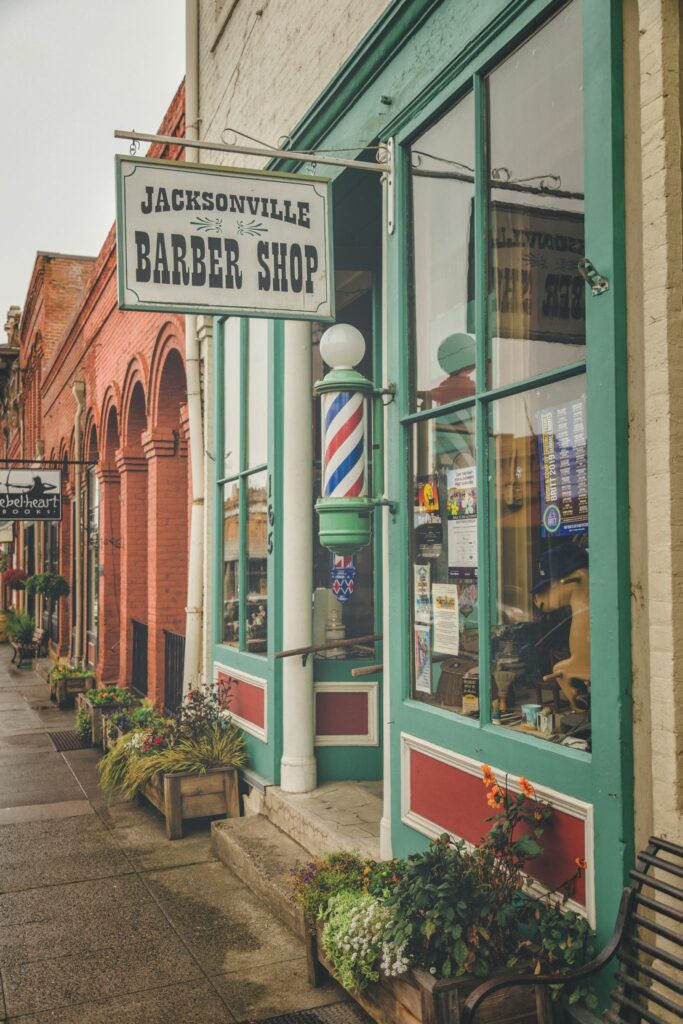 Established during the Oregon gold rush in the 1850s, Jacksonville is now home to a rich history that encompasses Old West charm, eclectic architecture, and a burgeoning arts scene. Listed as one of the National Historic Districts, the city's well-preserved 19th-century buildings reflect its intriguing past while accommodating modern amenities and lifestyles.
Things To Do In Jacksonville, Oregon
Southern Oregon's hidden gem, Jacksonville, is home to a plethora of fascinating attractions that will leave you wanting more. From enchanting natural wonders to captivating historical attractions, Jacksonville offers a unique and unforgettable travel experience. Here are some of the must-see attractions in Jacksonville, Oregon.
In 1856, Cornelius Beekman and Dr. Charles B. Brooks opened a shared express office and drugstore at the corner of California and S. 3rd streets. Today, a 2003 replica of the original building stands at the site.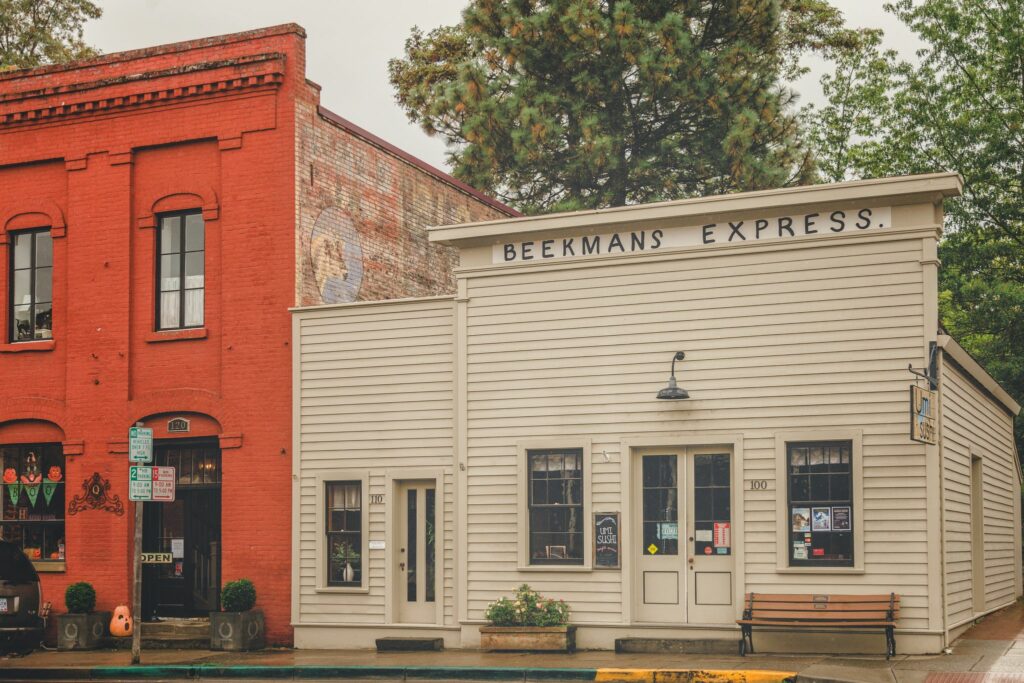 Dr. Brooks, a young physician, arrived in Jacksonville in 1853 and initially practiced medicine while operating a hospital. After partnering with Beekman, he expanded his services to include various pharmaceutical products. By 1864, the partnership dissolved, and Brooks relocated to the Dalles, eventually becoming Wasco County Coroner before passing away in 1875 at age 43.
Jacksonville Trolley Tour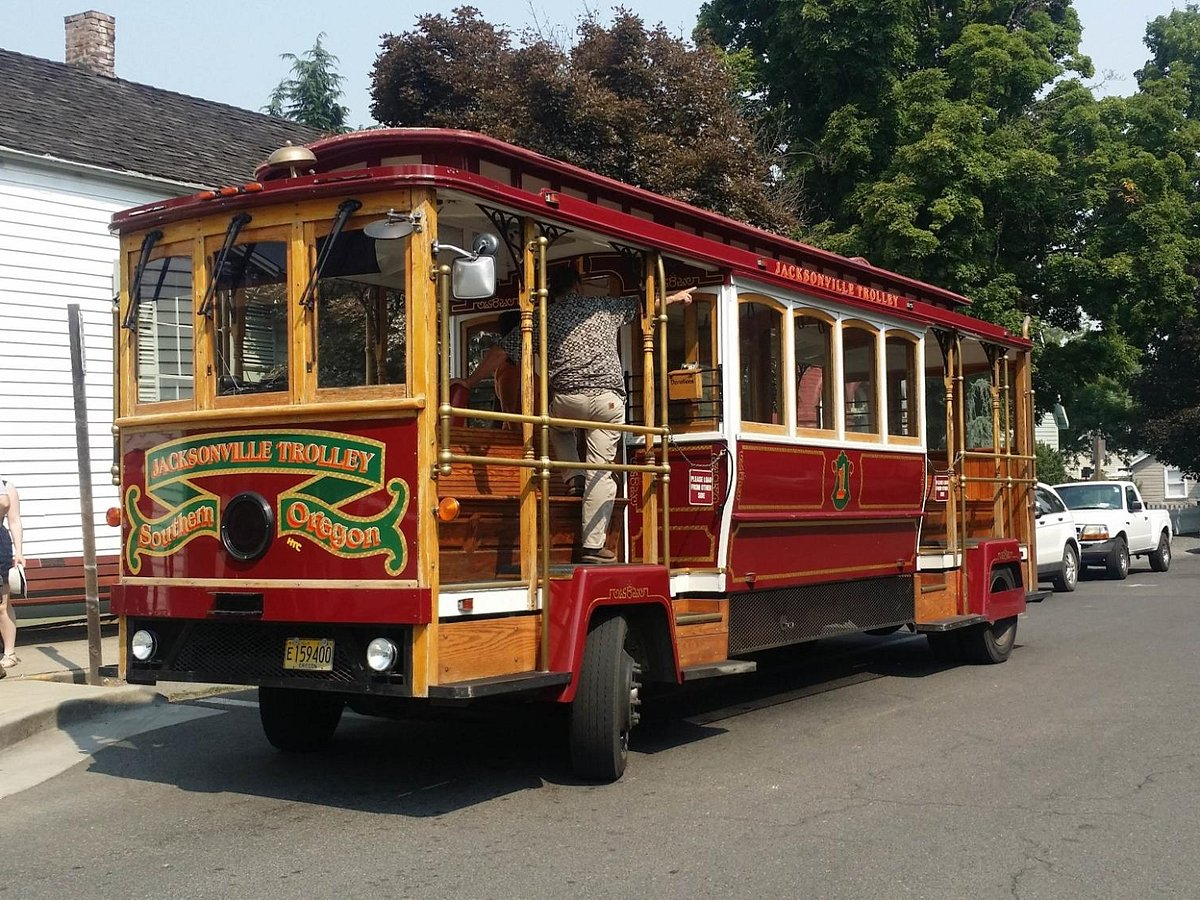 Immerse yourself in Jacksonville's vibrant history through diverse tours that showcase the city's charm. The highly acclaimed Jacksonville Trolley Tour whisks you on a captivating 45-minute journey, departing five times daily from Tuesday to Sunday in June and July, and weekends in May, September, and October.
Explore at your own pace with the Chamber of Commerce's free self-guided walking tour, or zip around town on a two-hour Segway excursion. Uncover Jacksonville's eerier side during All Hollow's Eve, with the spine-tingling Haunted Trolley experience or the spine-chilling Haunted History Walking Tour, featuring costumed characters for an extra dose of spookiness.
Jacksonville Historic District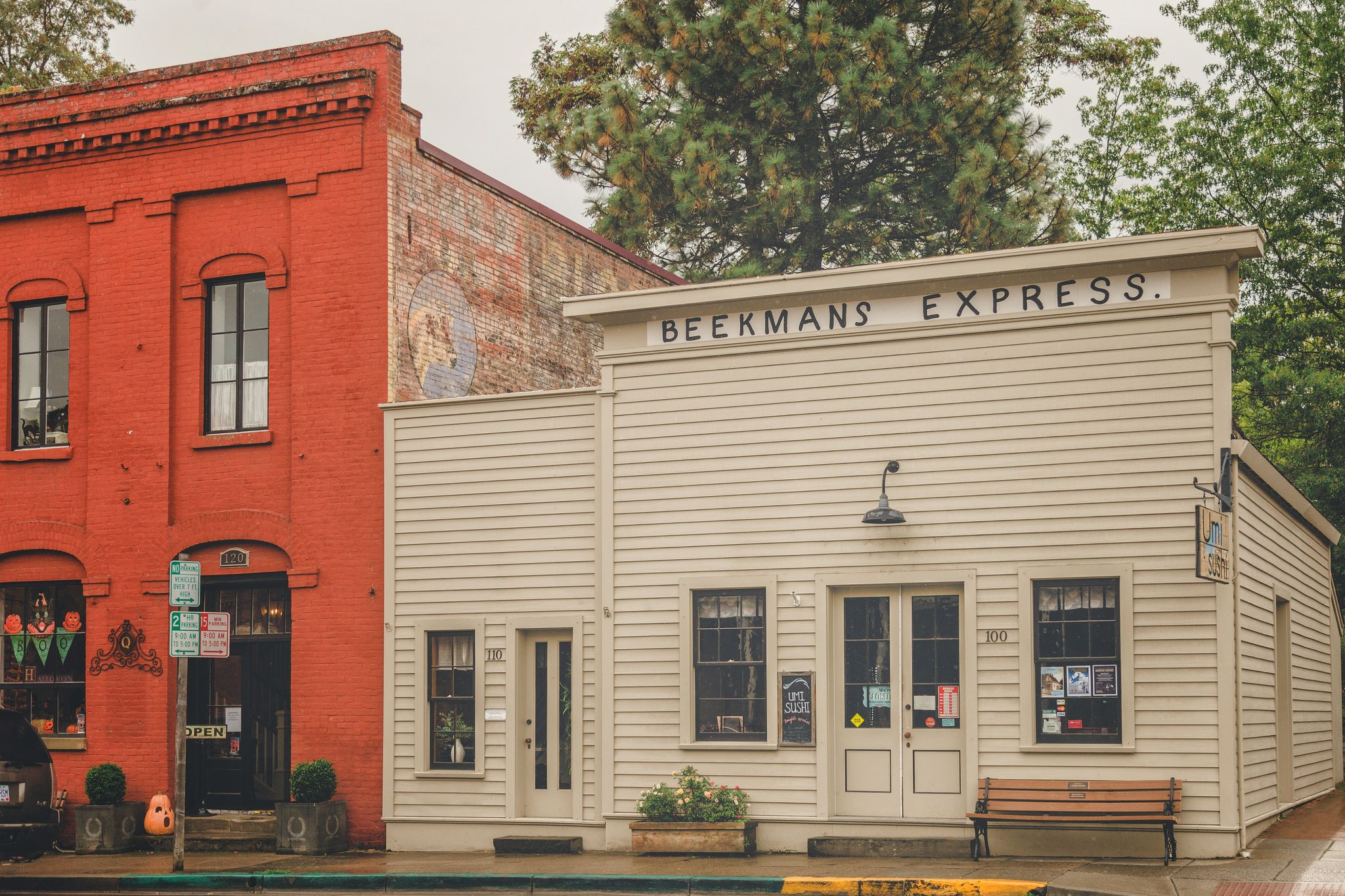 Wander through this well-preserved district that takes visitors back in time, showcasing charming Victorian-era architecture and historical landmarks. Jacksonville's shopping scene offers a delightful blend of the old and the new, perfect for exploring the town's historic charm. The downtown area boasts an array of local shops, ensuring a one-of-a-kind experience with each visit.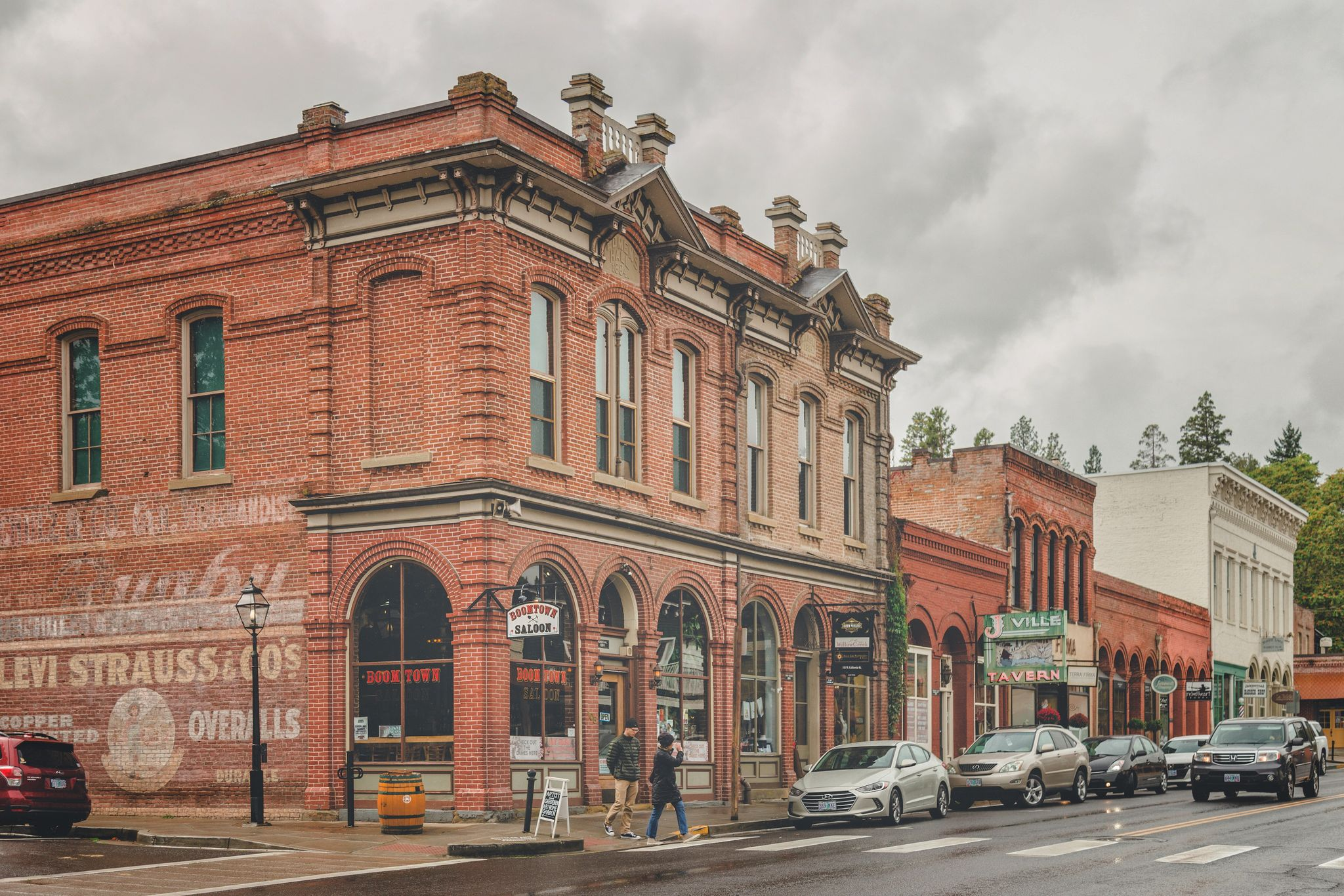 Discover the town's rich cultural heritage through its vibrant antique scene, which has rejuvenated Jacksonville's allure. Start your treasure hunt at Trolley Stop Antiques or Pickety Place Antiques for a glimpse into the past.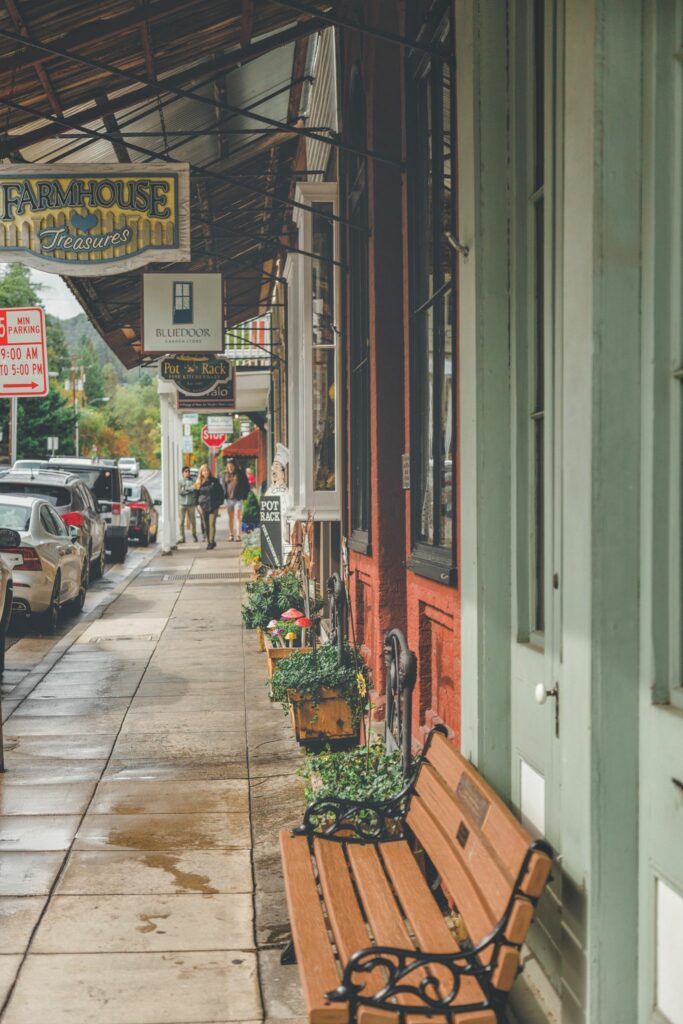 Modern boutiques also grace the town's streets, catering to contemporary tastes. Find unique souvenirs and locally crafted items at Willowcreek Gifts, or indulge your literary passions at Rebel Heart Books, where both avid and casual readers can browse to their heart's content.
Britt Music & Arts Festival
The Britt Music & Arts Festival captivates thousands with a diverse array of performances from June to September. This eclectic summer event features genres such as country, classical, reggae, and funk, with over 30 shows to choose from.
Hosted at the picturesque Britt Festival Pavilion, nestled within the 19th-century estate of photographer Peter Britt, this natural amphitheater provides a stunning backdrop for unforgettable performances. Choose from reserved bench seating or bring a blanket for a relaxed lawn experience. Personal food and drinks are welcome, and binoculars are suggested for enhanced viewing.
With a capacity of 2,200, the venue accommodates nearly all of Jacksonville's residents. Be sure to book your tickets early, as several concerts sell out each year.
Applegate Valley Wine Trail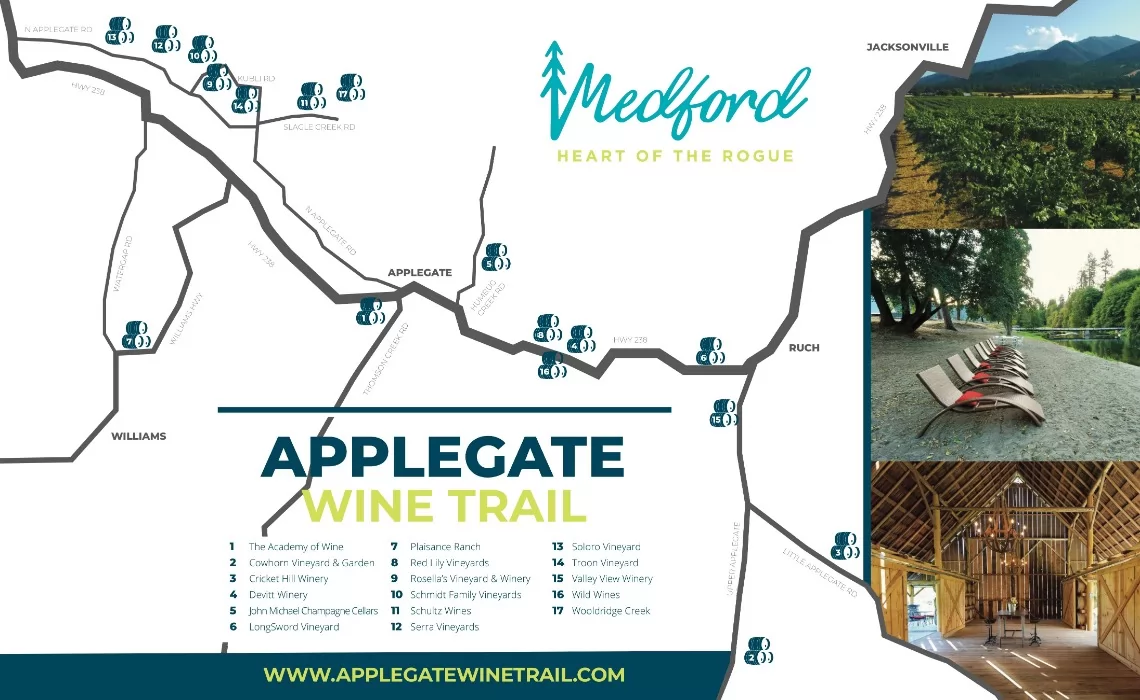 Explore this trail featuring over a dozen wineries, offering tastings and tours, and showcasing the region's distinct wine varieties.
RELATED: 11 Best Wineries in Oregon: Discover the Top Vineyards in Wine Country
Jacksonville Cemetery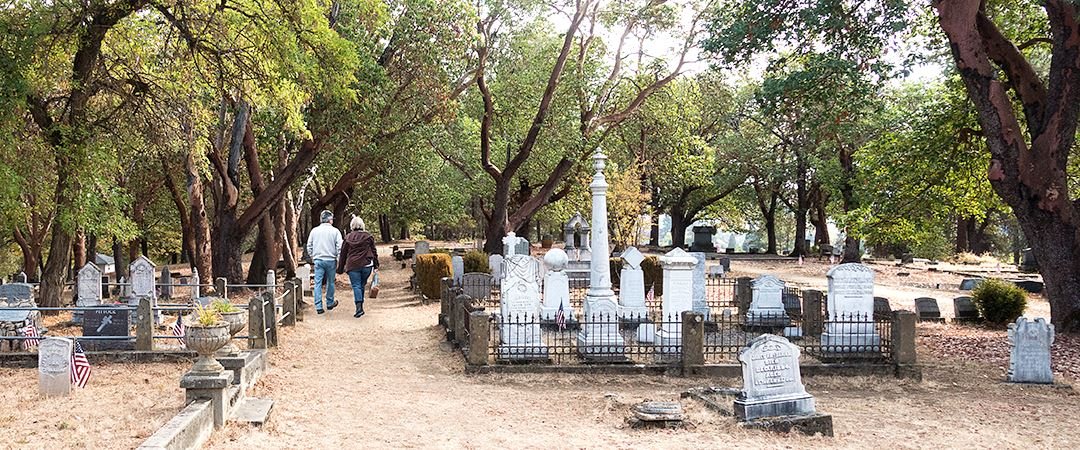 Explore the rich history of Jacksonville at its oldest and largest historic cemetery, with over 5,000 hand-dug gravesites dating back to 1859. The Friends of Jacksonville's Historic Cemetery, a non-profit organization, maintains the grounds and offers guided tours with historical presentations on the second Saturday of each month from May to September.
Situated on 32 acres, the cemetery is open daily from 8am to dusk, with access at North Oregon and E Street. Parking is available just beyond the entrance gate.
Location: North Oregon Street and East Street, Jacksonville, Oregon
Beekman House Museum
Step into the past at this beautifully restored 19th-century home, offering guided tours and insight into the rich history of Jacksonville and its residents.
Peter Britt Gardens
Stroll through these lush, landscaped gardens, paying homage to the town's founder, Peter Britt, and offering picturesque spots for relaxation and reflection.
Jacksonville Woodlands Association Trails
Discover over 16 miles of interconnected trails winding through woodlands and historical sites, perfect for hiking, birdwatching, and nature walks.
Art Presence Art Center
Visit this local art gallery displaying works by regional artists, offering art classes, and hosting various events throughout the year. Discover the creative heart of Jacksonville at Art Presence Art Center, located within the historic Jackson County Courthouse grounds. This community-focused art hub showcases diverse works from over 30 local artists, featuring mediums such as painting, ceramics, bronze sculptures, beaded jewelry, and photography.
The center fosters community engagement through regular events, classes, live music, book readings, and artist lectures. Budding artists can also seize opportunities to exhibit their work through periodic calls for submissions.
Visit Art Presence Art Center at 206 N 5th Street, Jacksonville, Oregon, and immerse yourself in the town's vibrant artistic scene.
Gold Panning at Forest Park
Try your luck at gold panning in the beautiful surroundings of Forest Park, a nod to the region's gold rush history and a fun activity for all ages.
Local Cuisine
C Street Bistro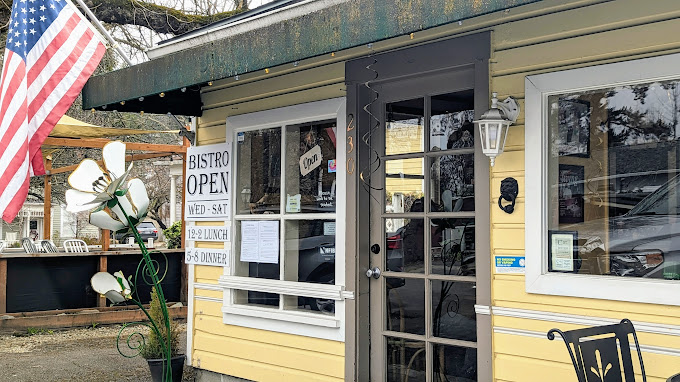 Experience a fusion of French and Pacific Northwest cuisine at this charming bistro, offering an ever-changing seasonal menu crafted from the freshest local ingredients.
The Jacksonville Inn
Dine in elegance at this historic inn's award-winning restaurant, serving up delectable gourmet dishes, fine wines, and exceptional service in a sophisticated, romantic setting.
La Fiesta Mexican Restaurant
Savor authentic Mexican cuisine at this lively restaurant, featuring a menu full of traditional dishes, house-made salsas, and a wide selection of tequilas and margaritas.
Back Porch Bar & Grill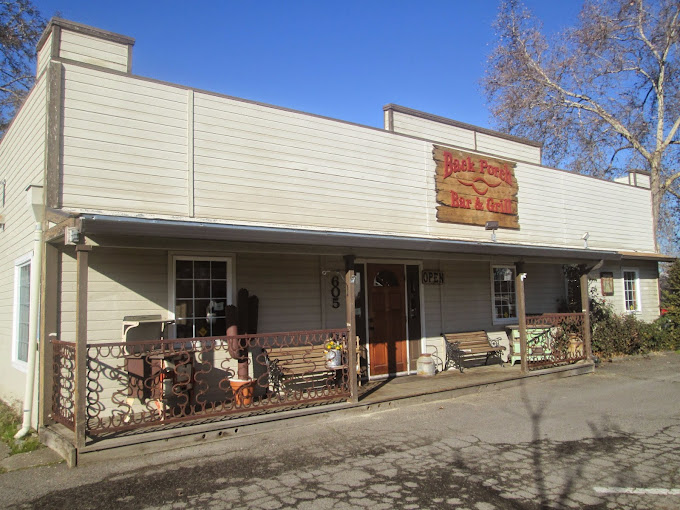 Enjoy a casual dining experience at this popular local hangout, known for its tasty burgers, sandwiches, and signature cocktails, all served in a relaxed, welcoming atmosphere.
Bella Union Restaurant & Saloon
Step back in time at this historic restaurant and saloon, offering a diverse menu of American and Italian-inspired dishes, a full bar, and live music in a rustic, old-west ambiance.
Hiking Trails
Jacksonville Railroad Loop
Unearth a hidden gem in the form of a 2.5-mile circuit path close to Jacksonville, Oregon. Typically deemed a straightforward journey, the Jacksonville Railroad Loop requires approximately 1 hour and 2 minutes to finish. Ideal for hiking, jogging, and strolling, this hiking trail offers a serene experience with minimal chances of bumping into fellow explorers. Canine companions are permitted, but they must be kept on a leash.
Jacksonville Woodlands Trails
Discover the diverse ecosystem within the Jacksonville Woodlands with over 16 miles of trails that take you through serene forests, rolling hills, and picturesque meadows. Be sure to check out the Rich Gulch Trail for a glimpse of the area's gold-mining history.
Forest Park Trail System
The expansive Forest Park Trail System offers over 30 miles of trails for hikers, mountain bikers, and equestrians. Don't miss the Norling Creek Loop for a peaceful stroll alongside a babbling creek, or the challenging Atsahu Trail for panoramic views of the valley.
Sterling Mine Ditch Trail
Step back in time on the historic Sterling Mine Ditch Trail, a 17.5-mile trail that follows the original path of the 19th-century gold mining ditch. Enjoy the sights of wildflowers and abundant wildlife, as well as interpretive signs detailing the area's rich history.
Table Rocks
Explore the iconic Table Rocks, two majestic plateaus towering 800 feet above the Rogue River, just a 30-minute drive from Jacksonville. The moderate hikes to Lower and Upper Table Rock, both under two miles, offer spectacular views and a rewarding challenge. Spring and fall are ideal seasons to avoid the summer heat.
Upon reaching the summit, wander along trails that reveal the area's rich cultural heritage, linked to the native Takelma Indians. For a unique perspective on Table Rock history, embark on a Rogue Jet Boat Adventure along the river below.
Budget-Friendly Tips
When exploring downtown Jacksonville, Oregon, on a budget, there are plenty of ways to enjoy the city's charm and attractions without breaking the bank. Start by visiting the many free or low-cost historical sites, such as the Jacksonville Historic District and the Beekman House Museum, where you can immerse yourself in the rich history of the region.
For nature lovers, the Jacksonville Woodlands Association Trails offer endless opportunities for hiking and birdwatching without any admission fees. Additionally, keep an eye out for seasonal events and festivals, which often have free or affordable activities for visitors.
When it comes to dining, opt for affordable local eateries, such as cafes and food trucks, or consider picnicking in the picturesque Peter Britt Gardens or Forest Park. For accommodations, book a stay at one of the many budget-friendly hotels or motels in the area, or consider camping in a nearby campground for a more affordable and immersive outdoor experience. With a little creativity and planning, you can experience the best of Jacksonville without stretching your budget.
RELATED: The Best Camping in Oregon: Our Top Campgrounds
Best Time to Visit Jacksonville
As springtime arrives in Jacksonville, the season commences with the opening of the Britt Festival, where classical music harmonizes perfectly with blossoming wildflowers. Summer in Jacksonville offers an unparalleled experience, characterized by its mild temperatures and low humidity, creating an ideal haven for outdoor adventures and exploration.
Navigating the City & Transportation
Getting around and navigating Jacksonville, Oregon, is a breeze thanks to its quaint, small-town layout and well-maintained streets. The compact nature of the town makes it perfect for exploring on foot or by bicycle, allowing visitors to soak in the picturesque scenery and historical charm at their own pace.
For those looking to venture further afield, renting a car is a convenient option, providing easy access to the surrounding attractions and scenic drives in the area. While Jacksonville doesn't have extensive public transportation options like larger cities, it does offer a local shuttle service during special events and festivals, ensuring that visitors can comfortably reach their desired destinations.
Overall, Jacksonville's manageable size and accessible transportation options make it a welcoming and easy-to-explore destination for travelers.
Accommodation Options
Discover the charm and hospitality of Jacksonville, Oregon, with a stay at one of its popular hotels. Unwind in the elegant and historic Jacksonville Inn, where luxurious accommodations meet modern amenities. For a more intimate experience, explore the cozy Magnolia Hotel, known for its beautiful gardens and inviting atmosphere.
Alternatively, embrace the warmth of Southern Oregon hospitality at Wine Country Inn, where you can indulge in a delightful wine tasting experience. These exceptional lodgings provide the perfect base for exploring Jacksonville's rich history, captivating culture, and picturesque surroundings.
Looking for a charming breakfast and bed? Read our article about the Touvelle House Hotel here.
What is Jacksonville Oregon famous for?
Jacksonville, Oregon, renowned as one of America's top 10 coolest small towns according to Budget Travel Magazine, boasts a plethora of unique attractions and experiences. The city is famous for hosting the Britt Music & Arts Festival, an extensive summer event showcasing various performances and concerts.
In addition, Jacksonville offers a delightful mix of independently-owned shops and restaurants, award-winning wineries, and easily accessible hiking and biking trails for outdoor enthusiasts to explore.
Is Jacksonville Oregon a nice place to live?
The charming town provides an exceptional living experience, characterized by its vibrant community spirit, abundant outdoor activities, and a tranquil atmosphere. It's an ideal destination for those seeking to settle down and raise a family, enjoy their retirement, or simply embrace a more peaceful lifestyle. Undoubtedly, Jacksonville is a hidden gem worth exploring for those in search of a wholesome environment.