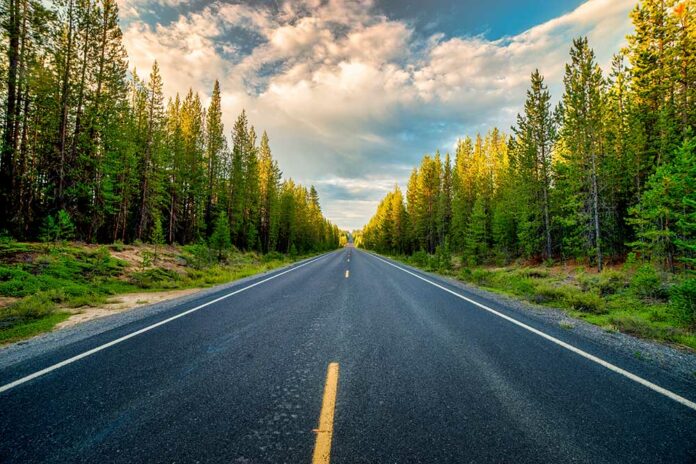 Nestled in the heart of Central Oregon lies a scenic byway that meanders through the grandeur of the Cascade Mountain Range – the Cascade Lakes Highway. This highway is a stunning testament to the rugged and natural beauty that Oregon has to offer. The 66-mile-long stretch of road, also known as Oregon Route 46, is a wonderland of shimmering alpine lakes, snow-capped peaks, dense forests, and sprawling meadows.
Exploring the Cascade Lakes in Oregon
As you drive through the Cascade Lakes Highway (also known as the Cascade Lakes Scenic Byway), the first thing that catches your attention is the dramatic scenery that surrounds you.
Sign up for monthly emails full of local travel inspiration and fun trip ideas. In each newsletter we'll share upcoming events, new things to do, hot dining spots and great travel ideas.
The highway snakes through towering peaks, offering breathtaking views of Mt. Bachelor, Broken Top, and South Sister. The jagged snow-capped mountains provide an awe-inspiring backdrop to the serene lakes that dot the landscape. The crystal-clear water of these lakes is a shimmering shade of blue and reflects the beauty of the surrounding mountains, making for a truly magical sight.
To sum things up before we dig into the Cascade Lakes Highway:
14 picturesque lakes nestled in Oregon's Cascade Mountain Range

Explore via the breathtaking Cascade Lakes National Scenic Byway

66-mile stretch offers ample camping and exploration opportunities

Stunning vistas of Mt. Bachelor, Broken Top, and Three Sisters

Drive commences in Bend from the north, or Crescent Lake in the south, traversing through unspoiled forests and remarkable volcanic terrain

Majestic mountain peaks accompany you throughout the journey
RELATED: Discover the Best of Sisters Oregon
A Brief History of Central Oregon's Cascade Lakes Region
The Cascade Range was formed by volcanic activity over a span of millions of years. Not only the towering mountain peaks hold testament to this. Along the Cascade Lakes Scenic Byway, you can see the evidence left by violent steam explosions and solidified lava flows that cooled and formed the lava dams and shallow craters of what are now some of these gorgeous bodies of water.
Early mountain men and fur trappers like Kit Carson and John C. Fremont were the first white men to explore this rugged landscape. Later came wagon roads and horse trails that traversed the jagged terrain. in 1877, John Y. Todd came out from Tygh Valley to buy the land that now encompasses Bend's Old Mill District, and Todd Lake now bears his name.
In 1998, Oregon Route 46 was officially designated as a National Scenic Byway by the US government.
RELATED: 18 Of The Best Lakes In Oregon
Know Before You Go: Wilderness Permits and Northwest Forest Passes
Most of the lakes and parking areas in the Cascade Lakes region of Oregon require a $5.00 Northwest Forest Pass in the form of an online ePass, or $30.00, paid annually.
A Central Cascades Wilderness Permit is required if you plan to camp overnight in the Three Sisters Wilderness. Read more details at the linked forest service website.
Plan Your Journey Along This Unspoiled Route Through the Deschutes National Forest
The Cascade Lakes Highway begins on Bend's west side as Century Drive, so if you happen to be visiting this Central Oregon city, this will be a beautiful side trip. We recommend a full 3-5 hours to experience everything this drive offers, although days could be spent truly immersing yourself in the area.
There are endless opportunities for fishing, boating, hiking, mountain biking, snowshoeing, cross-country skiing, snowmobiling, and so much more.
RELATED: Oregon's Top 11 Ski Resorts for Unforgettable Winter Memories
From the mirror-like Cultus Lake to the sparkling Sparks Lake, each body of water exudes an individual character and creates a tranquil and peaceful atmosphere. The surrounding wilderness is a sight to behold, with acres of vibrant wildflowers and lush green meadows that stretch out as far as the eye can see.
As the highway winds through the wilderness, you'll find numerous hiking trails leading to some of the most spectacular vistas in Oregon. Whether you're a seasoned hiker or a casual stroller, there's a trail for everyone. The scenery is a testament to the magnificent power of nature and is guaranteed to leave you feeling humbled and inspired.
Bend: Outdoors in the City
Before even truly leaving town, there are pullouts for multiple trailheads and mountain biking routes. Just past the WorldMark Resort, you'll find Dillon Falls Rd. on your left, the gateway to many trails along the Deschutes River that eventually lead south into the Sunriver Resort.
Mt. Bachelor and Broken Top
Continuing along the Cascade Lakes Scenic Byway takes you past sno-parks with tantalizing glimpses of the oddly shaped Broken Top mountain and the enormous cone of Mt. Bachelor.
What to do at Mt. Bachelor
Even during the warmer months, stop at Bachelor for some zip-lining fun, good food, or pleasant hiking to Tumalo Mountain from the parking area at Dutchman Flat Sno-Park. Mt. Bachelor Ski Resort is the 6th largest in the nation, and opportunities for adventure are absolutely endless; too many to even list in a small article.
Todd Lake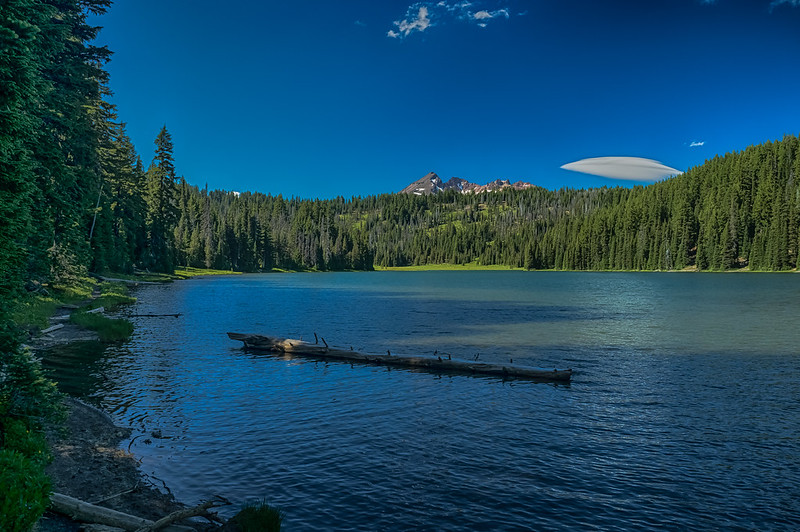 This is the first of all the Cascade Lakes to be encountered along your tour of the historic highway. Originally called "Lost Lake" because it was difficult for people to find, these days it's easily accessed by a forest service road. Here you'll find a day-use area, a rustic campground, and a fantastic loop hike of the entire lake.
What to do at todd lake
Hiking, kayaking, fishing, and horseback riding. The lake is regularly stocked with brook trout.
Devil's Lake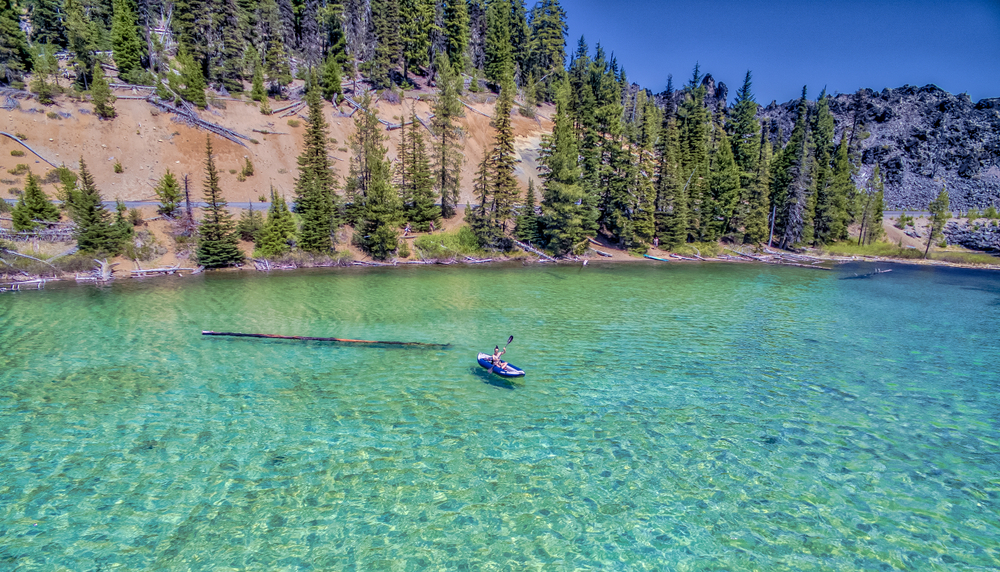 This picturesque 23-acre shallow (only 3-10 ft. deep) lake boasts a captivating turquoise hue, making it an idyllic destination for travelers exploring the Cascade Lakes Highway. The easy access to its fishable shoreline and the stocking of catchable rainbow trout make it an ideal place to take children fishing, while a naturally reproducing population of brook trout adds to the fishing experience.
What to do at Devil's Lake
Hiking, fishing, hiking, trail canoeing, boating. Nearby Devil's Lake Trailhead allows access to the Three Sisters Wilderness.
Sparks Lake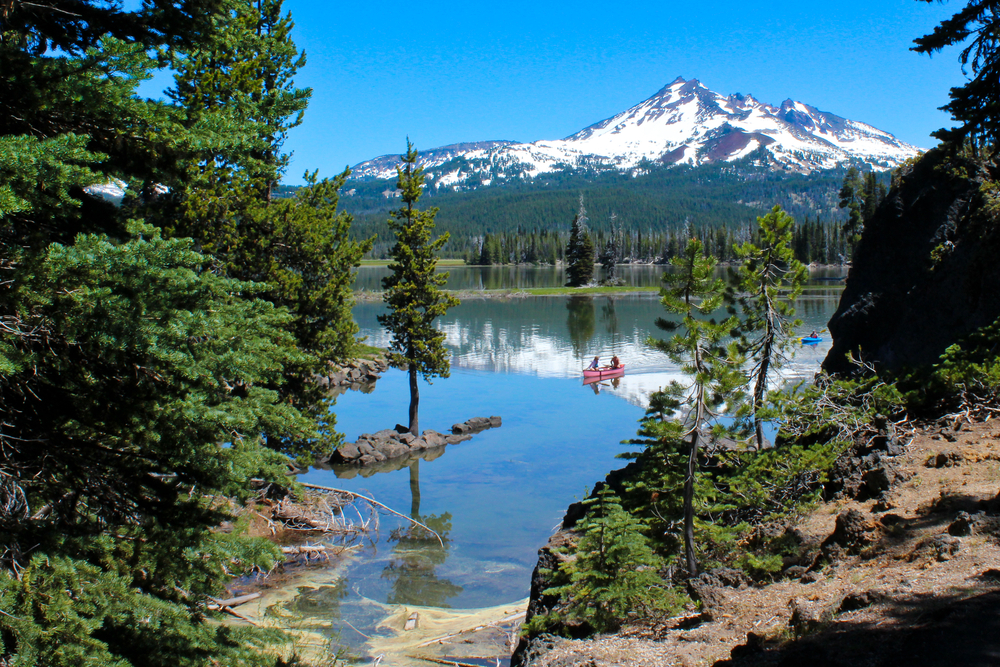 The picturesque Sparks Lake is a stunning body of water spanning approximately 370 acres of lake wetlands and surrounded by 360 acres of meadow and marsh. The lake's spectacular setting was a favorite of the acclaimed late landscape photographer Ray Atkeson, and it's easy to see why. The majestic peaks of South Sister, Broken Top, and Bachelor Butte dominate the skyline, reaching elevations of 10,358′, 9,175′, and 9,065′, respectively.
The natural beauty of Sparks Lake is a sight to behold, with dark-green forests, bright-green meadows, and deep-blue skies that create a mesmerizing and unforgettable scene. Sparks Lake will inspire your craft whether you're an artist, photographer, or nature lover. The serene atmosphere is perfect for those seeking a peaceful escape into nature, while the magnificent scenery offers ample opportunities for exploration and adventure.
The breathtaking views of the mountains combined with the serene waters of the lake create a sense of awe and wonder that is hard to describe.
---
RELATED: 18 Of The Best Lakes In Oregon For Adventures And Camping
---
What to Do at Sparks Lake
Sparks Lake is a great spot for fishing, boating, and swimming. Anglers will find plenty of trout in the lake and bass and panfish. The idyllic setting makes Sparks Lake the perfect place to paddle or sail in your kayak or canoe.
Elk Lake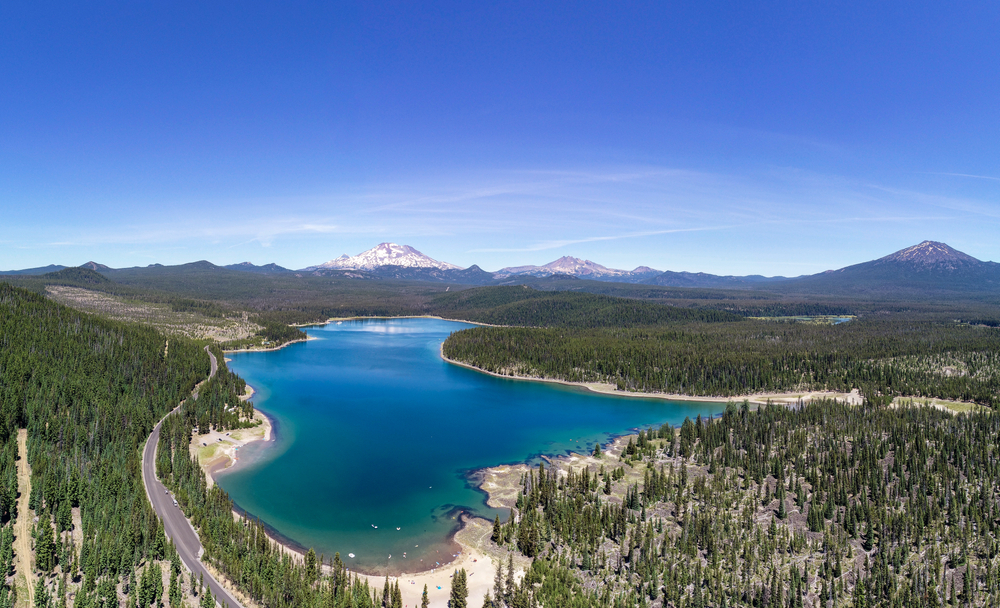 Elk Lake is the largest lake in Deschutes County and one of the most popular destinations along the Cascade Lakes Highway. A 4-mile loop around the lake provides stunningly beautiful views, while a 1/2-mile nature trail offers an opportunity to explore nearby wetlands and meadows. Three campgrounds on this end of Elk Lake provide easy access to the lake.
---
RELATED: 10 Classic Bend Hikes to Add To Your Bucket List
---
What to do at Elk Lake
Hiking, fishing, camping, boating, and bird watching. The waters of this lake are particularly popular with windsurfers, as they offer excellent conditions in the fall and winter months. There's also a boat launch here for those wanting to explore further.
Hosmer Lake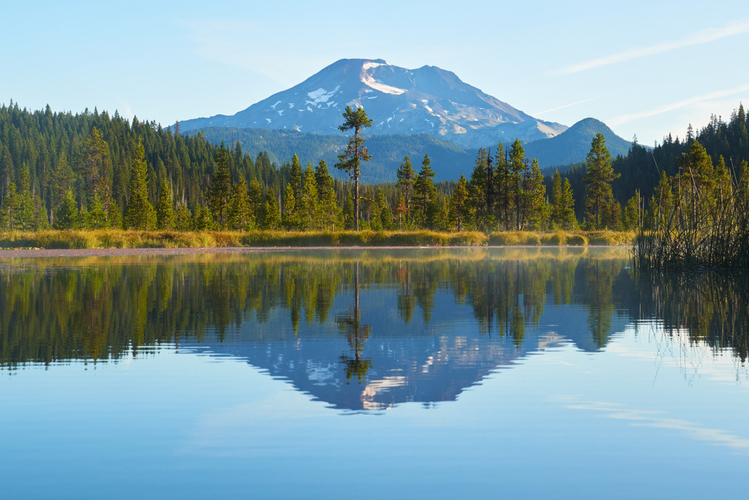 Hosmer Lake is a stunning, glacially formed lake surrounded by the Three Sisters Wilderness peaks. At only 40 acres, it's much smaller than some other lakes in this region, but its clear waters and peaceful atmosphere makes it a popular destination for hikers and anglers alike. The lake is stocked with brook trout and can be fished from either shore.
What to do at Hosmer Lake
Hiking, fishing, canoeing, kayaking. The lake is stocked with Brook Trout and Rainbow Trout regularly. A trailhead for the Three Sisters Wilderness can be found south twin lake at the south end of the lake, offering opportunities for further exploration.
Lava Lakes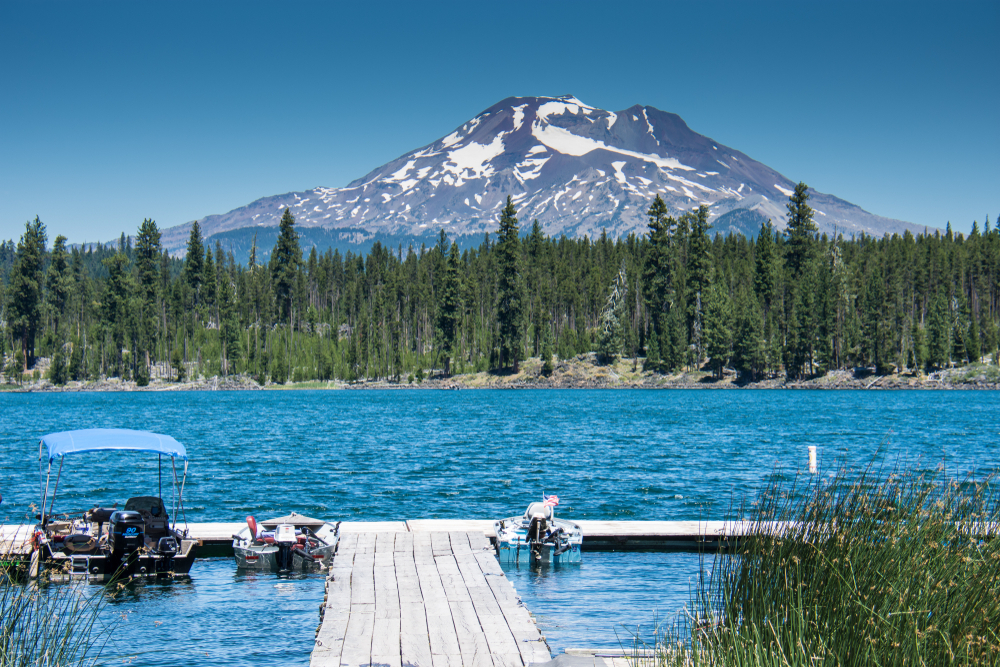 Lava Lakes is a shimmering gem nestled in the pristine forest among the ancient lava flows of the Newberry National Volcanic Monument. The lake is renowned for its fishing, including large kokanee salmon, rainbow trout, and brook trout. The lake's shoreline is home to various waterfowl, beavers, and otters.
What to do at Lava Lake
Visitors to Lava Lakes can enjoy serene hikes around the lake, take a scenic drive on the nearby Cascade Lakes Byway, or spend a day paddling in one of the many canoes and kayaks available for rent. The area also boasts plenty of campgrounds and picnic spots perfect for family outings.
Cultus and Little Cultus Lakes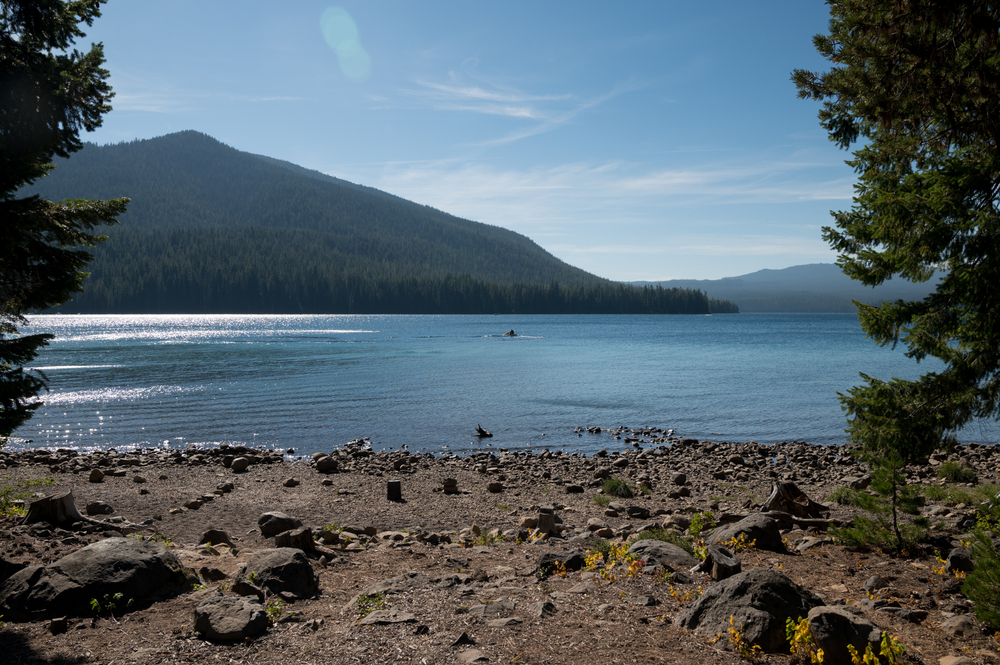 These two incredibly gorgeous alpine lakes are found off Forest Road 1840 and provide breathtaking views of the trees and meadows that line the eastern shore. Little Cultus Lake is slightly more secluded than its larger counterpart, but both are popular fishing spots for native rainbow and brook trout. The pristine waters make them an excellent spot for kayaking or just taking in the scenery.
What to do at Cultus and Little Cultus Lakes
Hiking, fishing, kayaking, canoeing. There are several nearby trails and campgrounds to explore. Little Cultus Lake has a boat launch for small boats and float tubes. Visitors can also take in the stunning views of Mt. Washington from the lake's shoreline.
Crane Prairie Reservoir
On the western side of the Cascade Lakes, Crane Prairie Reservoir is nestled in a scenic mountainous landscape and offers many recreational activities such as fishing, boating, and camping. The reservoir has rainbow trout, brown trout, and kokanee salmon. Visitors can cast for these species from shore or boat. Boats are available for rent at the reservoir, and several boat launches are located around its perimeter. There is also a marina and campground offering facilities such as showers, restrooms, and picnic tables.
What to do at Crane Prairie Reservoir
The area offers excellent fishing, camping, and hiking options. Boating facilities, including rentals and a marina, are available for visitor enjoyment. Convenient campgrounds with amenities and breathtaking mountain scenery enhance the overall outdoor experience.
---
RELATED: Camping Near Bend, Oregon
---
Wickiup Reservoir
The Wickiup Reservoir is an enormous lake in the Deschutes National Forest and offers excellent fishing opportunities for anglers. The reservoir has brown trout, rainbow trout, largemouth bass, kokanee salmon, smallmouth bass, and crappie. Boats can be launched from nearby boat ramps, and boat rentals also are available at the nearby campground. The reservoir also offers excellent camping and picnicking opportunities and convenient amenities such as showers and restrooms.
What to do at Wickiup Reservoir
Fishing from shore or a boat is a great pastime here, but plenty of other activities are available such as kayaking, sailing, canoeing, and swimming. Wildlife viewing is also popular, with bald eagles often spotted in the area.
Davis Lake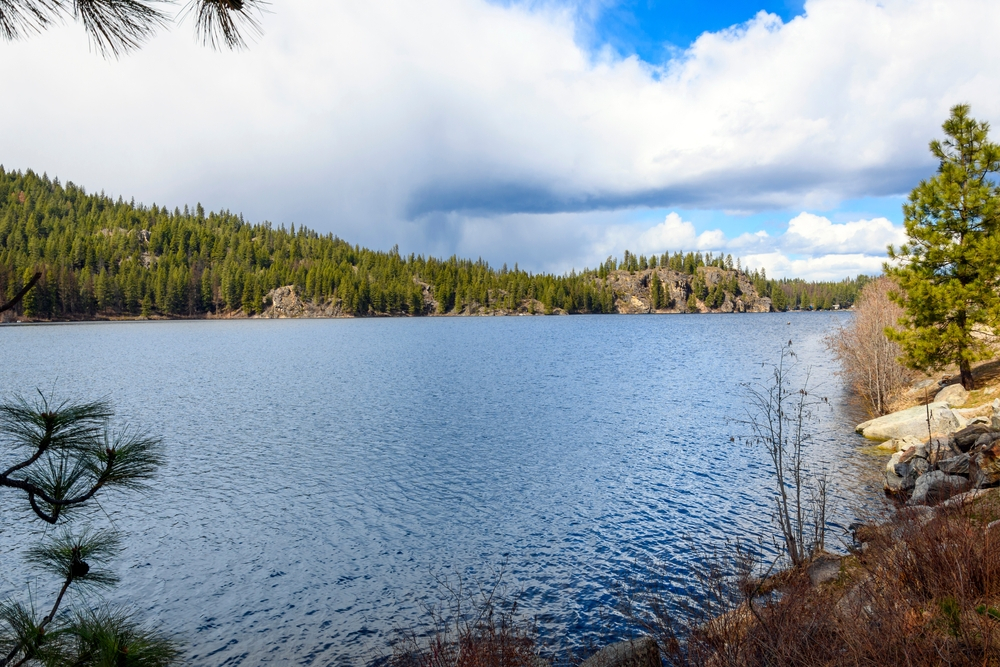 The deepest lake of the Cascade Lakes region, Davis Lake, is located in Deschutes County and lies within the boundaries of the Deschutes National Forest. It is a popular fishing spot for Cutthroat Trout and other native species like Yellow Perch, Rainbow Trout, and Kokanee Salmon. The lake is approximately 4 miles long and has an average depth of 90 feet. It is surrounded by dense Ponderosa Pine forests and rock outcroppings, offering a beautiful backdrop for outdoor activities.
What to do at Davis Lake
Boating, swimming, camping, hiking, and fishing are among the most popular activities at Davis Lake. Visitors also enjoy exploring the nearby lava beds and hiking trails around the lake's perimeter. With its stunning setting, Davis Lake is an excellent spot for photographers and wildlife watchers who want to escape the city life's hustle and bustle.
Winter in the Cascade Lakes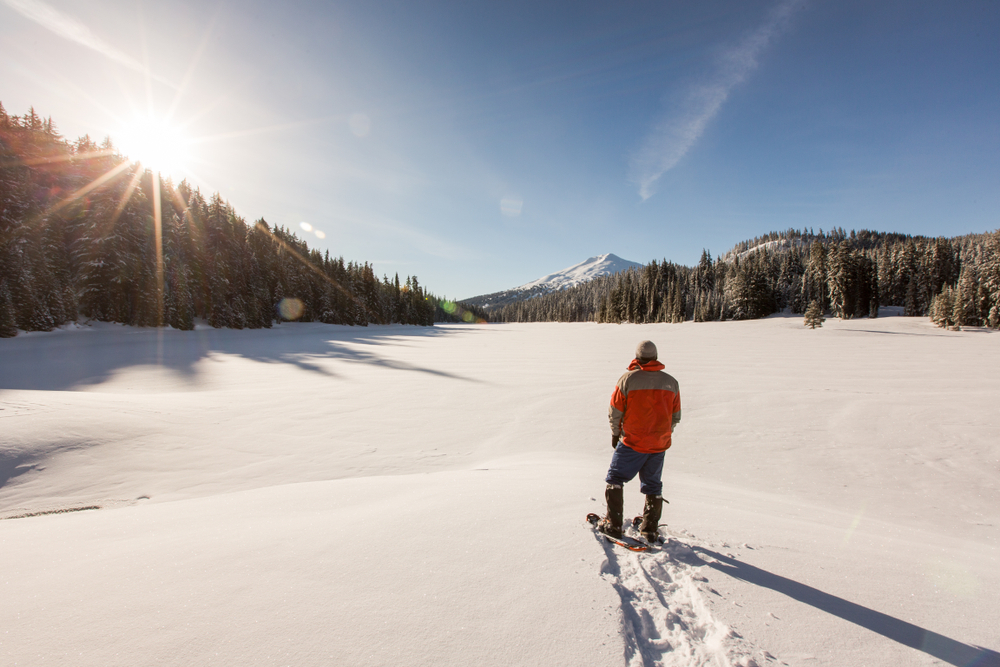 In winter, the Cascade Lakes region transforms into a wonderland of snow and ice. Popular activities include snowshoeing, cross-country skiing, ice fishing, and snowmobiling. Visitors will also find plenty of opportunities to enjoy hot springs and other outdoor adventures, such as skiing and snowboarding, at the nearby Mt. Bachelor ski resort.
No matter the season, there's always something to explore and experience in the Cascade Lakes region of Oregon. From fishing to camping, kayaking to skiing, it's an outdoor enthusiast's dream destination. Whether looking for a day trip or a long-term adventure, the Cascade Lakes have something for everyone.
Tips for Visiting the Cascade Lakes Scenic Byway
The Cascade Lakes Scenic Byway is a stunning drive that takes you into the heart of Oregon's Cascade Mountains. Here are some tips to make your trip memorable:
Plan your trip during the right season:
The best time to visit the Cascade Lakes Scenic Byway is from late June through September, when the road is typically clear of snow and weather conditions are more favorable for outdoor activities. Be aware that snow can sometimes linger into June and that wildfires may impact travel in the late summer.
Dress appropriately and be prepared for changing weather:
Weather in the Cascade Mountains can be unpredictable, with temperatures varying significantly from day to night. Pack layers, including a waterproof and wind-resistant jacket, to ensure your comfort during your visit. Don't forget sunscreen, sunglasses, and a hat for sun protection.
Plan your route and stops ahead of time:
With 14 lakes and numerous points of interest along the byway, planning your route and stops is essential to maximize your time. Research and prioritize the lakes and attractions you'd like to visit, and be sure to factor in driving time and any additional time needed for hiking or other activities.
Fill up on gas and supplies before you go:
Gas stations and amenities are limited along the byway, so it's a good idea to fill up your gas tank and stock up on snacks, water, and other essentials before starting your drive. The nearby town of Bend, Oregon, is a convenient place to find supplies.
Take advantage of the outdoor recreation opportunities:
The Cascade Lakes Scenic Byway is a haven for outdoor enthusiasts, with twin lakes offering ample hiking, fishing, kayaking, and mountain biking opportunities. Research trails and activities to ensure you're prepared with the appropriate gear and permits.
Be mindful of wildlife:
The Cascade Mountains are home to various wildlife, including deer, elk, and bears. Keep a safe distance from animals, store food properly, and obey posted signs to ensure your and the wildlife's safety.
Practice Leave No Trace principles:
Help preserve the natural beauty of the Cascade Lakes by following Leave No Trace principles. Dispose of waste properly, minimize environmental impact, and respect the plants, animals, and other visitors.
Take your time and enjoy the views:
The Cascade Lakes Scenic Byway offers countless opportunities for stunning vistas and photo-worthy moments. Take your time to soak in the beauty and create lasting memories of visiting this spectacular region.