The hike to Broken Top is an absolute gem in Oregon, offering some of the most stunning views of ponderosa pine tree forests, vibrant fields of wildflowers, and a strikingly turquoise lake nestled in the shadow of a vivid purple volcanic crater.
While it's a must-do trail, it does come with its own set of challenges, including its considerable distance for a day hike, the requirement for permits, and the dual trailheads that can be confusing for hikers. Therefore, it's essential to conduct thorough research before embarking on this hike. If you're seeking a one-of-a-kind adventure in Central Oregon, then look no further, as we have everything you need to know about the Broken Top hike.
Sign up for monthly emails full of local travel inspiration and fun trip ideas. In each newsletter we'll share upcoming events, new things to do, hot dining spots and great travel ideas.
Image courtesy of Seth Marchant (@slmfast on Instagram)
The hike to Broken Top covers a total distance of 15.2 miles if you start from the Todd Lake parking lot. However, for the daring few with a robust vehicle that can handle a challenging, unmaintained road, the alternate trailhead offers a 5.5-mile round trip (more on that later!)
The hike's elevation gain stands at 2,880 feet, making it a moderate to challenging trek. That said, whether you're a novice or an expert hiker, this hike is achievable, despite its length.
The trail's latter half has much of the elevation gain, particularly as you approach the turquoise lake with the ironic name of "No Name Lake." The ascent to the lake is steep, covering a couple of miles, but the views at the top make the climb worthwhile.
Not too long ago, getting a hiking permit for the Broken Top trail was a simple, self-registration process at the trailhead. Unfortunately, the trail's surge in popularity has resulted in new permit requirements for both day and overnight hikers.
During the peak season from June 15 to October 15, regardless of which trailhead you're starting from, you must obtain a Central Cascades Wilderness Permit. These permits can be competitive to obtain, so plan accordingly by checking out the website for more information on how to secure your permit.
Where is the Broken Top Hike
If you decide to set out for Broken Top, you have your choice between and easy drive and an easy hike. If you're driving a fragile car, it's best to park at the easy trailhead for Todd Lake. A few hundred yards from here you will find Todd Lake, although the No Name Lake in Broken Top's crater is around another 7 miles uphill.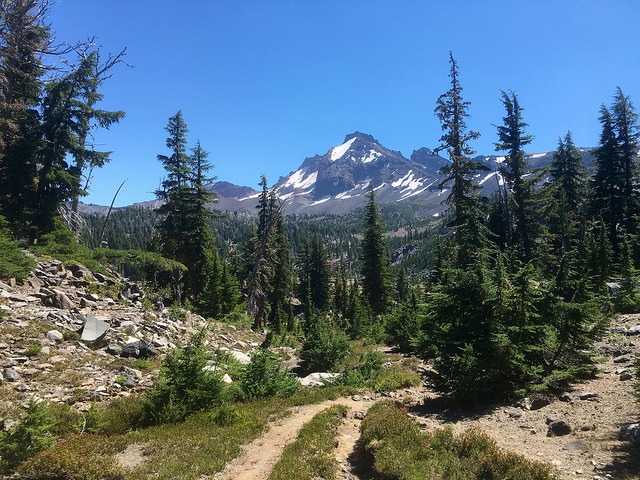 Loren Kerns / Flickr
To find this starting point, drive the Cascade Lakes Highway west of Bend 23.7 miles. Beyond the Mt. Bachelor Ski Area 1.8 miles, turn right at a sign for Todd Lake on gravel Road 370 for half a mile to a parking lot. Dogs must be on leash in this area from July 15 to September 15.
From here you will walk less than a quarter of a mile up to Todd Lake, take a ride on the Todd Trail for 2.5 miles, keep going straight on the Soda Creek Trail 0.9 mile, take a right on the Broken Top Trail 1.8 miles, and then turn left on the trail that leads you another 1.8 miles up to the hidden crater lake.
While this route may be long, it's never steep and you will enjoy the view of beautiful meadows, creeks, and viewpoints making the hike worthwhile.
If you are driving something more rugged and prefer the easy hiking route to Broken Top, your other option is driving much closer to Broken Top's carter on Road 370.
The road is not maintained regularly, and hiking guru William Sullivan even called it the worst road in Oregon. Lots of folks even wanted Road 370 closed back in 1984, when Congress expanded the wilderness.
If you have a high-clearance vehicle, continue from the Todd Lake parking area past a green metal gate. The gate is open only in summer and early fall.
After two and a half painful miles, you want to ignore Road 378 on the left. In less than a mile, take a left on Road 380 at a "Broken Top Trailhead" sign and you will follow this equally miserable spur 1.3 miles to its end. If you have a GPS device, the location here is N44°03.351′ W121°40.527′.
From this upper trailhead, you will find the path setting out across pumice fields with wind-bent trees. You will then reach a large unmarked fork after 0.4 miles, at the start of a meadow with views ahead to Broken Top's cliffs. You will see a trail to Green Lakes veering left, which you will not take. For the hike to Broken Top, you will want to take the larger, unofficial trail that forks uphill to the right.
You will cross a creek on this path, where you will have to hop on rocks. In about a half mile or so, you will discover 2 little waterfalls forth through bare rock to the right. After the waterfalls you will find some trees – these are whitebark pines.
After another mile of climbing, you will come to a snowfield beside a sandy moraine hill. Head for a jagged notch in the hill with the lake's outlet creek. The milky green lake has a jaw-dropping view of a glacier clinging to Broken Top's crags.
It's definitely worth following the path a little over half a mile. Skirt to the right along the lakeshore and climb to a pass known as Broken Saddle. You'll continue up a ridge the right, where you'll discover a high point with an incredible panoramic view of all Three Sisters and most of Central Oregon.
Best Time to Hike Broken Top Trail
For optimal hiking conditions, plan to tackle the Broken Top trail from July to mid-October, when both the trail and the roads are mostly free of snow. While it is possible to access the trail a few weeks outside of this timeframe, it's worth noting that the road leading to Todd Lake is closed seasonally from late October to early May.
If you're keen on hiking during the off-season, I suggest packing microspikes and trekking poles. Snow is common along the trail, particularly at higher elevations, during late October through June. So be prepared!
When planning your visit to the Broken Top trail, it's important to consider the potential threat of wildfires. Due to the area's dry high desert climate, Bend and the surrounding areas are intermittently susceptible to wildfires from July through October. If there is a wildfire in the vicinity, the trail may close for safety reasons. Additionally, smoke from neighboring fires can make breathing challenging, which is not ideal when hiking up a mountain for 15 miles. It can also obscure the breathtaking views along the trail, as seen in some of our hazy photos from our visit in October, when the area was engulfed in smoke from nearby wildfires.
While the less-than-ideal weather conditions may have prevented us from enjoying perfect views, we were still happy to complete the trek to Broken Top, which remains one of our top ten favorite hikes. So, even with wildfire smoke and other adverse weather conditions, this trail is worth experiencing.
To ensure your safety and the best possible hiking experience, it's advisable to double-check the smoke map for wildfire activity in the area before setting off to the Broken Top trail. The Forest Service site also provides up-to-date information on any closures that may impact your plans. Taking these precautions will help you make informed decisions and avoid any potential hazards while hiking.
What To Expect
If you're starting from the Todd Lake trailhead (for those commencing from the Broken Top trailhead, skip ahead to the fourth paragraph below), your hike will begin with a 2.4-mile trek along Todd Trail #34. This section of the trail passes through a dense pine tree forest, with mostly flat terrain that transitions into vast high desert meadows as you progress further.
Around 2.4 miles into the hike, you'll encounter the first of several junctions with trails that crisscross the Central Cascade Wilderness. To proceed through the dry grasslands, take a right onto Soda Creek #11 Trail. Along the way, you'll cross several small streams, but they're typically mild and easy to traverse using stepping stones. At the 3.2-mile mark, you'll come across another junction where you should turn right onto the official Broken Top Trail #10.
As you approach the 4.1-mile mark, prepare to be wowed by the breathtaking views of sweeping wildflower meadows (especially from late July to mid-August) and unobstructed panoramas of Mount Bachelor and Broken Top.
The trail meets up with hikers starting from the Broken Top trailhead at approximately 5 miles in, just as the elevation gain begins in earnest. This uphill climb is quite strenuous, made more challenging by the trail's loose rocks and dusty soil, which can be slippery in places. As you approach No Name Lake, you'll encounter a scree field of volcanic rock and a narrow creek running alongside the trail, indicating that you're almost there.
Upon reaching the lake's shores, take a moment to appreciate the incredible sight of its stunning robin's egg blue waters, surrounded by jagged volcanic rock striated with purple and pink hues towering overhead. Depending on when you visit, you may even see icebergs floating serenely in the lake. During our visit in early October, all the snow and ice around the crater had melted, but typically the icebergs remain until around mid-August.
After catching your breath from the arduous uphill climb, most hikers call it a day and head back to their cars. However, you're not like most hikers, are you? In that case, you should absolutely make one final push and hike the additional 0.7 miles to the summit, which offers breathtaking views of the surrounding Cascades, including the iconic Three Sisters, Three Finger Jack, Mount Jefferson, and Mount Washington.
To reach the summit, continue along the lake's shore and make a 300-foot climb to a ridgeline that provides an unparalleled panoramic view of the Central Oregon Cascade Mountains to the northwest, Bend Glacier to the west, and No Name Lake and the otherworldly Broken Top Crater to the south. This view is among the most stunning and unique I have ever witnessed, and I've seen my fair share of scenic views!
Tips For Broken Top Hike
To ensure a smooth and enjoyable hike on the Broken Top trail, it's important to take a few precautions. Firstly, download the AllTrails map of the trail before you leave. Although the trail is well-marked, there are several junctions and numerous social trails branching off the main path, making it confusing to navigate. Having the AllTrails map handy and using GPS to track your path will prevent you from getting lost along the way.
It's also essential to pack sunscreen, a hat, and plenty of water for the hike. After the first couple of miles, the trail offers little shade, and with the elevation gain, high altitude (Broken Top is 9,177 feet above sea level at its summit!), and prolonged exposure, the sun can be brutal. Therefore, slather on some SPF, put on a hat and some shades before embarking on this trek, and make sure to bring enough water. I would recommend packing more water than you think you'll need. My husband and I each carry a large Nalgene bottle and a couple of smaller plastic bottles that we refill multiple times along the trail. Not only is using a Nalgene bottle better for the planet than single-use plastic, but it is also easier on your wallet. If you don't want to carry extra bottles to refill, you could bring along a water purifier, like this one, to keep you hydrated throughout the hike.
It's important to wear appropriate footwear for the varied terrain on the Broken Top trail. The path you'll be traversing ranges from rocky creek beds to sharp, protruding rocks, with a couple of miles climbing uphill on small, slippery stones. With the trail's diversity and steep drop-offs along the summit, it's essential to wear waterproof hiking boots.
It's important to bring warm layers for the Broken Top hike, as No Name Lake and the summit can be much cooler and windier than the meadows along the trail. Be sure to pack warm clothing, like a zip-up fleece, to keep you cozy while you're taking a break or having lunch.
If you're planning to camp overnight, be aware that you need a valid permit, and camping is not permitted within .25 miles of No-Name Lake. This prohibition was put in place by the National Forest Service due to a lack of adherence to Leave No Trace principles. As a friendly reminder, always follow the Leave No Trace principles on the trail, such as packing out all waste and leaving natural features like rocks and wildflowers undisturbed. Don't carve your initials into anything or take anything from the trail, and always aim to leave it in better condition than you found it.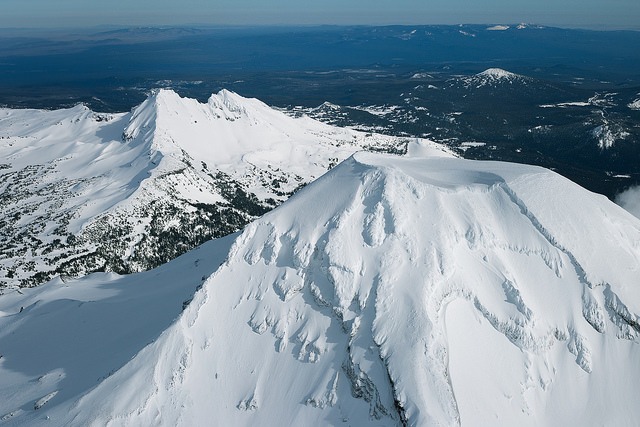 South Sister and Broken Top (Photo by Eric Prado / Flickr)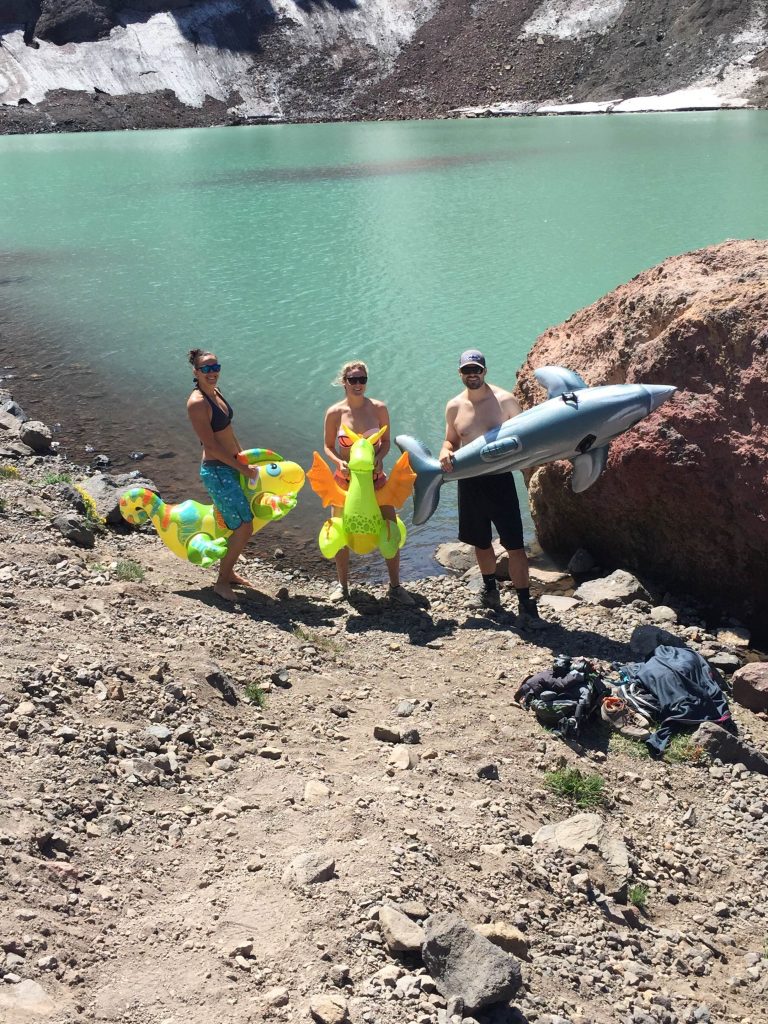 Seth Marchant and friends taking a dip in the Hidden Lake
Have you done the Broken Top Hike, or do you plan on hiking Broken Top in the near future? Let us know in the comments below! Follow That Oregon Life on Instagram at @thatoregonlife – Tag us #ThatOregonLife to be featured!
Follow Seth Marchant (@slmfast) on Instagram as well for more photos!
Special thanks to this article at Statesman Journal for in-depth directions.
h/t oregonhikers.org (click here for more beautiful photos!)