I love cheese. If you're from the Pacific Northwest, like me you probably grew up eating Tillamook cheddar on everything from sandwiches to your mom's broccoli. Its deliciousness was usually taken for granted until that one fateful day: a class field trip to the Tillamook Cheese Factory on the Oregon coast. Seeing the entire process of world-class cheese making from cow to table was fascinating, and others seem to agree. The new Tillamook Creamery garners over one million visitors annually, and we're about to share why.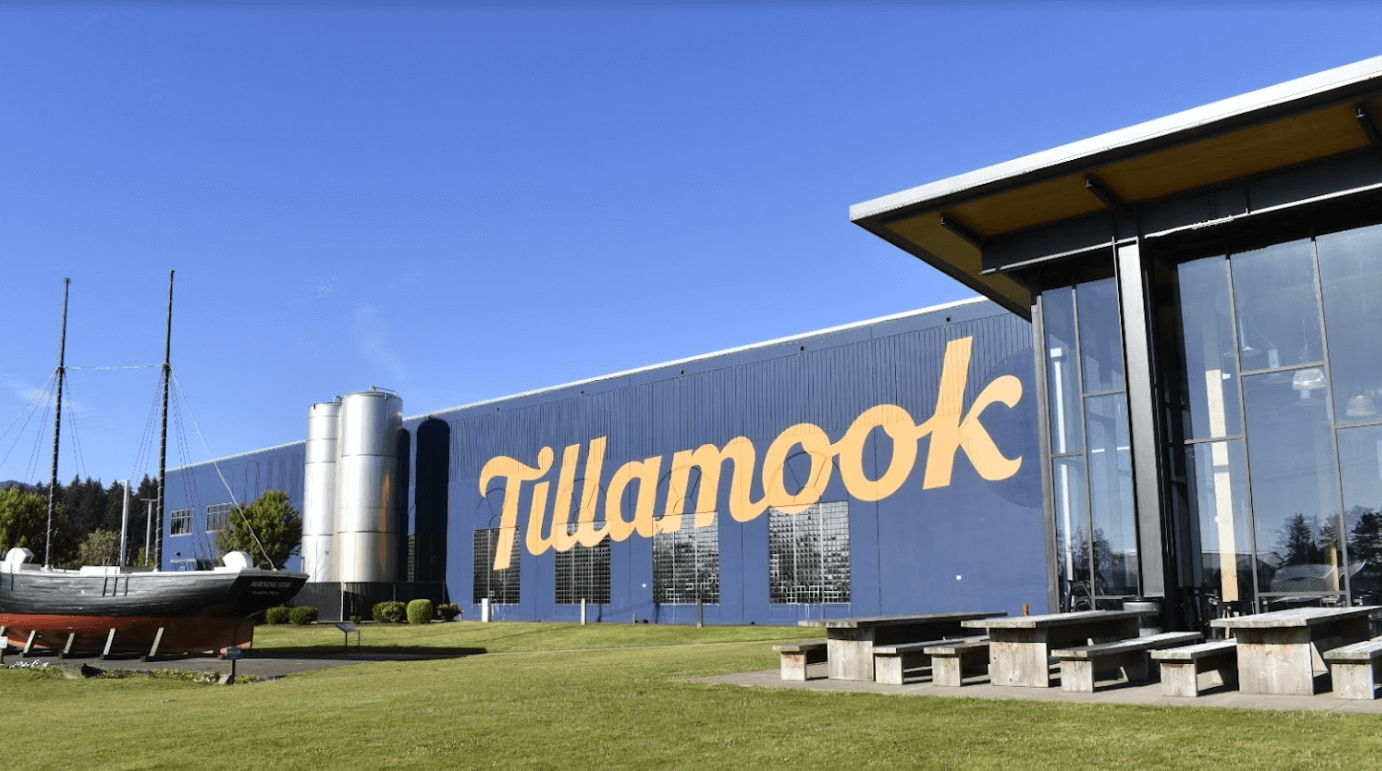 The Tillamook Cheese Factory History
Cheese-making has been a part of Tillamook's history since white settlers began trickling into the area in the 1850s. Dairy farmers knew the coastal climate was perfect for growing all the grass their cows would need to produce the best milk, and naturally the best cheese and ice cream.
Enter The Tillamook County Creamery Association
In 1909, several small cheesemaking operations in the area united to become the Tillamook County Creamery Association. When the railroad was built in 1911 connecting coastal farming communities to the Willamette Valley, Tillamook Cheese was suddenly available to many west coast towns and cities.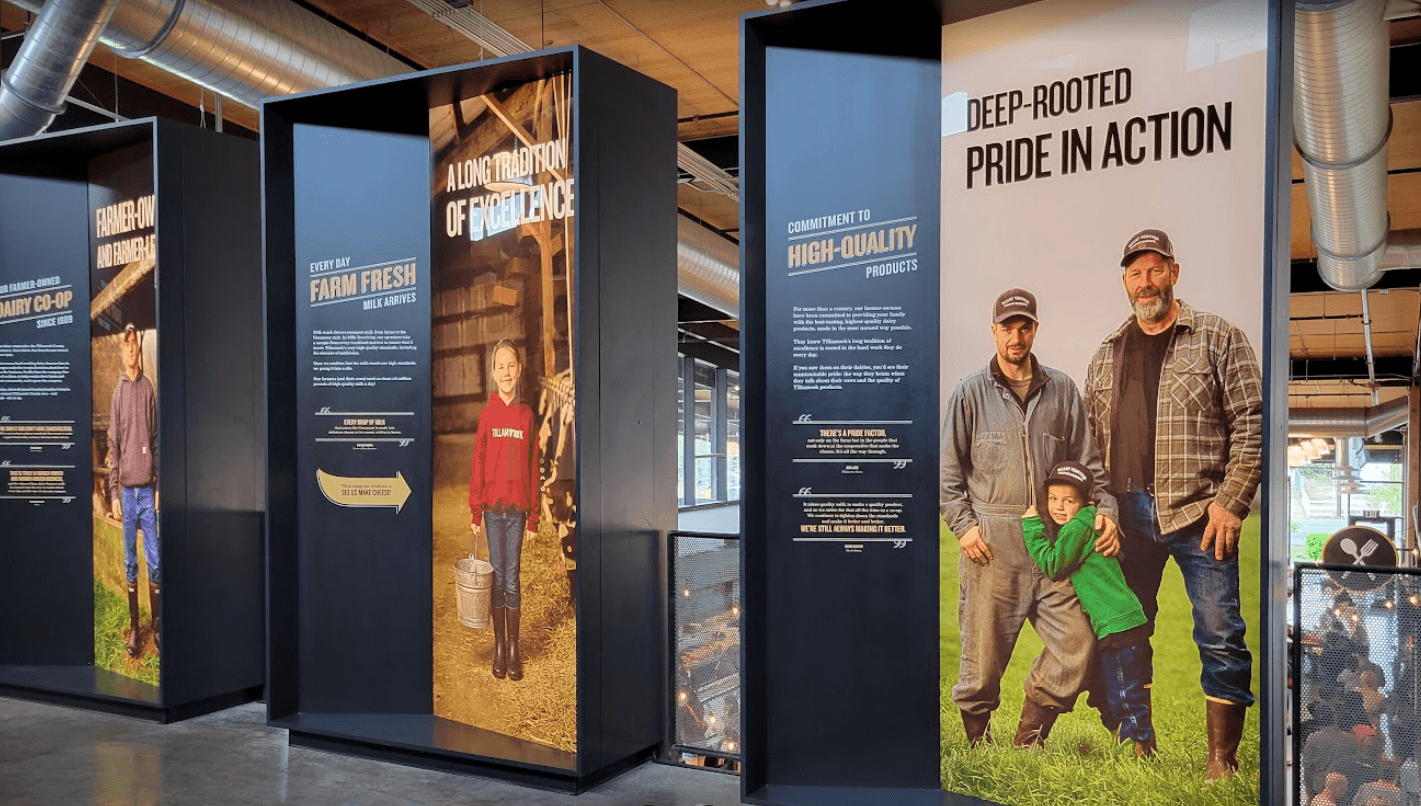 Millions of pounds of Tillamook Cheese were shipped overseas during both World Wars, and growth continued so rapidly that by 1949 the Tillamook Cheese and Dairy Association built a state-of-the-art factory for the purpose of what else? Making even more cheese. It was opened to visitors for factory tours, and travelers along Highway 101 quickly added the facility as a favorite stop-over for an ice cream break.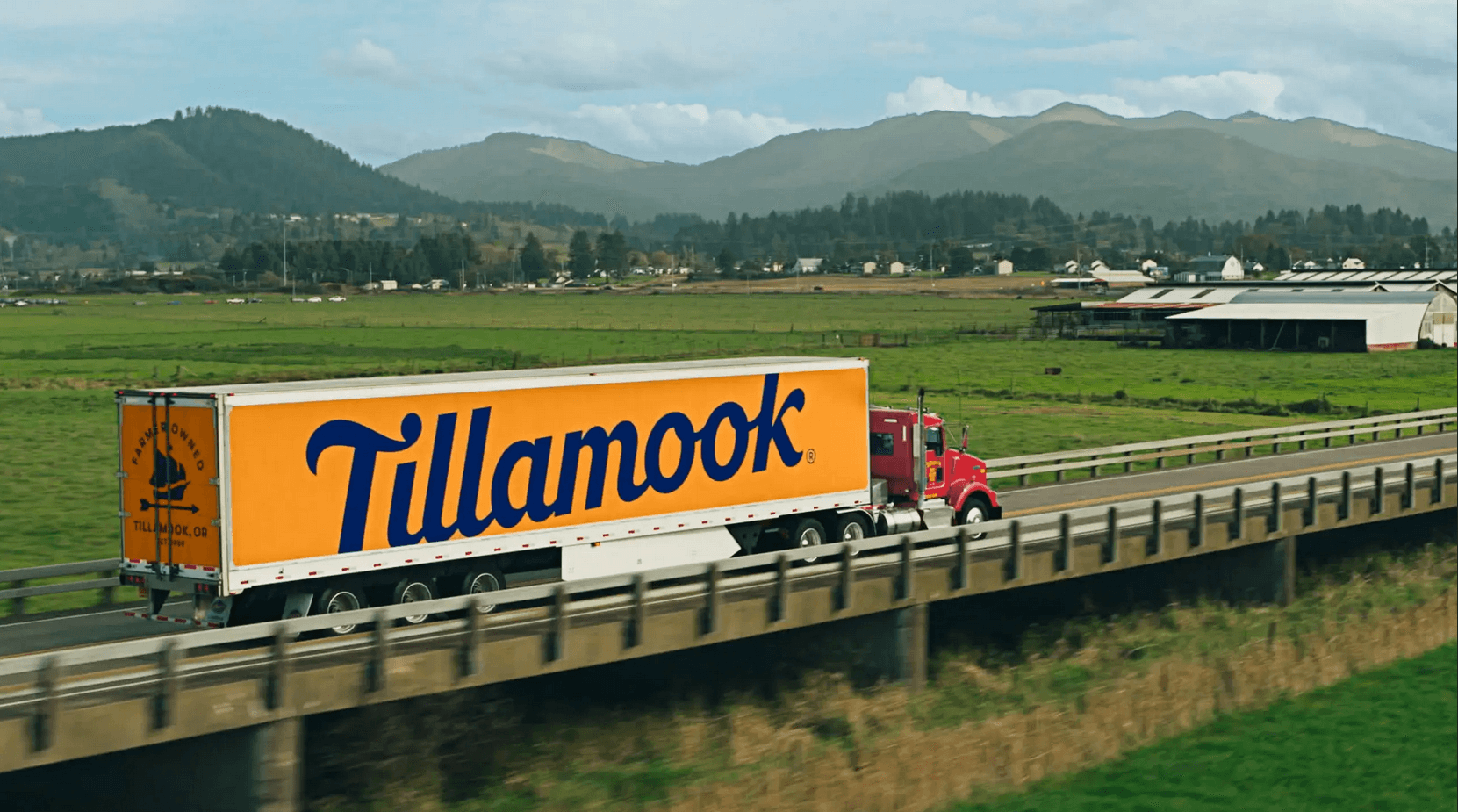 In 2018 the factory was revamped into the delightful tourist attraction visitors know and love today. I was lucky enough to be there with family and friends on their grand opening day, and my cheese-loving soul was made happy.
Sign up for monthly emails full of local travel inspiration and fun trip ideas. In each newsletter we'll share upcoming events, new things to do, hot dining spots and great travel ideas.
SO MUCH CHEESE
But cheese is only the tip of the dairy iceberg. These days, Tillamook produces butter, ice cream, sour cream, yogurt, and cream cheese.
All farmers are pledged to never use artificial growth hormones like rBST on their cows, so your family is always going to get the best when they eat Tillamook products (we're in no way sponsored by the cheese factory or Tillamook, we just believe this is important).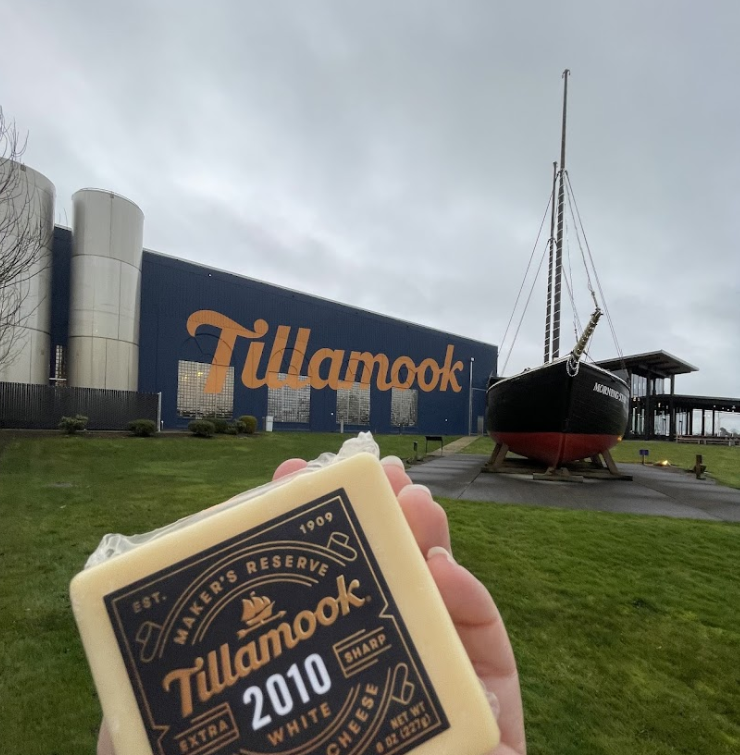 The classic Tillamook Medium Cheddar is probably the most familiar to consumers, but the cheese factory also produces so many other varieties like English-Style, Garlic Chili, Hickory Smoked Aged Cheddar, and my favorite: the Extra Sharp Aged. You're likely to find a chunk of this in my fridge at all times, and the longer it's aged, the better in my opinion. Tillamook regularly sells varieties that have been aged over seven years, and my goodness is it extraordinary stuff.
In 2010 with 99.6 out of 100 points, Tillamook's medium cheddar beat out 59 other entries in the World Cheese Championship in Wisconsin. It's the very same recipe that's been used for over 100 years.
ICE CREAM
Although the offered flavors have grown and changed over the years (Licorice and Bubble Gum, I'm looking for YOU), Tillamook Creamery continues offering many mouthwatering flavors in its lineup.
There are varieties that just scream OREGON, like Mountain Huckleberry and Oregon Dark Cherry. Classic standbys come in the form of Vanilla Bean and Neapolitan. Then you have the newcomers like Caramel Toffee Crunch and the limited edition Campfire Peanut Butter Cup.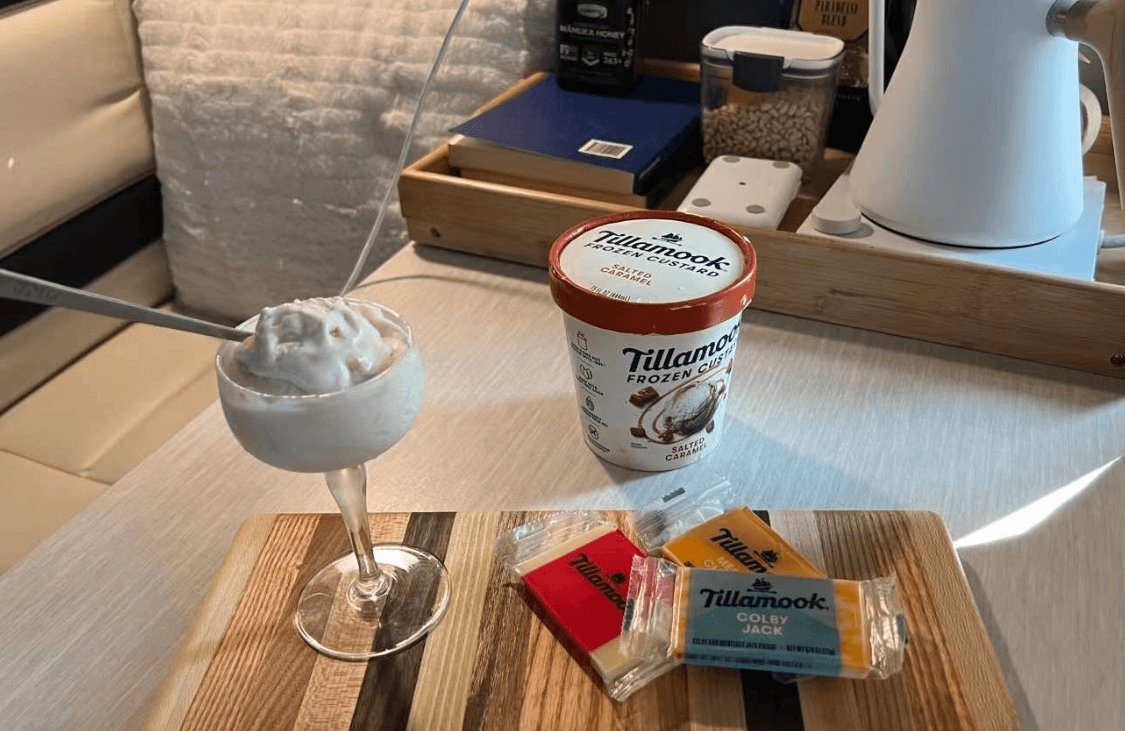 Novelties in the form of ice cream sandwiches are newer to the lineup, with Mint Chocolate Chip being the perfect sweet fix on a hot summer day.
Tillamook's Frozen Custard comes in pints of delicious varieties like Sea Salt & Honeycomb Toffee and Blackberry Cobbler. YUM.
Most of these options can be found at the ice cream counter in the Cheese Factory, so you should definitely save some room in your belly.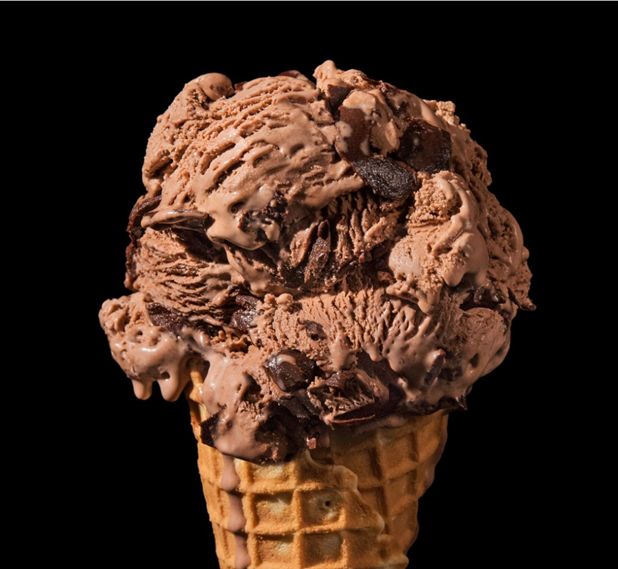 What to do at the Tillamook Cheese Factory
Where to even begin? There's so much to take in here, but fortunately, we're here to lay it all out for you.
Take a Tillamook Cheese Factory Tour
One of the highlights of visiting the Tillamook Cheese Factory is taking a self-guided tour of the cheese-making process. You'll get to see how the milk is transformed into cheese and watch as the cheese is aged to perfection.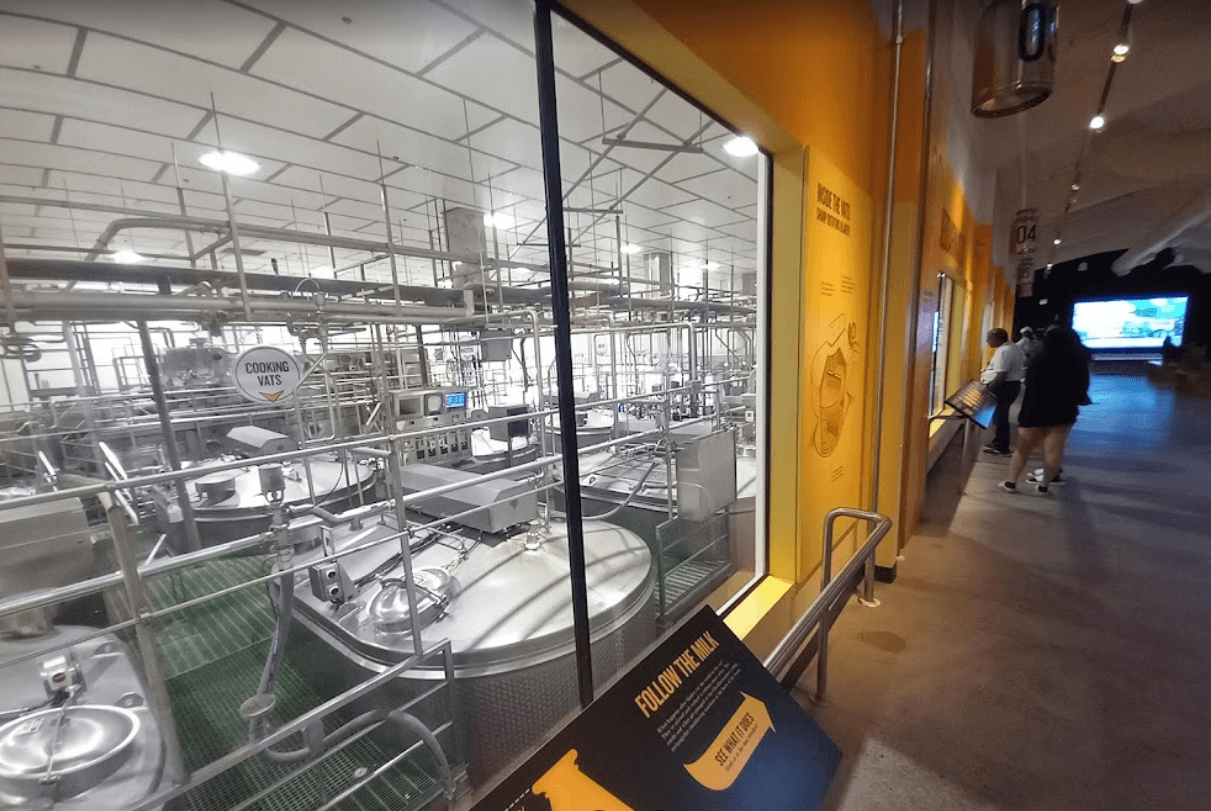 The free self-guided tour is a great option at the visitor's center because it allows you to take things at your own pace and save time if you're short on it.
What does a Blue Octopus have to do with cheese making? You'll have to tour the factory to find out.
Book a Premium Tillamook Cheese Factory Experience
The creamery offers two premium options on its website, making you their invited guest and top priority.
The first option is a guided Tillamook Cheese Factory tour through the viewing gallery and a deeper dive into what goes into 110 years of cheesemaking.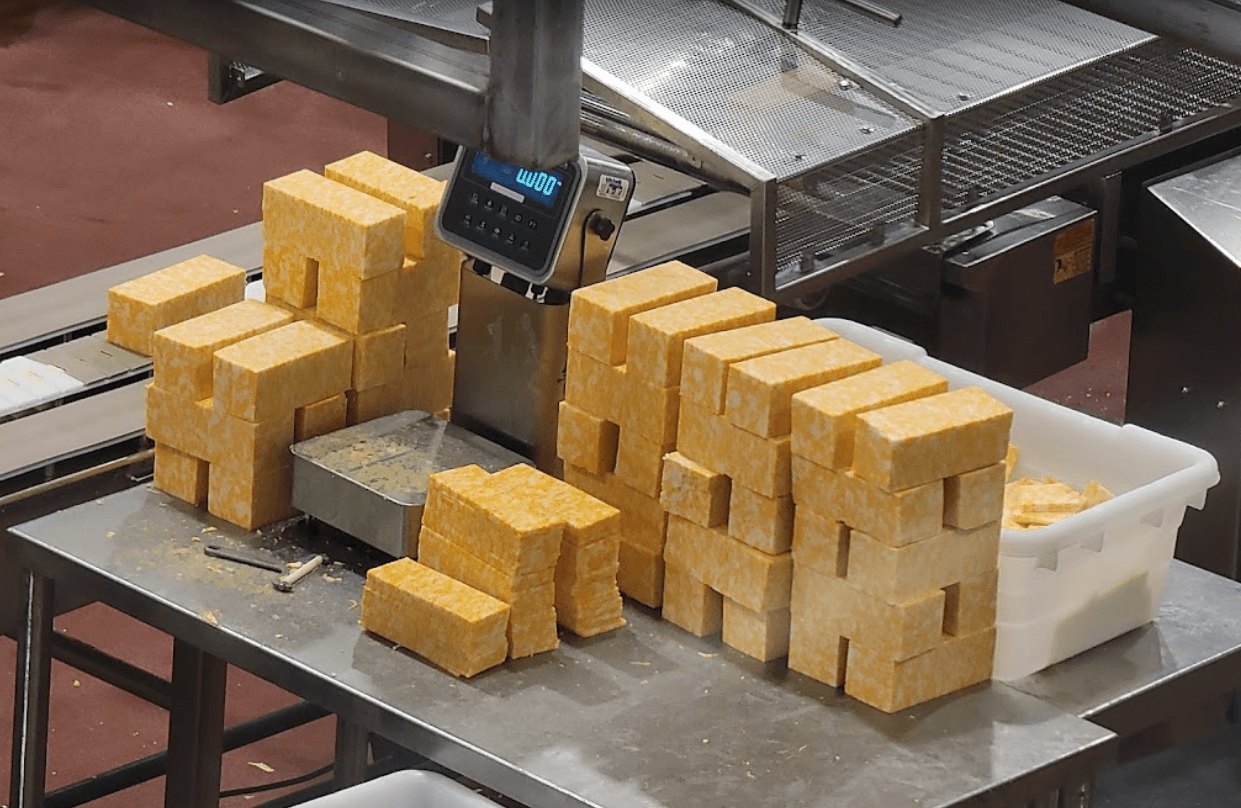 The tour is led by knowledgeable guides who will answer any questions you have about the process. And of course, you'll get to taste some of the delicious cheese along the way. It's a fun and educational experience on cheese production that cheese enthusiasts won't want to miss.
If you want things on the sweeter side, become an "Honorary Tillamook Taste Bud" on an interactive cheese factory experience that ends with insider ice cream and swag. This one is especially fun for the younger members of the family.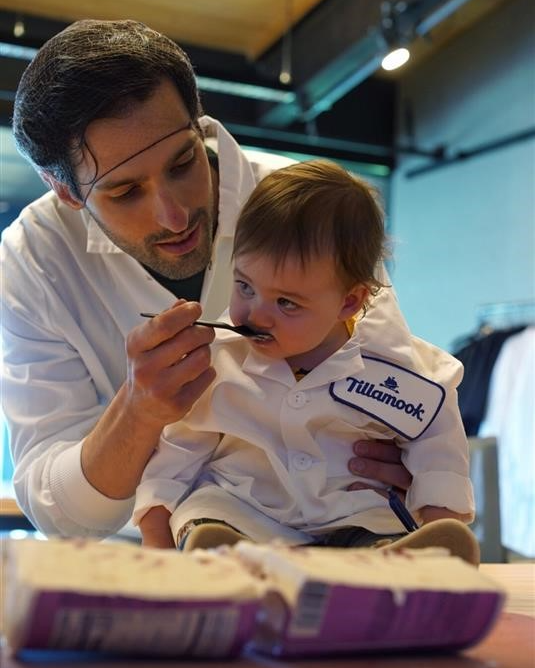 Speaking of ice cream...
Visit the Ice Cream Counter for a Sweet Treat
In addition to its delicious cheese, the Tillamook Cheese Factory also has an ice cream counter that is not to be missed. They offer a variety of yummy options, including classic vanilla and chocolate, as well as unique flavors like marionberry pie, Oregon hazelnut, and salted caramel.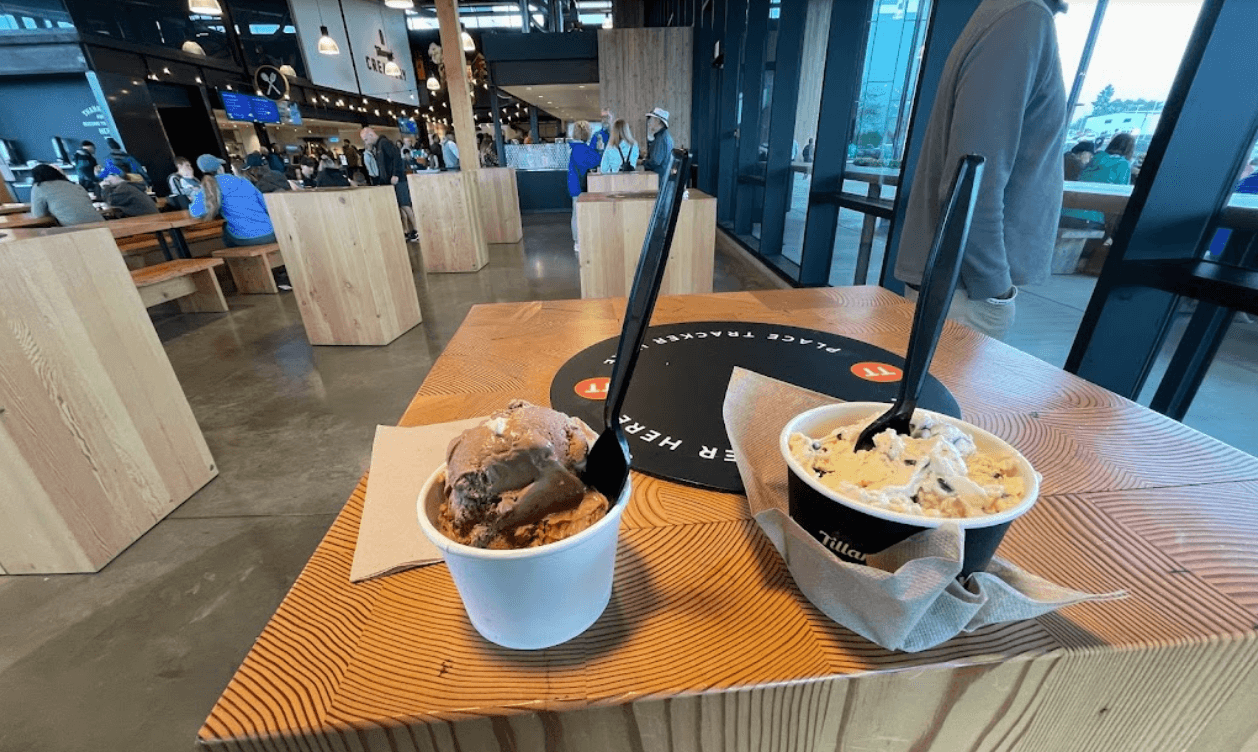 You can enjoy your ice cream in a cone or cup, or even take home a pint to enjoy later. Don't forget to check out their toppings bar for some extra sweetness.
Your family will love you.
Take in the Extensive Tillamook Gift Shop
As gift shops go, this is one of the best on the Oregon coast.
The Tillamook Gift Shop at the Tillamook Cheese Factory is a cheese lover's paradise, full of cheesy goodness and unique souvenirs that will leave you feeling like the happiest cheesehead in the world!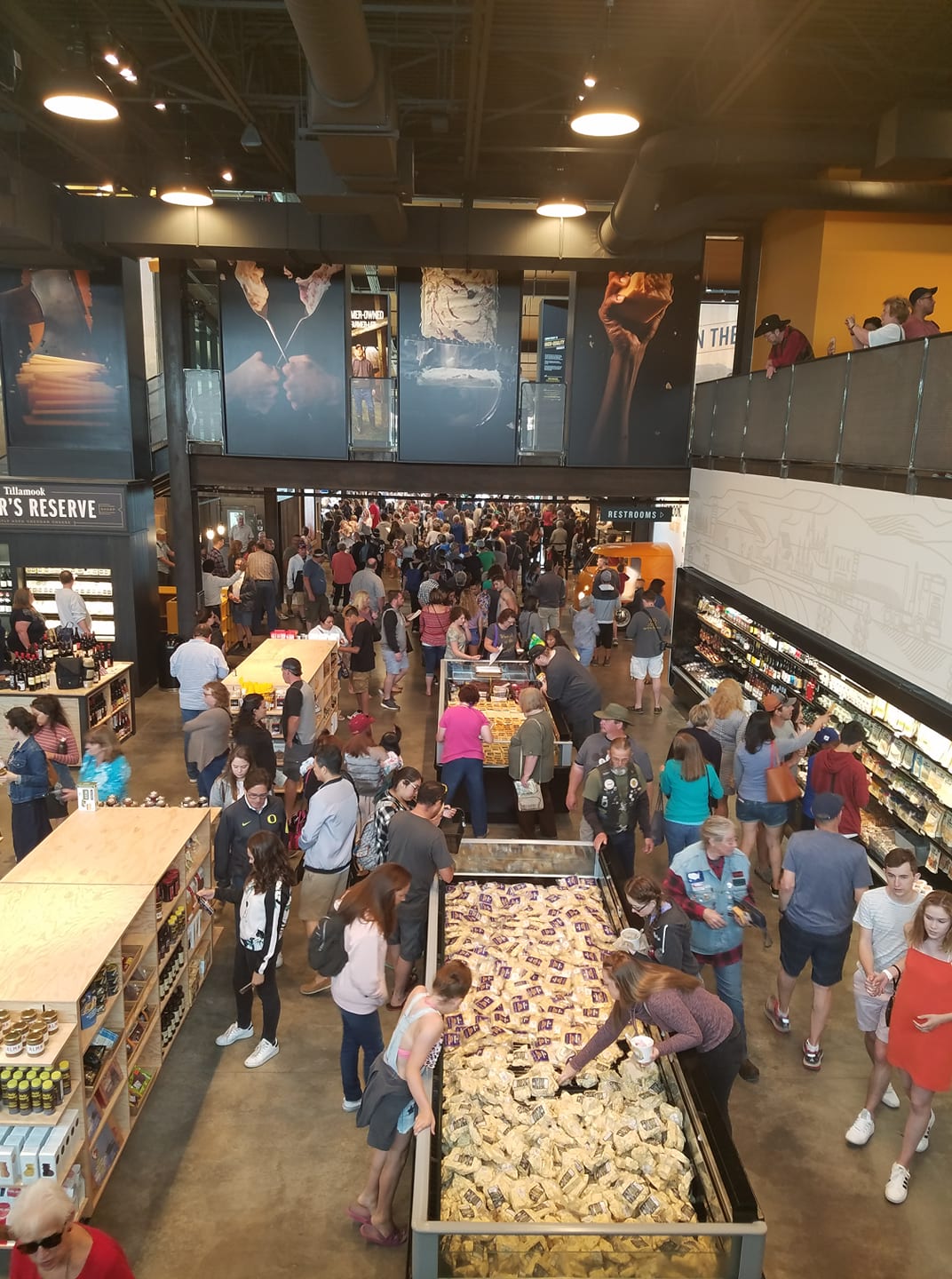 As you enter the gift shop, you'll be greeted by a tantalizing aroma of freshly made cheese and the sight of countless Tillamook Cheese products on display. From classic cheddar cheese to specialty flavors like habanero jack and garlic white cheddar, right on down to cheese curds, there is a cheese for everyone's taste buds.
But the fun doesn't stop there either. The Tillamook Gift Shop also offers a wide variety of non-cheese gifts that are perfect for any cheese lovers on your shopping list. You'll find Tillamook branded clothing, kitchen accessories, and even Tillamook Ice Cream merchandise.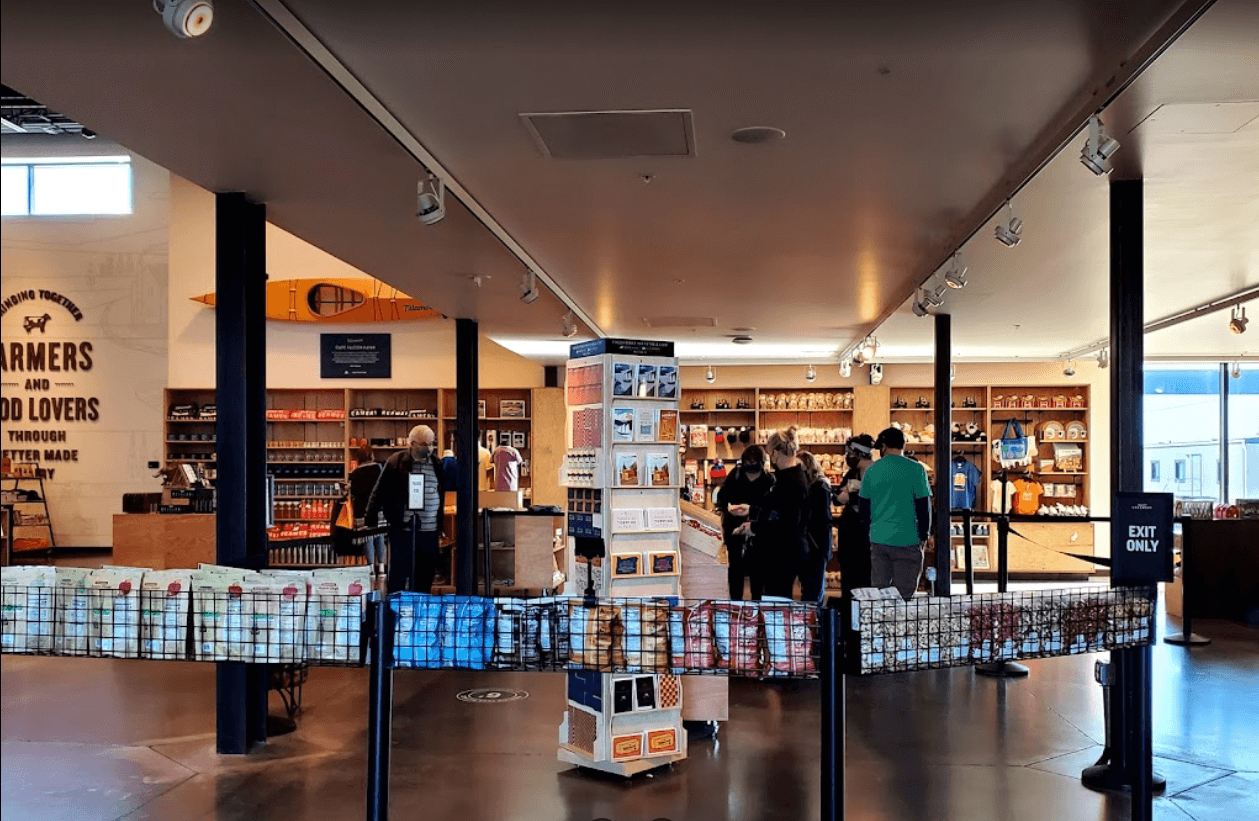 Make sure to grab a bag of Tillamook Cheese Curds before you leave - they're the perfect snack to munch on during the drive home. And if you're feeling generous, gift a Tillamook Cheese Gift Box to your loved ones - trust us, they'll thank you for it.
Try a Variety of Tillamook Cheeses in the Sample Area
Did someone say "free cheese samples"?
When you visit the Tillamook Cheese Factory, you'll have the opportunity to nosh on so many cheeses. From classic cheddar to unique flavors like garlic white cheddar and smoked black pepper cheddar, there's something for everyone to enjoy.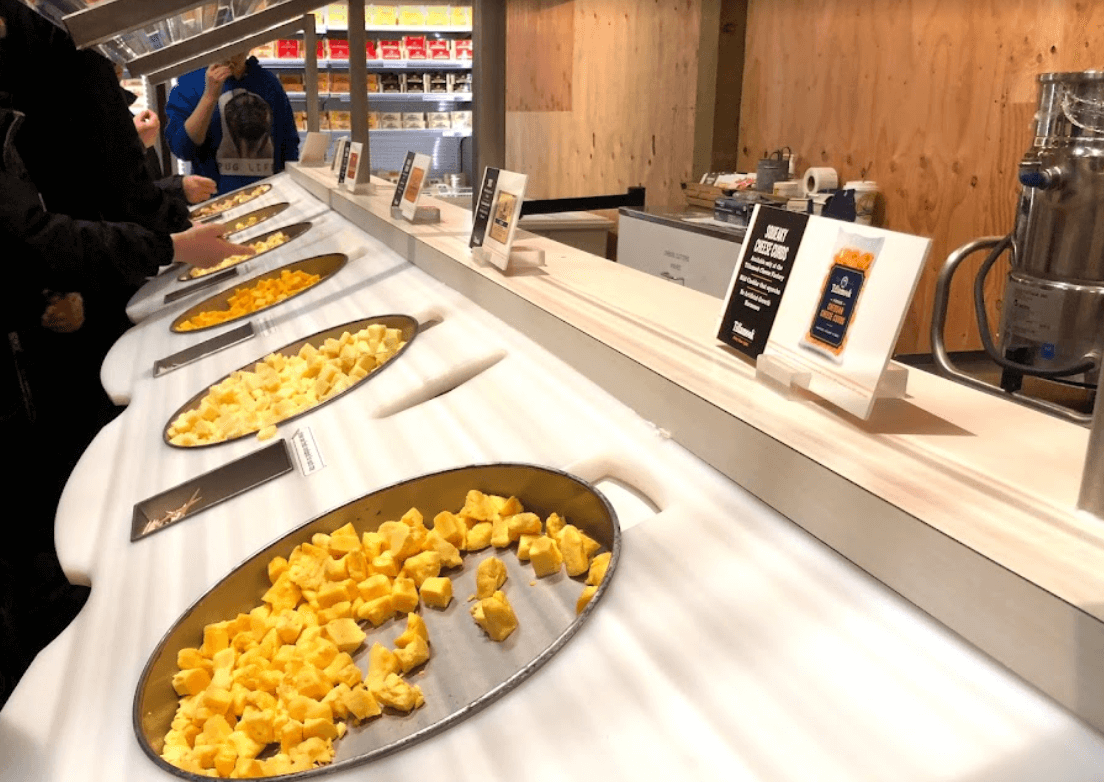 You can also try their famous squeaky cheese curds, which are a local favorite. And if you can't decide which cheeses to take home, you can always purchase a sampler pack to try a little bit of everything.
Find Some Fun at the Kid-Friendly, Hands-On Farm Exhibit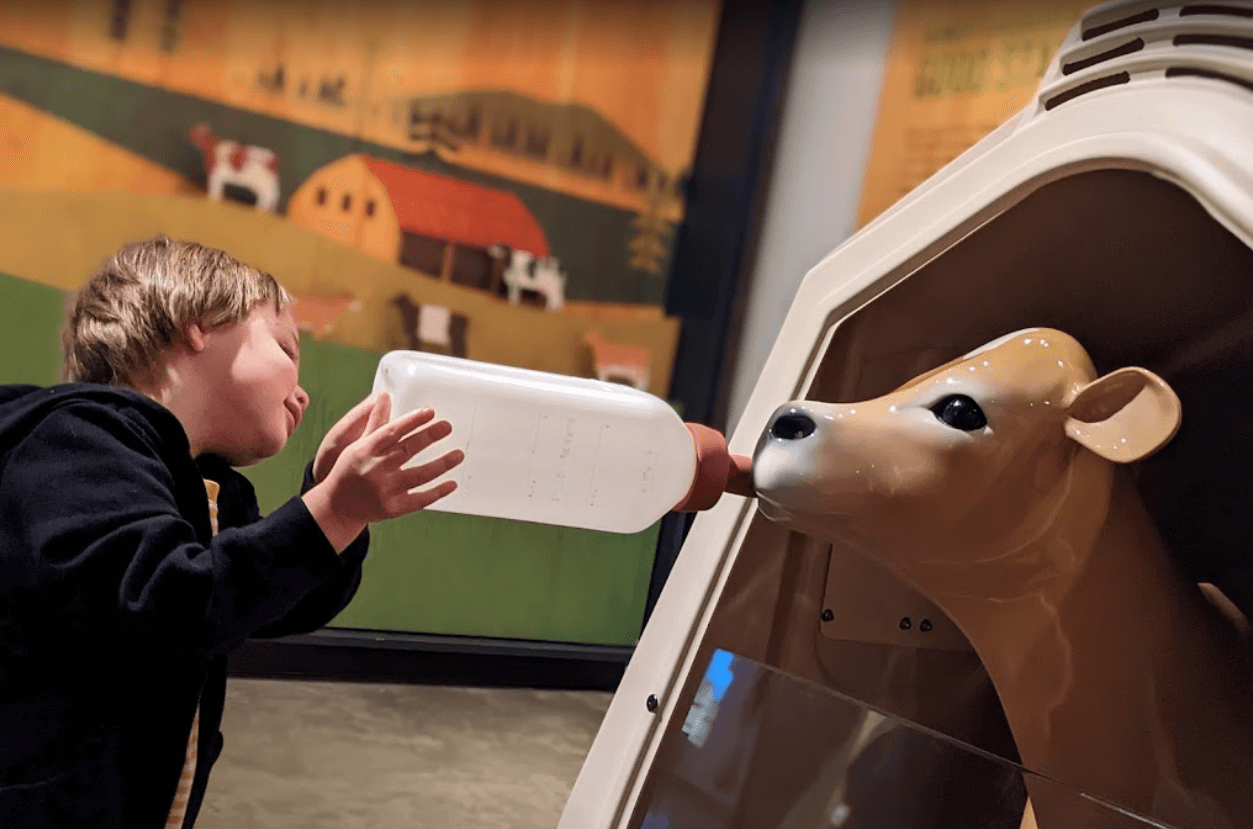 A field trip I really enjoyed as a kid took my class on a visit to a real working dairy farm. In this case, there are no real cows to milk, but this exhibit is the next best thing. A life-sized cow milking station and a "calf feeding" area are great fun for the kiddos. Children (and adults) can try their hands at attaching the milking machine to the cow's udder and feeding the baby calf, all while learning interesting tidbits about the life of a dairy farmer.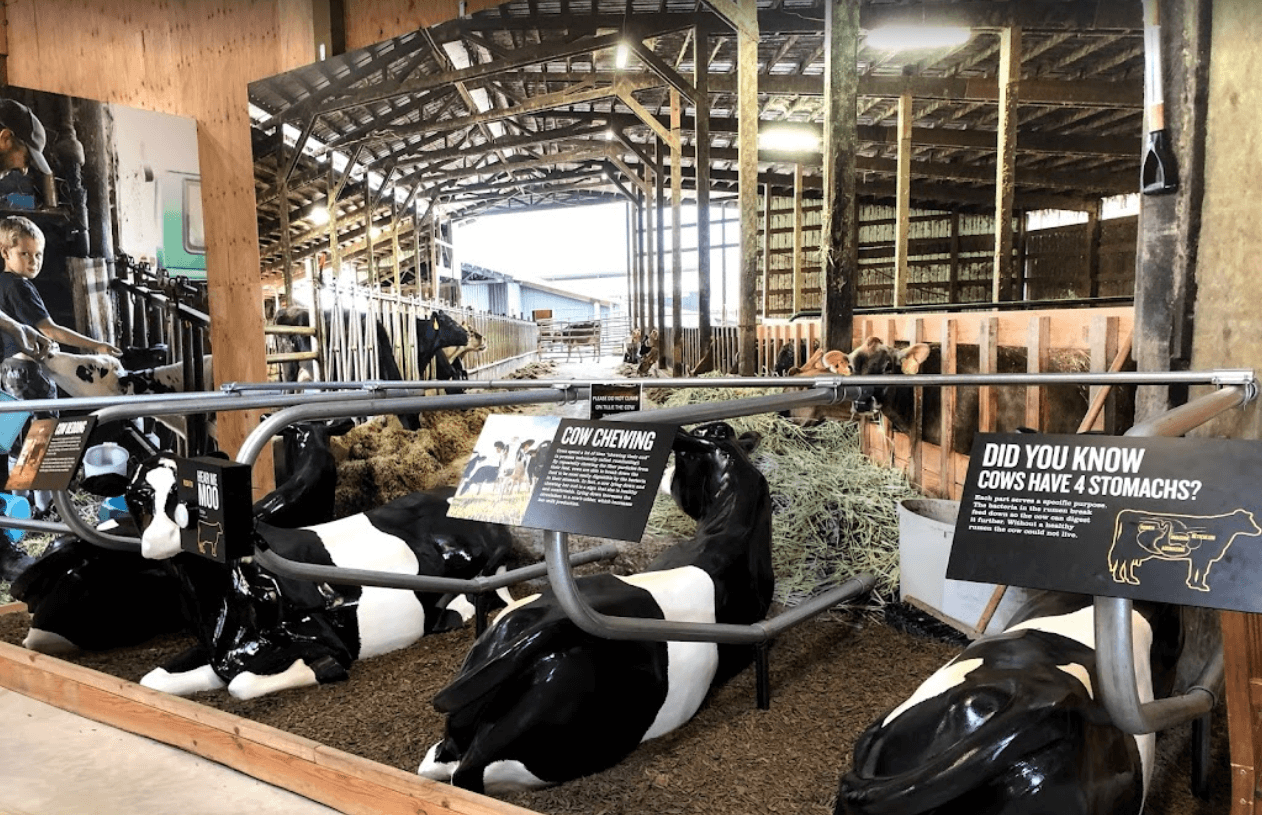 Huge infographics surround you (as they do throughout the factory), teaching visitors everything they ever wanted to know about cows, milk, and farming. An interactive wall exhibit lets visitors learn about different bovine species and which ones are used in milk production, from the spotted Holsteins we most associate with dairy to my favorite, the large-eyed Jersey Cow.
Grab a Juicy Burger for Lunch in the Dining Hall
Or breakfast and dinner for that matter.
If you haven't filled up on cheese samples, the food hall at Tillamook Creamery is located on the main factory floor and also encompasses the ice cream shop and an espresso bar.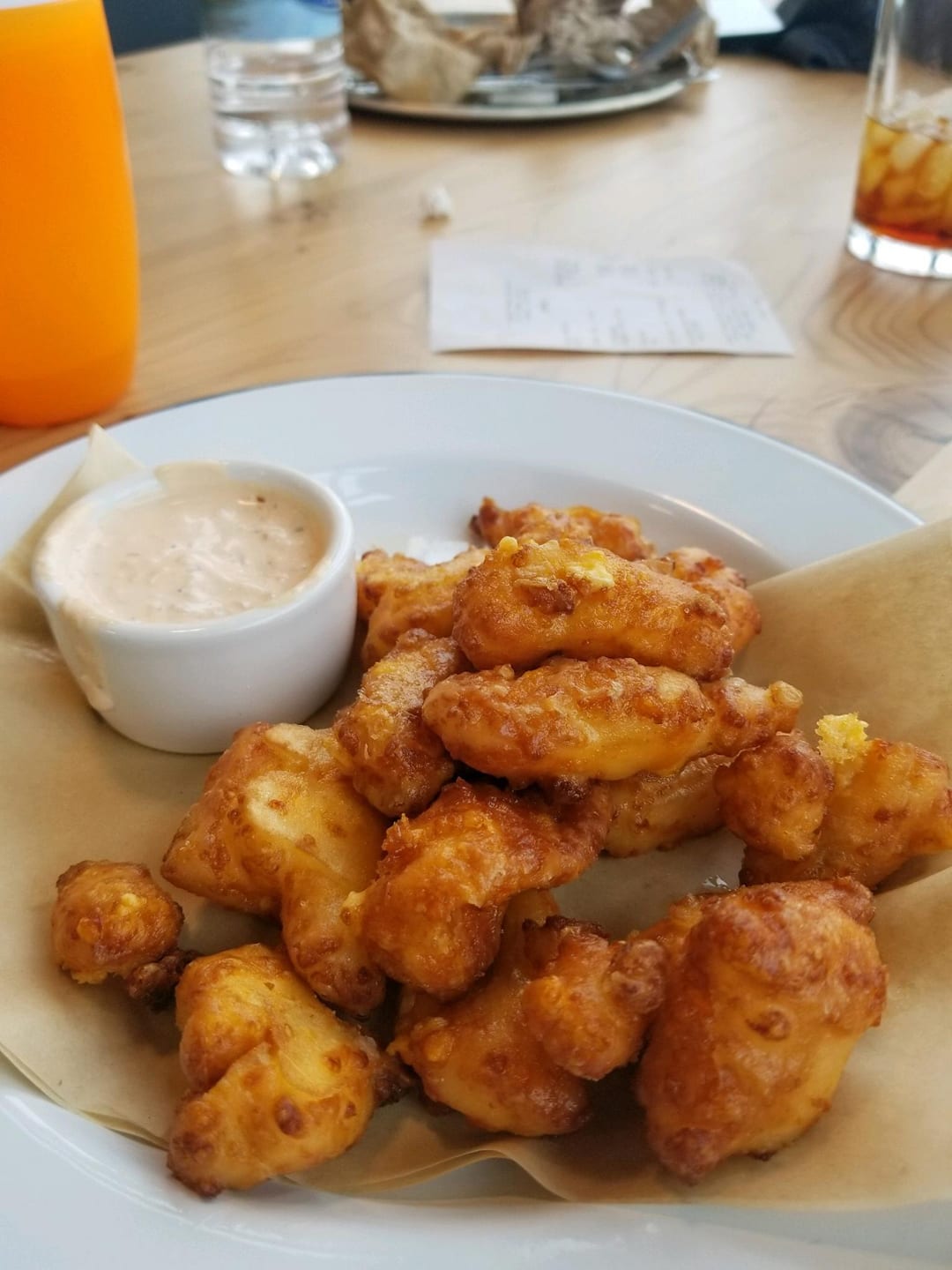 Of course, dishes come with a cheesy twist, and each one is created by Tillamook's Executive Chef, Josh Archibald. The menu is best described as "American Classic", with options available for both lovers of meat and those who prefer vegetarian meals.
By far, my favorite food order at the Tillamook Cheese Factory is a cup of the Fire Roasted Tomato Soup garnished with cheddar cheese curds. There's something so comforting about it.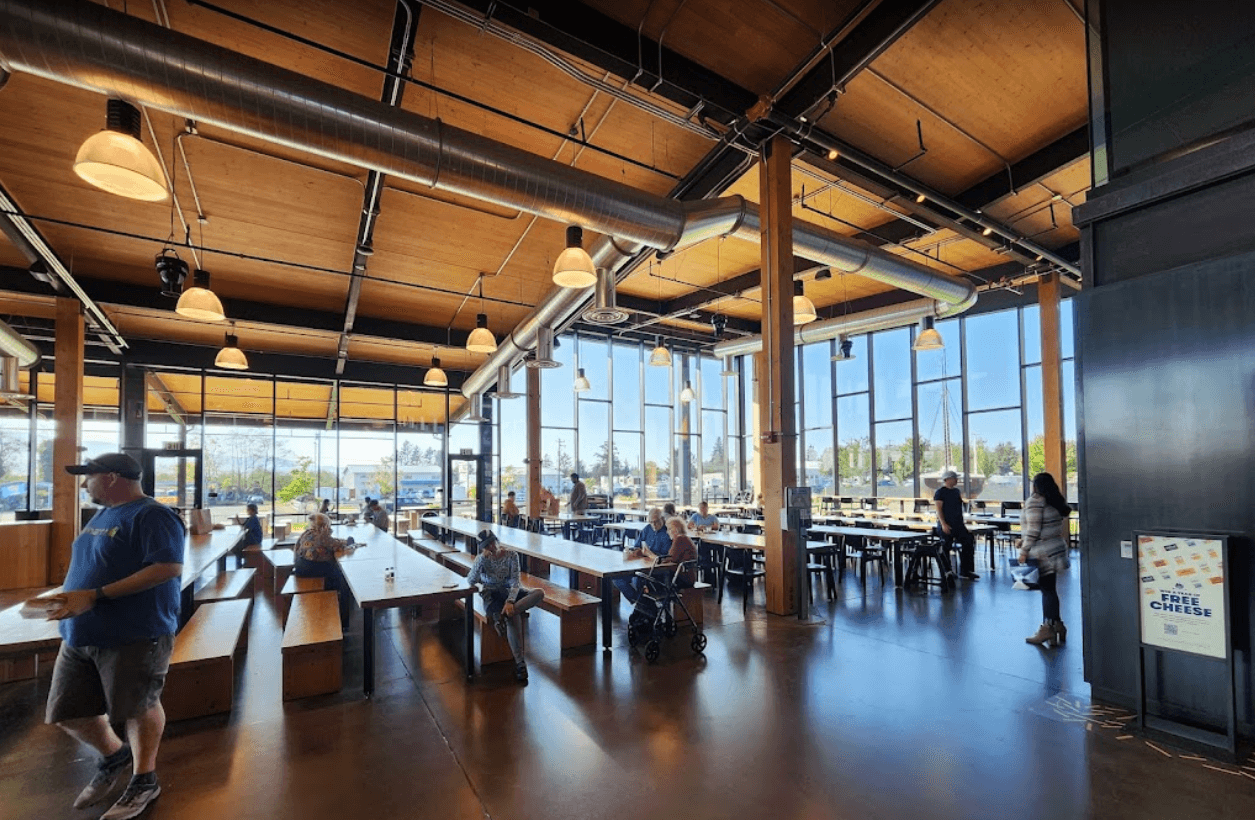 Visitors will also find a Seasonal Burger with fries on the menu, as well as pizza, Double Cheddar Grilled Cheese, and gooey Triple Cheese Mac...all made with Tillamook Cheese. Wash everything down with a hand-scooped rootbeer float.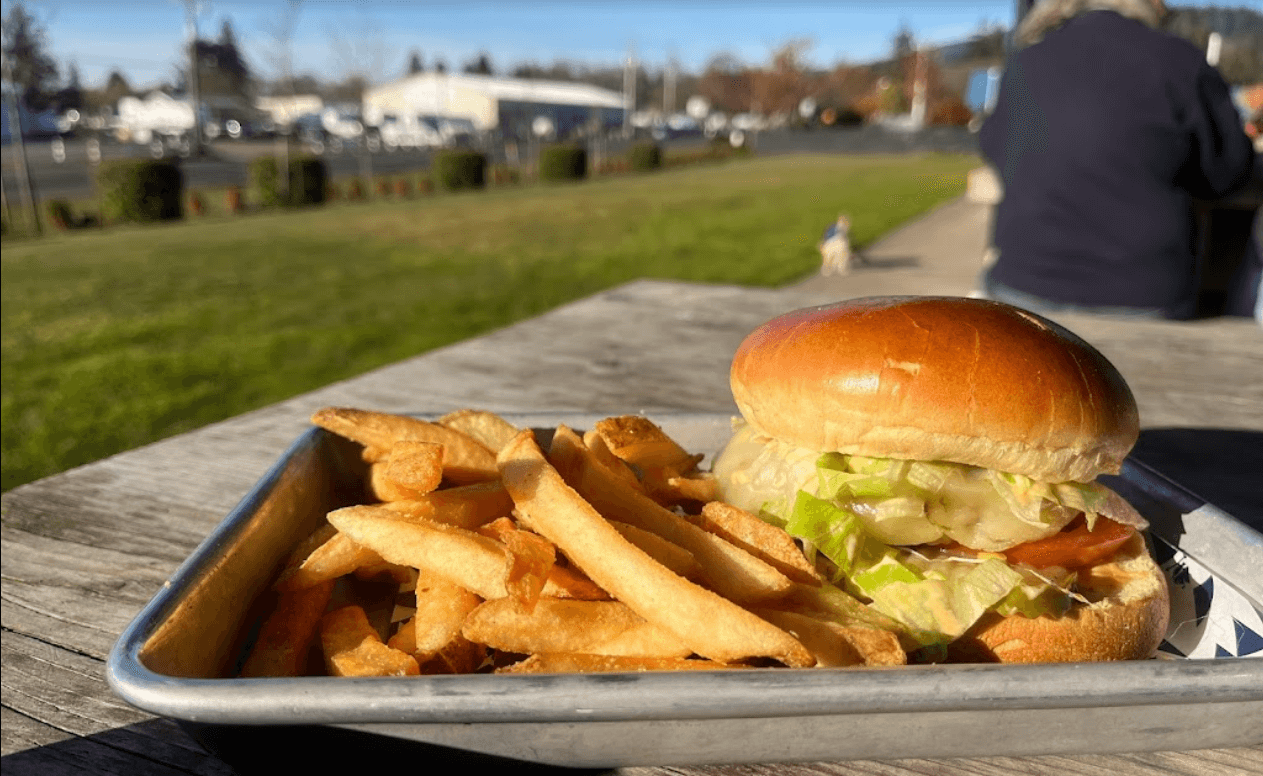 The menu does change according to the season and the latest available options.
For those 21 and over, the cafe also serves local beer and wine.
Take a Selfie With the Tillamook Yum Bus!
It's impossible not to pause for a photo op with the fun, orange, vintage Volkswagen bus.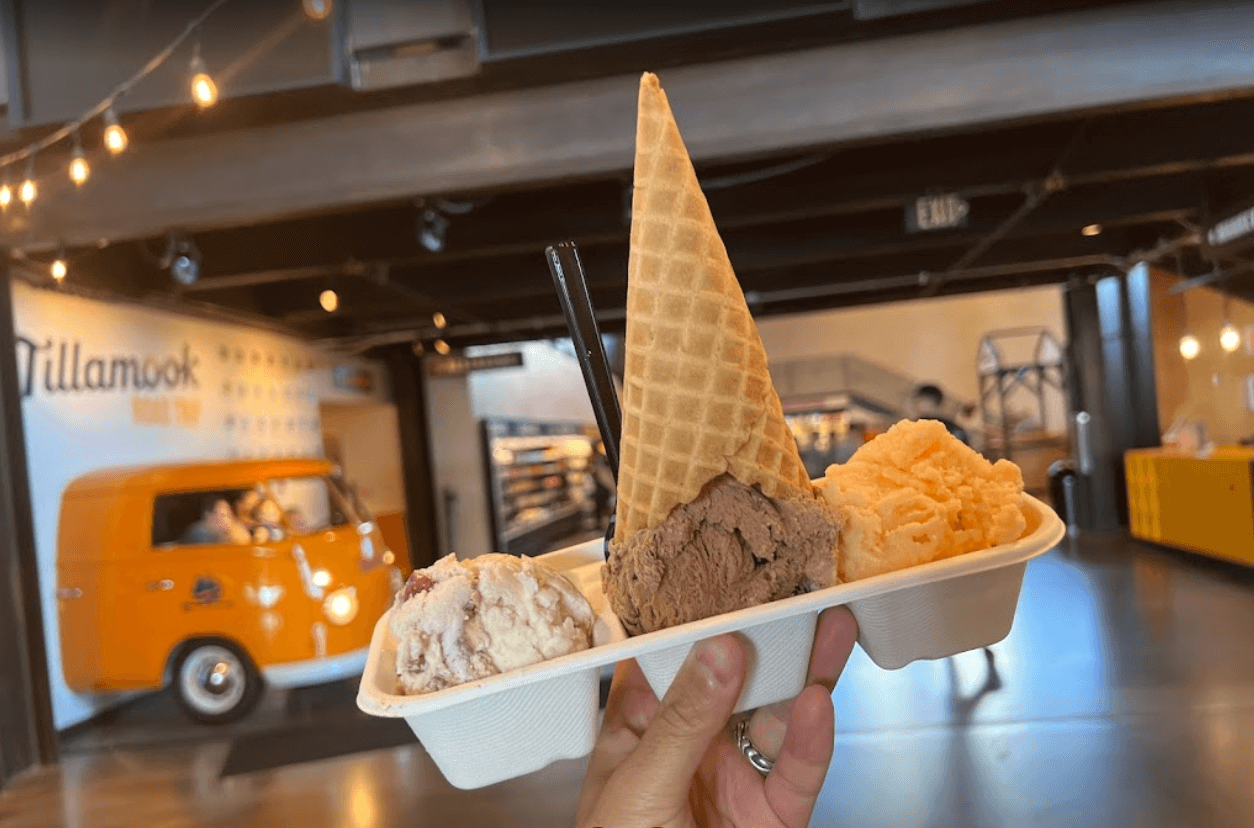 Don't Forget to Grab Your Free Stickers and Booklets at the Info Desk
Who doesn't love free stickers? Your kids will be especially happy.
---
Frequently Asked Questions About the Tillamook Cheese Factory
Do you have to pay to get into the Tillamook Cheese Factory?
No! The Tillamook Creamery is free to enter. Cheese samples are free, as are the self-guided tours and family-friendly farm exhibit for kids.
Is the Tillamook Cheese Factory tour good for kids?
Kids will absolutely love visiting the Tillamook Creamery. The factory decor is bright, eye-catching, and super interactive for kids. It's great fun to watch the workers producing cheese, and kids will love to eat the free samples and ice cream.
Is there a gift shop or ice cream shop in the Tillamook Cheese Factory?
As stated above, that's a resounding yes! The factory has both.
What about visiting the Tillamook Creamery with food allergies?
Tillamook Cheese does not contain any major food allergens besides milk, and the cheesemaking equipment never processes any major allergens other than milk. Standard warnings still apply: wheat, tree nuts, peanuts, soy, and eggs are sometimes present at the facility level due to ice cream making. For more information, visit the official website.
Can I bring my pet on the tour of the Tillamook Creamery?
Currently, only service animals are allowed on the factory floor, but your furry friends are more than welcome in the parking lot and outside seating areas.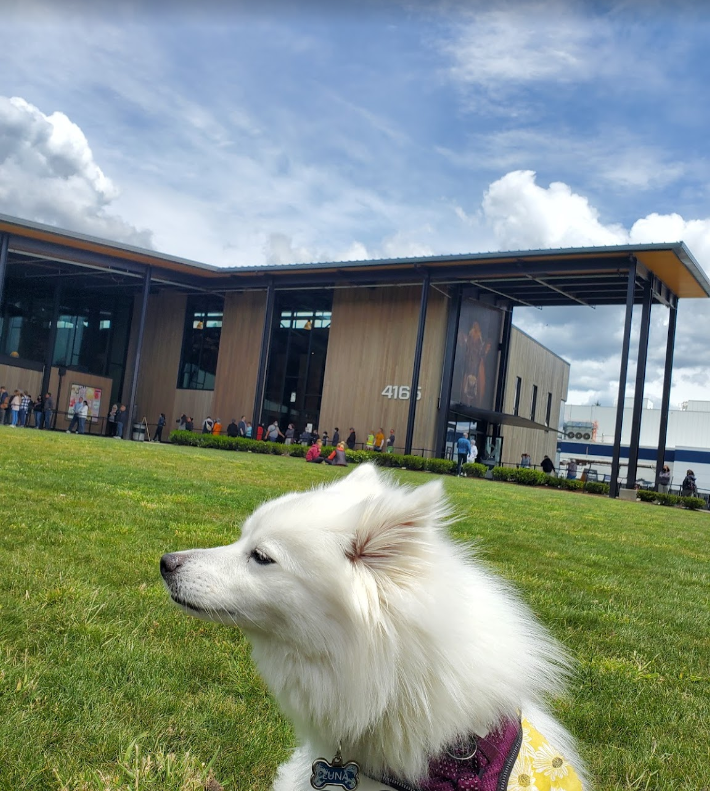 How long does the Tillamook Cheese Factory Tour take?
The duration of the Tillamook Creamery tour is entirely up to you since it is self-guided. Nonetheless, it is recommended that visitors set aside at least one to two hours to fully enjoy the Tillamook Cheese Factory tour experience.
Does the Food Hall Serve Breakfast?
Yes! You can grab a cheesy omelet or scramble. However, they do open at 10 am every day, and I've personally never been opposed to having cheese for breakfast and lunch or ice cream for dinner.
What are the Tillamook Cheese Factory Tour Hours and Days?
According to the official Tillamook Creamery website, the visitor center and factory are open from 10 am to 6 pm, 7 days a week.
The Tillamook County Creamery Association hours are: from Labor Day through mid-June, 8 a.m. to 6 p.m. daily. From mid-June through Labor Day hours are 8 a.m. to 8 p.m. daily.
Where is the Tillamook Creamery Located?
The Tillamook Creamery is located in the town of Tillamook, Oregon. In relation to other prominent Oregon coast towns, it is south of Seaside and north of Lincoln City.
The address is: 4165 N Hwy 101, Tillamook, OR 97141
Follow Tillamook Creamery on Facebook or visit their official site.
What's your favorite Tillamook ice cream flavor? Let us know in the comments!