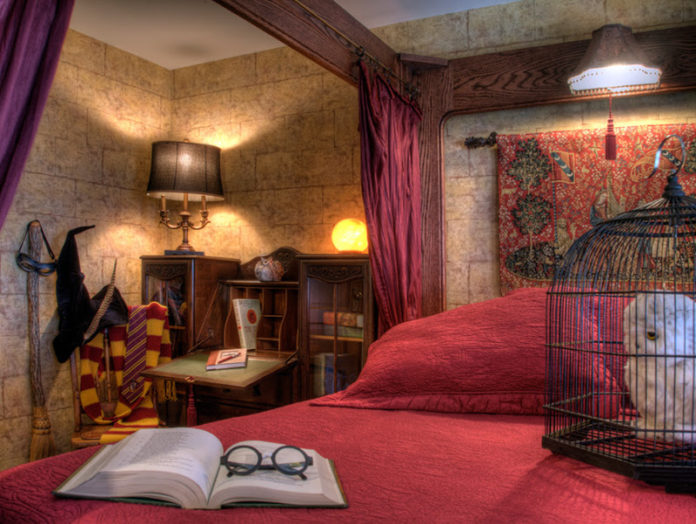 Nestled on a cliff-top with breathtaking views of Nye Beach, this charming literary-themed hotel, Sylvia Beach Hotel, has been welcoming guests since 1912. With its prime location just a mile from Yaquina Bay Lighthouse, 2 miles from the Oregon Coast Aquarium, and 3 miles from Big Creek Park, it's the perfect base for exploring the natural beauty of the Oregon Coast.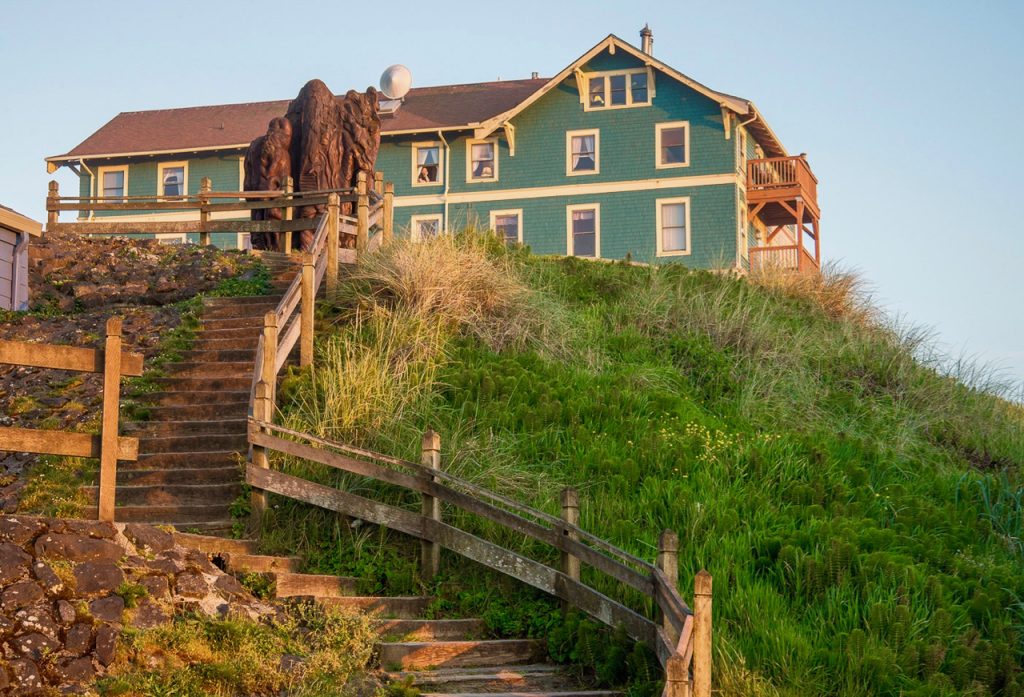 Ever heard of Ken Kesey? If you're from Oregon, then you are definitely familiar with the legendary Oregon author, who wrote the famous book One Flew Over The Cuckoo's Nest. Here at the hotel, there's an entire room on the fourth floor, outfitted to resemble the state mental hospital where the "One Flew Over The Cuckoo's Nest" took place. If you've ever watched the 1975 movie starring Jack Nicholson, you will get the references in the room right away.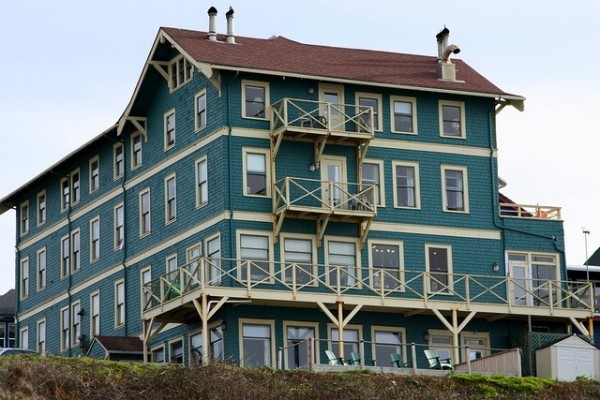 Staying at the Sylvia Beach Hotel
Hotel owner Gudrun Cable went on the record to say, "The room suggests a fun theme and I had a great time stamping 'property of state mental hospital' on everything." Cable came up with the idea after the local library presented "Cuckoo's Nest" in the program Newport Reads.
"I read the book as did some of our staff and found it still fabulous after all these years. And of course, we wanted to honor one of Oregon's best authors—and an author who had stayed at the hotel!"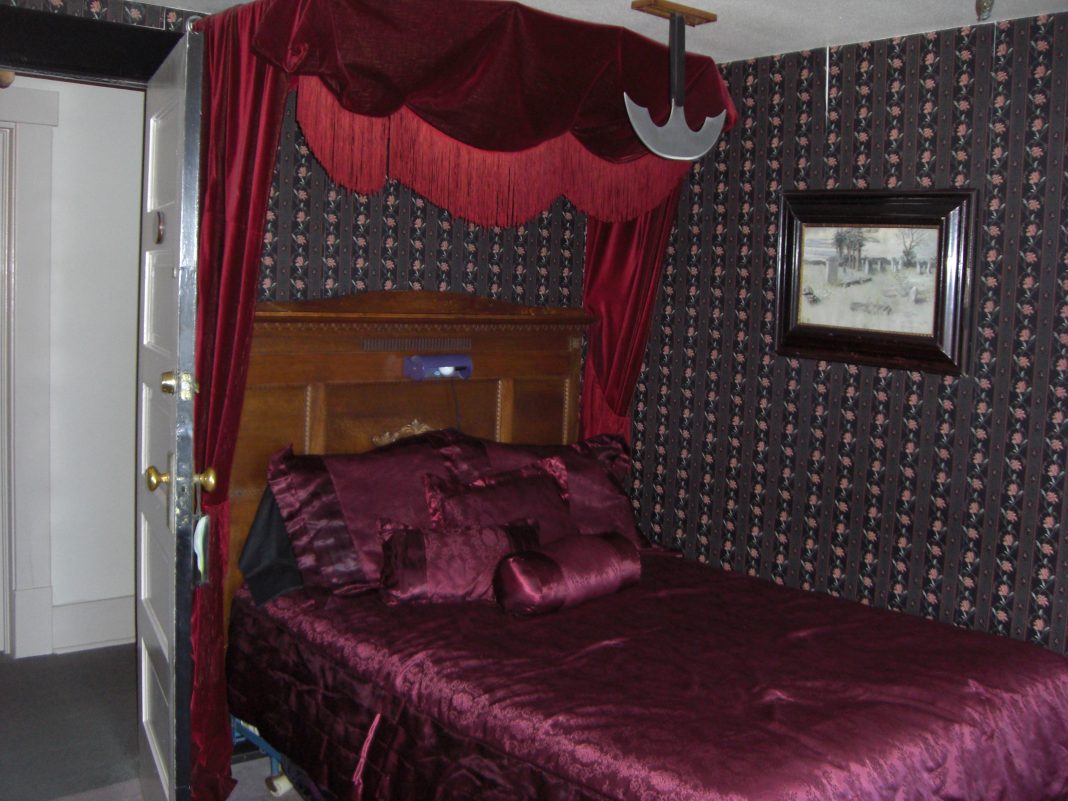 ---
RELATED: Newport, Oregon: Fun Things To Do, Best Beaches, Where to Eat
Sign up for monthly emails full of local travel inspiration and fun trip ideas. In each newsletter we'll share upcoming events, new things to do, hot dining spots and great travel ideas.
---
Rooms at the Sylvia Beach
And the fun doesn't stop there. Upon staying here, you'll get to choose from all the rooms inspired by Shakespeare, Jane Austen, Ernest Hemingway, J.K. Rowling, and more. And don't forget to explore the artsy, historic Nye Beach neighborhood with its beautiful mix of bookstores, cafés, bistros, galleries and the Yaquina Art Center.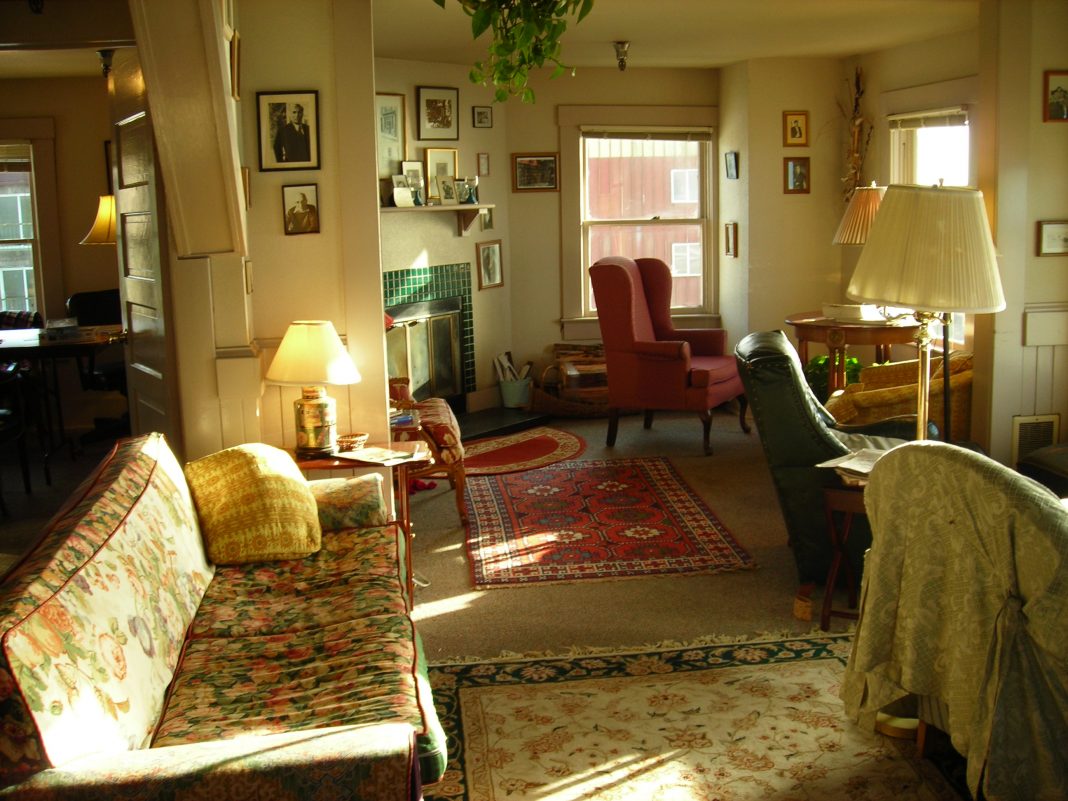 Each room in the hotel is inspired by a famous author or literary theme, and offers a unique experience that is sure to delight book lovers of all kinds.
The Virginia Woolf Room is one such example, with its ocean view and view of the Yaquina Bay Lighthouse. You can have a room of your own and write at the 1930s-style desk, or snuggle up in the queen-size bed with someone special.
Meanwhile, the F. Scott Fitzgerald Room is a must-see for Jazz Era enthusiasts, with its authentic furnishings and framed poster from the 1949 film of The Great Gatsby, starring Alan Ladd as Jay Gatsby.
If you're a fan of children's literature, the Dr. Seuss Room is sure to capture your heart. Decorated in homage to One Fish, Two Fish; The Cat in the Hat, and other beloved works by the iconic author, this room is a fun and whimsical retreat.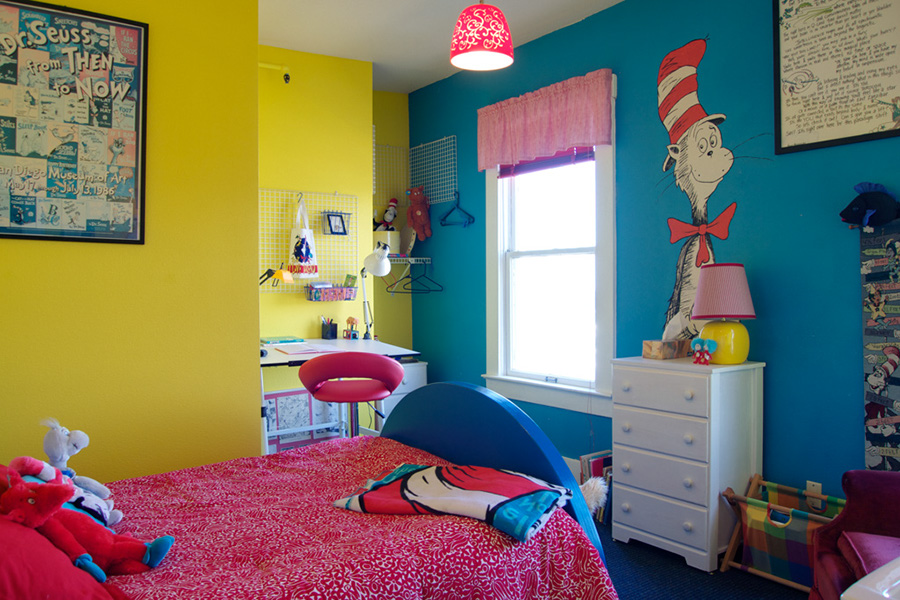 Classics
These gorgeous rooms are directly over the surf with fireplaces and decks. Mark Twain, Chez Colette, Amy Tan, Agatha Christie, Gertrude Stein, J.R.R. Tolkien, Edgar Allen Poe, are just a few of many author themed rooms at this amazing hotel. Head on up to the third floor and grab a book from their well-stocked library, including a beautiful lounge and fireplace.
---
RELATED: The Largest Bookstore on the Oregon Coast
---
Mark Twain
Among the hotel's unique accommodations is the Mark Twain room, one of three classic rooms. This room offers stunning oceanfront views, a large private deck, and a cozy fireplace for guests to enjoy. It's the perfect place to curl up with a book from the complete works of Mark Twain, available exclusively in this room.
The Mark Twain room also features a private bath with a claw-foot tub and a hand-held shower, as well as a comfortable queen-size bed with a single trundle. Guests can enjoy views facing both west and south, offering a picturesque setting to relax and unwind.
Best Sellers
These rooms have an ocean view with panoramas of the coast and the Yaquina Head Lighthouse. In this category are rooms devoted to Alice Walker, E.B. White, Dr. Seuss, Edgar Allan Poe, Ernest Hemingway, J.K. Rowling, F. Scott Fitzgerald, Emily Dickinson, Herman Melville, Jane Austen, Lincoln Steffins, Shakespeare, Tennessee Williams, and Virginia Woolf.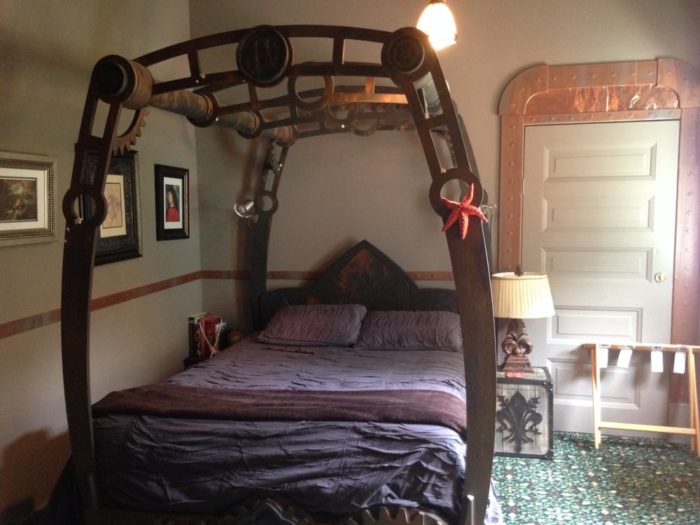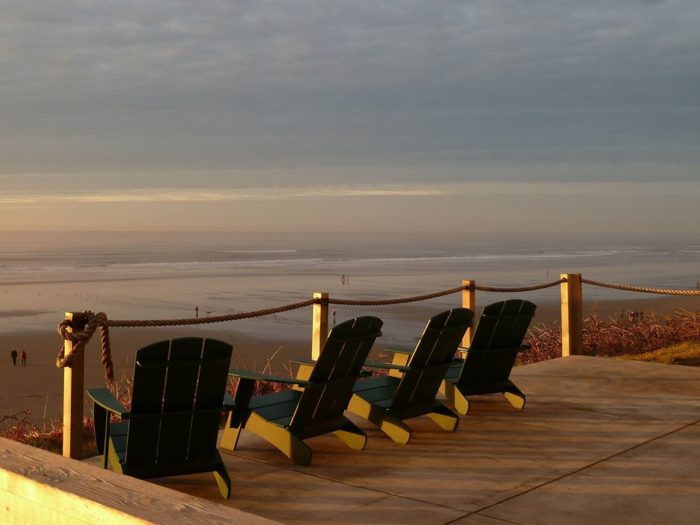 Tables of Content Dining Room
While there is no WiFi, radios, phones or TVs (who needs wifi when you can read all these amazing books?) guests do get to enjoy an included breakfast. At the Sylvia Beach Hotel, mealtimes are more than just fueling up for the day. Guests come together in the "Tables of Content" dining room for breakfast, included in the room rate, where they sit at communal tables of eight. It's the perfect opportunity to connect with fellow literature lovers and discover new perspectives.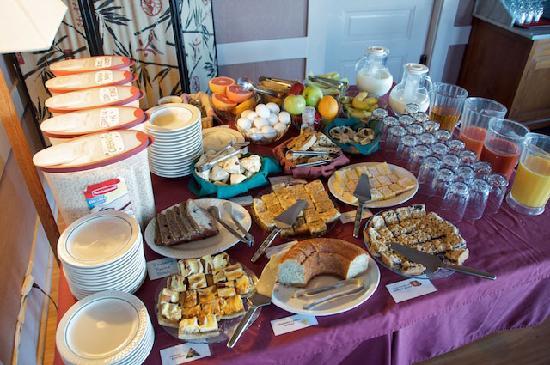 As for dinner, served at 7:00 p.m. each night, it's an experience in itself. The family-style meal features a choice of four entrees and encourages lively conversation with a literary twist. An icebreaker game of "Two Truths and a Lie" gets the creative juices flowing, with guests sharing two biographical facts and one falsehood. It's a fun way to get to know your fellow diners and learn interesting trivia about each other. So why dine alone when you can connect with like-minded people over great food and good books at the Sylvia Beach hotel?
Also, unoccupied rooms are left open, giving guests the chance to explore other author rooms.
Who was Sylvia Beach?
If you're curious about the origin of the name of this stunning ocean-overlook hotel, wonder no more. hotel is named after Sylvia Beach, an American expatriate who made a huge impact on the literary world in Paris between WWI and WWII. As the owner of the famed English-language bookstore and lending library, Shakespeare and Company, Beach provided a home and gathering place for some of the most famous writers of the era.
Literary enthusiasts will know Beach as the publisher of James Joyce's iconic novel, Ulysses (1922), a book that was initially banned in many countries for its controversial content. Today, the hotel serves as a tribute to her legacy and a haven for book lovers from all over the world. So, come and immerse yourself in the literary history and seaside beauty that inspired Sylvia Beach, and let the magic of this enchanting hotel transport you to another world.
Originally posted September 21, 2017
Official site: www.sylviabeachhotel.com
Address: 267 NW Cliff St, Newport, OR 97365
Phone: 542-265-5428