(Columbia River Gorge) — If you're looking to visit Oregon's most popular waterfalls by car this summer, you're going to have to plan ahead, wait in line, and pay a fee. A new permit system will be in place from May 24 to Sept. 5, barring how many vehicles can travel through Columbia Gorge's waterfall corridor. This includes the wildly popular Multnomah Falls, a favorite summer destination for both Oregonians and visitors from out of state.
How will the permits work?
Don't cancel your visit just yet. This is just a minor inconvenience. We have all of the details you need to make sure your trip goes smoothly. In fact, the system is easier to use and a lot cheaper than it might seem. You'll even find that there are some serious advantages to the new regulations. Read below for the details.
Travelers on certain segments of the Historic Columbia River Highway will have to purchase a timed use permit. This includes the most popular destinations in Columbia River Gorge, like Oneonta Trailhead, Horsetail Falls recreation area, Wahkeena Falls recreation area, and of course Multnomah Falls.
Check-in points will be located at Bridal Veil (Interstate 5 exit 28) and Ainsworth State Park (exit 5). Each vehicle will be given an hour window for access. Late arrivals will not be allowed passage, so try to arrive early, especially on weekends and days when the weather is clear. Definitely plan the trip ahead of time. Permits are sure to be popular. Spots are limited, and they must be purchased 2 weeks in advance.
Fortunately, there's no rush once you get inside. The hour window only regulates entry. You can enjoy these landmarks as long as you'd like, and considering how awesome they are, you'll be grateful for the extra time. There's plenty to see and miles of trails to explore.
Costs are minimal–dirt cheap, in fact. At only $2, there's no reason to be concerned. Permits don't guarantee parking, but that might not be a problem either. Since entrance is limited, that could mean extra space for travelers.
Permits will only be required between Bridal Veil and Ainsworth State Park, which means that the rest of the historic highway will be open to the public at large. Those looking to avoid a reservation have free reign of places like Latourell Falls, Vista House, or Eagle Creek Trail.
Permits may be purchased online from Recreation.gov.
Check out their website for a full explanation of the Waterfall Corridor Timed Use Permit, including rates and policies.
There's a Workaround
If you'd rather not reserve your trip two weeks in advance, there are several ways to avoid purchasing a permit. The easiest way is to arrive before 9 a.m. or after 6 p.m. when check-in points will be closed.
There are plenty of shuttle companies that travel through the Columbia River Gorge. Columbia Gorge Express has a daily route that leaves from East Portland. At the time of writing this, the fare is $10. Sasquatch Shuttle has an all-day fare of $15. Gray Line Waterfall Trolley is a unique option. Their fare is $21 for adults and $10 for children 6-12. Children 5 and under ride free. Bikers are also allowed to pass through the waterfall corridor without a permit.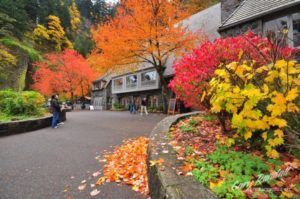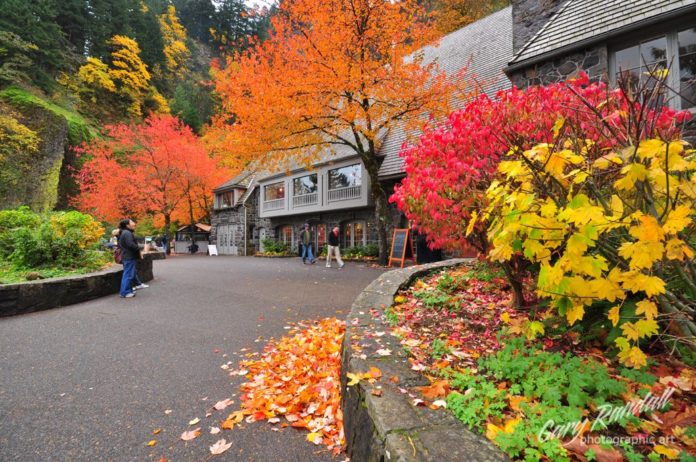 The Upside
Some might say that timed use permits in the waterfall corridor are a step in the right direction. In Oregon, nature is bliss and exploration is life. There's magic hidden in every grove, at the end of every path, through fields of wildflowers and shaded clearings. But these treasures have limits.
The National Forest Service reports that Multnomah Falls alone–just one landmark in the Gorge–attracts more than 2 million visitors every year.
State officials are working to address that issue. The Oregon Department of Transportation spokesman Don Hamilton offered a comment to the Statesman Journal about the new program stating, "Everybody knows how big a problem traffic congestion is in this part of the Gorge and this is a pilot program to see how well it works."
The implications of that traffic are far-reaching. How many times have we heard about the dangers of erosion? How many of us have had to dodge rocks or mud on the road? What about trampled plants? Fires? These are all problems in the Columbia River Gorge, and they do occur because of congestion in the area.
Oregonians want to savor these landmarks quietly, serenaded by the wind in the trees and the sound of water crashing against the rocks. We want to feel the mist on our faces and really enjoy that moment, and we can't do that with 6,000 people pushing past us to climb the same path.
While the problem may need to be addressed, officials aren't stuck with one solution. Don Hamilton also stated that they would assess whether or not the permit system would be an effective tool for the long term. This time next year, there might be a different program in place, or maybe no program at all.
But while the program is in place we can rest easy knowing that the congestion will be reduced–at least for the summer–helping to conserve the Gorge and its fragile ecosystems, and that is something to be cherished.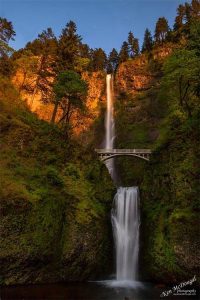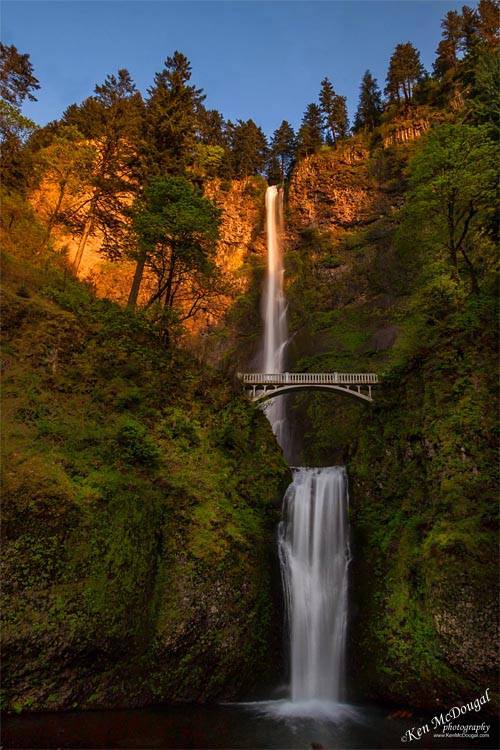 A New Way To Experience Multnomah Falls
Multnomah Falls is located 30 miles east of Portland metro, past breathtaking views of the Columbia River, and scenic, winding roads. The waterfall is the tallest in Oregon, towering at over 620 feet. So it's easy to see why it's one of the main tourist spots in the Pacific Northwest.
Approaching the falls is like approaching a Titan from Greek mythology. It's so gigantic that almost as soon as you leave the parking lot, and get your first real glimpse of the beast, the mist comes rushing at you. Tiny pools rim the lower edges where water cascaded over the rocks, filling the spaces below. It's almost tempting to jump in, brave the cold and see what you can find–or even make the swim out to the base of the waterfall, but everything is cordoned off. In this park, you stay on the main trail, surrounded by dozens of people.
During the off-hours, when it isn't so crowded, there is real magic there. You can feel it when everyone is around, but you can't truly experience it. With the state now requiring permits, maybe that will change. It's well worth taking a visit to find out. Even if there is a crowd, you'll still be amazed when you see that giant wall of water rushing down the cliff, and you'll still get a good hike in.
Check out our extensive guide to Multnomah Falls. Learn about its history, and read what it's like to visit. There's a lot to know and even more to discover.