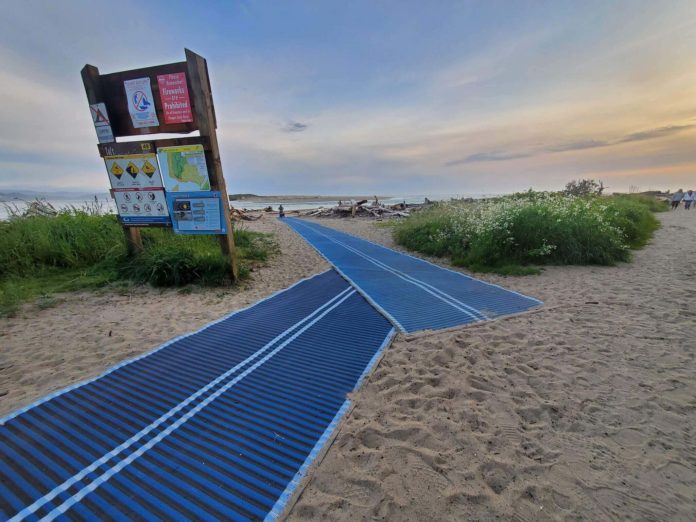 (Lincoln City) Lincoln City has done something amazing. They found a way to make their beaches accessible to individuals with limited mobility, using the simple, innovative concept of roll-out pathways and free beach wheelchairs. The idea has revolutionary implications.
For many people, it's impossible to navigate through the sand. Wheels sink in, and chairs get stuck. Walkers won't move. So the beaches are completely off-limits, including all of the wonderful experiences that go along with them.
Imagine never being able to feel the sand, or let the chill of the water pass over you. People with limited mobility can see the tide swelling, but they can't touch it. They can watch the tourists walking down the beach, and the children running through the water, but they can't join in. They're missing a vital experience that many of us take for granted. But Lincoln City is changing that.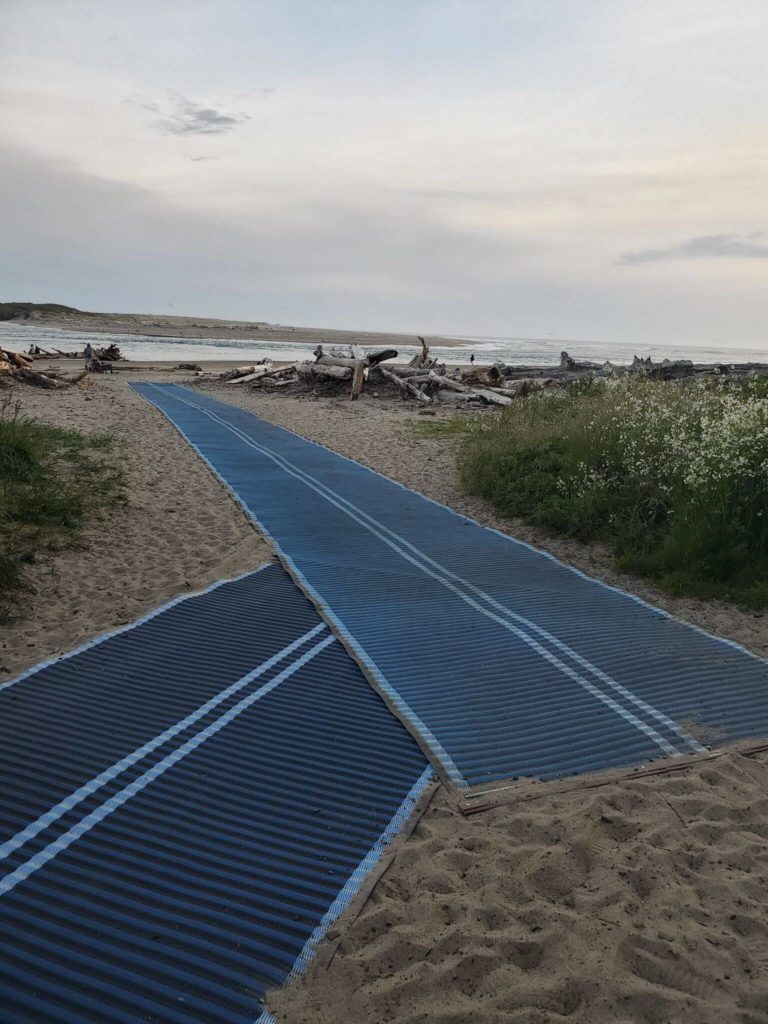 How does it work?
Lincoln City overcame a seemingly impossible problem. They had to come up with a solution that would give a diverse array of mobility devices the ability to navigate through difficult terrain. It would have to be effective, resistant to the elements, and they'd need to provide an experience worth the cost of their efforts.
The beauty of that solution was in its simplicity. All that was required was a hard surface that wheels could move on, so they used rollout pathways called mobi-mats. They're portable, UV and saltwater resistant, and they're made from the same recycled plastic that littered the beaches. The best part is that they can get close to the water, giving people with limited mobility the chance to enjoy the beach the way everyone else does. They can watch the tide up close, maybe even feel the chill of the sea. Perhaps there is a reason Lincoln City is associated with miracles.
There are some caveats. The mats will be seasonal. They will be installed from Memorial Day to Labor Day, and they will only be available in three locations: Taft Waterfront Park on SW 51st in the Historic Taft District, D River Wayside in the Delake District, and SW 33rd in the Nelscott District.
But that doesn't mean that beachgoers will be confined to those three locations. The most amazing part of this new program is the beach wheelchairs--the key to freedom. They're a sort of all-terrain vehicle for individuals with limited mobility. Their giant wheels are big enough that they can cut through the sand and even move over rocks and seashells, which can be particularly difficult for other devices.
These chairs will give individuals with limited mobility the chance to actually explore the coastline. Not only will they be able to wheel through the sand and go right up to the water, they'll also be free to go wherever they want on the beach. It's something many people never thought they could do.
Beach wheelchairs will be available for rental free of charge starting May 31. They're for use on Taft Beach and Siletz Bay. There are only two available, but the city is purchasing another. They are available from 8 a.m. to 4 p.m. on the west end of SW 51st. They can be found in a lockbox near the covered picnic area. Currently, there is no advanced reservation system in place. Chairs are rented on a first-come, first-serve basis, so availability is not guaranteed. If a chair has already been used and returned, it cannot be rented out the same day. That will give the city time to sanitize them between each use. Reservations will be restricted during extreme weather conditions.
To learn more about these programs, or to reserve a beach wheelchair head on over to Lincolncity.org.
On Tuesday, May 31, there will be a ribbon-cutting ceremony, kicking off the start of Lincoln City's Beach Mobility Program. The program is a collaboration between Lincoln City's Parks and Recreation Department, Explore Lincoln City and Public Works. The ceremony will begin at 10 a.m., located on SW 51st at the beach access at the bottom of the road. It is in the Taft neighborhood.
Lincoln City is not the only coastal town with beach wheelchair rentals. Cannon Beach, Seaside, Pacific City and Manzanita are all offering people with limited mobility the freedom to explore.
Where To Stay Near Lincoln City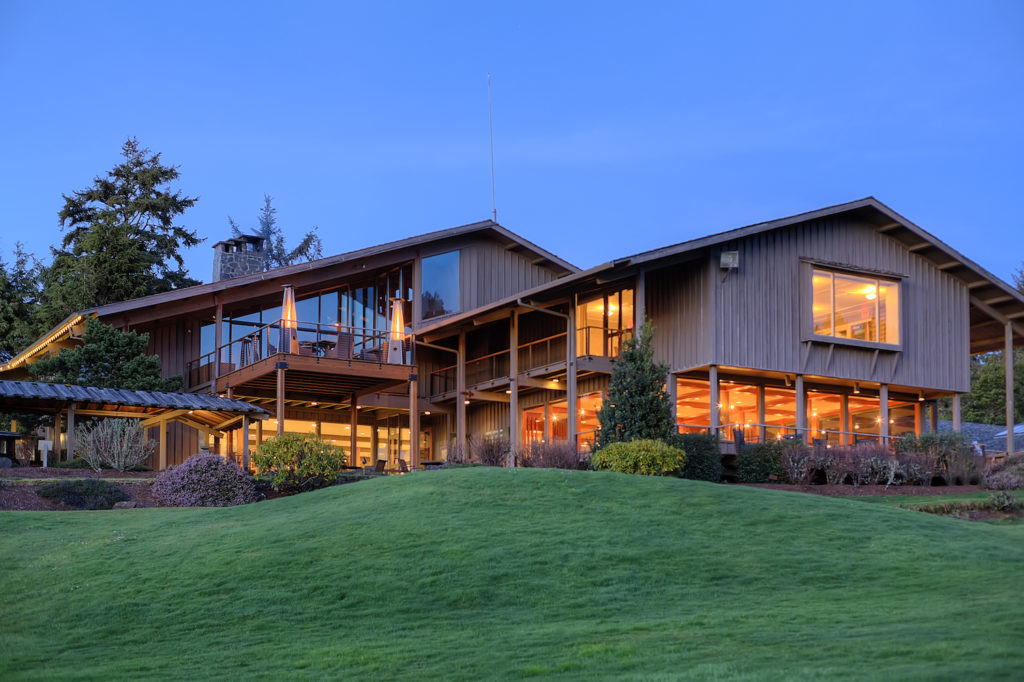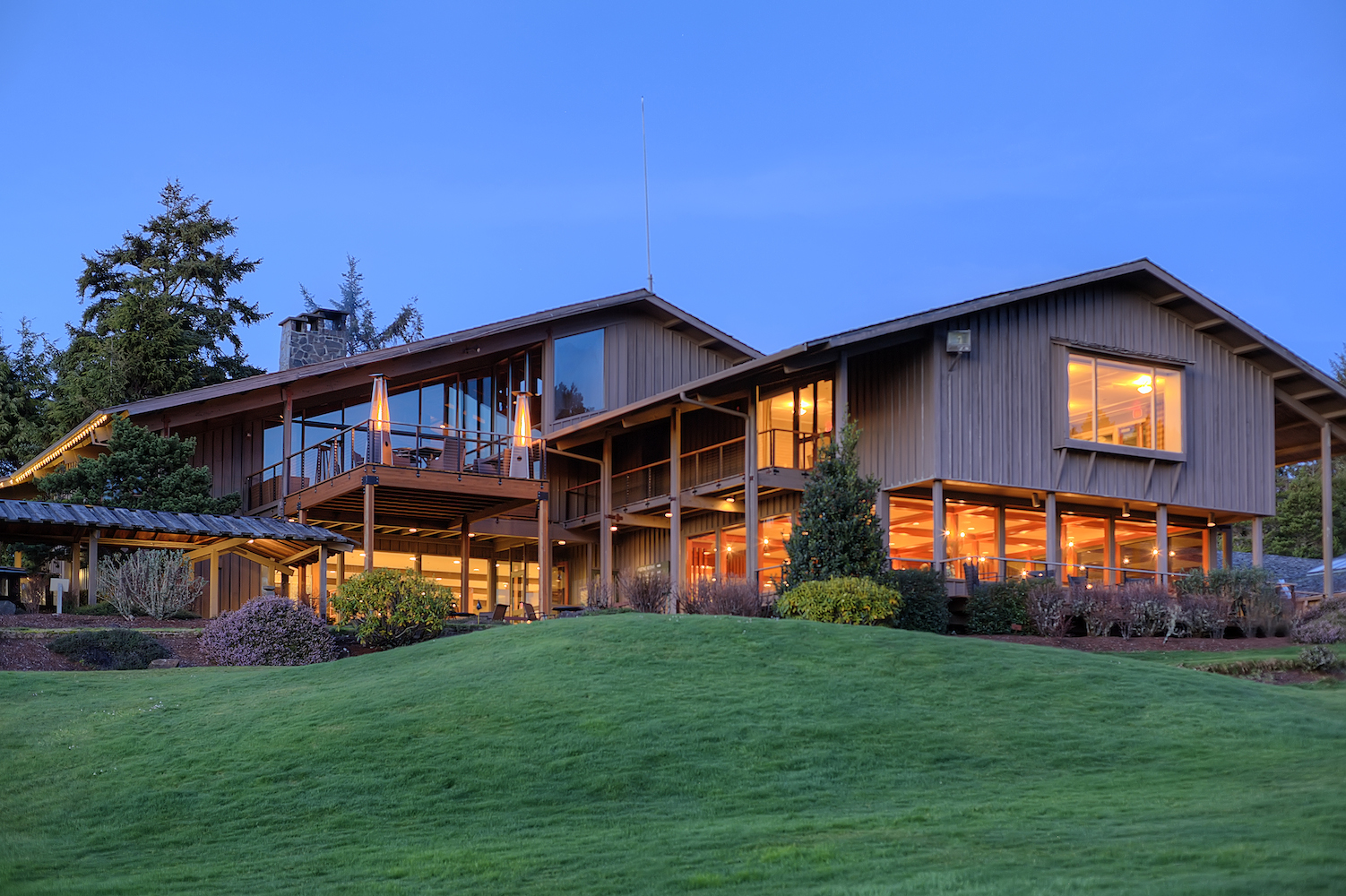 Our favorite place to stay near Lincoln City is Salishan Coastal Lodge in Gleneden Beach. This gorgeous lodge is surrounded by lush coastal forest and is right by Siletz Bay.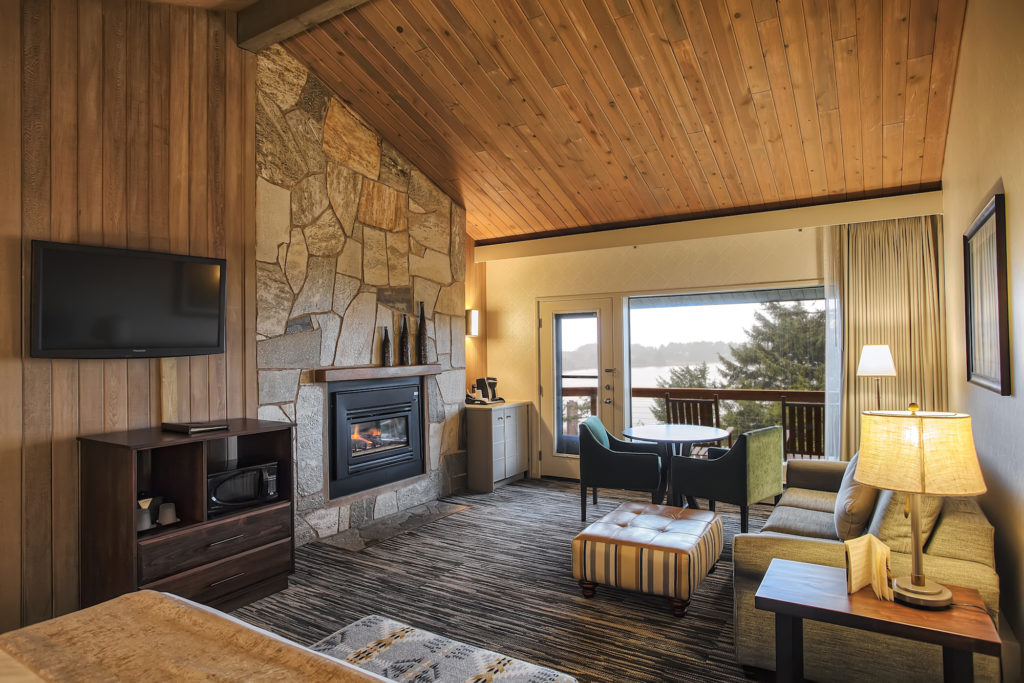 The rooms at Salishan are warm, inviting, unforgettable, and the perfect place to stay with family and friends while exploring the kite festival and nearby beaches.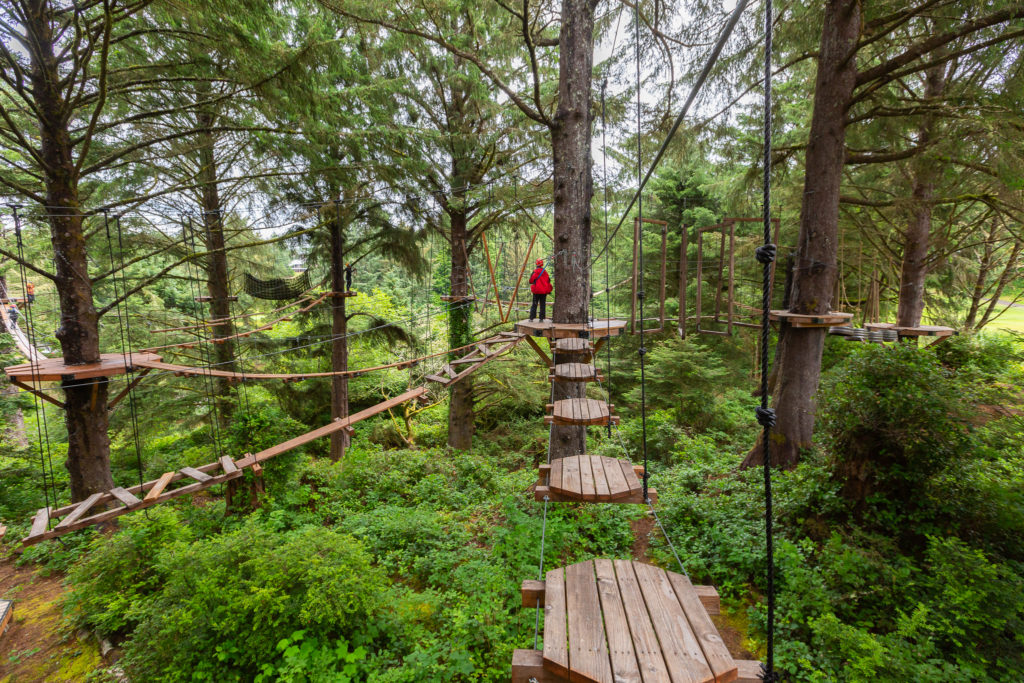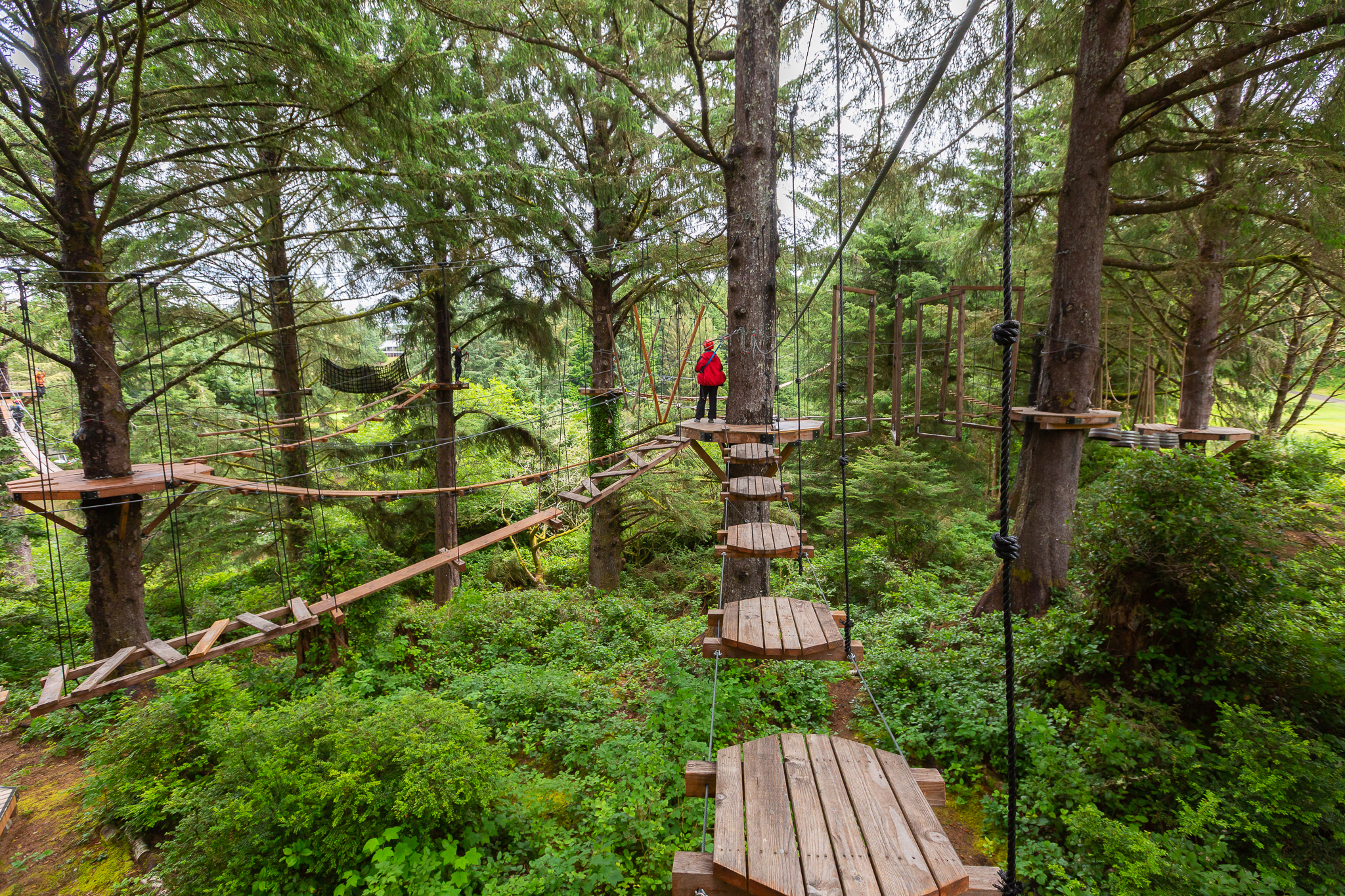 While you're staying at Salishan, you can also enjoy the aerial adventure park, the gorgeous spa, golf, fire pits, and time well spent with family.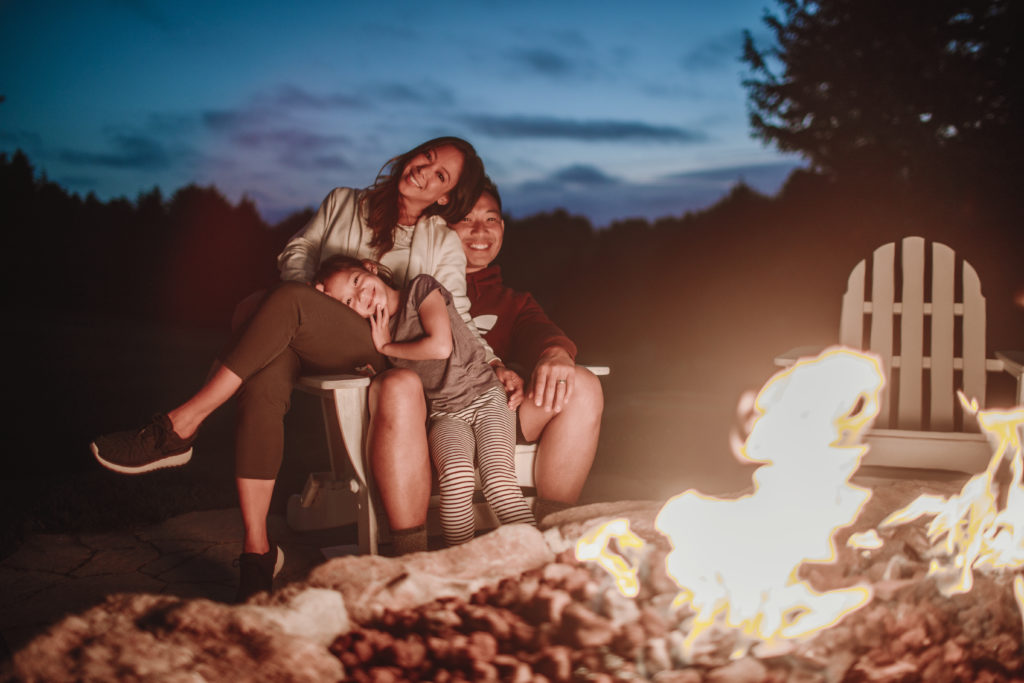 Learn more about Salishan Coastal Lodge and book your stay now before it fills up with other guests of the kite festival.