Hart Mountain Hot Springs is truly one of Oregon's hidden gems. It's off the beaten path in the southeastern corner of the state that most people rarely see, simply because it's not close to ANYTHING. Which is automatically a plus in my book. I adore being away from it all in peaceful seclusion.
Hart Mountain Travel Guide
---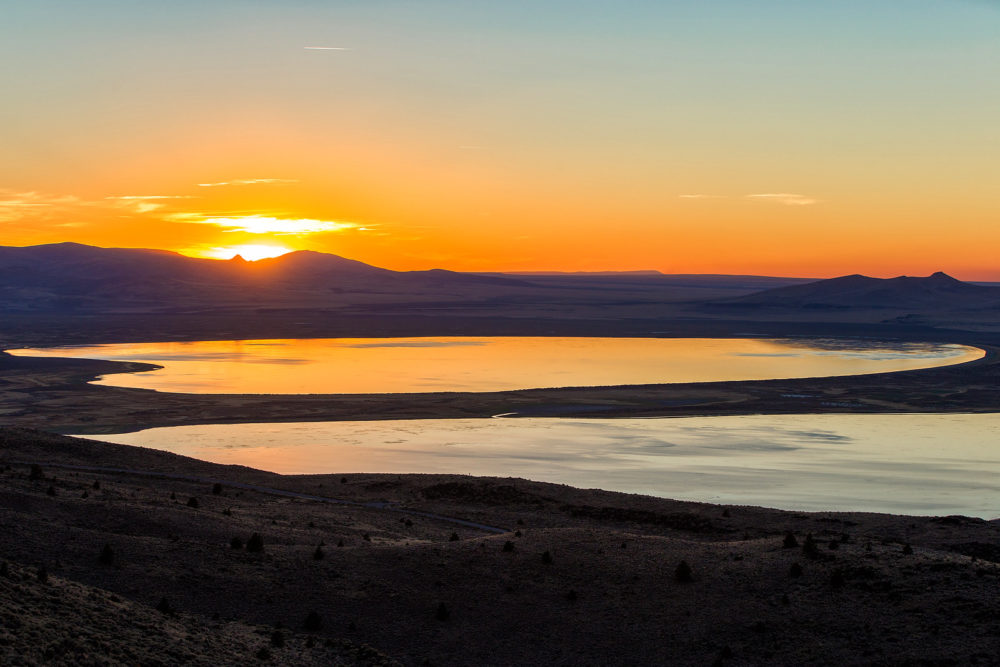 Hart Mountain National Antelope Refuge is 422 miles of gorgeous Oregon Outback country, and the hot springs contained within are a welcome bonus. Let's take a deep dive into the area:
What are Hot Springs and Why are They So Incredible?
These pools are geothermically heated, naturally occurring springs that usually exist in areas of volcanic activity. If water percolates deeply enough into the crust, it comes into contact with hot rocks and can circulate to the surface to form hot springs. Fortunately for us, the central and eastern parts of Oregon contain many of these super-heated pools of mineral-rich water.
---
Related: Crystal Crane Hot Springs in Oregon is the Perfect Getaway
---
Hot Springs are like a virtual multi-vitamin for the skin. Contained within the water bubbling out of the earth are a multitude of dissolved, beneficial minerals. Magnesium, sodium, potassium, calcium, lithium, and sulfur are just a few, the latter of which (sulfur) gives these springs their characteristically pungent smell. Most people will describe it as "rotten eggs", but despite this moniker, the scent isn't necessarily unpleasant.
Sign up for monthly emails full of local travel inspiration and fun trip ideas. In each newsletter we'll share upcoming events, new things to do, hot dining spots and great travel ideas.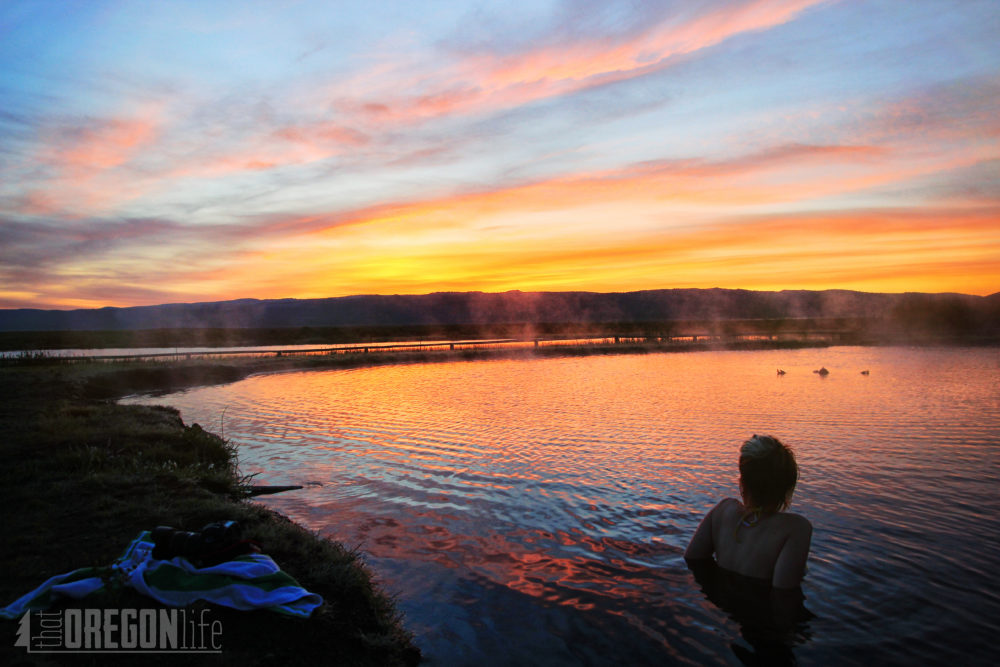 Taking a therapeutic soak in one of the geothermic pools is known to benefit all kinds of ailments, from achy joints to eczema. In my personal experience, exiting a hot spring leaves me with a glorious sense of health and well-being. Your skin may feel softer and slightly slippery; rejuvenated along with your mind and spirit.
Soaking at Hart Mountain Hot Springs
At 5,980 ft (1,820 m) above sea level, Hart Mountain Hot Springs (also known as Antelope Hot Springs for reasons we'll get into later) is over a mile high (take that, Denver).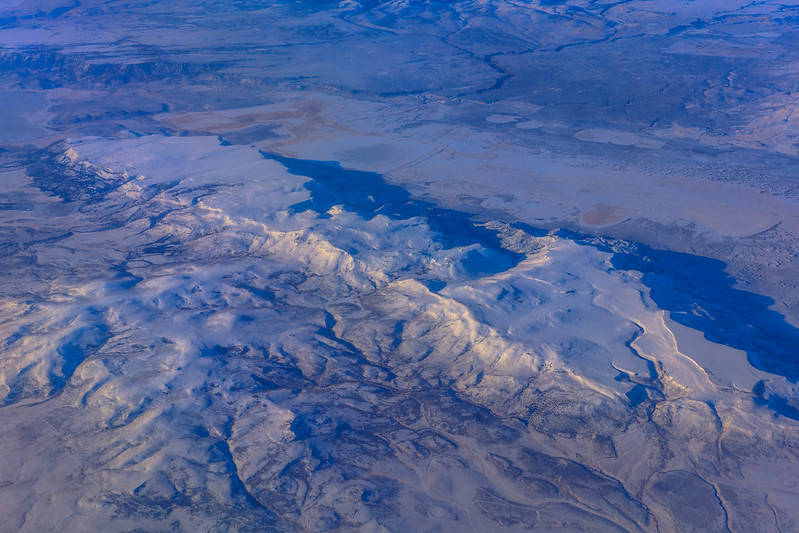 A word of caution must be stressed here that folks with high blood pressure and heart conditions should probably not soak in spas or hot springs. Kids 12 and under need to be highly supervised and it's not recommended for very young children to soak in such high temperatures either. While the area IS PET FRIENDLY, animals aren't allowed in the springs themselves. There are two pools to choose from, and both are clothing-optional.
---
Related: Check Out Historic Brietenbush Hot Springs
---
The Primitive Pool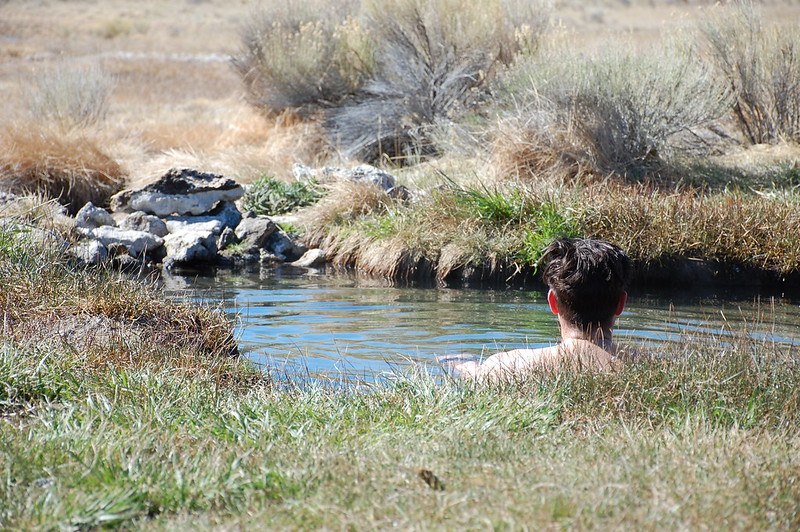 This is the warmer of the two soaking pools, staying somewhere in the range of 104-105° F (40° C) all year round. The primitive pool is surrounded by grassland with stunning views of the surrounding landscape. It's possible to see steam rising from the meadow as you soak your cares away in the natural rock and dirt-bottomed spring. This pool is only a few feet away from the main soaking area.
The Developed Pool
Local legend goes that years ago, a rancher noticed water bubbling up from the rocky ground and decided it would be a good idea to insert a stick of lit dynamite into the crack. Probably not the best course of action, but in this case, it resulted in opening up the natural spring we have to soak in today.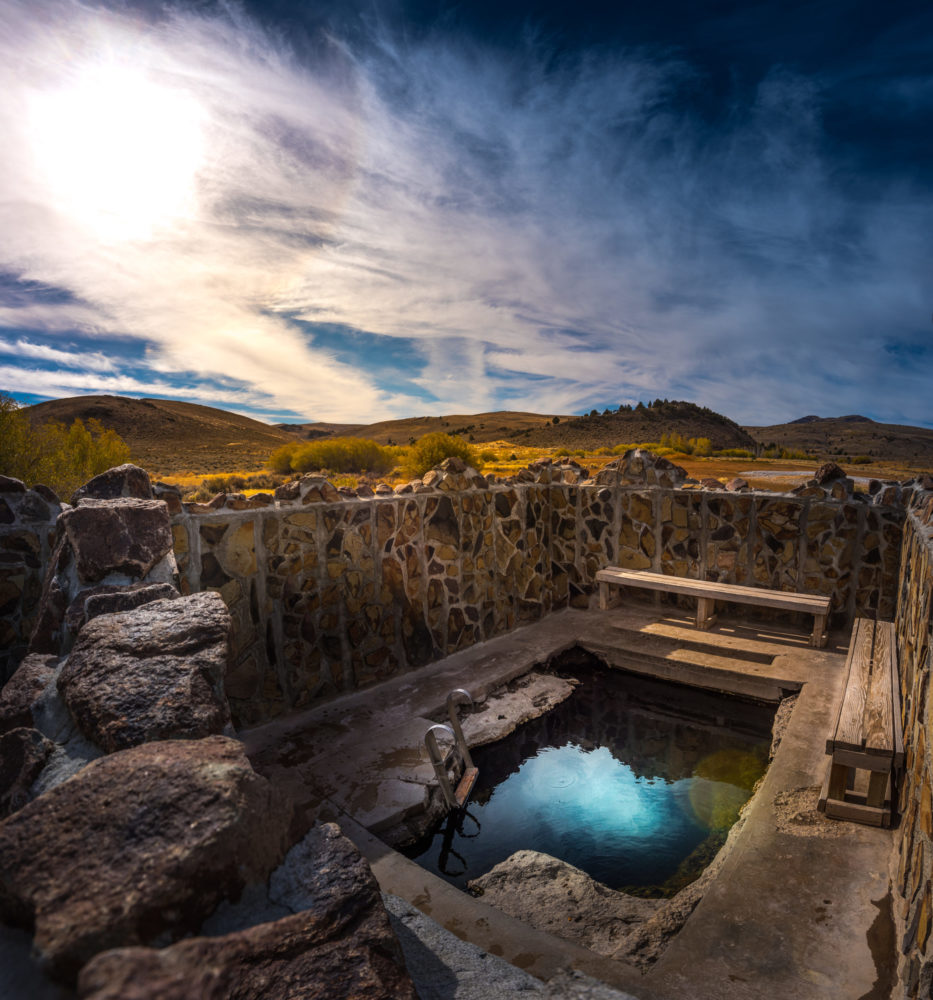 The enclosure around this main soaking area is built of concrete, rock, and wood; nicely rustic. Textured rock lines the sides and bottom of the pool, and the water bubbles up out of a crack at your feet. At 5 ft. deep and 9' by 12' across it can comfortably hold up to six people at once with temperatures of 100-104° F.
Why is the Area Around Hart Mountain Hot Springs So Special?
As we mentioned before, Hart Mountain National Antelope Refuge encompasses the acreage around the hot springs and it's a wildly beautiful land with lots to do outdoors. More than 340 species of native wildlife call the refuge home. The refuge was created in 1936 in order to protect the disappearing antelope species in this northeastern corner of the Great Basin.
"Those who visit Hart Mountain next century will know that we were faithful life tenants, that we did not entirely despoil the earth which we left them. We will make the tradition of conservation as much a part of their inheritance as the land itself."

- U.S. Supreme Court Justice William O. Douglas
Know Before You Go
Roads in and out are primitive (as is common in this region of Oregon), and although the facilities here are open year-round, getting there may be impossible in certain weather. None of them are paved.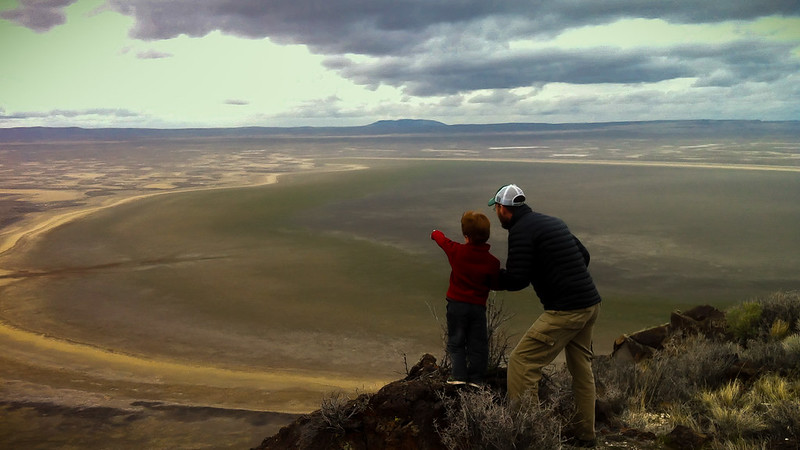 The nearest gas and groceries are available in Plush (25 miles west) and Frenchglen (49 miles east). The closest town with full services is Lakeview (65 miles southwest), so be sure to plan your adventures accordingly with plenty of food, water, and clothing. Bring an extra full gas can. There is NO CELL PHONE SERVICE on the refuge, so be sure to bring a paper map along, or download your Google Maps to your phone before you go.
---
Related: A Southeastern Oregon Sunstone Adventure...For Free!
---
Camping
Camping is always allowed on Bureau of Land Management public lands although it will be primitive with no facilities.
Three Campgrounds exist within the refuge:
Hot Springs (30 campsites, stay up to 14 days)
Post Meadows (horse camp including corrals)
Guano Creek (open seasonally to accommodate overflow camping during hunting season)
All three sites have only pit toilets and no RV hookups. You won't find firepits, drinking water, or firewood here, but neither will you find any fees to pay or reservations. Sites are first come first served. Pack it in, pack it out, and always Leave No Trace.
Wildlife Viewing
This is one of the best places in Oregon to see the elusive Pronghorn Antelope. If you've ever spotted a group of these creatures in the high desert, you'll know that in the time it takes to raise your camera for a photo they're long gone. Fortunately, the refuge is now home to herds of over 8,000 Pronghorn, making your chances of photographing them much better.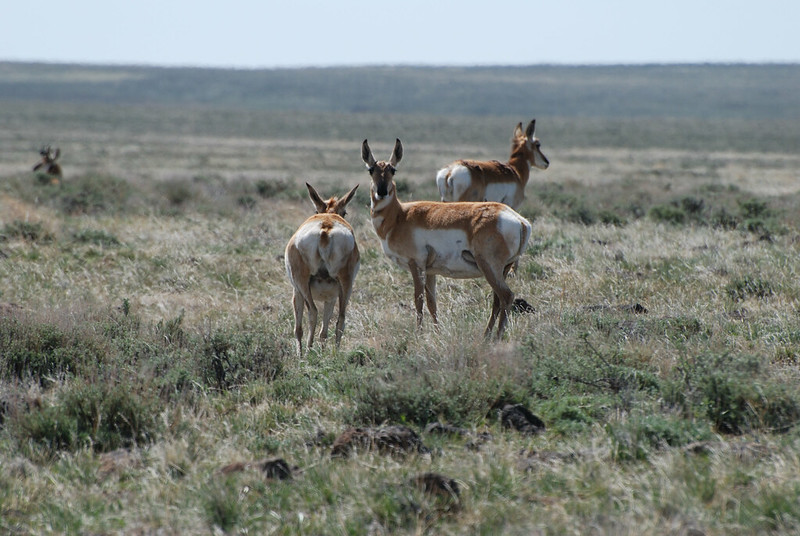 Large mammals to spot include Mule Deer, Cougar, Coyote, and Bighorn Sheep. Rattlesnakes are common in the hot months (always be aware of your surroundings... it's a long way to go for snakebite treatment). Small mammals include Kangaroo Rats, Marmots, Bobcats, Ground Squirrels, and Rabbits. Sage Grouse have also found refuge here amongst the sagebrush.
Beatys Butte Horse Management Area is just adjacent to the Hart Mountain Refuge. Herds of mixed-breed wild horses roam free in this rugged landscape. See our interactive map at the end of this article for specific locations.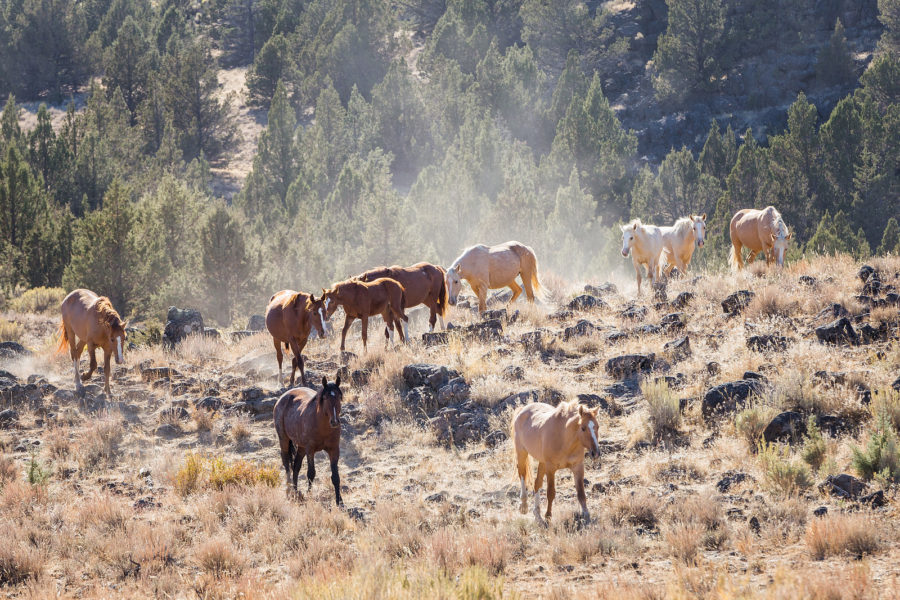 Hiking and Backpacking
Day hikes and longer backpacking adventures abound within the Hart Mountain Hot Springs area. Trails do exist, but some intrepid folks simply pick a direction and go. The latter option is only recommended for experienced backpackers carrying GPS and the proper equipment. Conditions in the high desert are rugged and can quickly turn life-threatening without precautions and experience. Check out this website for day hikes and more information.
---
Related: Visit the Natural Wonder of Oregon's Fort Rock
---
Overnight backpackers and hikers are required to obtain a self-issued permit at the Refuge headquarters visitor center, before departing into the backcountry.
Mountainbiking and Horseback Riding

Bicycles may only be used on roads open to motorized vehicles. Even the best roads are rough and rocky, so sturdy mountain bikes are a must.
Horses can be ridden throughout the refuge, and a horse camp with corrals is available at the Post Meadows camping area.
Warner Wetlands
Formed thousands of years ago when gigantic faults in the earth's crust shifted, today's Warner Wetlands is a 40-mile chain of lakes separated by a unique series of bow-shaped dunes. Each spring and fall, thousands of birds visit the wetlands during their annual migrations.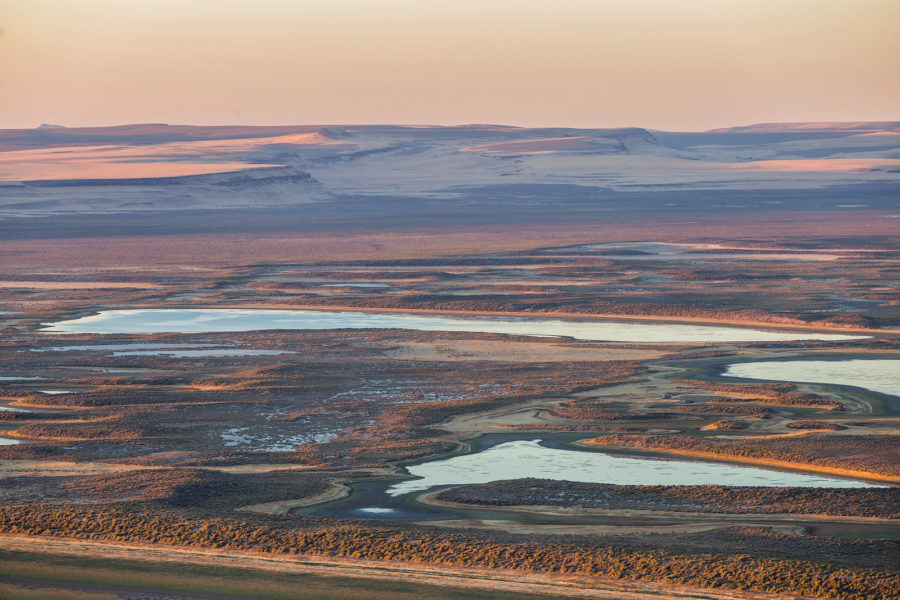 Activities are dependent on the water levels of the lakes which can fluctuate dramatically from year to year, so it's best to contact the BLM Lakeview District office to receive updated information about current lake levels before planning a trip to the Warner Wetlands.
Petroglyphs
Native Americans inhabited Eastern Oregon for thousands of years before the white man forcibly moved in. We speak of it as "time before memory" because the culture of these First Peoples dictates that they have always been here. This is their land, and for centuries they have left their marks upon it in the form of ancient images.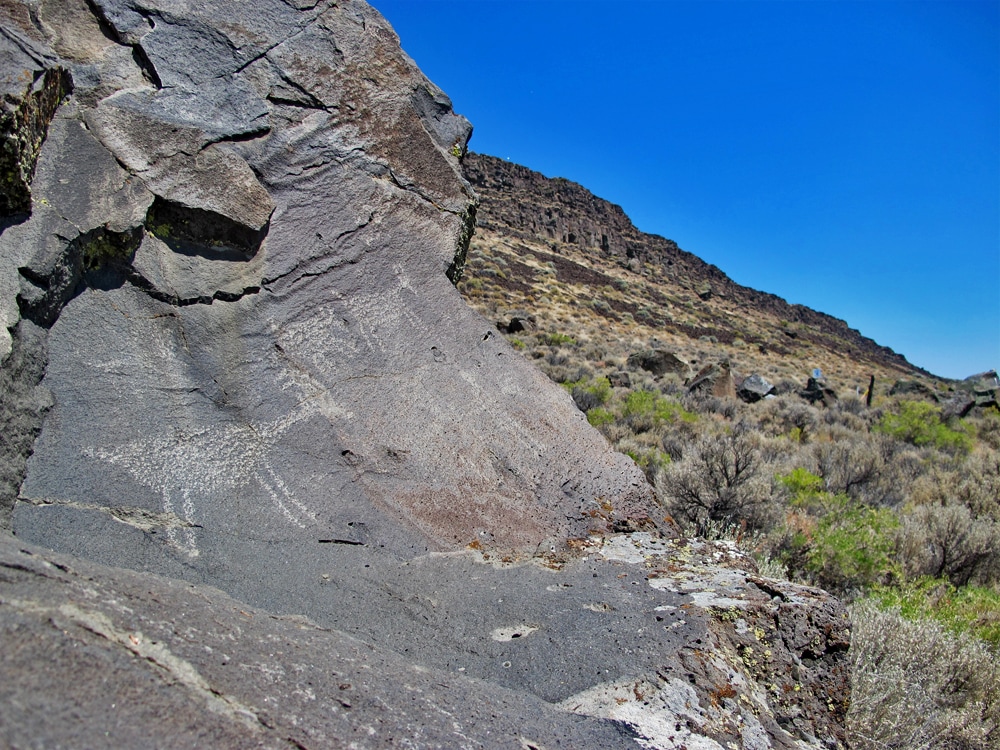 Usually, I'm hesitant to write about these sacred places and artwork, but one area is well known enough to point out. Petroglyph Lake is north of the Hart Mountain Refuge headquarters, easily accessed by the 5-mile Petroglyph Lake Loop Hike.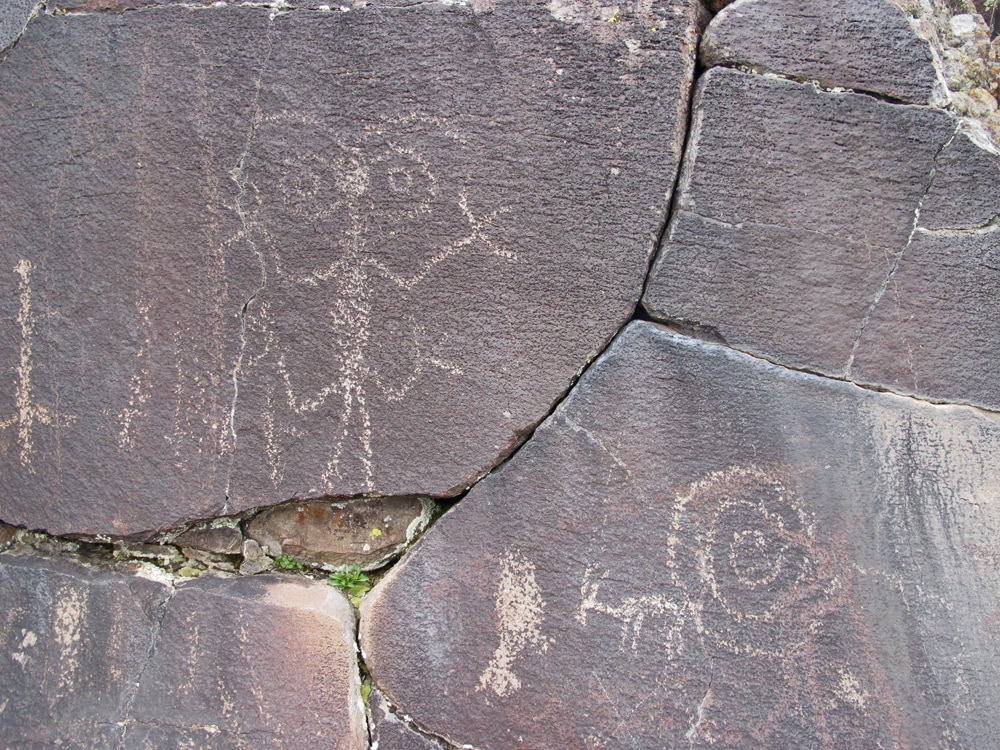 65 or so panels of carvings adorn the rock faces around the lake bed. The meaning of the glyphs has been lost to time, even among tribal leaders, but no doubt this particular spot was sacred. One theory is that the scarcity of permanent water sources in the region gave this place spiritual meaning to local natives. We may never know, but one thing is certain. Hiking here gives one the chills.
It must go without saying that defacing ancient artifacts is illegal. Even the oils of our skin can damage these works of art, so best practice is to observe only and Leave No Trace.
Historic Shirk Ranch
Explore this amazing and abandoned 1880's property while visiting Hart Mountain Hot Springs if you dare. Of course, it's purported to be haunted. Old properties like this one frequently are.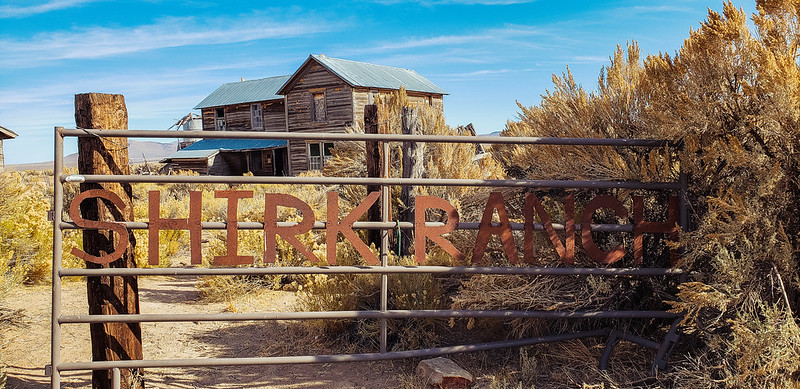 David L. Shirk purchased the property in 1883 and built most of the ranch's extant buildings and structures around 1910. Shirk was a cattleman, but his big business was horses, a talent for which he passed down to his daughter Olive. She was known in the area as one of the best "horsemen" in the area and a "tough ranch lady", working the Shirk land with her husband until his death in 1945.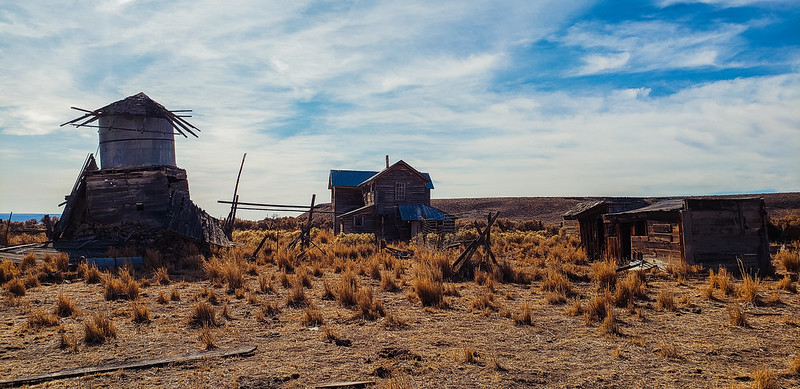 Again we stress that Leave No Trace ethics are imperative when visiting historic sites like this one. These buildings have withstood the test of time and deserve our utmost respect. Do not steal souvenirs and avoid disturbing artifacts. Leave these remnants of the past for others to enjoy, lest the Shirk ghosts come to haunt you.
---
Related: Incredible Photos of Abandoned Oregon
---
Interactive Map of the Hart Mountain Hot Springs Area

All of the places mentioned in this article are right here! Let us know in the comments about your adventures to Hart Mountain and Southeast Oregon.