Portland is home to an incredible garden that was planted to heal wounds and bring two cultures closer together. While some locals at first resisted the planting of the garden in 1963, the Japanese Garden has become an Oregon gem and a Portland treasure and is much loved by all.
History Of The Portland Japanese Garden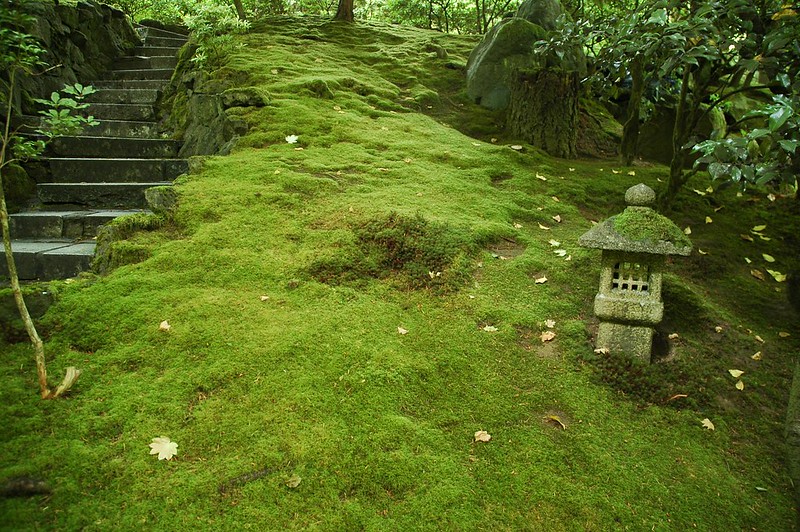 Loved by almost everyone who goes to visit this enchanted space, the Portland Japanese Garden recently celebrated it's 60th birthday. Not many know that the Japanese Garden sits on the site of what was once a zoo in Washington Park in the city of Portland, or that hate groups once opposed the building of this pretty space on the heels of World War II.
Hate And Healing: A Garden That Was Meant To Heal Old Wounds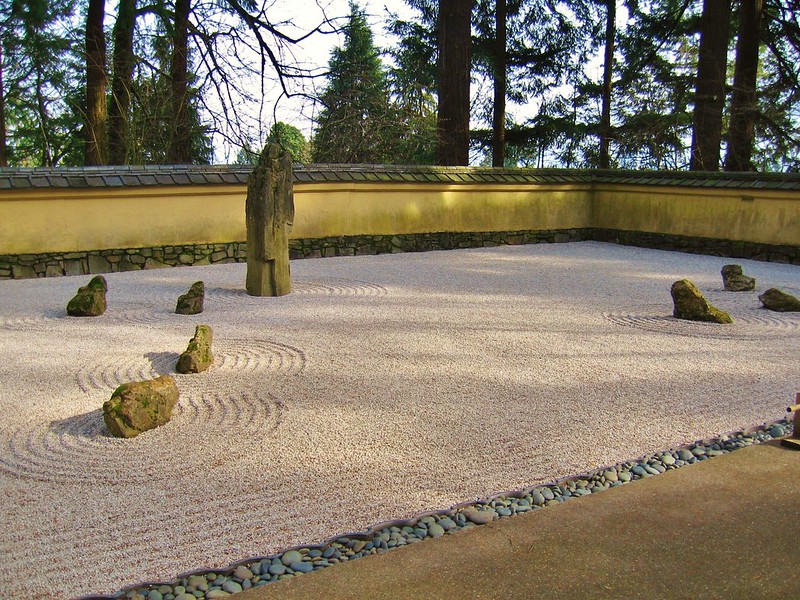 When construction first began to turn the abandoned zoo site into what is now the Japanese Garden, people came to vandalize the space, and hate groups gathered to protest and yell racial slurs at those who had come from Japan to work on the site. The new Japanese garden was a touchy subject even 20 years after the end of World War II because people from both sides had lost loved ones during the war.
As the new Japanese Garden began to take shape however, hearts and minds started to change. Wounds began to heal, people started to forgive, and some who used to oppose the construction of the gardens turned into supporters.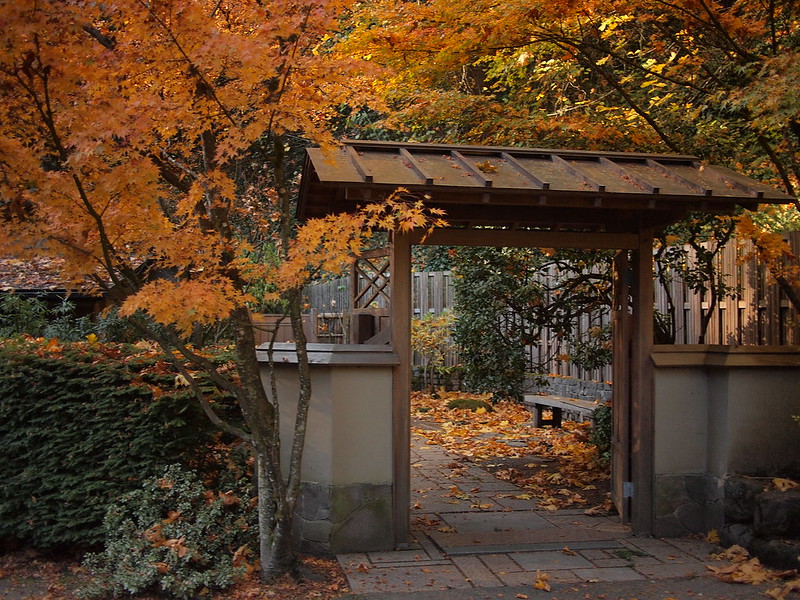 The garden opened in 1967 and people of the city of Portland were enthusiastic to have such beautiful gardens in the city. This garden is considered by many to be the best Japanese garden outside of Japan.
Sign up for monthly emails full of local travel inspiration and fun trip ideas. In each newsletter we'll share upcoming events, new things to do, hot dining spots and great travel ideas.
Sharing The Culture Of Japan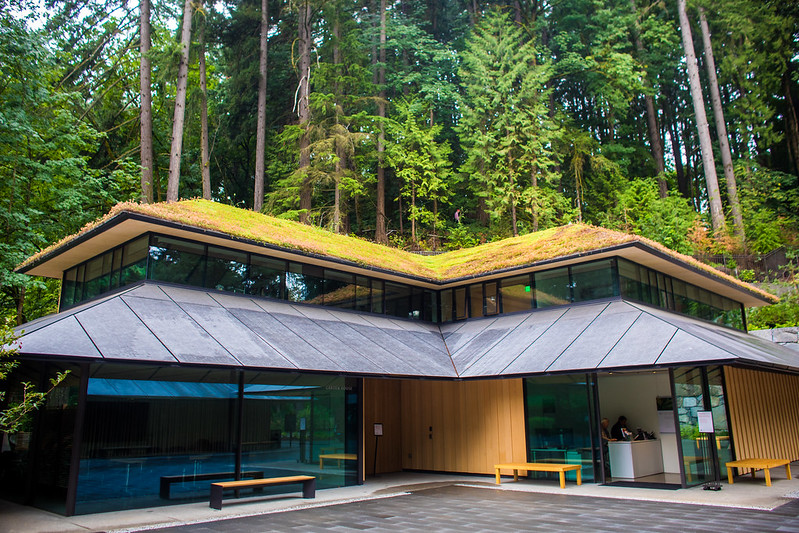 Today people come to the gardens above the city to relax, reflect, and learn. In 2022 the Japan Institute was launched at the garden as a cultural initiative that reaches around the globe. The goal is to engage in international partnerships, and to inspire harmony and peace through connections to nature.
Visitors can also discover the rich culture of Japan at the cultural village within the garden. The cultural village has space for visitors to see Japanese art exhibitions, engage in seasonal activities, and watch performances and demonstrations. The cultural village also has a giftshop and café.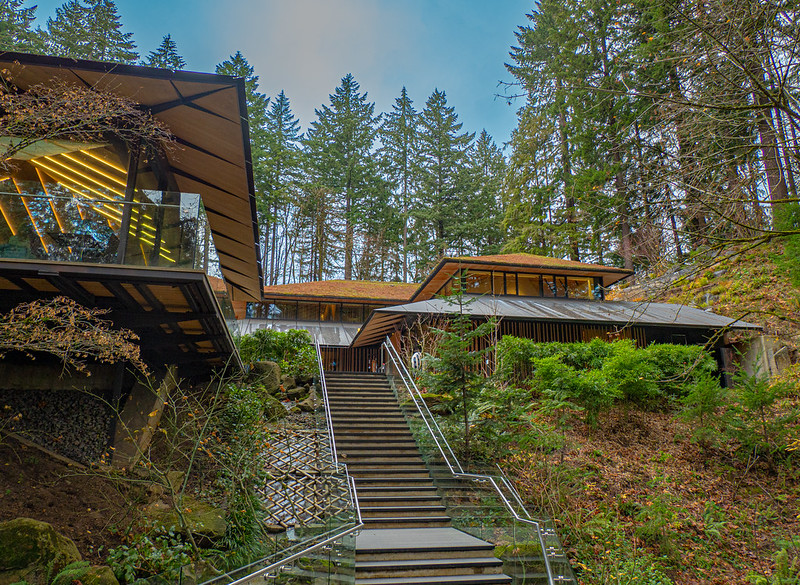 We can't recommend enough stopping in to see the art exhibitions and taking the time to learn about the rich cultural heritage of this space.
Explore The Japanese Garden Portland
When you walk through these beautiful gardens you have a sense of peace and tranquility, and will be in awe of the garden's natural beauty, lovely variety of plants, shapes, and cultural heritage.
Portland Japanese Garden Spaces Visitors Love To See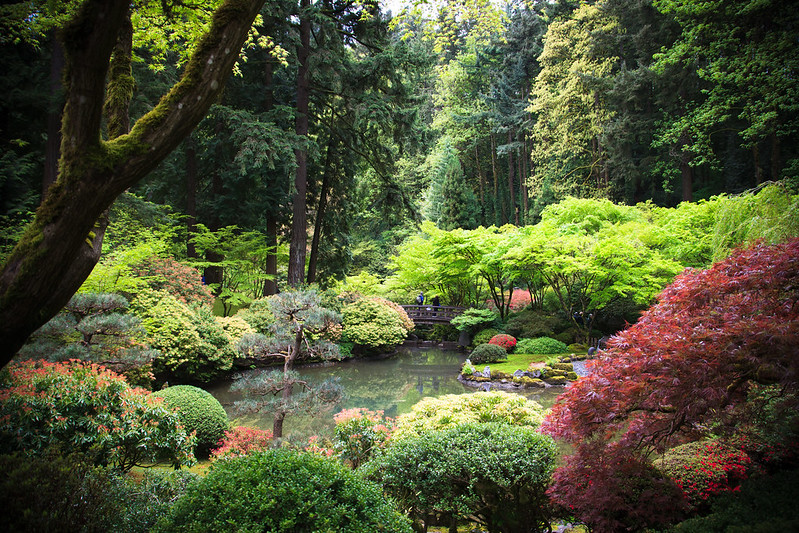 There are a variety of gardens within the Portland Japanese Garden park, and it's worth taking the time to see each and every one of them.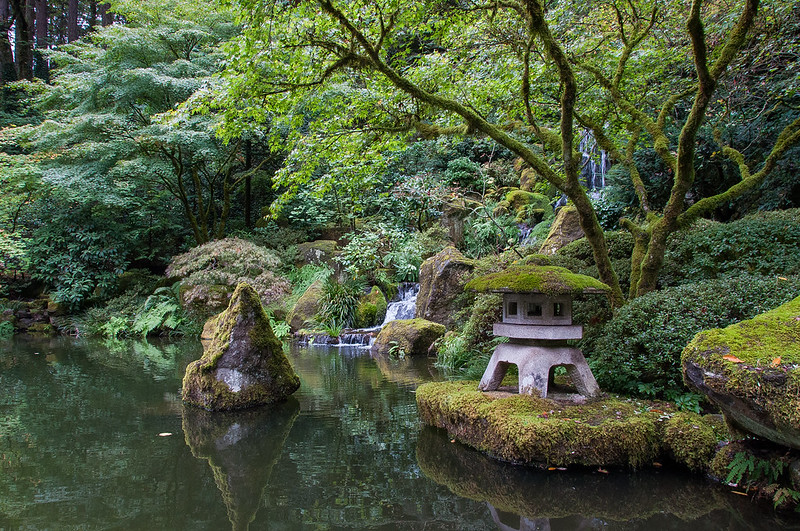 The Strolling Pond Garden is the largest garden at the park. This garden has upper and lower ponds which are connected by a stream.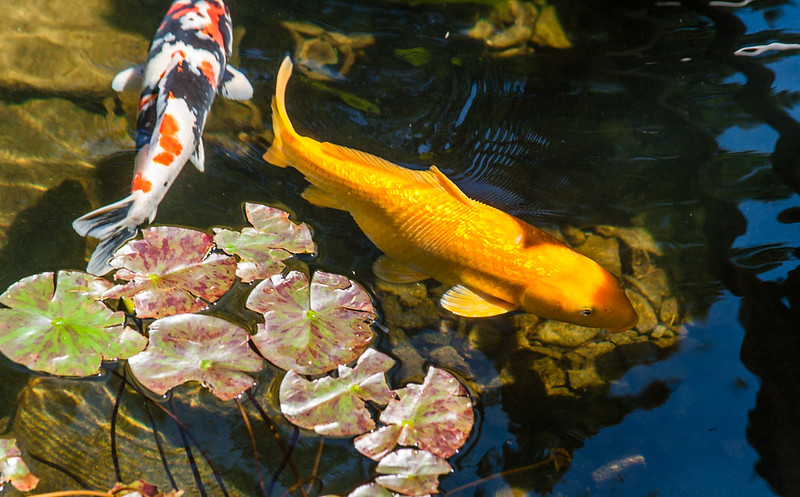 Many visitor's favorite stop at the Strolling Pond Garden is Heavenly Falls at the lower pond. The sound of flowing water from Heavenly Falls makes this a great place to stop, relax, and reflect.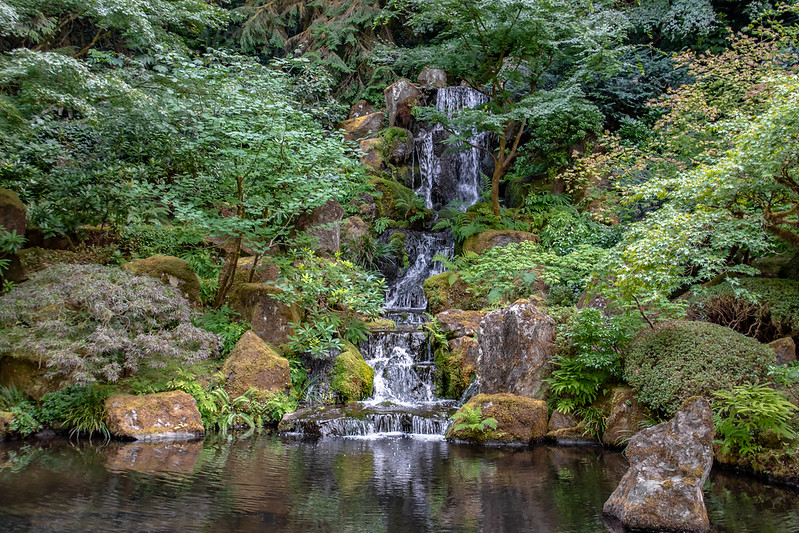 The Tea Garden is a place to reflect on the tranquil beauty of the nature that's cultivated here. The tea garden features stepping stones and lanterns. Guests enjoy walking the winding path to the tea room.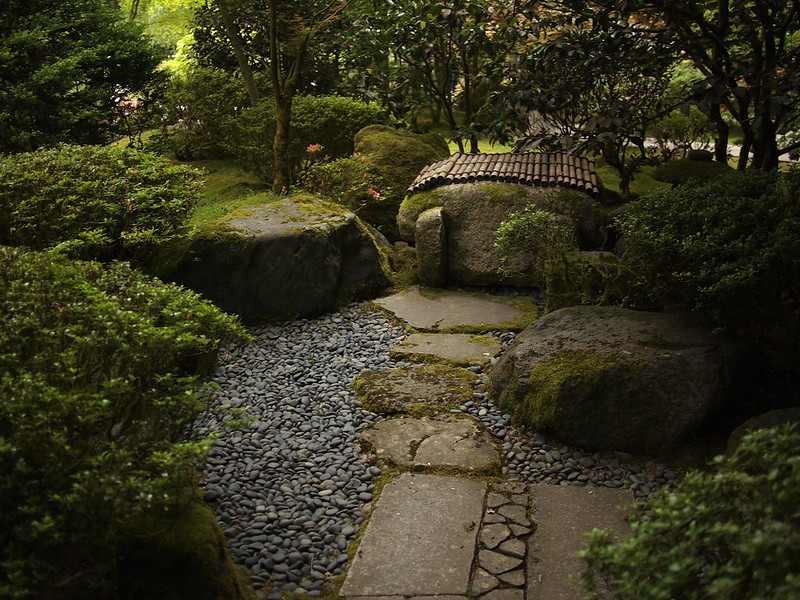 The Sand And Stone Garden features stone and raked sand and gravel and showcases a dry landscape while still representing water and mountains. This garden is also sometimes referred to as the Zen Garden. The Sand And Stone garden shows us that sometimes less really is more. Of all the garden spaces found here, the Sand And Stone Garden is one of my favorites.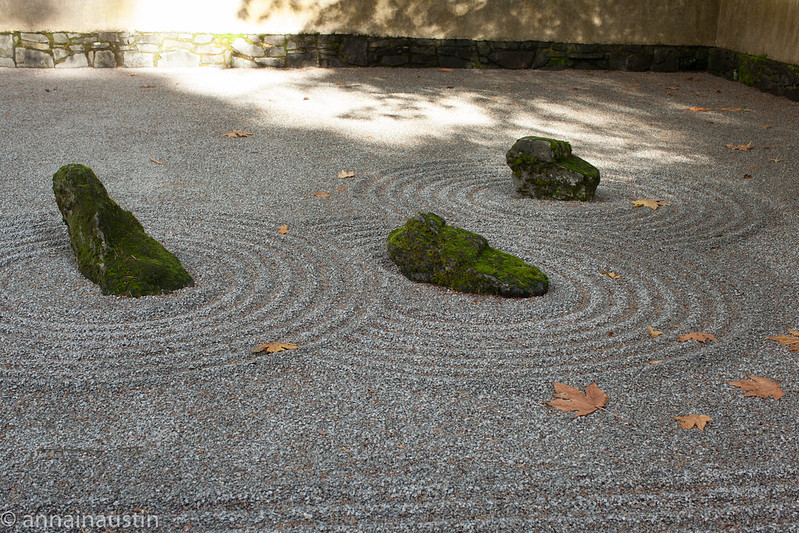 Many people also enjoy the Flat Garden. This natural space shows how a dry garden can be cultivated and how beautiful it can be. The Flat Garden incorporates sand, shrubs and trees, and showcases a unique serene harmony.
The Natural Garden is a garden space on a hill that shows off plants not usually associated with traditional Japanese gardens. This space used to be called the Hillside Garden, and showcases pure wild nature as opposed to carefully shaped plants and landscapes. Take your time as you explore the Natural Garden and it's serene lush beauty.
When people first arrive they're greeted by the Entry Garden. This haven shows off stone and cascading ponds as well as a walkway through a lush forest.
The separate garden styles of each space incorporate essential elements of a traditional Japanese garden, so be sure to take your time to explore them all.
When Is The Best Time To Visit The Portland Japanese Garden?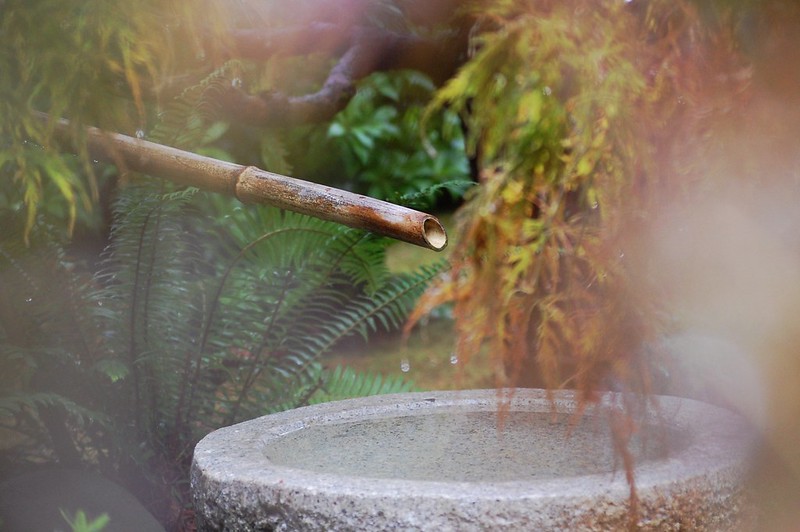 Some prefer to go to the garden in spring when everything is in bloom while others flock to the garden in fall for the garden's vibrant changing colors.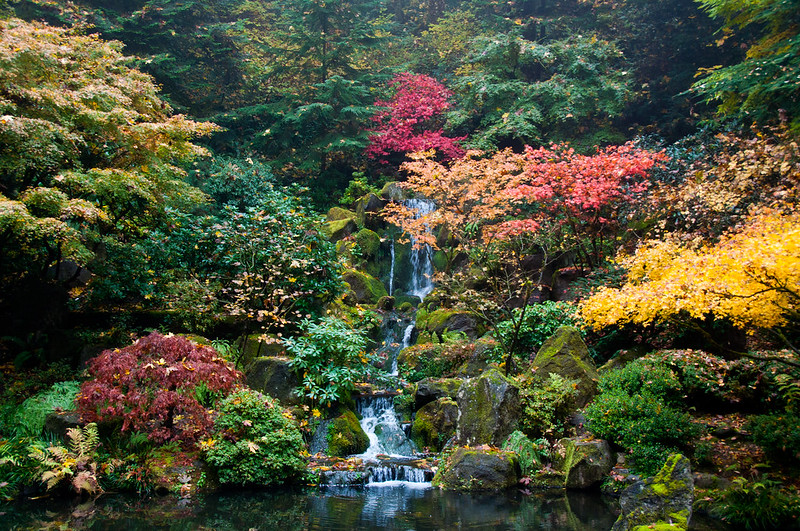 Summer is also a lovely time to go when the trees have all filled out.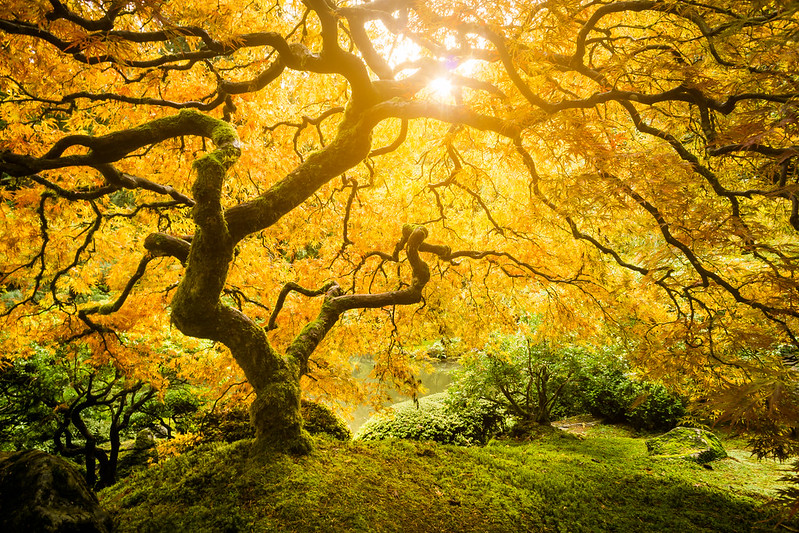 The Japanese Gardens are open for all four seasons, and each season is a great time to go since the gardens are in a state of constant change.
The weeping cherry tree in the Flat Garden is a popular sight in spring, while the famous Japanese Maple tree (popular with photographers) is a fantastic sight to see in fall.
Umami Cafe
Guests at the gardens may want to stop for a refreshing drink while strolling through this beautiful space. The Umami Cafe serves up world class Japanese tea and delicious treats.
The café itself floats over a hillside overflowing with plants and trees and is good to visit during all seasons (yes, even winter)! It doesn't matter if you're there in March or late June, it's always the right time to stop in for tea while checking out the gardens.
If you're looking for an authentic tea house, you won't be disappointed with the cozy and friendly atmosphere at the Umami Cafe. The tea at this authentic Japanese tea house comes from a Tokyo based tea company, while the Japanese treats are made locally.
Please note: Only those with an admission ticket to the garden or who have a member reservation are able to go to the café.
Umami Cafe Hours: 9:30 AM - 3:30 PM (Closed for Thanksgiving, Christmas, and New Years).
It's advised that you reserve a seat for the café here.
Portland Japanese Garden Information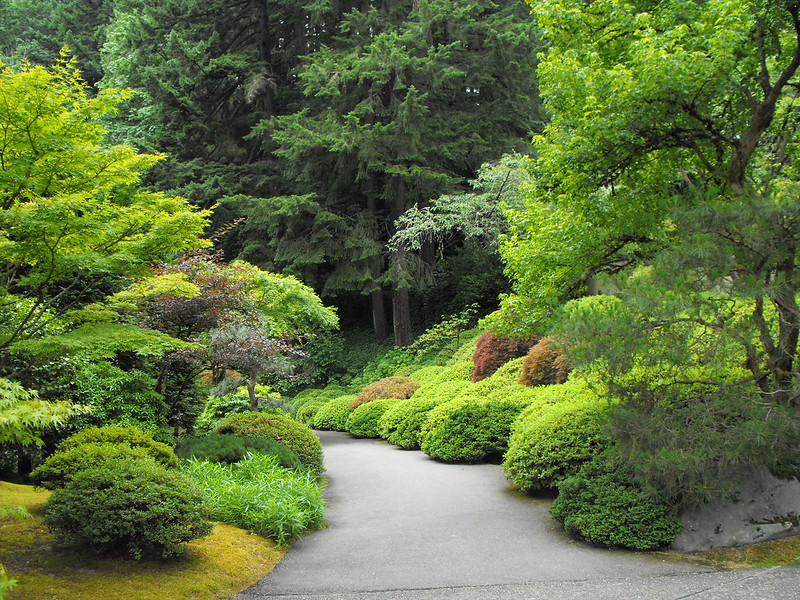 Admission Fee:
Adults: $21.95
Seniors (65 and older): $18.95
Students with a student ID: $17.95
Children ages 6-17: $15.95
Children under five: Free
Members: Free
Tickets: Visitors will want to buy tickets which you can purchase in advance here. Guests should note that tickets are non-refundable. There are some special days where admission is free for military personnel, which you can stay updated about here.
There is also a lower admission rate for families who receive food stamps through SNAP. This is done through the Arts For All program.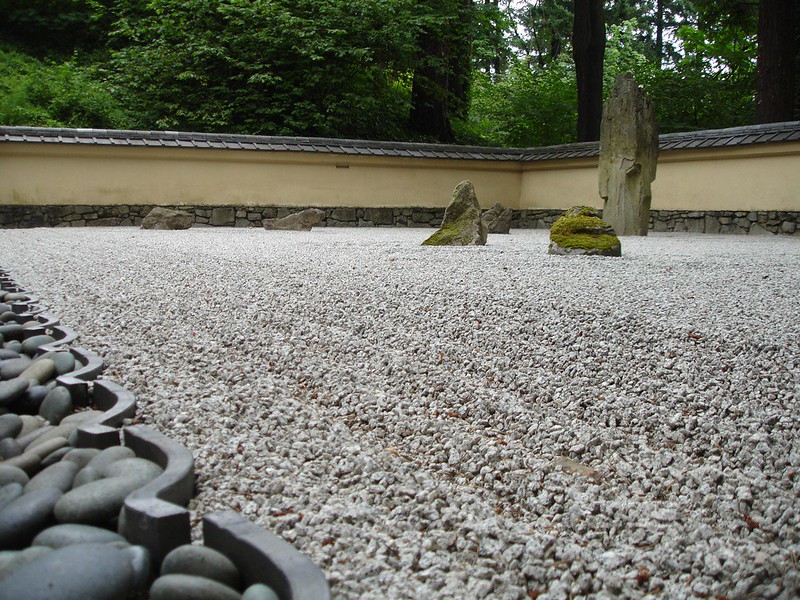 Transportation And Parking:
There are many options to get to the Portland Japanese Garden. One great option is to take Trimet Bus #63 which goes between Pioneer Courthouse Square and the Portland Japanese Garden every day year round.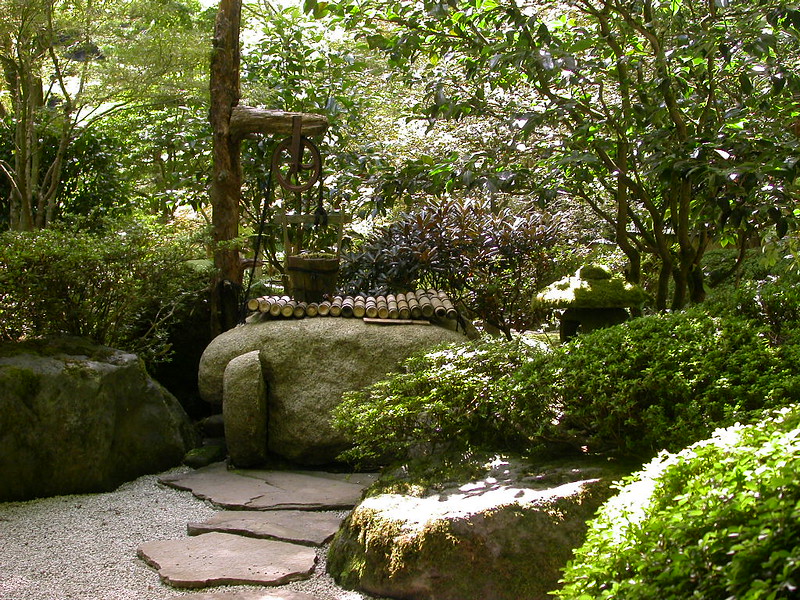 Another option is for guests to take bus #15-NW 23rd or bus #20-Burnside to NW 23rd and Burnside and then take the one mile walk through Washington Park to the Japanese Garden. It should be noted that this is an all uphill walk.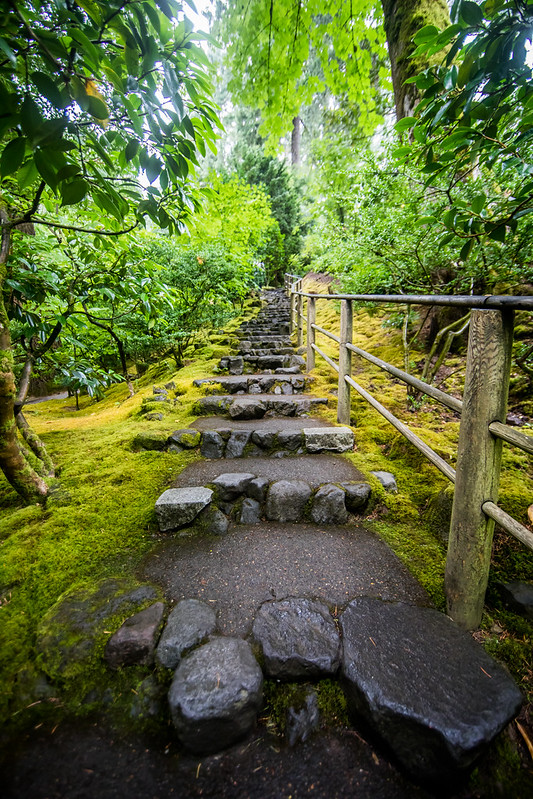 Those wishing to go to the Japanese Garden can also take the Blue or Red line Max stations to the Washington Park Stop (the zoo) and then walk or take the shuttle (which does not always run) to the garden.
You can also drive to the gardens and park, though the on-site parking is limited and fills up fast.
Get more information about how to get to and visit the park here.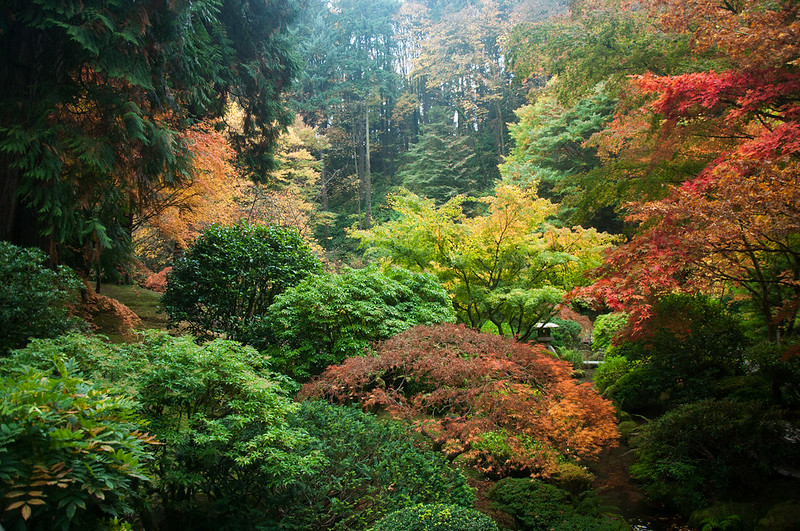 Public hours:
Sunday: 10 AM - 6 PM
Monday: 10 AM - 6 PM
Tuesday: Closed
Wednesday: 10 AM - 6 PM
Thursday: 10 AM - 6 PM
Friday: 10 AM - 6 PM
Saturday: 10 AM - 6 PM
Guests should note that last admission into the garden is at 6 pm and guests must be out by 7 pm.
Member Hours: For earlier admission you can become a member. Member hours are from 8 AM - 10 AM on the open days of the garden. The gift shop also opens at 9 am for members.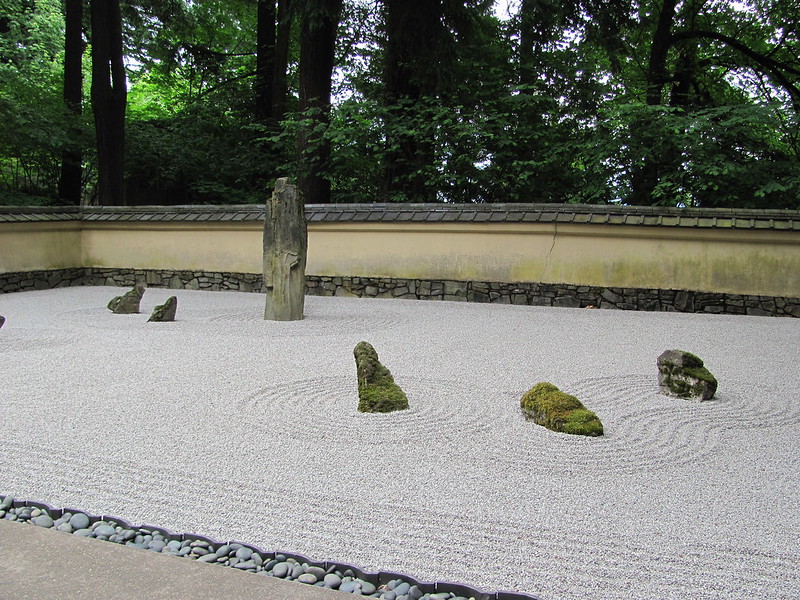 Location: The gardens are located in the city of Portland in Washington Park at 611 SW Kingston Avenue.
Facebook: Stay up to date with events at the Portland Japanese Garden on their official Facebook page.
Tips For Visiting The Portland Japanese Garden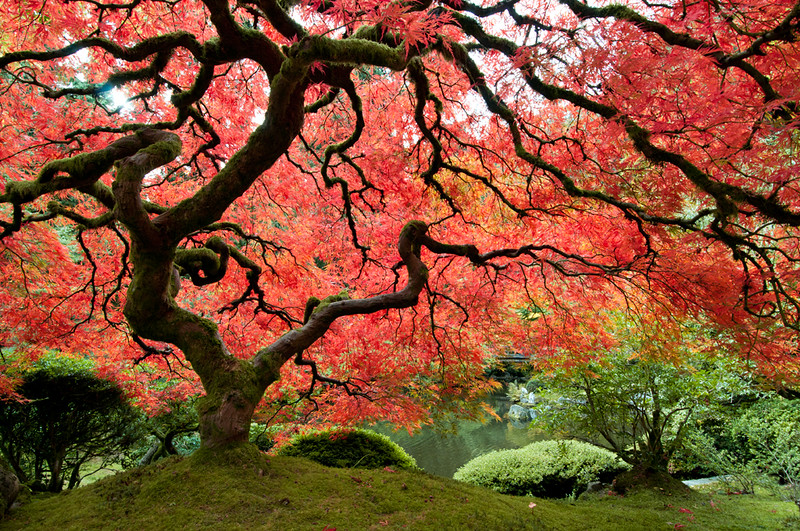 When you're planning your trip to the Japanese Garden Portland, plan for at least two hours to explore the gardens. Some prefer to take even more time to enjoy the serene garden spaces.
There are no pets allowed at the Portland Japanese Garden, though ADA services animals are of course permitted.
Visitors should stay on approved paths and should avoid walking on moss or stepping into the raked sand gardens.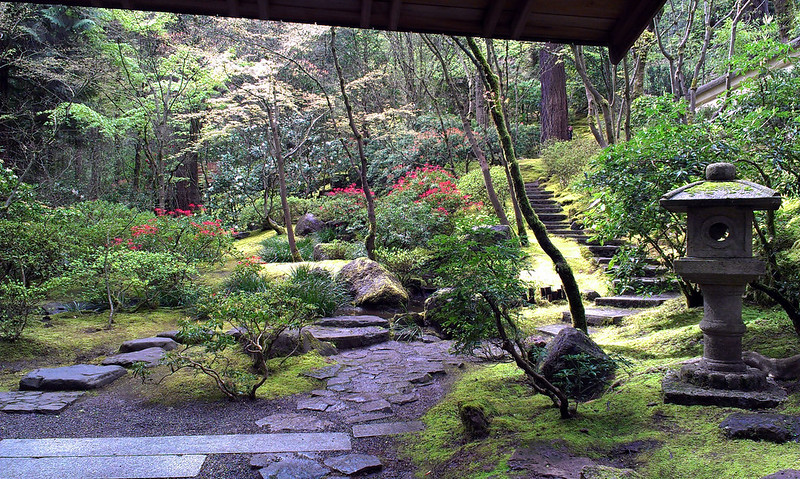 Some, but not all areas of the gardens are ADA accessible.
If you're planning on taking photos at the gardens (which is a popular activity), you should note that there is as fee of $10 for every person planning on using a tripod. This fee helps keep walkways free for pedestrians. Consider skipping the tripod and keeping your camera handheld for your visit.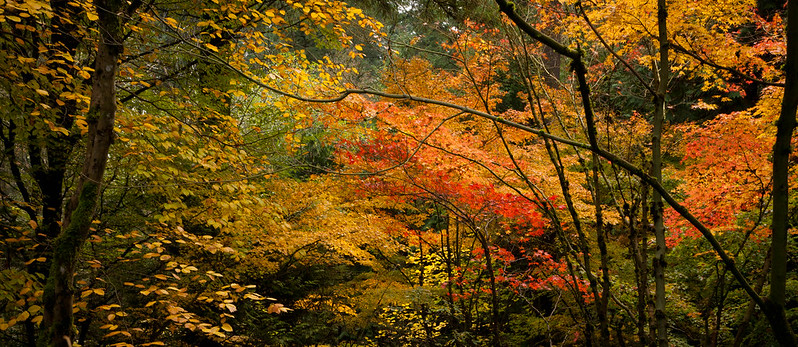 If you're an artist planning on visiting the garden to do artwork, please note that you may not bring or use pigmented inks or anything that could stain. Instead come prepared with graphite pencils, charcoal, and sketchpads.
You can find a lot of great information and tips on going to the garden on the official FAQ page.
Other Things To Do Near The Japanese Garden Portland
There's a lot to do and see near the Japanese Gardens. Here's a list of some of our favorites in the City of Portland.
Take a walk in downtown Portland to explore local stores and food.
The Oregon Zoo is nearby in Washington Park, and so is the International Rose Test garden, which is a great place to sit and have a picnic. The Hoyt Arboretum is also found in Washington Park.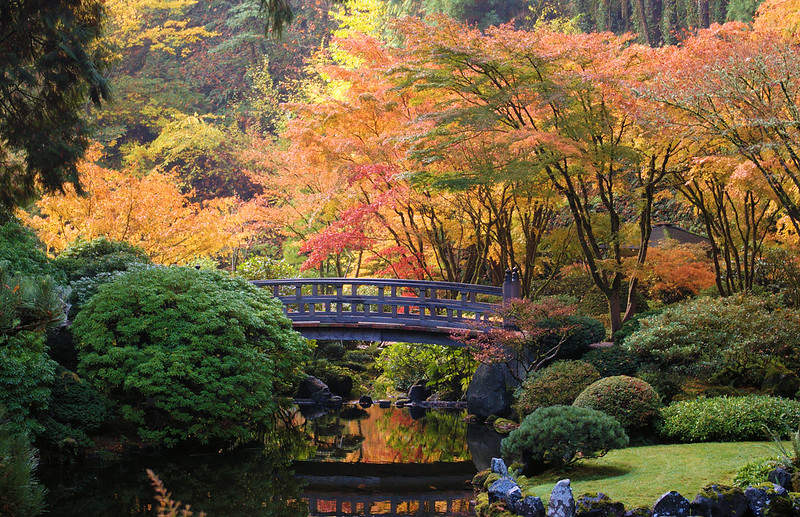 Have you ever visited an authentic Japanese garden? Have you been to the Portland Japanese Garden at 611 SW Kingston and seen the meandering streams, gorgeous trees, ponds and waterfall? Share your photos with us and tag the friends and family you want to go to this lovely authentic Japanese garden with!