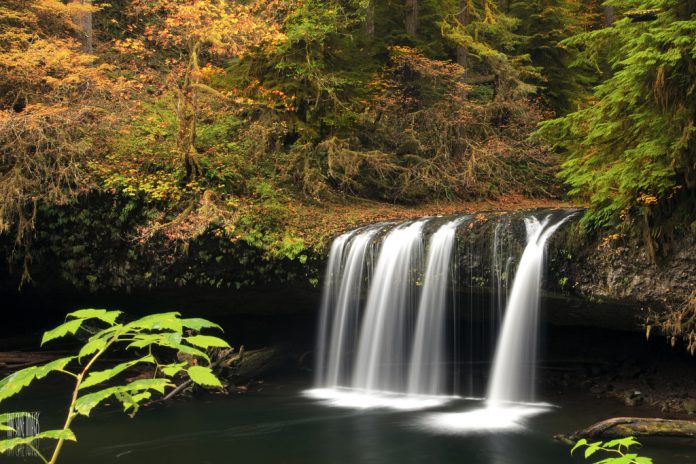 Fall is upon us again, and it's obvious why this time of the year is favored by so many Oregonians. If you're looking to throw on a jacket and go explore some new places, and you're looking for the best places to see incredible fall foliage in Oregon, then this article is for you.  The beauty of Oregon trails are truly stunning, but today we'll focus on a handful of waterfalls that are definitely places you need to explore at least once.
1. Young's River Falls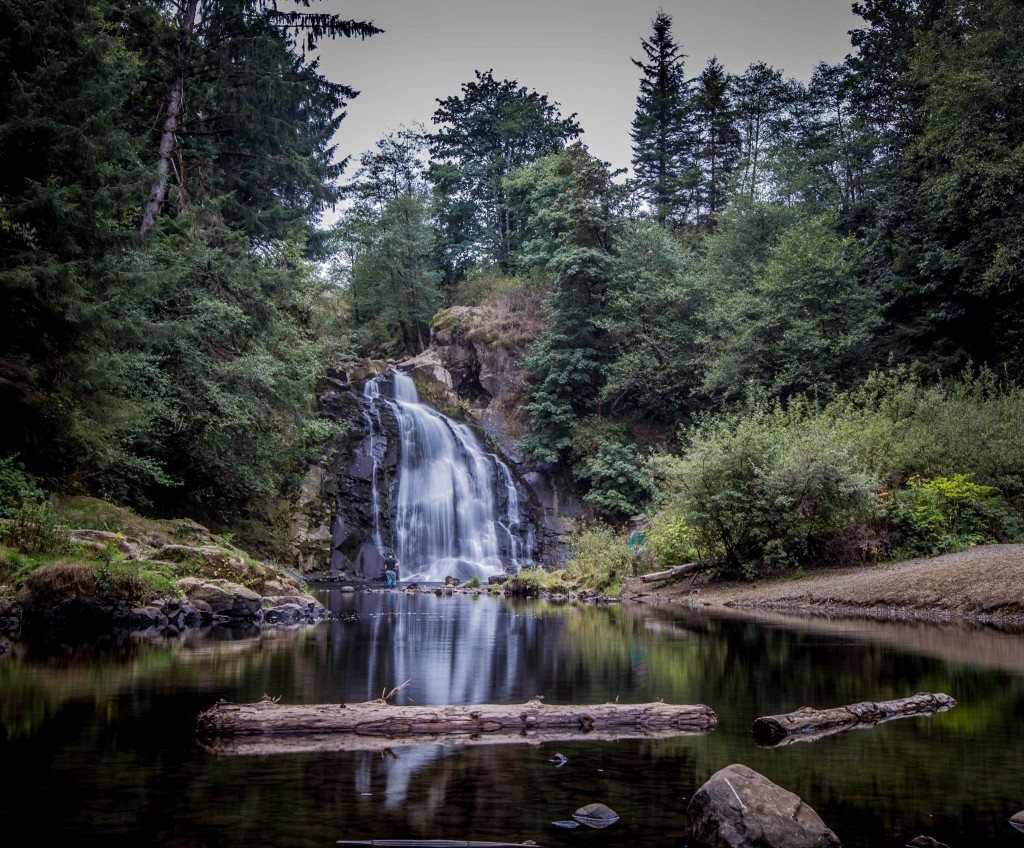 Young's River Falls is a scenic 65-ft waterfall on the Young's River in northwestern Oregon. The falls are located in central Clatsop County, about 10 miles south of Astoria. Youngs River Falls have been featured in several movies, including Free Willy 2 and Teenage Mutant Ninja Turtles 3.
Getting there: 
Near Astoria turn right onto HWY 101 Business Loop.
After 1.3 miles bear right to remain on the business loop.
After another 1.6 miles the business loop curves right. Turn on your
left turn signal to head straight (watch for opposing traffic around curve).
A short distance from that intersection turn left onto Young's River Road.
After milepost 7 look for a brown sign saying "Young's Falls" and turn right.
Parking area is a short distance from the intersection and the waterfall is close by.
2. Sweet Creek Falls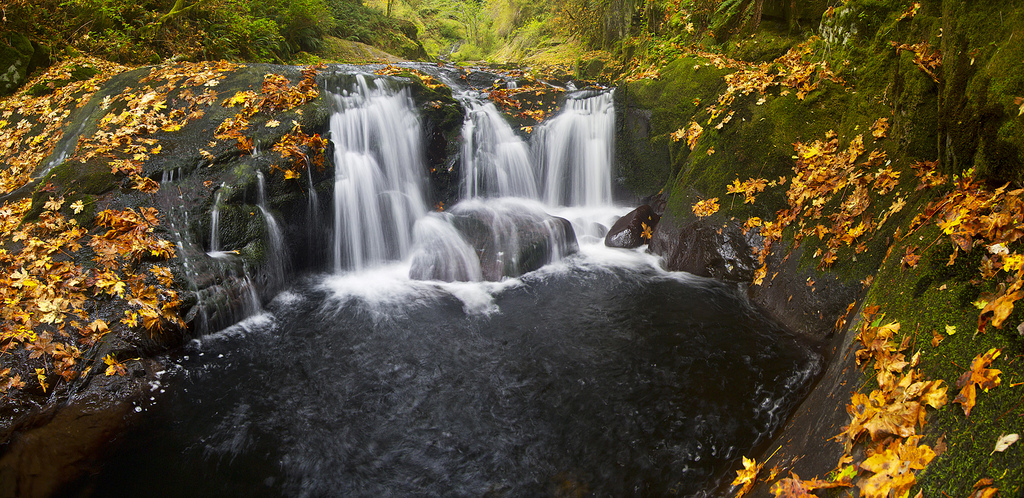 Explore a creek with a dozen small waterfalls, following a trail on catwalks bolted to the cliffs
About the Hike: Just a few miles inland from Florence, the waterfalls of this dramatic Coast Range gorge are accessed by an easy trail. Visit in April or May to see woodland wildflowers, including big white trillium and a rare breed of pink fawn lilies.
Getting There:
Drive Highway 126 to the Siuslaw River Bridge in Mapleton (15 miles east of Florence or 46 miles west of Eugene).
Cross the bridge from town and immediately turn west on Sweet Creek Road for 10.2 paved miles.
Then take a paved turnoff to the right to the Homestead Trailhead turnaround.
3. Upper Butte Creek Falls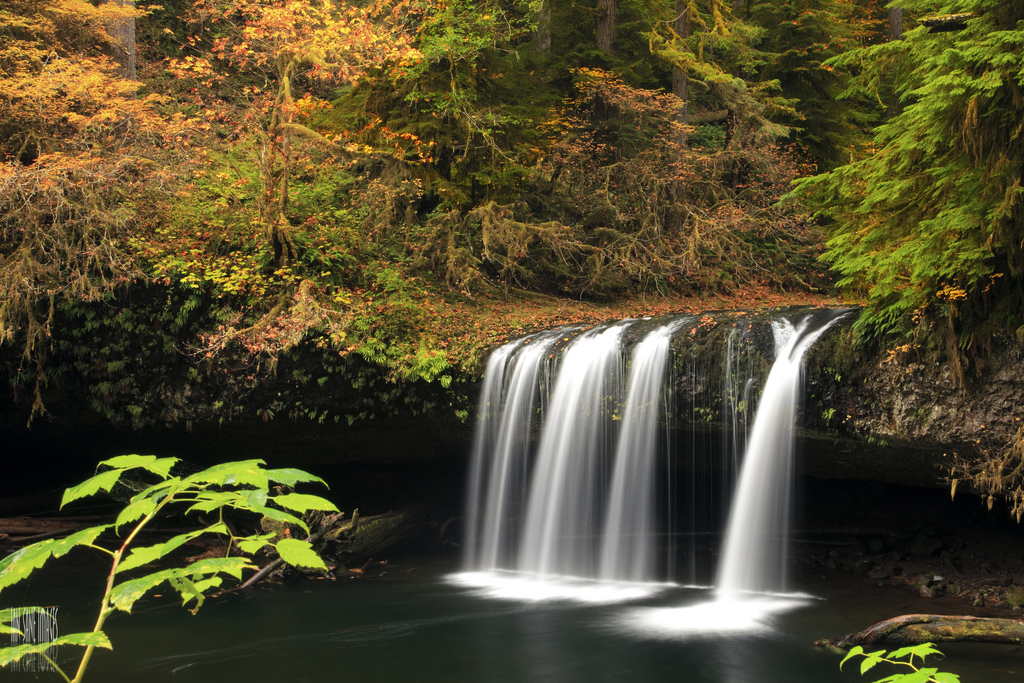 Upper Butte Creek Falls is a beautiful 20 foot waterfall located near Scotts Mills, Oregon. This waterfall has a similar geologic form as the waterfalls at Silver Falls State Park, as there is a large, deep cave behind the falls. Most of the time you can walk behind the waterfall and admire the unique perspective.
Upper Butte Creek Falls is along the easy Butte Creek Falls Loop Hike and there is a taller waterfall downstream, Butte Creek Falls.
Hit the link here to read a more detailed article about Butte Creek Falls.
Getting there: 
From the town of Scotts Mills, follow Crooked Finger Road for 11 1/2 miles (2 miles past the end of the pavement) and turn left onto Road 400, signed for Butte Creek Falls and drive another 2 miles to the trailhead. The trail leads to the base of the falls in 1/4 mile (stay right at the first fork then left at the second).
We discovered on our hike to Butte Creek Falls, the original route to get here is now blocked off by Weyerhaeuser. You can still take Crooked Finger Road, although you are looking at an additional hike just over 2 miles down a gravel road that is now blocked off to vehicles. 
The new route begins in Scotts Mills, and though it includes more twists and turns, this route is said to take about the same amount of time. 
New route to Butte Creek Falls (courtesy of ODF):
Drive to Scotts Mills, Oregon
In downtown Scotts Mills, near the post office, turn left (east) onto Maple Grove Road
From Maple Grove Road, turn south onto Sawtell Road until you reach the end of the pavement which will then turn briefly to Family Camp Road and then to the Butte Creek Mainline
From the Butte Creek Mainline, turn right onto the Butte Creek 500 and then right onto the Crooked Finger 400 Road which will lead you down to the Butte Creek Campground and Butte Creek Falls.
Coordinates: N44 55.257, W122 30.671
4. Upper McCord Creek Falls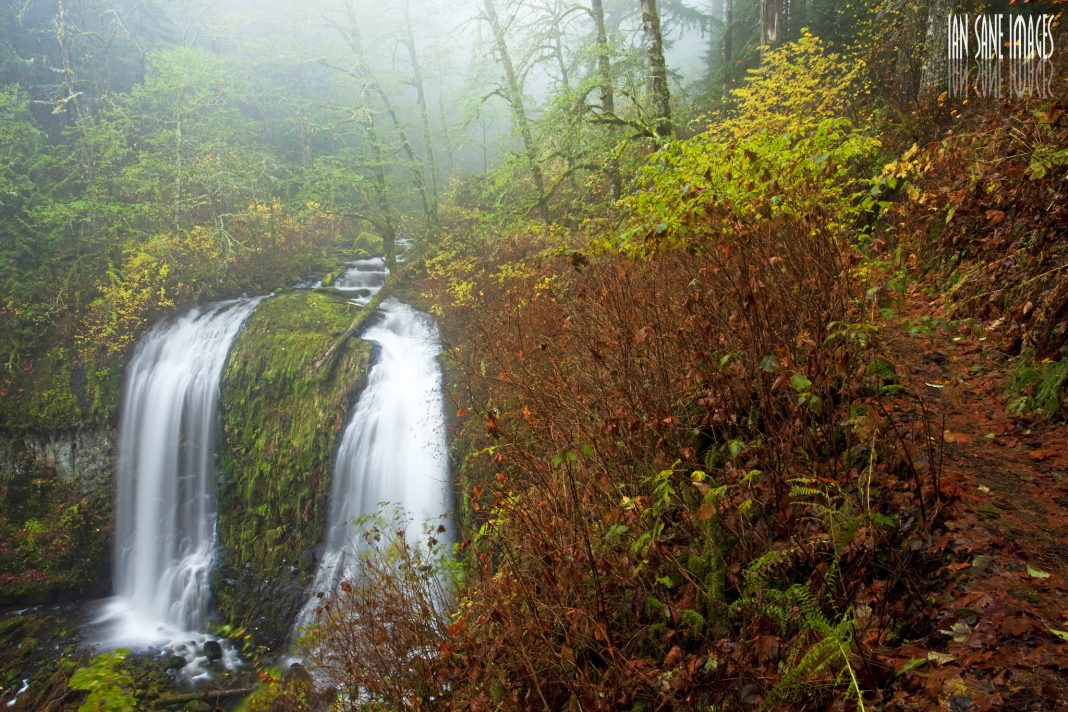 Upper McCord Creek Falls is a beautiful 2.2 mile out and back trail located near Cascade Locks, Oregon that features a waterfall and is rated as moderate. The trail is primarily used for hiking and is accessible year-round.
Getting there:
John B Yeon Trailhead: Traveling east on I-84, take Exit #35/Ainsworth. Turn left at the stop sign, then immediately turn right onto the Frontage Rd. Drive east on Frontage Rd for 2.1 miles and turn right into the trailhead parking lot. The lot will be just before the road re-enters the highway.
Traveling west on I-84, take Exit #37/Warrendale. Head west on Warrendale Road for about 1/4 mile to a stop sign. Turn left, go under the freeway and turn left again onto Frontage Rd. Drive 1/4 mile east to the trailhead parking lot just before the road re-enters the highway.
5. Ponytail Falls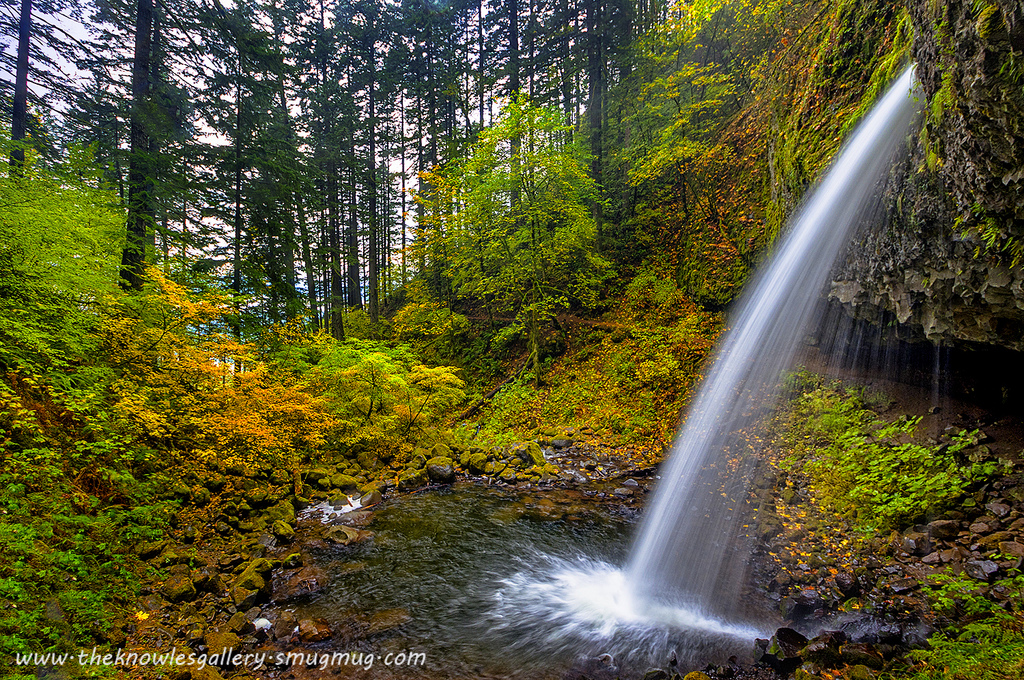 Ponytail is said to be the the easiest waterfall hike in the gorge. You get a stunning waterfall at the trailhead and a second one less than half a mile up the trail.
The trail begins in one of the most scenic trailheads anywhere, at Horsetail Falls. Plan on a bit of time before or after you hike to view and photograph the falls. Horsetail Falls Trail #438 begins climbing some easily graded switchbacks with beautiful rock walls. You'll pass your first trail junction here, as Gorge Trail #400 heads east. After 5 switchbacks the trail levels out, and heads west for a bit high above the Gorge below. After 4/10 of a mile, the trail suddenly turns into the small valley containing Ponytail Falls. In literally a few steps, you leave the modern freeway noise and enter a different world. The trail passes behind Ponytail Falls in a cavernous area eroded beneath a lava flow. Bigleaf maples and vine maples make this a beautiful hike in the autumn, specifically late October through early November.
Getting there: 
Located in the Multnomah Falls area of the Columbia Gorge. Drive to Horsetail Falls, 2 1/2 miles east of Multnomah Falls, or 2 miles west of I-84 at Dodson. Park, and follow the Horsetail Falls Trail # 438 steeply up for about 4/10 mile, bearing right at the junction halfway up the hill. The trail crosses behind the falls, offering several photo opportunities from multiple angles on either side of the falls.
6. Multnomah Falls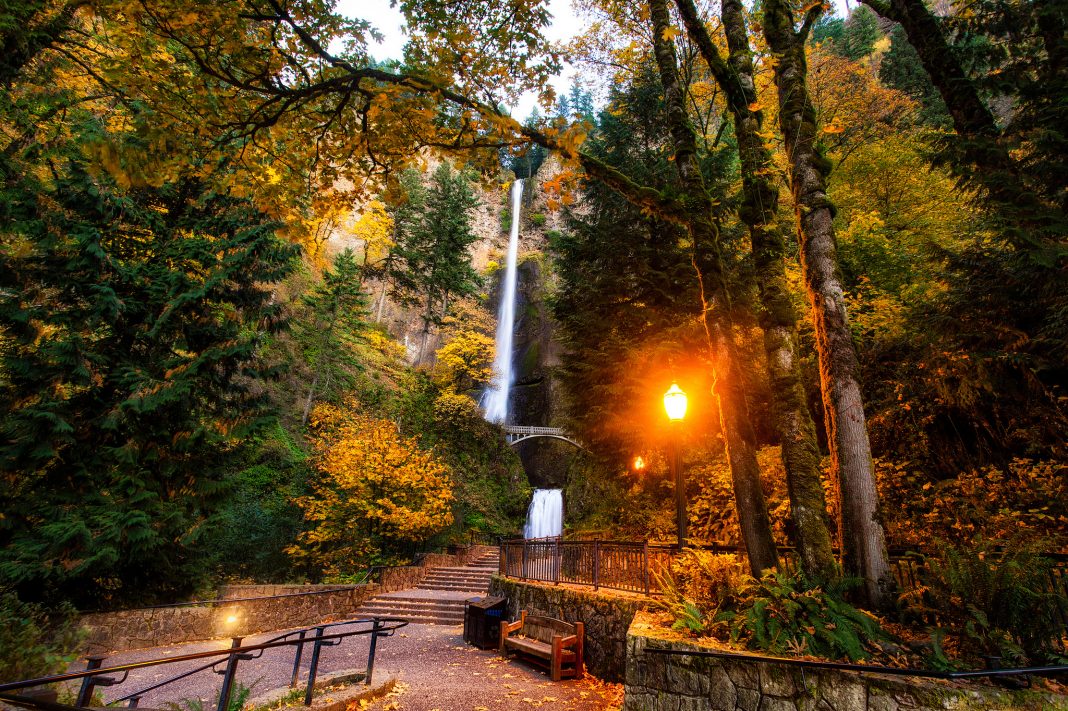 Multnomah Falls is a waterfall on the Oregon side of the Columbia River Gorge, located east of Troutdale, between Corbett and Dodson, along the Historic Columbia River Highway. The falls drops in two major steps, split into an upper falls of 542 feet and a lower falls of 69 feet, with a gradual 9 foot drop in elevation between the two, so the total height of the waterfall is conventionally given as 620 feet. Multnomah Falls is the tallest waterfall in the state of Oregon. It is credited by a sign at the site of the falls, and by the United States Forest Service, as the second tallest year-round waterfall in the United States. However, there is some skepticism surrounding this distinction, as Multnomah Falls is listed as the 137th tallest waterfall in the United States by the World Waterfall Database (this site does not distinguish between seasonal and year-round waterfalls).
Getting there:
From downtown Portland Travel east on interstate highway I-84 The highway signs will indicate heading towards The Dalles. Travel approximately 35 miles east to the Multnomah Falls parking lot exit 31 which is a left hand exit.
7. Latourell Falls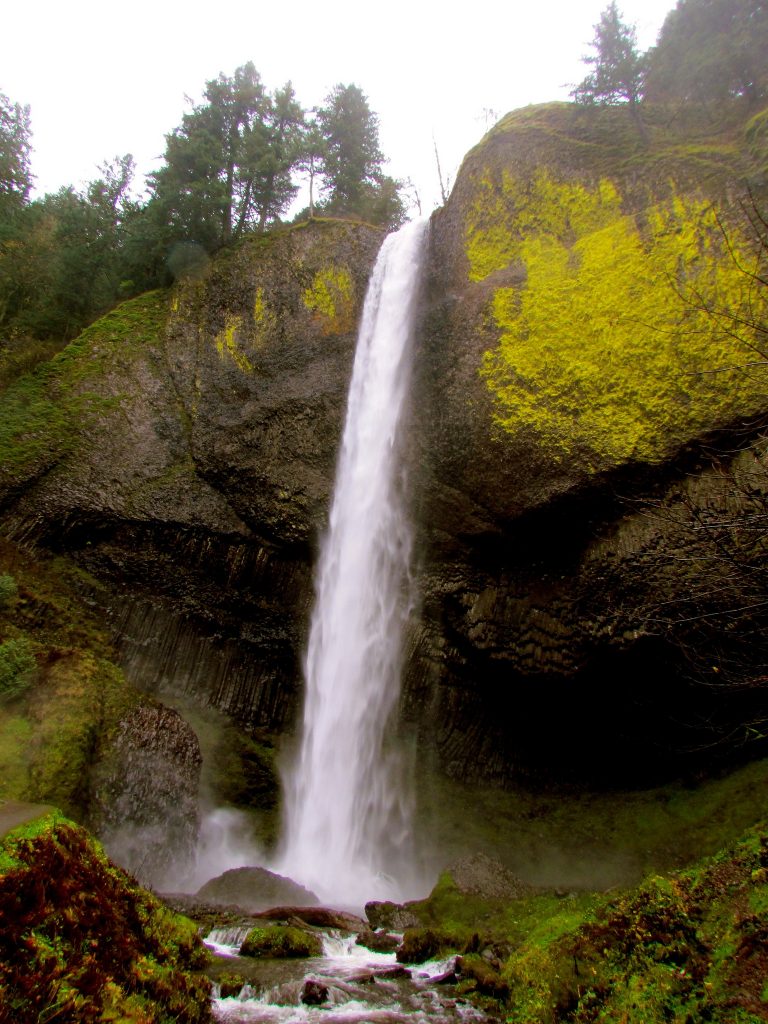 Latourell Falls is a waterfall along the Columbia River Gorge in Oregon, within Guy W. Talbot State Park.
The Historic Columbia River Highway passes nearby, and at certain locations the Lower falls are visible from the road. Near the base of the falls, a parking lot and path were erected to assist visitors to the site. Visitors must hike along the 2.1-mile loop trail to see the upper falls.
Latourell is unique among the best-known Columbia Gorge waterfalls, in the way that it drops straight down from an overhanging basalt cliff. Most of those falls (even the famous Multnomah Falls) tumble to some degree.
Latourell Falls is an excellent example of columnar basalt formations.
Getting there: 
Latourell Falls Trailhead: Traveling east on I-84, take Exit #28/Bridal Veil. Turn right on the Historic Columbia River Highway and travel west for approximately 3 miles to the parking lot on your right/south.
Traveling west on I-84, take Exit #35/Ainsworth. Drive 11 miles west on the Historic Columbia River Highway to the parking lot on the left/south side of the road.
Guy Talbot State Park/Trailhead: Traveling east on the Historic Columbia River Highway, just before the Latourell Falls trailhead, turn left/north onto Latourell Rd. Guy Talbot State Park will be on your right.
Traveling west on the Historic Columbia River Highway, after passing by the trailhead on your left/south, turn right/north onto Latourell Rd. Guy Talbot State Park will be on your right.
 8. Fairy Falls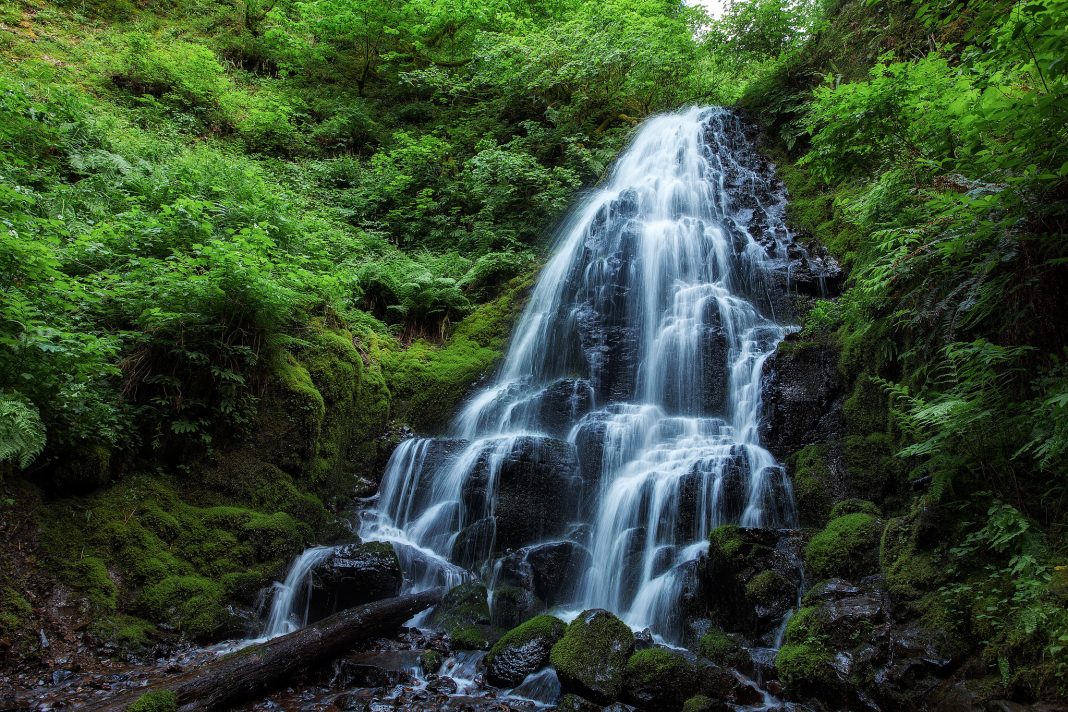 Fairy Falls and the upper reaches of Wahkeena Creek is one of the most frequently photographed locations in Oregon. Between the top of Wahkeena Falls and this entry, Wahkeena Creek cascades through a deep gorge, laced with mosses and ferns stretching 200 feet upwards.
Fairy Falls occurs along a small spring fed branch of Wahkeena Creek as it veils over a 20 foot wall in a supremely attractive fashion. At the confluence of said tributary and the main stem of Wahkeena Creek, the creek cascades through a verdant mossy rock slide, which many may argue is even more scenic than the falls themselves. Do not, under any circumstance, forget your camera on this hike.
Getting there: 
Fairy Falls are accessed from the Wahkeena Creek trail, starting at Wahkeena Falls. The falls are found 1.2 miles and 500 vertical feet up from the bottom. Those thinking of visiting the falls along Multnomah Creek as well can make a 5 mile loop hike by continuing to Wahkeena Spring and heading left towards the Larch Mountain Trail, then down to Multnomah Falls.
That's a wrap for now, hope you get out and check out these amazing falls! We encourage you to let us know in the comments below if you have recently explored a place and would like to suggest it to our followers. Also, feel free to share any photos you may have taken!
Hiking Tips
Tell someone where you're going and when you'll be back.
Don't hike alone.
Check road and weather conditions before you go and plan for inclement weather.
Carry enough food and water.
Leave no trace: Stay on the trail and leave wildlife alone.  Whatever you take with you, take it back out and throw trash away in appropriate receptacles.  Don't make cute rock piles to be 'zen'.  If you create a cairn for navigation, remove it on your way out.
October 2019 Update: Due to wildfires in recent years, some of the Columbia River Gorge trails may now be closed or too dangerous to traverse.  Check here or check other reliable sites to be sure the trail you want to visit is open and safe before you go.
Sources: OregonHikers.org, wikipedia.org, alltrails.com, waterfallsnorthwest.com, trails.gorgefriends.org