While Multnomah Falls may be the most popular and known waterfall in Oregon, there are so many more breathtaking waterfalls to visit in Oregon which are quite incredible. The following list is just a handful of some of my most favorite waterfalls in Oregon, but first I've included some must-have things to bring on a hike.
NOTICE: Most trails on the Oregon side of the Columbia River Gorge are closed until further notice because of damage from the Eagle Creek Fire. The closure involves ALL trails between Rooster Rock State Park and Hood River. View trails and trailheads affected by the burn here in a dynamic map or static map. Please check the list of Columbia Gorge trail closures before you plan for a hike.
1. Multnomah Falls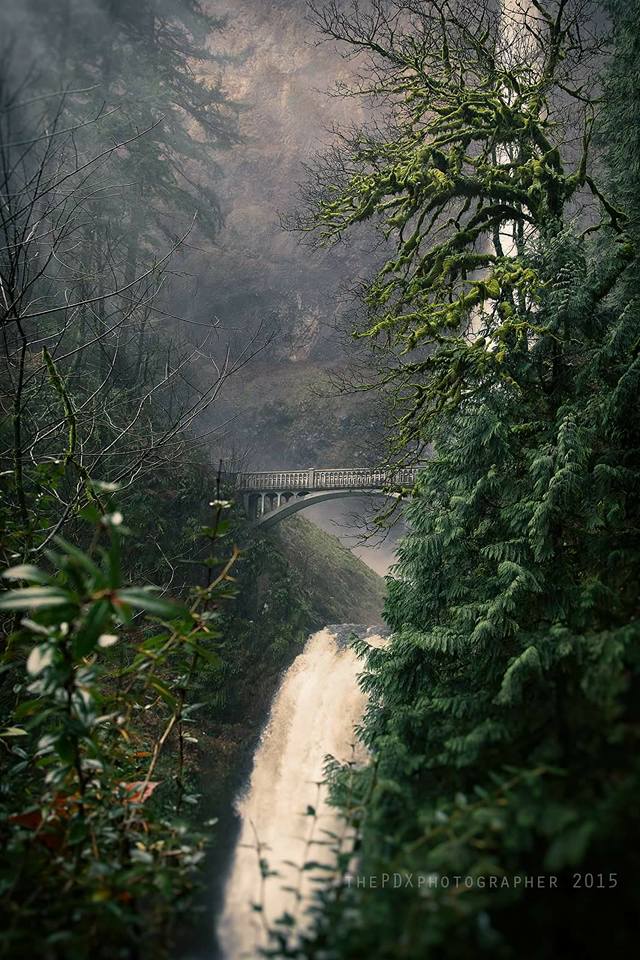 Multnomah Falls is a waterfall on the Oregon side of the Columbia River Gorge, located east of Troutdale, between Corbett and Dodson, just off the Historic Columbia River Highway. Multnomah Falls is definitely the most famous and well known in Oregon, and also the tallest as it drops in two major steps, split into an upper fall of 542 feet and a lower falls of 69 feet, with a gradual 9 foot drop in elevation between the two. Multnomah's total height is at an impressive 620 feet.
Multnomah Falls is listed as the 137th tallest waterfall in the United States by the World Waterfall Database. Also worth noting, is the database does not distinguish between seasonal and year-round waterfalls.
How do you get here?
Directions from downtown Portland
Travel east on interstate highway I-84 The highway signs will indicate heading towards The Dalles. Travel approximately 35 miles east to the Multnomah Falls parking lot exit 31 which is a left hand exit.
Directions from the Portland Airport
Travel South on interstate highway I-205. Follow signs to head east on highway I-84 Highway signs will indicate heading towards The Dalles
Travel approximately 25 miles to the Multnomah Falls parking lot exit 31 which is a left hand exit.
Directions from The Dalles / Hood River
Travel west on interstate highway I-84. This highway signs will indicate heading towards Portland. Travel west until you reach the Multnomah Falls exit 31. Approximately 55 miles from The Dalles, 35 miles from Hood River.
2. Abiqua Falls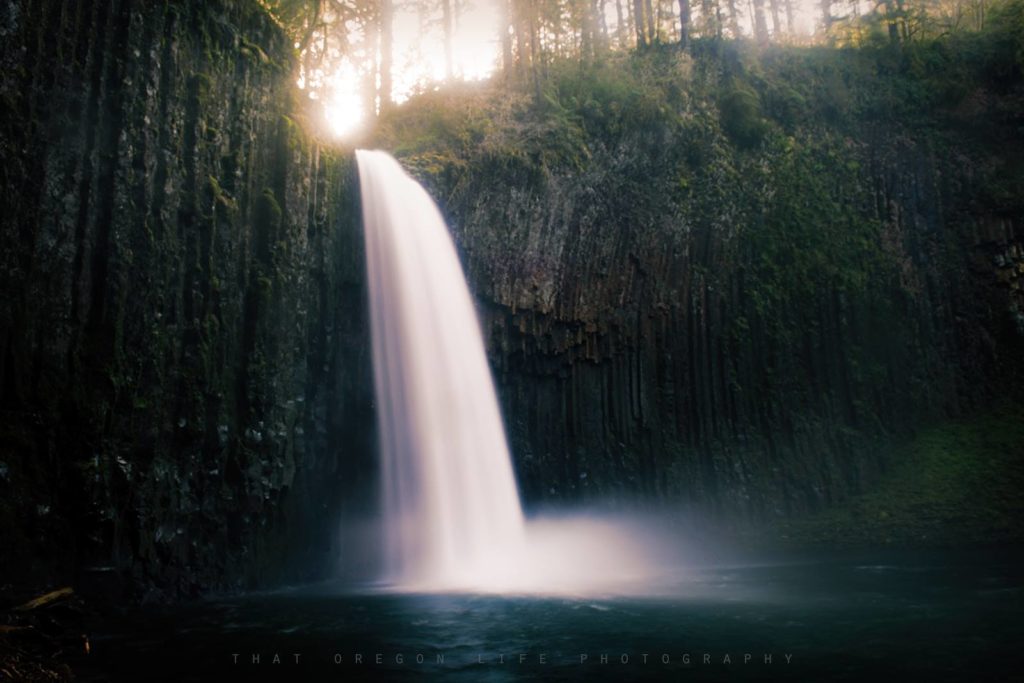 Abiqua Falls is part of the same geological formation as the waterfalls at Silver Falls State Park, and in fact is not far from there as the crow flies (although significantly longer in distance when going by road). It is completely unsigned, and the trail is a bit rough, but the trek in is definitely worth it. The hike down to the falls is a bit steep, and not recommended for anyone who isn't prepared for a somewhat vigorous hike. We'd also recommend having 4 wheel drive when visiting. Abiqua is easily one of the most beautiful and unique waterfalls I have ever visited.
How do you get here?
From the parking area at the gate, walk back along the road in the direction you came from. Skip the first rough trail that leaves right from the end of the parking area. Look down the hill on your right after about 100 feet and you'll see a second trail dropping down through the trees. The first few steps are on a steep slope skirting a roadside maple. Take this a short distance to where it curves left (the right branch immediately takes you to an open area at an old road). Continue dropping steeply down the hill for 0.2 miles until you reach the creek.
Turn left upstream along the creek, following a rough trail for another 0.2 mile or so. You will have to climb over and around rocks and logs, but it can be done. During periods of high water, you'll need to climb a steep slope to get around some logs, but during low water, it's easier to walk on the exposed river rock for much of the distance. The trail ends at the huge basalt bowl where Abiqua Falls plunges into a very big splash pool. There is a large rocky area jutting out into the pool from which you can admire the falls, or walk over the mossy rocks to the left around the edge of the bowl.
Return the way you came.
3. White River Falls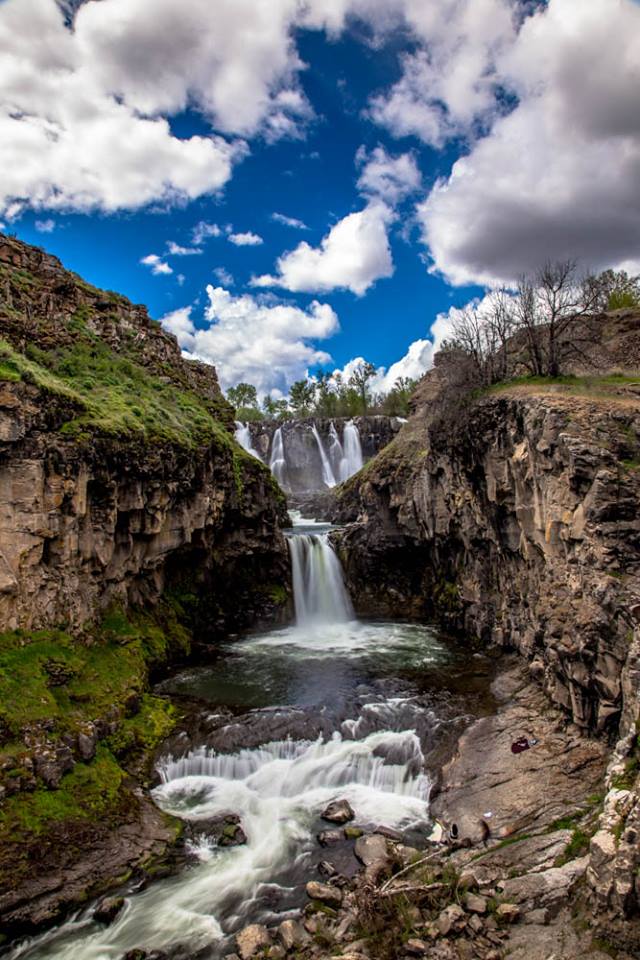 White River Falls is a little hidden gem that a lot of folks don't know about, and is the first step of the major falls of the White River. The falls consist of two drops, upper and lower, and the primary waterfall plunges about 90 feet over a basalt shelf. A quarter-mile steep trail will take you down deep within the canyon to the historic hydroelectric power plant. From the building, there is This power plant has a very interesting history and supplied electricity to Wasco and Sherman Counties from 1910 until the completion of The Dalles Dam in 1960.
How do you get here? 
White River Falls is accessed within White River Falls State Park, located east of Tygh Valley between Maupin and The Dalles. Take Highway 197 south from The Dalles then turn east on Highway 216 (signed for White River Falls and Sherars Bridge). The park is found 4 miles from Highway 197. The trail leads downstream from the parking area to the bottom of the falls.
4. Punch Bowl Falls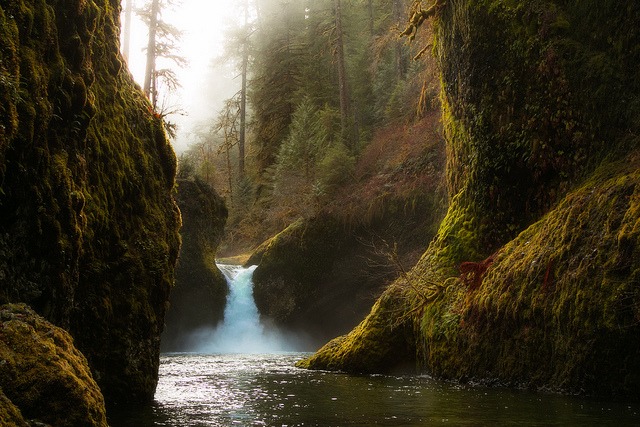 Punch Bowl Falls is a stunning waterfall on Eagle Creek in the Columbia River Gorge National Scenic Area. Sometime over the last few months, a huge basalt wall had collapsed. With a huge debris pile of boulders as large as a truck, Eagle Creek has been rerouted and changed this path for centuries to come.
Eagle Creek drains into the Columbia River, with its outlet on the Columbia River Gorge in Multnomah County. You will discover many waterfalls here, as you pass through beautiful old-growth forests, and along the edges of cliffs. You will definitely want to keep your pets and kids close as this trail is known for some mild falling hazard in some spots. Some of the ledges have been blasted with great views of the canyon below.
The falls are said to be 35 feet tall and 10 feet wide. Eagle Creek cuts through a narrow channel and shoots powerfully into a large bowl, hence Punchbowl Falls.
How do you get here?
From Portland, take Interstate 84 to Eagle Creek Rd exit 41, turn right, and keep right along the creek for 1/2 mile to the roads end. Because the Eagle Creek exit is only accessible from the west, travelers from Hood River have to take the Bonneville Dam exit 40 and double back on the freeway for a mile.
5. Sahalie Falls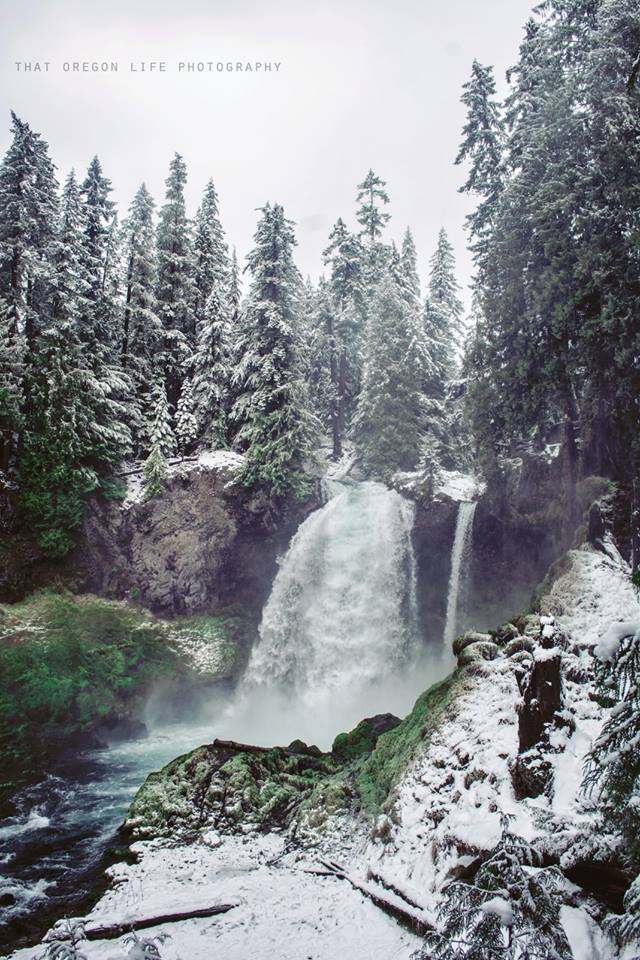 Sahalie Falls is the first and tallest of three major waterfalls along the McKenzie River. I have personally been here more times than I can count, and stop in any chance I can get.  Sahalie is by far the most famous of the large waterfalls along the McKenzie, and was even featured in the Disney movie "Homeward Bound". There has been some conflict and trouble over the years establishing a firm height for the drop. Many have suggested the falls drop around 140 feet. In 2010 kayakers who plunged over the falls measured the drop at 68 feet, while another measurement of the falls in 2010 came out to 73 feet. It is however certain the falls are nowhere near 140 feet tall.
How do you get here?
Located south of Santiam Pass along Highway 126. From the junction of Highways 20 and 126 (approximately 70 miles east of I-5 in Albany via Highway 20, or 85 miles east of I-5 in Salem via Highway 22), follow Highway 126 south for about 4 ½ miles to the signed parking area for Sahalie Falls. The falls are seen in less than 100 feet from the parking lot.
6. South Falls, Silver Creek State Park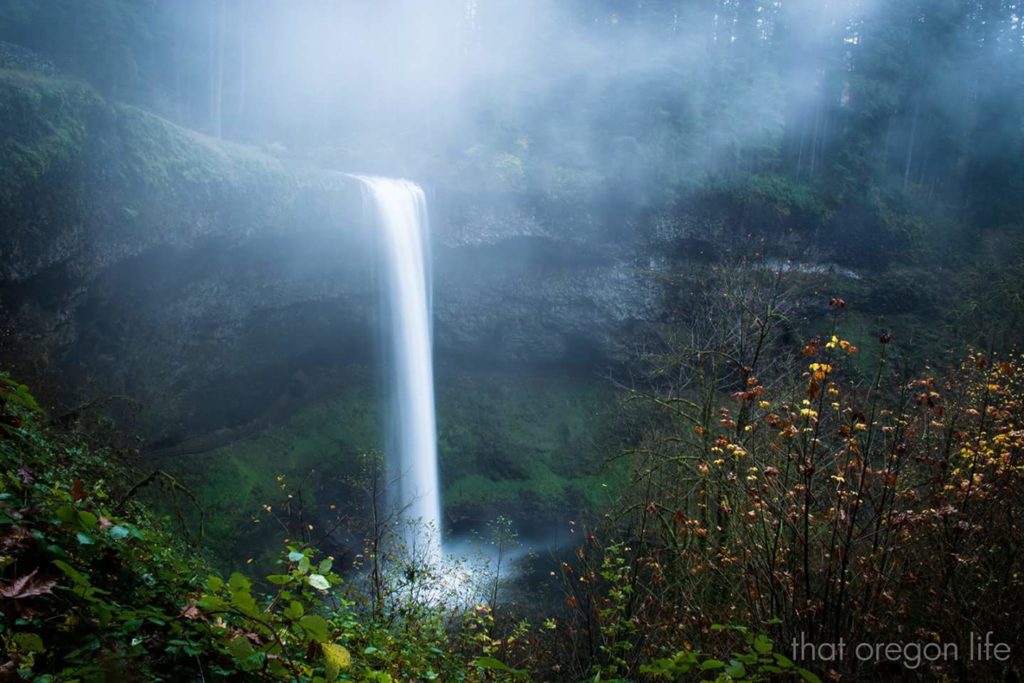 Nestled in the foothills of Oregon's Cascade Mountains, less than ½ an hour east of the state capital of Salem, Oregon, sits what people call the "crown jewel" of the Oregon State Parks system. Once you visit Silver Falls State Park, you'll know why. At 9,200 acres, this makes the property the largest state park in Oregon, and one of the most popular. Silver Falls State Park stands out as a scenic treasure that puts Oregon firmly onto the national—and international—stage. Silver Falls State Park offers boundless recreational opportunities, and is a must do for every Oregonian, or of course anyone who is just visiting.
How do you get here?
Find your way to Silver Falls from Interstate 5 by taking Exit 253 and turning east.
You will be on Highway 22 which runs from Bend to the Coast. Go east from Salem a few miles and take the Exit 7 offramp. At the stop sign turn left and go under Highway 22, then follow the signs. This is the main route to Silver Falls. It's about 24 miles to the Park from Salem.
Coming from the east (Santiam Canyon & Detroit Lake), the easiest way (without backtracking) is to take the signed Stayton-Sublimity Exit. There is no number on this exit sign so you'll have to watch for it by name. (If you miss it, go to Exit 7). You will exit right, then take a right to go north 1 mile to Sublimity. Go straight through town a mile or two and then turn right onto highway 214. Follow the signs.
With either route, these are paved rural roads so please drive with care. Logging trucks and farm vehicles may be encountered and THEY should be given the right of way whenever possible. The road has curves, so take your time and again, drive with care. It's about 14 miles from highway 22 to Silver Falls using the Stayton-Sublimity Exit. See the "Larger Map of Trails" for a better picture of the area and roads near the park.
7. Sweet Creek Falls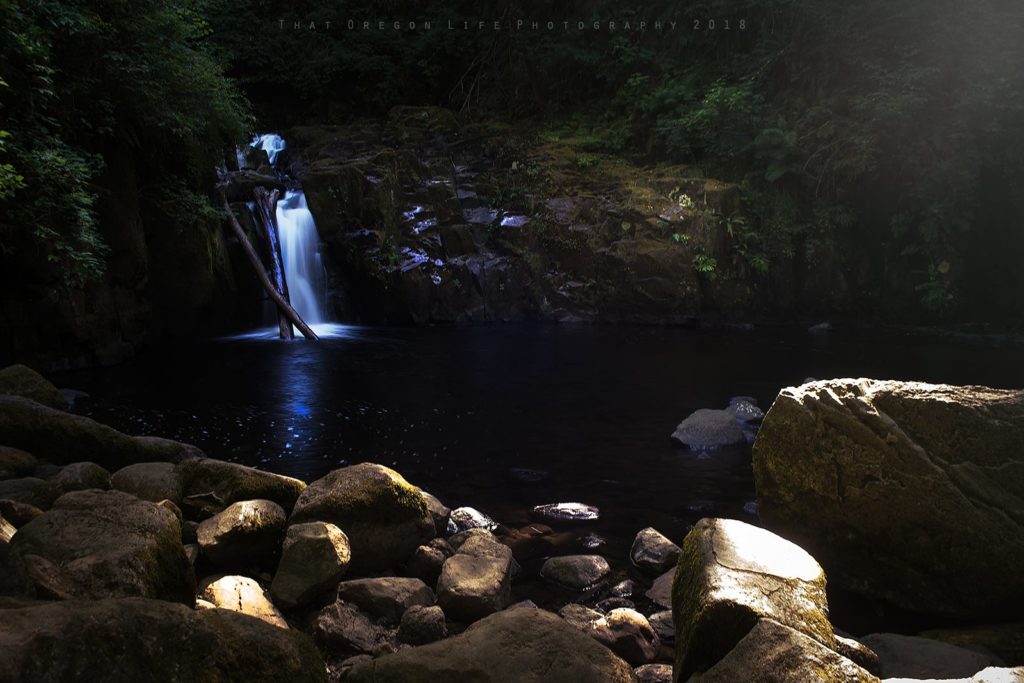 Sweet Creek Falls is situated in the Coast Range Mountains in the Siuslaw National Forest, South of Mapleton. Complete with dirt paths and catwalks, you'll be amazed by several cascading waterfalls and creek frontage. The lush ground, covered by moss and ferns, with beautiful trees providing shade, is especially beautiful during autumn.
With only 350 ft elevation gain, this hike is fairly easy and perfect for bringing your littles. At the end of the trail, you will find the largest waterfall being Sweet Creek Fall. At this time there are no fees to park here.
How do you get here?
Getting there from Eugene: Take Highway 126 toward Florence. Sweet Creek Road #5036 is located on the East side of the Mapleton bridge. Turn left onto Sweet Creek Road and travel for 10.2miles, Homestead Trailhead is on the right.
Trail Options: The Homestead Trailhead to Sweet Creek Falls is 1.1 miles. The Sweet Creek Falls Trailhead to Sweet Creek Falls is 0.4 mile. Sweet Creek Falls to the Wagon Road Trailhead is 0.8 mile. Wagon Road Trailhead to Beaver Creek Falls is 0.6 mile.
8. Metlako Falls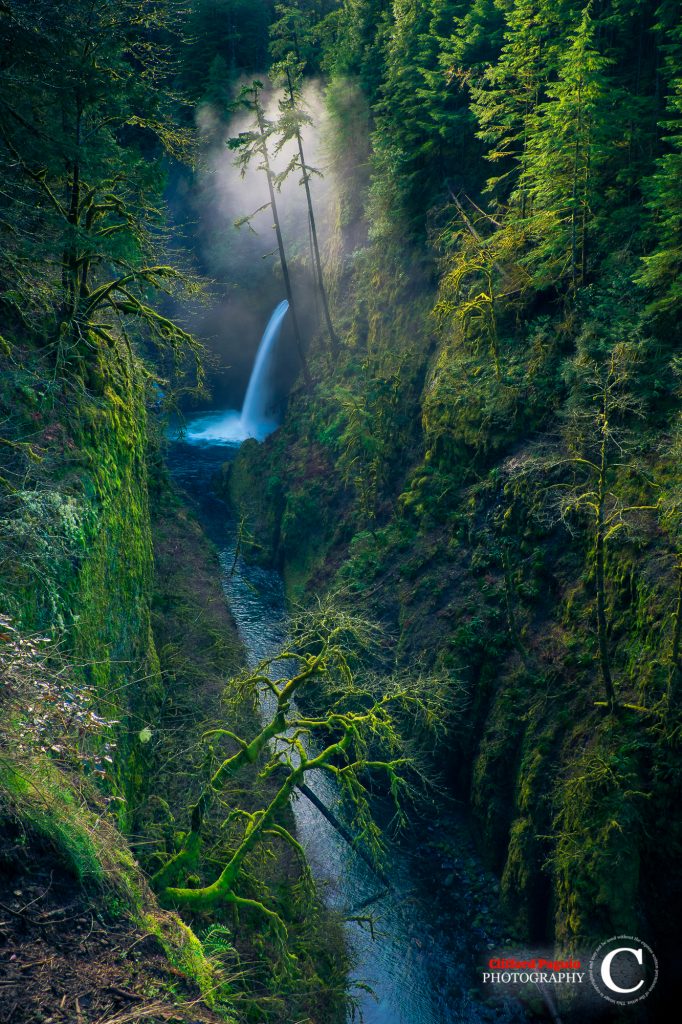 The incredible Metlako Falls is the first major falls along the Eagle Creek Trail, welcoming visitors into the area. In the last 15 years, Metlako Falls has become increasingly popular for thrill-seeking kayakers. At over 100 feet tall, Metlako is the second-largest drop from the Eagle Creek's sources in the Hatfield Wilderness to its eventual convergence with the Columbia River.
At the end of a short spur trail, just off the Eagle Creek Trail, you will reach the viewpoint. The viewpoint is at the end of a short, well-traveled spur trail off the main Eagle Creek Trail. Don't miss the sign at the junction, as many do, with the obvious turn-off.
9. Upper Downing Creek Falls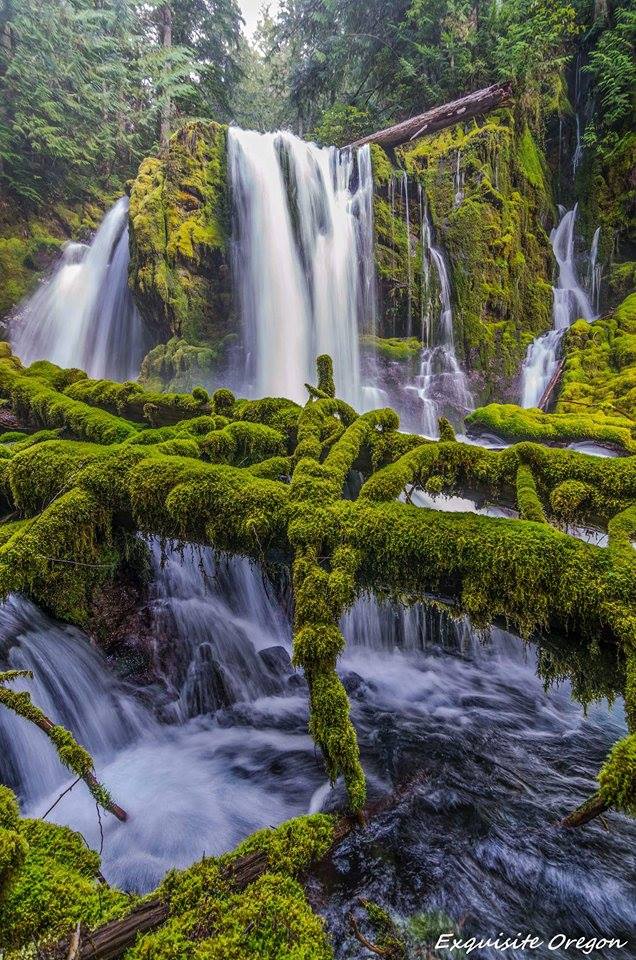 This amazing waterfall near Detriot is just 0.6 miles round trip, and mostly flat. While it's said to be mostly safe for children, you should be cautious of slippery rocks when hiking around the waterfall. This hike is an absolute must, especailly if you are looking to get some amazing photos. If you're looking for a long hike, this definitely isn't the one.
How do you get here?
From Salem: Head east on HWY 22
0.4 miles from milepost 69 turn left onto an unmarked dirt road ****
0.3 miles down this road park at a wide spot on the right near the sign for Road 2200/162
Hike down 2200/162 for 0.3 miles until you reach an area where two logs sit parallel to each other on the right
(you will see a faint trail between the two 4 inch diameter logs) (the road degrades as you get nearer the goal)
Head towards the sound of the creek on the trail
Follow the trail upstream to find Upr Downing Crk Falls – flow is apparently year-round
**** This road is very difficult to see on the left due to foliage at the entrance.
It is nearly impossible to notice coming from the other direction.
There is no protected left turn on this busy highway, so exercise caution.
As reference, this hard-to-spot road is 0.2 miles south of the junction with Straight Creek Road #11.
If you see a sign with "Downing Creek" on it, you've passed it by.
10. Majestic Falls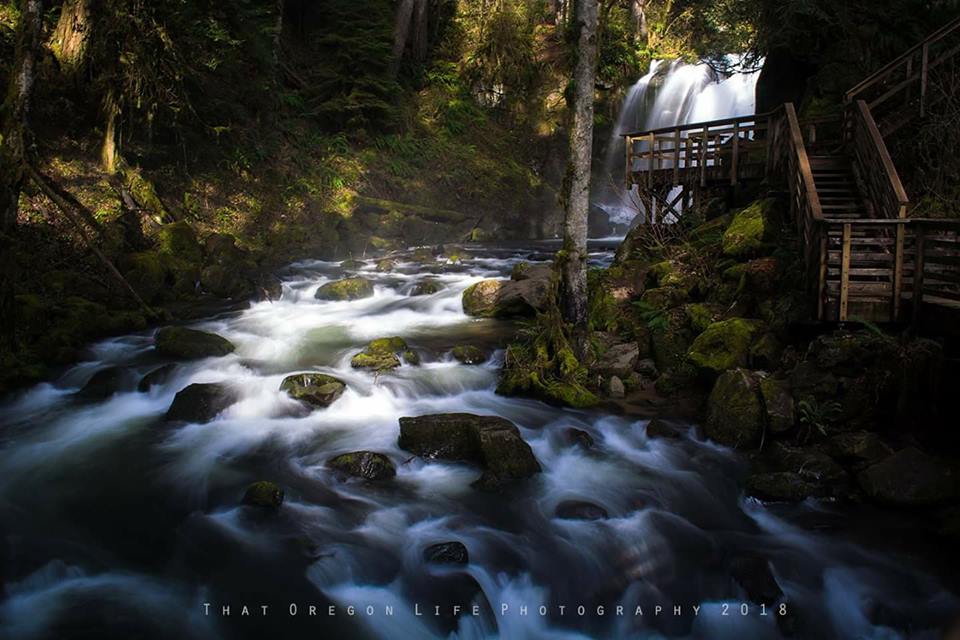 Majestic Falls is the largest of several waterfalls along McDowell Creek within McDowell Creek Falls Park. I absolutely love the staircase alongside the nice observation deck here. The falls drop 39 feet into a pool at the head of a small bowl-shaped canyon. While Majestic Falls may not be very large, it is definitely the most beautiful along McDowell Creek. This relaxing trail is especially gorgeous during the late autumn months when the considerably ubiquitous Big Leaf Maple trees throughout the canyon are glowing of fall colors. McDowell Creek calms down in the summer, but flows much more heavily during the winter and spring.
How do you get here?
McDowell Creek Park is east of Lebanon
Four waterfalls are linked to a common trail split by a paved road.
Total hiking distance < 1 mile.
Lower McDowell Creek Falls
Royal Terrace Falls
Crystal Pool Falls
Majestic Falls
Directions:
From I-5 exit onto Hwy 20 and head east towards Lebanon
(pronounced le-buh-nun)
Four miles east of Lebanon turn left onto Fairview road and
bear right at the T-junction (road to McDowell Creek Park)
Appr. 0.9 miles bear left to stay on McDowell Creek road
Another 7.6 miles turn right into the parking area for McDowell Creek Park
Path starts at end of parking area. Lower McDowell Creek Falls
is visible as you cross the bridge (face on views are available near
the picnic tables). Crossing the bridge, the path leads to Royal Terrace Falls
in less than half a mile. Following the path away from this
waterfall will eventually lead to a paved road in appr. 0.3 mile. Cross this
road and link up with the remainder of the path. It will lead to Crystal Pool
Falls and farther up will be Majestic Falls.
Some paths have staircases – tread carefully.
Vault toilet available at parking area.
Note: each waterfall has an individual parking area.
For Majestic Falls it may be easier to drive up to the third
parking space. Caution: a short section of the road may
need to be driven in low gear.
Things to Bring on a Hike
Hydration
Make sure to bring plenty of water with you, especially with blazing hot temperatures in the summer. I like the aluminum water bottles, which you can find cheap on Amazon right here. For every hour you walk in the heat, you can sweat anywhere from 1/2 to 1 quart of fluid. This fluid/electrolyte loss can exceed 3 quarts per hour if you hike uphill in direct sunlight and during the hottest time of the day.
First Aid and Backpack
Better be safe than sorry. Learn first aid and carry a first aid kit in your pack. This First Aid Kit Hard Red Case is very affordable on Amazon. Know what to do in case of an emergency. First aid training will teach you how to react and deal with specific types of injuries. Whenever I hike, no matter how short the hike, I always take my backpack. Here's a great option for a pack which is very affordable at Amazon.
Shelter From the Storm
If you're from Oregon, well no matter what the season you can expect to get rained on. Not sayin' you need to pack a tent around with you all day, but having rain gear handy in your pack is always a must when you're hiking a trail. Weather can be very unpredictable in Oregon, and there's nothing worse than getting soaked from head to toe. Hypothermia is no joke! Even during the summer, a wet hiker could be at risk of catching hypothermia at higher elevations. Head over to Amazon for some very affordable rain gear. This jacket and pants set has very good reviews!