As we head into 2021, life may have taken some unexpected turns. However, there are plenty of exits to get off if you're looking to reset and breathe some fresh air. I personally feel like there's no better place than being in nature to reset and feel whole again. If you are living in the beautiful state of Oregon, there is an endless choice of places to hike and explore.
Since we're talking about nature, here's a word you may not be familiar with. Research in a growing scientific field called ecotherapy has shown a strong connection between time spent in nature and how it correlates to reduced stress, anxiety, and depression.
Studies show physical activity is one of the most effective ways to prevent chronic disease, premature death, and improve health and immune function. And right now, I personally feel our natural immune systems are more important than ever. It's well documented that people who regularly exercise feel better, live longer, and have a higher quality of life.
To kick off 2021 the right way, we wanted to share with you our favorite places in Oregon to get outdoors to hike and forest bathe. Soaking up nature is one of our favorite ways to reduce stress and get exercise for a healthy mind and body.
Being a Responsible Hiker in Oregon
First and foremost, I feel I would be doing our gorgeous state a disservice by not reminding our readers to be responsible when hiking in Oregon. So before we get to the best hikes in Oregon for the new year, we would like to remind everyone to always practice leave no trace principles and do your part in helping keep our trails, campgrounds, and beaches clean in Oregon.
Leave No Trace
Please, always be respectful to the environment along the way. Pack it in, pack it out as they say. Bring a garbage bag if needed. You can even do your part by picking up trash when slobs have left it behind! Leave No Trace is a measure to be a good steward of the land. Hit the link here to read about the seven principles of Leave No Trace. Help keep our beautiful land pristine and clean!
Stay On The Trails
Respect nature! Leave artifacts, rocks, plants, and everything else you see on your outdoor adventure in place. Not to mention, the last thing you want is to get lost in a forest and have to be rescued.
21 Of The Best Hiking Trails In Oregon For 2021
1. Moon Falls Near Westfir
An easy hike to start off the year is this one mile out and back trail not far from Westfir Oregon.  The Moon Falls trail is easy and good for all skill levels, and features trees and a pretty waterfall at the end of the trail.
2. Sky Lakes Wilderness In Southern Oregon
View this post on Instagram
Southern Oregon is home to a special wilderness area known as the Sky Lakes Wilderness. The Sky Lakes Wilderness is around 114,000 acres and includes three major lake basins.  This wilderness area stretches from Highway 140 in the south to the edge of the Crater Lake National Park in the north.
View this post on Instagram
If you're looking to get away from people, this is the place.  The Sky Lakes Wilderness area features grassy meadows, crystal clear alpine lakes, and icy springs all waiting to be discovered.
View this post on Instagram
You can hike in the Sky Lakes Wilderness on the famous Pacific Crest Trail, and on other trails such as the Mount McLoughlin Trail, which is perfect for experienced backpackers.  Here's the full list of trails you can hike in the Sky Lakes Wilderness.
3. Southern Oregon's Mountain Lakes Wilderness
View this post on Instagram
Not far from the Sky Lakes Wilderness is the Mountain Lakes Wilderness in Southern Oregon.  This is the caldera of what used to be one of Oregon's larger volcanoes.  Inside the caldera are several small, pristine alpine lakes.
View this post on Instagram
This is one of the first "Primitive Areas," created in 1930 in Oregon and Washington and is a great place to hike and explore.  One of the more interesting trails to hike in the area is the Mountain Lakes Loop Trail, which is 8.2 miles and goes along the southern rim of the caldera.
View this post on Instagram
This is rugged backcountry, and while you may see a few people out on the trail, it's one of the best places in Oregon to find solitude and stunning views.
4. Granite Creek Near Prairie City
The Granite Creek trail is an easy 7.3 mile out and back trail that goes along Granite Creek.  This is the perfect trail for nature walks and easy hiking, and is a great place to get out into nature and relax.
5. Smith Rock State Park In Eastern Oregon
View this post on Instagram
Smith Rock State Park is an Oregon gem.  This park has miles of trails, stunning views, opportunities to see wildlife, and world class rock climbing.  One of many trails within the park that you might enjoy is the Misery Ridge and River Trail.  This is a 3.7 mile loop trail for experienced hikers.  This trail is challenging and has a steep climb, but rewards hikers with pretty ridge views.
View this post on Instagram
For a more moderate hike, try the seven mile Burma Road Loop.  One of the easier and shorter trails in Smith Rock State Park is The Chute, which is a .5 mile out and back trail good for bird watching and nature trips.  This is more of a walking trail than a hiking trail.
6. The Strawberry Mountain Wilderness In Eastern Oregon
View this post on Instagram
East of John Day in the Malheur National Forest is the Strawberry Mountain Wilderness.  This wilderness has over 68,000 acres to explore, and dozens of hiking and backpacking trails.  Many of the trails here are difficult and will please experienced hikers and backers.  The Strawberry Mountain via Strawberry Basin Trail is a difficult 12.1 mile out and back trail which will take you past a lake, and up a mountain, and features big views.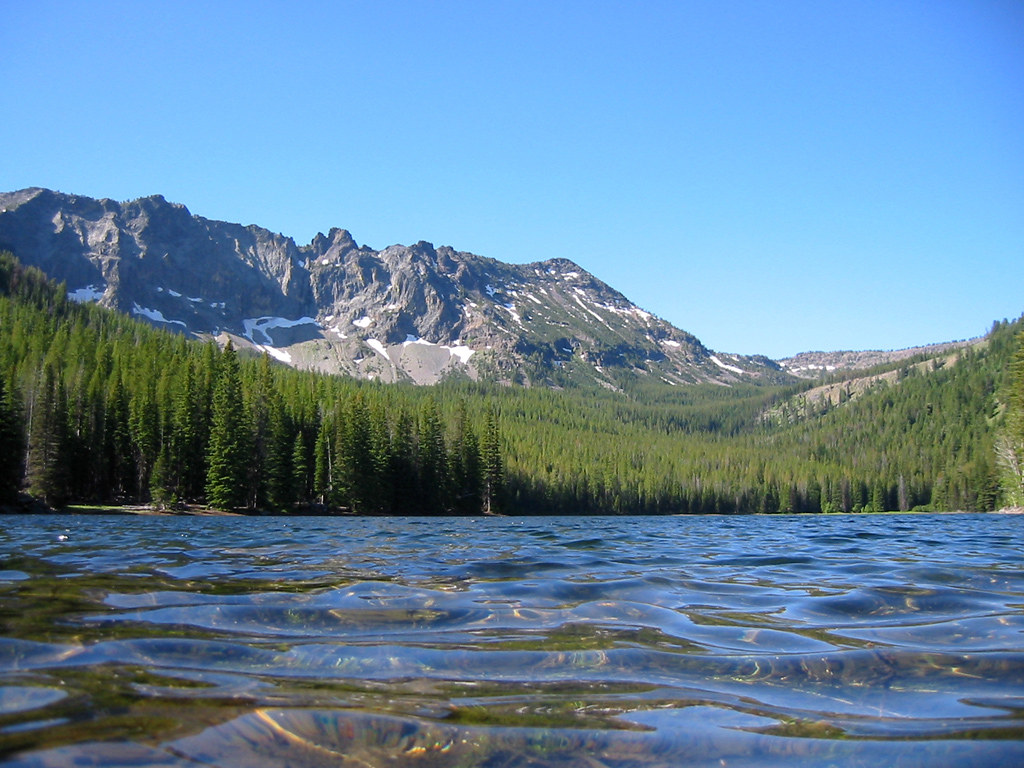 A more moderate trail in the area is the High Lake Trail, which is a 2.5 mile out and back trail.  If you go at the right time of the year, this is the perfect place to see wildflowers.  Those interested in a moderate hike will also want to check out the Strawberry Lake and Little Strawberry Lake Trail.  This is a 6.2 mile out and back trail with beautiful views of the lake.
7. Golden And Silver Falls State Natural Area Near Coos Bay
The trail to Golden and Silver Falls is an easy 1.4 mile out and back trail that's good for all skill levels.  The trail leads hikers through giant old-growth cedar and fir trees, and features two beautiful waterfalls.
8. Hamilton Mountain Loop Hike In The Gorge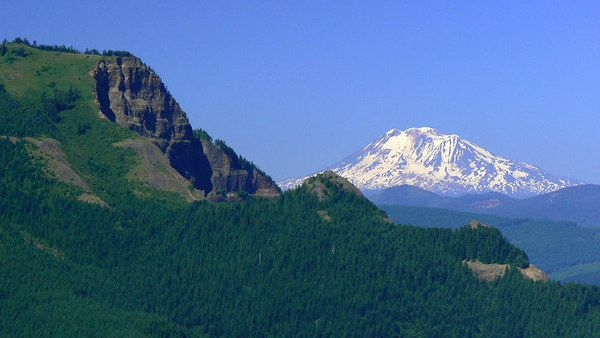 This very popular trail has a feast of features for hikers, including waterfalls, craggy cliffs, deep forests, superb vistas, and a loop option for the trek. The outing can done at any time of year although you will want to pay attention to icy spots in the winter. Hamilton Mountain is really the Missoula Flood-truncated end of a basalt ridge: there are higher points on the same ridge farther north. The summit itself is thicketed and offers limited views, but a bench a few yards back gives you a vista to the east of Table Mountain and the Oregon side of the Columbia River Gorge. Other views come from the trail on the way up and at the Hamilton Mountain Saddle as you continue on the loop.
9. Drift Creek Falls Near Lincoln City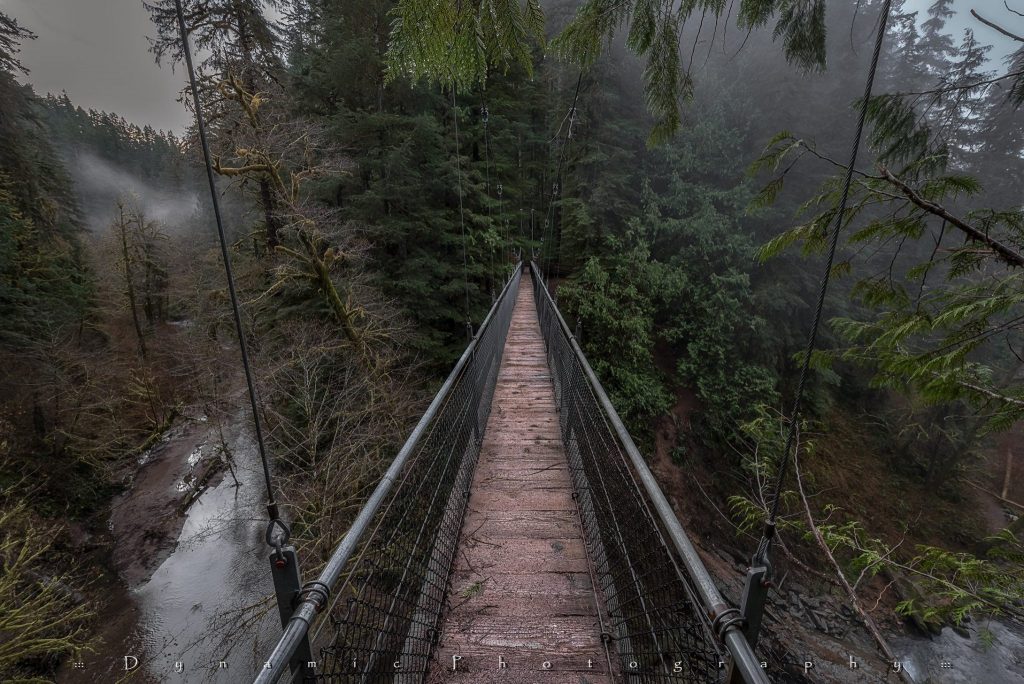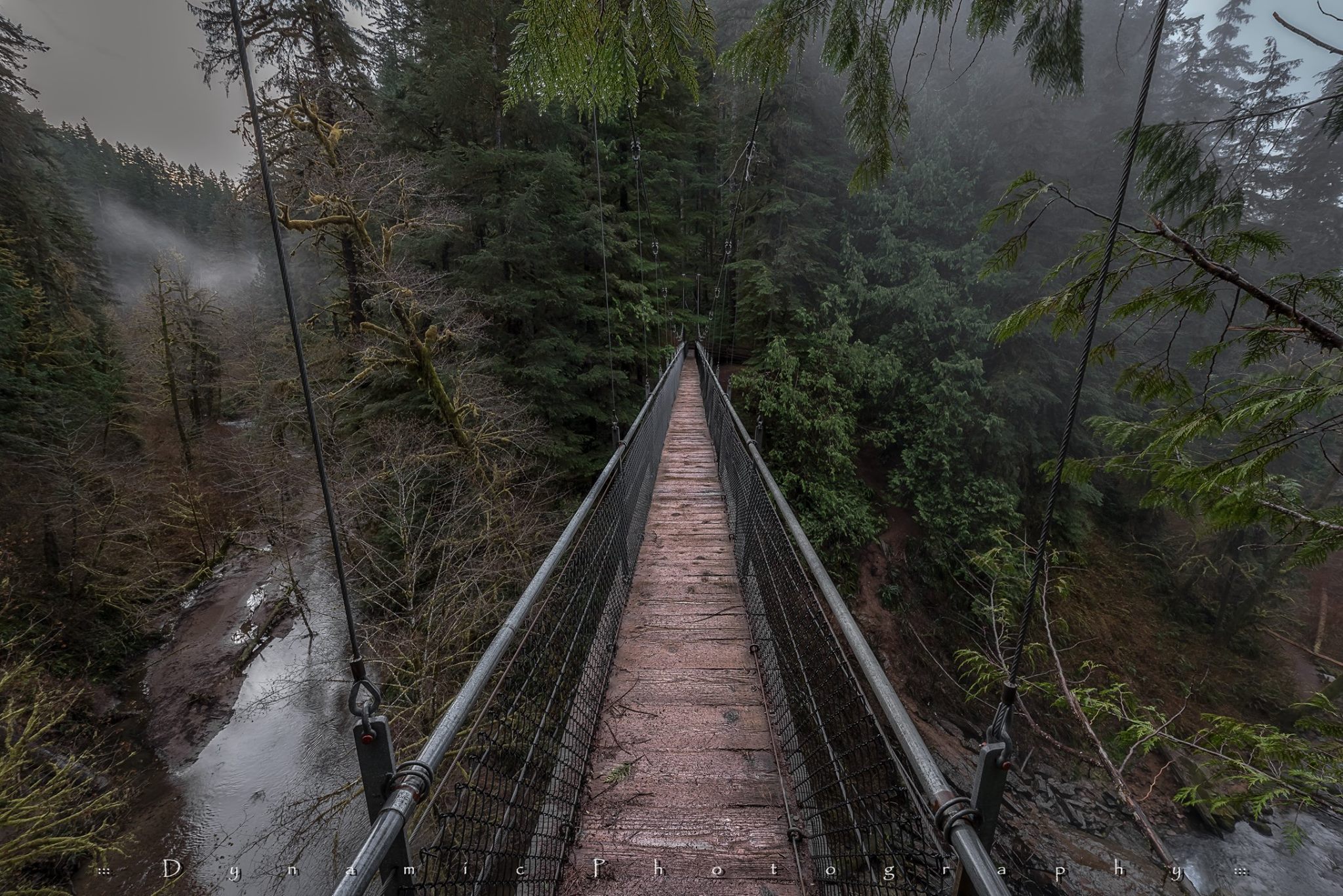 If you're looking for an amazing easy hike on the Oregon Coast, you'll definitely want to check out the Drift Creek Falls near Lincoln City.
The best part about this hike? The impressive suspension bridge of course. The 240-foot long bridge spans across Drift Creek and is suspended about 100 feet in the air. The gorgeous waterfall, of course, is a nice bonus as well.
Two 29 foot towers support the bridge, which is anchored by bolts planted in rock on one side and concrete on the other. When crossing you will enjoy the beautiful view about 80 feet down to Drift Creek Falls. Hit the link here to read more.
10. Hobbit Trail Near Florence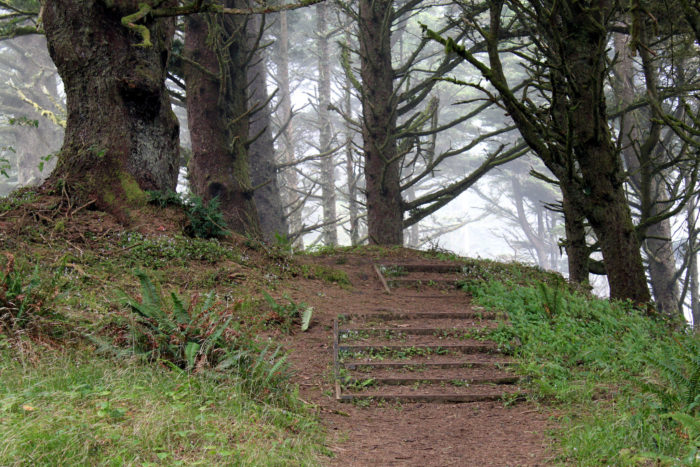 Just off the Oregon coast near Florence, you will find this short but gorgeous hike from Hobbit Beach to Heceta Head. The trailhead for the Hobbit Trail will begin at a humble parking pull-out just north of the Heceta Head State Park, and you will need to watch closely as you can easily miss it. You will basically park across the highway at the China Creek Trailhead (look for all the cars parked here on a regular basis as this is a popular one).

11. Meyers Beach to Pistol River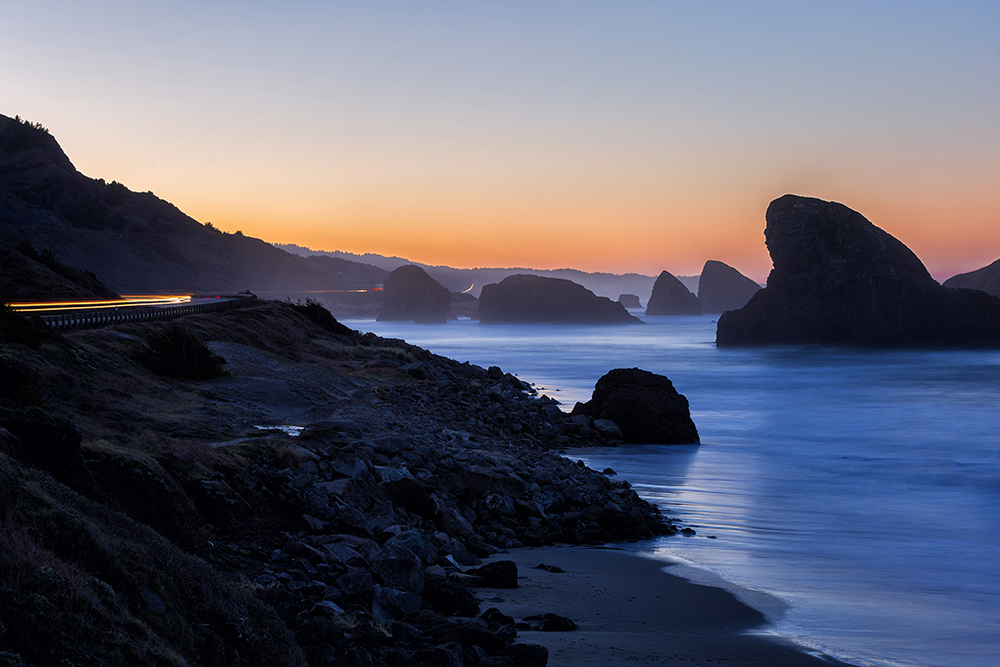 Located in the Samuel H. Boardman State Scenic Corridor near Gold Beach, this is a short but stunning beach hike along the Pacific Ocean. We recommend bringing a windbreaker and hat as it can get quite gusty here. Expect to see kite and windsurfers here, as well as horseback riders while you wind your way among huge rock-formations near the shoreline. Family and dog-friendly.
12. Oxbow Regional Park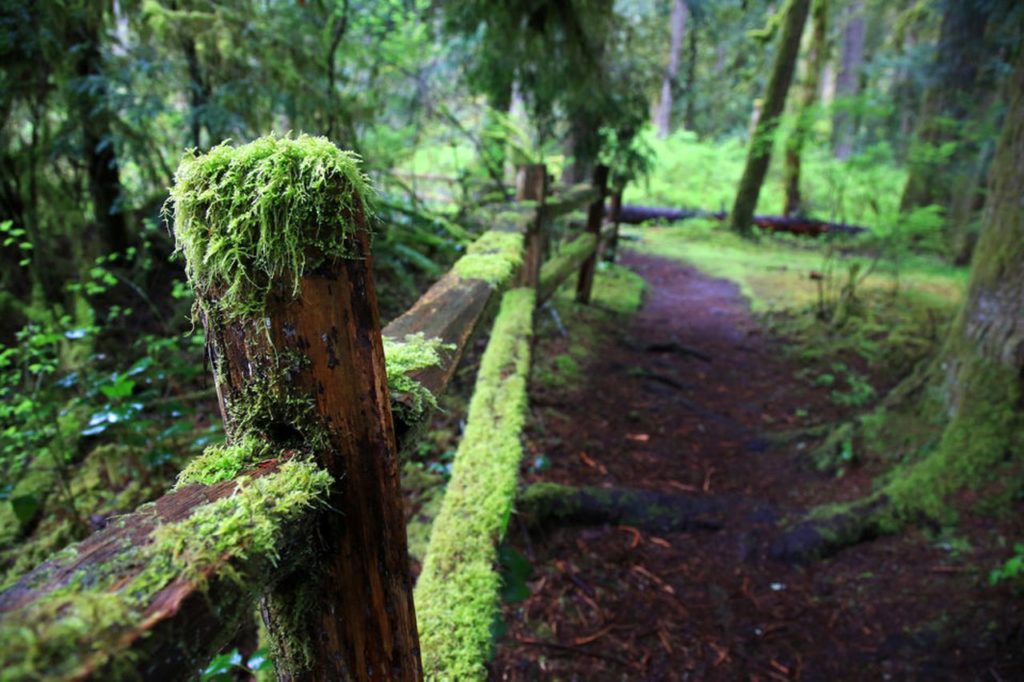 One of my go-to rainy day hikes close to Portland, Oxbow Regional Park is a moss-covered wonderland in the wet season, with trails that wind through dense forests and along the banks of the beautiful Sandy River. Oxbow is the kind of place where you can pick a trailhead and find your own adventure, but for a more complete excursion try the Oxbow Loop hike. You can also hike the wilder side of the park across the river.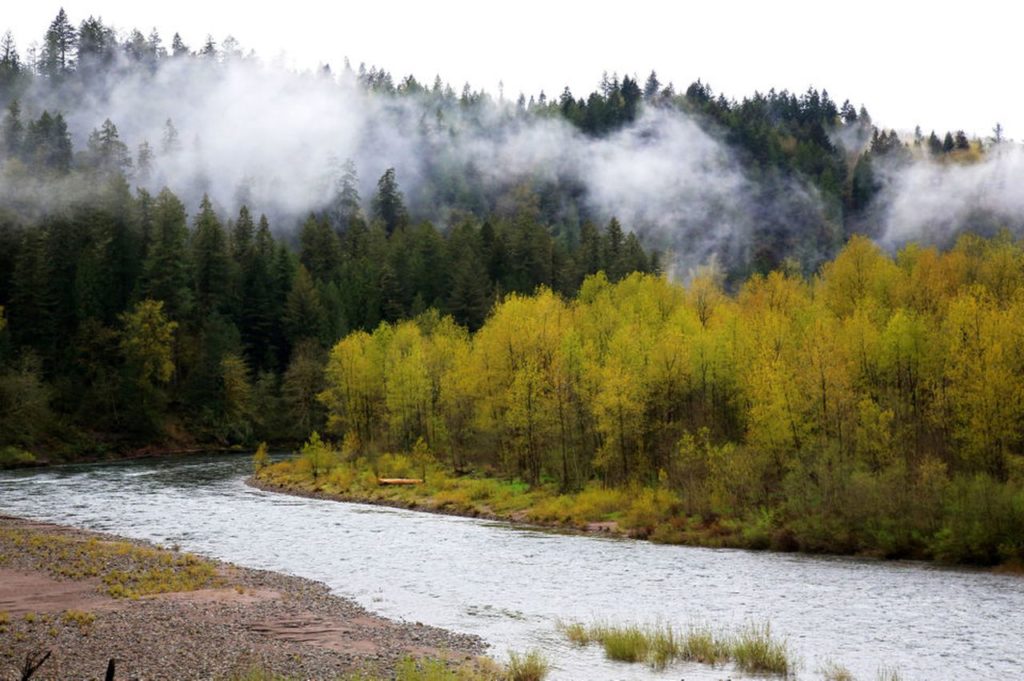 During the summer you can find swimming holes to cool off in, or try your hand at some kayaking. An infamous scene in the first "Twilight" movie was also filmed here, making it a great spot for fans looking to hike into that exact location.
13. National Creek Falls near Prospect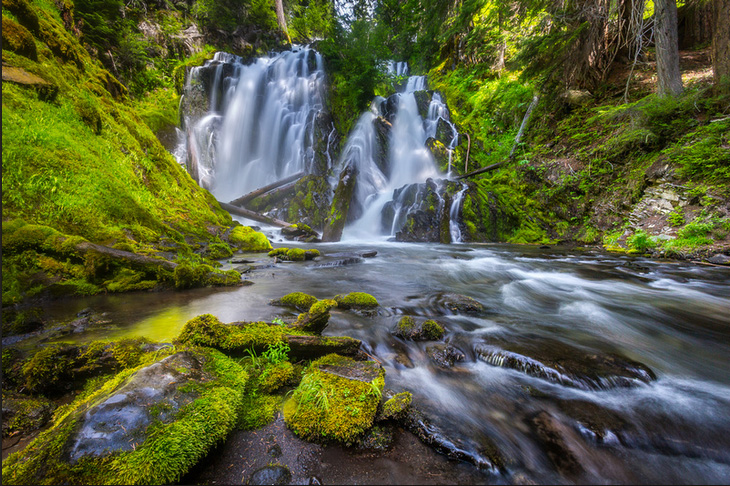 A 1/2 mile trail will take you from the parking area down to these stunning Southern Oregon falls in a grotto with a mystical-feel.  The trail can get steep in places but is doable with children.  We took our daughter when she was 5 and she made it with help.  We do not suggest crossing the river on the log that is downed across it, as it is slippery from the mist (many spots are here, so watch your step).  This is a great place to take a picnic, but many people site voracious mosquitos during the summer months, so be sure to bring some bug spray.
14. Lost Lake Loop Hike Near Hood River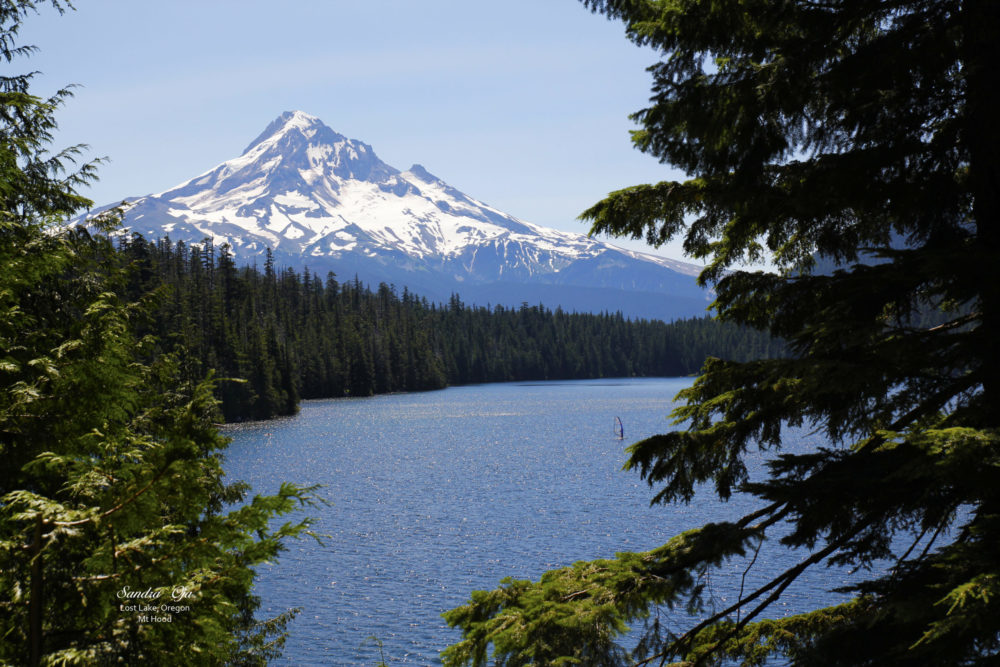 Lost Lake Loop (Lakeshore Trail) is a 3.1-mile easy trail located near Hood River, Oregon that's great for all skill levels, kiddos, and leashed furry friends. The trail offers a number of activity options and is best used from June until October. If you love stunning mountain views, bird-watching, and easy walks, this is a fantastic trail for you. Keep in mind that there is a $9 entrance-fee to use this trail (and others nearby).
15. Eagle Creek Trail In The Gorge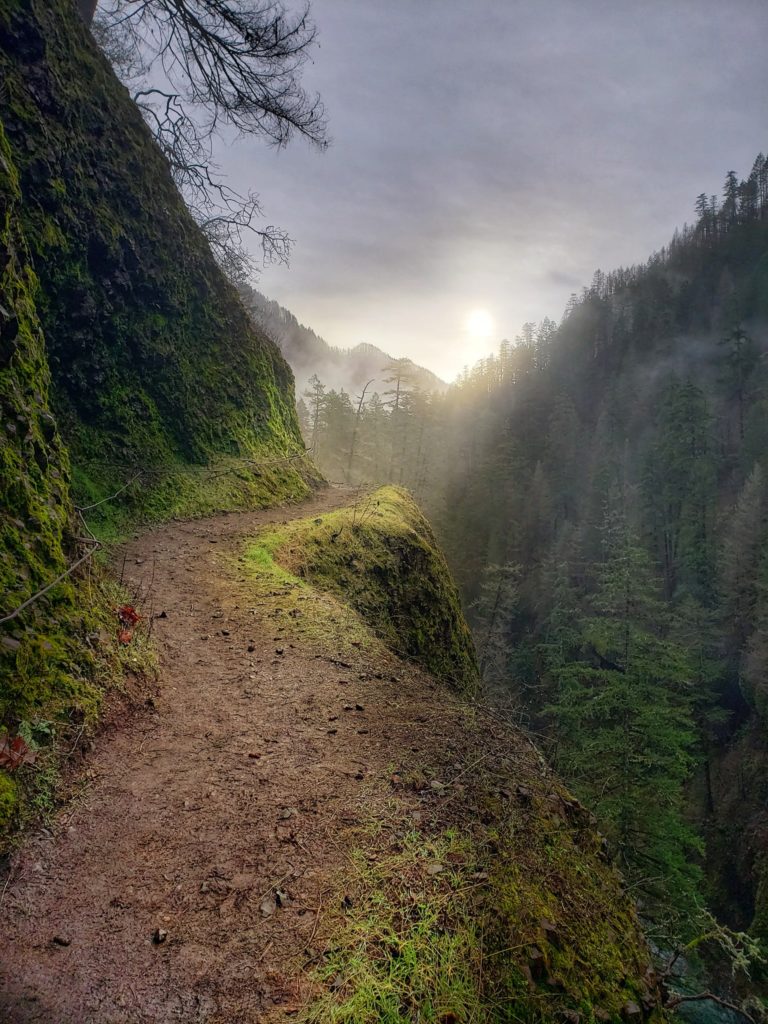 At the time of writing this, Eagle Creek Trail is open once again. The Eagle Creek Fire burned 48,000 acres in early September 2017, which caused several trails to close due to public safety issues. Due to the virus, others in the area had also been closed. This well-loved, heavily trafficked trail not far from the Cascade Locks is one of the most incredible places you can ever visit in Oregon.
After the fire the Eagle Creek Trail and other nearby trails were closed due to danger from landslides.  Now the entire length of the Eagle Creek Trail has been reopened, along with other trails and waterfalls such as Wahclella Falls, Elowah Falls, McCord Creek Falls, the Gorge 400 Trail, and part of the Larch Mountain Trail.  You can get an updated list of what's open and closed in the area here.
16. Secret Beach On The Oregon Coast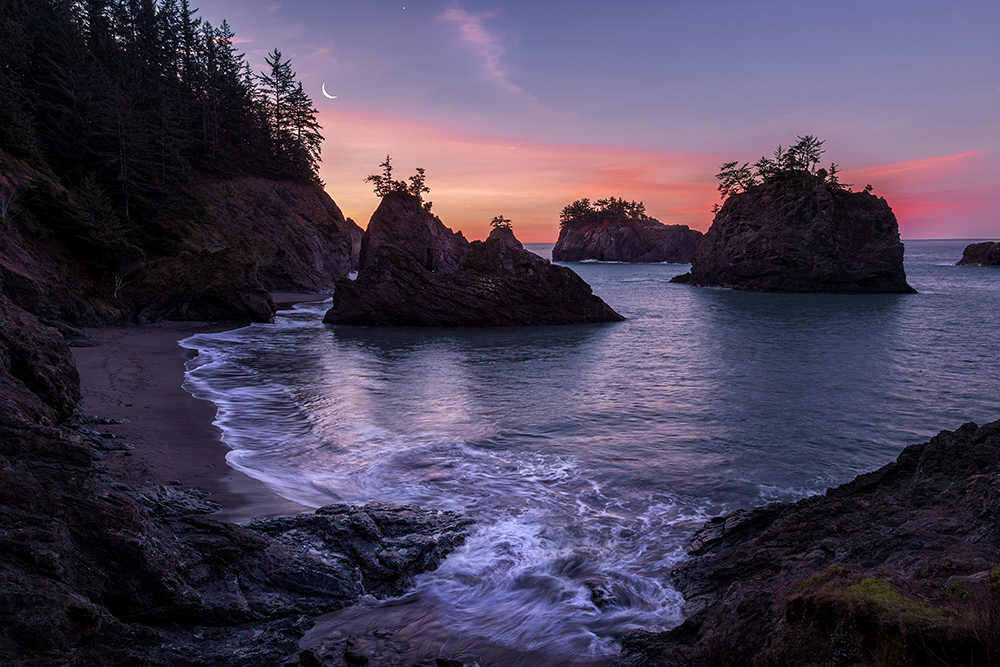 This short but moderate trail begins from an unmarked spot along Hwy. 101 and ends overlooking an idyllic ocean cove of sea stacks and pine. Going down the 374-ft. decline is the easy part, but I remember struggling a bit coming back up on the rocky and muddy trail. Round trip, this small hike comes in at just over 1.5-miles. Go at low tide for a chance to explore down the shoreline.
17. Toketee Falls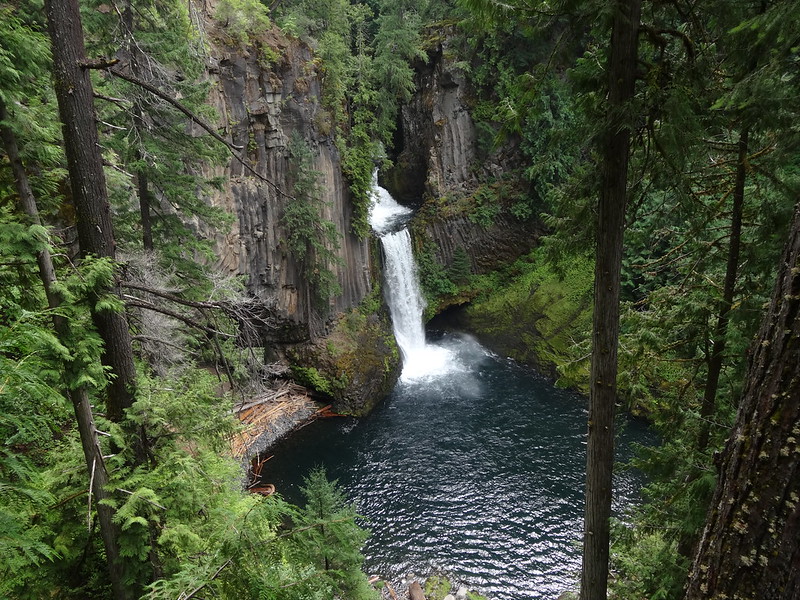 Toketee Falls is simply stunning, and the 0.8-mile round-trip trail that leads to the falls is very doable with children.  At the trailhead, you'll hike past the old wooden 12-foot diameter Toketee Pipeline, which diverts much of the volume of the North Umpqua River to a powerhouse downstream. There is a campground nearby at Toketee Lake, but you should check online first to see that it is opened before planning to stay there.  The campground is a meadow-like environment with opportunities to view Oregon wildlife where beaver and otter make their homes. Great blue heron and kingfishers are joined in fall and winter by ducks, geese, and bald eagle.
18. Lewis and Clark Discovery Trail

The Lewis and Clark Discovery Trail is a 12.2 mile moderately trafficked out and back trail located near Seaside. The hike features beautiful seasonal wildflowers and is rated as difficult due to a 3000-ft. elevation gain, but so worth it for the views!. The trail offers a number of activity options and is accessible year-round.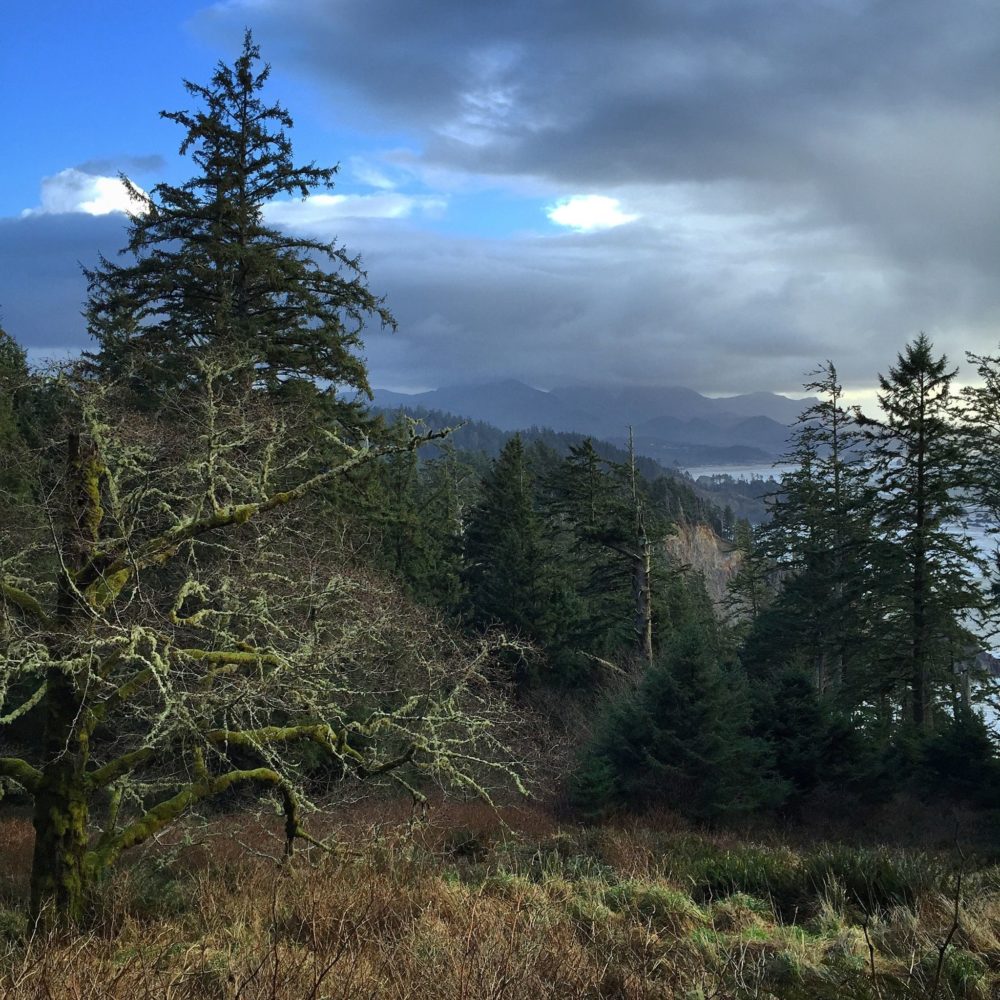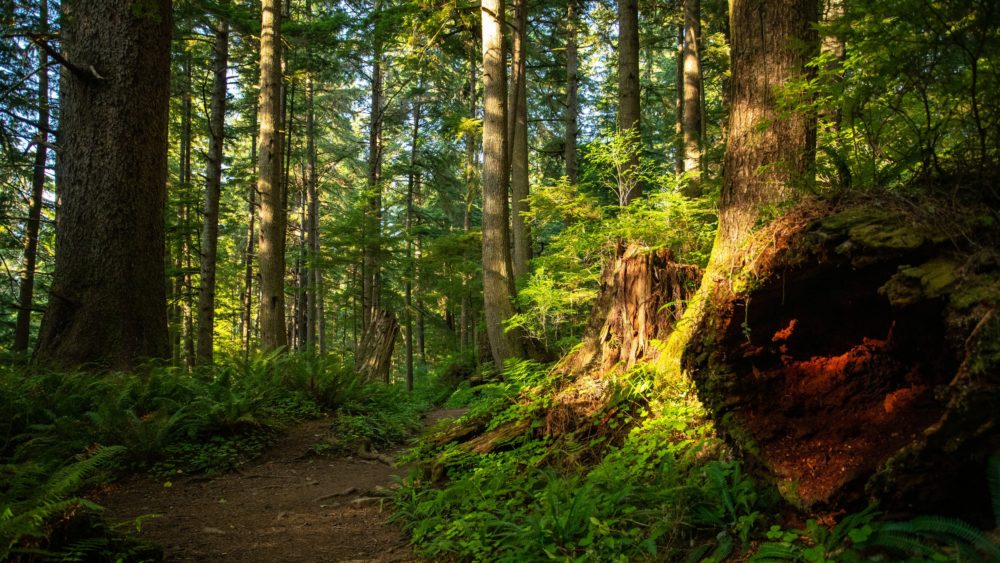 Bring Fido, but keep him on a leash, as you go walking in the footsteps of the Lewis and Clark expedition as they discovered stunning Tillamook Head. In 1806, Captain Clark and a group of 12 men hiked over the mountain to salvage blubber from a blue whale that washed ashore at the mouth of Ecola Creek. They met a group of Clatsop natives hiking back laden with large amounts of meat and blubber from the find.
19. Old Salmon River Trail, Mt. Hood National Forest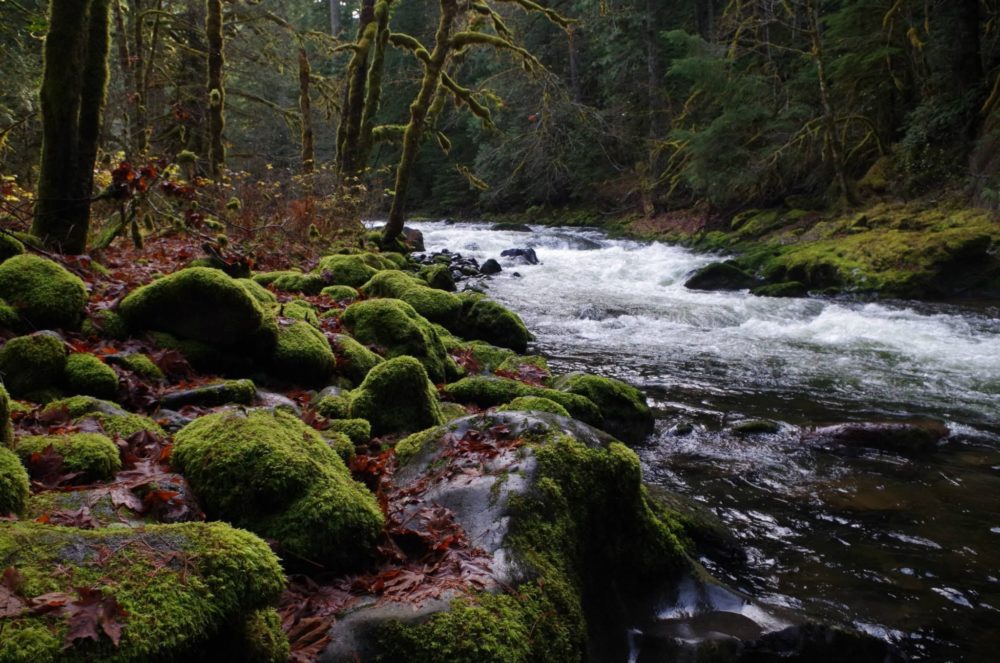 This easy, 2.7-mile out-and-back trail takes you along the Salmon River near Welches, and is great for all skill levels and children. For never being more than 100′ from the road, it feels remarkably remote. Keep in mind that this trail can get rather muddy and can be heavily used in more popular months.
20. Green Lakes, Deschutes National Forest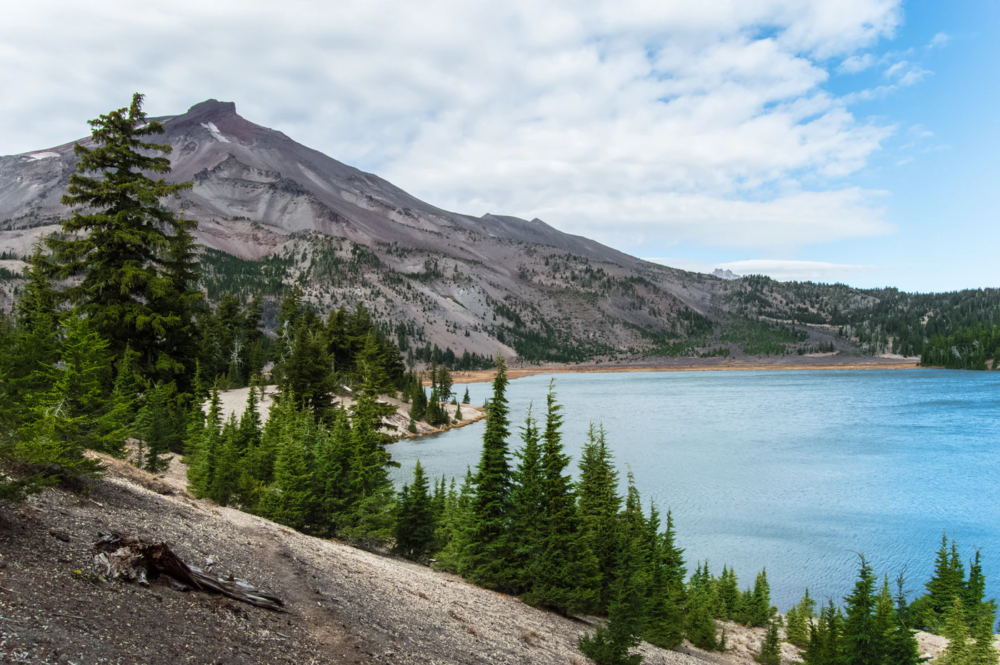 The Green Lakes hike starts off about 30 minutes west of Bend, just near the Cascade Lakes Highway. Bring your Northwest Forest Pass, or pay a $5 fee for the day. The fee is meager for what awaits you; from views of the Three Sisters and Broken Top to waterfalls and green-tinted lakes.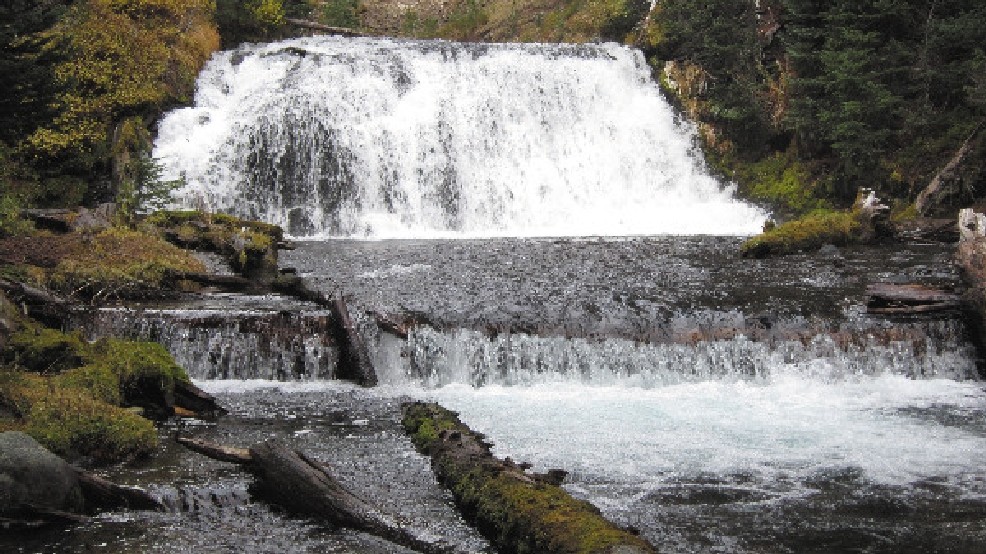 Campsites abound here for backpackers. Coming in at around 9-miles out-and-back, this is a moderately easy hike with a gentle elevation-gain of 1187-ft.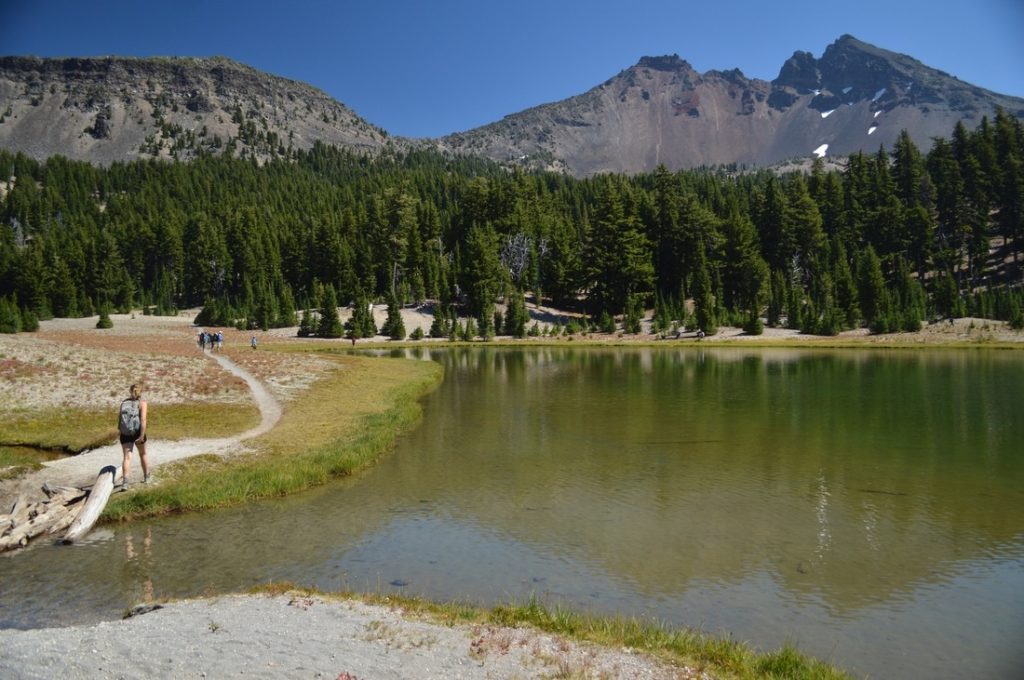 21. University Falls near Rogers Camp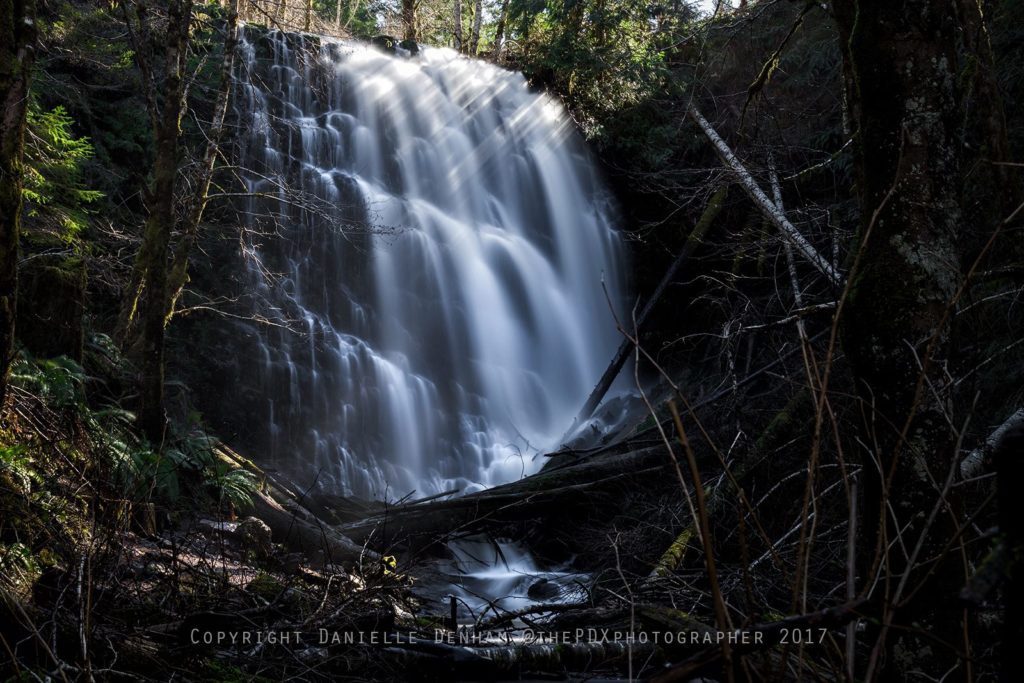 This is hands down one of my favorite easy hikes for almost any time of year. The trailhead itself is simple to find in the Tillamook State Forest, and like so many of our other Oregon hikes, ends at a gorgeous waterfall. Be aware that you'll be sharing trail-crossings with ATVs so don't forget to look both ways when you hear that distinctive sound. The waterfall is at its peak during the rainy seasons, so best to visit in the winter and spring months.
Please Note: Hiking, backpacking and exploring nature are at-your-own-risk activities.  Research is so important before setting out on unforgettable nature adventures.  Check to be certain the area you want to visit is open before you go.  Find out what permits are required if any, research what kinds of things you need to bring to be prepared, and know what is the best time of year to explore the trails you want to hike.  Don't forget to check the weather before you head out on your adventure.
Which of these trails do you want to explore this year?  Let us know in a comment and tag the friends and family you want to go on an Oregon adventure with!