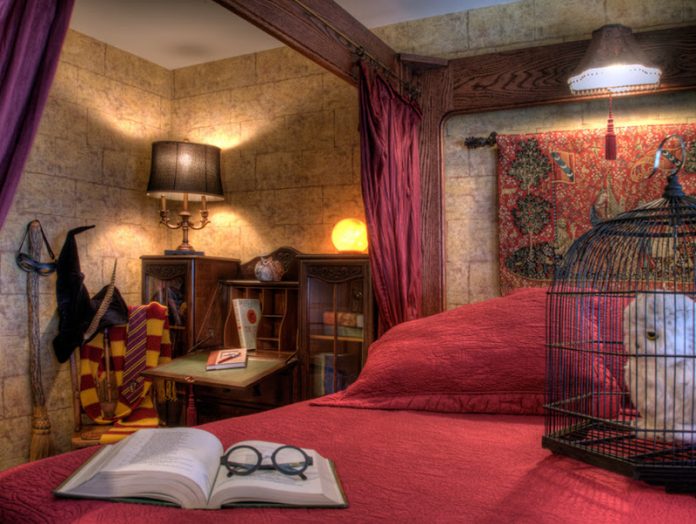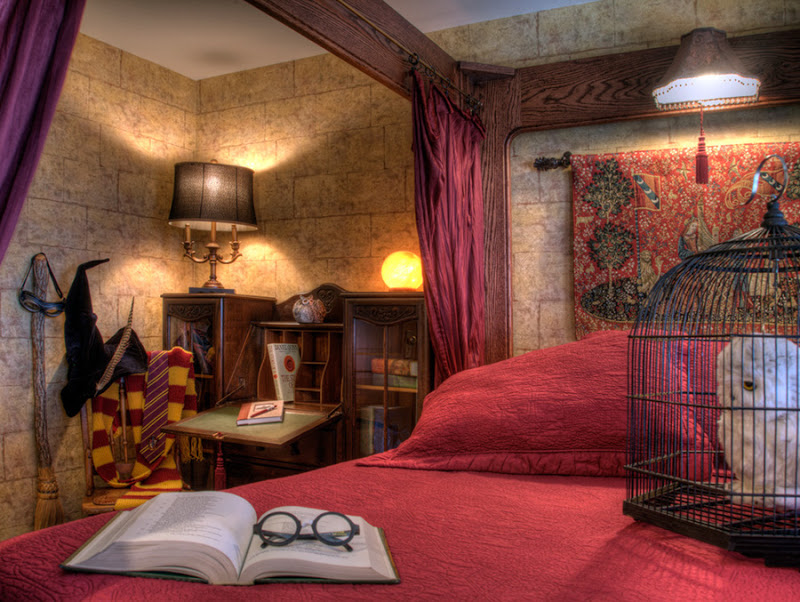 If you're looking for somewhere different to sleep in Oregon for a little vacation, we put together a list of unique places to stay in Oregon. From hobbit homes to treehouses, we are sure you will find something to like. If you have gone or plan on checking one of these places out, let us know at i[email protected]!
Unique Places to Stay in Oregon
---
1. The Hobbit House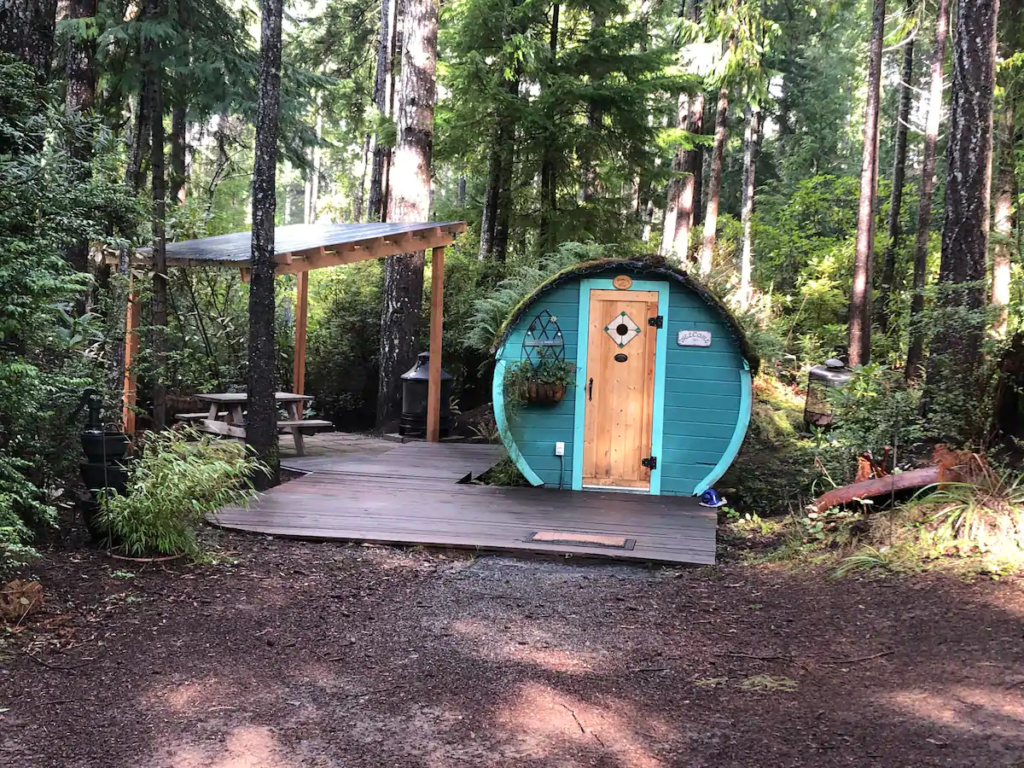 Near Bandon, on the southern Oregon Coast, you will find this 40-acre working ranch that surrounds this charming Hobbit House. Yes, that's right. A hobbit house surrounded by lush forest, and plenty secluded with your own private bath just a short walk away. The little home includes an outdoor fireplace and cooking area as well. Bring your own supplies and utensils, as this is essentially private camping without the tent. Pets are not allowed, and one queen bed is included.
Sign up for monthly emails full of local travel inspiration and fun trip ideas. In each newsletter we'll share upcoming events, new things to do, hot dining spots and great travel ideas.
Book the Hobbit House here: airbnb.com
2. Wine Country Cabin (Gaston, OR)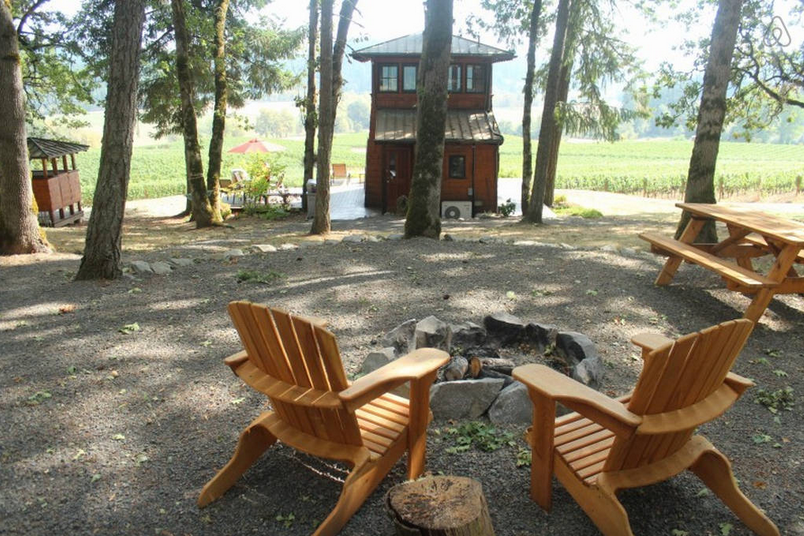 You don't want to miss this exquisite cabin. Come here to enjoy the fruits of this 40 acre Pinot Noir vineyard. The 2 story cozy cabins are 900 square feet and provide a gorgeous view. After a day touring the area's best wineries you will be eager to return.
From their website:
Beautiful cabin w/spectacular vineyard views nestled in the heart of Yamhill-Carlton wine country is available for the weekend, weekday or weekly rentals!
The Beacon Cabin is truly a one-of-a-kind, perfect for couples or anyone looking for a tranquil setting to meditate, read, wine taste, hike or just relax and take in the views.
Wine country prices: $200 per night / 2 nights minimum stay
---
3. Out'n'About Treehouse Treesort (Cave Junction, OR)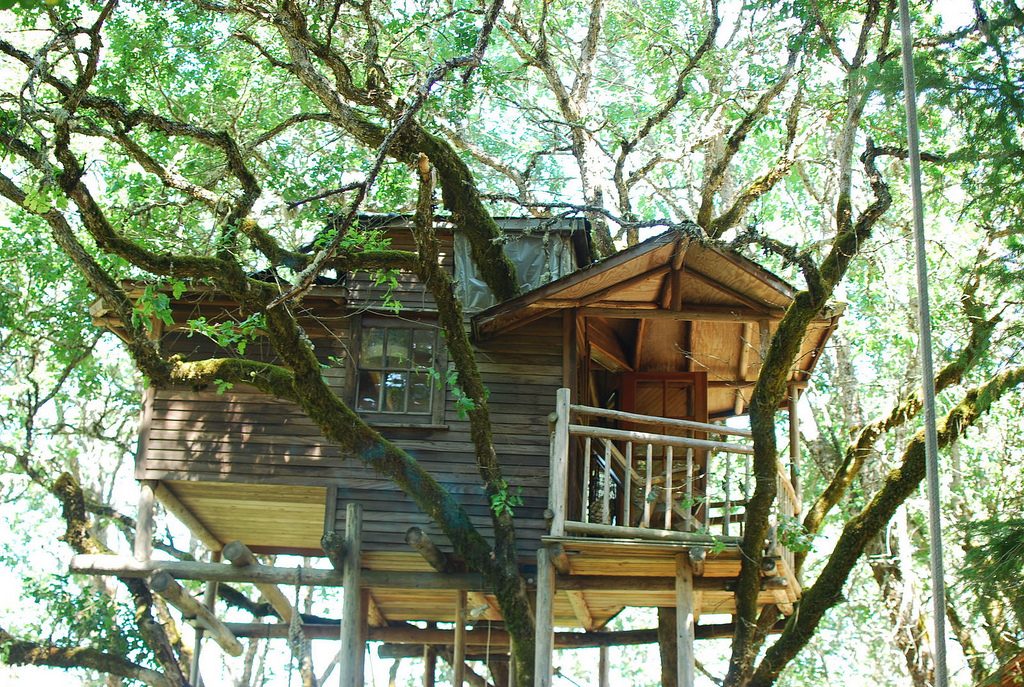 Treehouses for adults? Yes please. This place is a small bed & breakfast up in the trees of Oregon. This one is definitely one of the most unique places you can stay in Oregon. With 18 different treehouses, viewing platforms (some 40 feet up in the air) and even child-sized forts, the Treesort is great for the family looking for some adventure. Zipline around the trees, ride horses or take a dip in the pool – the Treesort offers it all.
4. The Caravan Tiny House Hotel (Portland, OR)

The hotel is made up of three cozy itsy bitsy homes – each adorably-named Rosebud, Pearl, and Tandem. One look at the photos will make you want to snuggle up right now in Portland's Alberta Arts District. The common area includes outdoor and covered seating, hammocks, and a BBQ complete with a fire pit.
Caravan tiny house prices: Tiny houses are $145/night plus 12.5% lodging tax
5. Oregon fire lookouts, multiple destinations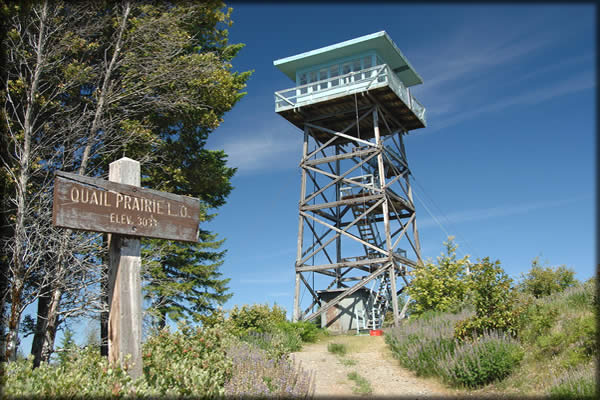 Have a budding forest ranger in your home? Climb up a ladder to an enclosed viewing platform, where your family can eat, sleep and watch lightning storms roll through Oregon skies. Oregon fire lookouts offer tight quarters, but amazing, expansive views — and are set in the middle of utter wilderness.
Fire lookout pricing: $40 and up.
Fire lookout best for ages: Ask when making a reservation if the fire lookout is a good match for your child — some are too steep for your child's (or your) comfort, while others are very accessible. The fire lookout in the photo at right is suitable only for children ages 12 and up.
Click here for 12 Fire lookout rentals in Oregon
---
6. Oregon yurts, multiple destinations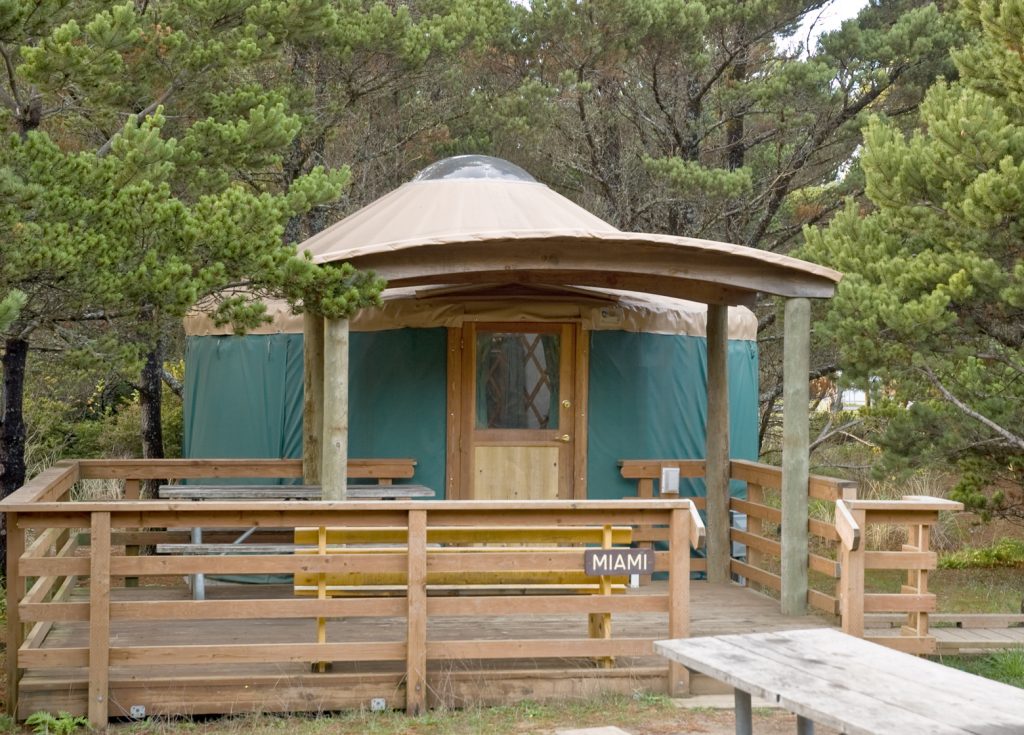 Yurts are like the lovechild of a tent and a cabin. Oregon State Parks' family-friendly yurts protect you from the elements, offer kitchens and covered porches. The deluxe yurts are the best bets for families – but book now (especially for Oregon Coast yurts), because they are very popular and can be booked up to a year in advance from 2 days to 9 months.
Yurts best for ages: All ages
Check out 10 yurts you can reserve on the Oregon Coast here
7. Oregon lighthouse in Yachats, Oregon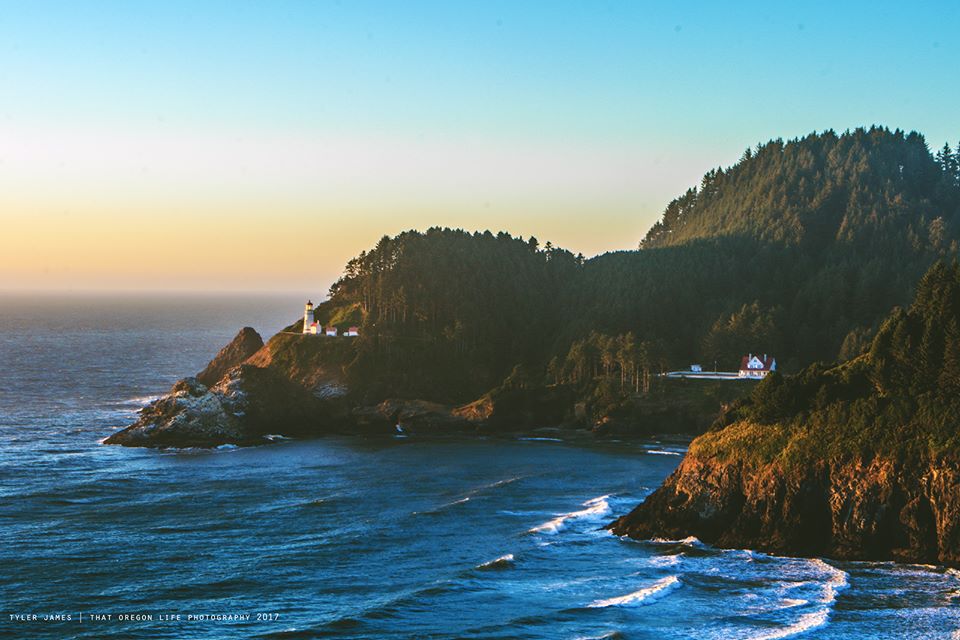 At the Heceta Head Lighthouse, you'll climb wooden steps up a decommissioned, ocean-front lighthouse, then cozy into a sky-high room. With small rooms that accommodate only a trundle bed, Heceta Head may not be a choice for larger families—unless you rent the whole lighthouse!
Lighthouse best for ages: Ages 10 and up.
Lighthouse prices: $133-315.
8. Camp Dakota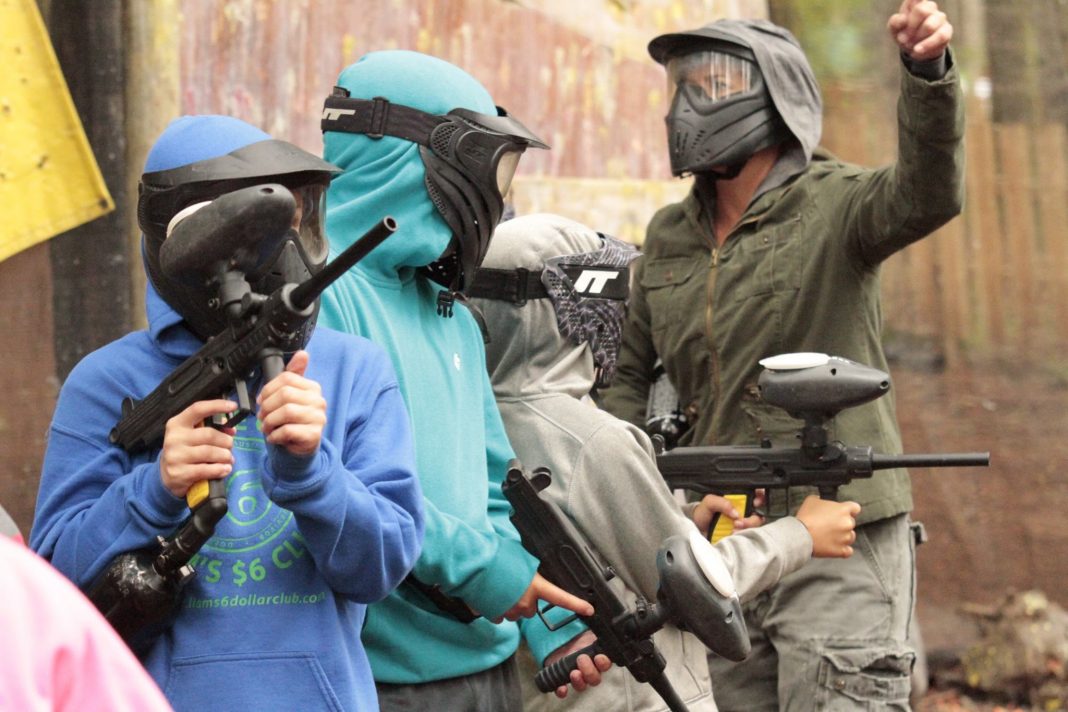 Located in Scotts Mill, between Silverton and Molalla,  Camp Dakota also offers more than just tent sites. The 45-acre campground includes yurt rentals, tee pees to rent, group sites and RV sites as well. It's also worth mentioning this place is insanely popular in Oregon, and almost every review I have read from those who have visited, have all rated this place very high with excellent reviews. Read more here…
---
9. Vintage Trailer Resort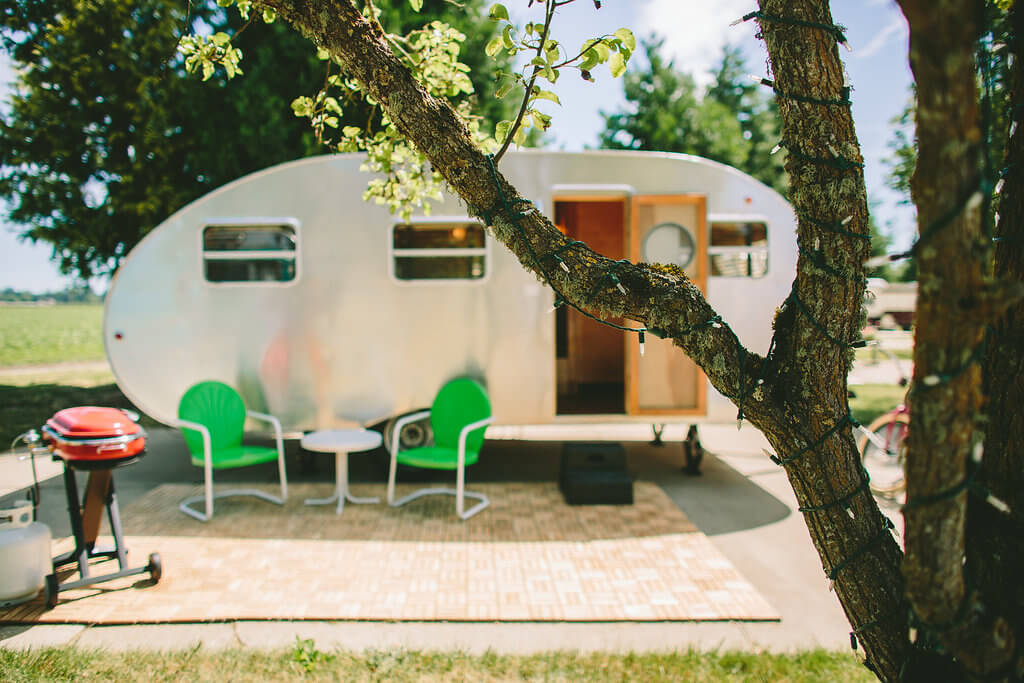 The Vintages Trailer Resort is centrally located in the heart of the Willamette Valley halfway between Dundee and Historic Downtown McMinnville. The trailers are grouped together in their own neighborhood within the 14-acre Willamette Wine Country RV Park.
Each trailer offers a unique lodging experience tailored to compliment your wine tasting, dining and exploration. A short list of amenities includes gourmet pour-over coffee from Caravan Coffee, luxurious terrycloth robes, comfortable mattresses and fine hotel-quality linens. Read more here to find out more.
10. Sylvia Beach Hotel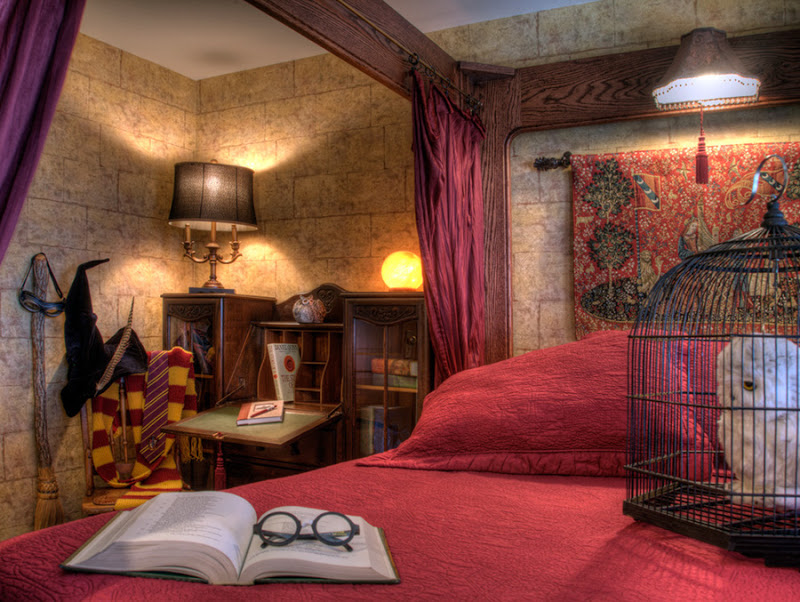 If you love reading books, and you can't get enough of the Oregon Coast, then this is the hotel for you. It's known as the Sylvia Beach Hotel, and it's located in beautiful Newport, Oregon. This cozy literacy-themed hotel features 20 rooms all inspired by some of the world's greatest authors known to man. Read more about it here.
Do you know any awesome, unique and/or unusual places to sleep in Oregon? Have you stayed at one of the ones we have listed above? We'd love to hear from you! Be sure to let us know in the comments, or email us at [email protected].