Experience the magic of fall in Oregon, where vibrant colors, breathtaking landscapes, and picturesque waterfalls create unforgettable memories. From tranquil parks to exciting scenic drives, let's explore the 12 must-visit destinations that showcase the best of Oregon's fall foliage.
Short Summary
Experience the vibrant fall colors of Oregon with outdoor activities and scenic drives.

Sign up for monthly emails full of local travel inspiration and fun trip ideas. In each newsletter we'll share upcoming events, new things to do, hot dining spots and great travel ideas.

Explore waterfalls, forests, vineyards & more for a peaceful autumn retreat.

Portland Parks offer an urban escape to enjoy nature's beauty in all its glory!
1. Autumn Splendor At Silver Falls State Park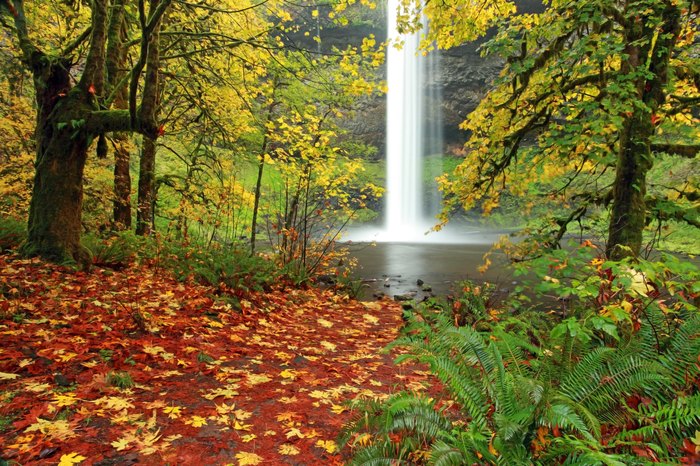 Nestled in the Cascade Mountains, Silver Falls State Park is a haven for nature lovers, offering an array of majestic waterfalls and jaw-dropping fall foliage. Known as Ten Falls due to its 10 awe-inspiring waterfalls, the park's most iconic feature is the 177-foot South Falls. Mid-October is a fantastic time to visit, as the park is adorned with vibrant red, orange, and bright yellow leaves.
Whether you're a photography enthusiast or an avid hiker, Silver Falls State Park provides plenty of opportunities to capture unforgettable moments. With activities like hiking, camping, fishing, and picnicking, this 9,200-acre park is a must-visit destination.
READ MORE: Guide to Silver Falls State Park
2. Columbia River Gorge: A Fall Color Wonderland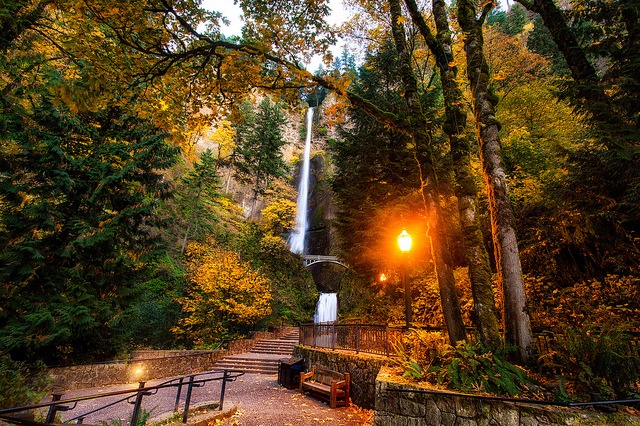 The Columbia River Gorge and Hood River Valley present an unparalleled autumn experience, boasting vibrant fall colors, spectacular waterfalls, and breathtaking views of Mount Hood. The Historic Columbia River Highway is the perfect way to explore this area, offering unforgettable sights and picturesque vistas along the way.
Experience the best of the Pacific Northwest by visiting the spectacular waterfalls, such as Multnomah Falls, and exploring apple and pear orchards throughout the Hood River Valley. Don't forget to stop by Washington Park in Portland to appreciate the incredible fall foliage display provided by the Oregon White Oak.
3. Scenic Drives: West Cascades And Elkhorn Byways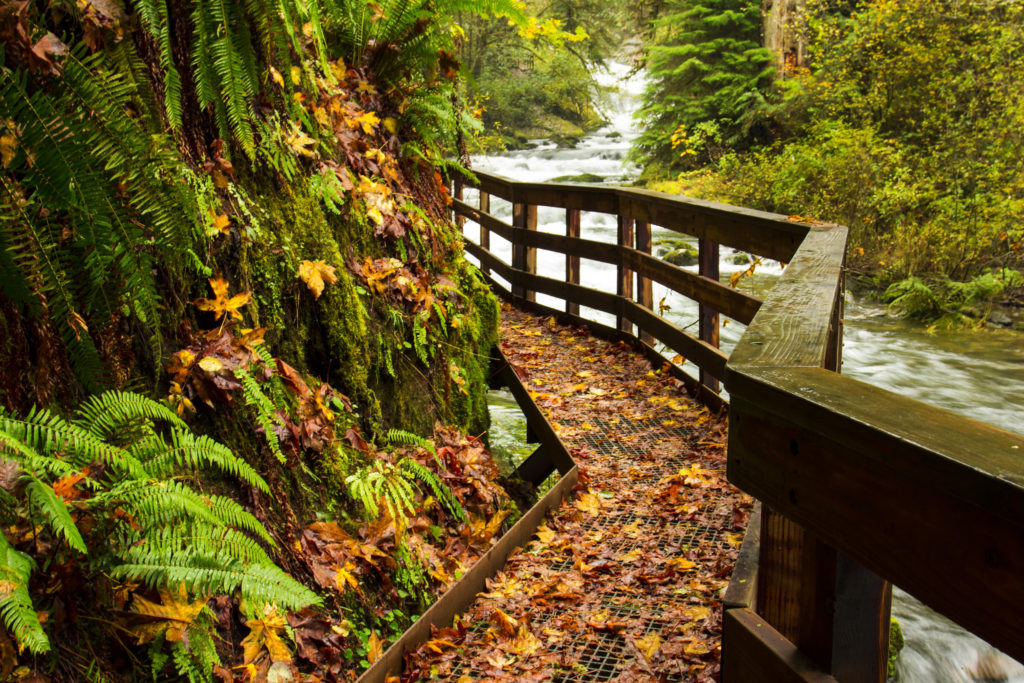 Discover the beauty of Oregon's forests and mountains as you traverse the West Cascades and Elkhorn Scenic Byways. These picturesque routes offer breathtaking views of cascading waterfalls, winding rivers, and pristine lakes, making them a must-visit destination for fall foliage enthusiasts.
One of the highlights of these scenic drives is the Sweet Creek Trail, which showcases stunning fall colors from the surrounding trees. Along the way, you'll find ample opportunities to hike, fish, and explore the great outdoors, as the routes are clearly marked and easy to follow.
4. Umpqua Rivers: A Waterfall And Foliage Paradise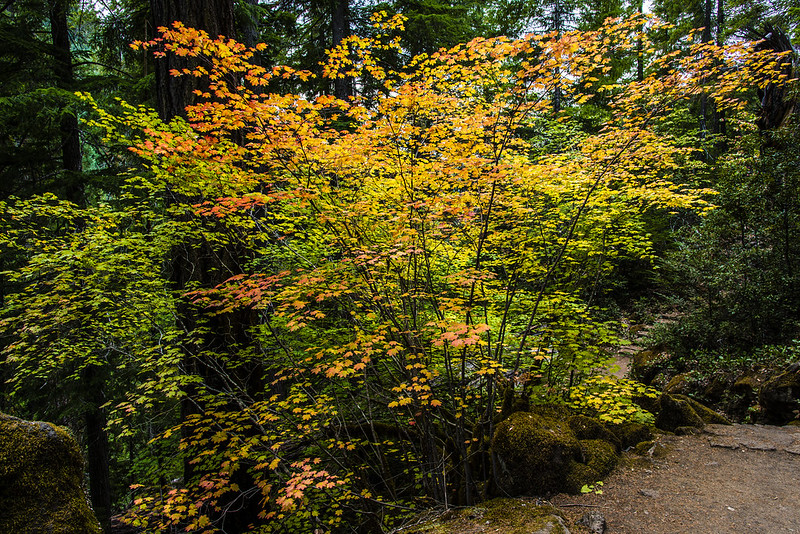 The North and South Umpqua Rivers offer an enchanting combination of mesmerizing waterfalls and vibrant fall foliage during the fall season. Here, you'll find bigleaf and vine maple trees displaying a magnificent array of colors, creating an unforgettable autumn experience.
Venture out to explore the most breathtaking waterfalls in the area, such as Susan Creek Falls, Fall Creek Falls, Watson Falls, Toketee Falls, and Whitehorse Falls. The stunning beauty of the Umpqua Rivers makes it a perfect destination for a serene escape or an exhilarating outdoor adventure.
5. Rogue River Adventure: Fall Colors And Outdoor Fun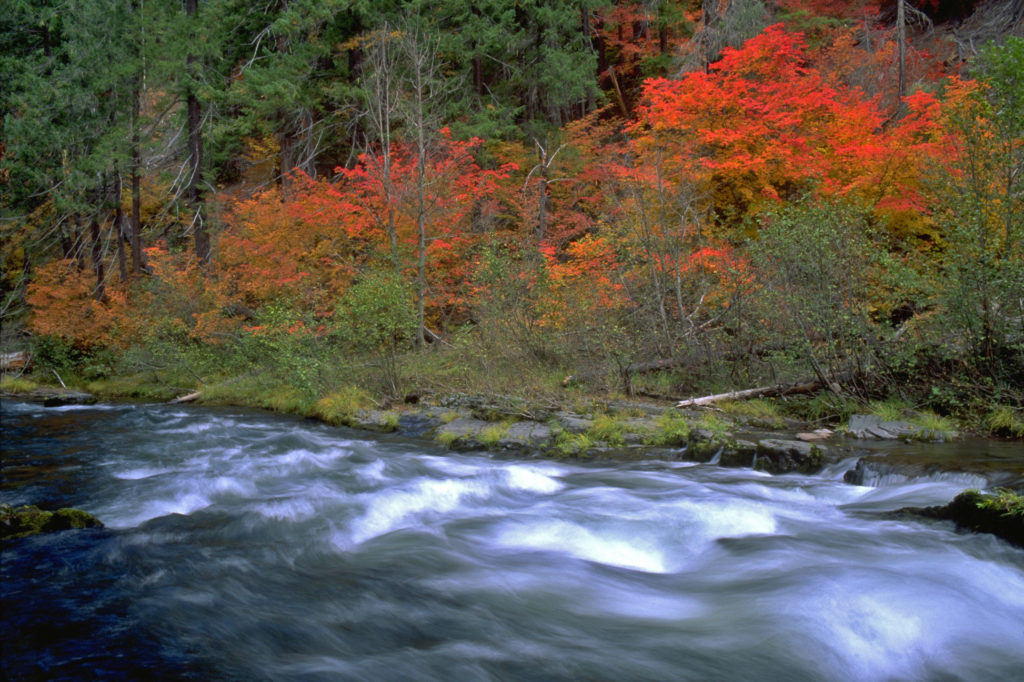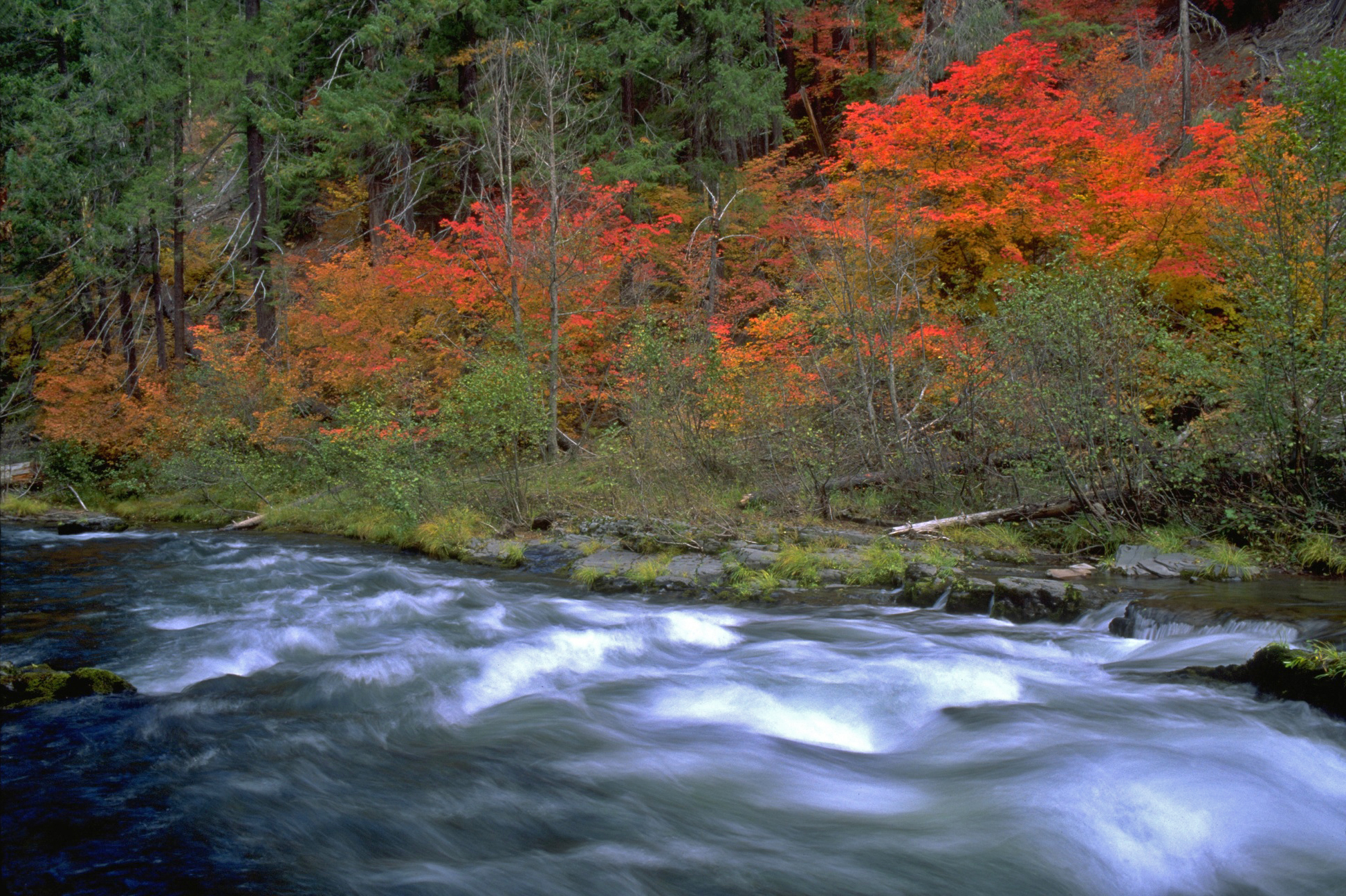 Embark on a thrilling Rogue River adventure, where you can enjoy stunning fall colors and a variety of exciting outdoor activities. The suggested loop trip for maximum enjoyment begins at Natural Bridge, continues through Rogue Gorge, and culminates at the captivating National Creek Falls.
Along the Upper Rogue River, you'll encounter magnificent trees like bigleaf and vine maple, Pacific and red-osier dogwood, which add a burst of color to the already stunning landscape. Indulge in thrilling activities such as fishing, rafting, kayaking, and hiking as you immerse yourself in the breathtaking beauty of the Rogue River.
6. Deschutes River Trail: Hiking Among Golden Aspens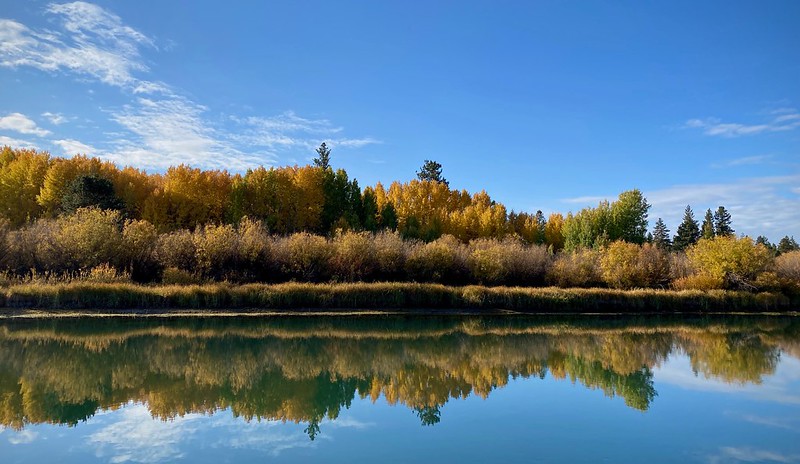 Hike the Deschutes River Trail and immerse yourself in the golden hues of aspen trees that line the river at Big Eddy and Dillon Falls. This scenic hiking trail in Central Oregon offers an array of outdoor activities like fishing, camping, and hiking, perfect for adventurers and nature lovers alike.
Capture the enchanting beauty of golden aspens at Big Eddy and Dillon Falls with early morning photography, when the vibrant colors of the trees are illuminated by the morning light. The Deschutes River Trail is an ideal destination for those seeking tranquility and inspiration amidst the beauty of nature.
7. Steens Mountain: A Unique Fall Destination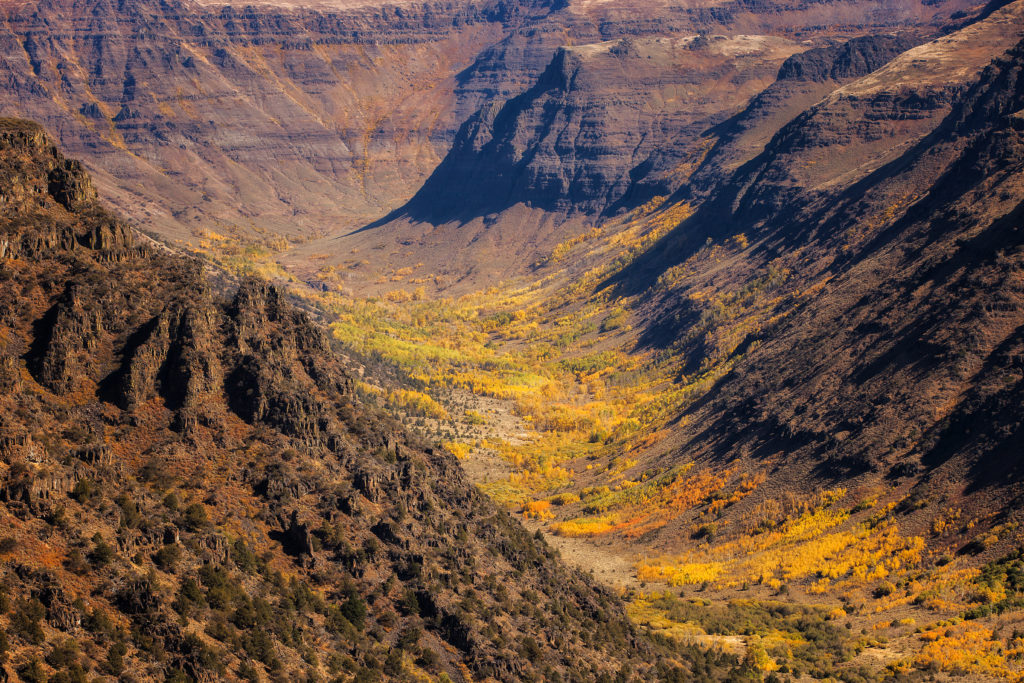 Experience the unique beauty of Steens Mountain, a fault-block mountain in southeastern Oregon, renowned for its extensive aspen forests and incredible wildlife. The breathtaking beauty of Steens Mountain, with its lush aspen forests and wide-open country, makes it a truly remarkable destination for nature enthusiasts.
Enjoy the multitude of activities Steens Mountain has to offer, such as camping, hiking, fishing, horseback riding, and wildlife viewing. The awe-inspiring landscapes and remarkable biodiversity make Steens Mountain an unforgettable fall destination.
8. Blue Mountains: History And Fall Beauty Combined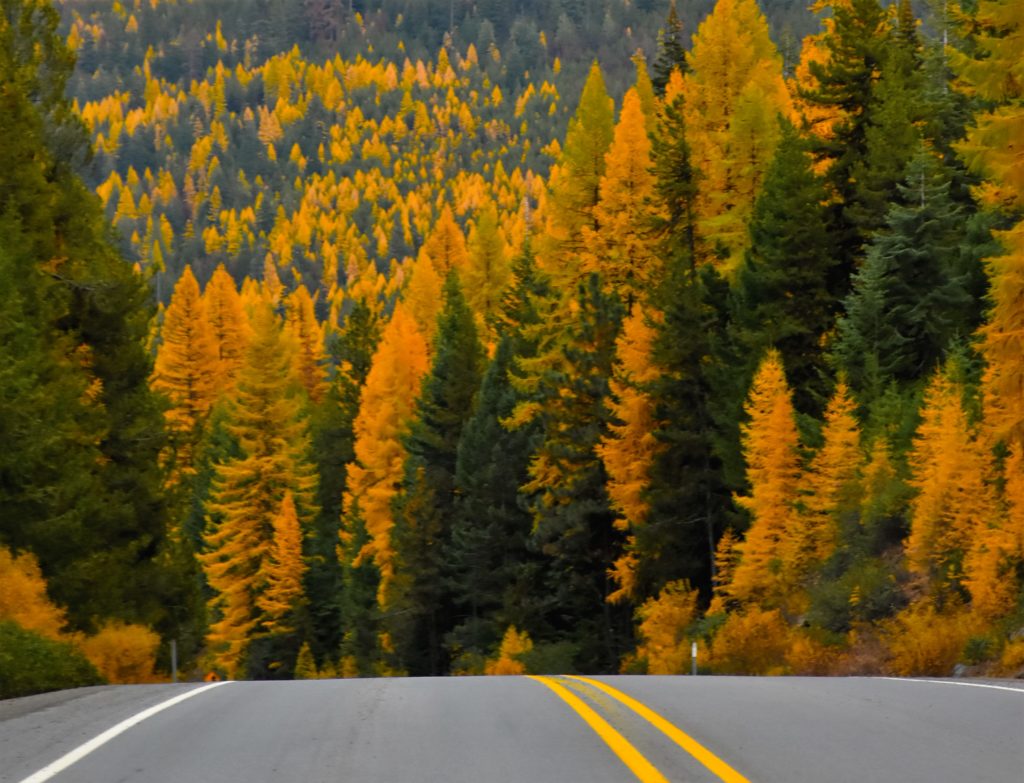 Journey through the Blue Mountains along the Elkhorn Drive Scenic Byway, where you can admire the fall colors of cottonwood and larch trees while exploring historic towns. Located in eastern Oregon, the Blue Mountains offer a captivating blend of natural beauty and rich history.
The Elkhorn Drive Scenic Byway winds through the Blue Mountains, showcasing breathtaking views of fall foliage and providing access to incredible historical sites such as The Australiana Pioneer Village, Blast Furnace Park, and Blackfellows Hand Cave. Experience the best of Oregon's history and fall beauty combined in the stunning Blue Mountains.
9. Ashland's Lithia Park: A Colorful Retreat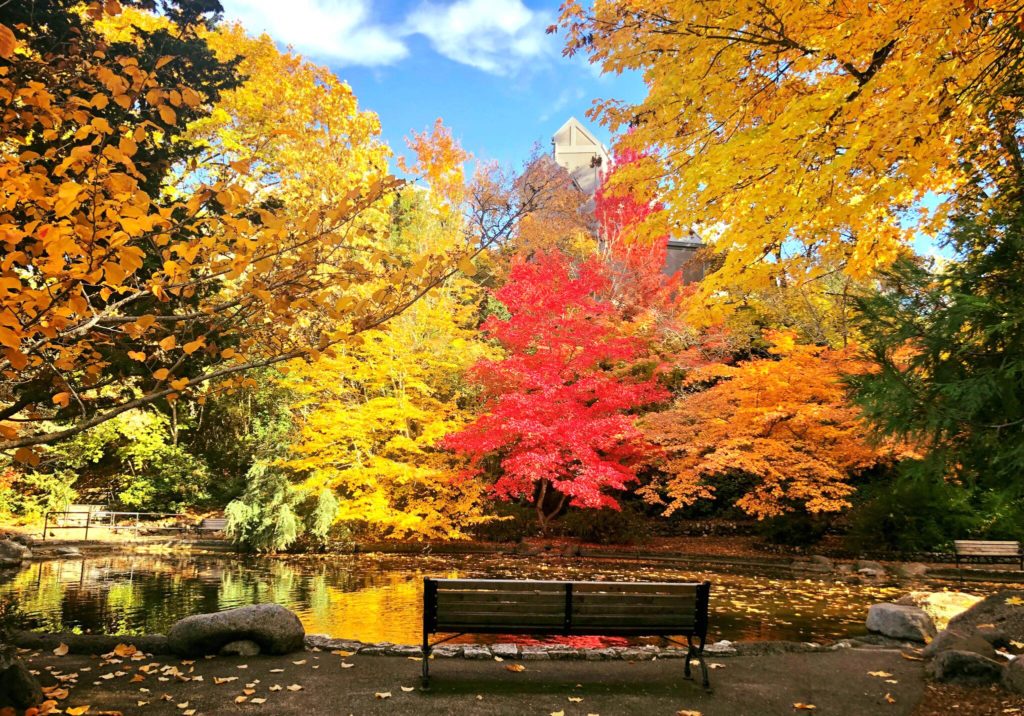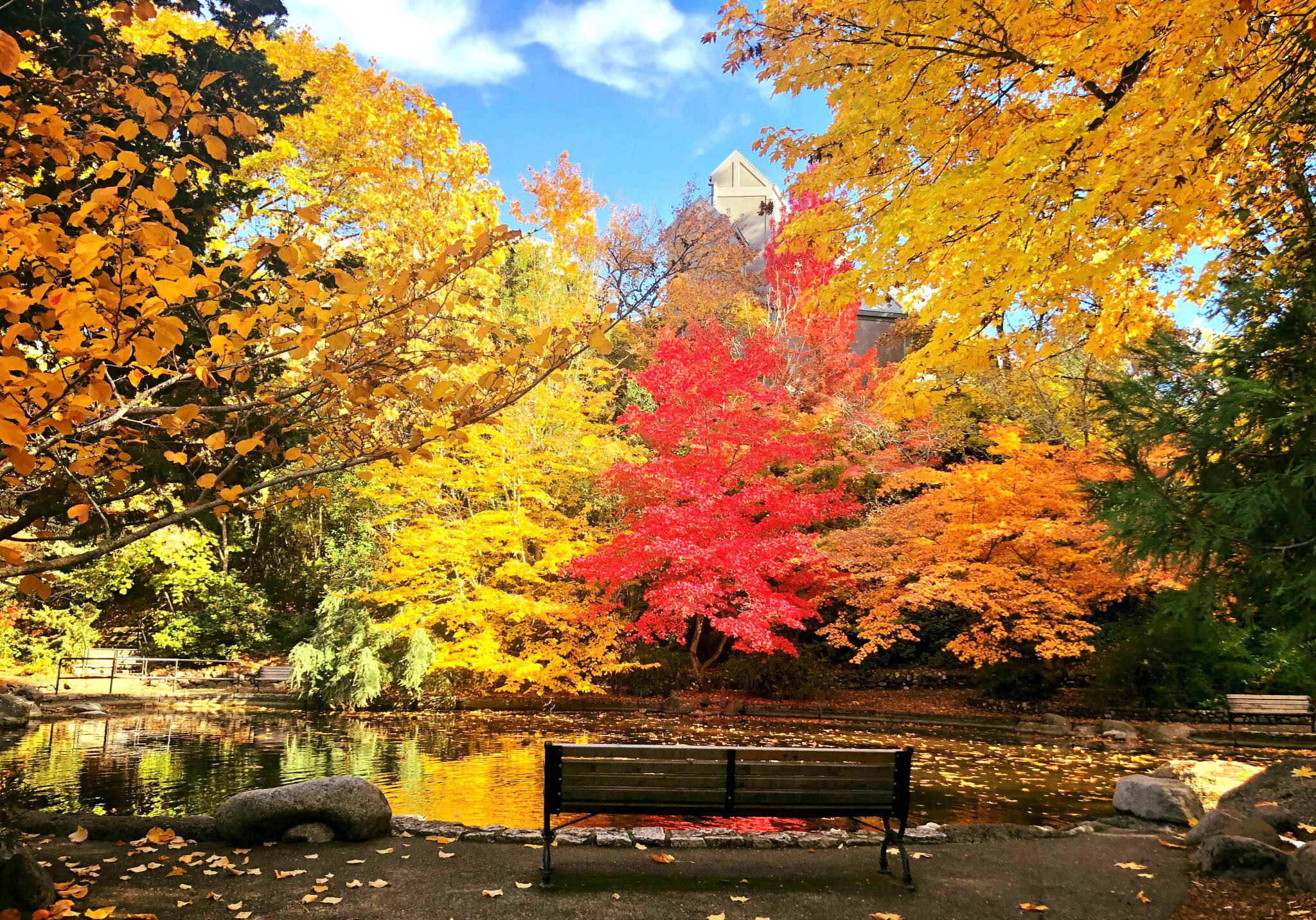 Relax and unwind in Ashland's Lithia Park, a beautiful municipal park filled with a variety of colorful trees, including maple, dogwood, beech, ash, sycamore, and ginkgo. The park's stunning grounds, captivating fountains, gorgeous flowerbeds, and Japanese garden create an enchanting retreat for visitors seeking serenity amidst nature's beauty.
Lithia Park, located in the picturesque West Hills area, provides a wide range of recreational facilities, such as a playground, sand volleyball court, ice-skating rink, and tennis and pickleball courts. This colorful retreat is perfect for those seeking a peaceful escape or an opportunity to enjoy outdoor activities in a beautiful setting.
10. Coastal Waterfalls, Creeks And Fall Foliage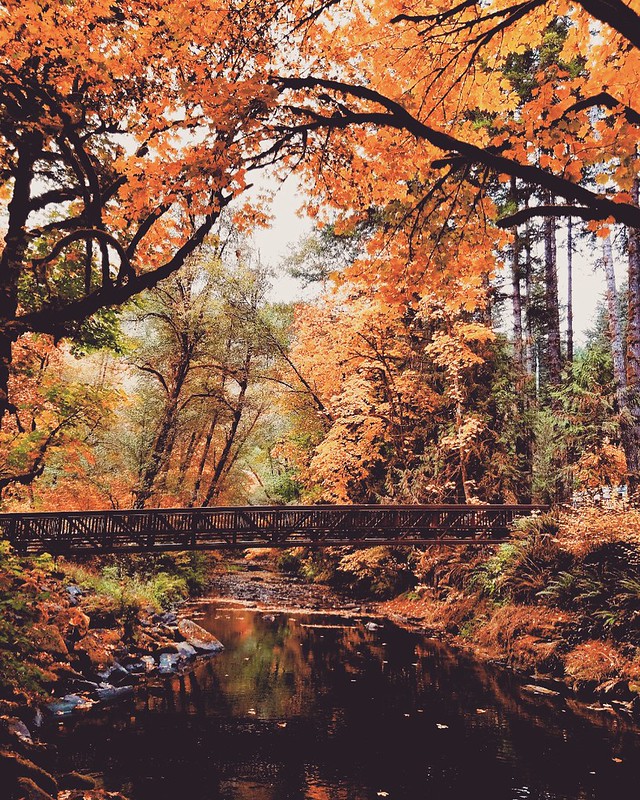 Visit the enchanting Coast Range waterfalls and creeks, where bigleaf maple trees add extra beauty to the already mesmerizing waterfalls. The stunning scenery and vibrant fall colors make this an essential destination for nature enthusiasts and photographers alike.
Embark on delightful hikes to explore the Coast Range waterfalls, including Alsea Falls, Sweet Creek Falls, and Kentucky Falls, all located along the stunning Oregon Coast. Surrounded by the captivating beauty of the waterfalls and the majestic bigleaf maple trees, the Coast Range waterfalls and creeks like Whittaker Creek are a must-visit destination for anyone seeking the best of Oregon's fall foliage.
11. Portland Parks: Urban Fall Color Escapes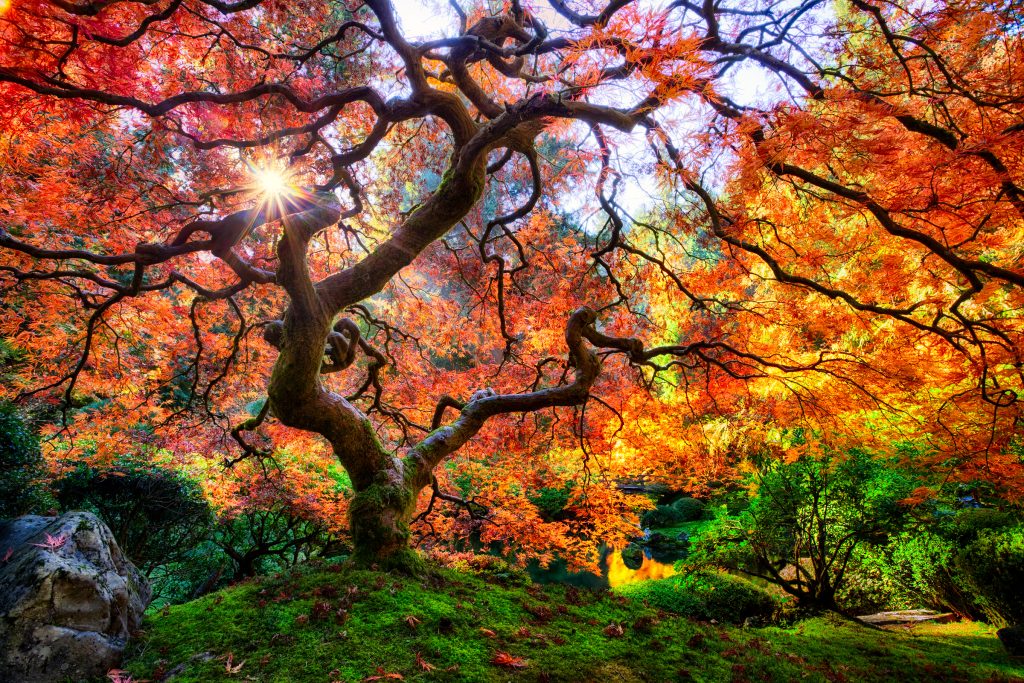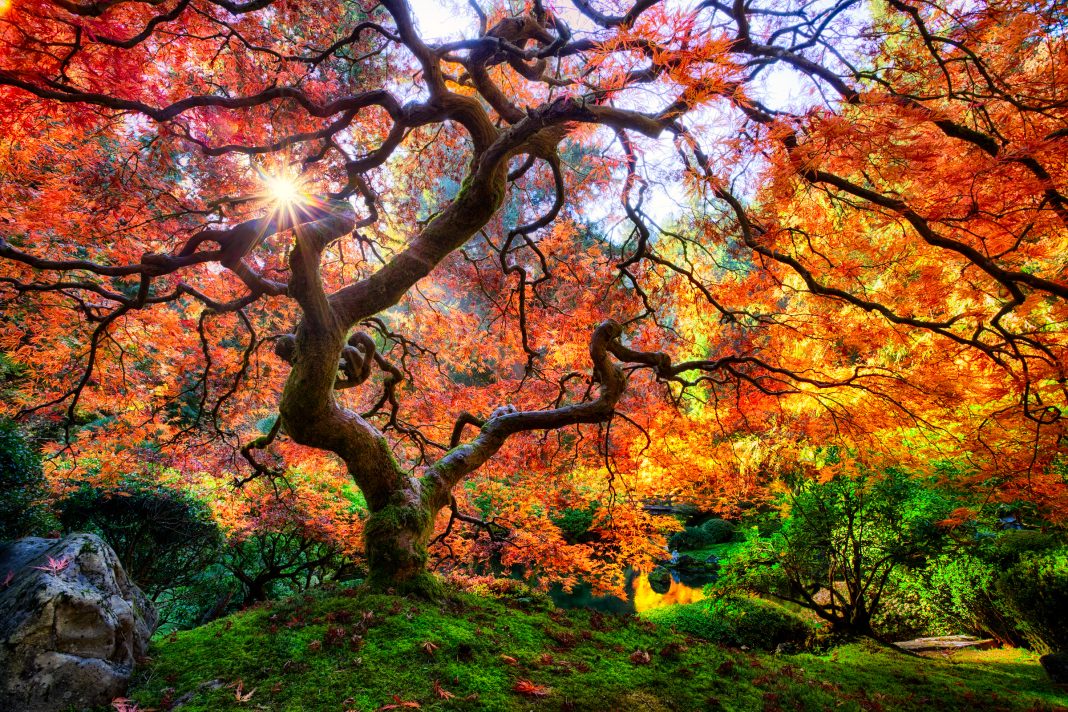 Experience the urban fall colors in Portland Parks, where native and introduced tree species showcase their vibrant hues amidst the bustling city life. Famous parks such as Tabor Park, Washington Park, Forest Park, Hoyt Arboretum, Laurelhurst Park, and the Portland Japanese Garden offer a serene escape within the city limits. Don't miss the opportunity to explore Washington Park Portland and immerse yourself in nature's beauty.
Explore the extensive trails and roads within these parks, lined with a variety of colorful trees that transform the urban landscape into a kaleidoscope of fall colors. Portland Parks are an ideal destination for those seeking a tranquil getaway or a scenic stroll through the city's vibrant foliage.
12. Wine Country: Vineyards And Autumn Colors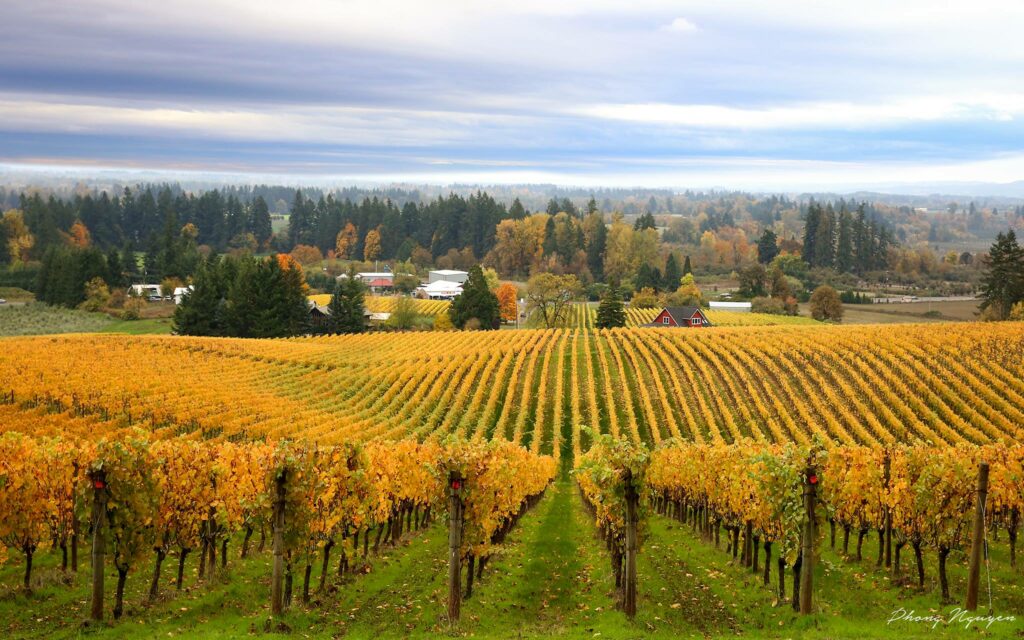 Savor the beauty of Oregon's wine country, where vineyards display stunning autumn colors amidst rolling hills and picturesque landscapes. This enchanting region offers a unique opportunity to appreciate the captivating beauty of fall while indulging in exquisite wine tastings.
Immerse yourself in the stunning scenery and sample the finest wines at vineyards such as Sokol Blosser and David Hill Winery, which provide amazing wine tasting and photography opportunities. Oregon's wine country is the perfect destination for those seeking a leisurely escape and an opportunity to appreciate the beauty of fall in a serene setting.
Summary
From tranquil parks to scenic drives and enchanting waterfalls, Oregon is truly a treasure trove of fall foliage destinations. Each location offers a unique experience, allowing you to immerse yourself in the vibrant colors and breathtaking landscapes that make Oregon's autumn truly unforgettable. So pack your bags, grab your camera, and embark on an incredible adventure to explore the best of Oregon's fall foliage.
Frequently Asked Questions
What does Oregon look like in the fall?
Oregon in the fall is a sight to behold with its colorful foliage of reds, oranges and yellows set against the deep green backdrop of the evergreens. The majority of these trees are located in western Oregon, making it a picturesque fall experience.
How long does fall last in Portland?
Fall in Portland lasts around two weeks, typically starting at the end of September and peaking in the middle to end of October.
Enjoy the vibrant colors of changing leaves!
Does Portland get fall?
Yes, Portland gets fall! Temperatures in mid-October are usually in the low 70s to mid-60s Fahrenheit (around 20° C) during the day. And cooler temperatures in the high 40s and low 50s Fahrenheit (around 10° C) during the night.
What are some must-visit destinations for fall foliage in Oregon?
Oregon is full of amazing places to enjoy the colors of fall foliage. Experience stunning waterfalls at Silver Falls State Park, breathtaking views in Columbia River Gorge, and take a drive along the Elkhorn Byways, Umpqua Rivers, and Rogue River.
Don't miss out on the Deschutes River Trail, Steens Mountain, Blue Mountains, Ashland's Lithia Park, Coast Range Waterfalls, Portland Parks, and Oregon's wine country for some truly magical moments of fall.
What types of trees can I expect to see in Oregon during the fall season?
Fall in Oregon is a great time to admire the beauty of the changing leaves with maple, dogwood, beech, ash, sycamore, ginkgo, Oregon white oak, and bigleaf maple all making an appearance.
The colors of the leaves range from bright yellow to deep red, and the trees provide a stunning backdrop for outdoor activities. Whether you're taking a hike, going for a drive, or just enjoying the view from your window, the changing leaves of fall in Oregon are sure to delight.