Autumn is especially beautiful in Oregon, and if you're looking for a relaxing place to eat and enjoy the vibrant colors, look no further than the Multnomah Falls Lodge. This beautiful historic lodge was built in 1925, and no matter what the season is a great place to visit after hiking Multnomah Falls.
History of Multnomah Falls Lodge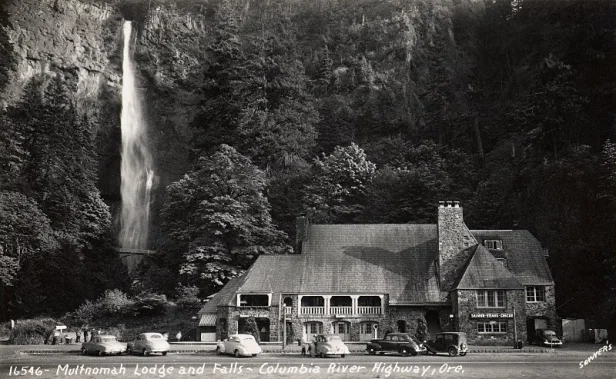 Lumber baron and philanthropist, Simon Benson donated the land that the falls sat upon, and funding for construction of the Benson Bridge. The bridge, constructed in 1914, allows visitors to cross over the lower falls and continue their paved trail journey to the viewing platform at the top.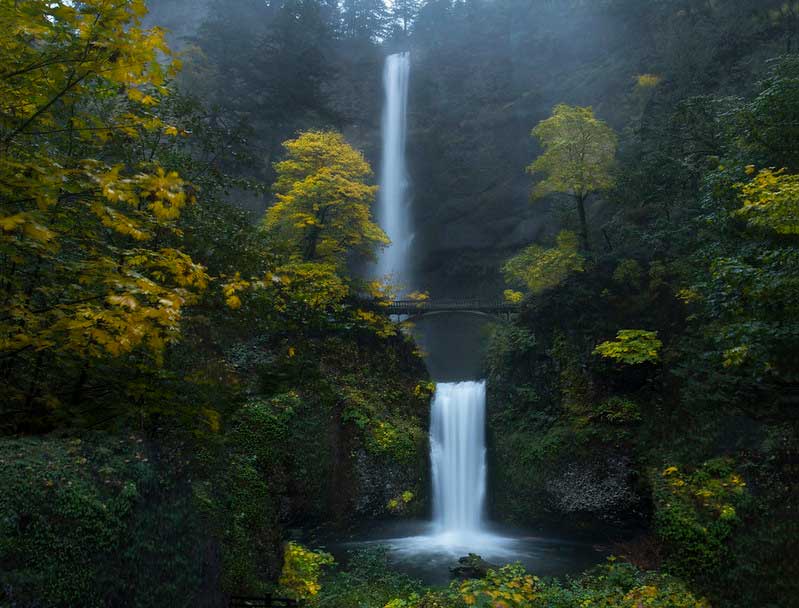 The Atrium Room is especially perfect for views of vibrant fall foliage while you dine. Guests will enjoy the wall and ceiling full of large windows.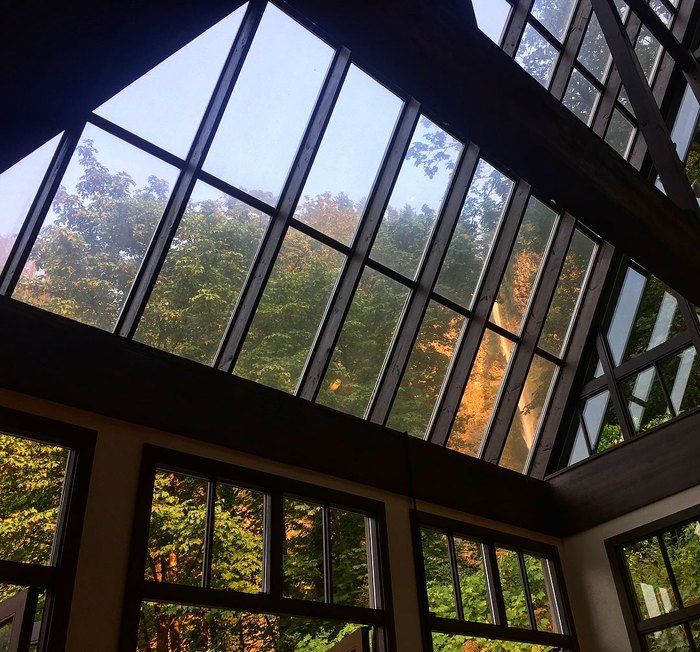 From Multnomah Falls Lodge: The Northwest Cuisine in the Trailside Grill that you've loved over the years is back inside the Historic Multnomah Falls Lodge. Come and enjoy our Executive Chef's new Winter Menu next to the historic stone fireplace in the Great Room, or enjoy a full view of the beautiful forest and peaks of the incredible Multnomah Falls in our atrium-style Falls dining room.
Located at the base of the tallest waterfall in Oregon, Multnomah Falls, guests will not be disappointed while thoroughly enjoying the scenic fall foliage through the tall windows at Trailside Grill.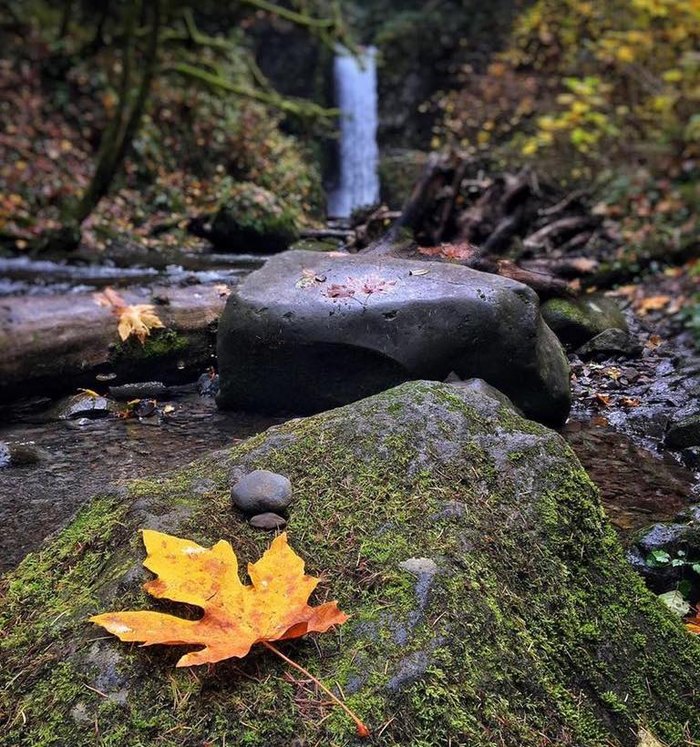 The restaurant offers fresh salads, salmon, fish & chips, mouthwatering burgers, and more. The Trailside Burger includes a juicy 1/3lbs natural beef patty, American cheese, lettuce, tomato, and your choice of 5 sauces on a delightfully soft toasted bun. The lodge also offers dining for breakfast and lunch, and a Sunday brunch as well.

Monday-Saturday breakfast is served until noon and lunch is offered from 11:00 a.m. to close. On Sunday's, brunch is served until 1:00 p.m. and lunch is offered from 1:00 p.m. to close.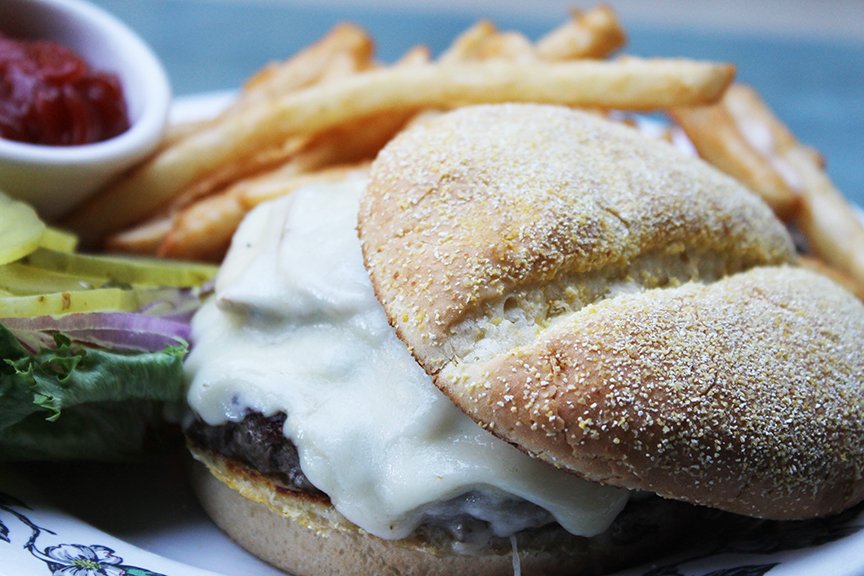 ‍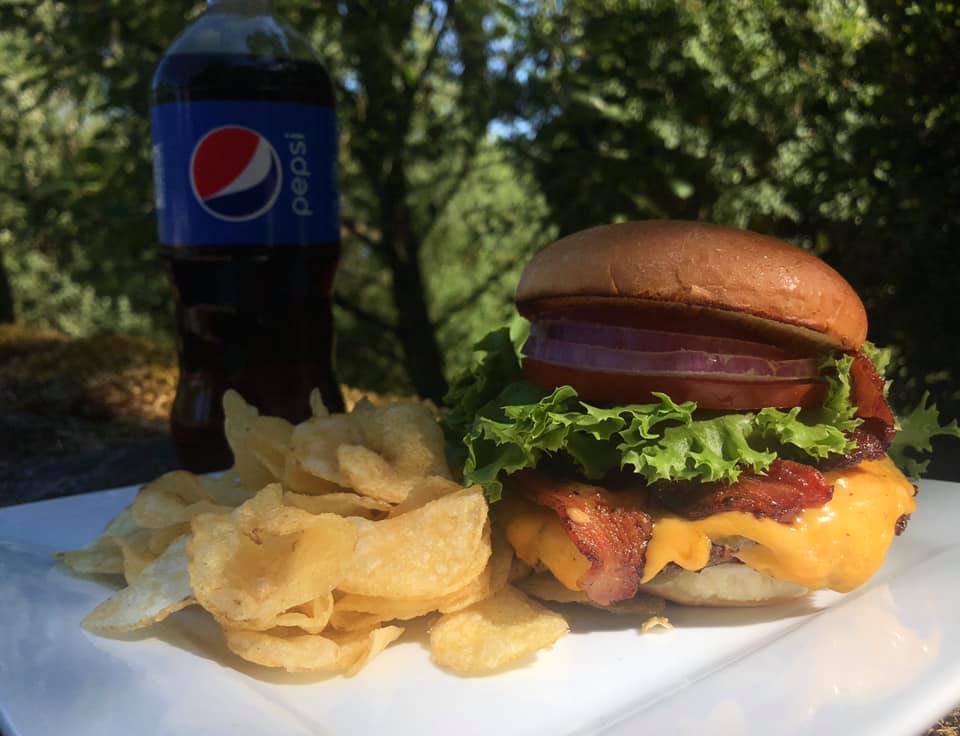 Right now you will want to make sure and check out their fall menu, featuring a pimento grilled cheese sandwich with a hearty bowl of creamy tomato soup.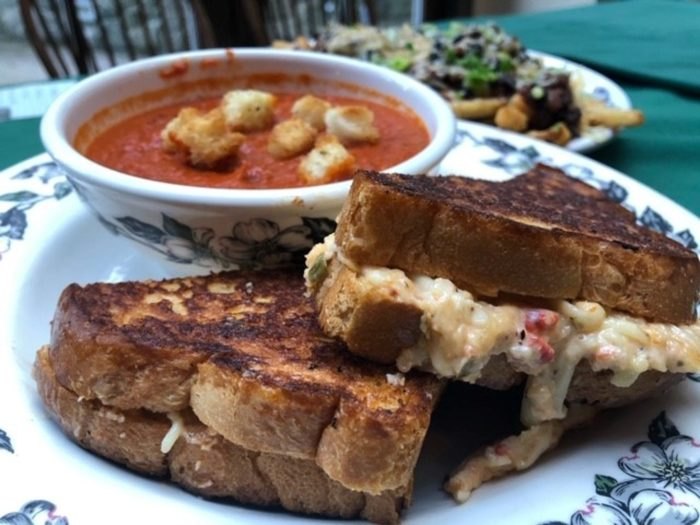 …And who could pass up a delicious Oregon Marionberry or Hazlenut milkshake?
And as always, Multnomah Falls is an exceptional place to explore. Right now is the perfect time for a hike. As Multnomah Falls is one of the most popular destinations in Oregon, make sure and visit mid-week or early in the morning if you are trying to beat the crowds.
Please be sure to consult this visitor's guide before planning your trip. Restaurant reservations are encouraged, but NOT required. Call (503) 695-2376 for Reservations. Head over to Multnomah Falls Lodge's website to check out the latest updates. You can also follow them via Facebook for more info.
Don't forget to check out our travel guide to learn more about Multnomah Falls.
Address: 53000 East, Historic Columbia River Hwy, Corbett, OR 97019, USA