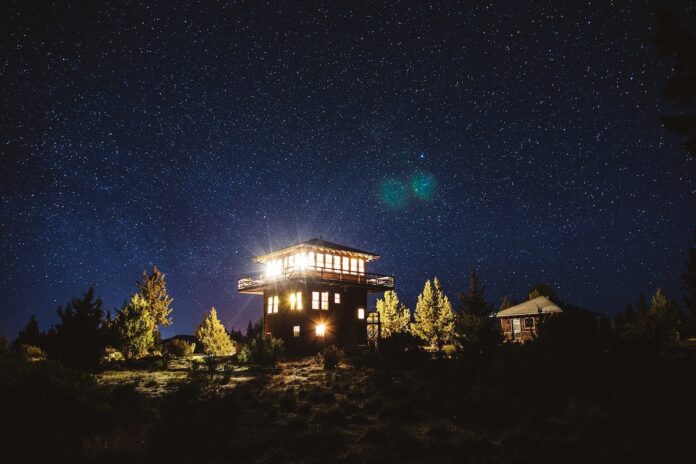 Step inside the realm of tranquility, where the beauty of nature melds seamlessly with the intimate warmth of a home, as you get acquainted with the remarkable Cozy Lookout Tower nestled in the heart of Central Oregon. This idyllic vacation retreat is not just a place to sleep but a destination in its own right. Frequented by a tight-knit community of ardent vacationers who find solace within its walls, the Cozy Lookout Tower offers a serene escape for those looking to recharge their senses, indulge in intimate conversations, and revel in the joys of cooking, reading, and playing games.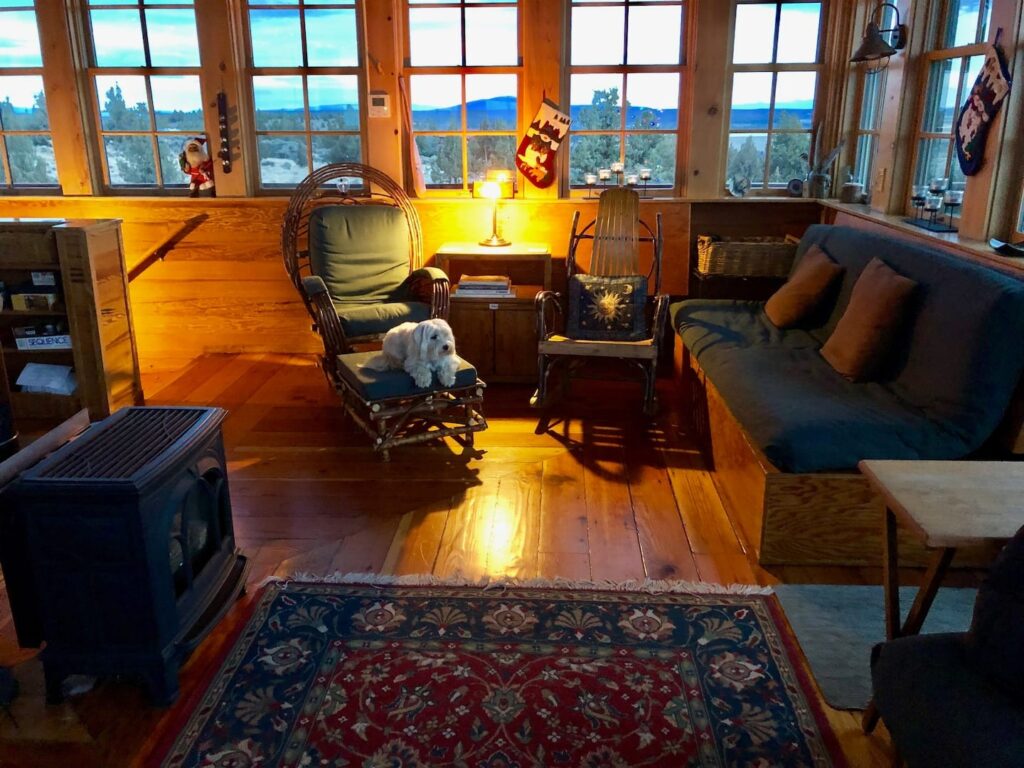 Sprawled over three stories and inspired by the design of a Forest Service fire lookout tower, the retreat's topmost level proffers an awe-inspiring 360-degree view of the 13 snow-capped Cascade Mountain peaks. This charming 20′ x 20′ square space doubles as a cozy living area and a kitchen, making it a delight for those who cherish their home comforts. Adding a cherry on top is the deck that completely envelopes the structure, decked with comfortable chairs and a gas BBQ – perfect for a delightful evening with loved ones.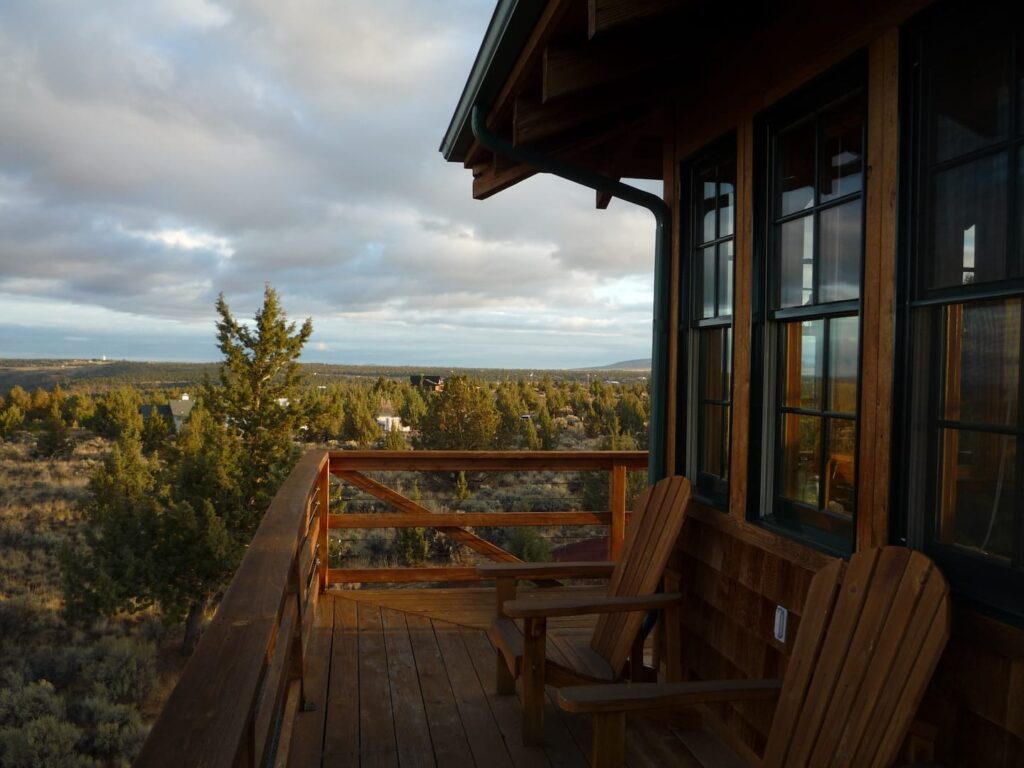 The Lookout Tower's unique design incorporates reclaimed lumber from a navy shipyard, lending an exquisite rustic feel to the place. The bedrooms and bathrooms are thoughtfully positioned on the middle and lower levels, promising utmost comfort and privacy.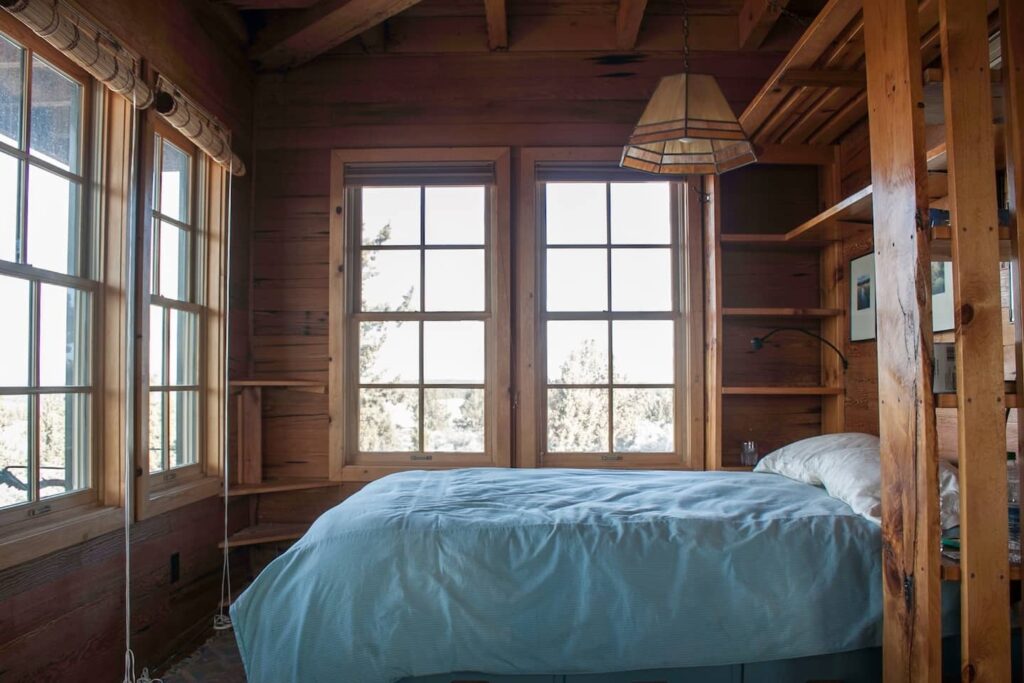 Nestled amidst five acres of pristine natural landscape within the Crooked River Ranch development, the Cozy Lookout Tower morphs into an ideal retreat for artists and writers seeking inspiration from nature's bounty.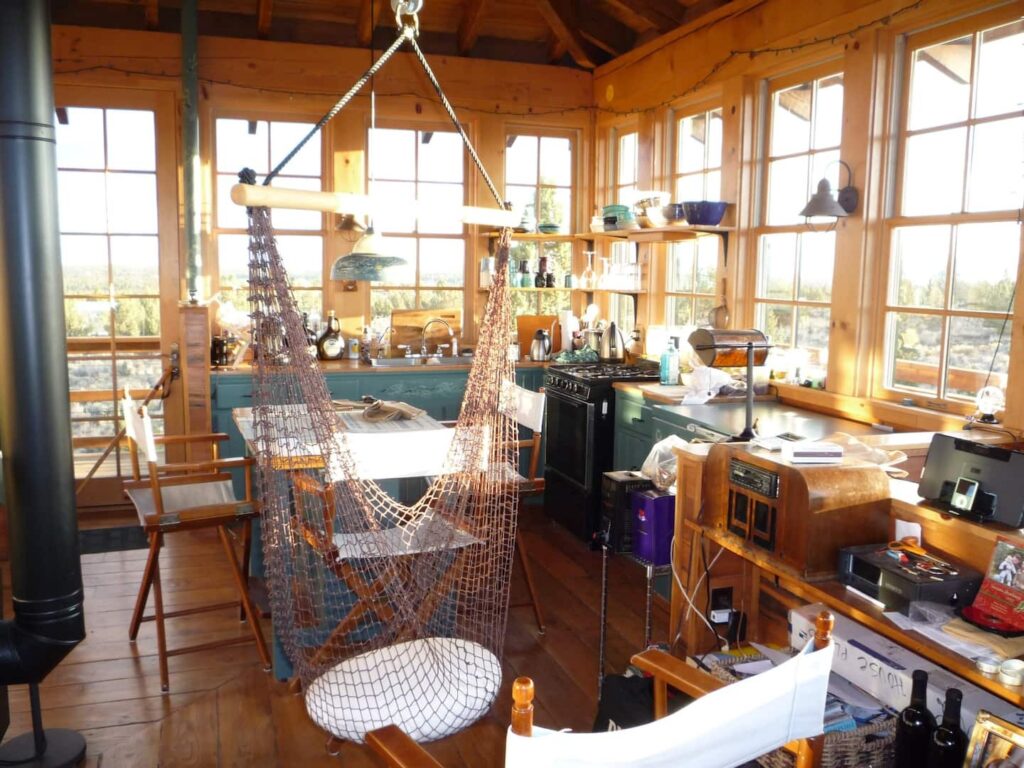 Modern-day amenities, including an outdoor hot tub and free wireless internet, are on offer, ensuring that you can enjoy the peace and quiet without feeling disconnected from the world. The location boasts a top-tier golf course and a community saltwater pool that you can luxuriate in during the warm summer months. The nearby Deschutes River is a treasure trove for fishing and rafting enthusiasts, while the Smith Rocks State Park across the highway beckons hikers and rock climbers for an adventure.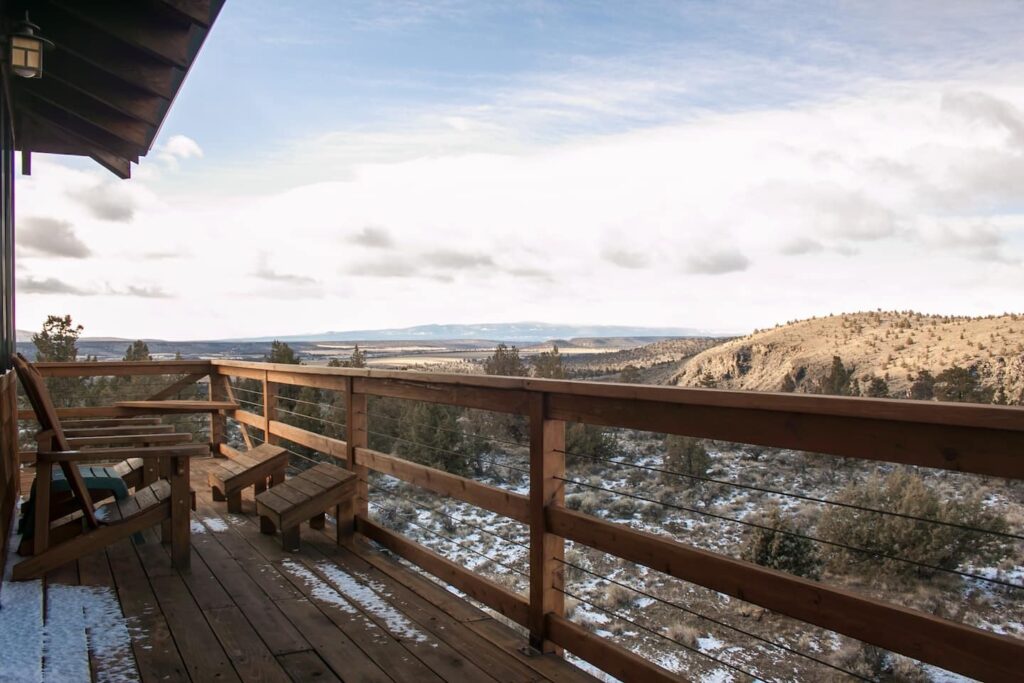 Winter sports aficionados will find a haven at Mt. Bachelor, situated just 50 miles away, while the convenience of a 3.5-hour drive from Portland International Airport and 20 minutes from Redmond, Oregon Airport makes the Cozy Lookout Tower an easily accessible vacation spot.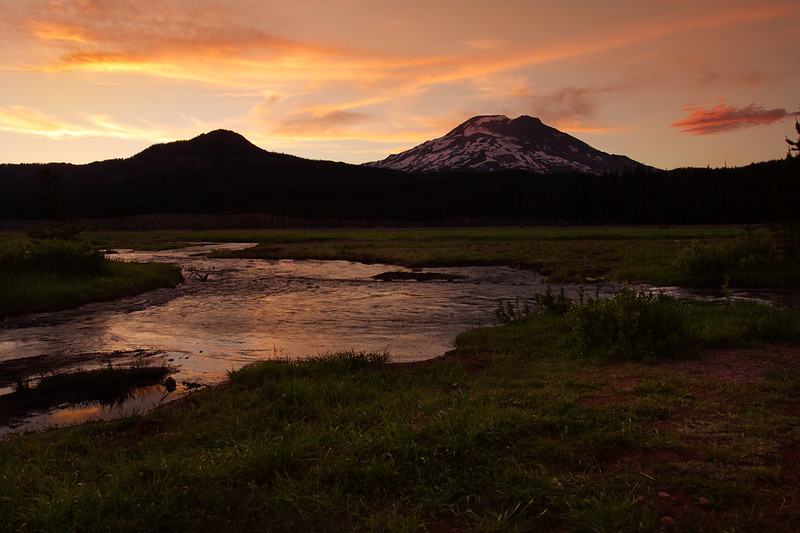 Just 15 minutes away lies the small town of Terrebonne, equipped with a grocery store and restaurant for your convenience. Drive another 5 miles south on Hwy 97 to reach Redmond, and 20 miles more lands you in Bend, where a myriad of enticing restaurants, theaters, and shopping destinations await you.
The beauty of the Cozy Lookout Tower extends beyond its physical boundaries, with the property spanning an expansive 5 acres. Guests will experience an unparalleled sense of solitude and exclusivity, as the adjacent 5-acre parcels are uninhabited, and the mountains and Deschutes river canyon are bordered by BLM land.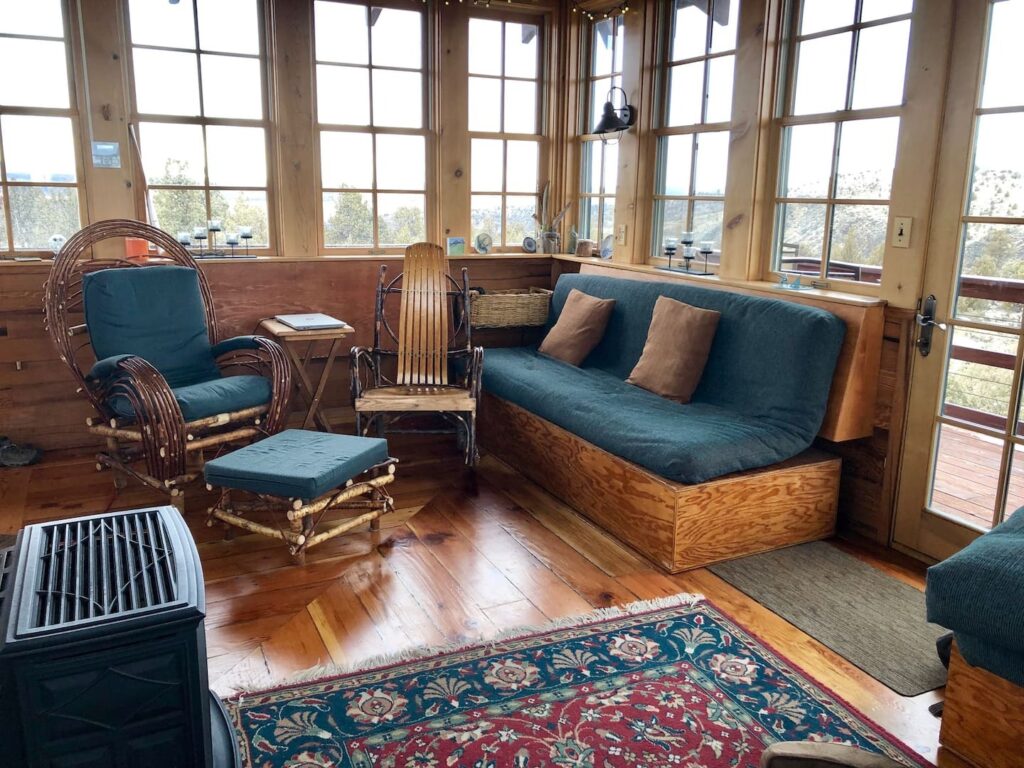 Travelers cruising in an RV will find the 30 amp RV electric hook-up on the side of our garage particularly useful. Although the Cozy Lookout Tower welcomes guests for a minimum of two nights, it is worth noting that holiday weekends require a three-night booking, including the Sunday before the Monday holiday.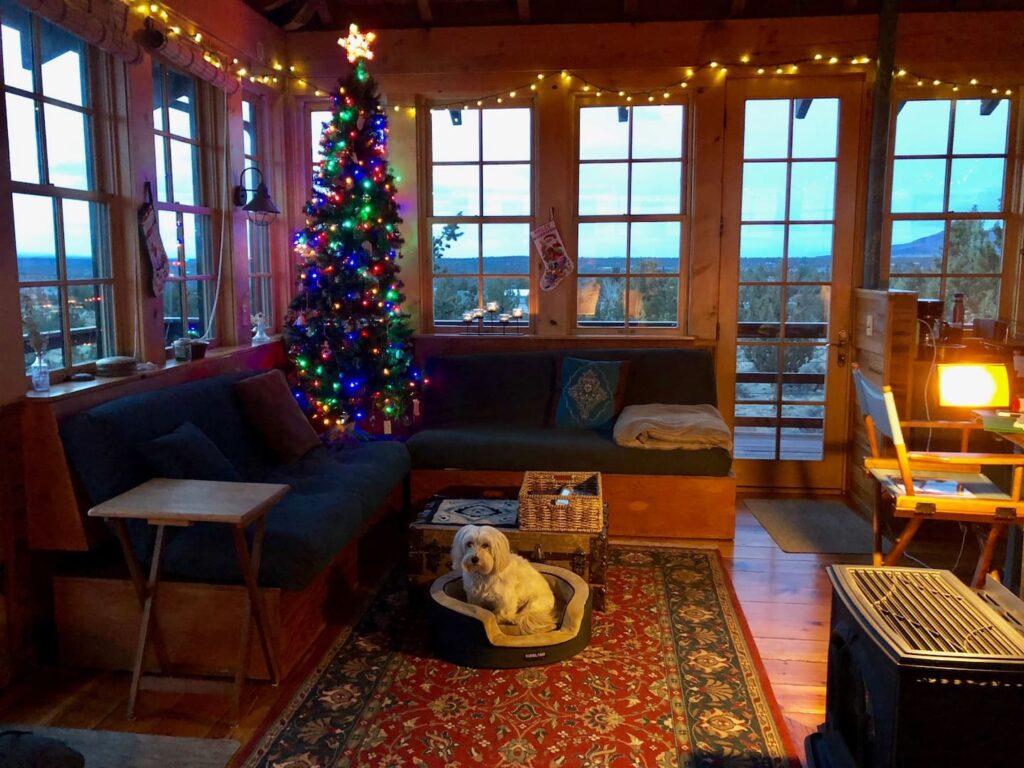 The Cozy Lookout Tower, a testament to Oregon's natural charm and tranquility, invites you to soak in its magic, rejuvenate, and create memories to cherish forever. It's more than just a stay; it's an experience of a lifetime.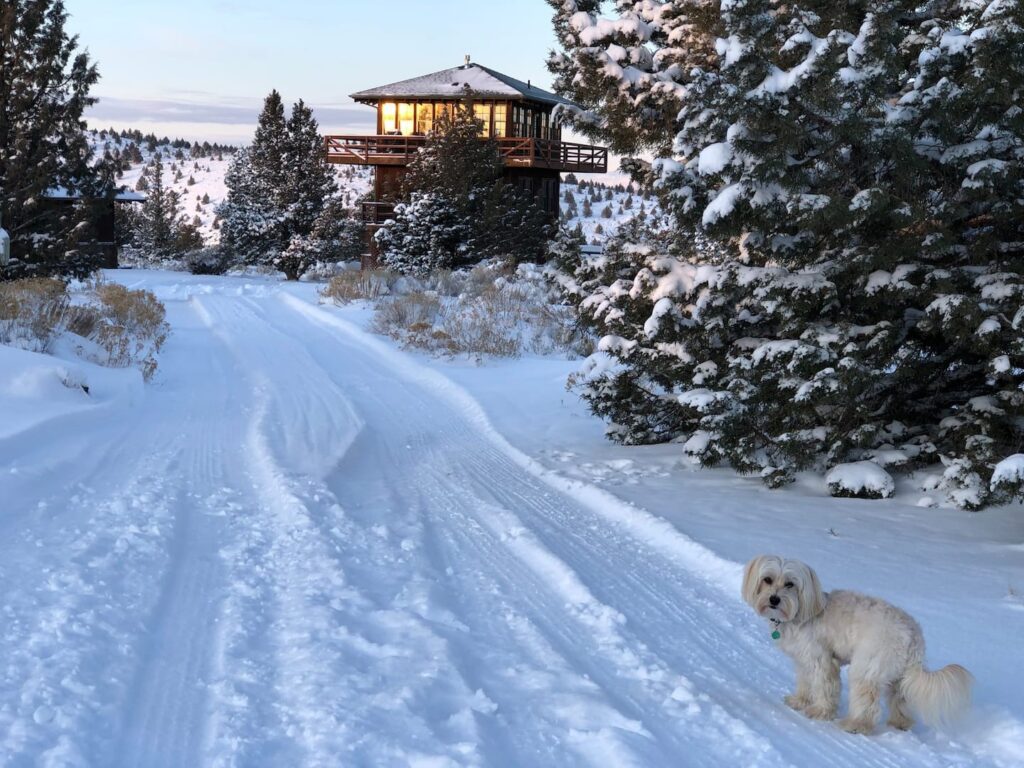 For those captivated by the allure of the Cozy Lookout Tower, your dream Oregonian retreat is just a click away. Head over to Airbnb to reserve your stay. Peruse the property's extensive gallery and take a virtual tour of this unique destination. Delve into the reviews left by past guests to gain a deeper understanding of what to expect from your stay. Don't hesitate to secure your booking — tranquil days and peaceful nights under the Oregon sky await you at the Cozy Lookout Tower. Transform the vision of your dream vacation into reality, today.