I love visiting Ashland in Southern Oregon. This little town has a hip vibe, a cool art scene, beautiful parks, cute boutique shops, and great restaurants. Oh, and let's not forget the famous Oregon Shakespeare Festival that happens every year! We've got you covered with our guide to the best fun things to do in Ashland Oregon to help plan your next trip.
Ranked among the top 10 of "The 100 Best Small Art Towns in America," this vibrant city overflows with award-winning galleries, captivating theaters, and mouthwatering restaurants. Enveloped by the majestic Siskiyou and Cascade mountain ranges, Ashland invites you to embrace thrilling outdoor adventures both within the city limits and beyond.
Fun Things To Do In Ashland Oregon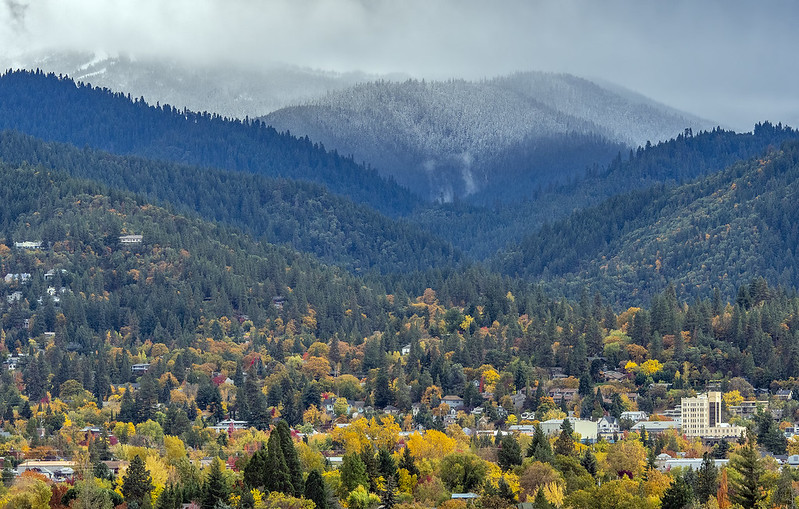 Located in Jackson County, Ashland is home to Southern Oregon University, great wineries, gorgeous walkable parks, and the Oregon Shakespeare Festival.
There's enough to do here that you'll want to come back again and again.
This small town has a population of just under 22,000 people, and was originally called Ashland Mills. After gold was discovered nearby in 1851, a small community of settlers began arriving in 1852.
It was during the 1860's and 1870's when Ashland moved beyond a gold mining community and started building churches, schools and businesses.
Performance Arts In Ashland, Oregon
Attend the Oregon Shakespeare Festival In Ashland Oregon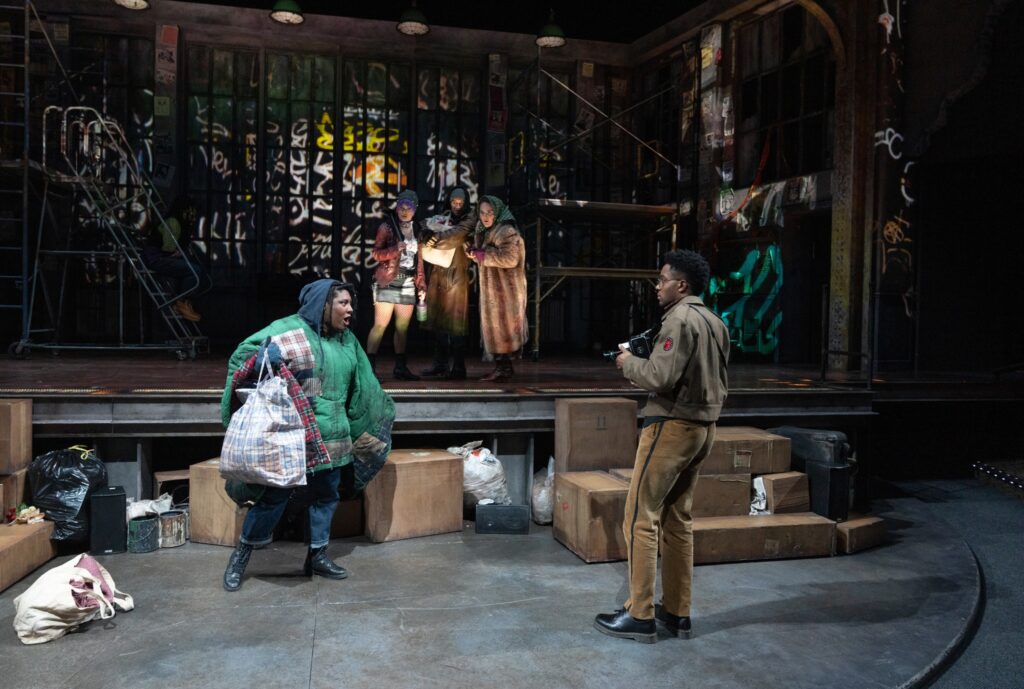 The Oregon Shakespeare Festival was founded in 1935 as part of the Chautauqua movement. This movement aimed to bring both entertainment and culture to rural areas in the US.
A Chautauqua building was built in Ashland Oregon in 1893 and then enlarged in 1905 to accommodate more people since people were traveling from all over Northern California and Southern Oregon to attend performances here.
The Chautauqua movement slowed and then died out in the 1920's and the old building from the movement was torn down, though some of the cement walls and Elizabethan stage remained.
Later on a young teacher from the Southern Oregon Normal School (today we call it Southern Oregon University), proposed a festival at the old Chautauqua site.
With only $400 from the city to get the festival going, a construction crew built a stage and improved the site.
In 1935, the first year of the Oregon Shakespeare Festival, performers put on the Twelfth Night and The Merchant Of Venice.
Tickets back then cost between twenty five cents and a dollar.
The Oregon Shakespeare Festival Today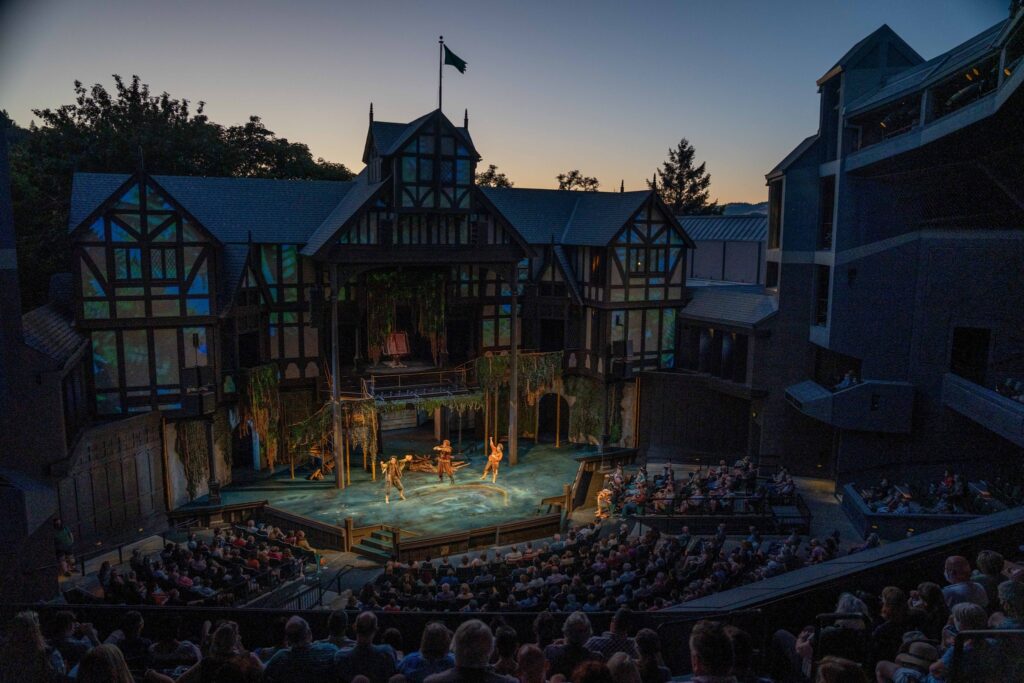 Today, the Oregon Shakespeare Festival continues to draw in people from all over the Pacific Northwest and seeks to expand public access to the, "transformational power of art and art making."
Each year, the company at the Oregon Shakespeare Festival puts on up to eight musicals and plays, from the classics to new and contemporary work.
Oregon Shakespeare Festival | See what performances are in production this season and get your tickets.
Enjoy The Food And Performance At Oregon Cabaret Theatre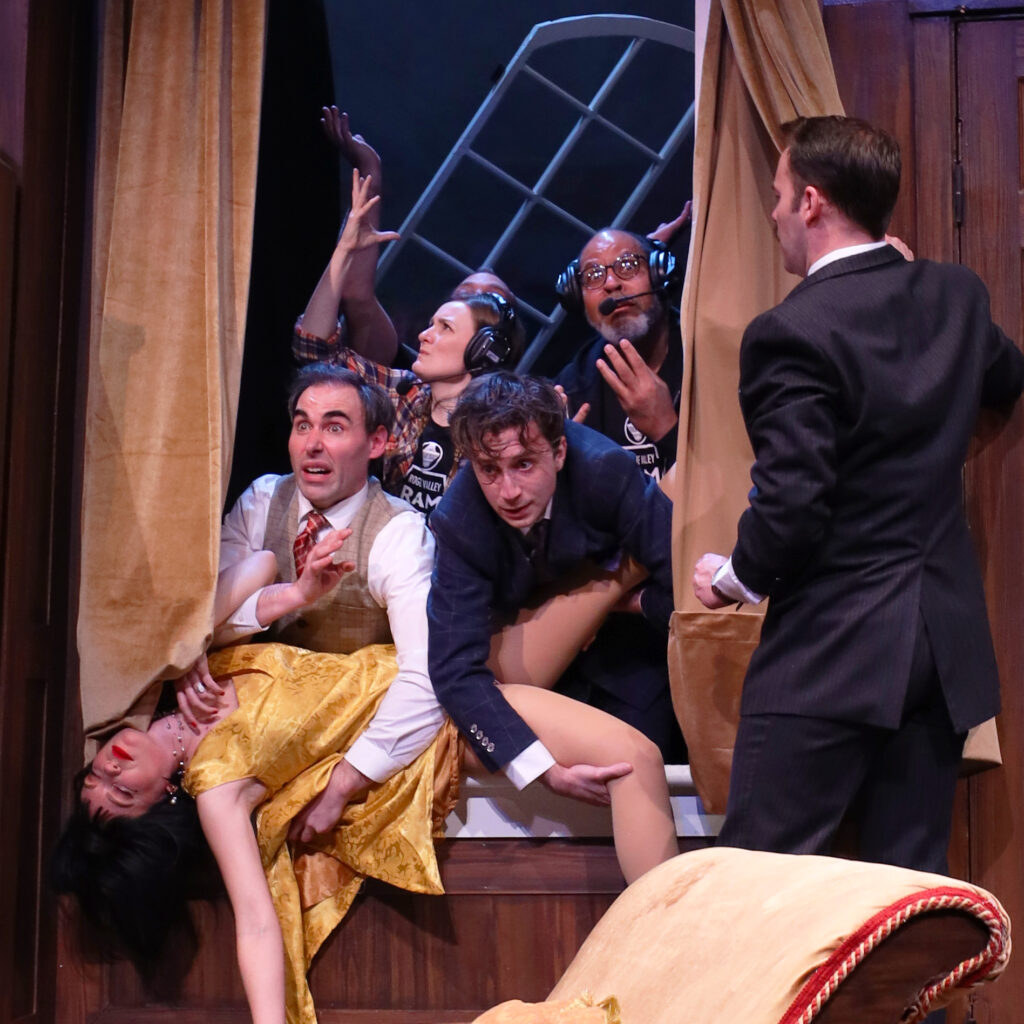 We love the performing arts scene in Ashland Oregon. Just a block from the Shakespeare Festival is the Oregon Cabaret Theater.
The Oregon Cabaret Theatre puts on musicals, whodunits, and comedies while guests enjoy fine dining.
The theatre is located in a remodeled church and has a lot of charm.
Get Outdoors Near Ashland, Oregon | Outdoor Activities For The Family And Adventure
There are so many awesome outdoor activities in the Ashland Oregon area.
Day trips include the nearby Crater Lake National Park in the Cascade Mountains and the gorgeous Cascade Siskiyou National Monument, which you can check out in our full guide.
Cool Off In The Rogue River
We love the Rogue River for boating, fishing, swimming, white water rafting, and the many hiking trails that take hikers and bikers along it's banks.
The Rogue River is one of the eight original rivers that was protected by the Wild And Scenic Rivers act in 1968.
To experience the Rogue River, we recommend going on a guided white water rafting trip, checking out TouVelle State Recreation Site 31 minutes north of Ashland, taking a jet boat tour of the Rogue 46 minutes north of Ashland Oregon, and trying your hand at gold panning. There are also many other great sites to explore along the Rogue.
Bluebird Park In Ashland Oregon
If you're looking for a dog friendly park, we love Bluebird Park in Ashland.
This is a small park (only a quarter of an acre) but it's located right on Ashland Creek and is a peaceful spot to sit and relax.
Mount Ashland Ski Area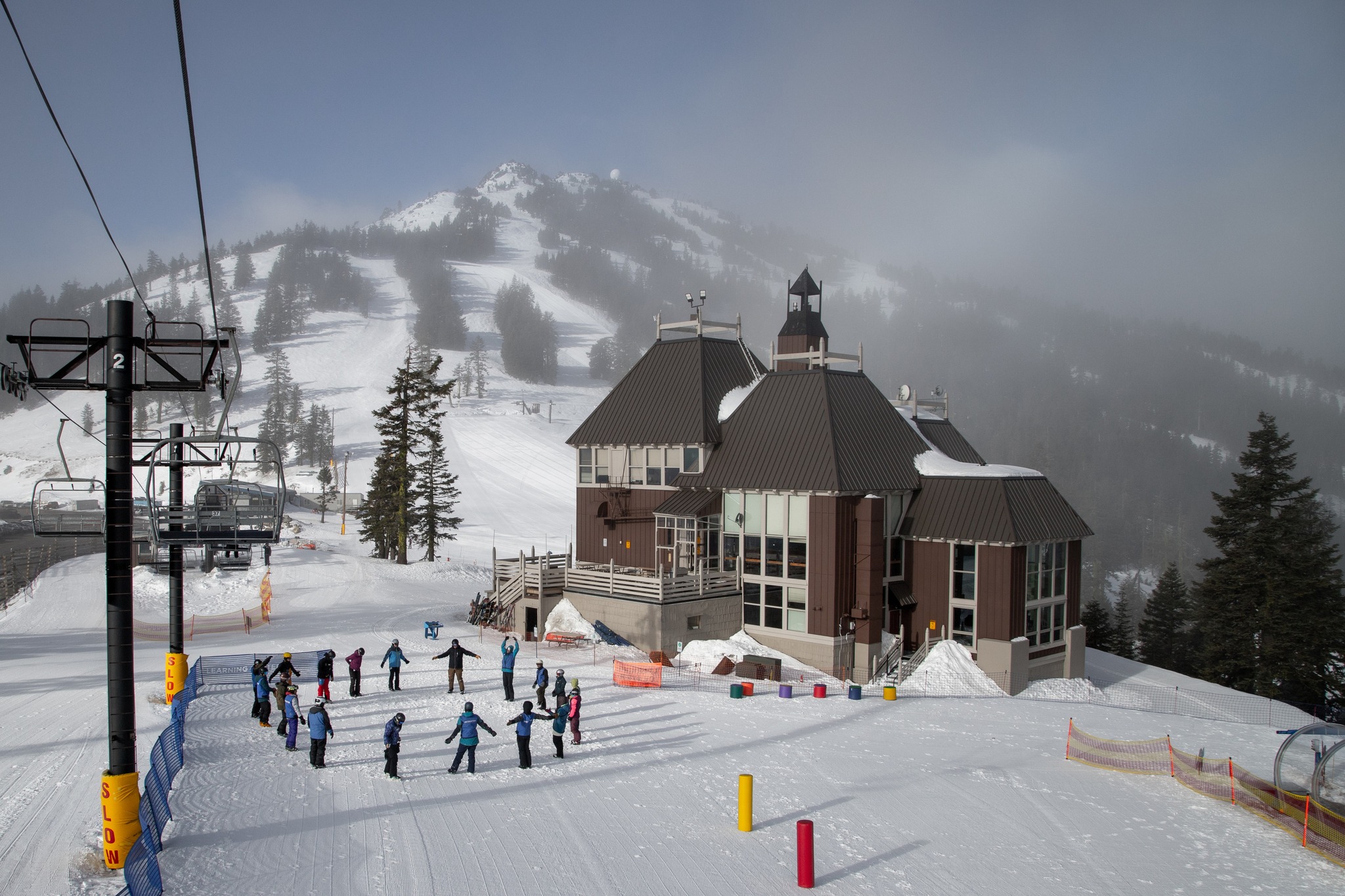 Mount Ashland Ski Area has been open since 1964 and is a local favorite spot to get an adrenaline rush.
A 40 minute drive from Ashland Oregon, Mount Ashland Ski Area is just north of the California border.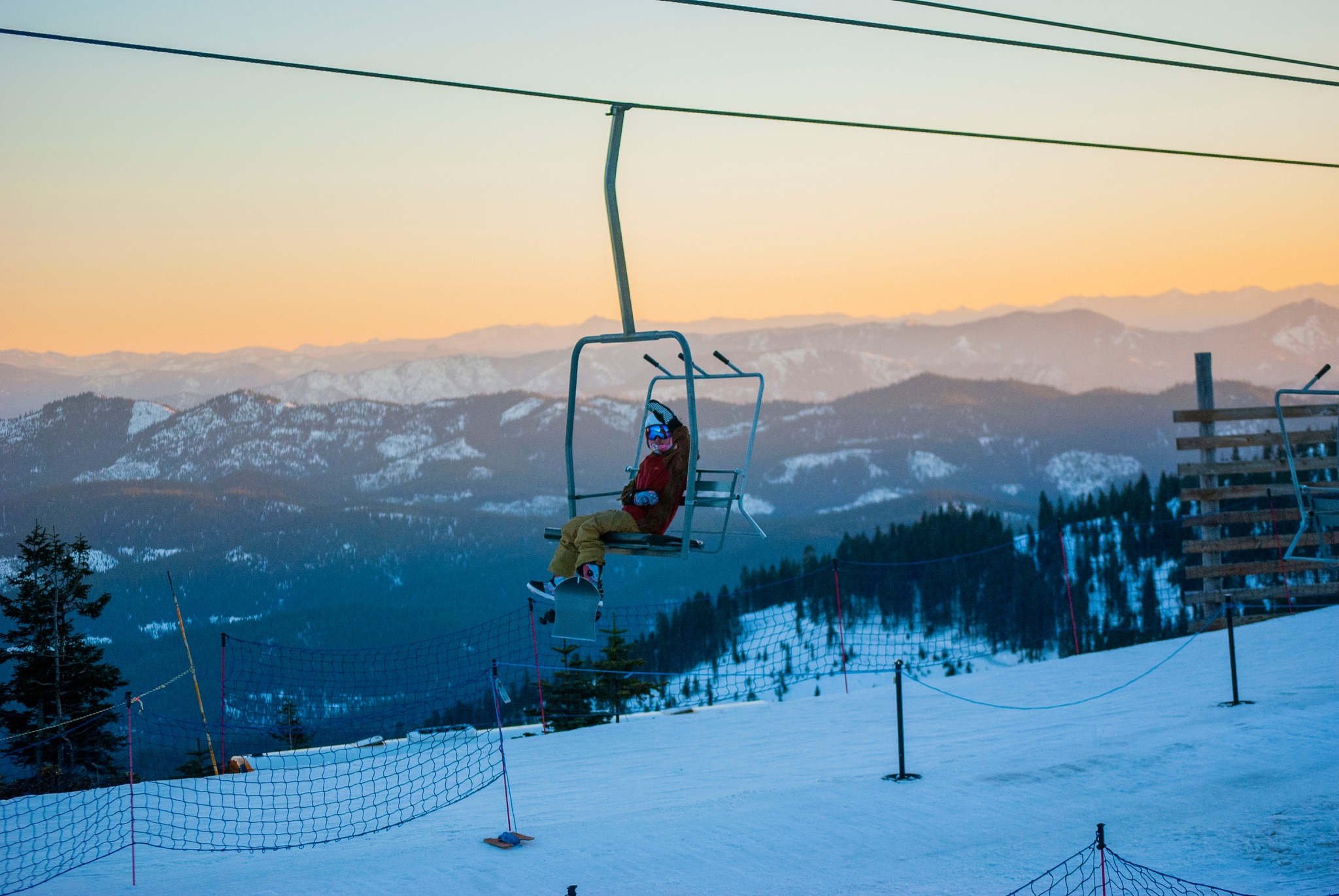 The resort features steep terrain, over 40 ski runs, tree glades, and 240 acres of skiable terrain.
Another popular activity at Mount Ashland is night skiing.
If you don't have your own ski and snowboard gear, Mount Ashland offers rentals as well as dining options.
You may also like our guide to the 11 Top Ski Resorts In Oregon.
Exploring Lithia Park Is One Of The Top Things To Do In Ashland Oregon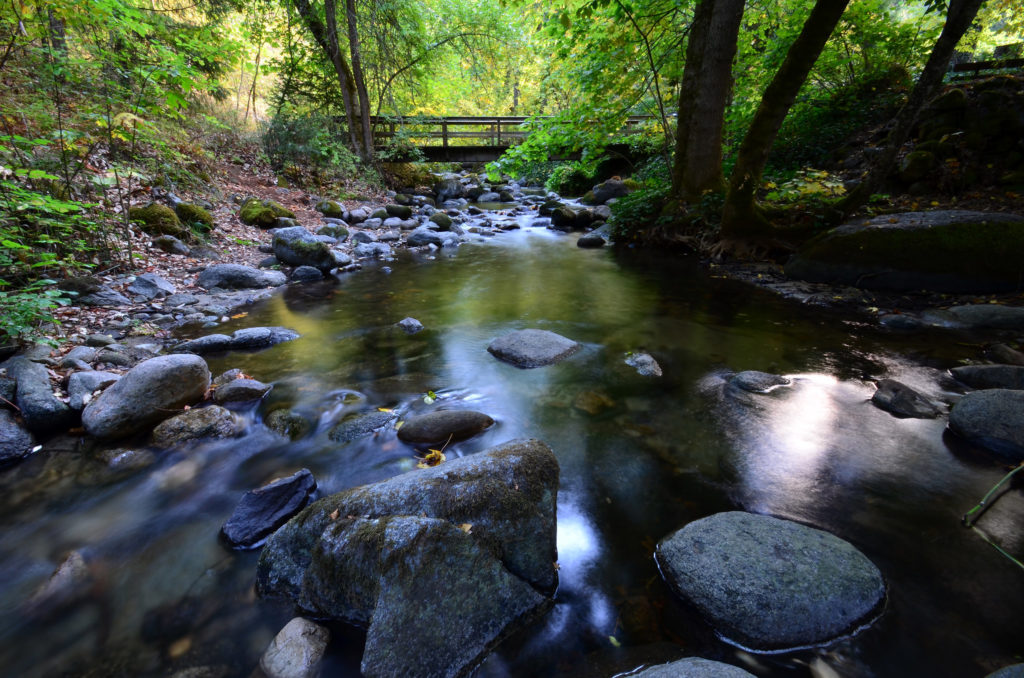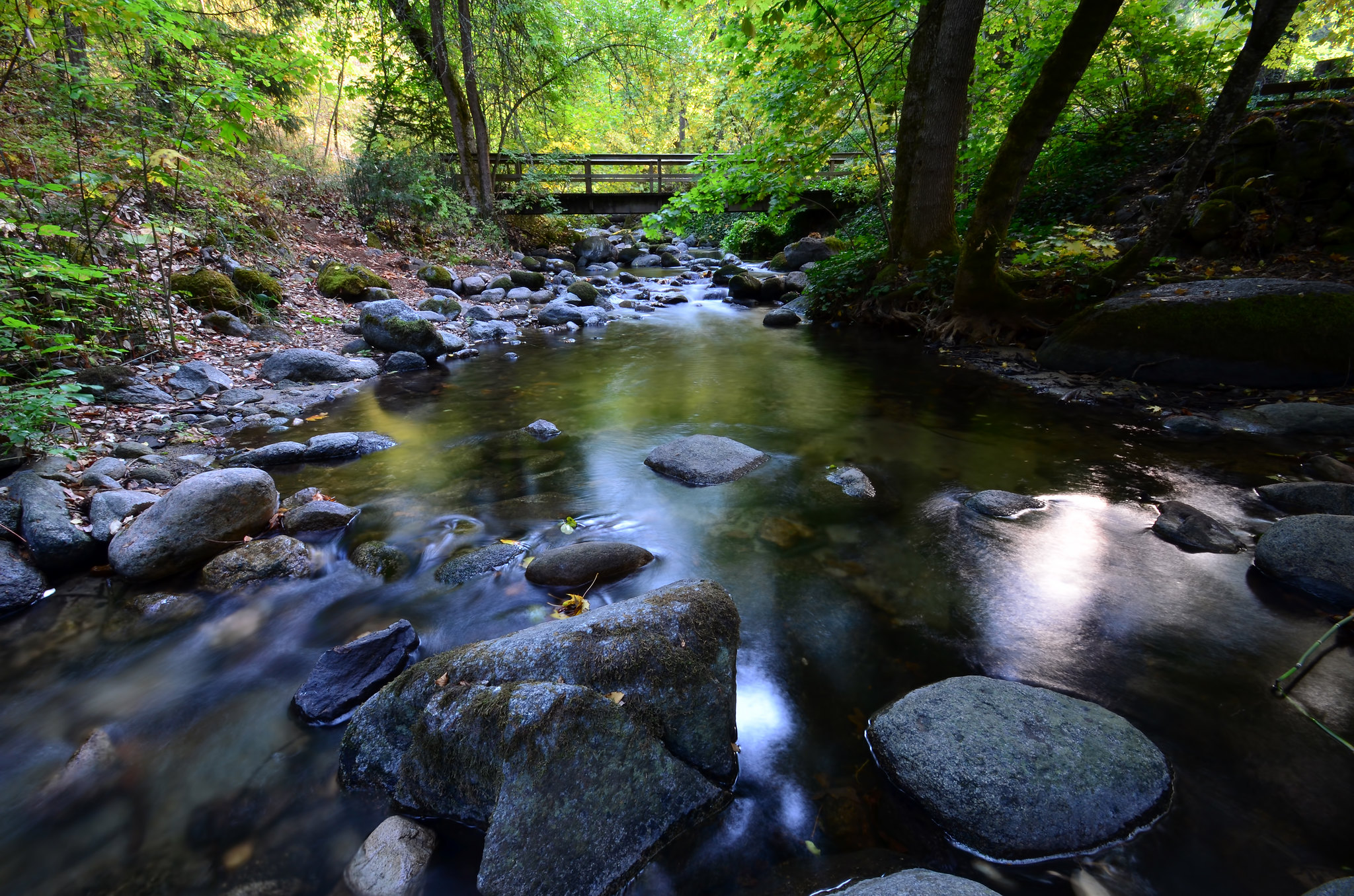 I absolutely love Lithia Park. This park is long and skinny, features a play area, a river with little swimming holes, and play structures for kids.
There are several grassy areas you'll find people lounging on which are great for having a picnic or playing catch with a frisbee.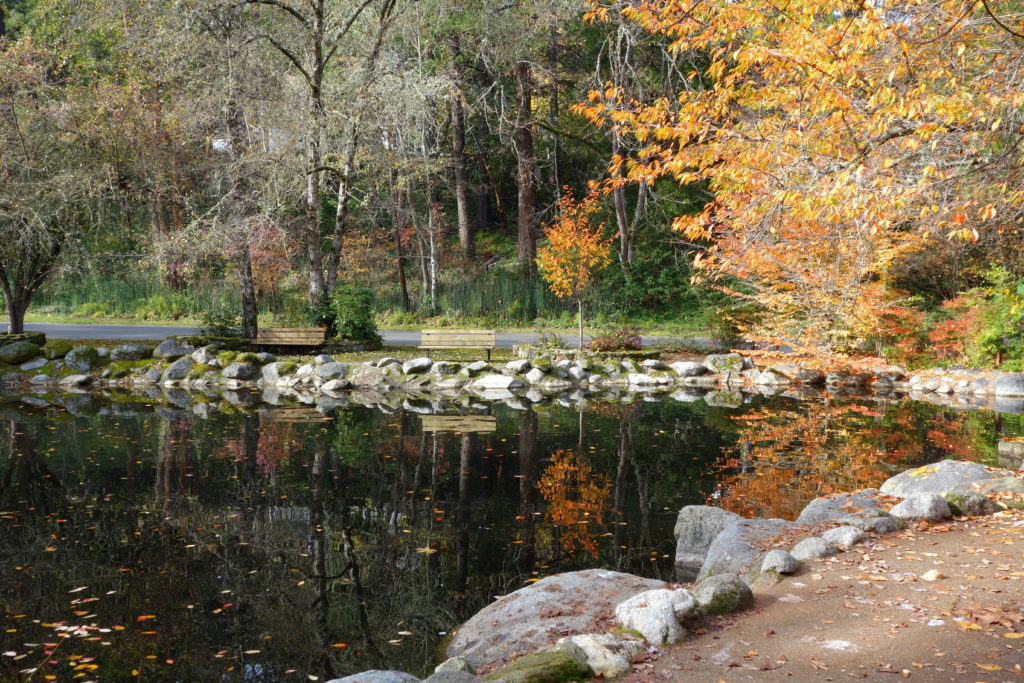 If you'd like to have a picnic, Lithia Park has picnic tables scattered throughout the park and along the Lithia Park trails.
The duck ponds are a great place to sit and relax.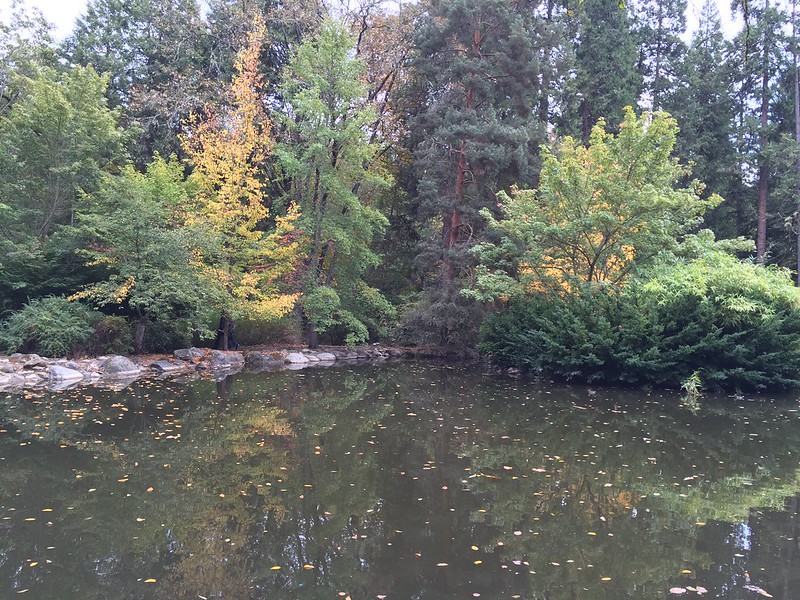 While it's not recommended that you feed the wildlife at the duck ponds, it's still a fun spot for families to visit and watch the ducks enjoying a nice day.
Lithia Park Trails
Taking one of the hiking trails at Lithia Park is a great way to take in the natural beauty of this gorgeous spot in Ashland Oregon.
Most of the hiking trails at Lithia park are paved, taking visitors back and forth across Ashland Creek to areas with picnic tables and winding through shaded areas and grassy lawns.
The entire area is gorgeous and bursting with natural beauty.
I love going in the summer, but you should consider going in fall when the leaves change color and show off the natural beauty of autumn.
Check Out The Trails | Lithia Park Trail Map
Japanese Garden At Lithia Park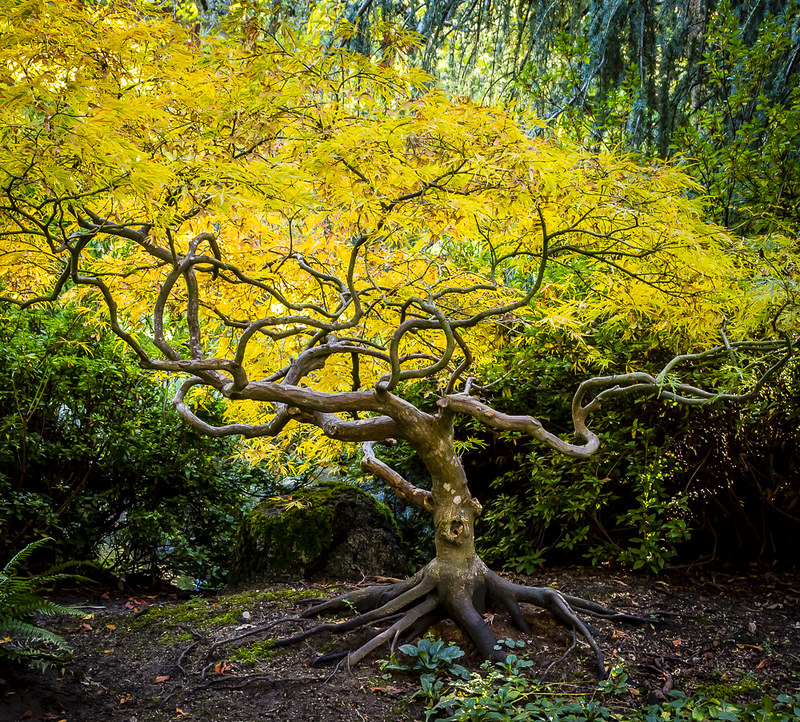 If you want a spot to meditate, the Japanese Garden at Lithia Park is the perfect spot.
You'll find this garden above the Butler Memorial Bandshell by the pickleball courts at Lithia Park.
Parking And Admission For The Japanese Garden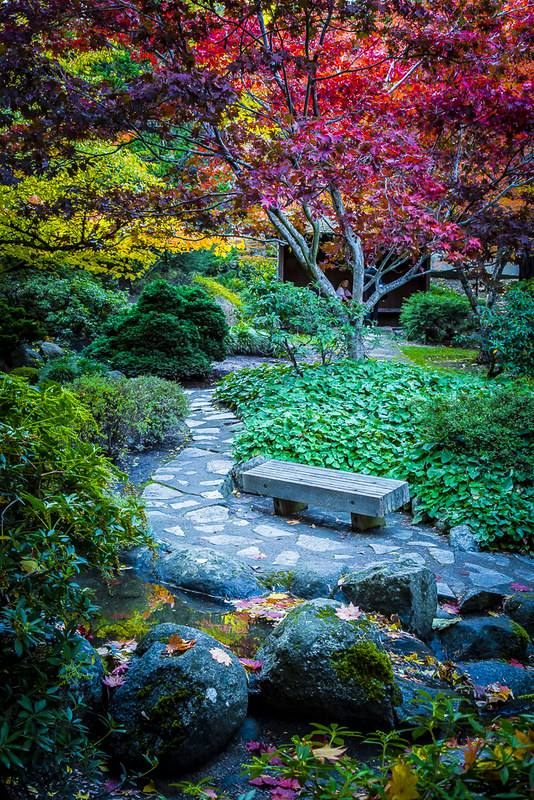 We recommend parking by the upper duck pond.
Admission to the garden is free, though you can make donations online to help ensure the garden is maintained and remains open in the future.
Emigrant Lake, Ashland Oregon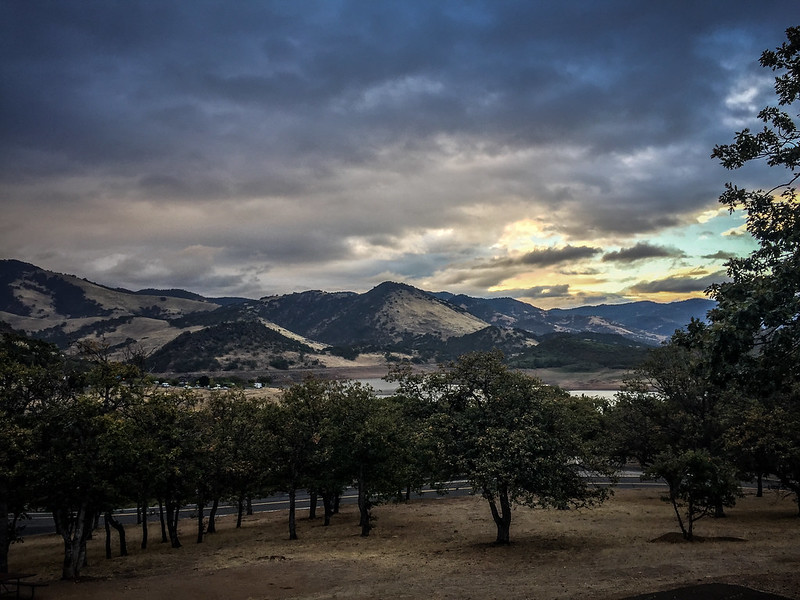 You'll find Emigrant Lake five miles southeast of Ashland.
Emigrant Lake is a reservoir with a lot of recreational opportunities such as camping and swimming.
Camping At Emigrant Lake
If you'd like to camp at Emigrant Lake you'll need to make reservations online or by phone.
You can camp at the Point RV Park at Emigrant Lake or the Oak Slope Campground at Emigrant Lake.
Swimming At Emigrant Lake
Boat ramps and swim areas at Emigrant Lake are open from dawn to dusk.
The lake itself is 1,467 acres and has 12 miles of lakefront for visitors to enjoy.
Many people hold reunions, weddings and parties at Emigrant Lake and enjoy the 280 foot twin water slides.
It's exhilarating to shoot down the water slides with your friends and into the cooling waters of the lake.
Fishing At Emigrant Lake
Emigrant Lake has great opportunities to fish for bass, trout, and crappie.
Fishers should be advised that the state suggests people limit the amount of fish they consume from this lake due to high levels of mercury.
North Mountain Park In Ashland Oregon
North Mountain Park is a great spot to go with your family.
This park has softball and baseball fields, soccer fields, a playground and a wildlife habitat area.
If you want to go on a picnic, North Mountain Park also has a covered picnic area.
Pay A Visit To North Mountain Park Nature Centre
One of the really cool things about North Mountain Park is the nature center.
While one half of the park is dedicated to sports and play areas, the other half is wooded wetland, which provides for a peaceful walking experience.
The nature center at North Mountain Park features signs telling you about the plants and culture of native peoples in the area, so it's also an educational experience.
You can also walk down to the banks of Bear Creek and find a peaceful spot to sit and read to the sounds of running water.
Things To Do In Ashland Oregon - Mountain Biking
There are a lot of great mountain biking opportunities in and around Ashland (especially on Mount Ashland).
You can check out a map of trails good for mountain biking, and learn about other cycling opportunities in Ashland.
If you want to rent a mountain bike, check out Ashland Mountain Adventures.
They also have a bike shuttle you can book a spot on that will get you out to the best trails so you can spend the day riding.
Ashland Oregon Wineries
In 2016 Wine Enthusiast Magazine voted Ashland as the top 10 best wine destinations in the world.
The foothills around Ashland are covered in wineries that offer up hand crafted wine and stunning views.
Grizzly Peak Winery, Ashland Oregon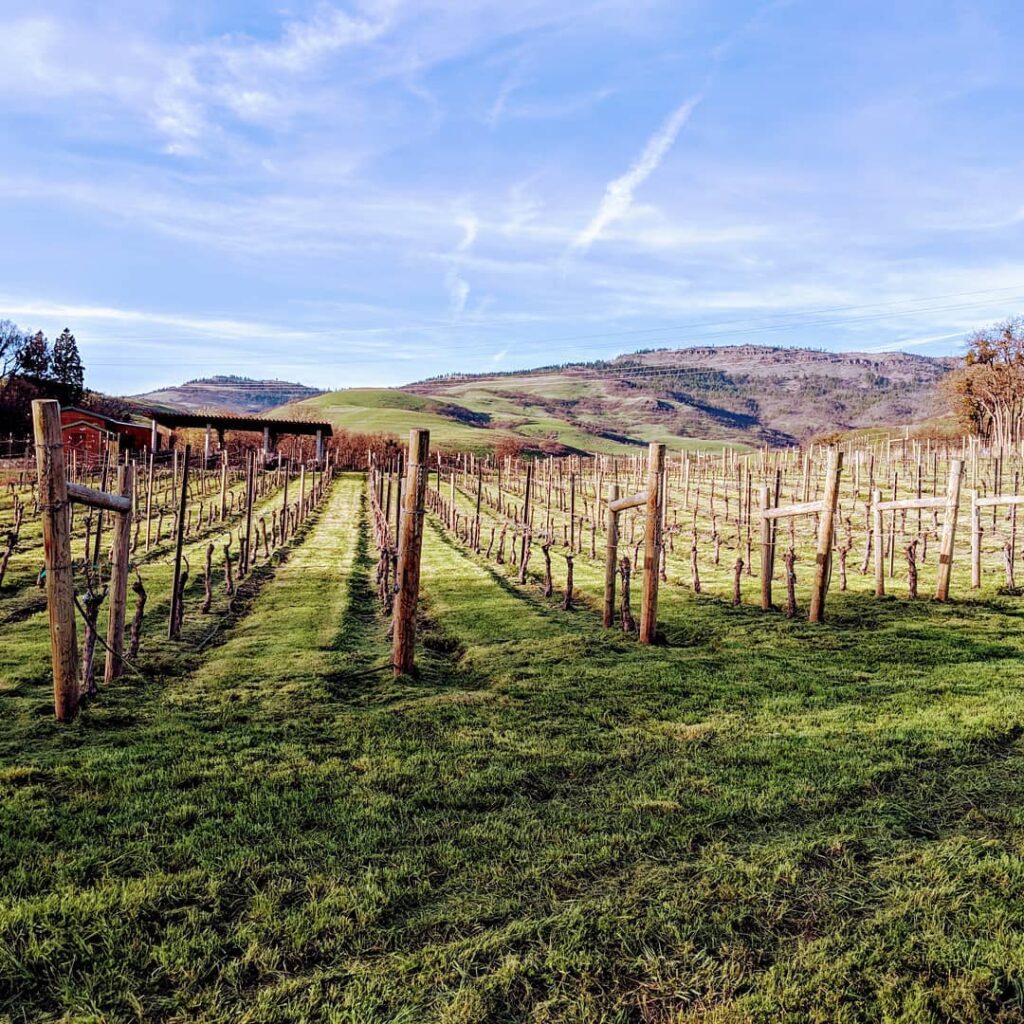 A few minutes from Ashland up on the slopes of Grizzly Peak is where you'll find Grizzly Peak Winery.
This winery produces hand crafted wines from grapes grown in their vineyards.
There are frequent events hosted at Grizzly Peak Winery, from live music to presentations, which on top of the views and hand crafted wine makes this a must visit spot.
Taste Great Wine At Weisinger Family Winery
Weisinger Family Winery has been going strong since 1988.
Focusing on small lot artisan wines made from fruit harvested in local vineyards, Weisinger Family Winery is a local favorite.
Weisinger Family Winery offers up outdoor seating and stunning views of the surrounding hills, as well as live music and food pairings.
There's also a vineyard cottage at Weisinger Family Winery if you want to stay the night.
Learn more and book your stay, or book a visit for the tasting room.
Long Walk Vineyard In Ashland Oregon
We love the views and the tasting room at the Long Walk Vineyard! The tasting room is built from repurposed wood from a barn from the Long Walk Vineyard property.
It has a wrap around deck and a stunning patios, not to mention awesome views of the Rogue Valley!
Check out the amazing wine list at Long Walk Vineyard to get a feel for everything on offer.
Sample Exquisite Wines At Dana Campbell Vineyards
Dana Campbell Vineyards
Nestled in the foothills of Southern Oregon, Dana Campbell Vineyards produces high quality wines from grapes grown on the estate.
The view from the tasting room at Dana Campbell Vineyards is stunning, and the atmosphere is relaxed.
Dana Campbell Vineyards is the perfect spot to add to your southern Oregon Rogue Valley wine tasting itinerary.
Learn more about the tasting room and book a private tour and tasting experience, where you can learn all about the wine making process from vine to bottle at Long Walk Vineyards.
Irvine Roberts Vineyards In The Rogue Valley
Irvine Roberts Vineyards is probably our favorite winery near Ashland to taste wine and take in the views.
While most wineries in the area produce warm region wine varieties, Irvine Roberts Vineyards focuses on cool climate wine varieties.
Roberts Vineyards Planted their first grapes in 2007, and has since been a favorite winery for locals and visitors alike.
Visit Irvine Roberts Vineyards, and book your tasting exploration so you can check out the view from Irvine Roberts Vineyards.
Explore The Ashland Art Scene
Stop by Ashland Artisan Emporium
This emporium is a year round marketplace filled with art treasures and antiques.
We suggest starting your trip to Ashland with a walk in Lithia Park, followed by a visit to the Artisan Emporium, and then a visit to one of Ashland's wineries to relax and take in the views.
Ashland Art Works
Another great spot to check out Ashland's art scene is the Ashland Art Works.
This spot shows off the work of 17 local artists.
At this non profit art gallery you'll find paintings with a wide variety of mediums, including oil, watercolor and acrylic.
You'll also be able to see pottery, fiber arts, woodwork, jewelry, hand painted silk scarves, glass art, and so much more.
Explore The World Of Arts At Schneider Museum Of Art In The Rogue Valley
The Art Schneider Museum Of Art is another must visit hot spot in Ashland.
This museum is part of Southern Oregon University's Oregon Center For The Arts and promotes understanding visual arts in a liberal arts education.
The Schneider Museum Of Art At Southern Oregon University has a permanent art collection that focuses on artworks created on paper, though it also has ceramics, Native American baskets, and other art pieces visitors can explore.
The Schneider Museum Of Art is free to the public and is a great place to go with your family.
Art Schneider Museum | Visit And Get More Information
Go On A Self Guided Tour Of Public Art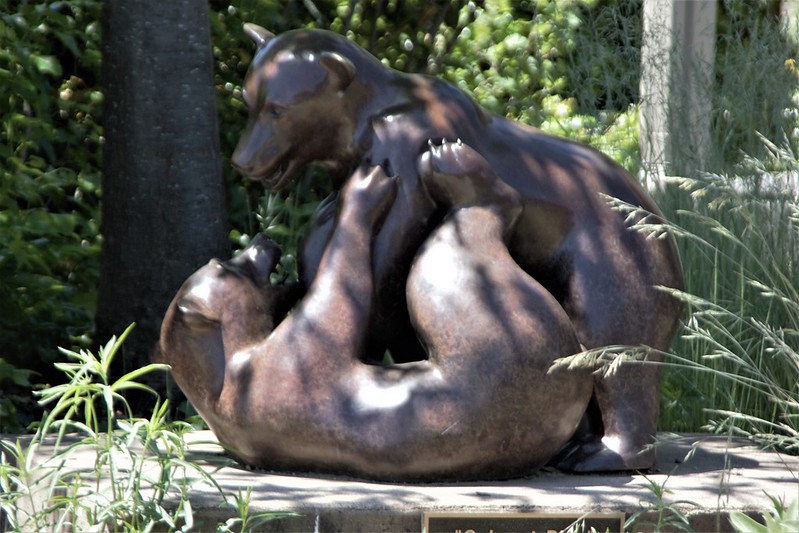 The city of Ashland is alive with art, sculptures and creativity.
You can go on a self guided walking tour of murals, statues, and other artistic expressions with the Ashland Public Art Collection Map.
Escape Ashland
Ashland's best escape room, Escape Ashland, is a unique experience that shows off the historical and cultural heritage of the area.
From 'The Ramblin' Rogue Saloon' to 'The Scottish Play', visitors will be challenged and intrigued by the mystery of how to escape at Escape Ashland.
Visit ScienceWorks Hands On Museum
The ScienceWorks Hands On Museum and interactive science center has been a favorite of children and families since 2002.
When we say hands on, we mean it.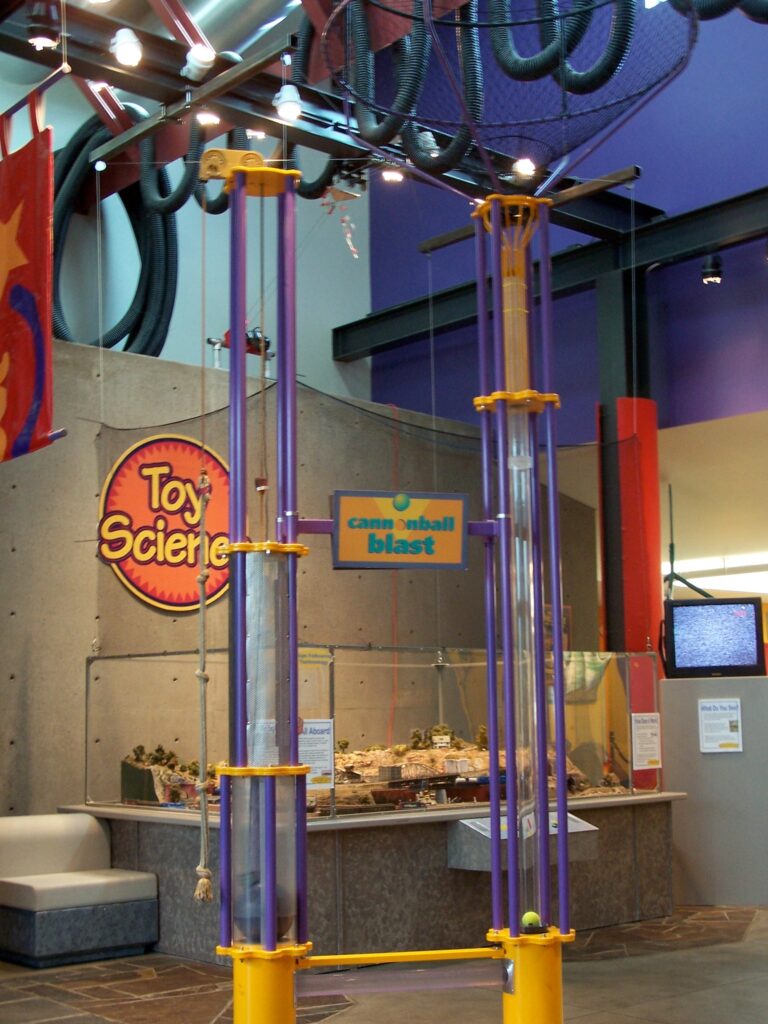 There are over 100 exhibits to explore at the ScienceWorks Hands On Museum, and all of them are engineered to give kids a hands on approach to science, inspire a love of science, and give them a memorable experience.
Wander Around Downtown Ashland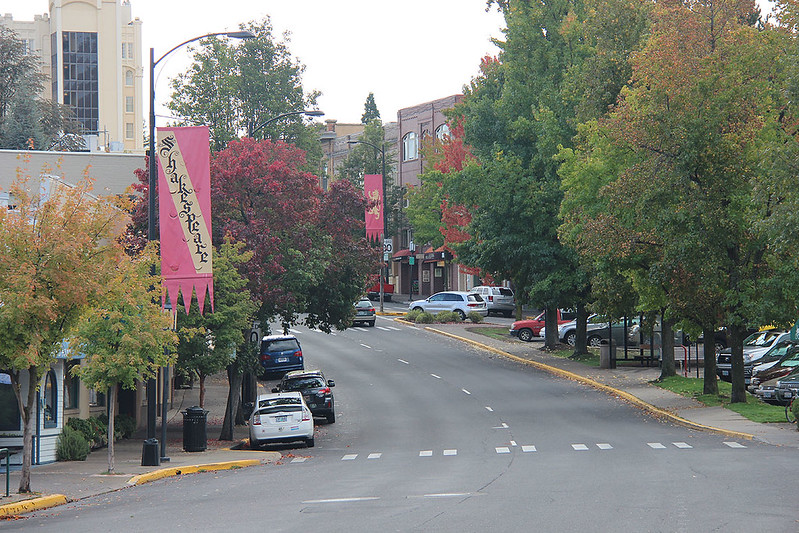 Live music can often be heard in downtown Ashland near Lithia Park where street performers put on lively performances.
There's great shopping, food, and entertainment, making downtown Ashland an interesting place to hang out and explore.
Where To Stay In Ashland Oregon
The Peerless Hotel And Peerless Hotel Restaurant In Ashland Oregon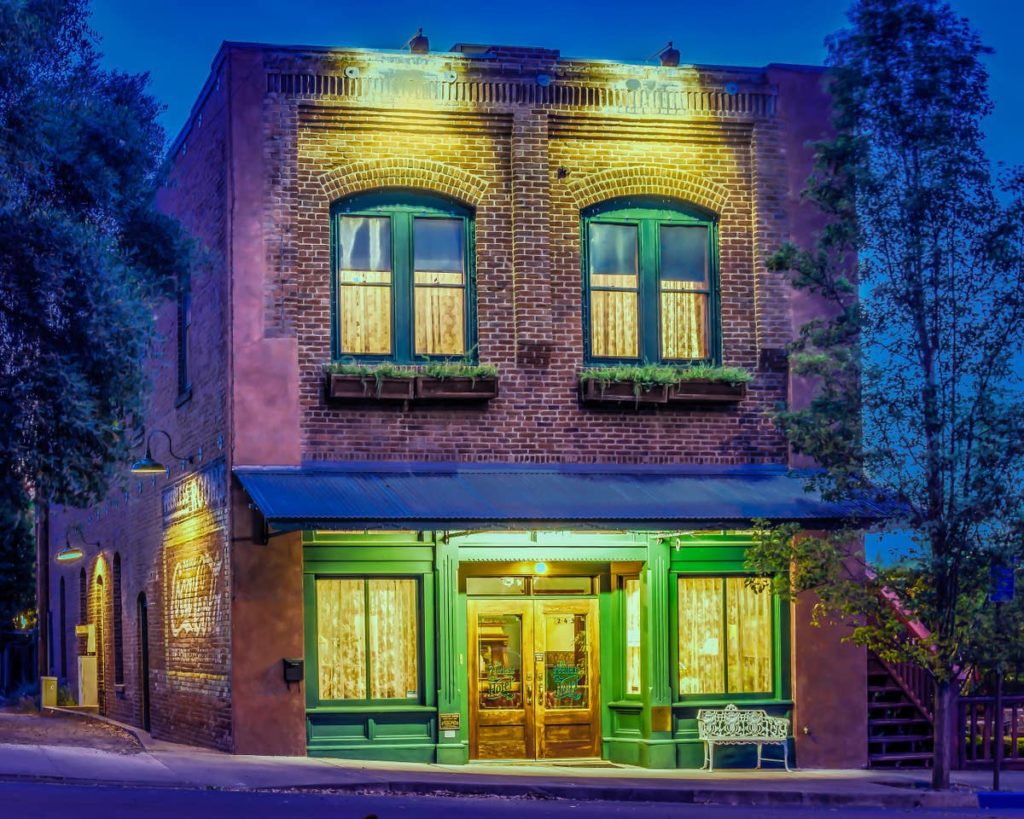 We've written about the Peerless before, not only because it's haunted, but because the rooms are elegant and unique.
This hotel built in 1900 was once called 'The Peerless Rooms' and housed working class citizens.
It fell out of disuse and sat abandoned for years until it was it was restored in the 1990's.
Now it's one of the prettiest historic hotels in Oregon.
The Peerless Hotel Restaurant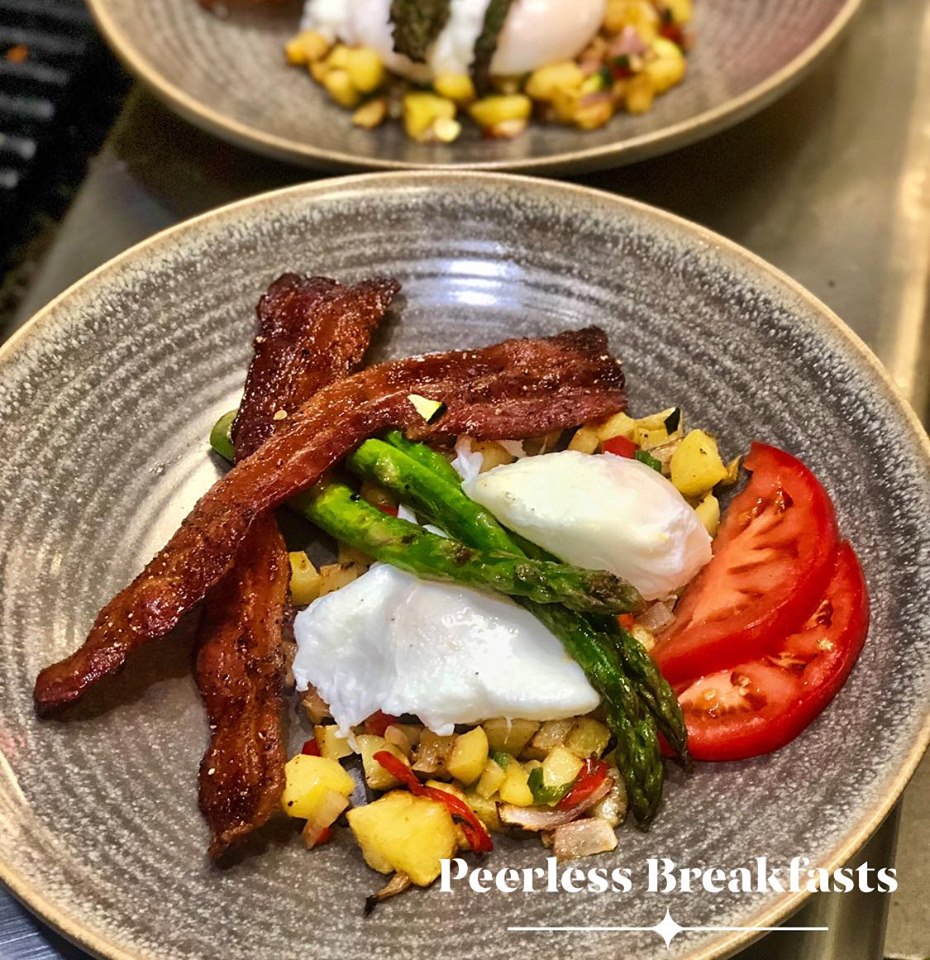 Right next door to the Peerless Hotel is The Peerless Hotel Restaurant and Bar. The restaurant focuses on thoughtful seasonal dishes and has an inviting atmosphere.
Lithia Springs Hotel In Ashland Oregon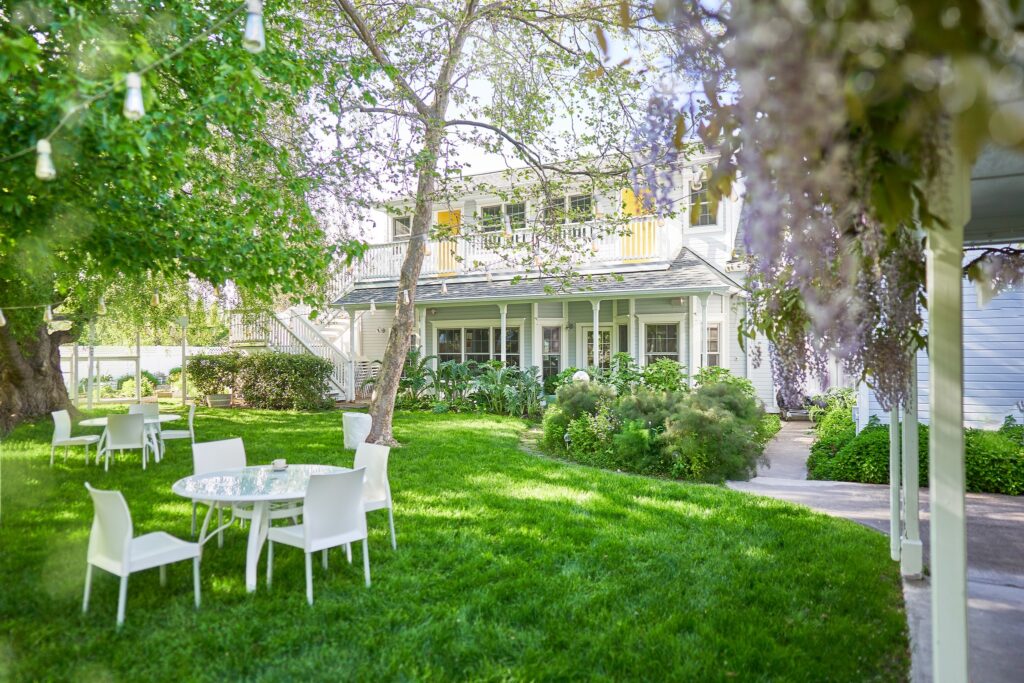 Lithia Springs Hotel and wine garden is more than just a place to stay, it's a spot to relax and soak in the artisan waters of Lithia Springs Resort.
The spring water here is rich in sulfur and other healing minerals.
Guests can soak in the springs in a private soaking tub, a mineral shower, or choose a spa package.
There is also a tea room, library, koi pond, and cozy indoor and outdoor spaces available.
Stay at Ashland Springs Hotel
Ashland Springs Hotel is a little taste of Europe found in Ashland.
Not only is it a historic landmark, but also an experience where guests can rest, relax, and enjoy the European style rooms at this cute boutique hotel.
Where To Eat In Ashland Oregon
There's quite a few delicious spots to grab a bite to eat near Lithia Park.
I love the vibe of the area all around Lithia Park, and I love grabbing a bite to eat before heading out for a leisurely stroll in the park to do some forest bathing.
The Brickroom Gathering House In Ashland Oregon
We recommend checking out the Brickroom Gathering House, which serves up coffee, cocktails, killer Huevos Rancheros, and delicious sandwiches and salads, all in a hip building with a chill atmosphere.
Louie's Of Ashland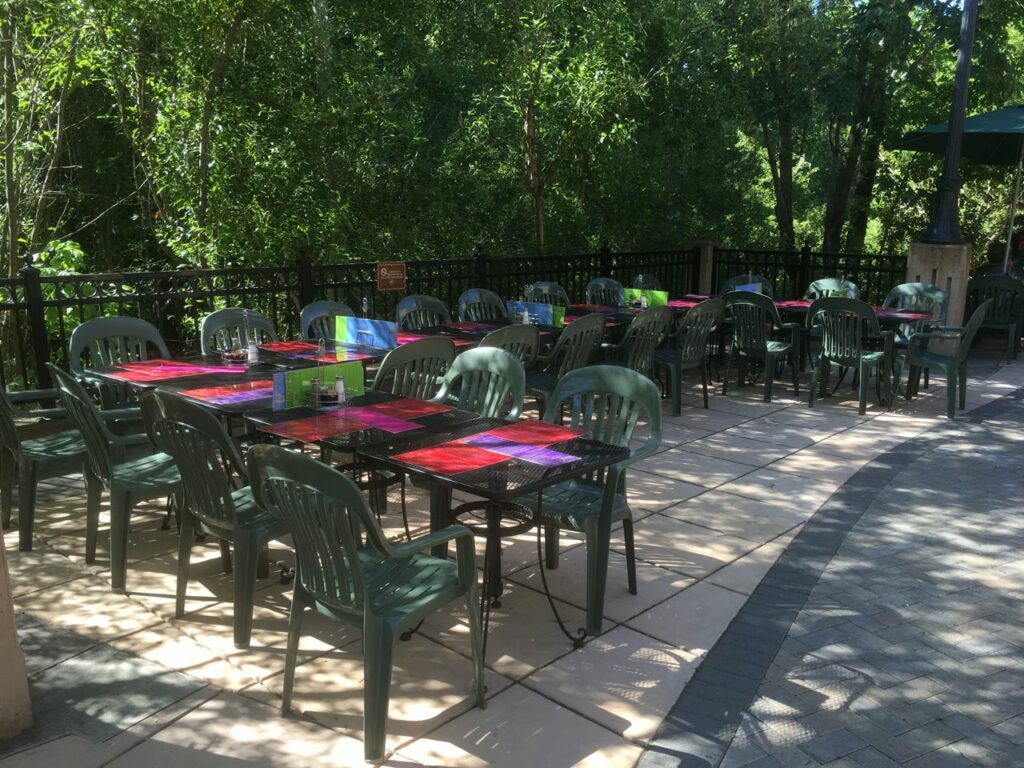 Another spot near Lithia Park is Louie's of Ashland, which is a casual American restaurant on the creek.
You'll find everything from Black Truffle Parmesan Fries to Buffalo Wings and flame-grilled coconut chicken skewers.
We love the food at Louie's, but my favorite thing about grabbing a bite to eat here is the patio above the creek, where you can eat while listening to the gentle rushing waters as it passes below.
Oberon's In Ashland Oregon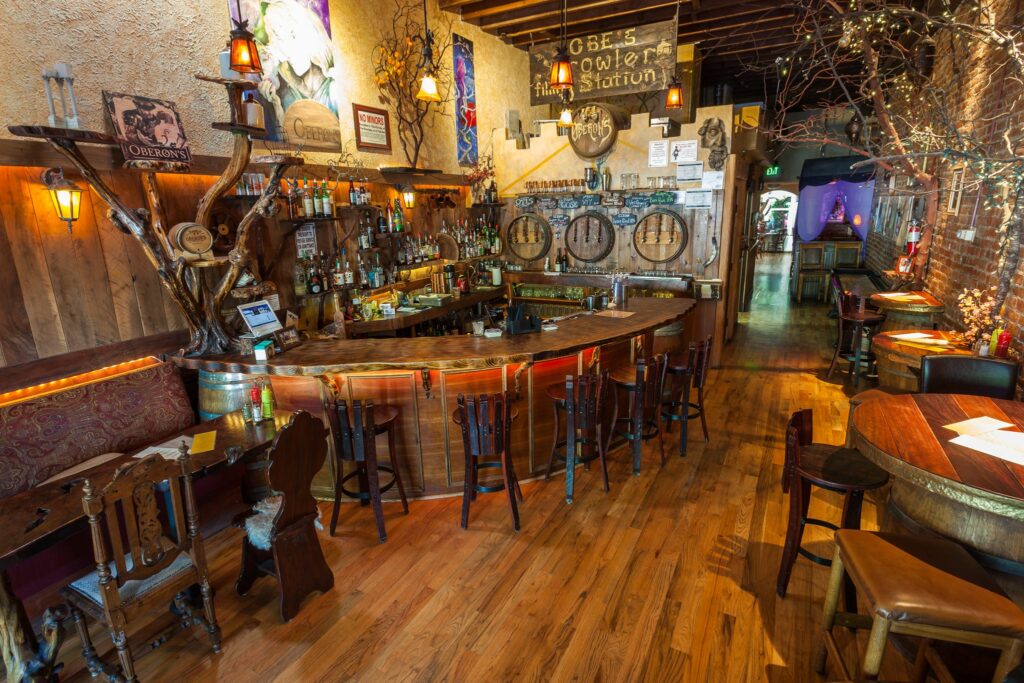 If you're looking for a truly unique place to eat, check out Oberon's. Oberon's is known as "Ashland's most Ashlandiest spot."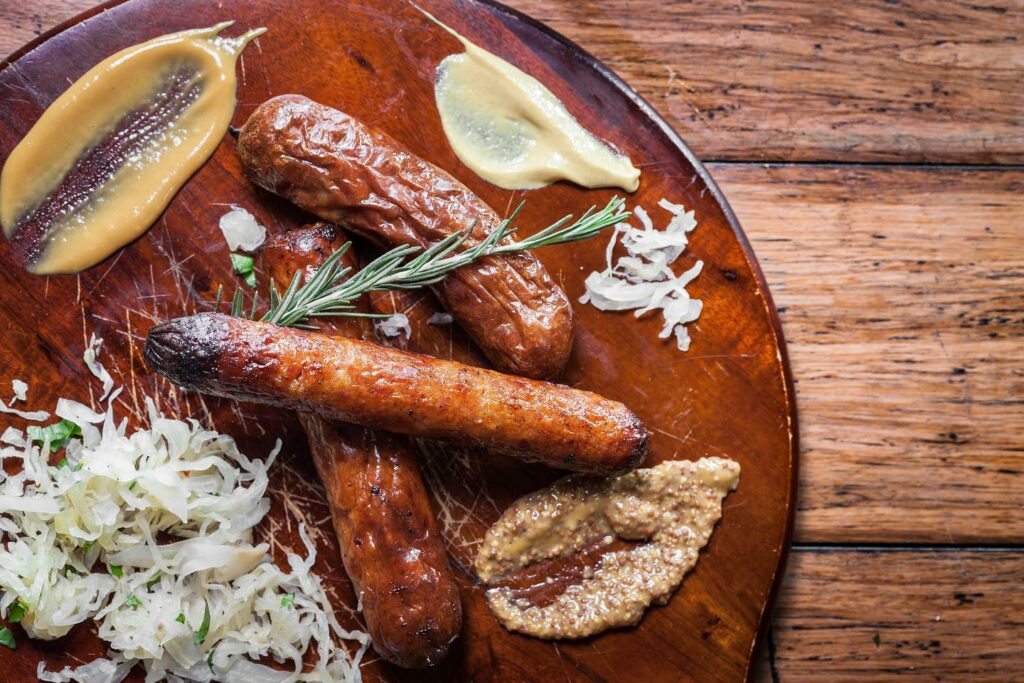 The entire restaurant and bar is themed after the Shakespeare play A Midsummer Night's Dream. Oberon's serves up rustic British food, cocktails, and whiskey.
Getting To Ashland Oregon
Directions To Ashland Oregon From Portland
Ashland is located four and a half hours south of Portland, near the Oregon California border.
You can reach Ashland from Portland by traveling south on I-5, which will take you all the way to Ashland.
Directions To Ashland Oregon From Klamath Falls
From Klamath Falls (a one and a half hour drive), travel West on Highway 66, then continue straight onto Clover Creek Road.
Turn left onto Dead Indian Memorial Highway and follow the highway until the road ends at Highway 66 again.
Turn right on Highway 66 and follow the road into Ashland.
From Klamath you can also just take Highway 66 all the way to Ashland, though it should be noted that this route is very twisty as it winds it's way through the mountains, and isn't great for people who get carsick easily.
Explore Southern Oregon
We think you'll also enjoy reading about the 600 Acre Wildlife Safari Park in southern Oregon, and our guide to nearby Jacksonville Oregon. The Cascade-Siskiyou Mountain Ranges are also nearby and are home to the stunning Cascade-Siskiyou National Monument, which provides great hiking opportunities.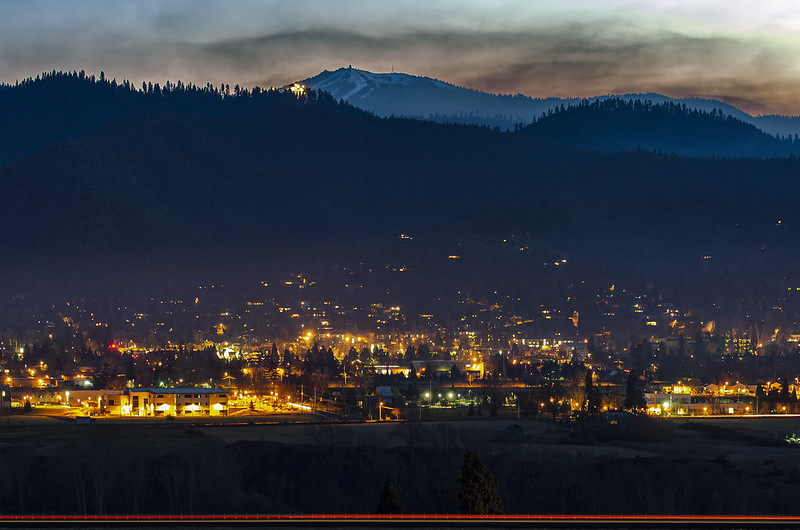 What's your favorite place to eat in Ashland Oregon? Have you visited Lithia Park or Emigrant Lake? Let us know in a comment and tag the friends and family you want to go on a southern Oregon adventure with!