Hey there, Oregonians! Ready to sleigh into the most epic Christmas lights extravaganza in 2023? We've scouted out the top spots in the state to see gorgeous twinkling Christmas lights, so grab your cocoa, your crew, and let's jingle all the way through these festive wonders.
Silverton Christmas Market
Silverton Christmas Market from Moonstone Hotel Properties on Vimeo.
Get ready for a mind-blowing holiday extravaganza at the Oregon Garden Resort! This annual bash is a ticket to a magical holiday journey suitable for all ages.
Wander through immersive paths adorned with over a million lights, creating a whimsical atmosphere. Dive into the authentic German Christmas Market featuring gifts from skilled vendors and imported German goodies like nutcrackers, smokers, and ornaments.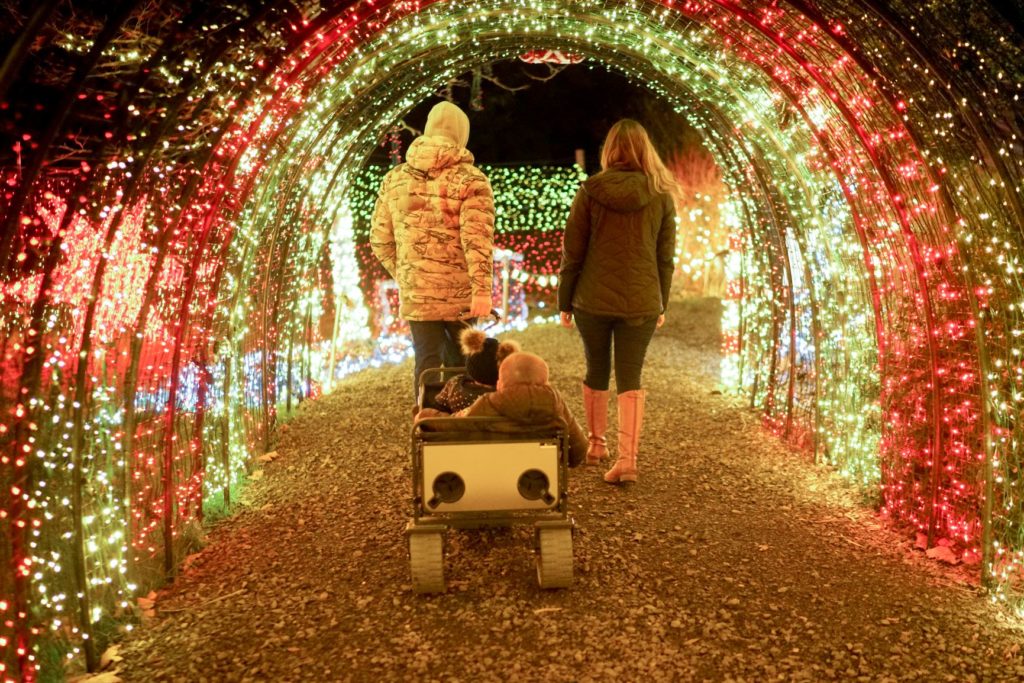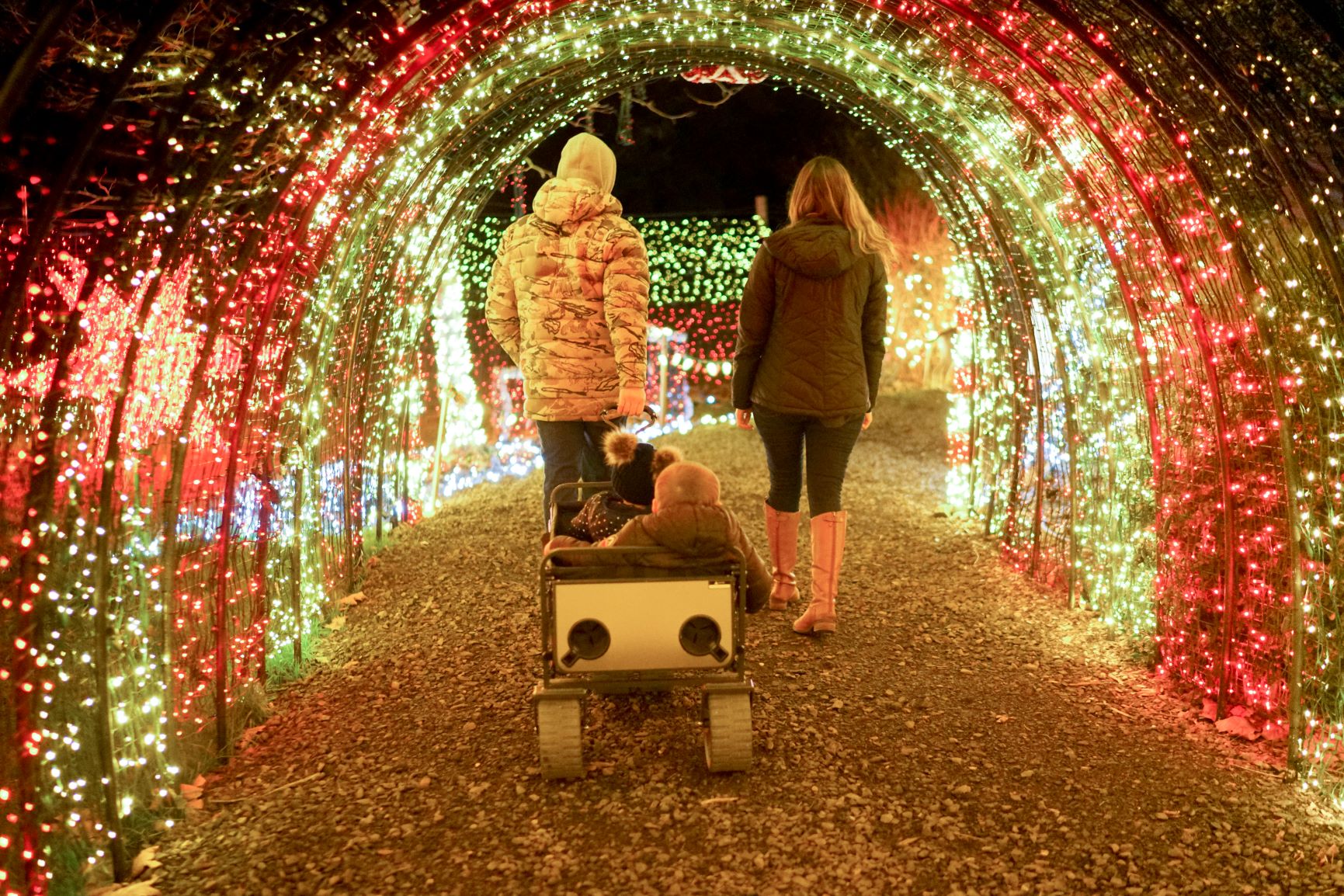 Kids will enjoy a visit with Santa while adults enjoy Christmas music and a cold one at the Biergarten, all while and snuggling up and staying toasty warm by a fire pit. If you're feeling adventurous, take a spin down the snowless tubing hill!
Sign up for monthly emails full of local travel inspiration and fun trip ideas. In each newsletter we'll share upcoming events, new things to do, hot dining spots and great travel ideas.
This holiday event is crafted for friends and family to enjoy quality time and embrace the traditions that make this season extraordinary!
Silverton Christmas Market Information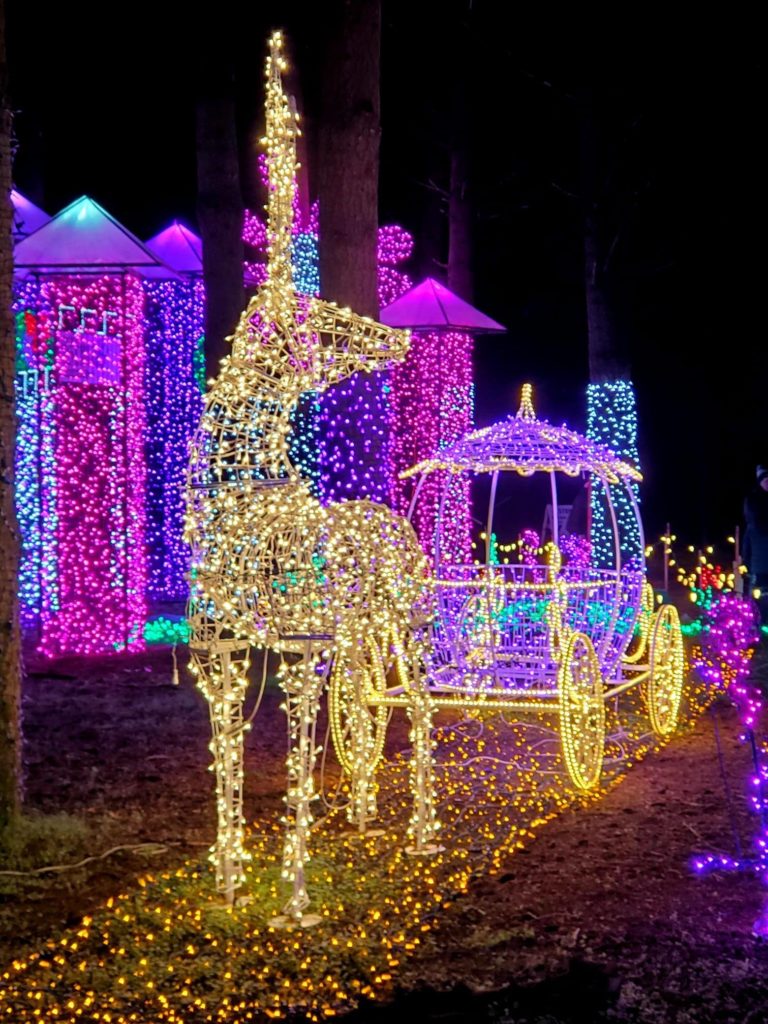 Get Your Tickets In Advance: You can buy your tickets here. Prices range from $5-$18 depending on the date of visit and age of the ticket holder. Children ages 5 and under are free. VIP parking costs an extra $20 and rides on the snowless tubing hill are $5 for two rides or $9 for four rides.
Dates: November 17th - December 31st 2023. Closed November 22nd-23rd and Dec 24th-25th.
Location: The Oregon Garden Resort at 895 W. Main Street in Silverton, Oregon.
Get More Information at the Christmas Market website.
Christmas Festival Of Lights In The Grotto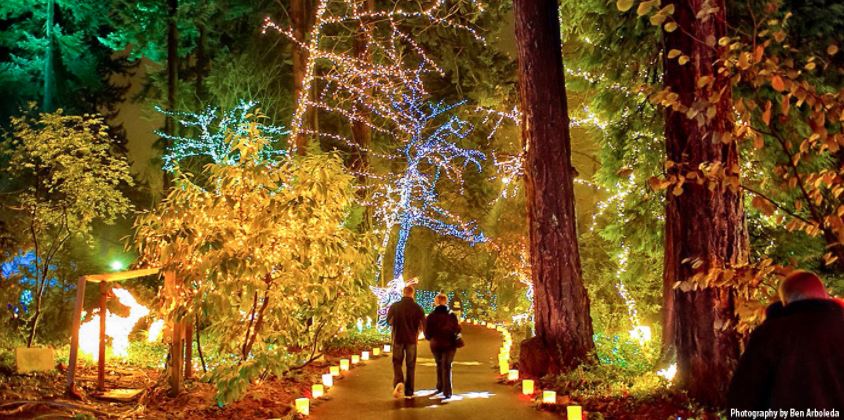 Step into the enchanting world of the Festival of Lights at The Grotto, where holiday magic comes alive around every corner. Immerse yourself in the angelic melodies of local schools, churches, and civic groups echoing through the Chapel of Mary. The cathedral-like acoustics create a mesmerizing backdrop for choirs to weave musical wonders.
The festivities extend beyond the chapel, offering non-stop entertainment for all ages in the Grotto's plaza area. From outdoor caroling to captivating puppet shows, there's something to delight everyone. Dive into puppet shows and story times at the top of each hour in the plaza tent, or join in the festive spirit with the Grotto carolers performing your favorite Christmas tunes at the bottom of the hour. As you stroll through this walk-through wonderland, be prepared for a one-of-a-kind experience lasting between 75 and 90 minutes. Whether you're bundled up for colder nights or catching a specific concert, The Festival of Lights promises a joyous celebration for all.
Festival Of Lights In The Grotto Information
Zoolights At The Oregon Zoo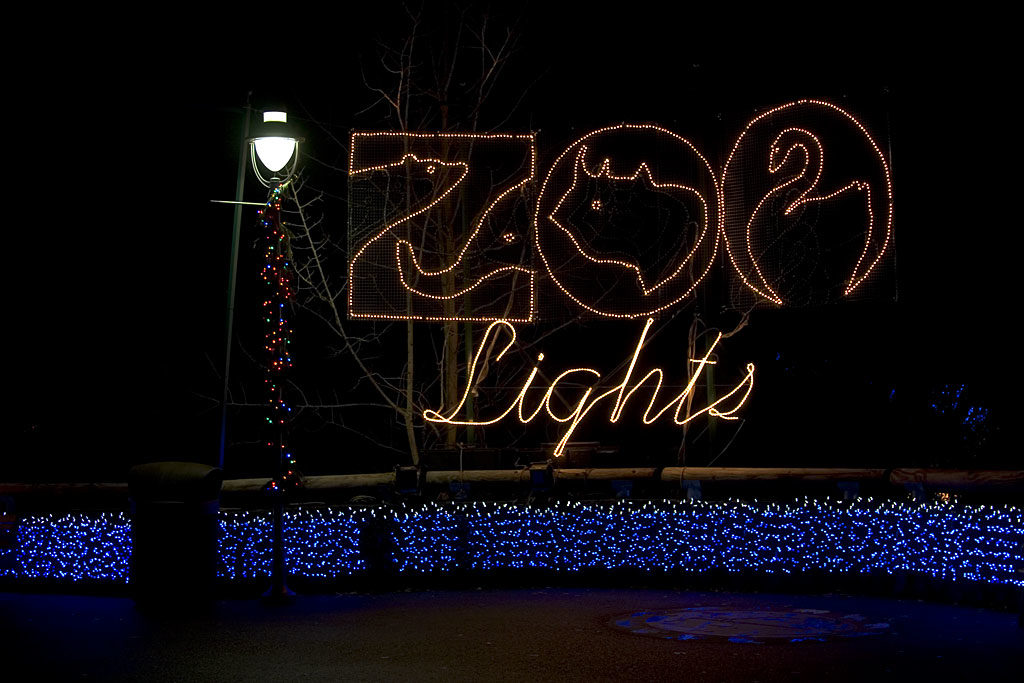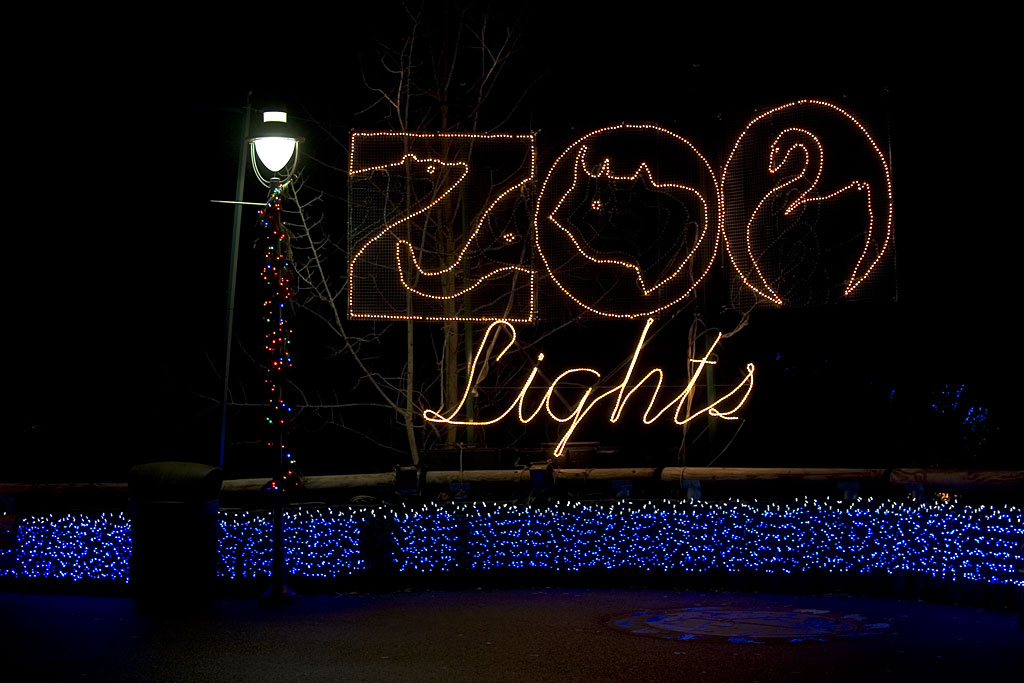 Gear up for the merriest tradition at the Oregon Zoo! It's a unanimous sentiment among kids and adults alike: the holidays in Portland wouldn't be complete without the enchanting spectacle of millions of twinkling lights. This year, the Zoo Lights 'any night' ticket adds a dash of spontaneity, letting you enjoy the dazzling display on any night and time that suits your festive fancy. From sparkling light tunnels to vibrant animal displays and the grandeur of the sealebration, it's a visual feast that's bigger and brighter than ever.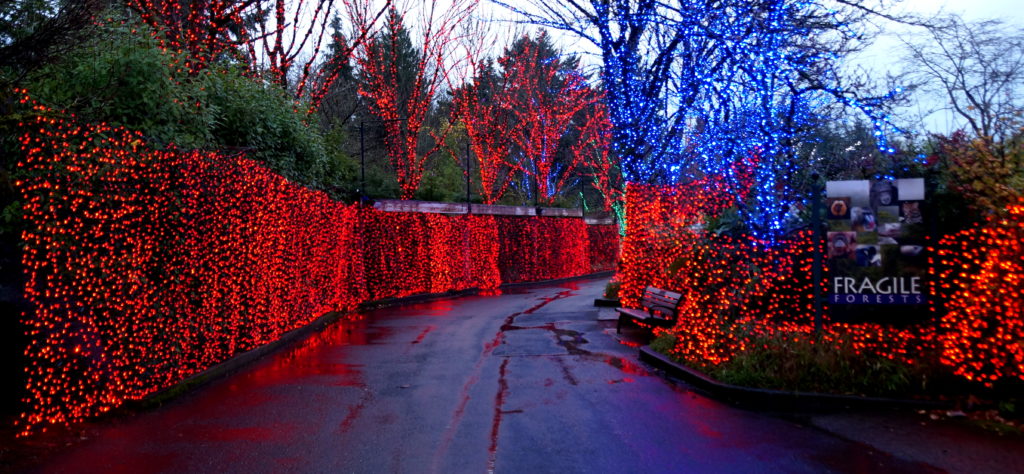 For a perfect holiday date night, Zoo Lights has got you covered. Take a leisurely stroll with that special someone, surrounded by the magical glow of millions of lights, and indulge in delightful treats like elephant ears, hot chocolate, popcorn, s'mores, and even beer and wine.
If you're looking for an adults-only night of wonder, mark your calendar for November 17, when Brew Lights takes center stage—a brew festival experience amidst the twinkling wonderland, exclusively for the 21-and-over crowd, featuring more than 55 Northwest breweries!
Dates: November 24th, 2023 - January 7th, 2024
Tickets: Tickets go on sale October 11th, 2023 and range in price from $12-$26.
Location: The Oregon Zoo at 4001 SW Canyon Rd in Portland, Oregon.
Get More Information at the Oregon Zoo Lights website.
Portland Christmas Ships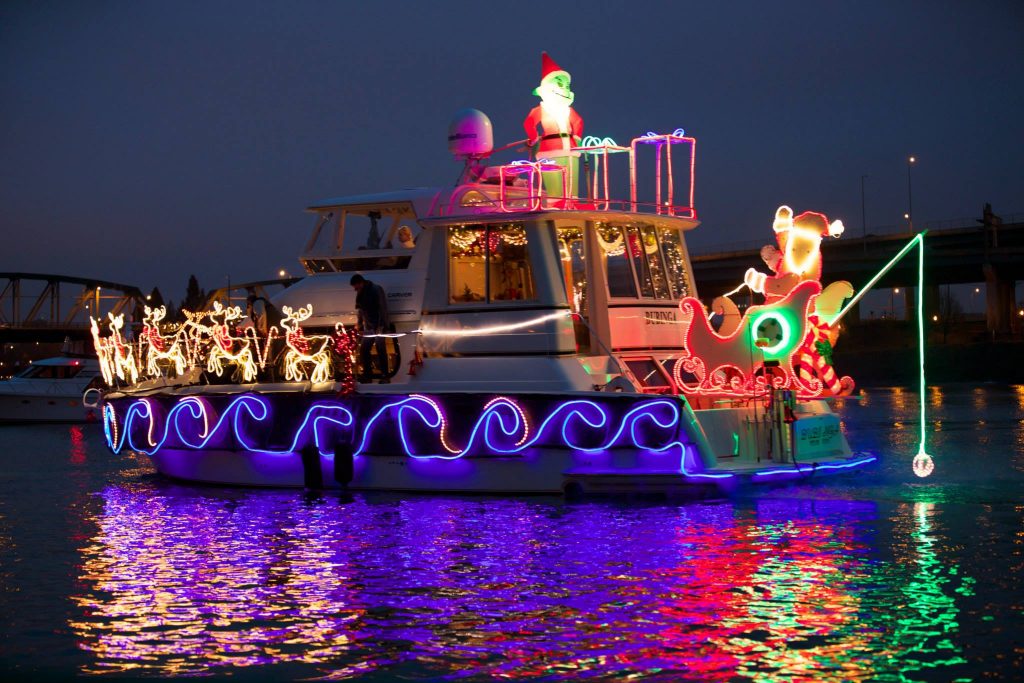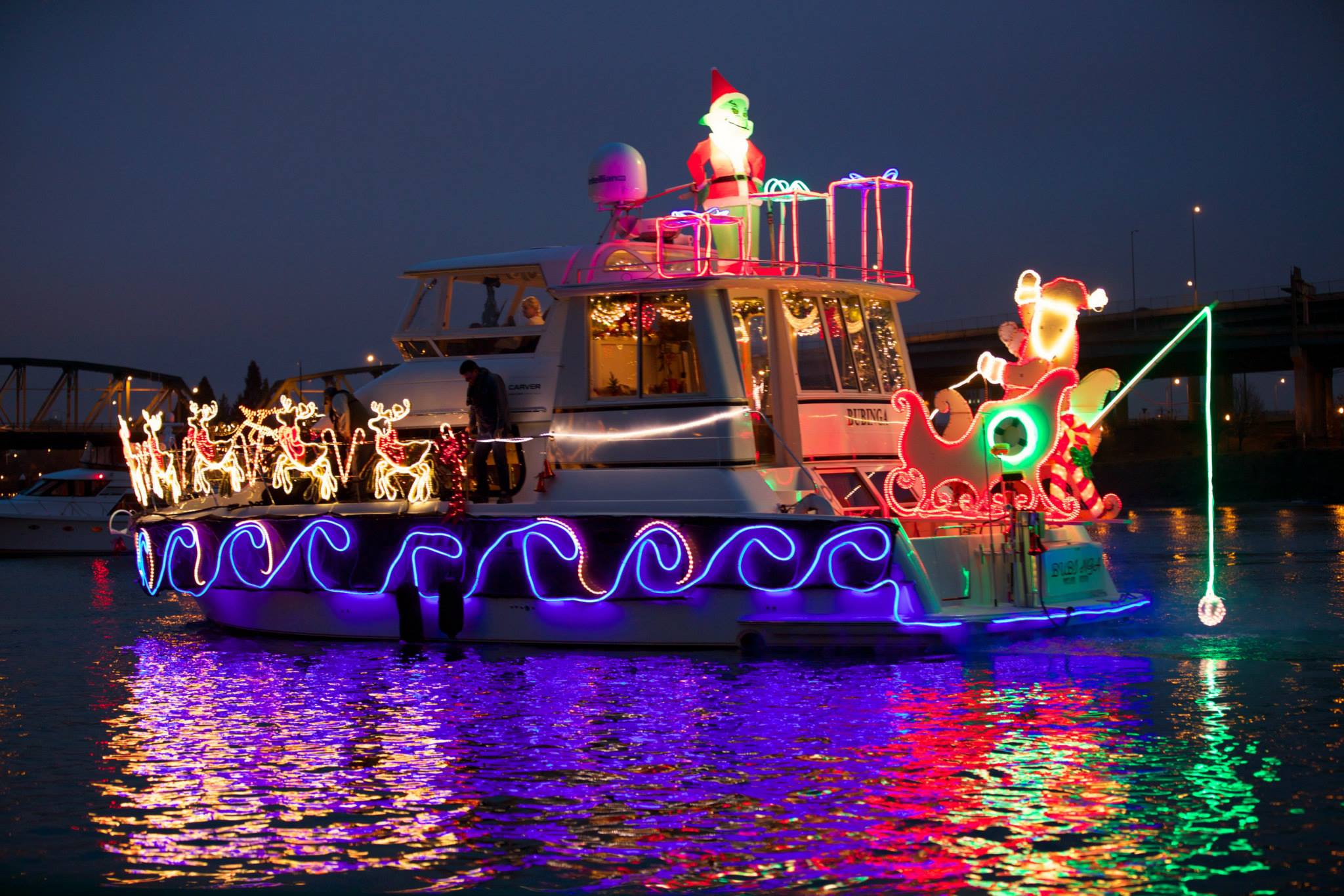 Ahoy, mateys! The Christmas Ship Parade is sailing through again this year and has been since 1954! Brightly lit boats will be cruising the Columbia and Willamette and we can't wait! Check out the Willamette schedule here, and the Columbia schedule here to join the festivities! Both Christmas ship fleets start sailing on December 1st, 2023!
Get more information on the official Christmas Ships website.
The Pastega Christmas Light Display
Since 1981, the Pastega Christmas Light Display has been a cherished holiday tradition in Corvallis, creating a festive spectacle that has stood the test of time. For 31 years, the Pepsi Bottling Plant served as the enchanting backdrop, transforming its lot into a Christmas paradise with plywood cut-outs of Disney characters, Santa Clauses, angels, and even an Oregon Beaver—all brought to life with jingling motors and adorned with twinkling Christmas lights. Drawing an impressive 40,000 visits annually, this drive-through Christmas pleasure became a must-see for locals and visitors alike.
After 31 years at the Pepsi Bottling Plant, the display found a new home at the Benton County Fair Grounds. Today, community members continue to contribute to the creation and maintenance of the display, attracting 400 to 700 cars daily to revel in the festive magic.
Pastega Light Display Information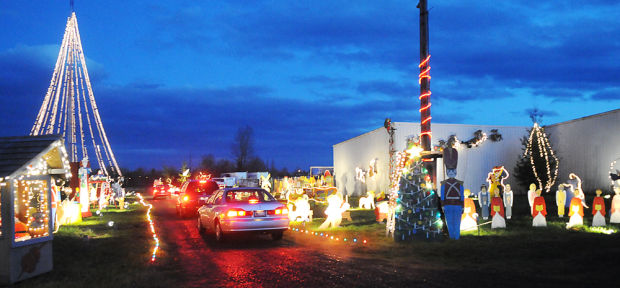 Dates: November 24th-31st from 5 PM - 10 PM.
Location: The Benton County Events Center at 110 SW 53rd St. in Corvallis, Oregon.
Safeway Winter Wonderland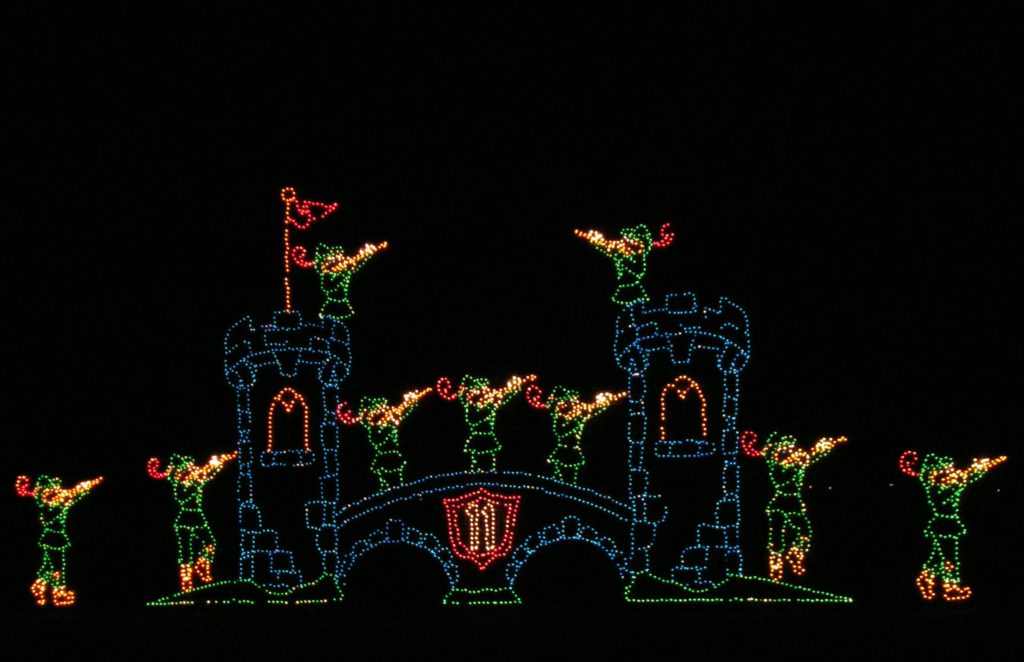 Embarking on its 30th annual celebration, the Safeway Winter Wonderland has become an iconic spectacle, dazzling the Pacific Northwest as the "Largest Holiday Light Show West of the Mississippi." It's not just about the lights; it's a radiant celebration that captures the essence of the holiday season.
The brilliance of this event extends beyond its visual splendor. Every glimmer serves a purpose, as all proceeds from this enchanting experience go towards the Sunshine Division's year-round hunger relief efforts. It's not just about brightening the night but also brightening lives by providing thousands of free, nutritious meals to Portland families in need. In the 30 years since its inception, Winter Wonderland has evolved into more than a mere light show; it's a beacon of generosity, uniting communities in the spirit of giving during the holiday season.

Winter Wonderland Information
Days And Hours: Monday - Thursday 5 PM - 10 PM, Friday - Sunday 4:30 PM - 11 PM, special hours from December 16th-25th 4:30 PM - 11 PM
Tickets: Get your tickets here. General admission ranges from $37-$48 depending on the dates attending. There's also VIP access and large vehicle pricing.
Location: Portland International Raceway at 1940 N Victory Blvd in Portland, Oregon.
Get More Information at the Winter Wonderland website.
Umpqua Valley Festival Of Lights In Roseburg, Oregon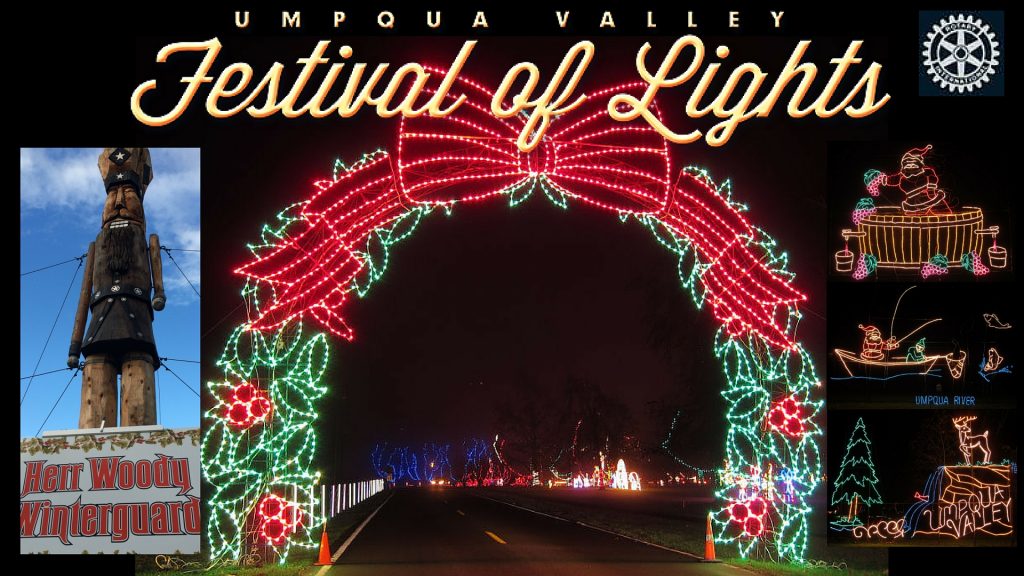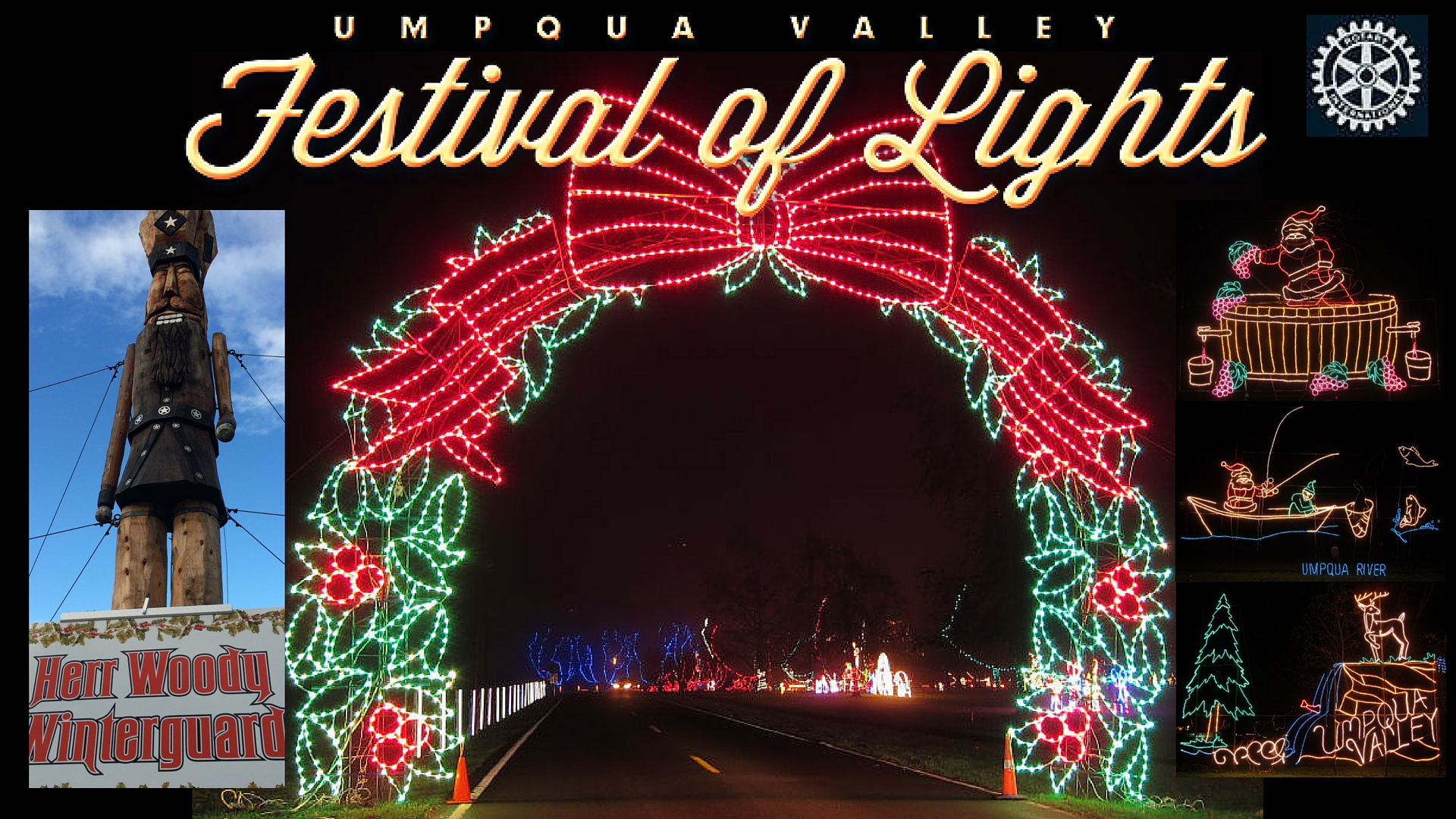 The Umpqua Valley River Of Lights transforms Douglas County into a dazzling spectacle each year, enchanting visitors with over 90 animated displays and a breathtaking display of over 500,000 lights. Amidst the radiant glow, animated characters from Disney's Frozen come to life, adding a touch of magic to this luminous experience. Since its inception in 1993, the Festival of Lights has seamlessly woven itself into the fabric of Douglas County's holiday traditions, drawing a staggering 25,000 visitors annually. Beyond the enchanting lights and animated displays, the festival serves a noble cause, generating substantial funds for Rotary Club scholarships and service projects. It's more than just a visual feast; it's a glowing celebration that illuminates the community with both joy and a spirit of giving.
Azalea Park Light Display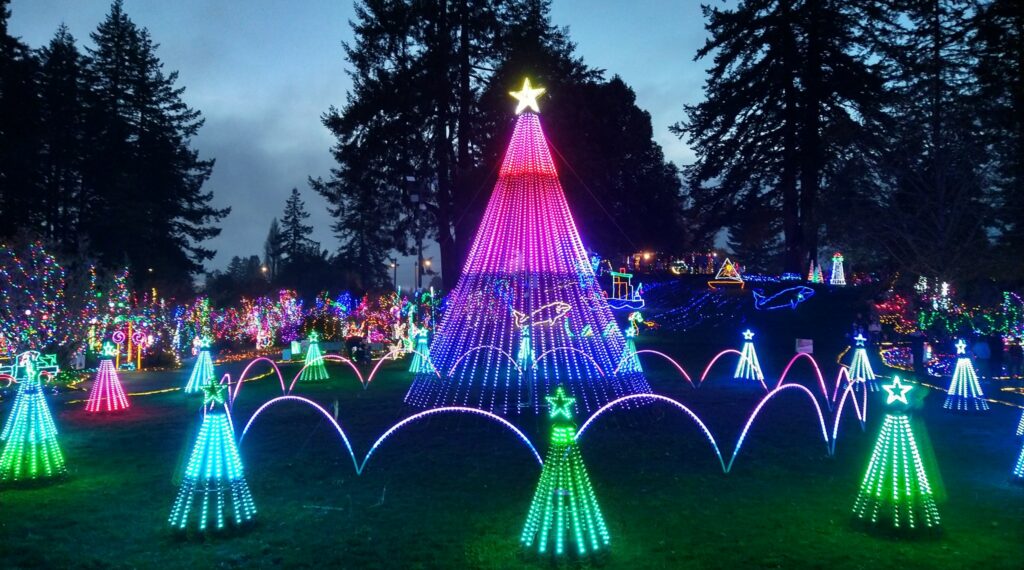 Embraced as the best holiday light show on the Oregon coast, the Azalea Park Festival Of Lights in Brookings, Oregon is a breathtaking spectacle that bathes Azalea Park in the warm glow of over 3,000,000 lights. Unlike the traditional drive-through displays, this magical experience invites visitors on a leisurely walk through the illuminated wonderland, a journey taking approximately 30-45 minutes.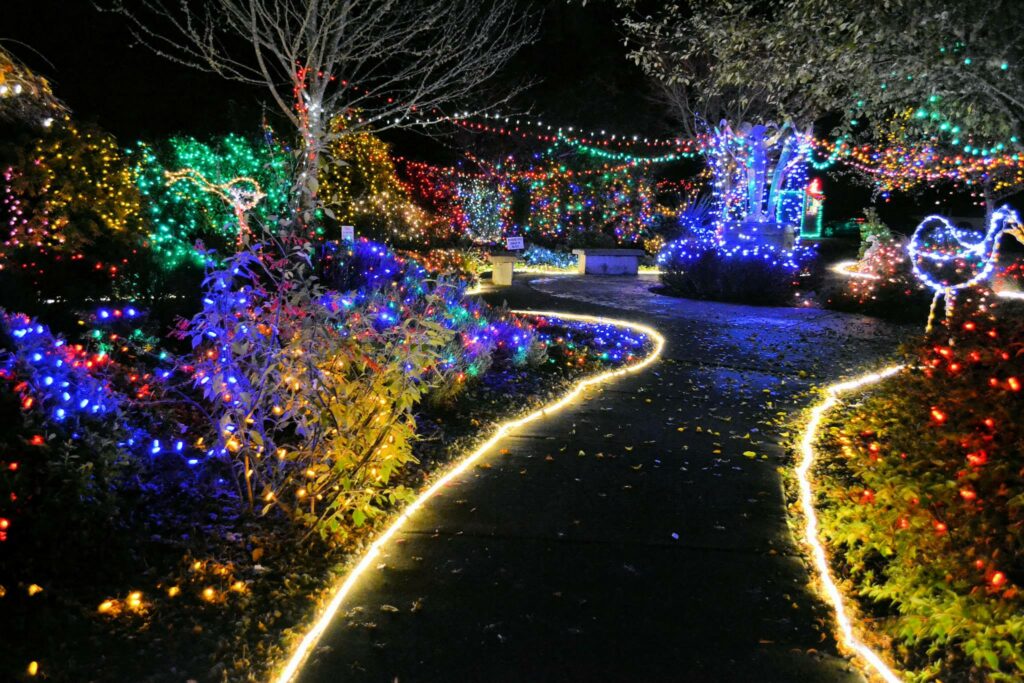 The sheer magnitude of lights transforms the park into a mesmerizing landscape, captivating all who venture through. However, the coastal charm comes with its challenges as extreme winter weather can occasionally play a part in the festivities, impacting opening nights or prompting early closures. Despite the unpredictable coastal elements, the Azalea Park Festival Of Lights remains a radiant beacon, drawing locals and visitors alike to witness the enchanting transformation of the park into a winter wonderland.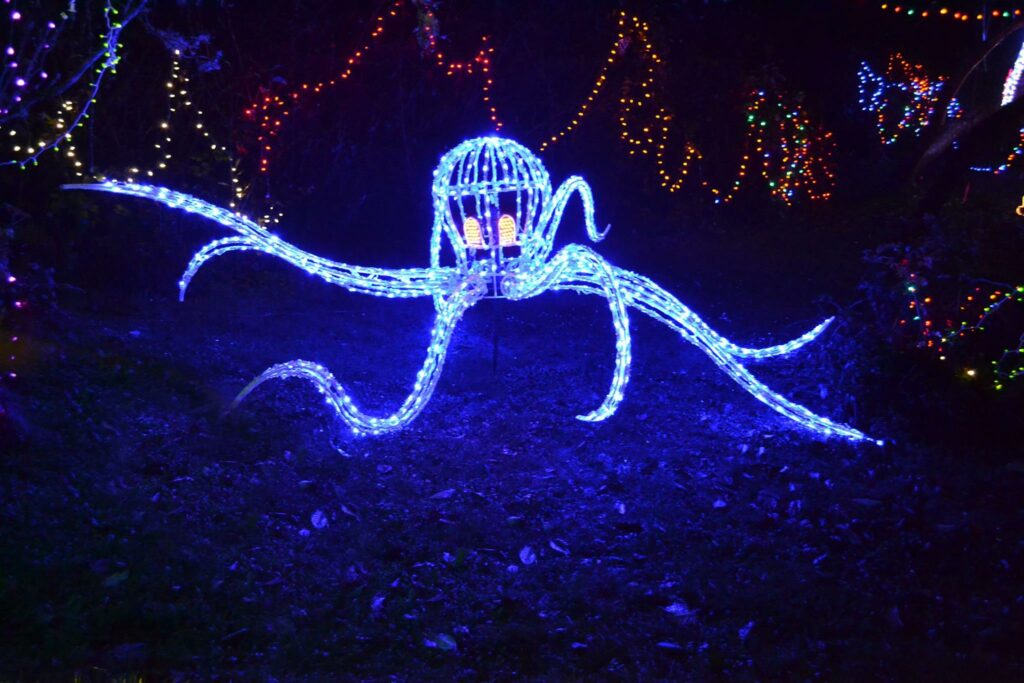 Those wishing to go will need to check the Azalea Park Festival Of Lights Facebook page as they post by 3PM every day if they will be closed due to inclement weather.
Azalea Park Festival Of Lights Information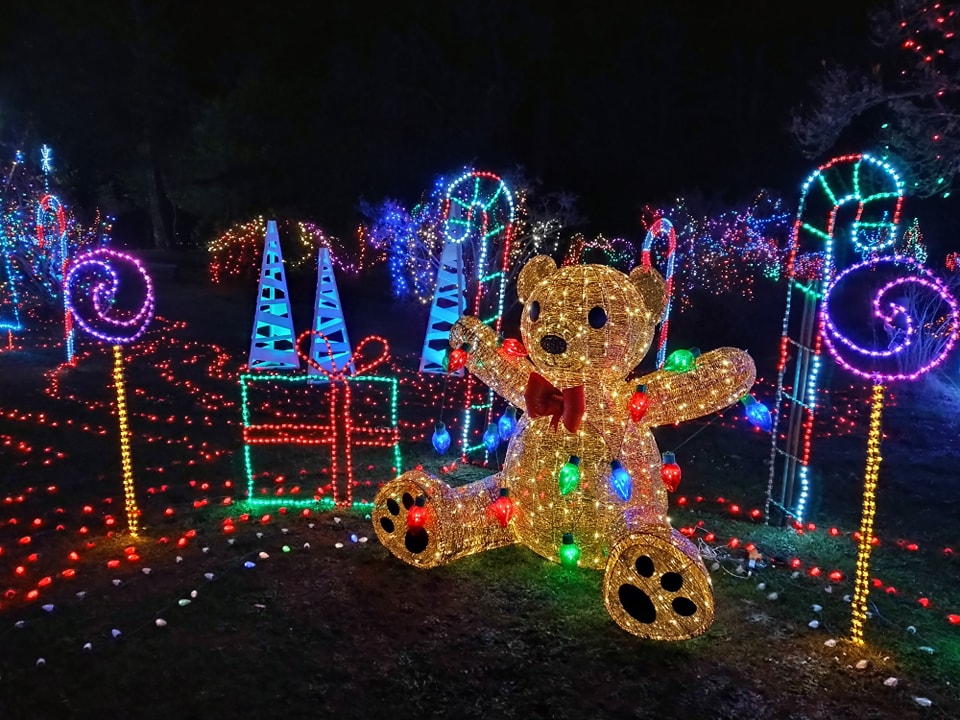 Location: Azalea State Park in Brookings, Oregon.
Hours And Days: Open nightly from 5 PM - 9 PM. (Santa and Mrs. Clause are available every Friday and Saturday from 6 PM - 8 PM).
Dates: November 24th - December 27th.
Cost: Adults - $3. Kids 12 and under - Free. Cash only.
Get more information from the Azalea Park Festival Of Lights website here.
Holiday Lights at Shore Acres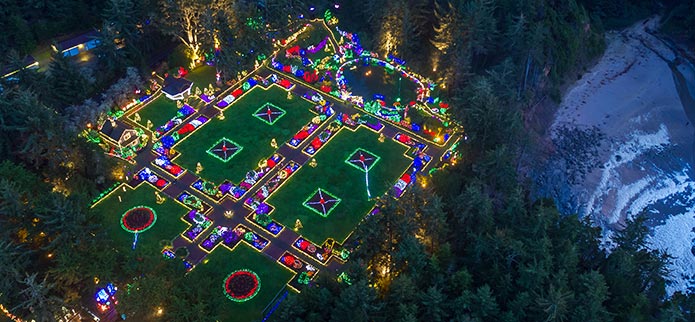 Shore Acres State Park emerges as one of the brightest and most beautiful places on the West Coast during the holiday season, transforming into a radiant spectacle from Thanksgiving to New Year's Eve. Nestled in its renowned 7-acre botanical gardens and featuring a serene Japanese lily pond, the park comes alive with the twinkle of more than 325,000 LED lights and whimsical animated displays, creating a mesmerizing holiday atmosphere.
This dazzling transformation has become a cherished tradition for families, inviting them to immerse themselves in the magic of the season amidst the natural beauty of Shore Acres. The best part? Entry into the lights is free, fostering a sense of community and shared joy. While the enchantment is complimentary, there's a small price for parking, with a $5 fee per vehicle, ensuring that visitors can savor the brilliance of Shore Acres State Park's holiday display with ease and convenience. Please note, you must book your timed parking pass in advance.
Location: 89039 Cape Arago Hwy in Charleston, Oregon.
Dates: November 23rd - December 31st, 2023.
Price: Entry is free, but you must book a $5 timed parking pass in advance.
Get More Information on the official website.
Where's your go-to spot for Christmas lights in Oregon? Drop a comment and tag your festive crew. Don't forget to bookmark this page for all your holiday adventures!