In the Pacific Northwest, where the vast skies meet the rugged coast, the town of Seaside, Oregon, is a gem that effortlessly captures hearts. It's in this idyllic setting that Dundee's Donuts stands, a cozy nook that's far more than just a backdrop to the town's natural beauty. Here, they master the art of dough alchemy, where buttermilk bars reach levels of perfection that leave indelible marks on your palate—and perhaps, even your soul.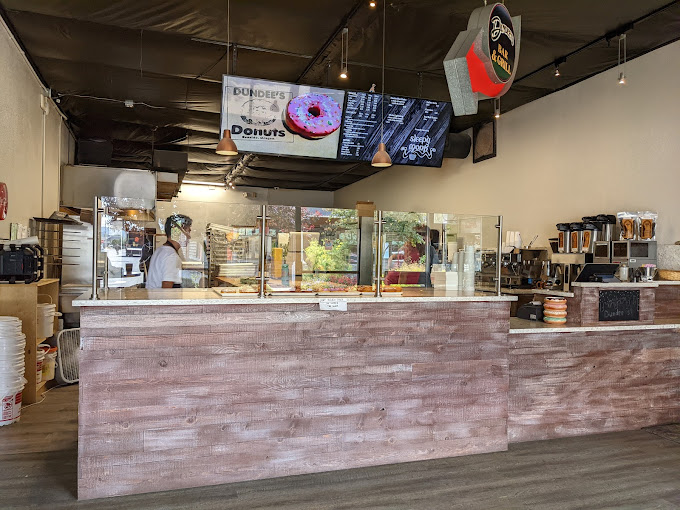 Dundee's is a labor of love, evident in the meticulous process of mixing, chilling, rolling, and frying that goes into each pastry. It's not just the technique but the heritage and heart behind it, harking back to the family-run shops of a bygone era, where every donut was a testament to craft and care.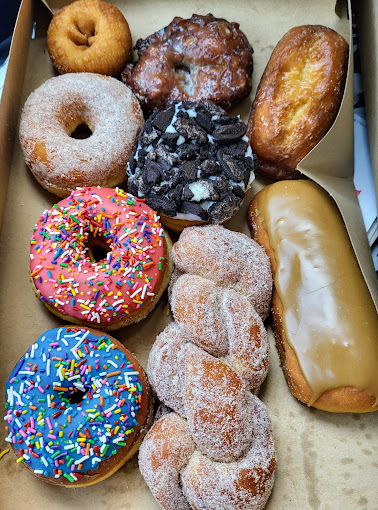 The buttermilk bars—crunchy on the outside, pillowy within, and striking a perfect harmony between tangy and sweet—are an ode to this tradition. They're reminiscent of a time when recipes were heirlooms and every bite told a story.
RELATED: Seaside, Oregon Revealed - The Best Places to Eat, Play, and Stay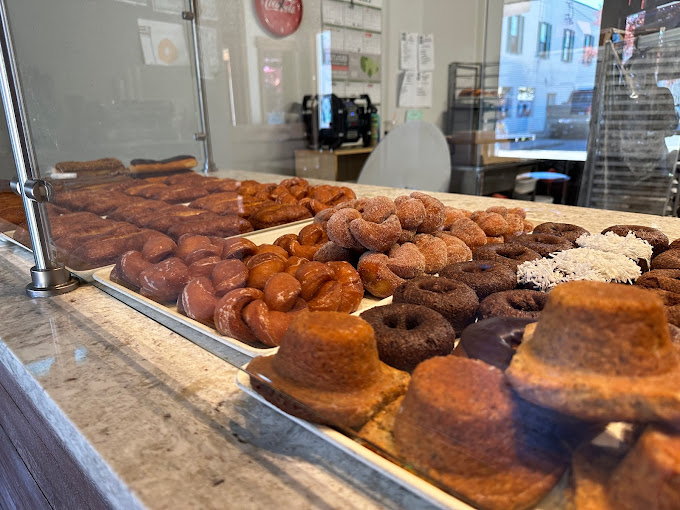 Unlike the mass-produced offerings of bigger chains that have sadly let go of classic favorites, at Dundee's, you'll find no "Cardboard Dipped" or "Old Fashioned Deglazed." Instead, you're treated to buttermilk bars and apple fritters that assert their rightful place in the pantheon of pastry excellence. They carry with them the legacy of a tumultuous '60s America, a testament to tradition prevailing through times of change.
Sign up for monthly emails full of local travel inspiration and fun trip ideas. In each newsletter we'll share upcoming events, new things to do, hot dining spots and great travel ideas.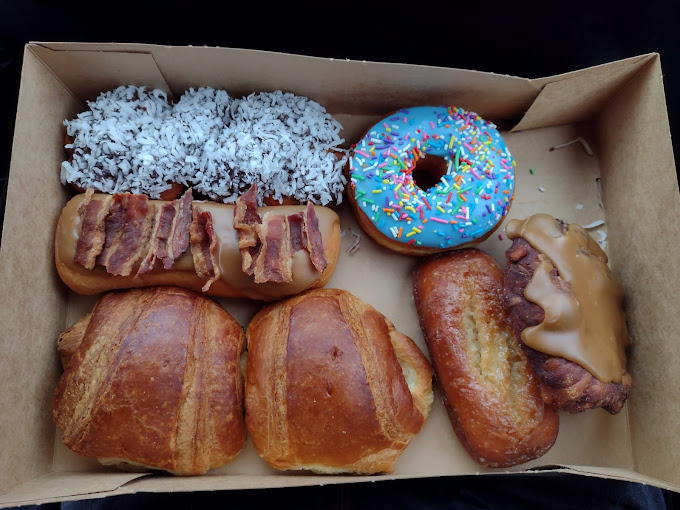 One loyal patron on Facebook put it wittily: the buttermilk bar mirrors their own character—robust and craggy yet delightfully sweet, minus the hole, of course. And isn't that a bit like life in Seaside? Robust in its coastal charm, sweet in its small-town vibe, and holier for its sense of community and warmth.
Diving deeper into the delectable array at Dundee's Donuts, there's one creation that particularly stands out and could easily rival the fame of Portland's own Voodoo Doughnut - the Bacon Maple Bar. This particular pastry is a sublime fusion of flavors that demand attention. Each Bacon Maple Bar is a masterpiece of texture and taste: the dough is tender, almost melting on the tongue, while the maple icing is not just a topping but a declaration of indulgence, rich and authentically flavored. And then comes the bacon, salty and crisp, laying in perfect strips across the top like savory ribbons on a sweet gift. It's this unexpected twist on the classic maple bar that captures the imagination and palates of all who try it, making it an unforgettable highlight of the Oregon coast's doughnut scene.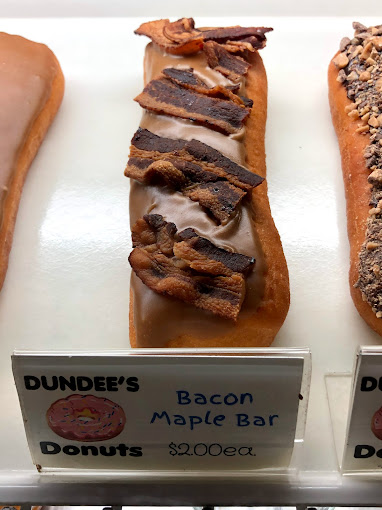 When paired with a cup of freshly brewed local coffee, these bars become more than just a morning treat; they're an experience, an essential part of the Seaside ritual that resonates with locals and visitors alike. Each visit to Dundee's is a reaffirmation that here, in this corner of the continent, the art of the donut is not just preserved; it's celebrated.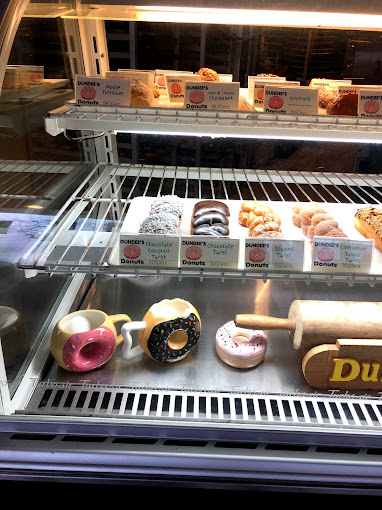 So, whether it's your first visit or your hundredth, a trip to Seaside is incomplete without savoring the sweet and tangy wonders of Dundee's Donuts. It's where the echoes of the '60s resonate with every crunch, where each bite is a mix of nostalgia and the pure joy of now, and where the buttermilk bar isn't just a donut—it's a slice of Seaside's history, lovingly glazed and eagerly devoured.
As the sun rises over Seaside, the inviting doors of Dundee's Donuts open to welcome the day's first patrons, signaling the start of a day filled with the sweet aroma of freshly baked goods. Nestled within Dundee's Bar & Grill, this beloved donut haven located at 416 Broadway St, Seaside, OR 97138, is open seven days a week, from the bright and early hour of 7 AM until the mid-afternoon at 1:30 PM. Whether you're a local or a traveler passing through, you can indulge in their heavenly treats and local coffee almost any day you please. Should you need to reach out for a special order or just to inquire about their delightful selection, give them a ring at (503) 738-7006. And if you're planning to visit, remember to arrive early – once they're sold out, you'll have to wait until the next morning for another chance to savor their delectable offerings.
Dundee's Donuts stands as a shining example among the numerous local businesses fostering positive change in Oregon. If you've got a favorite spot or business in mind, don't hesitate to nominate them—they might just be highlighted in an upcoming feature for That Oregon Life. Be sure to stay connected with That Oregon Life on Facebook and Instagram to stay updated on the most remarkable destinations, attractions, and happenings in the Beaver State.