Bend, Oregon isn't your average shopping destination, and neither is its Old Mill District. This lifestyle shopping center is a harmonious blend of retail therapy, outdoor exploration, and lively entertainment that captures the essence of this vibrant city, not to mention it has some of our favorite Oregon restaurants!
Timber Mill History In The Old Mill District In Bend, Oregon
The Old Mill District in Bend, Oregon, is more than just a shopping and entertainment hub; it's a piece of history reborn. Once upon a time, this area in what was once the tiny town of Bend, covering about 270 acres along the Deschutes River, was the battleground of two lumber mills, both titans – the Shevlin-Hixon Lumber Company on the west bank and Brooks-Scanlon Lumber Company with the "Mill A" complex on the east bank.
At their zenith they were powerhouses, employing over 2,000 workers each and producing a staggering 500 million board feet of lumber annually. They fueled Bend's growth, transforming it from a town of 536 in 1910 to a bustling city of 8,821 by 1930. In 2021 the population was just over 100,000.
The Environment And Town Paid A Heavy Toll For The Logging
The relentless logging took its toll on the forests of Central Oregon, and by 1950, the once-mighty logging industry faced a decline. This area of Bend, once thriving with industry, fell into disrepair until developer Bill Smith stepped in.
New Life For The Mill District In Bend, Oregon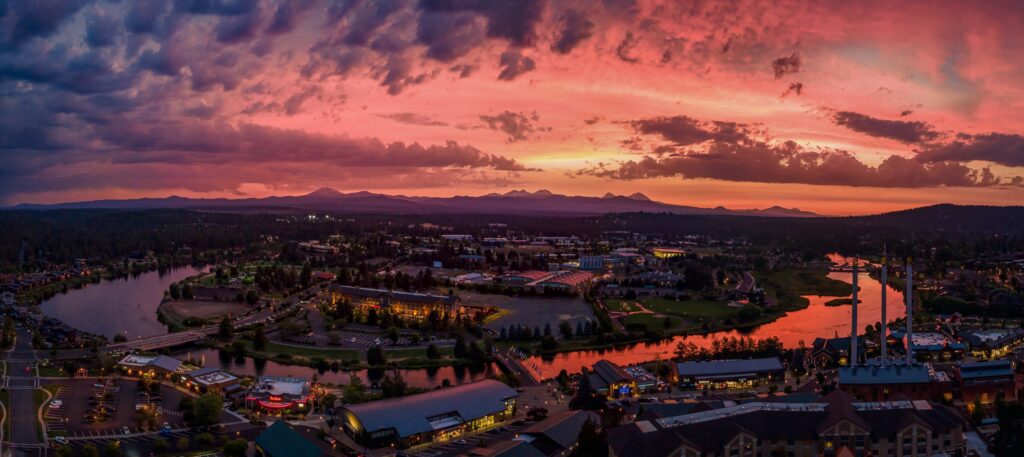 In the mid-1990s, Smith, president of William Smith Properties, purchased the land, preserving elements of the original buildings, including the iconic smokestacks of the Mill District.
Sign up for monthly emails full of local travel inspiration and fun trip ideas. In each newsletter we'll share upcoming events, new things to do, hot dining spots and great travel ideas.
The Old Mill District rose from the ashes of the lumber mills, breathing new life into the area and becoming a recreation district for all, crisscrossed with pretty trails.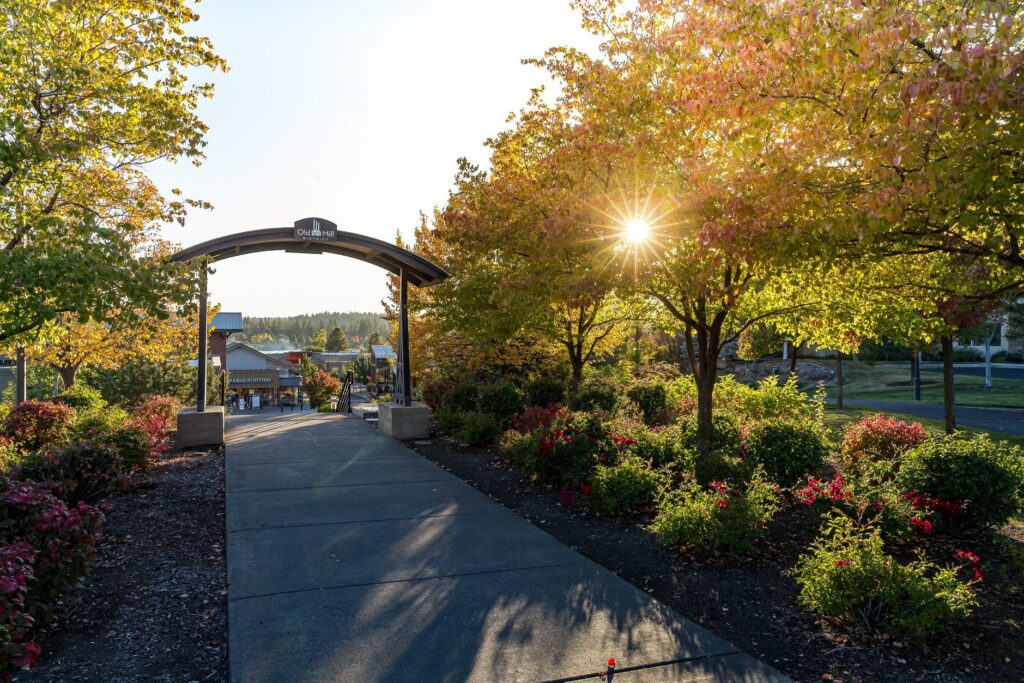 Smith's vision went beyond just creating a shopping and dining destination, and he had to overcome some unique challenges to turn it into what we see today.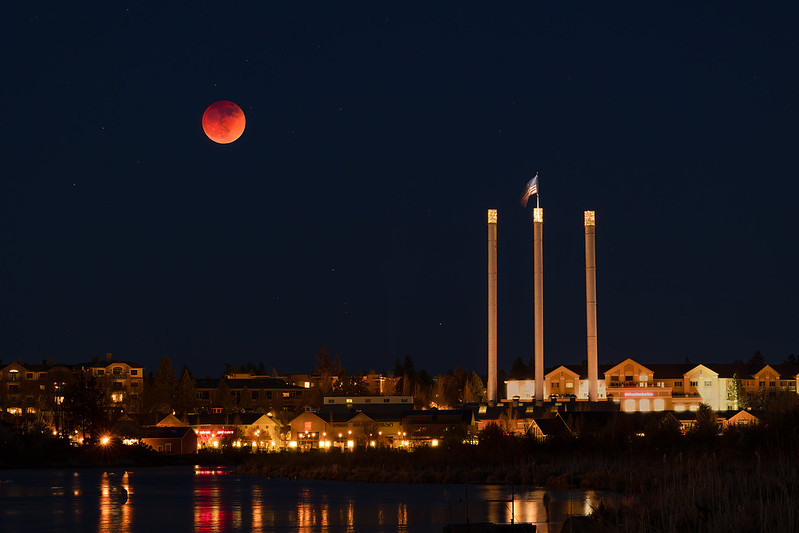 The restoration efforts included not only preserving historical buildings like the Little Red Shed but also revitalizing the river area, once off-limits for nearly 80 years.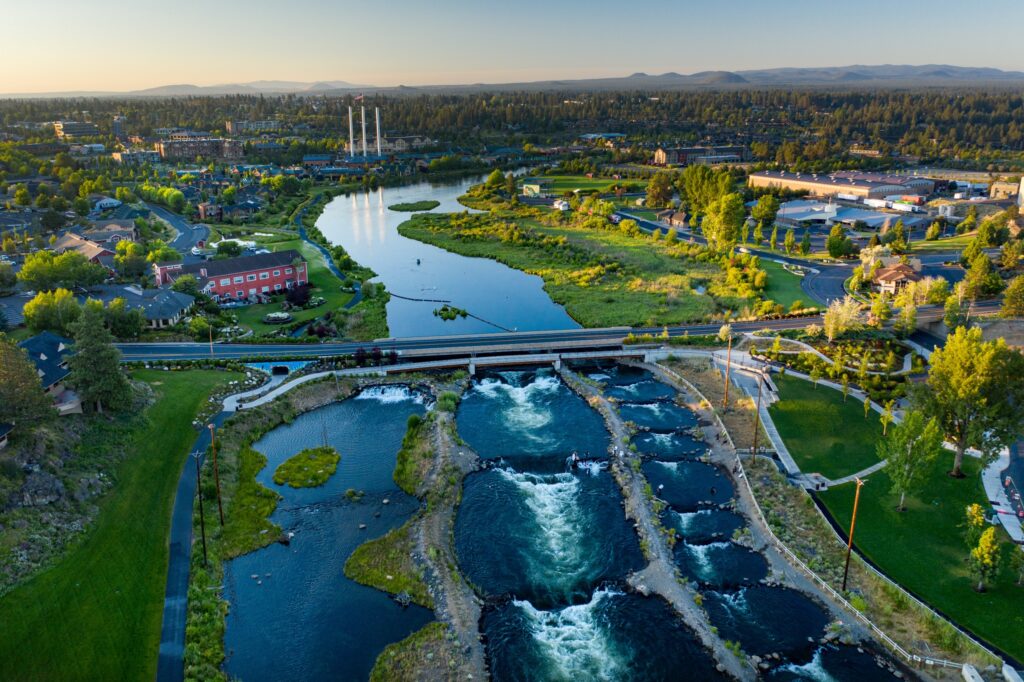 The 14,000 lineal feet along the Deschutes River, once mired with debris, is now a thriving habitat for native species.
The Old Mill District's commitment to excellence in waterfront restoration earned it national recognition, including the prestigious 2017 Excellence on the Waterfront Award from the Waterfront Center.
Today, the Old Mill District stands as a testament to the power of preservation, transforming a once-depleted landscape into a vibrant and award-winning destination, where the echoes of towering central Oregon lumber mills are woven into the fabric of a thriving community.
Shops In The Old Mill District In Bend, Oregon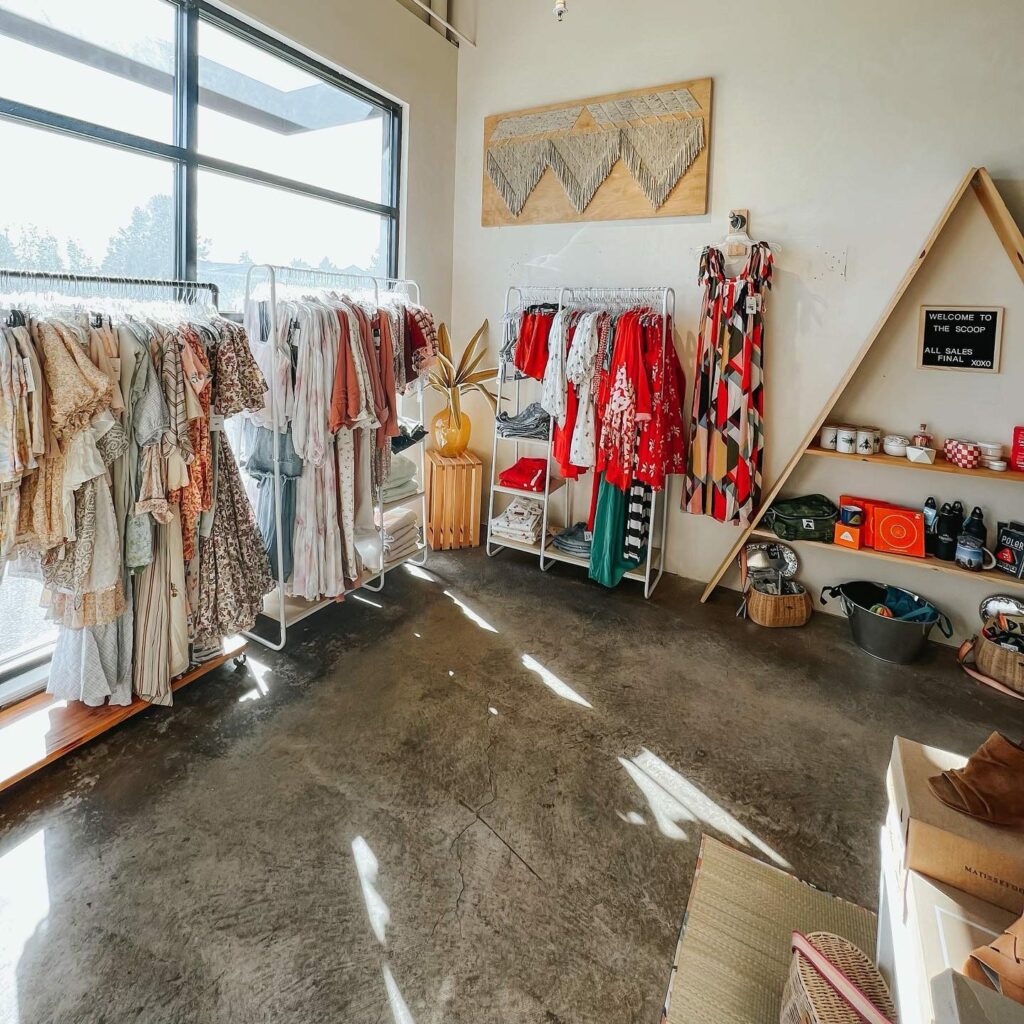 Let's talk shopping. The Old Mill District boasts over 40 shops, ranging from chic boutiques to well-known brands.
Whether you're into the latest fashion trends at Anthropologie, pampering yourself at Bath and Body Works, or gearing up for outdoor adventures at REI, there's shops for every taste and style in the Old Mill District.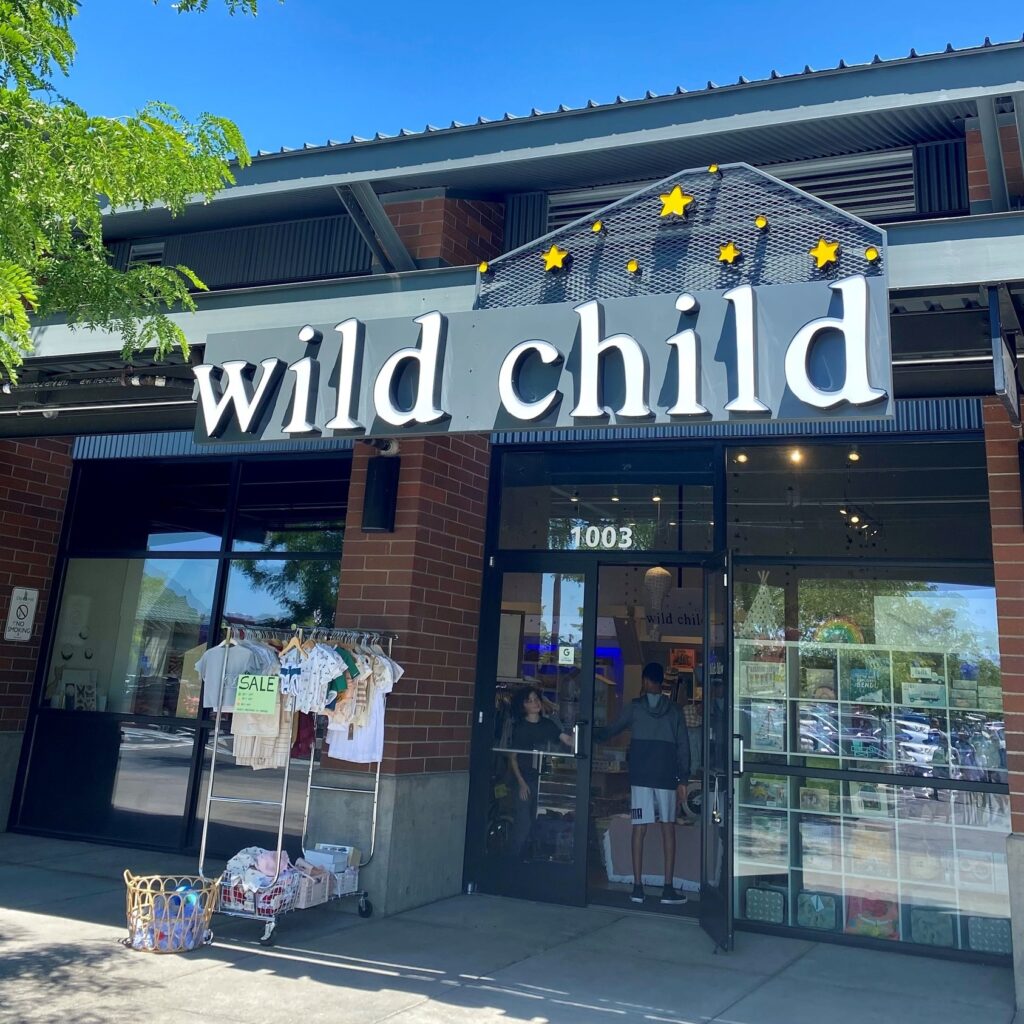 And here's a little bonus for all you savvy visitors from other states – no sales tax! That's right, you pay what you see in these shops, making your shopping spree even sweeter.
The Old Mill District Is Also About Winding Trails, Fresh Air And Art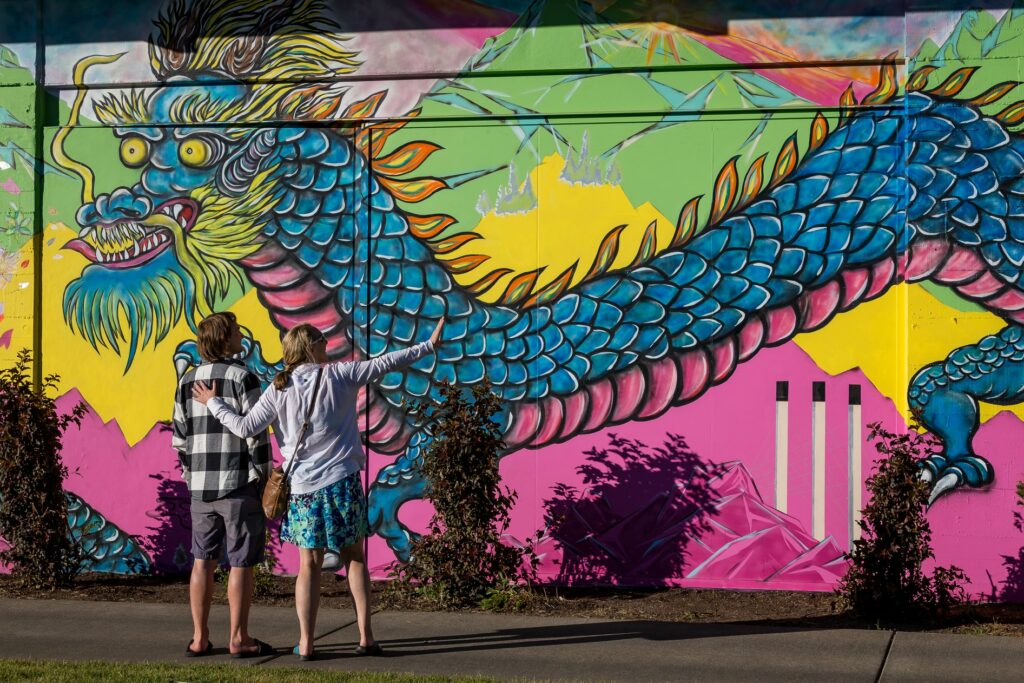 The pretty Old Mill District in Bend, Oregon isn't just about strolling through stores; it's about immersing yourself in Bend's natural beauty.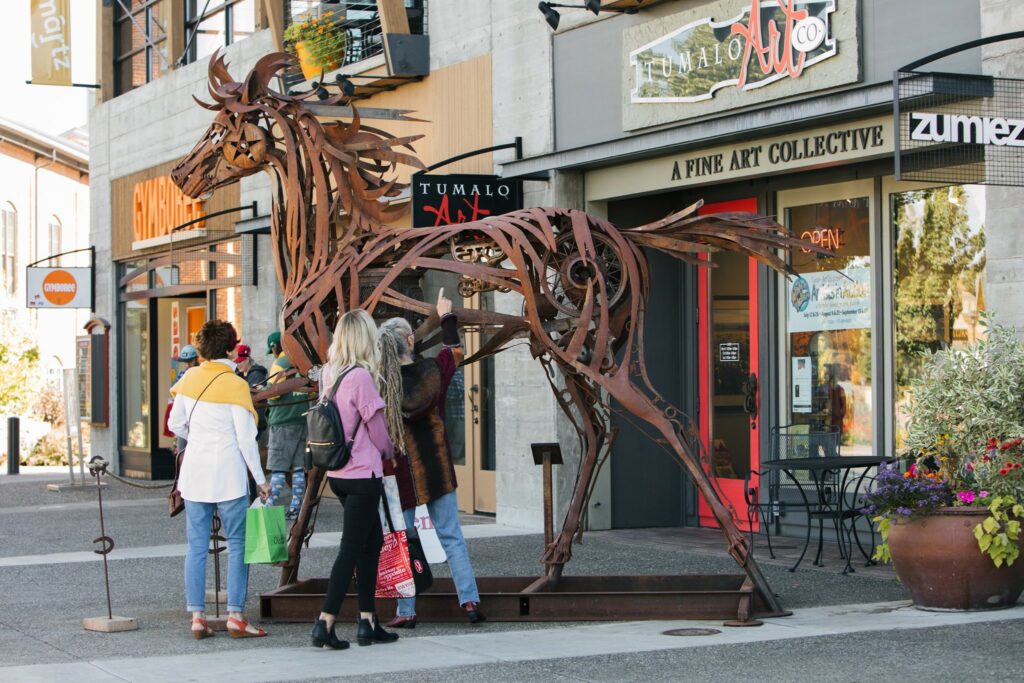 Picture this: as you wander from shop to art gallery, you're surrounded by miles of walking and running trails, wildlife habitats, and breathtaking views of the Deschutes River and Cascade Mountains. It's retail therapy with a side of fresh air.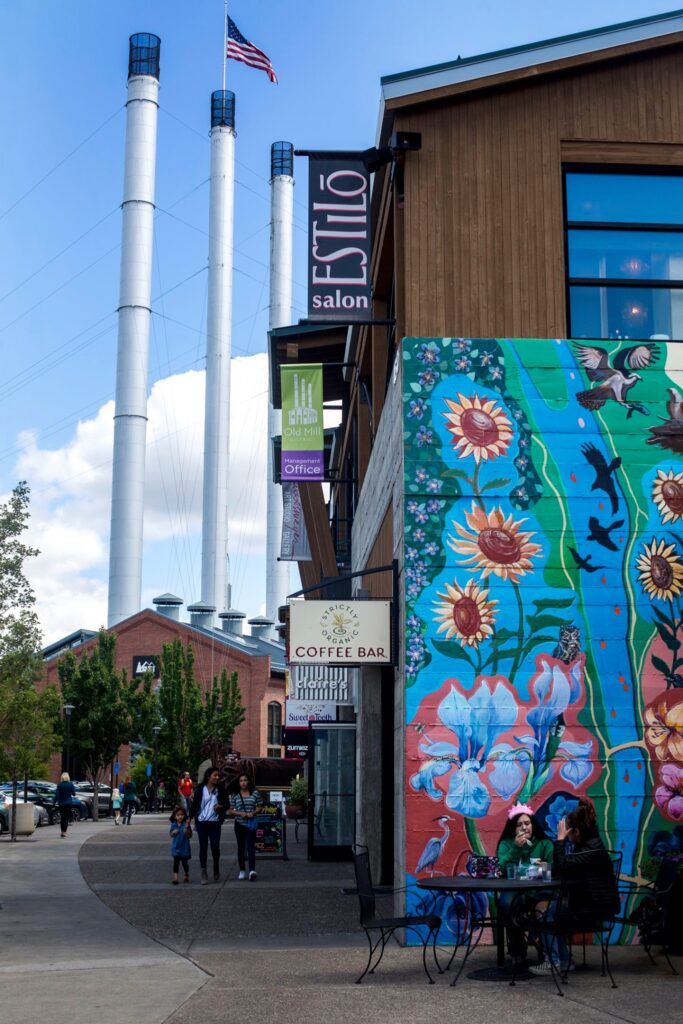 One I attended an art show right on the river in the Old Mill District. There are frequent events like this and there's always something going on along the banks of the Deschutes river for you and your family to enjoy.
Restaurants In The Old Mill District In Bend, Oregon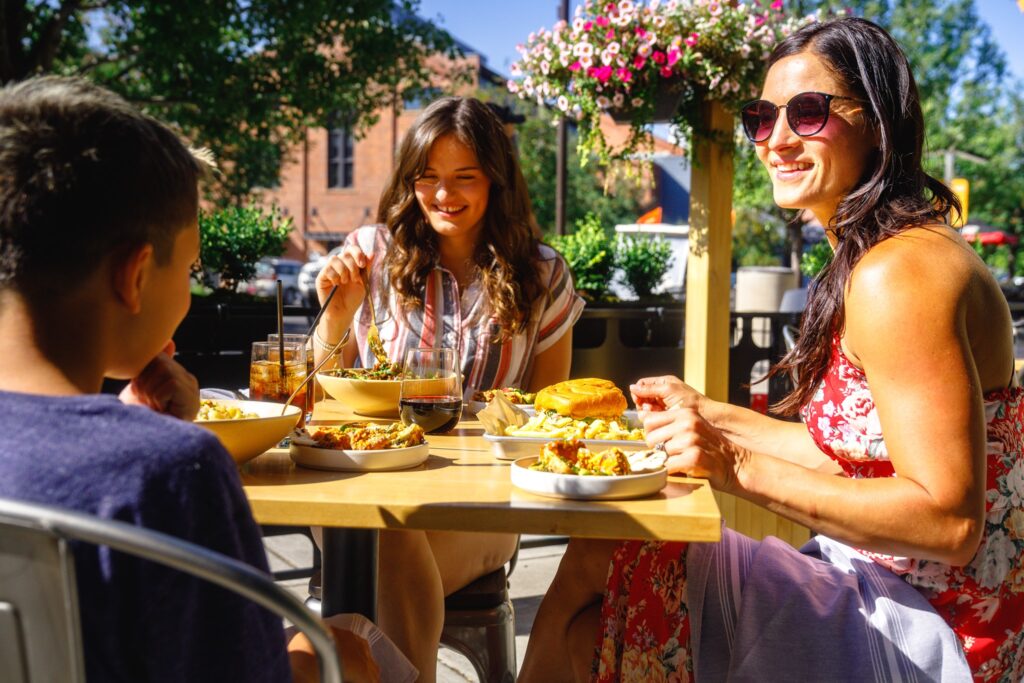 When hunger strikes, the Old Mill District has visitors covered with some of our favorite Oregon restaurants. With over a dozen restaurants, you can satisfy every craving. From casual and budget-friendly to upscale dining with outdoor dining and a river view, the options are diverse.
Imagine sipping on craft beer at Confluence Fly Shop & Craft Beer Bar or indulging in the finest Northwest seafood at Anthony's – your taste buds are in for a treat.
Who doesn't love a good meal? The Old Mill District's restaurants are not just places to eat; they're experiences. Whether you're enjoying quality brews and summer delights at Boxwood Kitchen, or diving into the flavors of Hawaii at Kona Mix Plate, your taste buds are in for a rollercoaster of deliciousness.
RELATED: Your Guide to a Sunriver Oregon Getaway
A Few Of Our Favorite Dining Options In The Old Mill District In Bend, Oregon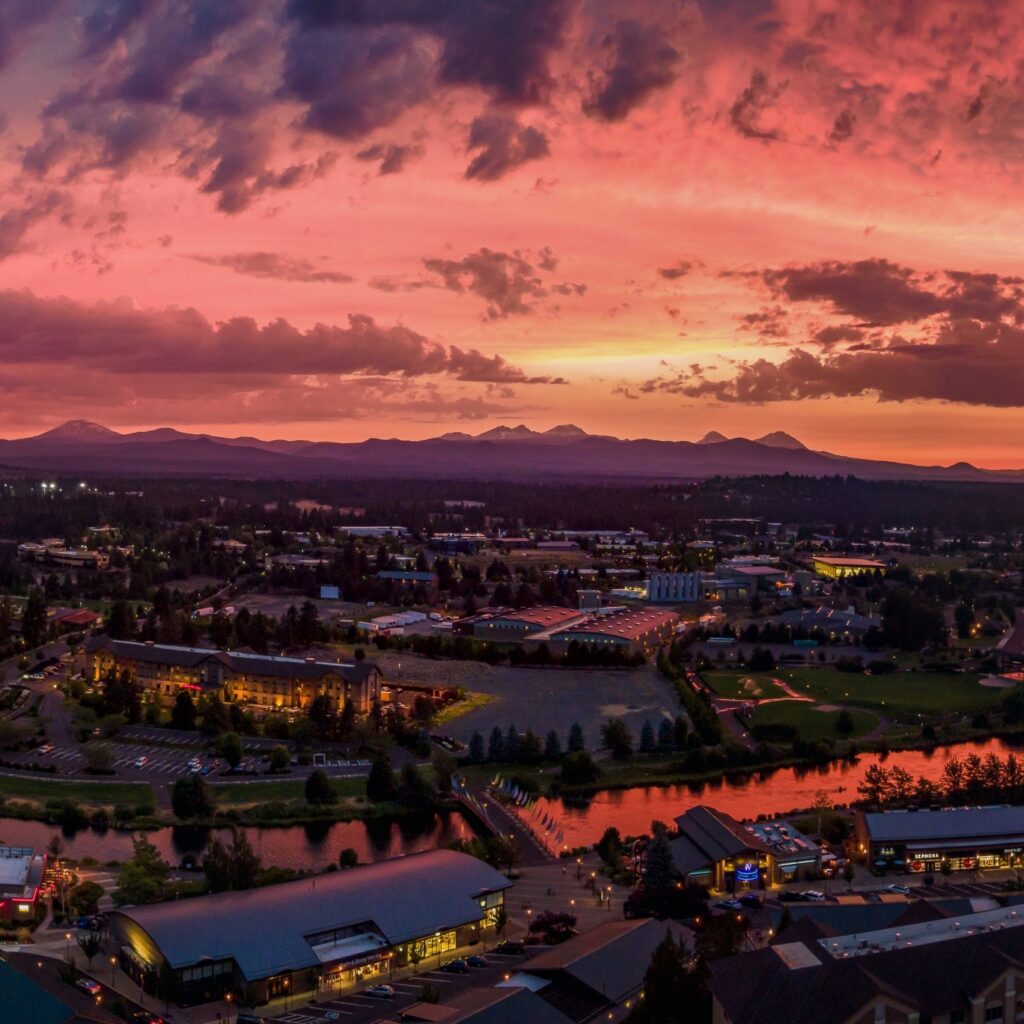 Anthony's at the Old Mill District stands out for its commitment to offering the finest fresh Northwest seafood.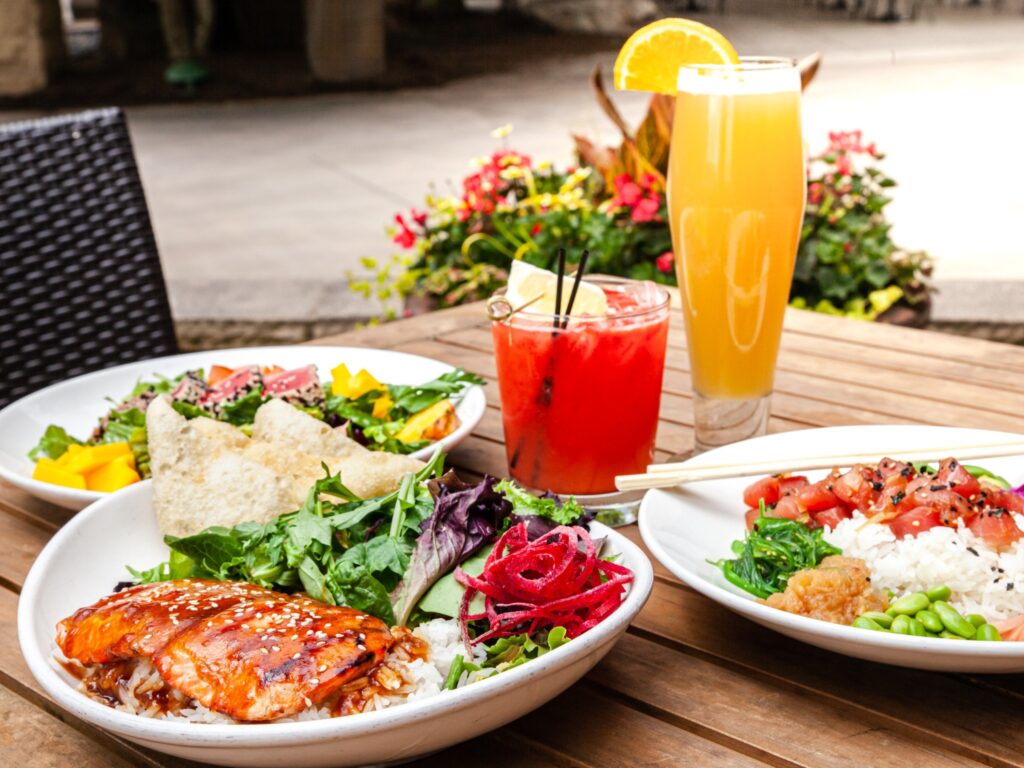 Imagine a place where every bite of fish is a testament to their dedication – they even operate their own seafood company to ensure top quality fresh fish!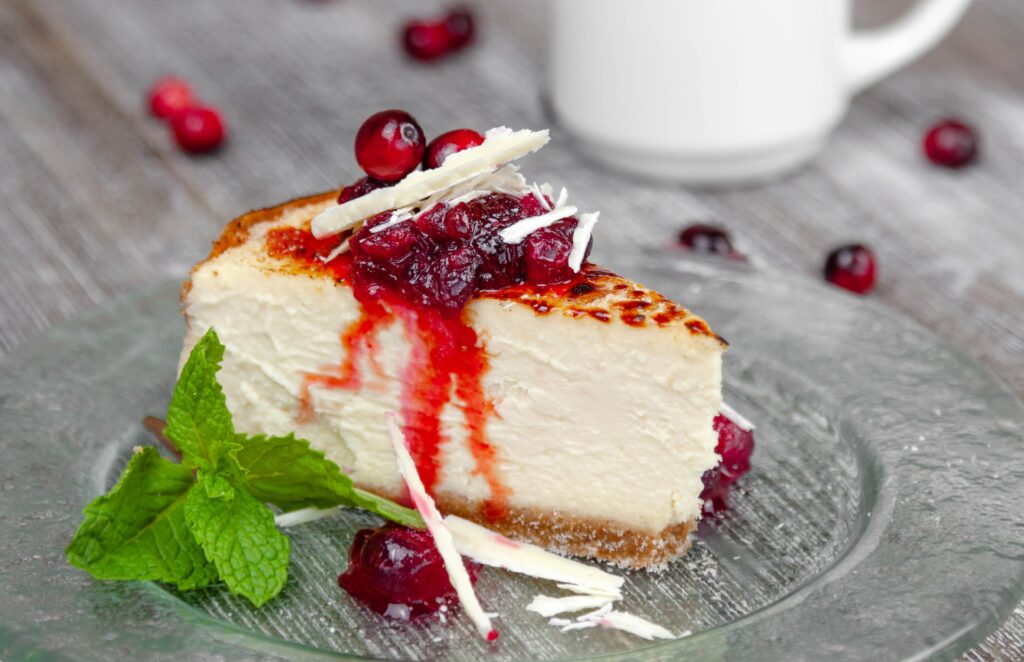 Boxwood Kitchen, born out of Bend's Widgi Creek Golf Course, has evolved into a full, upscale yet casual restaurant in the Old Mill District. Their summer menu is a celebration of crowd favorites like the Boxwood Burger, complete with bacon jam, and a crispy Thai Salad that perfectly suits summer patio dining.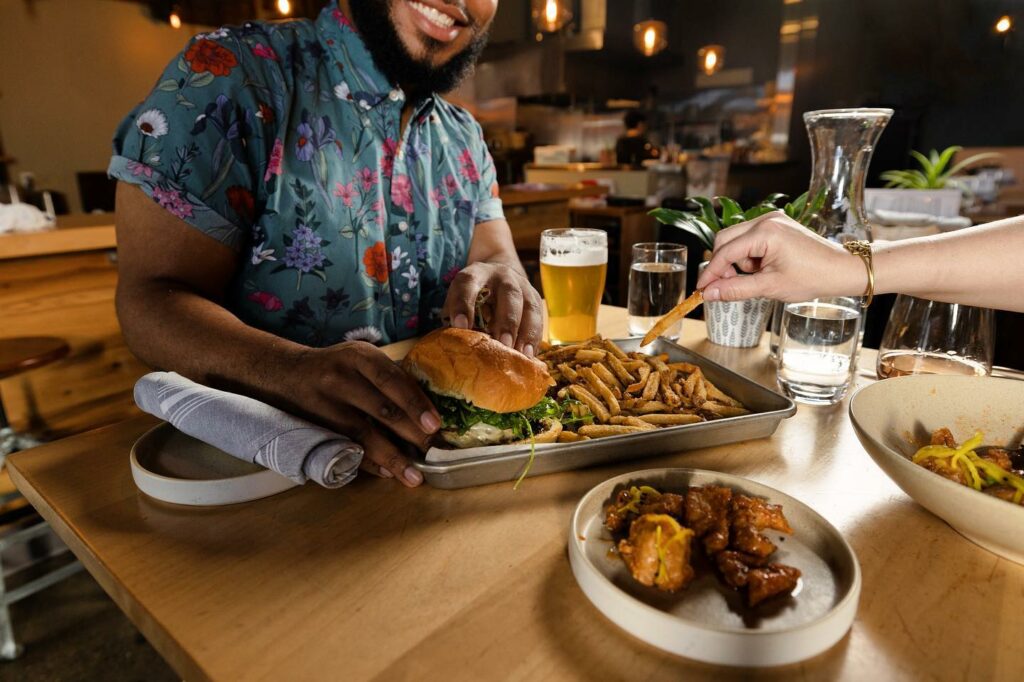 What's unique is their partnership with pFriem beers, rotating five craft taps throughout the season. Whether you're in the mood for a Hazy, Czech Lager, or a Belgian Style Blonde Ale, Boxwood Kitchen in the Old Mill District is the place to be.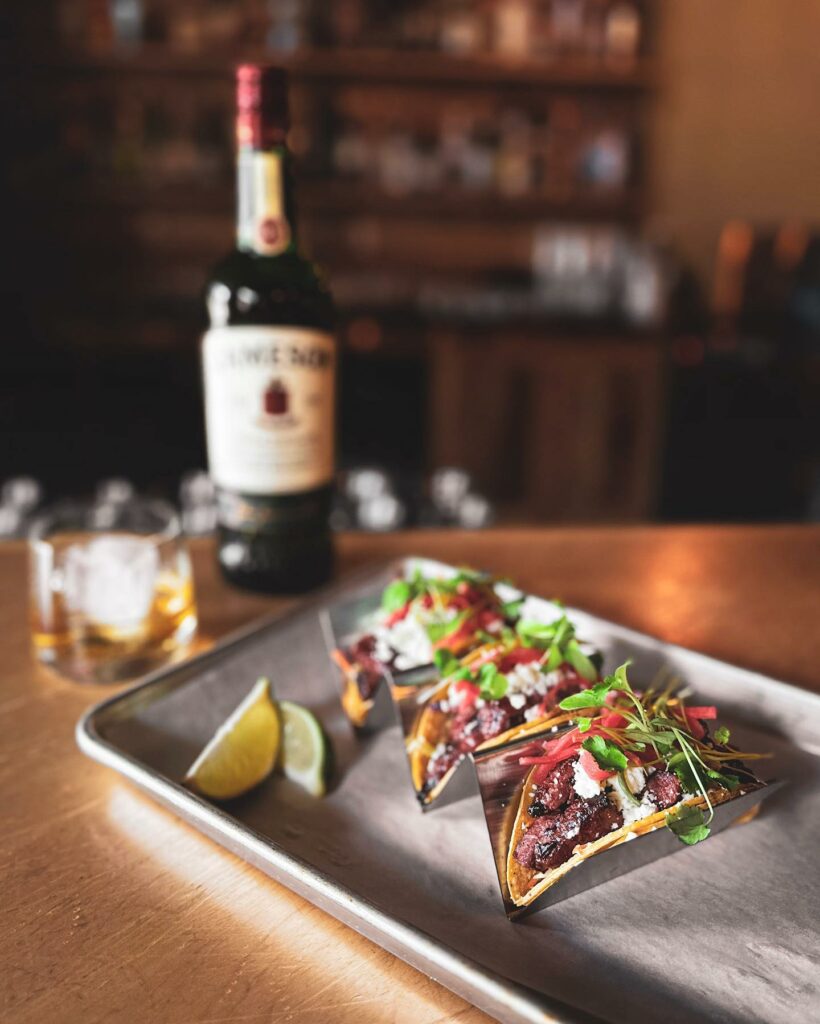 With an inviting atmosphere and a variety of drinks, from craft beer to specialty cocktails, this is more than a meal – it's a culinary experience and one of our favorite Oregon restaurants.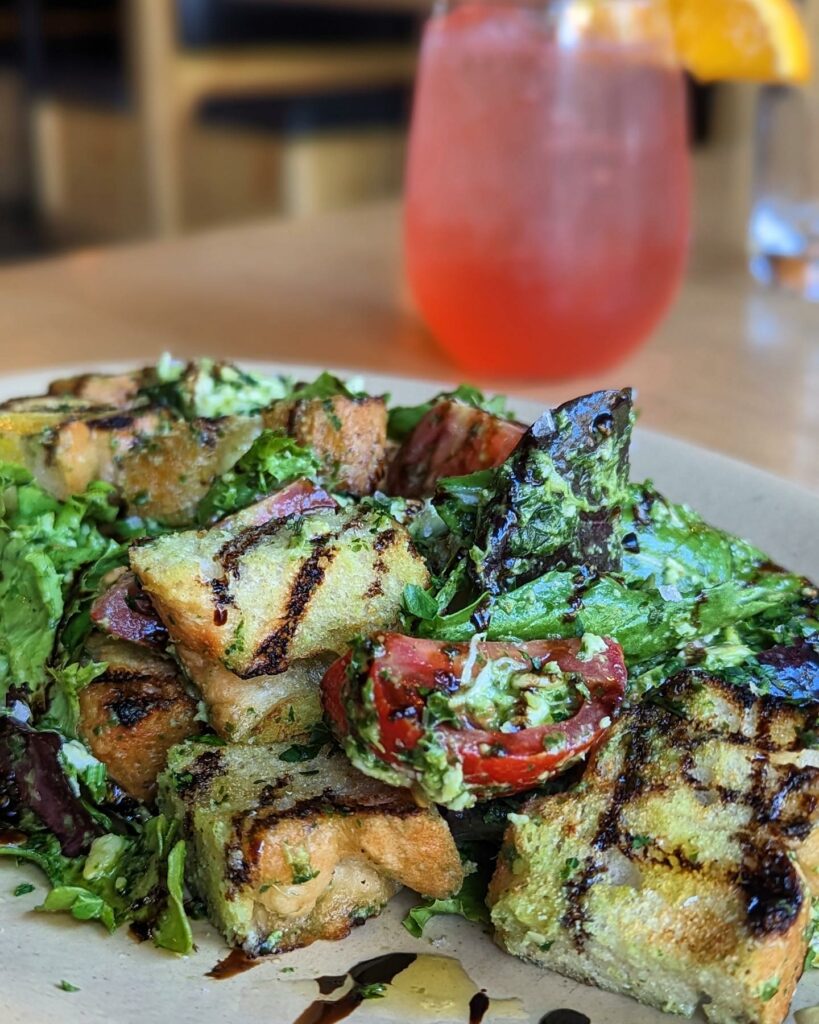 Big Island Kona Mix Plate in Bend adds a touch of Hawaiian flair to the Old Mill District's culinary landscape. Picture seafood and grilled meats infused with the vibrant flavors of Hawaii – teriyaki Mahi Mahi, Kahula Pork, Bulgogi, and more.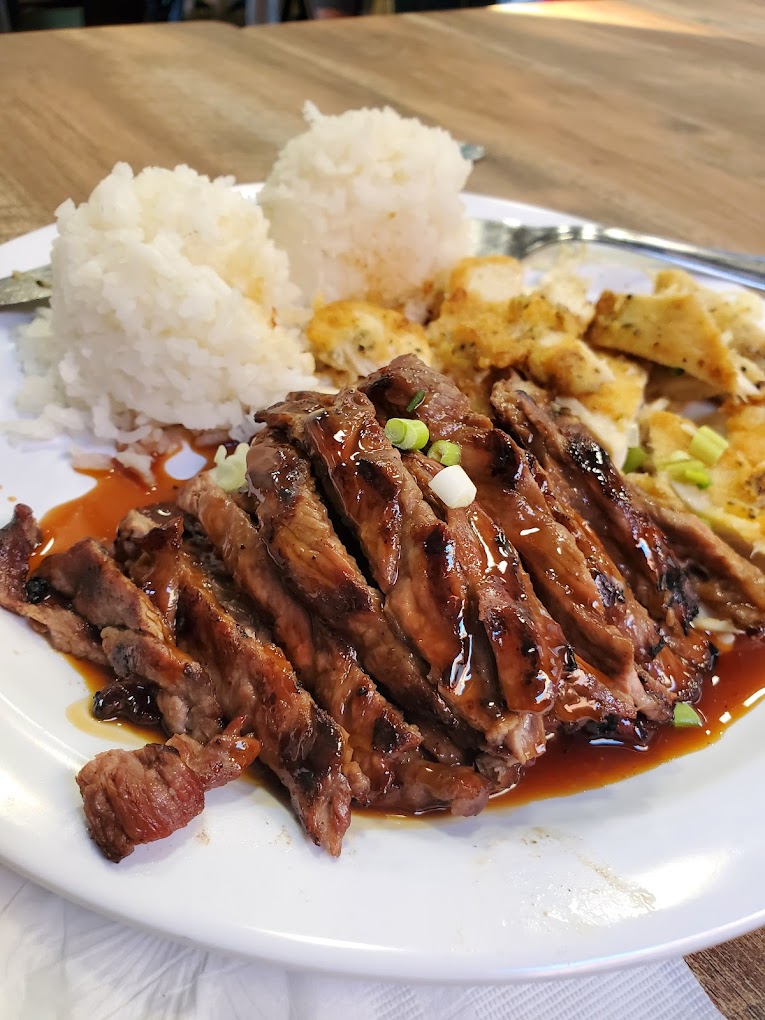 The menu offers a tantalizing array of options, from stir fry bowls and chicken teriyaki to deep-fried calamari, scallops, and seafood platters.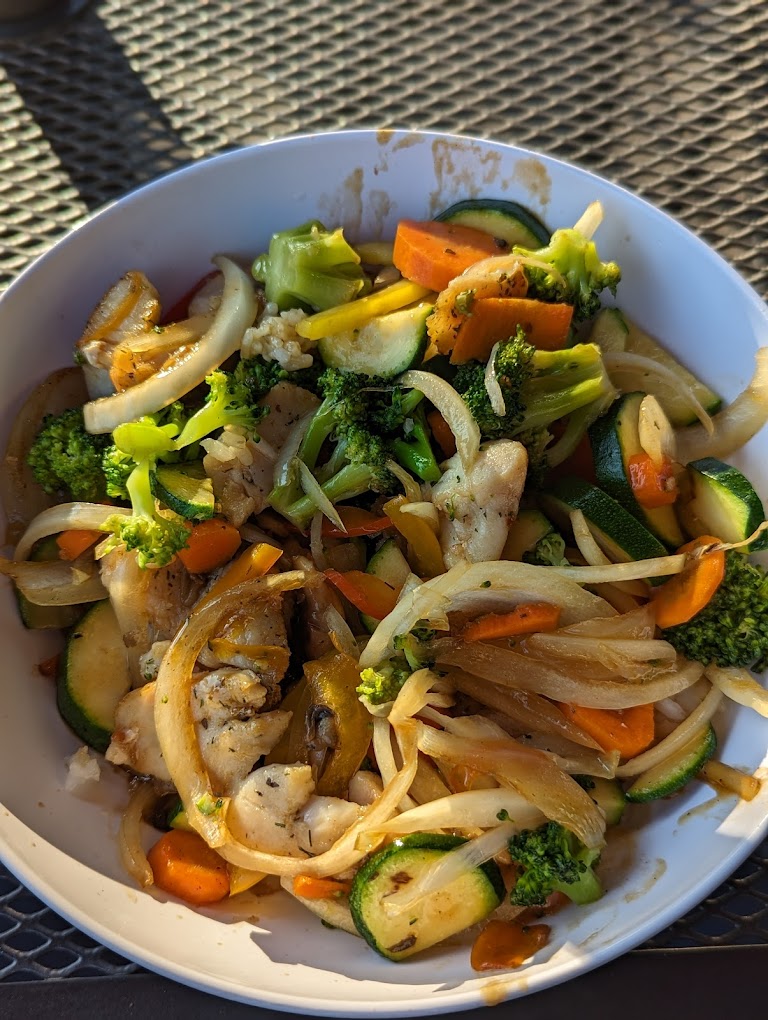 If you're in the mood for something unique, try the famous Potato Mac! Whether you're craving the rich tastes of Ahi, the freshness of noodle soups, or the crunch of spring rolls, Kona Mix Plate transports your taste buds to the shores of Hawaii. With a menu featuring various grilled meats, veggies, and sandwiches, there's something for everyone at this Hawaiian-inspired gem.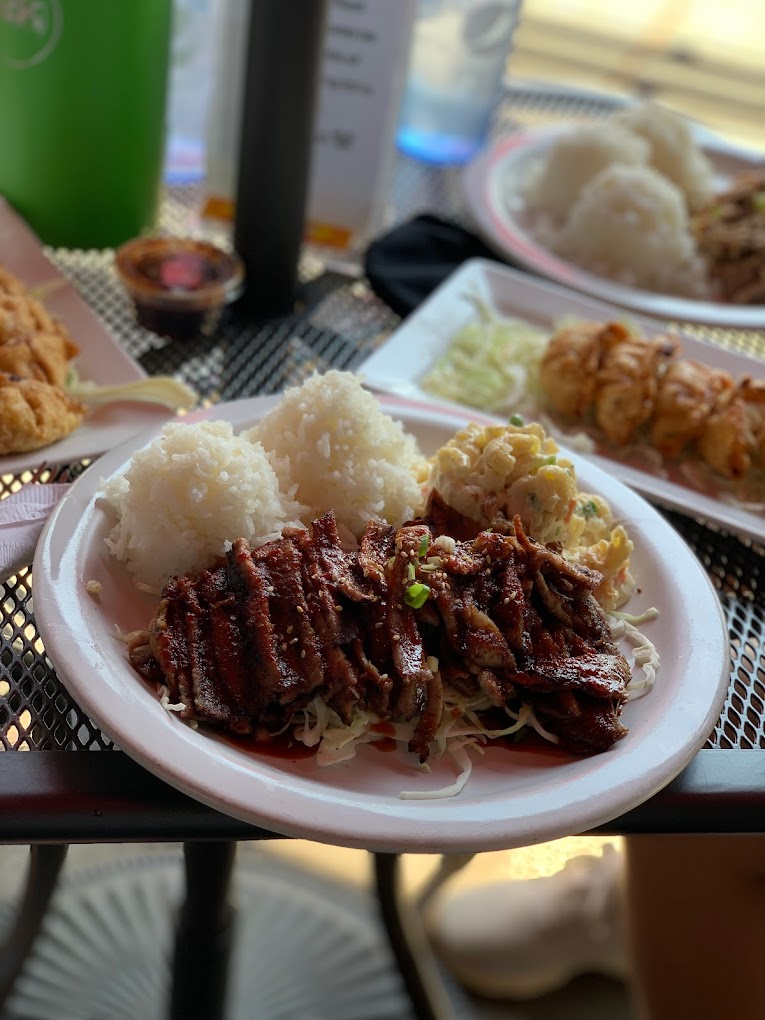 In the Old Mill District, dining isn't just about filling your stomach; it's about embarking on a culinary journey that reflects the diversity and richness of Bend's dining scene. So, whether you're sipping craft beer by the river on an outdoor patio, indulging in Northwest seafood with a view, or savoring the flavors of Hawaii, the Old Mill District's restaurants are more than places to eat – they're destinations for food enthusiasts and adventurers alike.
Hayden Homes Amphitheater Located On The Deschutes River In Bend, Oregon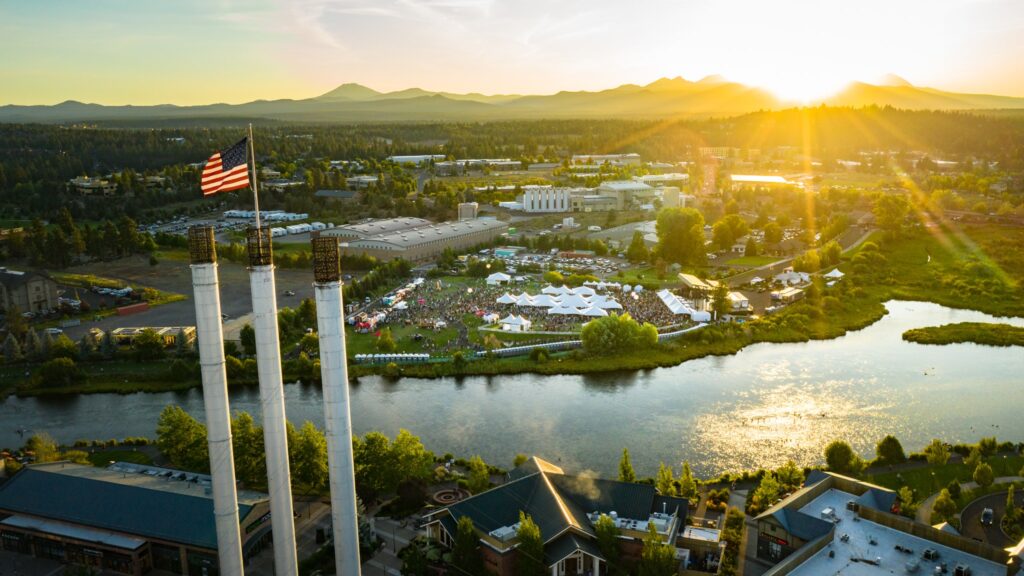 The Old Mill District isn't just about satisfying your shopping and dining desires; it's a place where the party comes to life.
The Hayden Homes Amphitheater, Oregon's largest outdoor music venue, is located right in the heart of the district on the banks of the Deschutes River. Surrounded by the natural beauty of Bend and Central Oregon, it has become a favorite for both musicians and fans alike.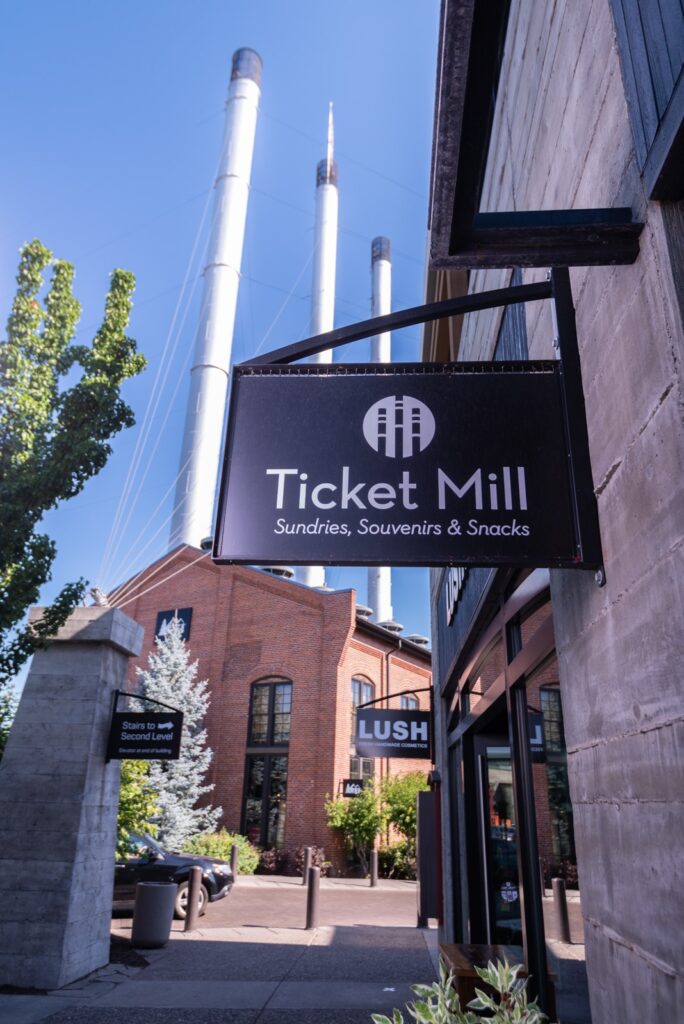 From Kenny Chesney to ODESZA, Jack Johnson, Bob Dylan, Paul Simon and the Dave Matthews Band, the summer concert lineup is a who's who of the music scene, making it a must-visit for any music lover. You can grab your tickets for events at the amphitheater at the Ticket Mill in the Old Mill District.
Need A Great Location To Listen Without Tickets? No Problem.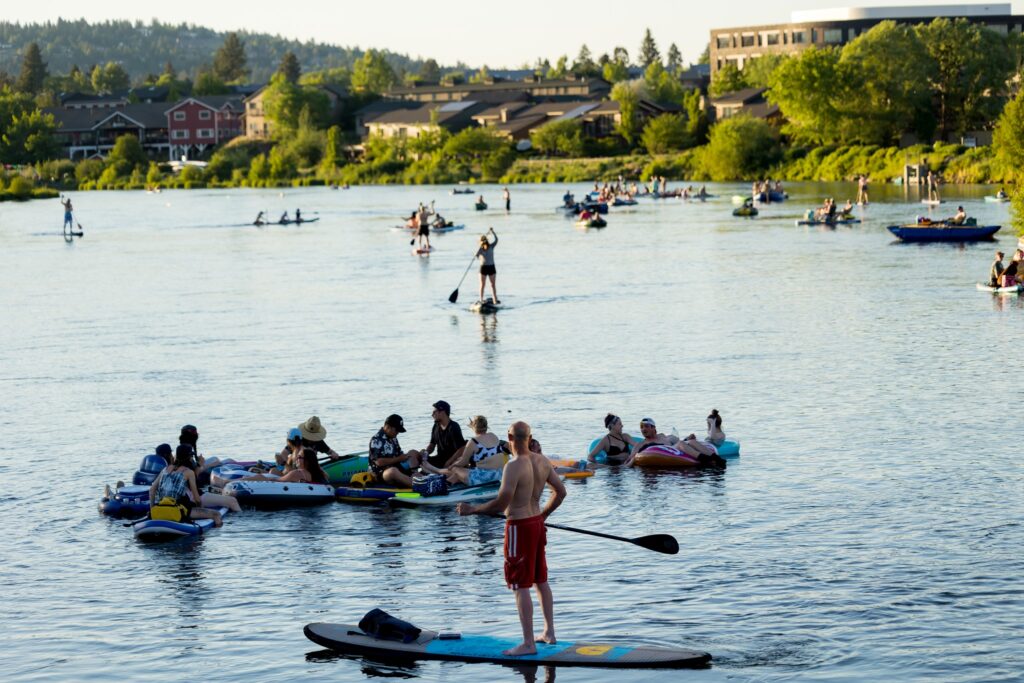 If you don't have money for tickets, a lot of people hang out on the Deschutes River on a paddle board or floatation device right next to the amphitheater, where you can hear the music for free! Others sit right across the bridge in the Old Mill District where the music floats across the river.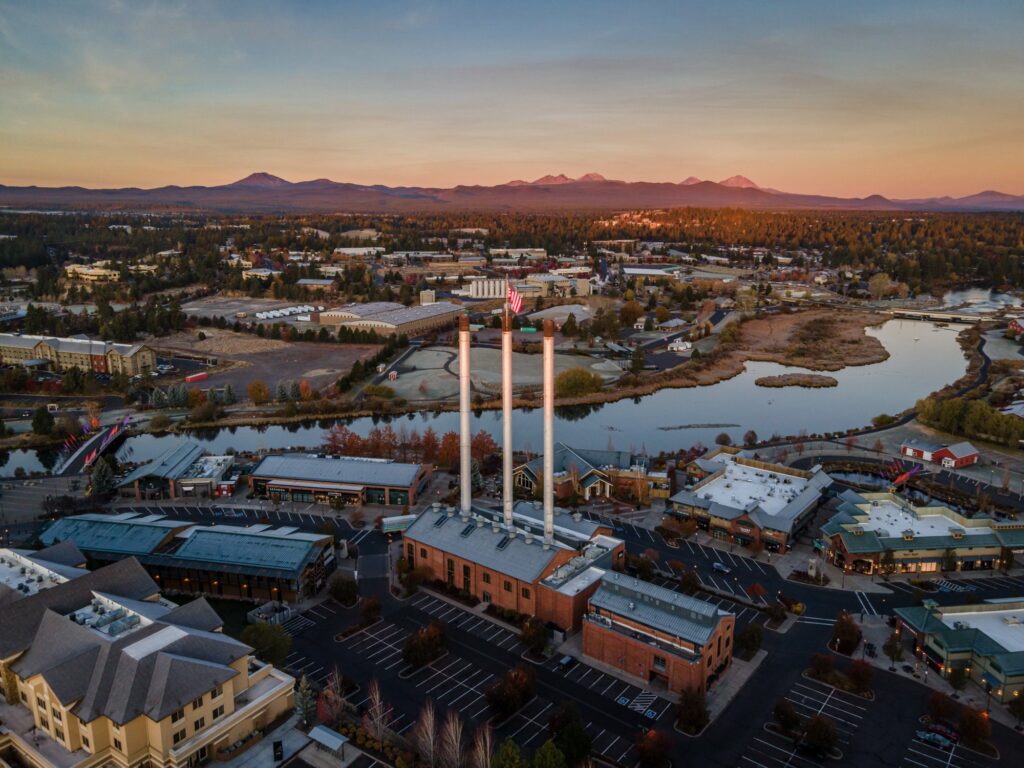 The Hayden Homes Amphitheater is one of the most vibing spots in town, bringing visitors from far and wide to catch a show.
Other Fun Things To Do In Bend With Your Family At The Old Mill District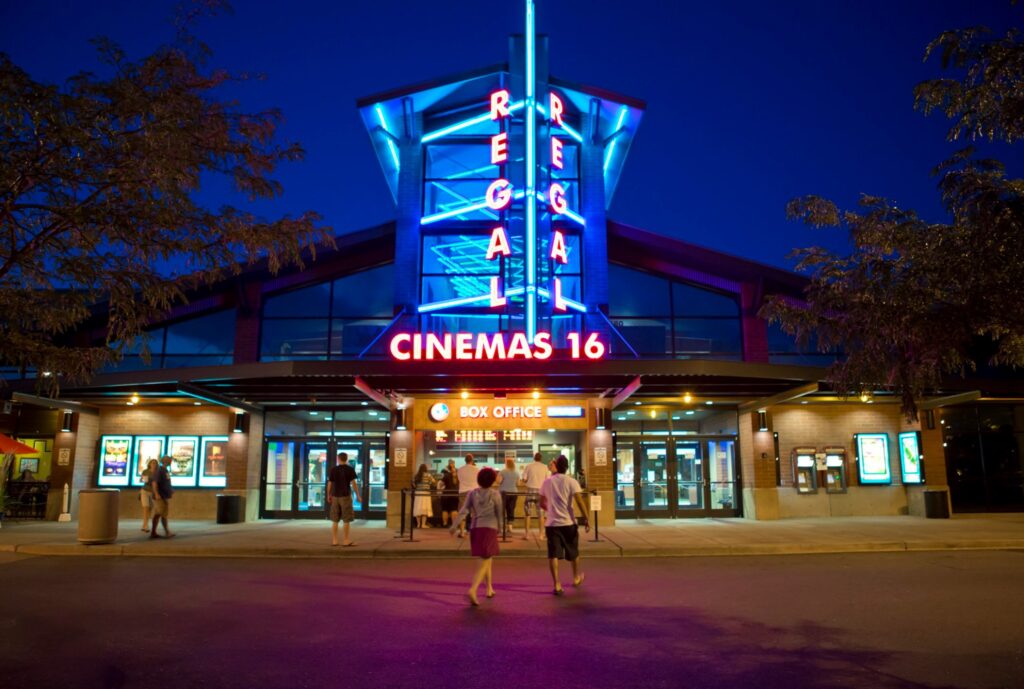 Feeling like a movie night?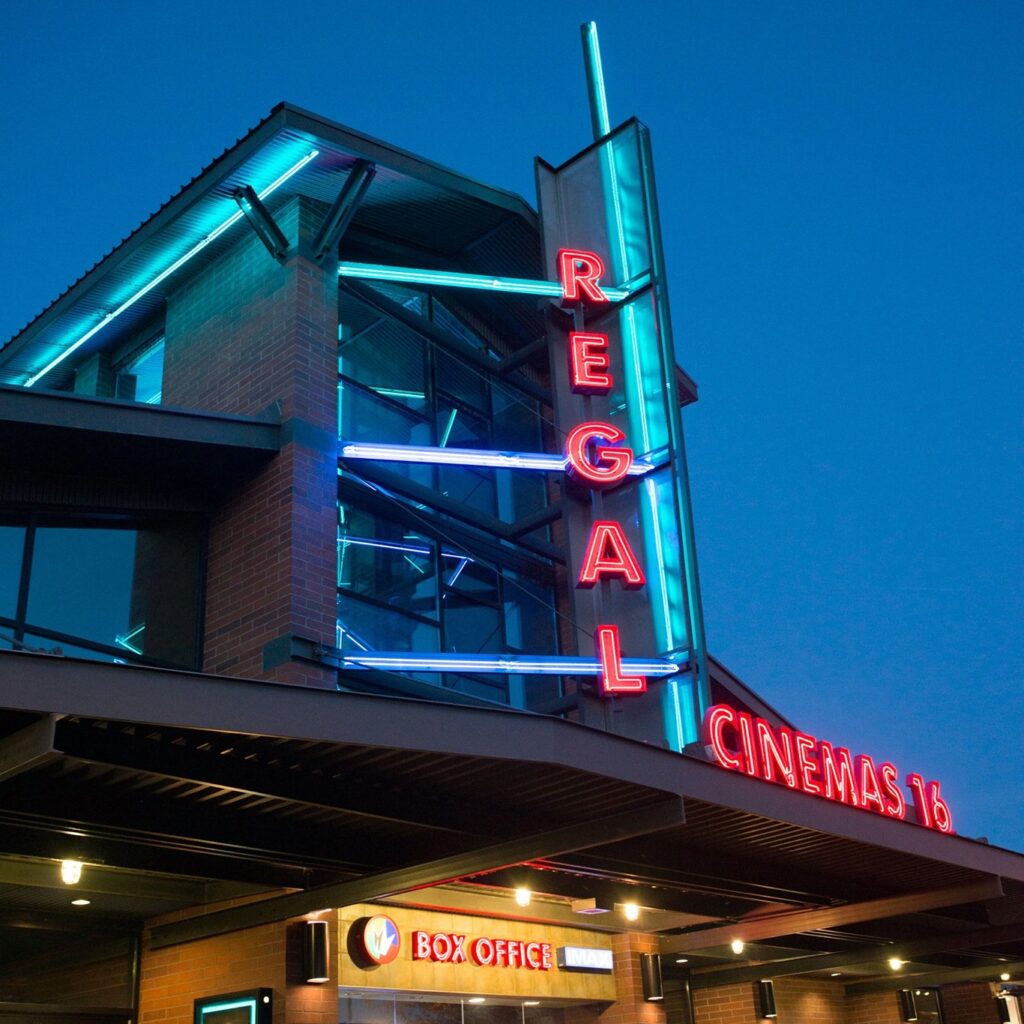 Regal Cinemas is also part of the Old Mill experience, ensuring you have options for entertainment beyond the stage.
We think you'll also enjoy reading about Bend, Oregon's premier surfing destination on the Deschutes River.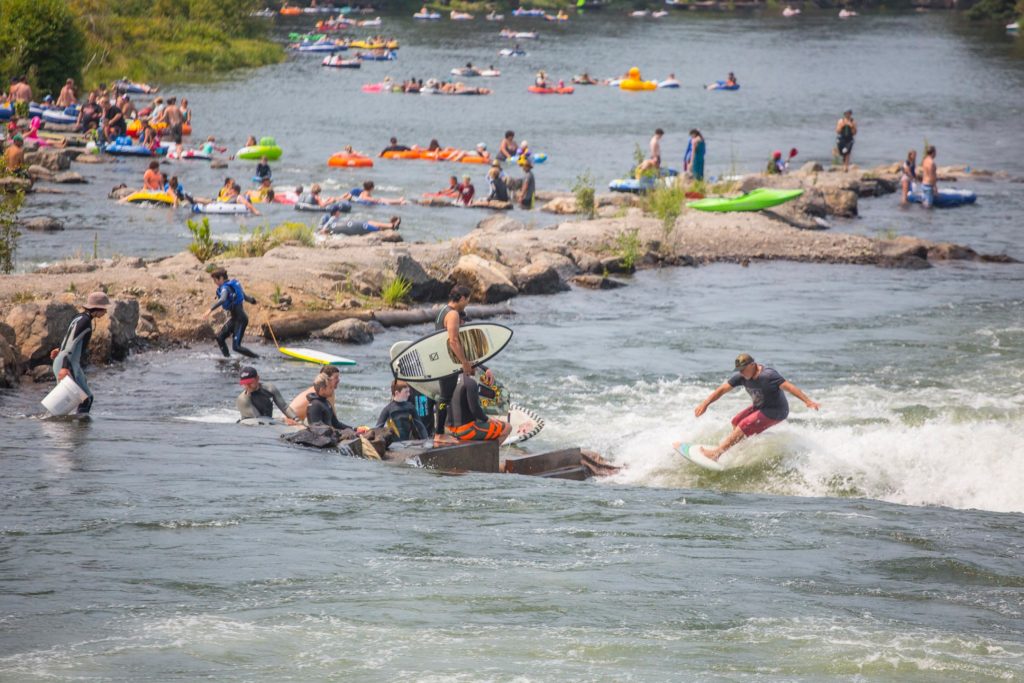 And let's not forget one the coolest Bend parks, Shevlin Park (a great place to get the kids out hiking and walking on kid friendly trails), and another of the fun Bend parks Drake Park, which has an awesome ADA boardwalk.
The Old Mill District Is Bend's Prime Location For Fun, Great Trails And River Views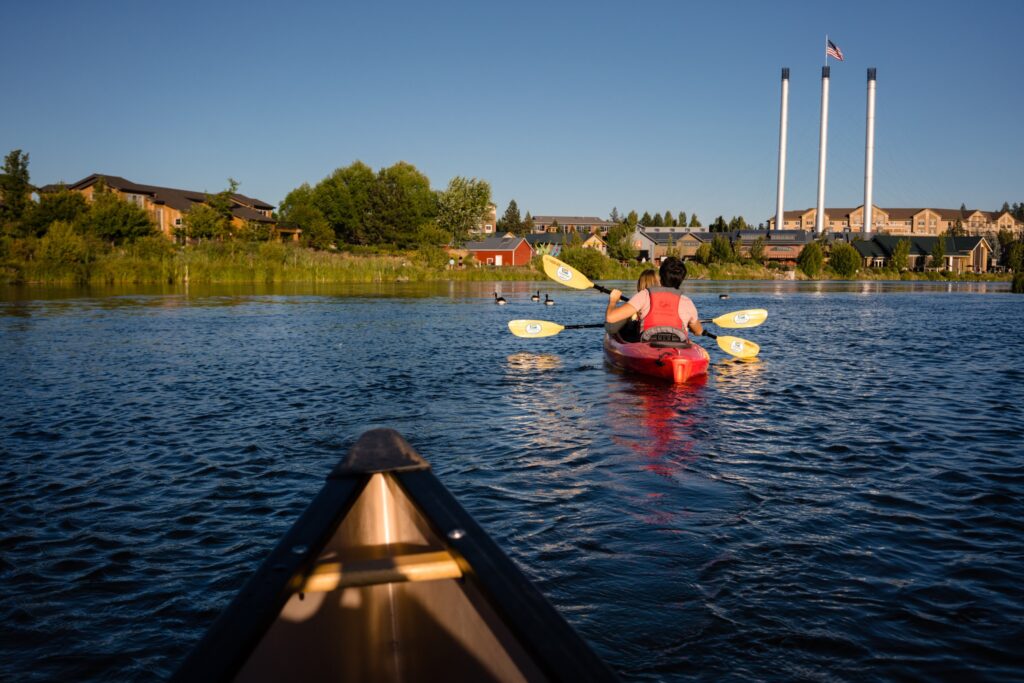 Whether you're a Bend local or a visitor discovering the magic of Oregon, the Old Mill District is where shopping, dining, and the outdoors come together in perfect harmony. It's not just a shopping mall; it's a lifestyle destination where Bend happens – where the spirit of the city comes alive with every step you take, every bite you savor, the trails you walk, and every note that fills the air.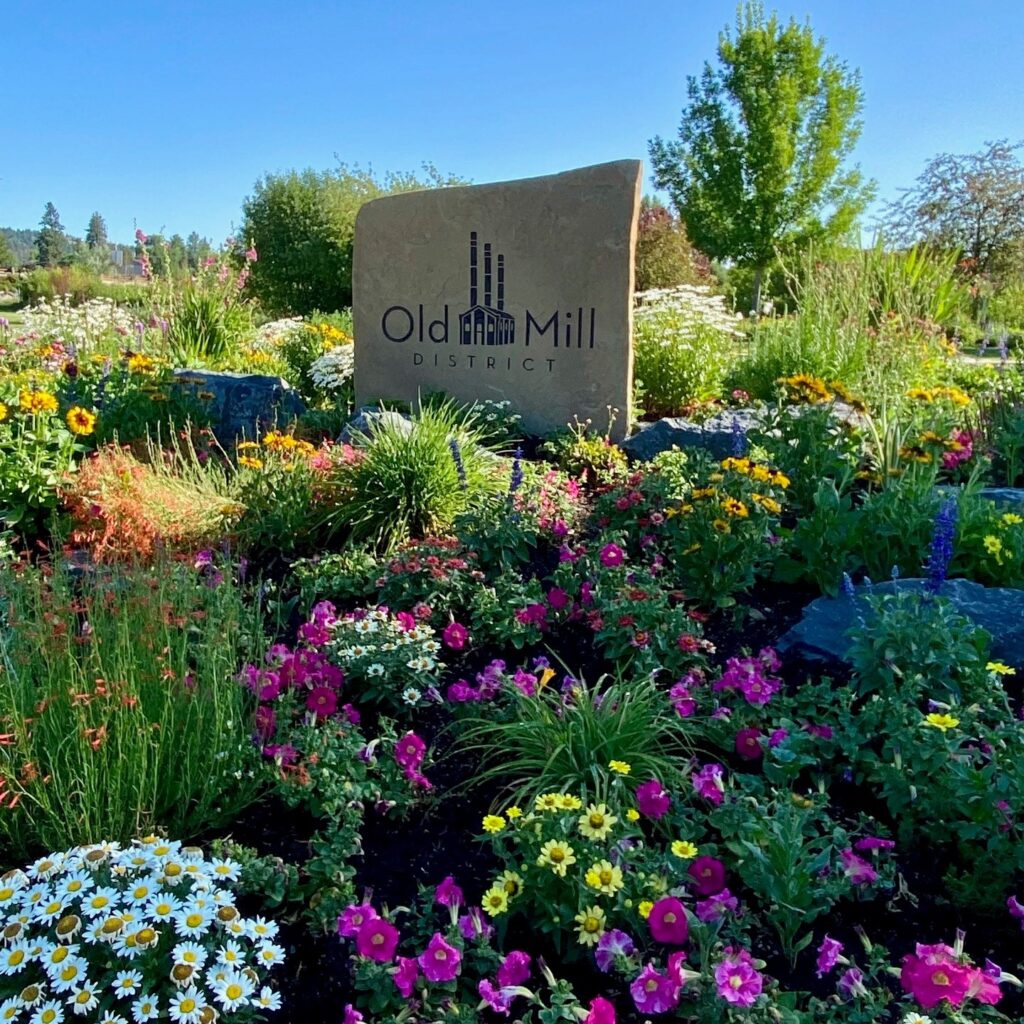 The Old Mill District stands as a shining example among the numerous local businesses fostering positive change in Oregon. If you've got a favorite spot or business in mind, don't hesitate to nominate them—they might just be highlighted in an upcoming feature for That Oregon Life. Be sure to stay connected with That Oregon Life on Facebook and Instagram to stay updated on the most remarkable destinations, attractions, and happenings in the Beaver State.