It's the small touches and warm inviting atmosphere that have made one luxury cabin located on Oregon's Santiam River one of the most welcoming Airbnb's in the United States. Oregon is full of pretty rentals in gorgeous environments, but not all rentals are created equal. The Oregon couple who runs this very special Airbnb were surprised but pleased when they found out they had recently been named as America's most hospitable Airbnb hosts.
Spoil Yourself At This Luxury Cabin On The Santiam River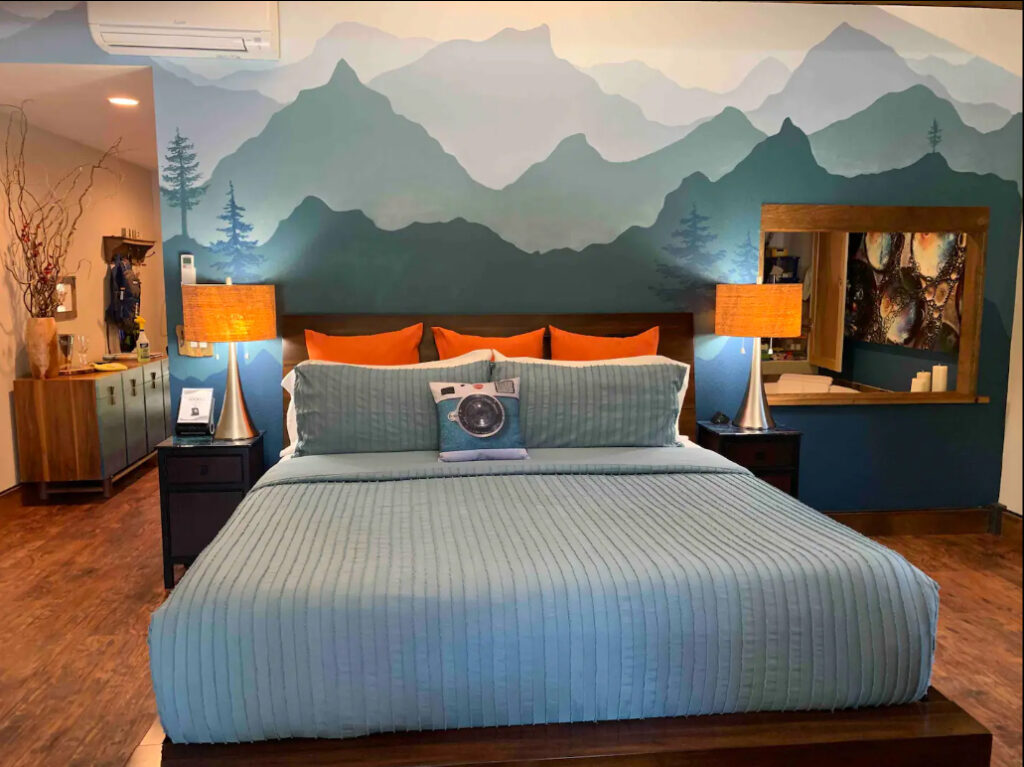 Cyndi & Tim are superhosts on Airbnb and their pretty luxury cabin rental has a perfect five star rating. Some people shy away from renting an Airbnb that sits on the same property where the hosts live, but in this case it's a good thing. Not only do Cyndi and Tim try to keep the cabin spotless, but they love to spoil their guests so much that it's in the title of their rental listing on Airbnb.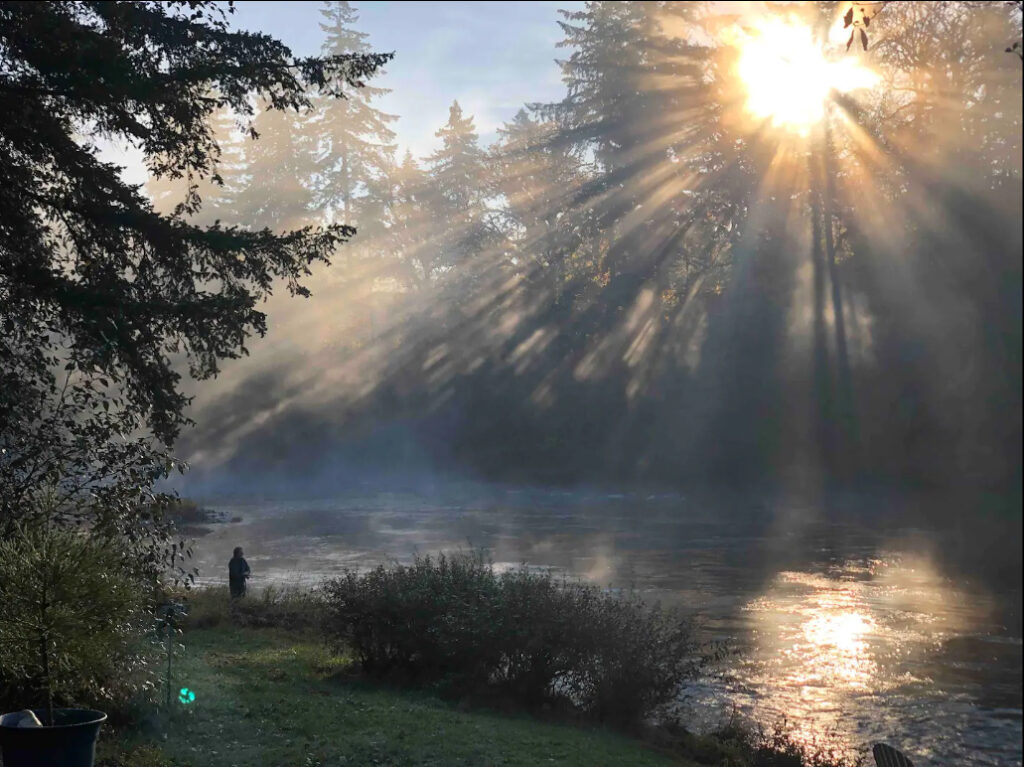 "We would love to meet you but we want to give you your privacy," the hosts state in their listing. On the property is an art studio where guests can interact with the hosts while doing a free art project if they choose.
Cyndi and Tim have a one hundred percent rating with almost four hundred reviews, which is the most of any Airbnb host in the United States, which makes them the most hospitable in the country!
One of the many ways in which guests are spoiled is that they don't have to do dishes. Guests are encouraged to put their dirty dishes in a grey tub and leave them on the front deck for the hosts to take and wash, and then return clean and ready to use again.
The Cabin On The Santiam River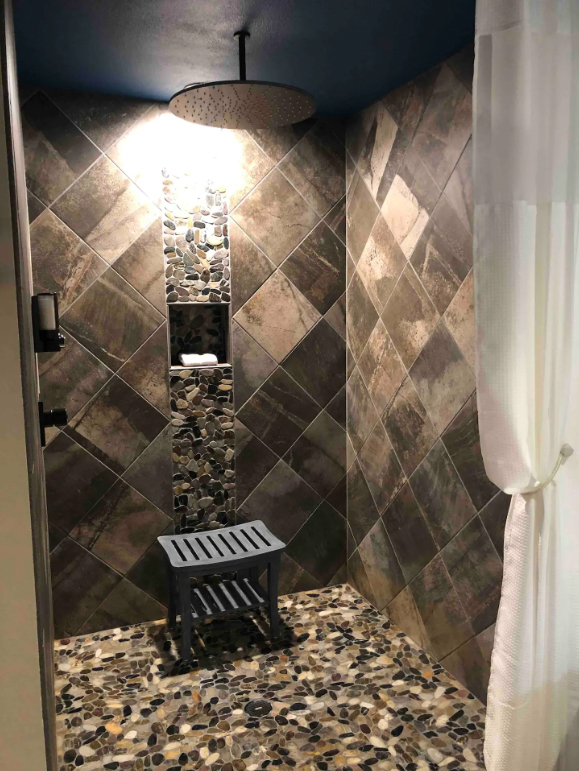 The luxury cabin is located next to the Santiam River just twenty minutes from Salem, so you're close to shopping and good restaurants, though no one will blame you if you want to relax outdoors, do a little swimming, or stick close to the cabin for some forest bathing.
The cabin features great views and a king size bed, making it perfect for two adults who want to spend a weekend relaxing or having a romantic getaway.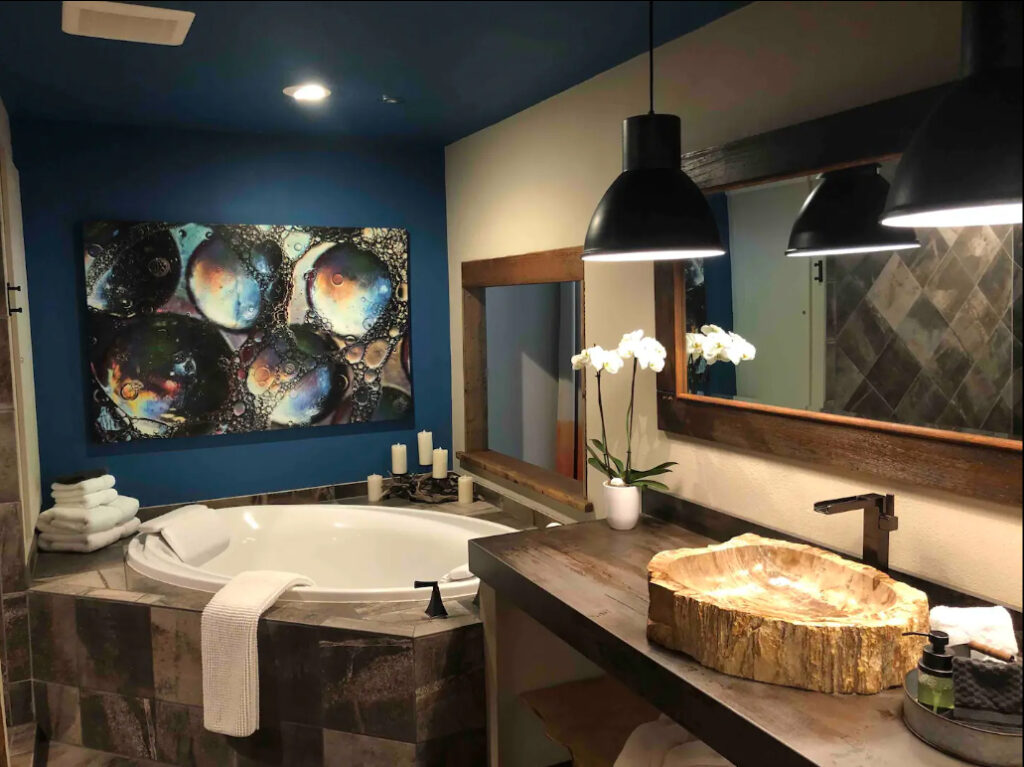 While the views and location are amazing, one of the coolest things about this Airbnb is the spa like bathroom. The bathroom has a large soaker tub, a twenty inch rain shower for two, and a gorgeous petrified wood sink.
Other features of the cabin are a gas fireplace, flat screen HDTV, and a private deck with river views.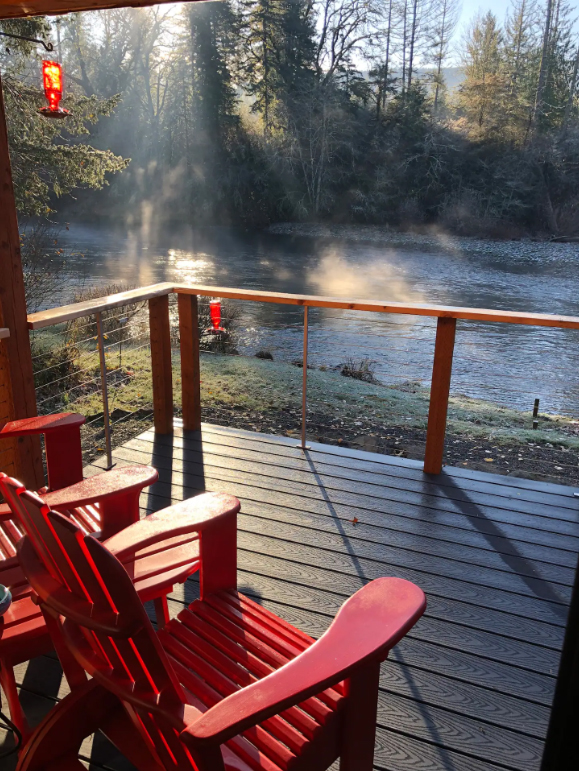 Guests have nothing but positive things to say about their stay at this luxury cabin. Chelsi said, "Cyndi & Tim are wonderful hosts. They put a lot of effort into making their cabin feel welcoming to their guests. I would definitely recommend and plan to come back."
In another review Shann said, "I honestly am speechless. This was the best Airbnb we have stayed in! Cyndi and Tim were amazing hosts and the home was better than imaginable. You walk through the door and are just drawn to the view. You are RIGHT ON THE SANTIAM!"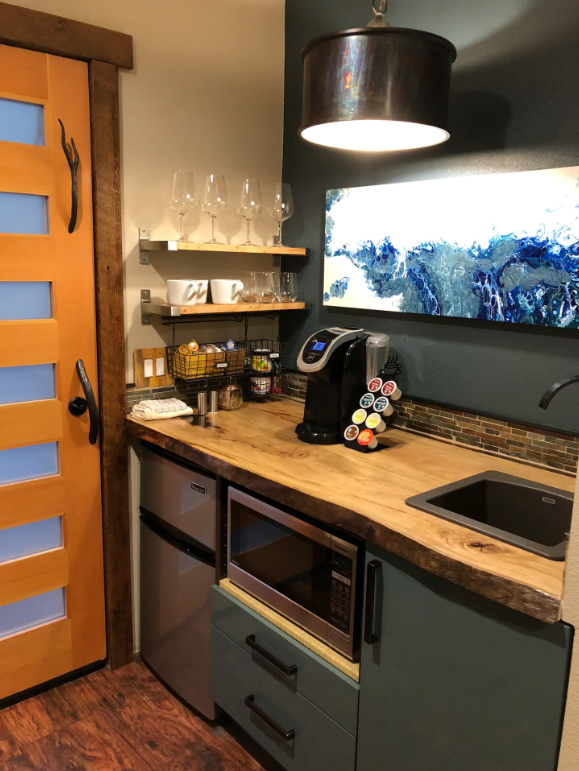 Get more information on this incredible cabin located on the Sanitam River in Stayton, Oregon.
We think you might also enjoy reading our Travel Guide To Mount Hood, as well as about this cute luxury Airbnb near Eugene, and this amazing riverboat Airbnb in Newport on the Oregon coast.
What's your favorite place to take a vacation in Oregon? Let us know and tag the friends and family you want to go with!