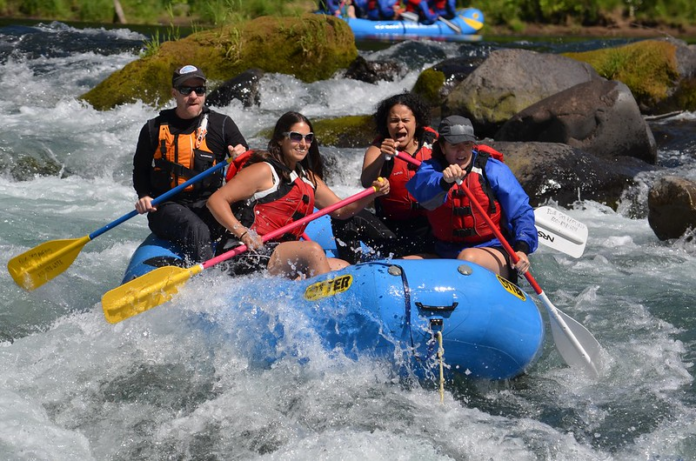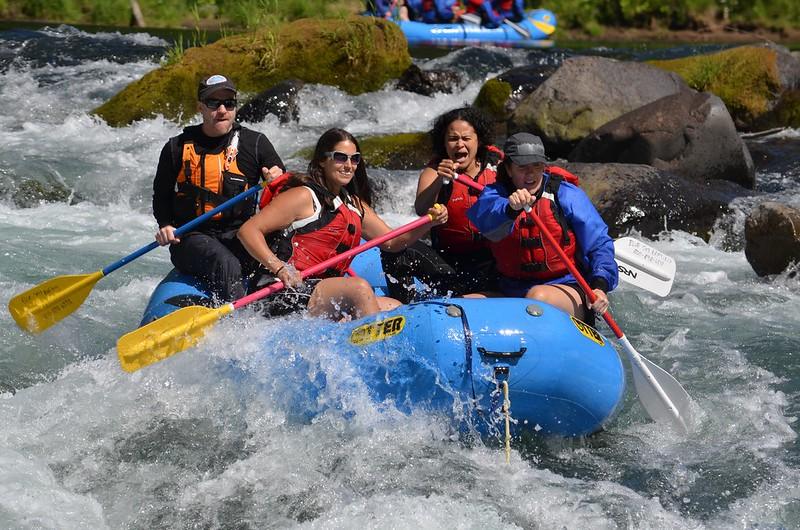 White Water Rafting - Oregon
You'll be hard pressed to find a better state than Oregon for whitewater rafting. Whether you're looking for river trips through deep canyons, thick forests, or high desert, Oregon rafting offers something for everyone. Plus, there are more federally designated Wild and Scenic rivers in Oregon than in any other state in the country!
Plan your next river rafting trip (or two!) at one of these phenomenal Pacific Northwest spots and get ready for white water adventure all summer long.
Best Oregon Rafting Trips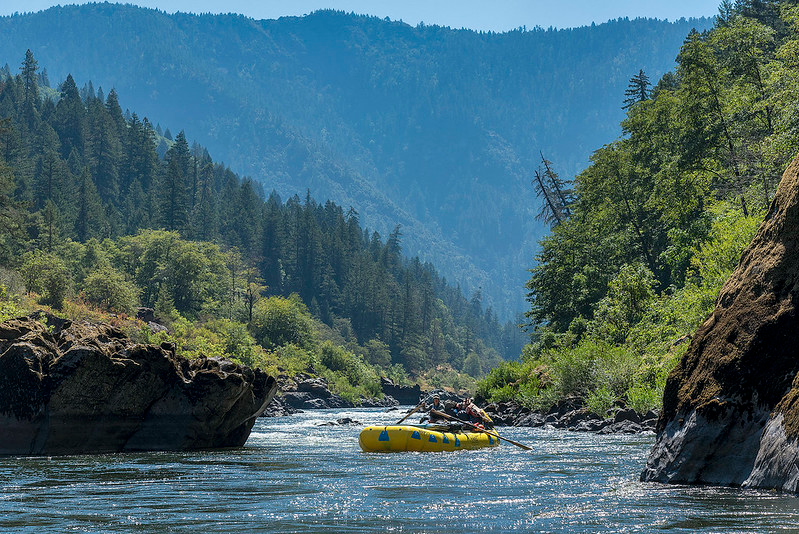 1. Rogue River near Medford, Oregon
The Rogue River is one of the original eight "Wild and Scenic" rivers and is a truly unique rafting experience. The most scenic section of the Rogue River runs for roughly 35 miles from Grave Creek to Foster Bar, and this is best experienced as a two or three-day guided trip, with rapids ranging from class II to class IV.
For a shorter trip, try a section of the Rogue River slightly north to run the popular and fun class IV "Nugget Falls." There are many outfitters in the area providing river trips that include food and transportation back to your car, but no matter what adventure you pick, you'll be blown away by the beautiful scenery and may even see a black bear or two!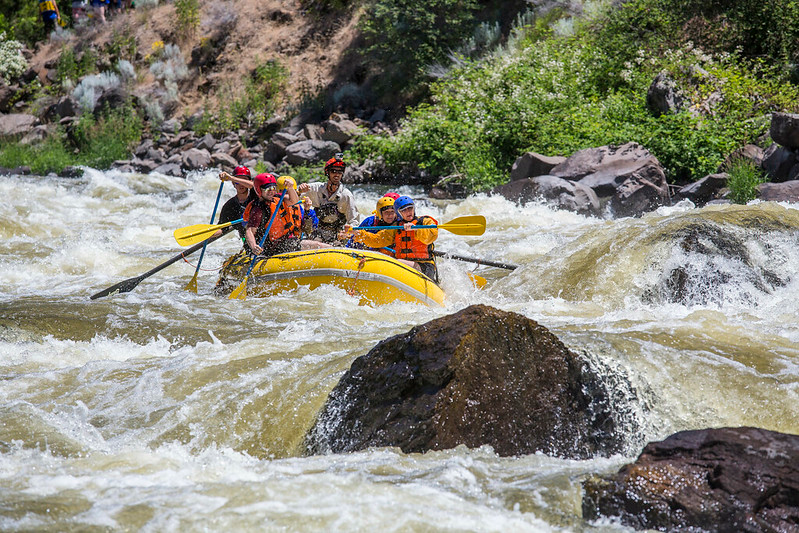 2. Upper Klamath River near Ashland, Oregon
Not for the faint of heart, the Upper Klamath's rapids are rated class III to class IV+ . Starting in Southern Oregon and ending in Northern California, the best stretch of the Upper Klamath runs for 12 miles and can be done as a long day trip or a relaxed 2-day river trip.
Due to the difficulty of the rafting here, you should only go with experienced guides if you're not very confident in your skills. Rapids such as "Caldera," "Satan's Gate," and "Hell's Corner" are all fun but hard to navigate (if the names alone weren't a dead giveaway!).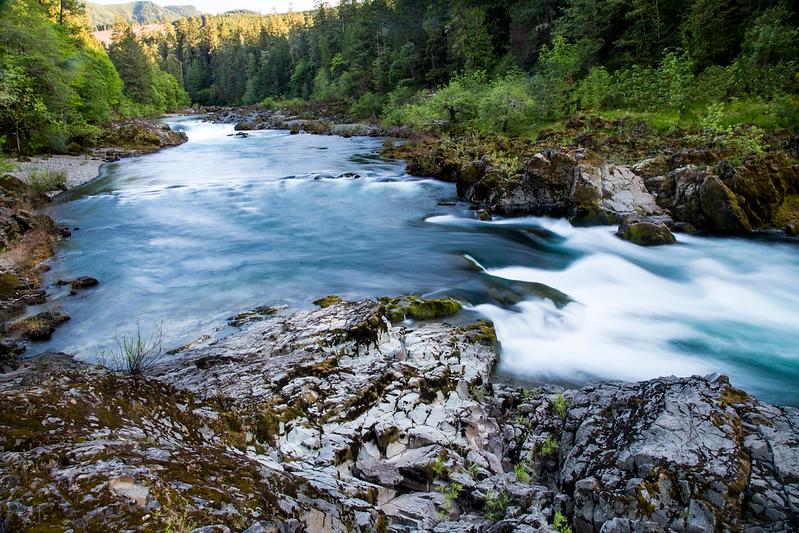 3. North Umpqua River near Roseburg, Oregon
The headwaters of the North Umpqua begin around Crater Lake and run for 14 miles from Boulder Flat Campground to Gravel Bin and consists of mostly class III+ rapids. The Umpqua has more rapids per mile than any other rivers in the area, creating a fun option for those skilled in navigating challenging rapids on an inflatable kayak.
If you're camping at Crater Lake, the Umpqua's nearby, crystal clear water makes an ideal choice for whitewater rafting since you can complete the entire trip in a day.
RELATED: Crater Lake Camping – Where To Stay When Visiting Crater Lake National Park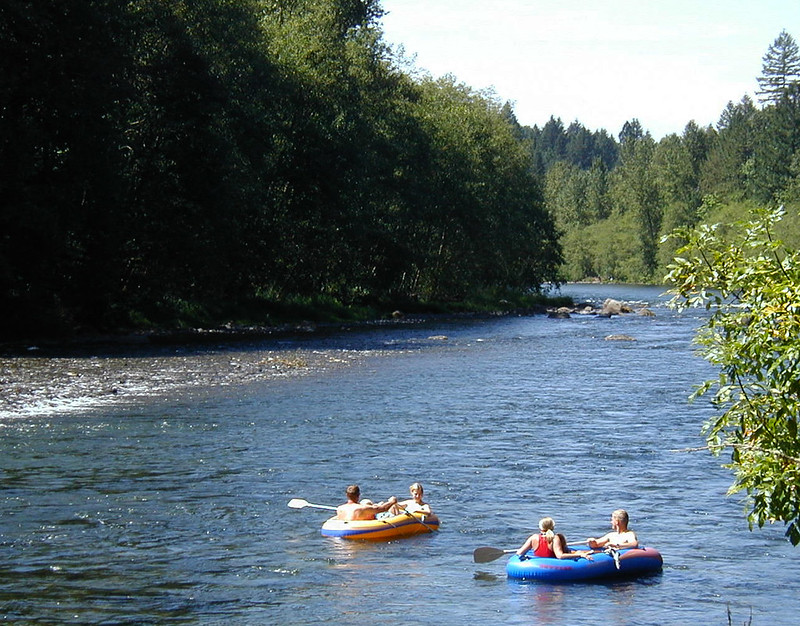 4. North Santiam River near Salem, Oregon
At a little over an hour from Portland and just 30 minutes from Salem, the North Santiam is relatively short but fun rafting trip that's great for a single day rafting adventure. There are plenty of milder class II III rapids here, perfect for beginners.
Although the river is accessible year-round, September and October are the best months for the most exciting rapids, spectacular scenery, and gorgeous fall colors.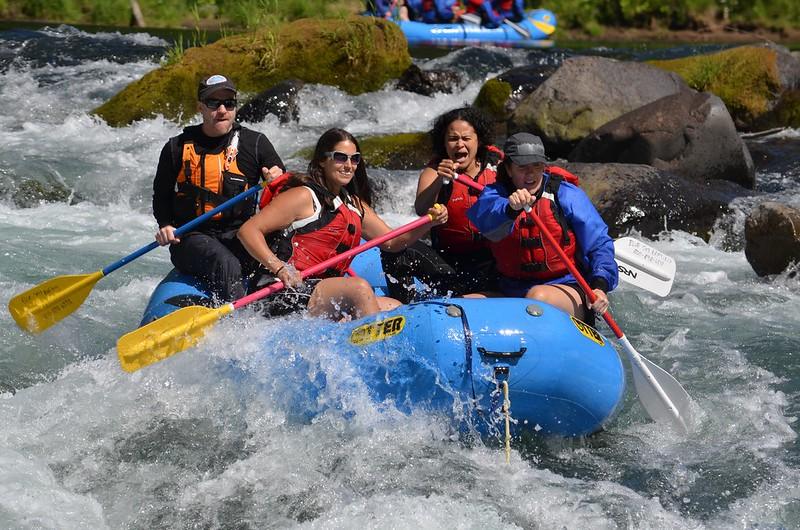 5. Clackamas River
The Clackamas River offers a couple great river rafting choices for those looking for an easy half day or day trip rafting in Oregon. The upper Clackamas runs for 11 miles, beginning at Sandstone Bridge and ending at the Moore Creek Boat Access Site (where you'll encounter the class IV "Hole in the Wall" where even experienced rafting guides can get trapped!). Another popular and less daunting rapid is the aptly named class III "Toilet Bowl."
There's also an 8 mile rafting section from June Creek Bridge to Collowash River, but this is best done in fall or spring after we've had substantial rain.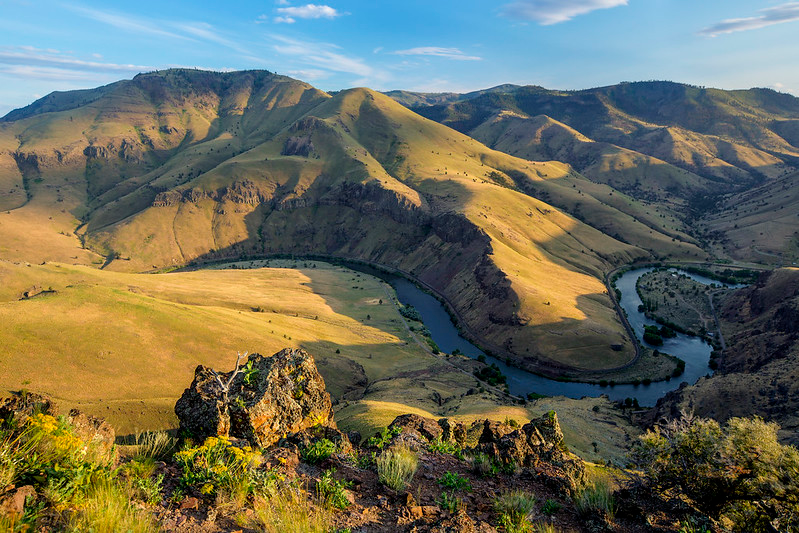 6. Deschutes River in Maupin, Oregon
As you travel east through the lush Columbia River Gorge, you'll soon emerge into the expansive high desert. Here, you'll find the little town of Maupin that's known as a haven for river rats across the state and it's one of the best rafting spots to experience the Deschutes River.
The Deschutes starts in Central Oregon around Bend and heads north to empty into the Columbia. There are few areas to start, with the most popular being Warm Springs and the other at Harpham Flats, both offering options of a half day trip, full day trip, or multi-day trip with mostly class II III rapids.
"Oak Springs" and "Boxcar" are two of the most well-known and exciting rapids (I've actually been thrown out of the raft at Boxcar!). There are also nice swimming holes along the way and many rafters like to float the "Upper Elevator" rapid in their life jackets.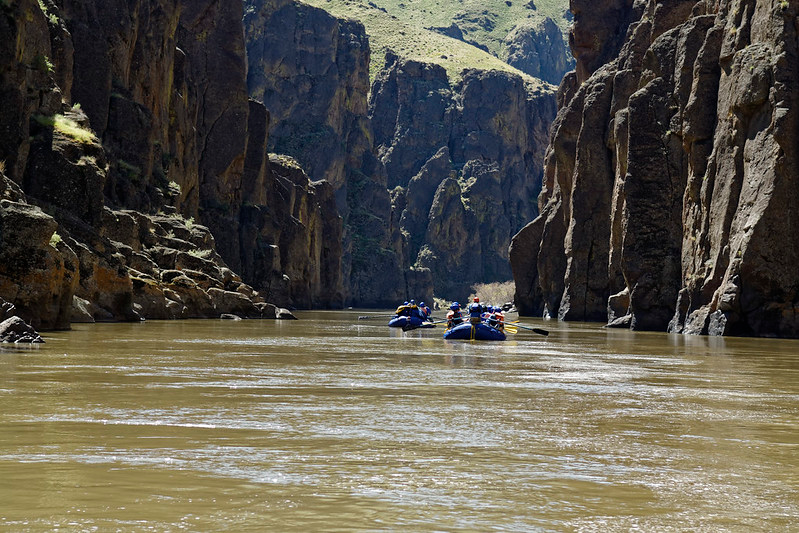 7. Lower Owyhee River near Owyhee, Oregon
Tucked into the southeast corner of Oregon, the Owyhee River isn't near much of anything but that's part of what makes a river trip here so alluring. It's also one of the longest stretches we're highlighting at 48 or 65 miles, making it necessary to plan on a multi-day river rafting trip. The Owyhee is best done in Spring since the summer months can get too hot and inhospitable. This is also definitely a trip that's best done with an experienced guide.
This is some of the most remote rafting in Oregon, so you should plan an extended road trip to explore the breathtaking scenery of the Owyhee Canyon and surrounding area.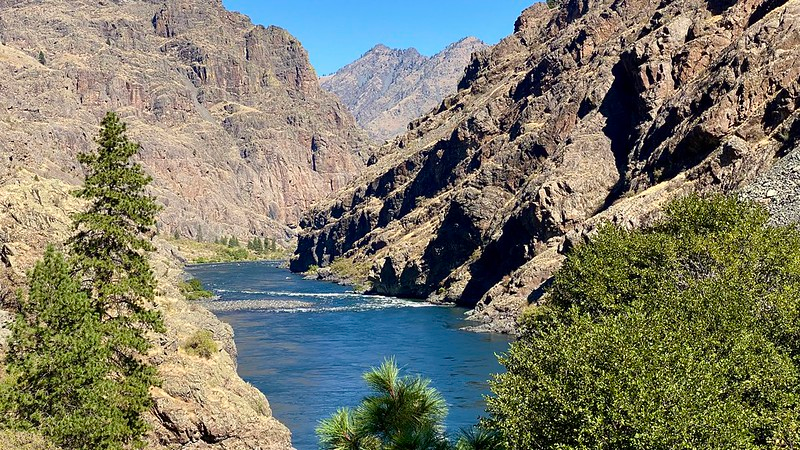 8. Snake River in Hells Canyon
Hells canyon and the Snake River nearly bested the Lewis and Clark expedition back in 1805, but it's now one of the best whitewater rafting trips in the state. The Snake River flows for over 1,000 miles through Wyoming, Idaho, Oregon, and Washington, ultimately draining into the Columbia. This rafting trip starts at the Hells Canyon Dam and continues for 32 miles north along the Oregon-Idaho border ending at Pittsburg Landing.
Be forewarned this is some of the most sought after rafting in Oregon and if you want to go in the summer, you'll need to reserve a spot months in advance. Fun fact: Hells Canyon is the deepest canyon in the country—deeper than the Grand Canyon!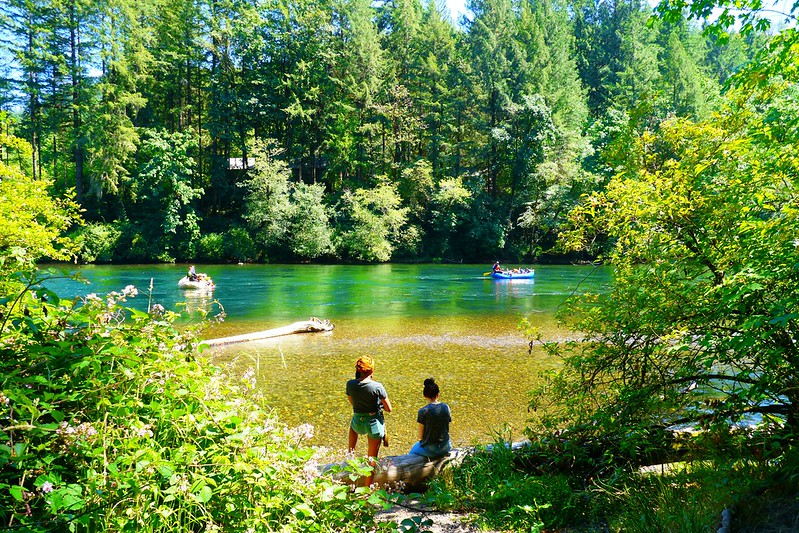 9. McKenzie River near Rainbow, Oregon
The Mckenzie River is a mellow (but still fun) river rafting trip that's ideal for beginners or families with younger kids. The river is full of fun rapids between class II and class III and is doable year round. The 26.5 mile trail that runs along the river is also a popular route for mountain bikers and backpackers.
RELATED: McKenzie River Trail: Hiking, Biking, Camping & More
Honorable Mention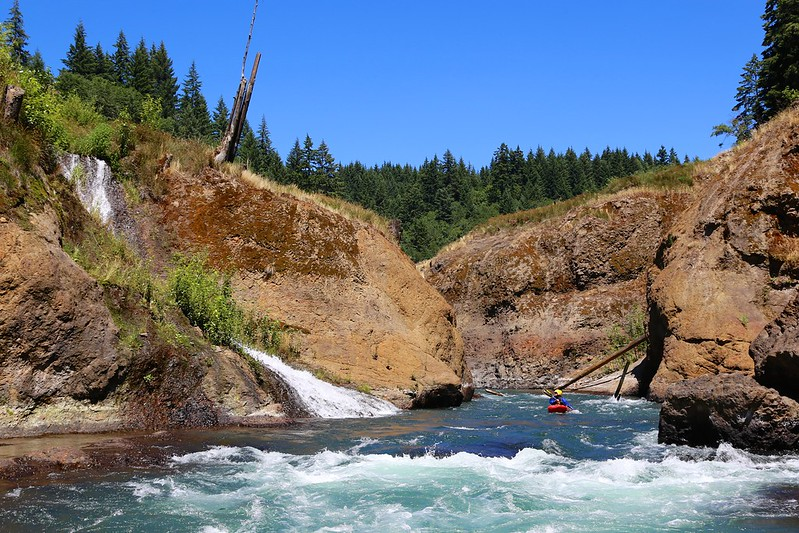 10. Lower White Salmon River in Washington
Okay, so the White Salmon is actually in Washington, but I've got to show some love to our neighbor in the beautiful Pacific Northwest!
The White Salmon empties into the Columbia right across from Hood River, Oregon and you can start your trip a mere 5 miles north of the Oregon-Washington border. Or, start your adventure further upastream near the town of Trout Lake so you can brave the 12 foot Husan Falls.