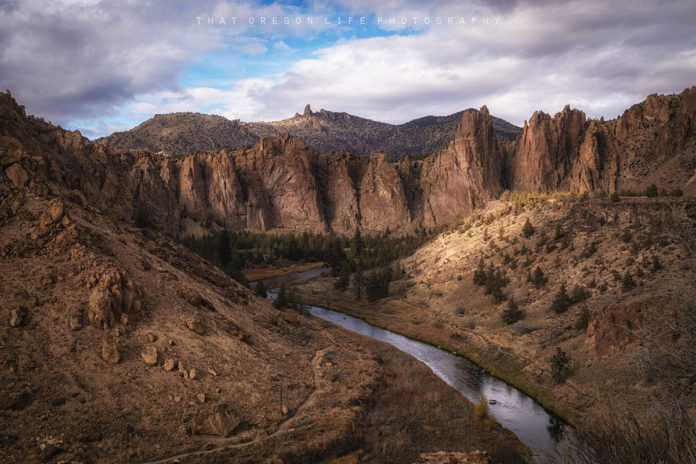 Last updated on December 28th, 2021 at 06:02 pm
If you've never been, Smith Rock State Park is a little slice of high desert heaven near Redmond Oregon, and around 26 miles northeast of Bend. It's popular with rock climbers, hikers, photographers, and nature lovers.  This is the perfect place to take the family on a day trip, or to have an intense Oregon adventure you won't soon forget. The massive rocks alone are awe-inspiring, and with 650 acres this park makes for a great day to explore and hike no matter what your skill level.
History of Smith Rock State Park
According to the official record, the park was obtained between 1960 and 1975 by purchase and gifts of land from the city of Redmond and Harry, and Diane Kem. The common belief is that Smith Rock was named in honor of John Smith, who was a Linn County lawman or Pvt. Volk Smith soldier. Smith had fallen to his death in the park when battling with the Northern Paiute in 1863.
The Northern Paiute are related to the Mono of California. Like many other California and Southwest Indians, the Northern Paiute have been known derogatorily as "Diggers" because some of the wild foods they collected required digging. The Northern Paiute occupied east-central California, western Nevada, and eastern Oregon. To this day, the debate continues.
View this post on Instagram
Getting There
Smith Rock State Park is nine miles north of Redmond and is an incredible destination for anyone who enjoys deep canyons, towering rocks, scenic rivers, or the high desert.
From Bend, follow US Highway 97 north 22 miles at the sign to Smith Rock State Park
Turn east and follow signs 3.2 miles to the main-day use area for Smith Rock State Park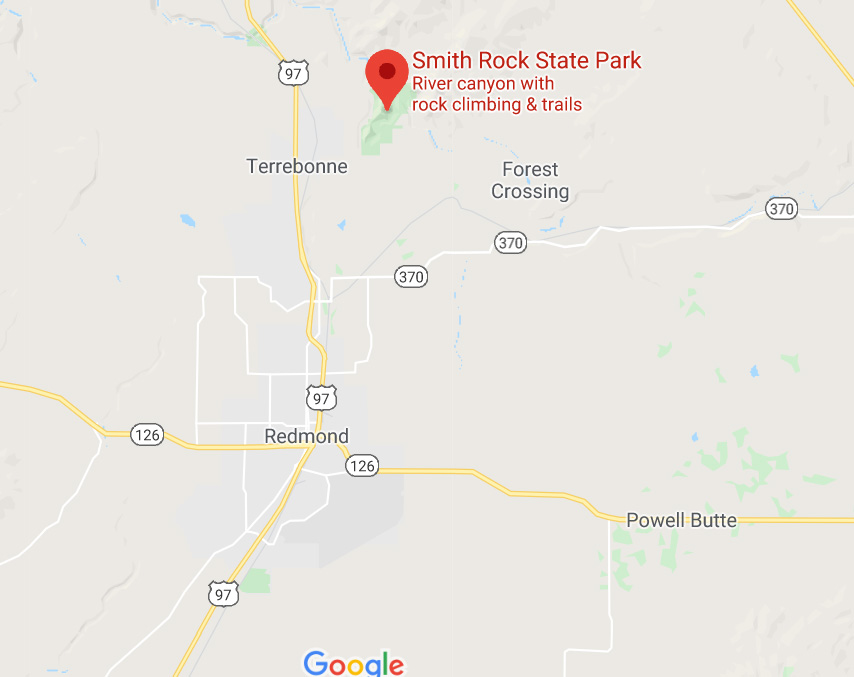 Wildlife at Smith Rock
When visiting the park it's not uncommon to see golden eagles, prairie falcons, deer, river otters, and beaver.  Because of wildlife and plant life, pets are required to stay on leash, and park users must stay on trails.
Check out the video below which showcases some of the park's beauty on a virtual hike:
There are miles of hiking and biking trails within the park to keep explorers satisfied, as well as thousands of climbs for climbers with more than a thousand bolted routes.
RELATED: 5 Classic Hiking Trails Near Bend To Add To Your Bucket List
View this post on Instagram
The park is one of the United States' premier climbing destinations, and people trek here each year for the incredible climbing and scenery.
View this post on Instagram
Here is another great video below showing off what it's like to climb some of the easier climbing routes within the park:
Camping at Smith Rock State Park
If you're looking to camp here, you can get a camping permit at the fee station which is located at the entrance to the Bivouac camping area. The fee will set you back $8.00 per person per night. Due to the dry high desert climate of the park, campfires are not allowed at the campground.  Sleeping in a vehicle is not prohibited here, however, there is a campground nearby that allows RVs and sleeping in your vehicle known as USFS Skull Hollow Campground. This campground is located northeast of Smith Rock State Park on Lone Pine Road.
Bivouac offers showers for overnight guets only, walk-in tent sites, and open fires are not allowed. The campground is on a first-come, first-serve basis. Redmond is only a few minutes away and is a great place to get a bite to eat, or stock up on supplies for your trip to the park
Where to Stay
Your best bet is to get a hotel in Redmond, which is around a 13 minute drive to the park. Feel free to check out one of our favorite hotels, or booking.com is a great resource too.
Smith Rock State Park Information
This gorgeous park is open year-round, however it is best to visit during the spring and fall. Open from dusk till dawn 7 days a week, you can visit between 7 a.m. and 7 p.m. If you are looking to dodge the extreme heat wave of peak season, visiting sometime between mid-September until mid-November is best. The park is also quiote a bit busier throughout the summer. Around October you are looking at an average comfortable temperature around 62 degrees. There's a $5 day use fee to park or an $8 per person fee for hikers and bikers.  You can buy 12 and 24-month day-use permits as well.
View this post on Instagram
You can check the open status of the park here, or learn more about Smith Rock State park here.
Note: Climbing, biking, and hiking are at-your-own-risk activities.
Have you been to Smith Rock State Park in central Oregon?  What's your favorite hiking trail or climbing route in the park? We hope you enjoyed this article. If you are headed this way, you may also be interested in exploring the McKenzie River Trail.