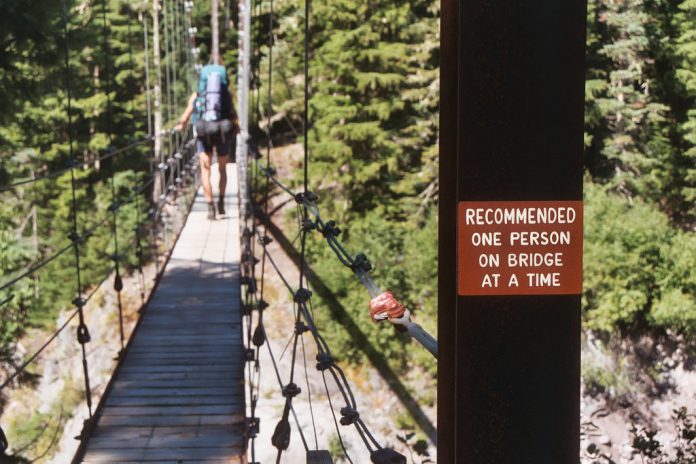 Here in the pacific northwest, we have an insane amount of beautiful places to explore. If you're looking for an adventure this weekend, we have some amazing hikes here to check out for you.
Sure, suspension bridges can be a little bit intimidating. While they aren't for everyone, these bridges are absolutely awesome.
Lava Canyon Loop Hike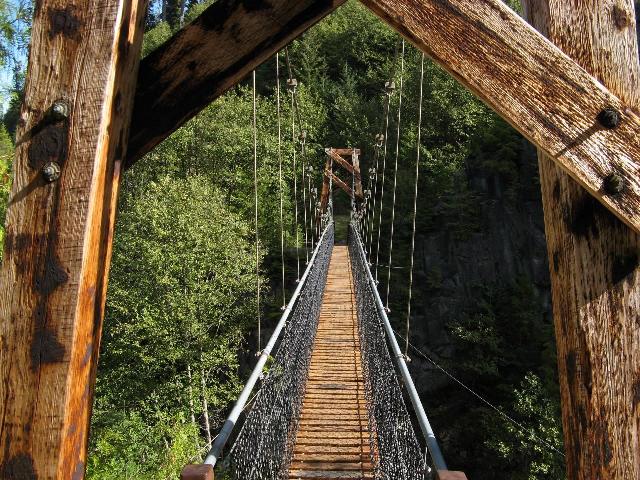 Not only is it impressive, but it's also one of the largest hiking bridges in the northwest. The Lava Canyon Suspension Bridge is not for the faint of heart - often those with height phobias won't make the trek. At around 100 feet long, this amazing bridge constructed in 1993 spans the Muddy River in the middle of Lava Canyon. Sahale,a firm that specializes in trail bridges and construction, built this glorious bridge.dfd
Getting there:
From I-5, take exit 21 and drive east on SR- 503 for 28 miles to Cougar. Continue east on FR-90 past the Swift Dam. Turn onto FR-83 and proceed 12 miles to the trailhead at the end of the road.dfd
Length:
5.0 miles, roundtrip
Elevation:
Gain: 1600 feet
Highest Point: 2800 feet
---
Drift Creek Falls
One of the most popular places to visit on the Oregon Coast, Drift Creek Falls Trail is a 2.6 mile heavily trafficked out and back trail located near Cutler City, Oregon. Not only will you find a gorgeous waterfall on this hike, but of course this stunning suspension bridge as well.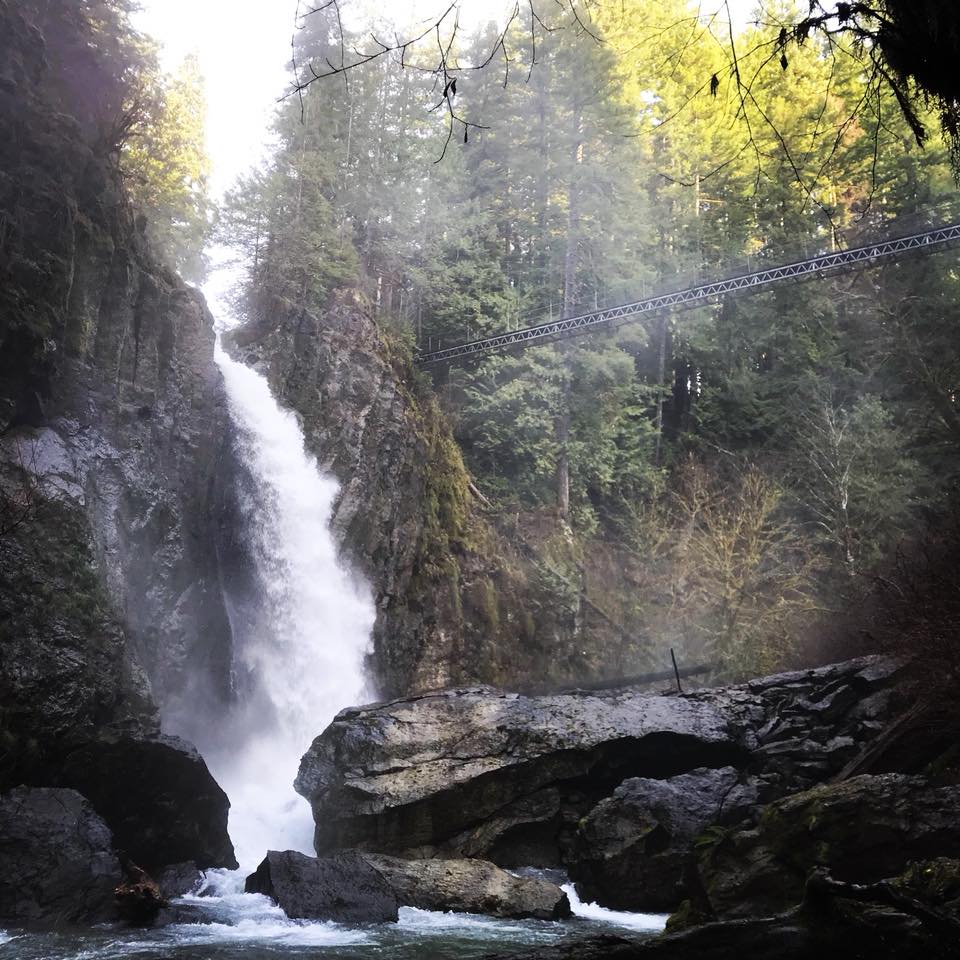 Getting there:
Hwy 101 entry: Off Highway 101 south of Lincoln City, north of Salishan. Travel east on Drift Creek Road, right on South Drift Creek Road mile. Turn left onto Forest Service Road 17. Stay on Forest Service Road 17 to the trailhead, approximately, 10 miles. Hwy 101/Highway 18 entry: At Hwy 101/18 junction travel east 4.5 miles on Hwy 18. Travel south on Bear Creek County Road 3.5 miles. Continue straight 7 miles on Forest Service Road 17 to the trailhead.
The trail accessible year-round. Bring your pup if you'd like, but make sure and keep your furry friend on a leash!
From Sahale's website: "Drift Creek Bridge is unusual for light pedestrian suspension bridges in that it incorporates a quasi-stiffening truss in the deck. The bridge is anchored in rock on one side of the gorge and concrete deadmen are used on the other. Numerous design changes were made by Sahale during the process of construction, including changes to the anchor systems, tower configuration, truss assembly, wind cable connections, and railing system. Materials, including concrete, were mobilized to the site via helicopter, and the mainspan was erected from a skyline, more than 100 feet above the canyon floor."
Length:
2.6 miles
Elevation:
462 feet
---
Eagle Creek Suspension Bridge
NOTICE: Most trails on the Oregon side of the Columbia River Gorge are closed until further notice because of damage from the Eagle Creek Fire. The closure involves ALL trails between Rooster Rock State Park and Hood River. It is anticipated that most of these trails may not reopen until Spring or Summer 2018. Please check the list of Columbia Gorge trail closures before you plan for a hike.
The Eagle Creek Trailhead, near the Eagle Creek Campground, is one of the most beautiful hikes you can take while in The Gorge. This beautiful bridge was here until the fires in 2017. This suspension bridge went over Eagle Creek about 1/3 mile from the trailhead. The bridge would take you on Gorge Trail #400 connecting to the Wauana Viewpoint trail and the Tanner Creek Trail.
This isn't the first suspension bridge constructed here. The first was actually built way back in 1934 by the Civilian Conservation Corps. It was to be replaced just two years later in 1936 when it washed away. This one lasted until 1997, until it too washed away.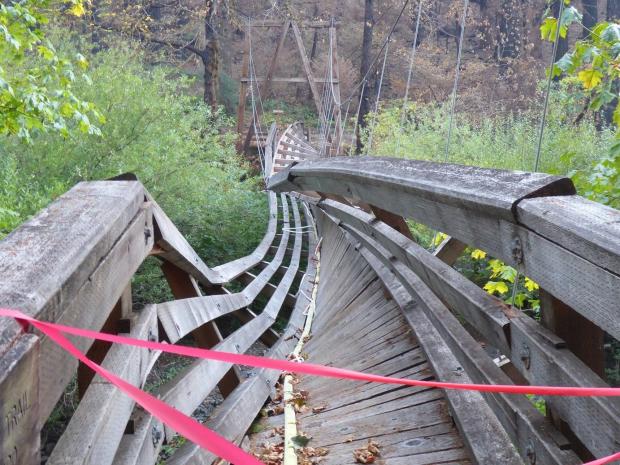 The bridge shown above, was finished in 2000. We can only hope they will replace it sometime in the near future.
Elevation: 80 feet
Getting there:
On Oregon I-84 Eastbound, take exit 41 toward Fish Hatchery/Eagle Creek/Rec. Area. Immediately off the exit at the stop sign, take a right and continue down Eagle Creek Lane past the Eagle Creek Fish Hatchery, keeping right down Eagle Creek Loop which ends at the trailhead.
---
Tahoma Creek Suspension Bridge - Emerald Ridge Loop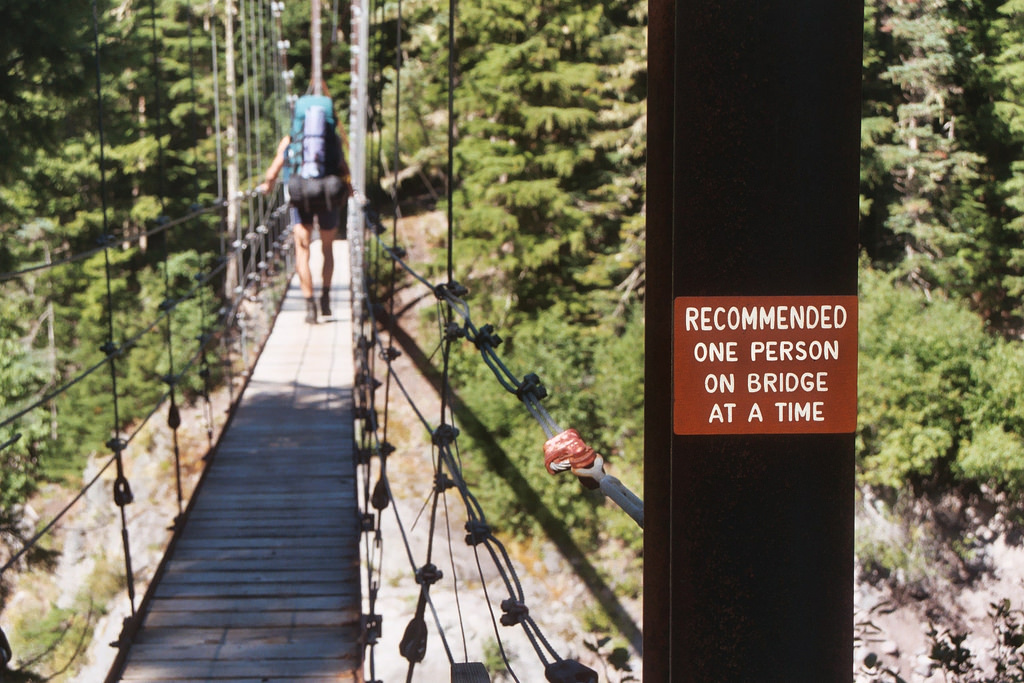 Getting here isn't necessarily the easiest trek, although it's so worth the hike if you're up to it. The Tahoma Creek Suspension Bridge is by far the longest and highest within Mt. Rainier National Park. The route begins with a walk or bike ride up a permanently closed portion of the Westside Road to the trailhead.
At one hundred and sixty five feet above Tahoma Creek, this suspension bridge swings for two hundred feed, supported only by cables and a wooden walkway with quarter inch gaps between each board.
This trail is best used from April until October, and features a beautiful river.
Getting here:
From Nisqually entrance. Drive east on Nisqually Longmire Road for 1 mile. Turn left onto the West Side Road, the first road to the left after the entrance, briefly paved. Follow the gravel road for 3.2 miles to the end and park.
Length:
6.3 miles
Elevation:
1450 feet
---
Grove of the Patriarchs Suspension Bridge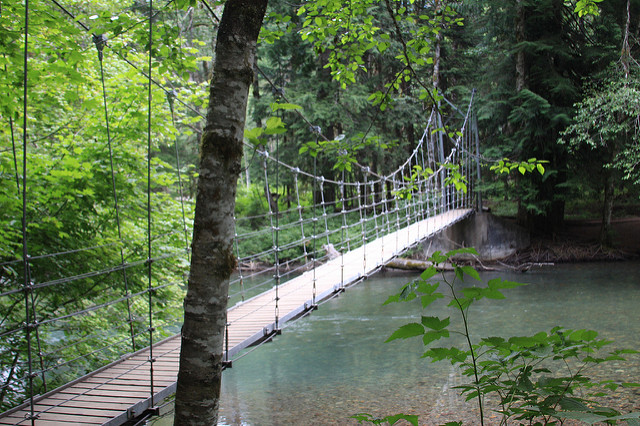 The trail to the Grove of the Patriarchs and the suspension bridge that leads into it begins at the Stevens Canyon entrance to Mount Rainier National Park. There are restrooms, water, and ample parking just beyond the gate.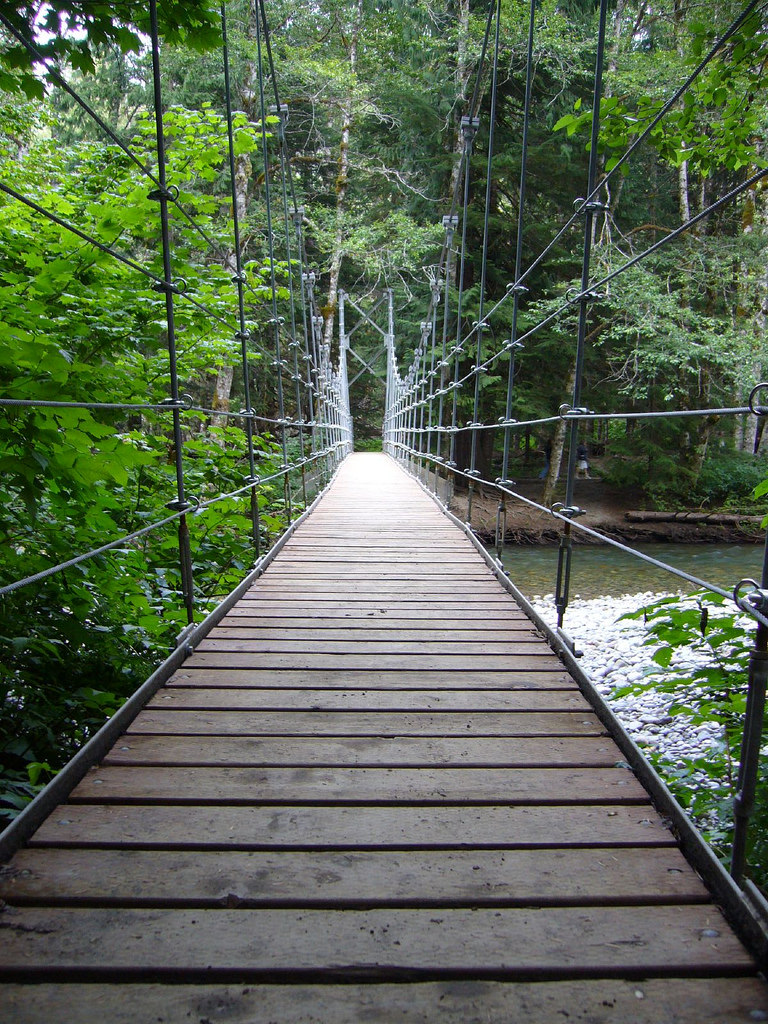 Length:
1.5 miles, roundtrip
Elevation:
Gain: 50 feet
Highest Point: 2200 feet
Getting there:
From Puyallup, east 56 miles on Highway 410 to Highway 123. Turn right and drive 11 miles to the Stevens Canyon Entrance. Turn right and the trailhead is a short distance across the Ohanapecosh River bridge on the right.
---
Oswald West State Park, Suspension Bridge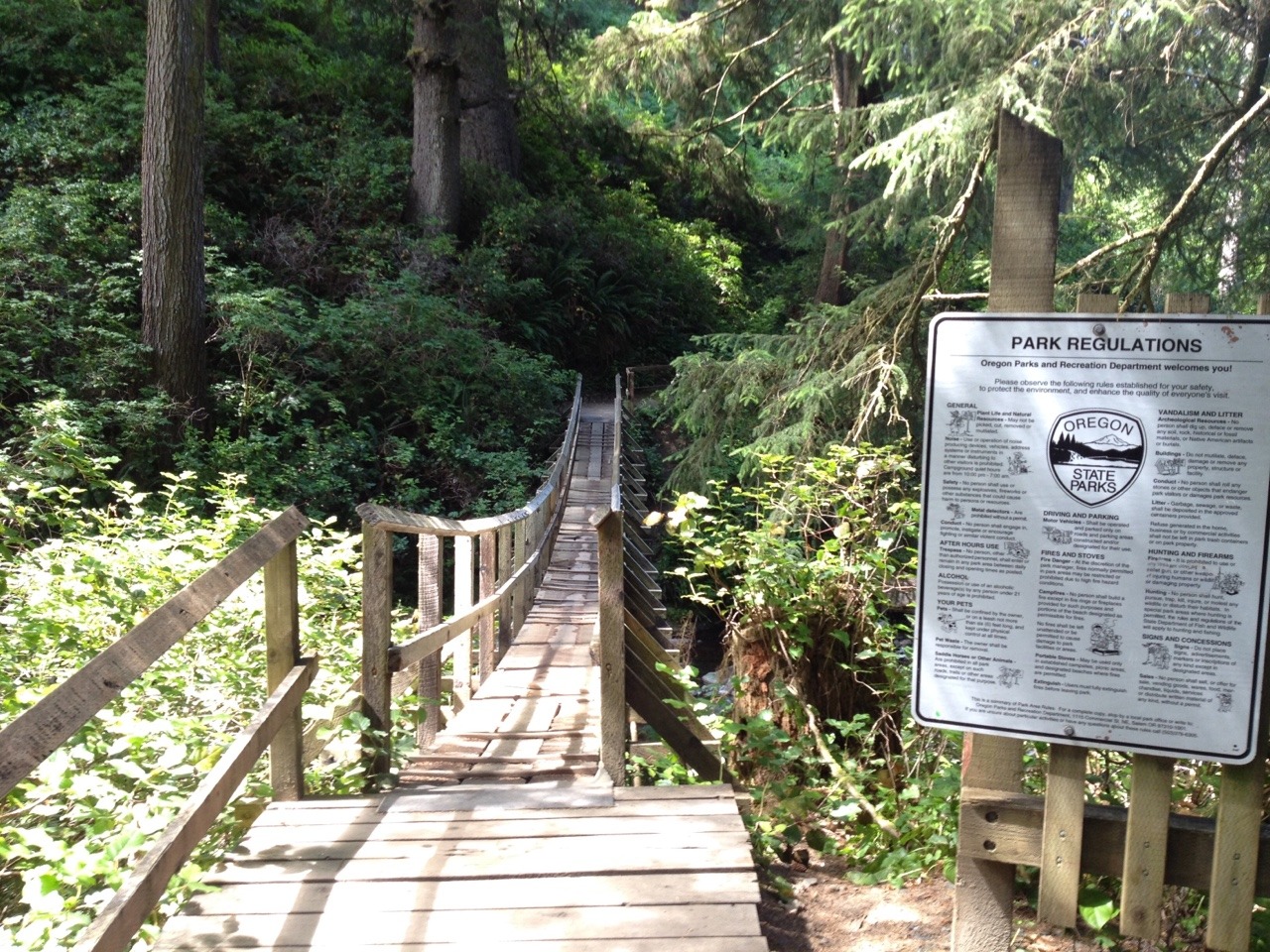 Take this gorgeous coastal hike in a luscious forest, running along the highway for just over five miles. The park is just off US 101 south of Cannon Beach in Tillamook County. There are plenty of beautiful viewpoints, and even some perfect beach spots to relax.
It will take you about 15-40 minutes to get to the top from the beginning trailhead. That's if you're running, briskly hiking.