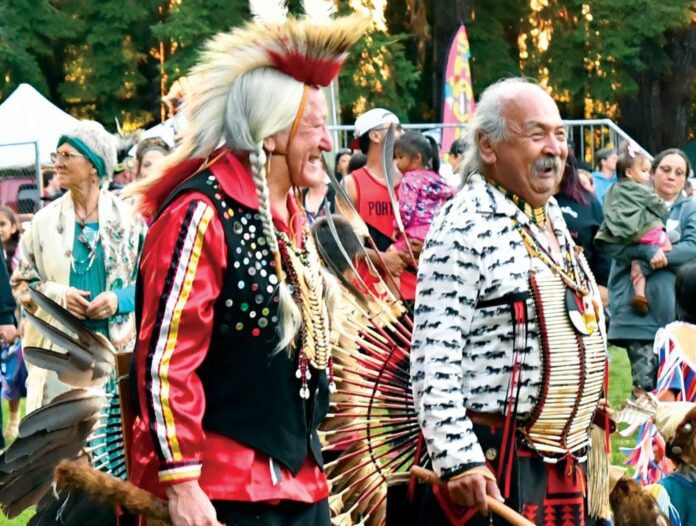 Hey fellow wanderers!
This weekend, we journey into the heart of Siletz, Oregon, where history, resilience, and vibrancy intertwine. The Confederated Tribes of Siletz Indians, a testament to unity and strength, are hosting the iconic Nesika Illahee Pow-Wow from August 11-13. For those unaware, these tribes, once brought together on a rapidly shrinking reservation, battled adversities and reclaimed their federally recognized tribal status in 1977. Now, they're not just a beacon of hope but also a melting pot of diverse cultures and traditions.
Set against the backdrop of the verdant Pauline Ricks Memorial Pow-Wow Grounds on Government Hill, this annual extravaganza brings together not just the local community but also visitors from far and wide. The heartwarming ambiance is as inviting as ever, with everyone, irrespective of their background, being welcomed with open arms.
A Sneak Peek into the Line-Up:
Thursday Night Spotlight: Get ready for some elegance as the Royalty Pageant takes the stage at 6 PM.
Friday Fever: A touching Memorial and Giveaways segment from noon to 5 PM will be followed by the highly anticipated Presentation of Crowns at 6 PM. But the real magic begins with the Grand Entry at 7 PM.
Saturday's Sensation: Rise and shine for the vibrant parade at 10 AM (and psst… participation points up for grabs!). Later, double up the excitement with Grand Entries at both 1 PM and 7 PM.
Sundaze Vibes: Sunday promises an afternoon of festivity, commencing with the Grand Entry at 12 PM. And what's a celebration without food? Relish a delectable salmon dinner afterward.
Calling All Dancers & Drummers!
The event celebrates various age groups with attractive cash prizes up for grabs:
Golden Age/Adult: Top prize of $600 and more!
Teen: Rewards up to $300.
Youth: Get ready, youngsters! Rewards starting from $25 to $150.
For all the young dancers, make sure to shine in the preliminaries on Friday night. Plus, there are Special categories such as Team Dance, Women's Basket Cap, Round Bustle, and the Jackson Fancy Dance Memorial to look forward to.
A heads-up to the drummers – make sure to bring your chairs. They're expecting quite the crowd!
For all those looking to showcase their unique products, vendor registration is ongoing. And if you're considering soaking in the full experience, campgrounds open bright and early on Thursday at 8 AM. (Tiny note: There's a camping fee and a small additional charge for our furry friends.)
Reaching Out:
For any queries or details, feel free to touch base with Buddy Lane. Or, for a deep dive, hop onto their official website.
Remember, this is a drug and alcohol-free event. Let's keep the vibes pure and joyous.
Huge Shoutout to the Sponsors: A big thanks to the Chinook Winds Casino Resort and Pepsi Bottling Company for making this event possible!
So, dust off your dancing shoes, ready your rhythmic claps, and join in for a weekend of cultural immersion. Can't wait to see you there!
Additionally, over 50 vendors will be showcasing a medley of indigenous crafts, foods, arts, and jewelry. It's a fantastic opportunity to take home a piece of this rich heritage.
Stay curious, folks!
Venue:
Pauline Ricks Memorial Pow-Wow Grounds
402 Northeast Park Drive , Siletz, OR, 97380, 97380