Are you looking for an adventure-filled destination that offers a variety of activities, camping options, and a unique resort atmosphere? Look no further! Elk Lake in Central Oregon is the perfect location for your next escape.
From kayaking and stand-up paddle boarding to exploring trails, day-use areas and other nearby Cascade Lakes to renting equipment and taking part in events at Elk Lake Resort—you'll have a blast enjoying the beauty, thrills and fun that this incredible place offers.
So don't wait; add Elk Lake to your bucket list and get ready for an unforgettable outdoor experience!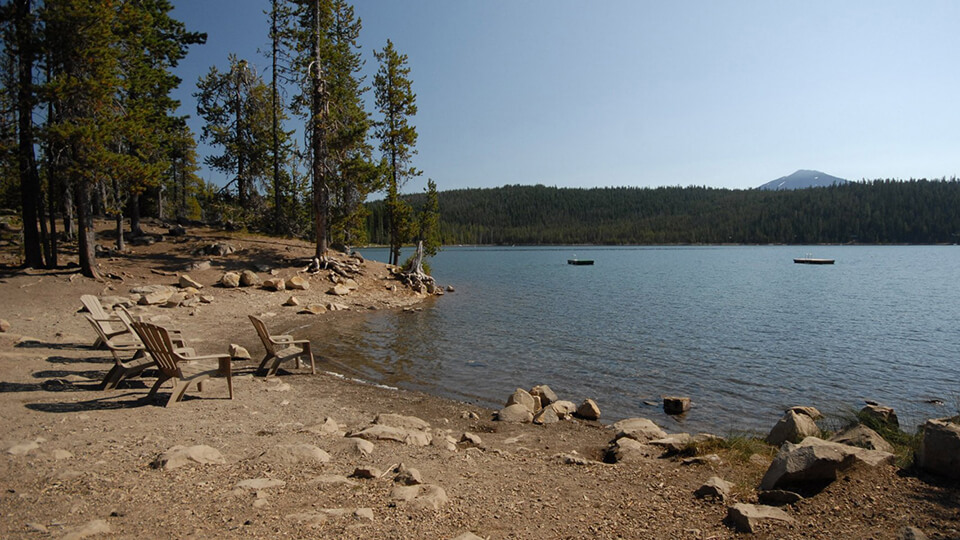 A Short Summary of Elk Lake
Explore Elk Lake, 25 miles southwest of Bend, Oregon for fishing, kayaking, hiking, camping, and more.

Elk Lake Resort and Elk Lake Campground offer activities, amenities & equipment rentals.

Oregon's gorgeous Cascade Lakes region offers a variety of outdoor activities perfect for a weekend getaway.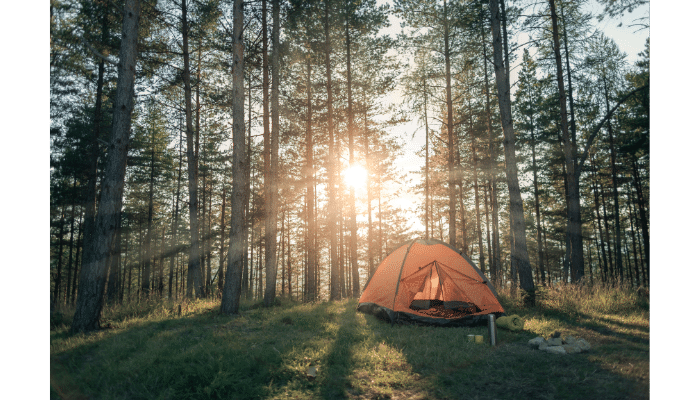 Where is Elk Lake in Oregon?
Elk Lake is a popular lake in the central Cascade Range nearly 4900 feet above sea level, and located about 25 miles southwest of Bend, Oregon.
This lake is part of the Deschutes National Forest; a great destination spot for fishing, kayaking, camping, and outdoor adventurers looking for a fun and peaceful getaway.
The lake is surrounded by beautiful mountain views and the area is rich with wildlife. There are several campgrounds, Day-Use Areas, and the beautiful Elk Lake Resort nearby.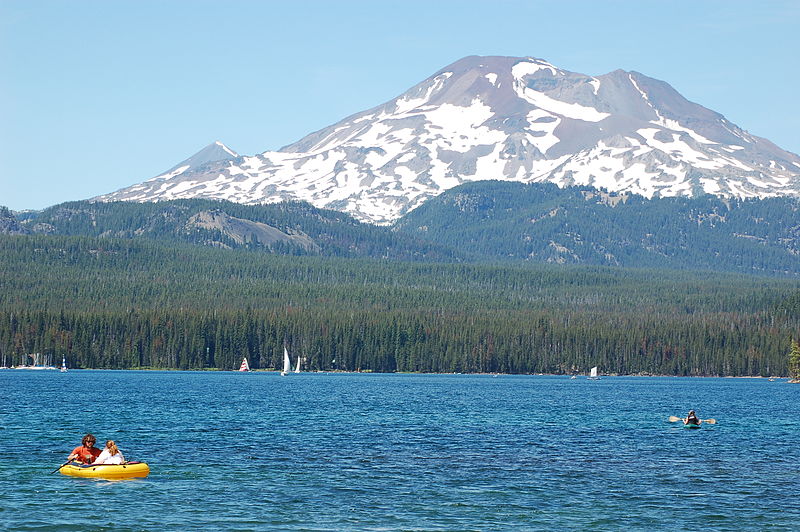 Activities Around Elk Lake
You can have a blast with all kinds of outdoor activities around Elk Lake; hiking, camping, swimming, boating (motorized and non-motorized boats), fishing, skiing, or snowshoeing.
Hiking
For hikers, there are plenty of trails around Elk Lake, from easy to tough. Some of the most popular are the Elk Lake Shoreline Trail, the Twin Peaks Trail, and the Horse Butte Trail.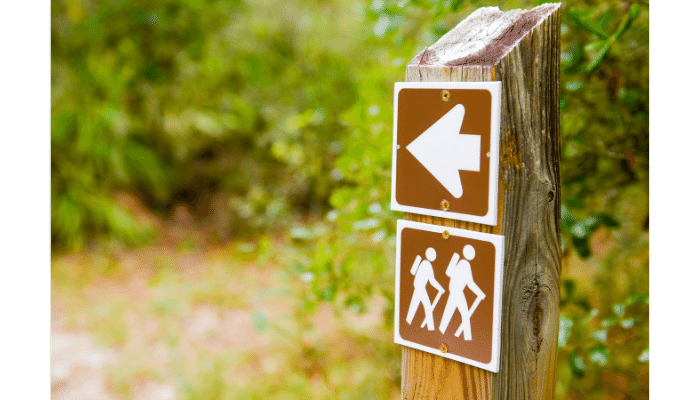 Elk Lake Trail
Elk Lake Trail is a 4.7 mile easy out-and-back trail with stunning views of Mt. Bachelor and a rocky path along the lake shore. The trail is easy enough for beginners to do and provides plenty of opportunities to take in the beauty of the lake and its surroundings.
Fishing
Fishing at Elk Lake is a dream come true for anglers seeking a serene and rewarding fishing experience.
Elk Lake is home to a variety of fish species, including trophy-sized trout. Rainbow trout, brook trout, and kokanee salmon thrive in the clear, pristine waters, enticing both novice and seasoned fishermen. Whether you prefer casting from the shoreline or venturing out onto the tranquil lake in a boat, there's a fishing spot suited to your preference. As you immerse yourself in the tranquility here, the breathtaking vistas of the surrounding mountains and forests create an idyllic backdrop for your fishing adventure.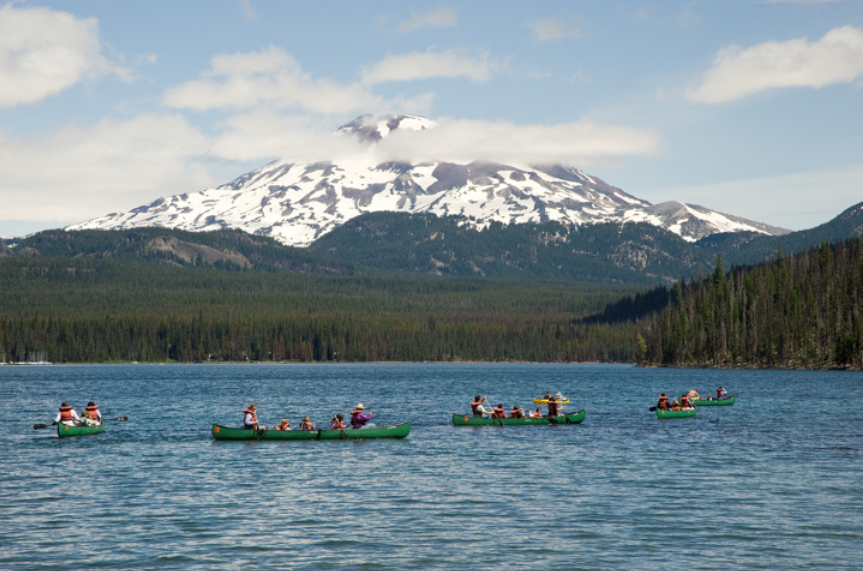 If you're new to fishing or simply want to enhance your skills, Elk Lake Resort offers rental equipment and knowledgeable staff who can provide tips and guidance to ensure a successful and enjoyable fishing outing. They can also provide information on the best spots to fish at different times of the year, optimizing your chances of landing a prized catch.
It's important to note that fishing regulations and licensing requirements apply at Elk Lake. Be sure to check the local regulations and obtain the necessary permits before casting your line. Respect the natural environment by practicing catch-and-release fishing or adhering to any size and possession limits in place, helping to preserve the fish population for future generations.
Water Sports
Elk Lake is a versatile destination that offers a plethora of thrilling activities all year round. During the summer months, the lake truly comes alive, inviting adventure enthusiasts to indulge in exciting experiences such as kayaking, stand-up paddleboarding (SUP), and exploration of the charming small islands dotting the shoreline. (Don't fret if you don't have your own gear, as Elk Lake Resort provides kayak and SUP rentals, ensuring that everyone can partake in the aquatic fun.)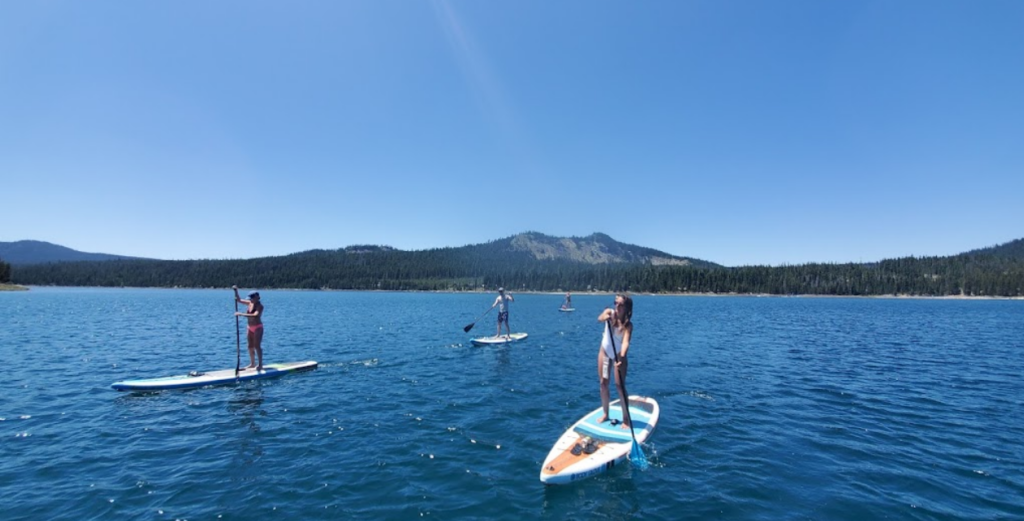 As you glide across the serene waters of Elk Lake, you'll be greeted by captivating vistas that showcase the majestic beauty of the surrounding mountains. Marvel at the grandeur of the South Sisters and Broken Top peaks, which tower over the landscape, forming a breathtaking backdrop for your paddling escapades. Immerse yourself in the tranquility of the lake, where calm and peaceful waters create the perfect canvas for an unforgettable adventure.
Elk Lake Winter Activities
Elk Lake's charm doesn't fade with the changing seasons. As winter blankets the region in a glistening coat of snow, the lake transforms into a paradise for cold-weather enthusiasts. Strap on your skis or snowshoes and venture into the winter wonderland that Elk Lake becomes. Whether you're gliding through the powdery slopes or trekking through pristine trails, the beauty of this serene landscape will leave you in awe.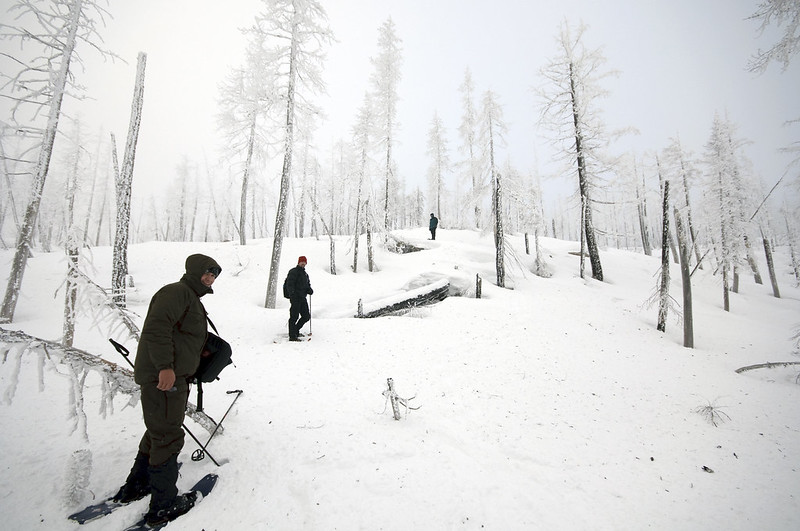 No matter the time of year, Elk Lake is an outdoor playground, beckoning you to immerse yourself in its natural wonders and embrace the thrill of exploration. From summer kayaking to winter skiing, this versatile destination offers endless possibilities for adventure seekers and nature lovers alike.
Camping Options at Elk Lake
There are a few options for camping – Elk Lake Campground and Elk Lake Resort both offer tent and RV camping, plus cabins too if you're looking for something more comfortable.
Elk Lake Campground
Elk Lake Campground is a small hillside campground that can be easily reached by the Cascade Lakes Hwy.
Embracing modern conveniences without sacrificing its natural appeal, Elk Lake Campground boasts a thoughtfully designed infrastructure. A state-of-the-art pressurized water system ensures a reliable water supply, while the two contemporary CXT vault style bathrooms provide comfort and privacy in the midst of wilderness. Stay connected with loved ones as you share your outdoor escapades, thanks to the reliable cell phone coverage. The campground's paved roads invite leisurely strolls and easy navigation, allowing you to explore its nooks and crannies with ease.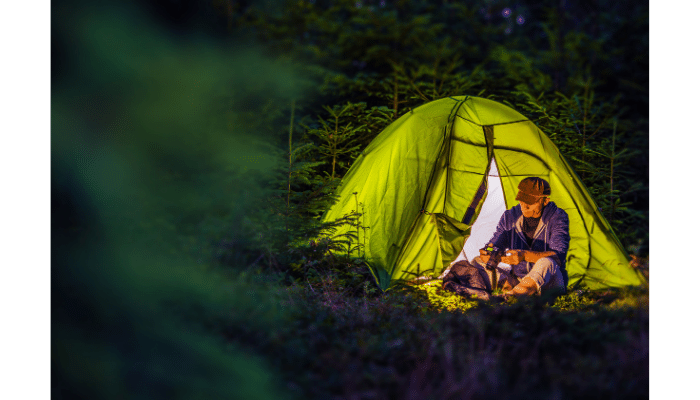 But the allure of Elk Lake Campground doesn't end there. Step into the captivating day use area, gracefully nestled along the water's edge, offering panoramic views that are nothing short of breathtaking. Launch your boat from the convenient ramp and venture into the glistening waters, embracing the thrill of aquatic adventures.
The Bend Pledge is also a part of Elk Lake Campground. This pledge is a promise to keep Bend looking great, and it's a great way for visitors to help keep the area clean and beautiful. You can take the Bend Pledge online and make a difference for the environment.
Elk Lake Campground usually opens from mid-June to late September, depending on how fast the snow melts. Other campgrounds near Elk Lake include Point Campground or Mallard Marsh Campground. Just below the campsite is the beach day-use area.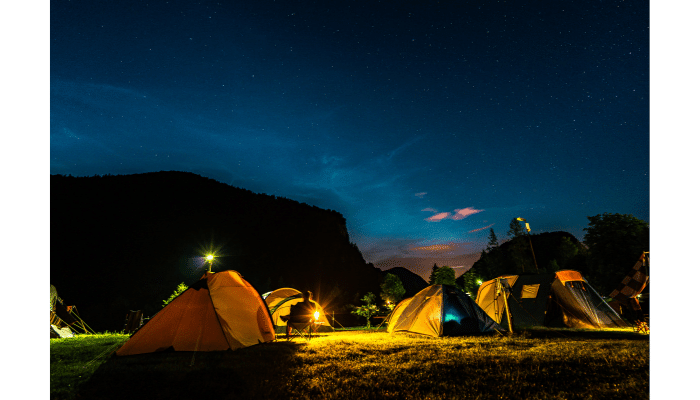 The fee for camping is $14 for the first vehicle per night, and $7 for each extra vehicle.
You can book a spot at Elk Lake Campground either online or by giving them a call at (541) 480-7378.
Elk Lake Resort
Elk Lake Resort is another great place to stay with beautiful vacation destination spots. They offer kayaking, trails, campsite, cabin, boating, motorized boat ramp, glamping tents, hiking, parking and cabins. The resort also offers kayak and SUP courses for those who want to take their skills to the next level.
There are also dinner, lunch and rental options for guests, as well as family-friendly activities. During the winter months, Elk Lake Resort also offers ice fishing and snowmobiling.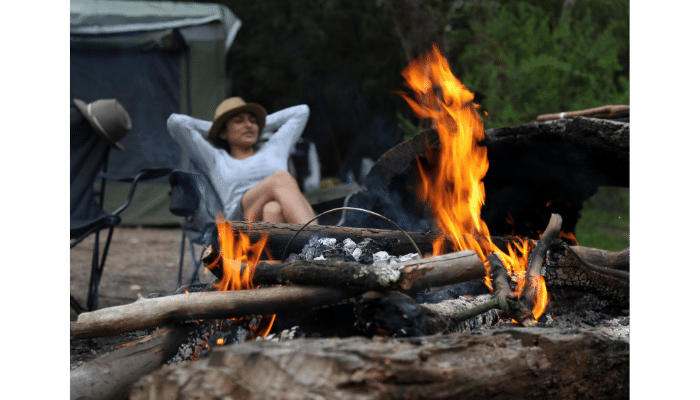 The Lodge Bar & Restaurant at Elk Lake Resort is open from 11:30 a.m. to 8:00 p.m. daily, serving up some of Central Oregon's finest home-style meals with only the highest quality sustainable and locally grown foods.
Aside from the delicious food, the Lodge Bar & Restaurant also provides paddle-boarding, boating, fishing, hiking, snowmobiling, snowshoeing, and cross country skiing equipment rentals.
The resort also hosts events like weddings, corporate events, family reunions, and holiday get-togethers.
There's something here for everyone to have a great time!
Elk Lake Day-Use Areas
Day use areas are spots around Elk Lake that folks can use for the day without camping out. Elk Lake has two day-use areas that you can visit – Sunset View and South Beach.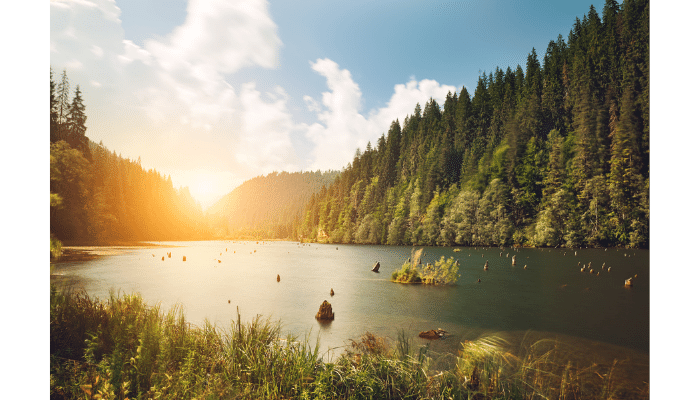 Sunset View is a great spot to take in the incredible view of South Sister. It's a popular spot for people to come for picnics, swimming, fishing, and just taking in the beauty of the lake. There's a boat ramp here too, so you can easily access the lake.
South Beach is another day-use area that's great for swimming, fishing, and picnicking. There's no boat ramp here, but it's only a short distance away from campgrounds and other recreation sites, so you can still access the lake.
Other Cascade Lakes
Sparks Lake Devils Lake, Hosmer Lake, Lava Lake, Little Lava Lake, Cultus Lake and Little Cultus Lake are some of the other beautiful Cascade Lakes near Elk Lake. These lakes provide a great opportunity for outdoor recreation, from fishing and boating to bird watching and hiking.
Check out our guide to the Cascade Lakes Highway right here.
Worth a Mention: Hosmer Lake
Surrounded by lush forests and towering peaks, Hosmer Lake presents a serene escape into nature's embrace. The lake is known for its crystal-clear waters, which reflect the scenic beauty of the surrounding landscape. It's a tranquil haven for those seeking a quiet retreat away from the bustling crowds.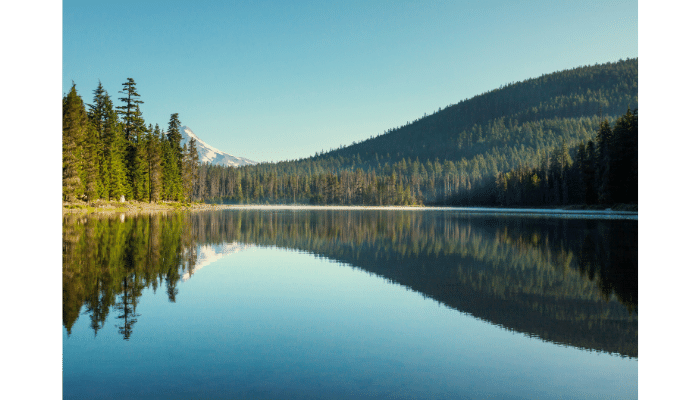 Although smaller in size compared to nearby Elk Lake, Hosmer Lake offers a variety of recreational activities for visitors. Fishing enthusiasts will appreciate the abundance of fish, including rainbow trout and brook trout, making it a popular spot for angling. Casting a line into the calm waters while surrounded by the majestic scenery is a peaceful and rewarding experience.
It's worth noting that Hosmer Lake does not have the same level of amenities or developed facilities as larger recreational lakes. This lack of infrastructure adds to the secluded and untouched appeal of the area. Visitors should come prepared with their own supplies, including fishing gear, hiking equipment, food, and water.
---
RELATED: Camping Near Bend, Oregon
---
Frequently Asked Questions about Elk Lake
Can you swim in Elk Lake Oregon?
Yes, you can swim in Elk Lake Oregon! It's a popular spot for swimming as well as fishing, boating, windsurfing, hiking, and camping. Plus, it has stunning views of South Sister.
Elk Lake is a great place to spend a day outdoors. The lake is surrounded by lush forests and mountains, making it a beautiful lake.
Are there fish in Elk Lake Oregon?
Fish can usually be found in Elk Lake Oregon, although the locals may not recommend it as a great fishing destination. Visitors often go to Elk Lake to enjoy recreational activities such as boating and sightseeing.
However, in recent years the lake has become known as a great brook trout fishery with some guides even saying that their clients have been catching daily limits.
---
RELATED: Sport Fishing License, Tag and Permit Fees in Oregon
---
How deep is Elk Lake Oregon?
Elk Lake, Oregon has a maximum depth of 62 feet. The lake is 405 acres in size and has a shoreline of 3.5 miles.
Enjoy a leisurely swim or explore its depths during your next outdoor adventure!
Who owns Elk Lake Resort in Oregon?
Wendy Prieve is the owner of Elk Lake Resort and Marina, Inc., and she has been committed to its growth and development since her ownership began in 2013.
Where is Elk Lake?
Elk Lake is located in Deschutes National Forest, about 6 miles (10 km) west of Mount Bachelor.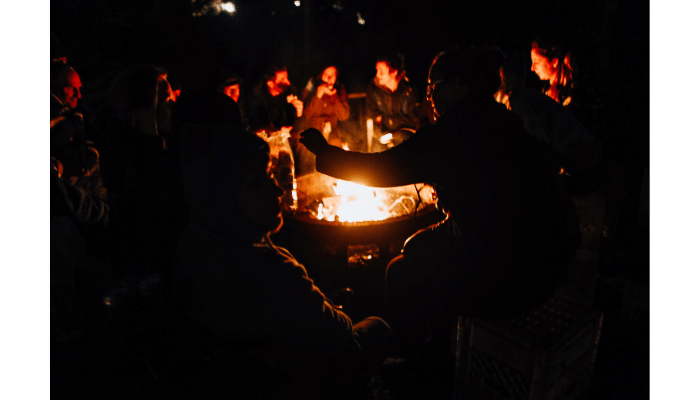 Final Thoughts on Oregon's Elk Lake
We all need a break from the hustle and bustle of everyday life, and what better way to escape than to visit Elk Lake in Oregon? This gorgeous Cascade Lake is located 25 miles southwest of Bend and is the perfect destination for those looking for adventure-filled activities around, and in, the lake.
Whether it be kayaking or stand up paddleboarding around the shoreline and small islands, hiking on the Elk Lake Trail and taking in the stunning views of Mount Bachelor, swimming and fishing in the Day-Use Areas, or kayaking, fly fishing, and bird watching at Hosmer Lake, all of these outdoor activities will surely help you relax and have some much needed fun.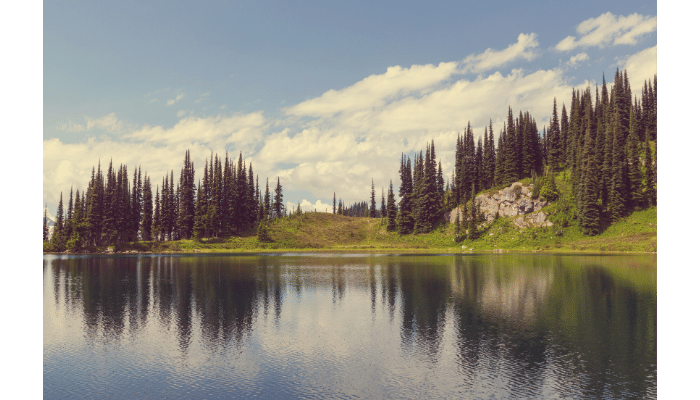 For camping around Elk Lake, there are two wonderful options: Elk Lake Campground and Elk Lake Resort. Elk Lake Campground offers amenities such as picnic tables, fire pits, drinking water, and vault toilets, as well as the Bend Pledge program in order to keep the area clean.
Elk Lake Resort provides activities, amenities, and equipment rental opportunities, as well as special events like the 10th Annual Music on the Water.
So pack up your gear and head over to Elk Lake for a wonderful and adventure-filled getaway! Enjoy spending time with friends and family in the beautiful and majestic Deschutes National Forest, surrounded by majestic mountain views, while engaging in countless outdoor activities.
No matter how rewarding your day is spent, you can rest assured that you will always feel refreshed and restored after visiting this amazing and unique place.