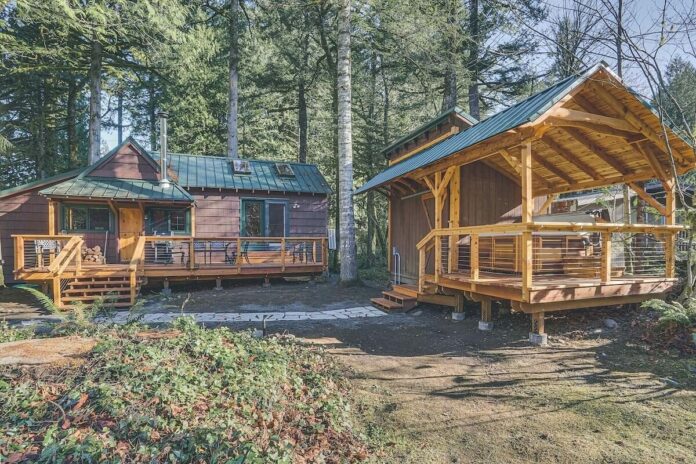 Welches, Oregon, a hidden gem nestled in the heart of Mt. Hood Territory, invites those who seek tranquility amidst nature's bounty. Enriched by the serenity of the Salmon River and close proximity to Mount Hood, the area promises a vibrant blend of outdoor activities for every adventurer.
Welches, a vibrant community, is the legacy of Samuel Welch, a settler from Virginia. He laid down roots near the soothing Welches Creek in 1882, accompanied by his son, William, following the demise of his beloved wife. In 1898, Samuel passed away, leaving behind a rich history. In the present day, Welches takes pride in a hotel and golf resort nestled within its boundaries, replete with croquet courts. The city of Sandy also operates the Hoodland library, a wealth of knowledge in the heart of Welches, offering its residents and visitors a window into the world.
Sign up for monthly emails full of local travel inspiration and fun trip ideas. In each newsletter we'll share upcoming events, new things to do, hot dining spots and great travel ideas.
With an inviting population of just over 2,000 this community enjoys the perks of nearby attractions including the Mt. Hood Adventure Park, Wildwood Recreation Site, and the iconic Mt. Hood National Forest, while cherishing their serene life tucked away from urban bustle. Welches is your quaint gateway to an exciting retreat!
RELATED: This Dual Alpine Slide In Oregon Is The Perfect Summer Adventure
This charming riverside property, "Thistle Dew," stands as a testament to this harmonious fusion of comfort and wilderness. The historic cabin, with a history of over a century, welcomes you to create unforgettable memories in a beautifully serene setting. Overlooking the majestic Salmon River, every nook of Thistle Dew boasts of these breathtaking views, right from the riverfront deck to the lush backyard.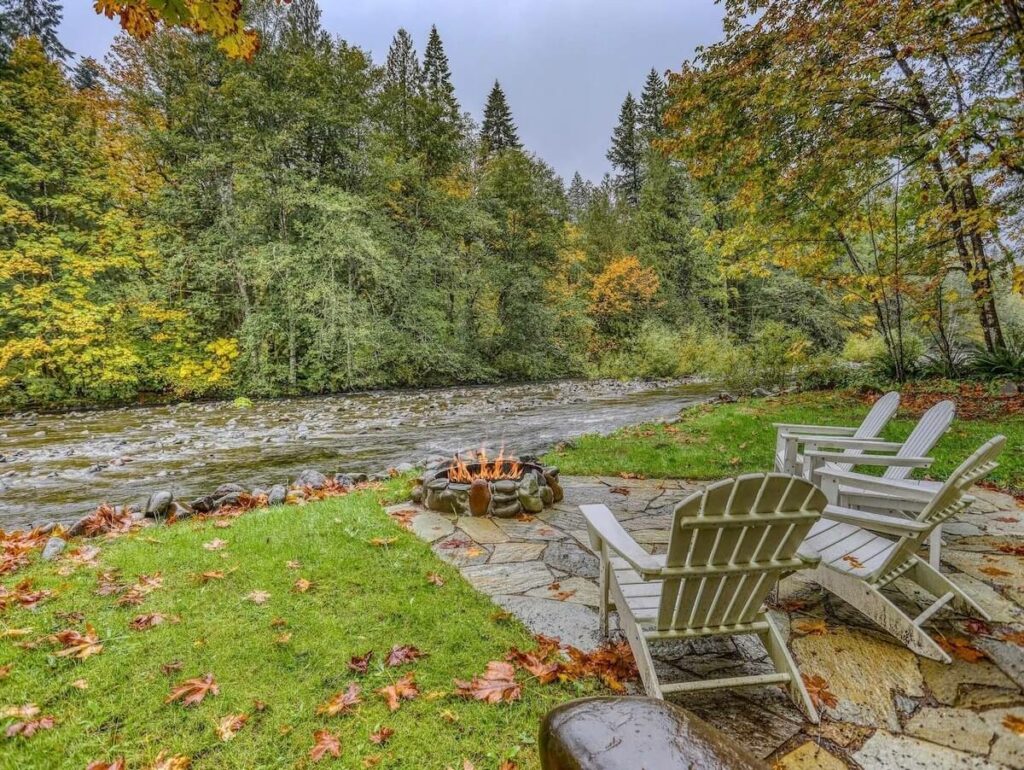 Experience the therapeutic aura of different seasons at Thistle Dew. Delight in the refreshing chill of the river in summer, watch salmon spawn against a backdrop of vibrant autumn foliage, or enjoy a picturesque winter view with a pristine layer of snow adorning the river's edge. Complement your relaxation with a private outdoor hot tub offering spectacular river vistas.
Thistle Dew captures the essence of a romantic getaway, filled with warm wooden accents and the soothing rhythm of the flowing river. The spacious primary suite offers a comfortable king bed.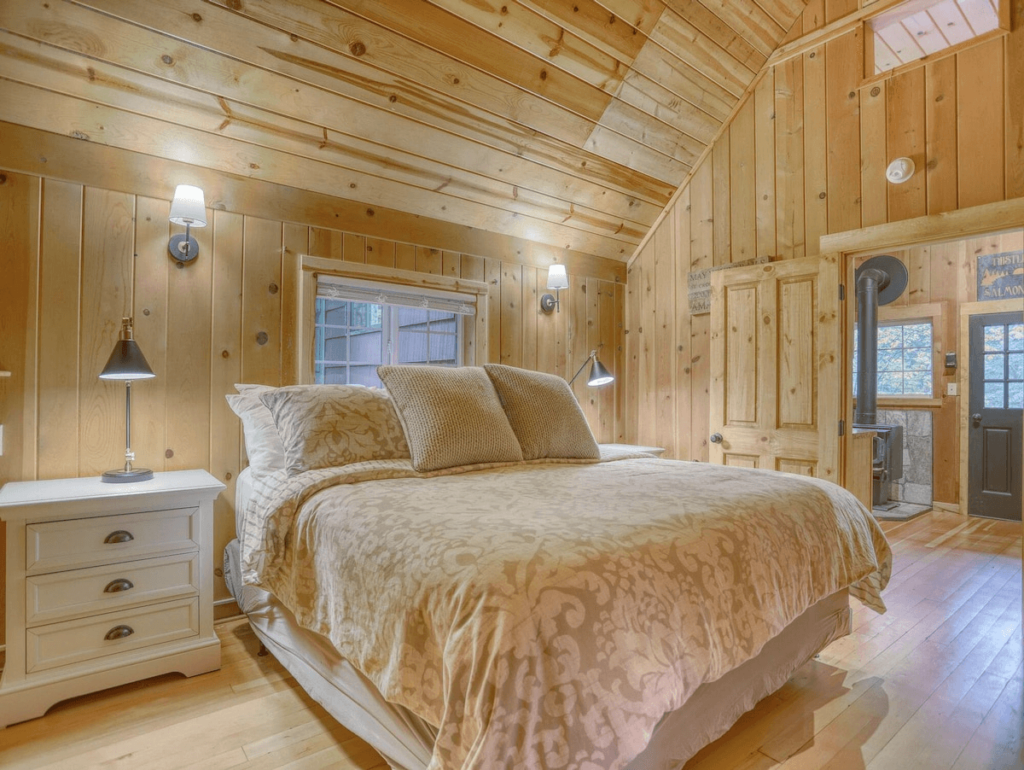 The cabin also includes twin bunk beds, making for a perfect family vacation.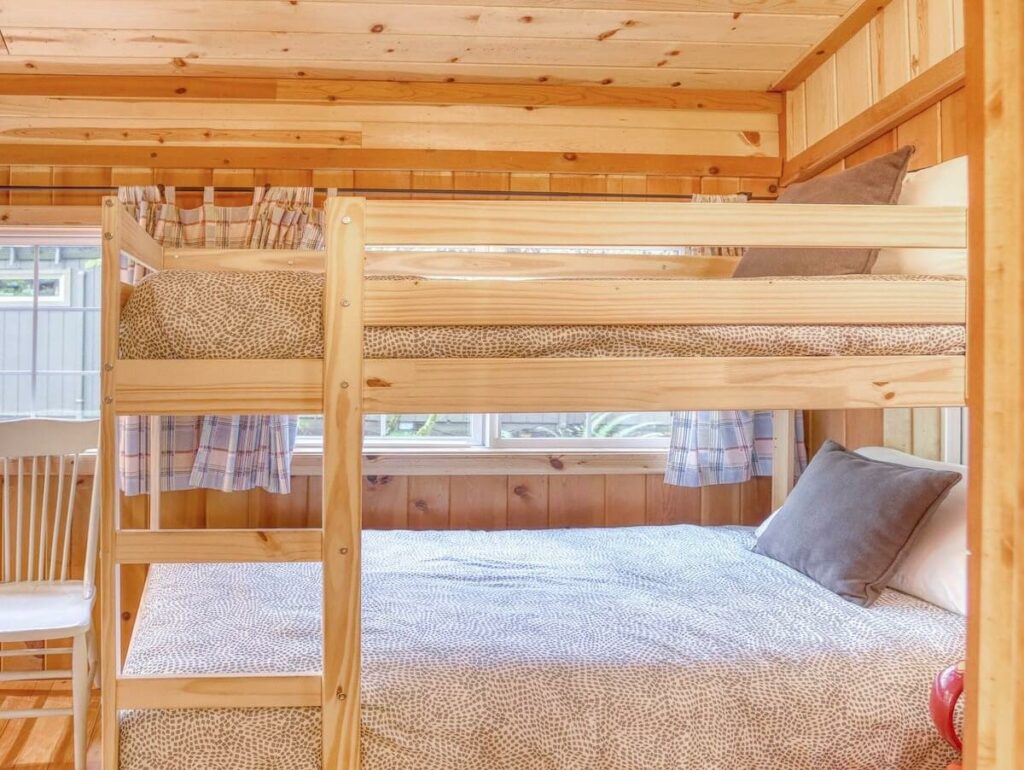 There is also an attached modern bathroom, thereby promising a restful sleep after a day filled with exploration.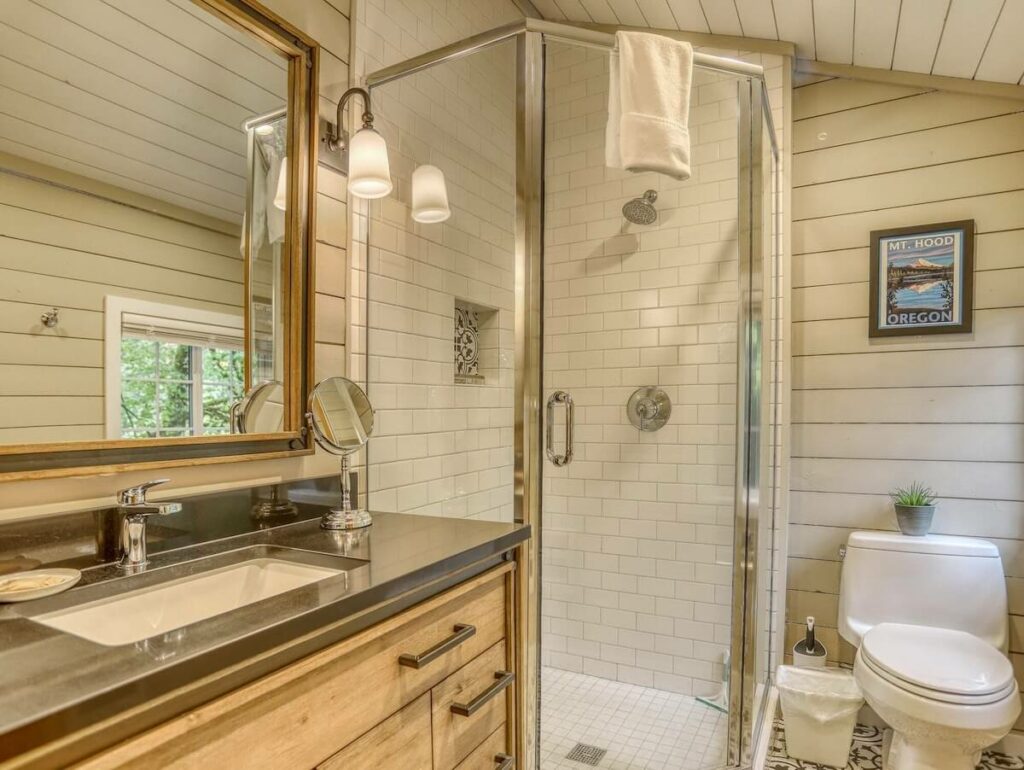 The fully equipped modern kitchen includes everything from a full-size refrigerator and oven to all the essential cookware, promising an enjoyable cooking experience.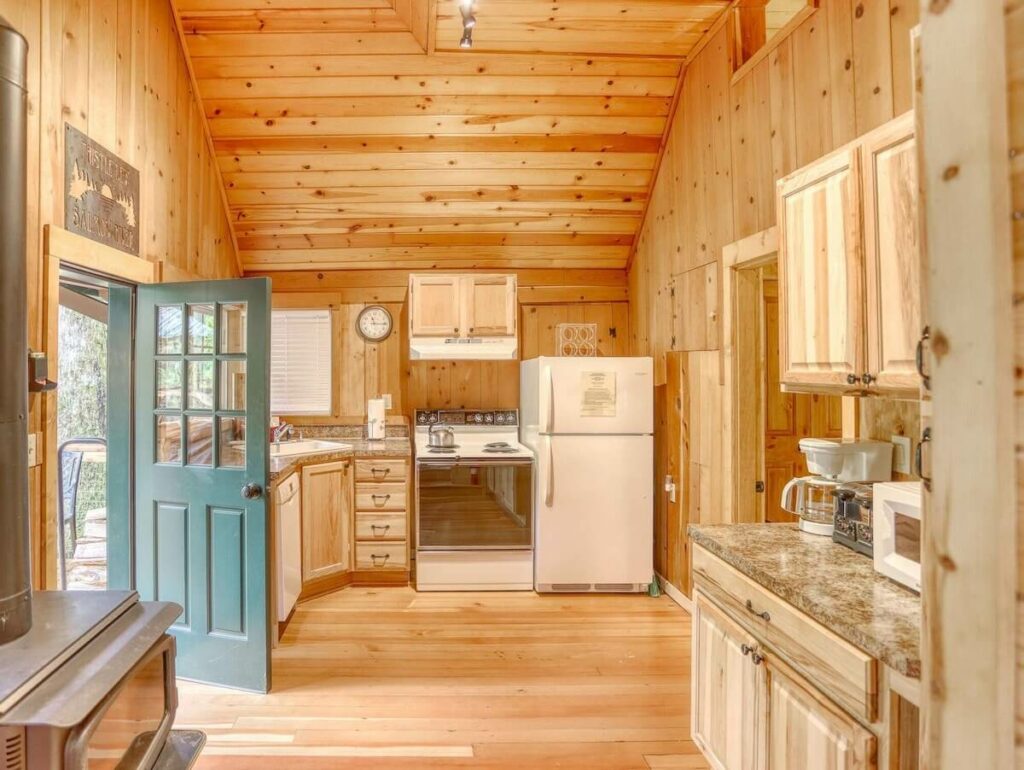 The riverside deck features a gas BBQ, perfect for an evening grill amidst the refreshing sounds and mesmerizing views of the Salmon River.
Enjoy a cozy stay within the cabin, courtesy of a natural wood stove and electric heating. During the summer, let the cooling cross breeze sweep in through the open windows for natural air conditioning. Natural sunlight through the great room skylights will brighten your day, while a starlit sky creates a magical atmosphere at night.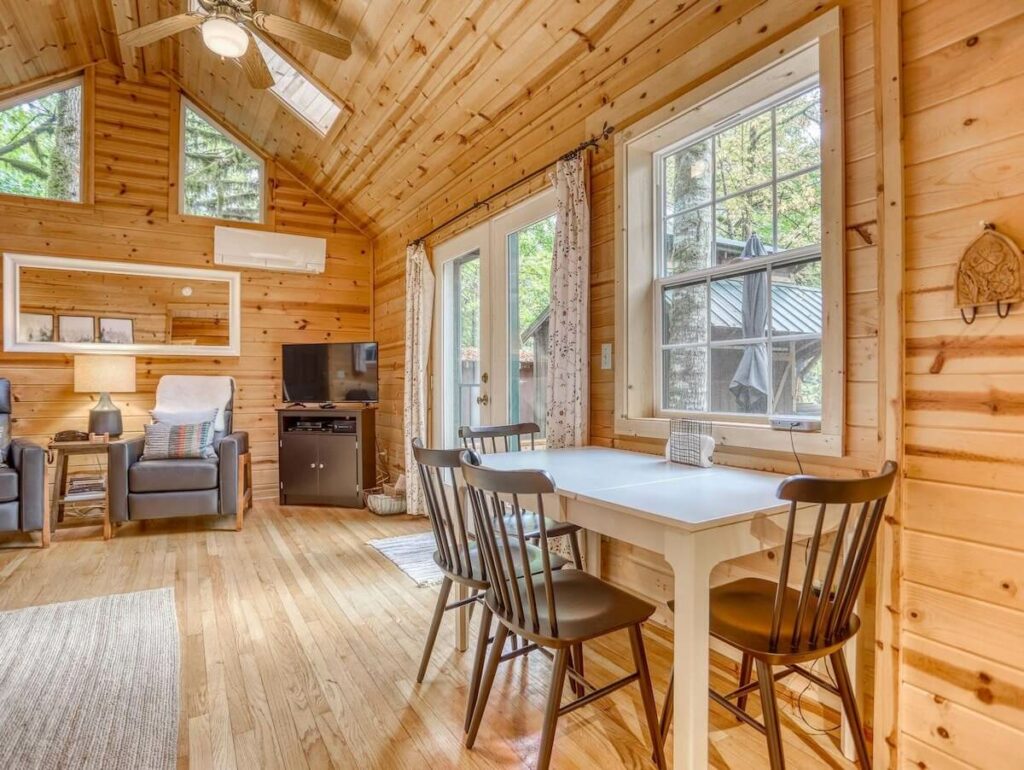 Thistle Dew is much more than just a cabin; it's a haven where you can unwind, surrounded by the rhythm of the river, a gripping book, and delightful company. Besides the mesmerizing river views, the cabin's amenities include a private hot tub, a deck with a propane BBQ and deck furniture, cable TV, medium-speed internet, and a landline phone with free long distance.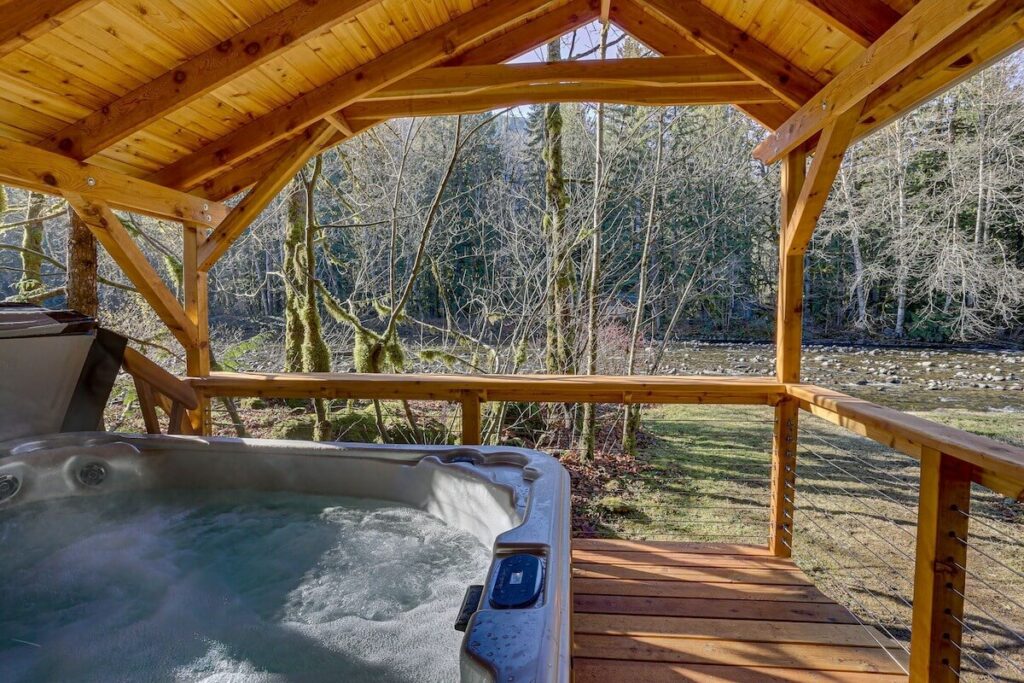 The cabin also includes a washer/dryer and mandates no smoking or pets for the comfort of all guests.
For prospective guests considering a winter escape, it's important to be aware that the cabin's roads and driveway might necessitate the use of traction devices and 4WD due to potential snowfall. The property's management takes the health and safety of its guests extremely seriously, implementing rigorous cleaning standards that meet and often exceed those recommended by the CDC. They ensure a comprehensive sanitization process, thoroughly disinfecting all surfaces and frequently handled items.
An added safety measure taken by the property management is the introduction of a pre-check-in inspection, guaranteeing that each guest arrives at a cabin that has been immaculately prepared and sanitized. The property will be left vacant until guests' arrival, facilitating a contact-free check-in experience. For those eager to take advantage of the private hot tub, it's reassuring to know that it receives a thorough cleaning and disinfection process after every departure.
Air-conditioned accommodations, DVD players, hair dryers, and well-equipped kitchens with a range of appliances further elevate your stay at Thistle Dew.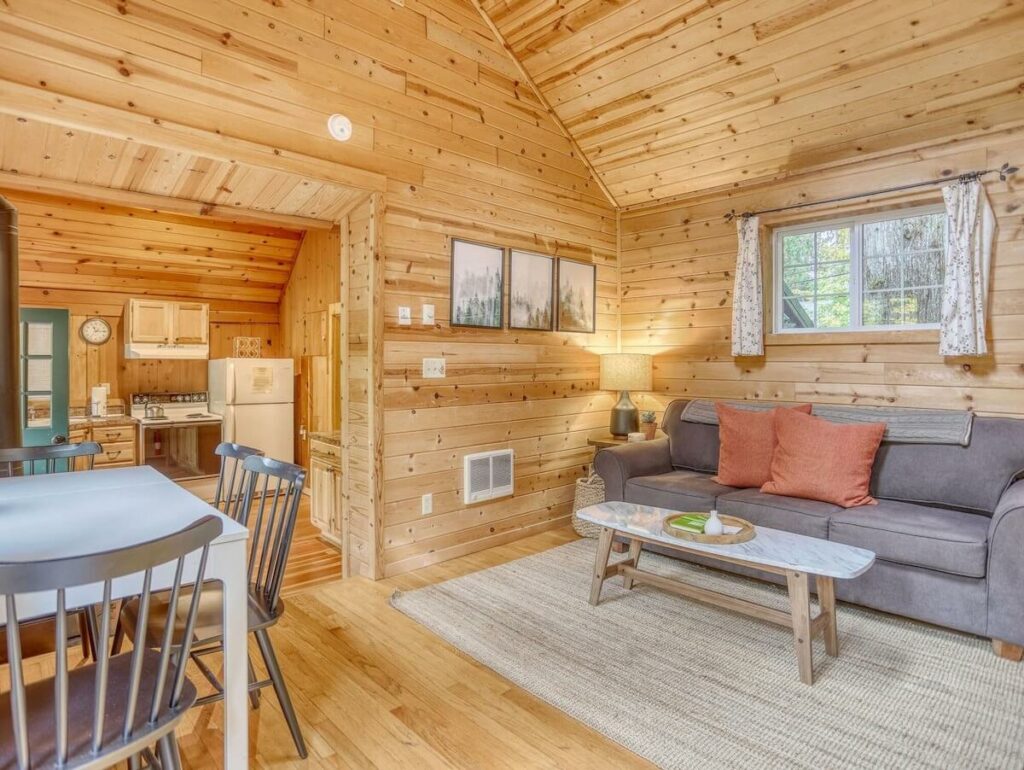 Whether you're in the mood for an exciting adventure or simply wish to relax in nature's lap, Thistle Dew's serene riverfront setting, modern amenities, and historic charm offer the perfect retreat in Welches, Oregon.
Interested in booking this lovely spot? Click here to check out the cabin and read more.