Nestled along the stunning Oregon coastline, Newport is a bustling city, often referred to as the 'jewel of the Oregon Coast.' With a population just over 10,000, it retains a quaint charm, while its distinctively rich culture, breathtaking natural beauty, and a vibrant food scene draw an increasing number of visitors each year. From historic lighthouses to the bustling harbor teeming with fishing vessels and the famed Oregon Coast Aquarium, Newport offers a kaleidoscope of experiences. Yet, there's one gastronomic marvel that's increasingly putting this city on the foodie map: The Newport Cafe's gargantuan burgers.
RELATED: Oregon's Top 12 Zoos and Aquariums – Uncover the Wonders of Wildlife
Sign up for monthly emails full of local travel inspiration and fun trip ideas. In each newsletter we'll share upcoming events, new things to do, hot dining spots and great travel ideas.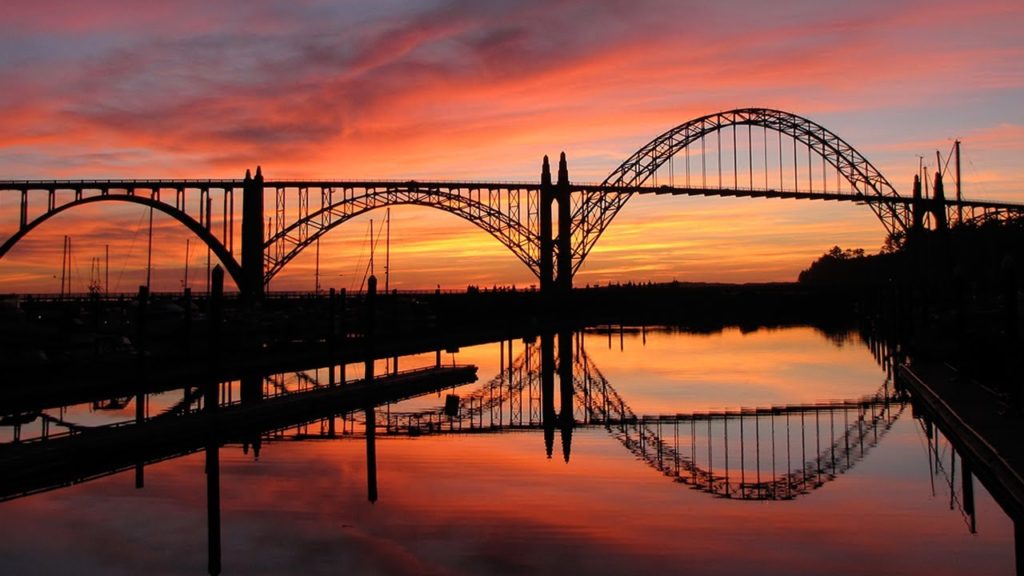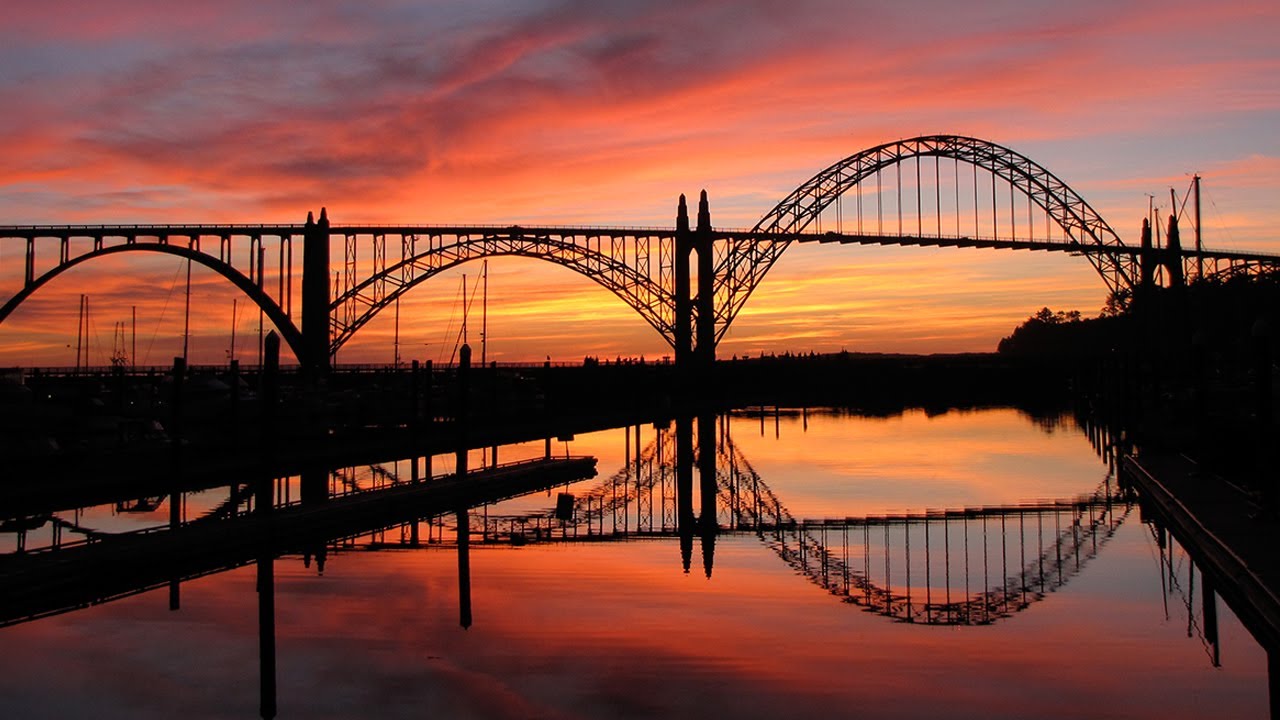 In a city bursting with culinary delights, mostly dominated by seafood, one establishment stands out: Newport Cafe. This unassuming gem, comfortably nestled in a petite mall, embodies the adage 'don't judge a book by its cover.' Their remarkable gastronomical offerings easily defy expectations set by its humble exterior, making it an endearing spot for locals and visitors alike.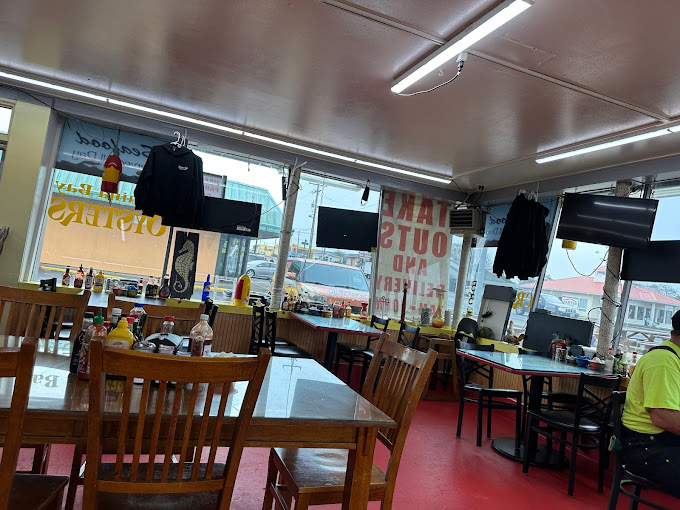 Undeniably, the major draw at Newport Cafe is their legendary hamburgers, each a culinary titan in its own right. With creations so sizeable they almost border on mythical, it's no wonder this modest eatery is gaining fame far beyond Newport's city limits.
Indeed, the Newport Cafe's epic burgers might be the main act, but they're far from the only delectable choice on the menu. This food haven provides an extensive selection of mouth-watering dishes that cater to all palates, no matter the time of day.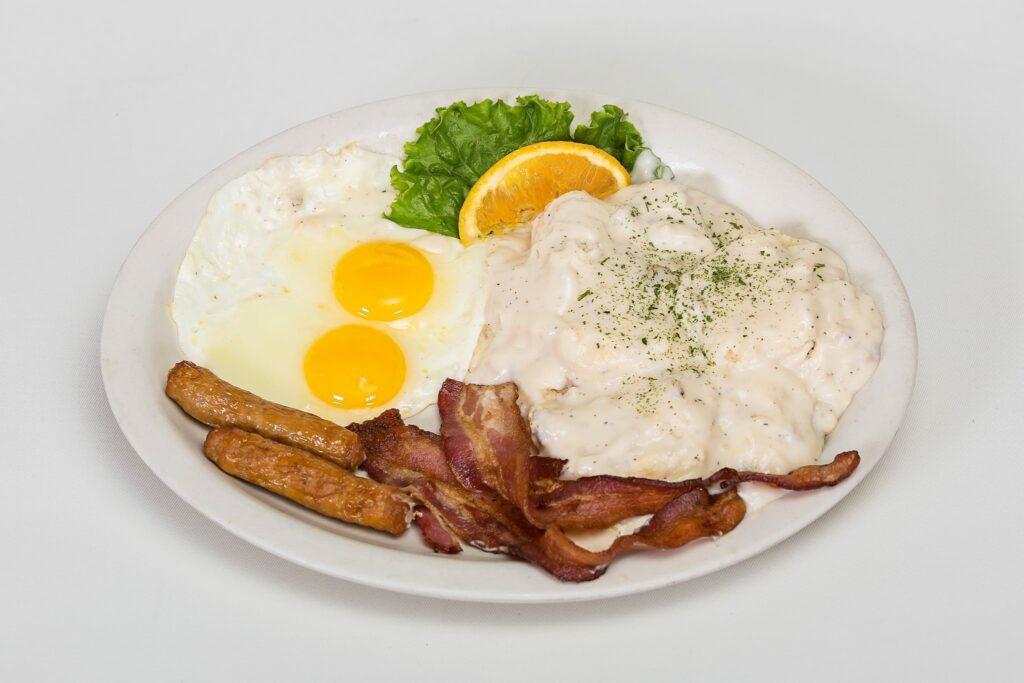 Begin your day with a hearty breakfast at Newport Cafe. Their Eggs Benedict options come with your choice of ham, bacon, or sausage – a perfect marriage of fluffy eggs and savory meat.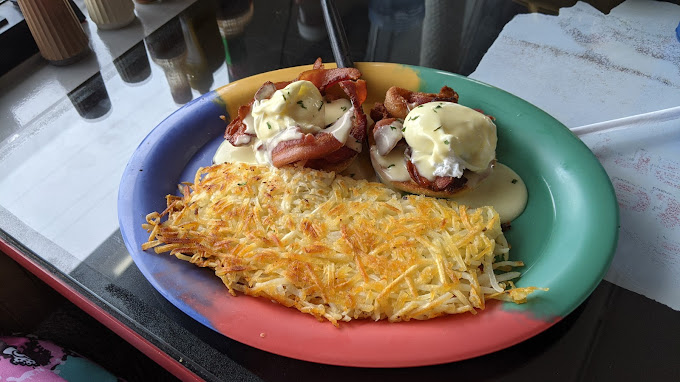 Or, opt for the traditional breakfast that comes with two eggs, your preferred potato, and a side of toast. Enhance it with bacon, sausage, or ham, or indulge in the local flavors with pan-fried Yaquina Bay oysters. Another breakfast favorite is their Biscuits & Country Sausage Gravy dish, enhanced with bacon or sausage links, offering a soulful start to the day.
RELATED: Newport, Oregon – Fun Things To Do, Best Beaches, Where to Eat
Looking for a Mexican twist to start your day? Their range of Breakfast Burritos offer Land Lovers, Sea Lovers, and Garden Lovers varieties, making sure there's something for everyone.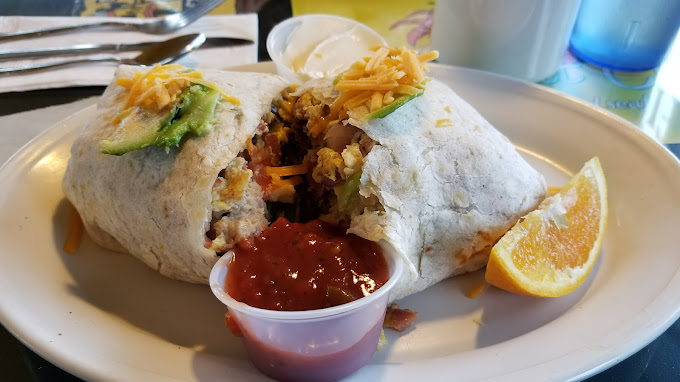 If your sweet tooth wakes up with you, be sure to try their homemade Pancakes, Waffles, or the irresistible Stuffed French Toast from the menu. They also serve a range of Cafe Omelets, including the Denver, Vegetarian, and Spanish versions – perfect for those who like a protein-packed start to their day.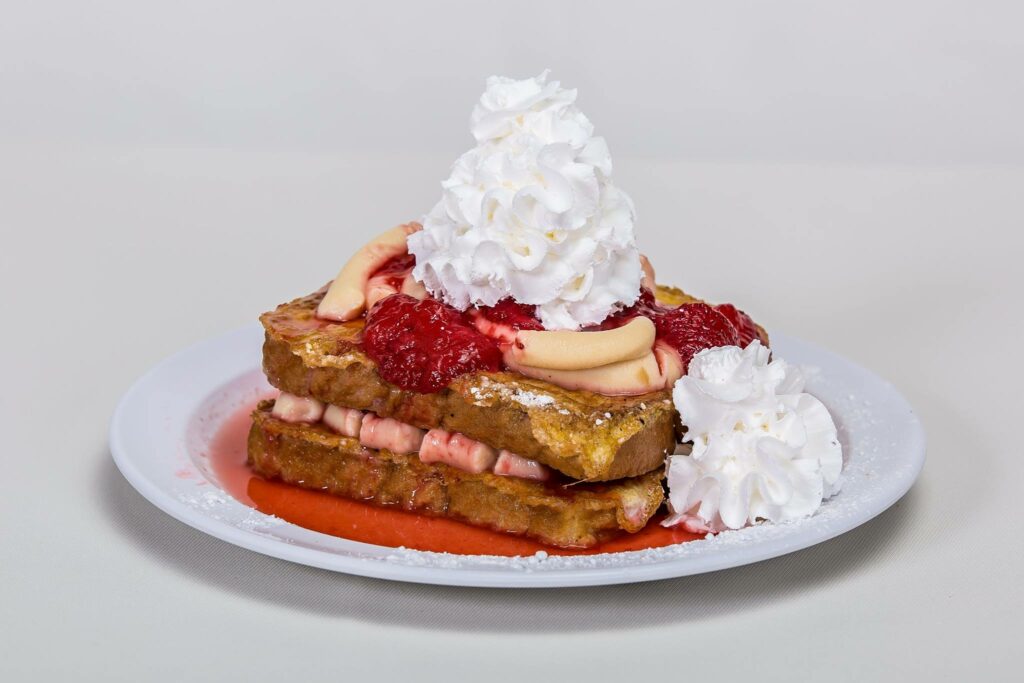 For lunch, consider one of their Café Sandwiches. Choose from the Ruben, Yaquina Bay Oyster, or the sumptuous Crab Melt. If you prefer cold sandwiches, the Classic BLT or Club House Triple Decker is sure to hit the spot.
The Newport Cafe hasn't forgotten about the salad lovers out there either. Their soups and salads section feature items such as Chef's Salad, Grilled Chicken Salad, and the decadent Combo Crab & Shrimp Louie for seafood enthusiasts.
For a more substantial meal, their lunch and dinner menu includes Cod Fish & Fries, Halibut Fish & Fries, and Combo Fish &Fries.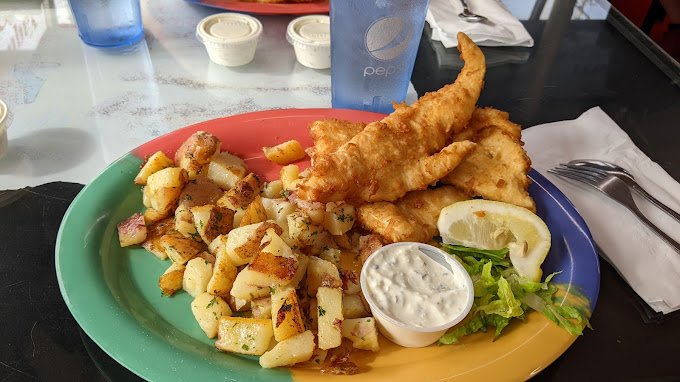 Steak lovers can rejoice with options like the homey Chicken Fried Steak or the filling 8oz Hamburger Steak.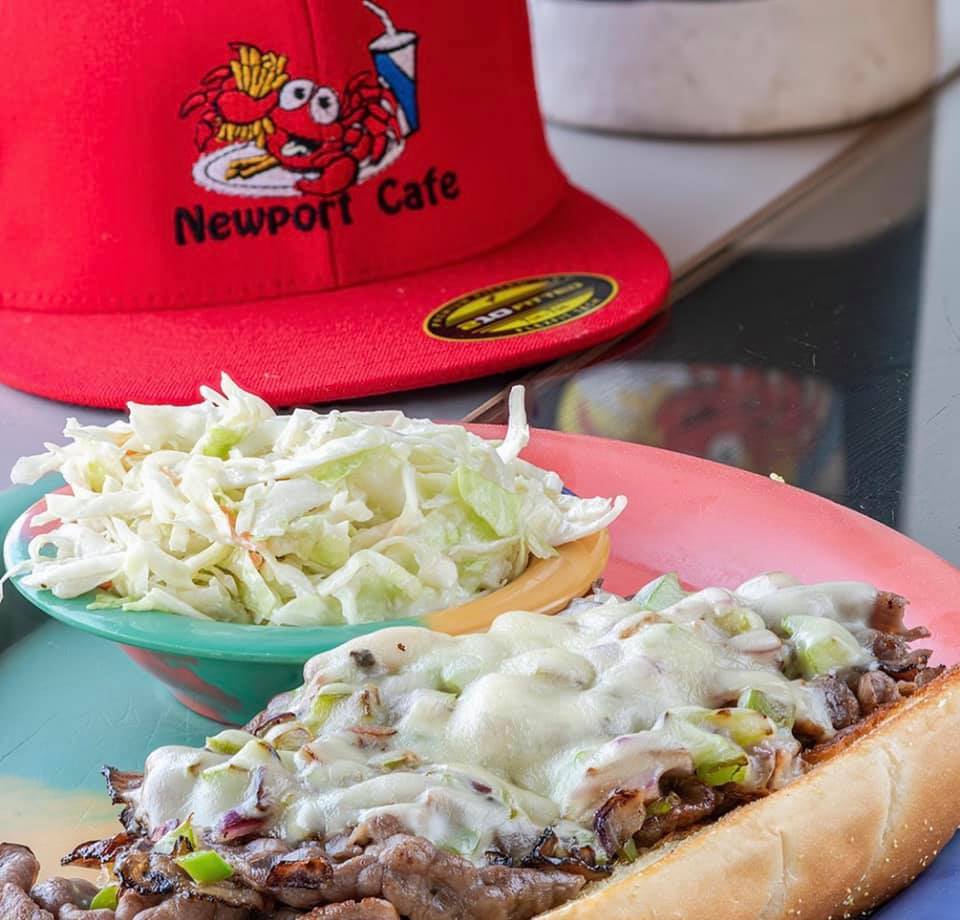 Commanding center stage at Newport Cafe is their showstopper: the Monster Burger. Available in a trio of sizes – the three-pound Monster, the four-pound Ultimate Monster, and the colossal eight-pound Super Ultimate Monster – these burgers are far from ordinary. They encapsulate everything a burger connoisseur could dream of – size, quality, and flavor.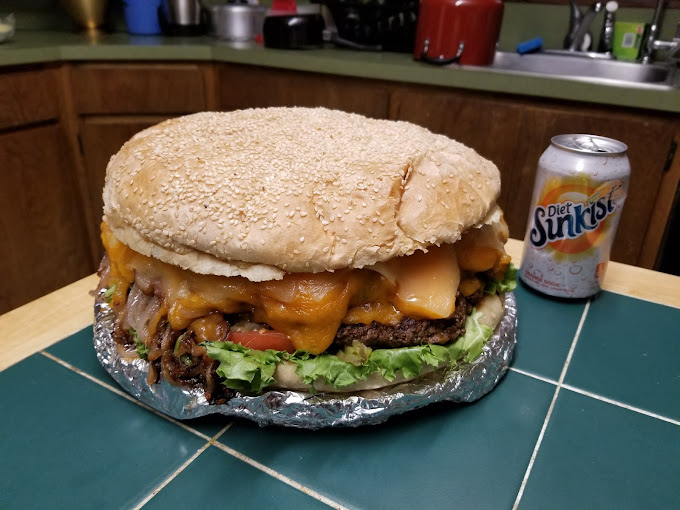 These colossal burgers don't just boast size, they are also a symphony of taste. Newport Cafe is committed to using only the freshest ingredients. Each beef patty is hand-pressed, resulting in a juicy, flavorful experience that your palate will remember long after your visit.
For those of a non-meat persuasion, the Cafe also features a vegetarian alternative that is sure to satisfy any diner. Their delicious veggie burger is a testament to the cafe's commitment to cater to a variety of tastes.
"Newport Cafe offers a gastronomical journey that's hard to resist. The portions are gigantic, the food mouthwatering, and the welcoming atmosphere makes you feel like family," writes Yelp reviewer Jennifer Miller, encapsulating the appeal of this unique dining spot.
So, whether you're a local or a visitor exploring the scenic central Oregon coast, remember to pay a visit to the Newport Cafe. If you feel audacious enough to take on the eight-pound behemoth, we suggest starting with the three-pounder and climbing your way up. After all, Newport Cafe isn't just a restaurant; it's an unforgettable experience that promises to satiate your burger cravings like never before. Open 7 days a week, 7am to 10pm, this family-style diner waits to welcome you with open arms and huge, delicious burgers. Are you ready for the challenge?
It's not just a burger destination; it's a haven for all food lovers, with a menu designed to delight.
CONTACT INFO
534 N. Coast HWY
Newport, Oregon 97365-4934
(541) 574-6847
Facebook: Newport Cafe
Official site: www.thenewportcafe.com