Oregon is one of the most amazing states in the USA and hence is also a major tourist attraction. The lifestyle of the people, the natural beauty of seashores, coniferous rainforest, and high-desert; everything about Oregon is gorgeous. Risk-takers flock to areas like Smith Rock State Park for the adrenaline rush of world-class rock climbing, but Oregon is also known for another form of risk-taking entertainment: Gambling.
Casinos in Oregon
This is no Las Vegas, but tribal land is everywhere. Oregon natives (and yes, we mean the REAL NATIVES) have found a way to drive tourism and cash flow to their ancestral lands in the form of classy casinos (which also serve to educate about Native American history). Read on for a regional list of every casino in Oregon and southern Washington and scroll to the bottom for a clickable map. You may just get lucky.

---
Casinos On The Oregon Coast
---
1. Three Rivers Casino Resort, Florence

Featuring more than 700 high-tech slot machines and table games, the popular casino destination known as Three Rivers is nestled in the foothills of Oregon's Coast Range. Rolling sand dunes of the Oregon Dunes State Recreation Area make a stunning backdrop to the 100 acres of Three Rivers Casino & Hotel.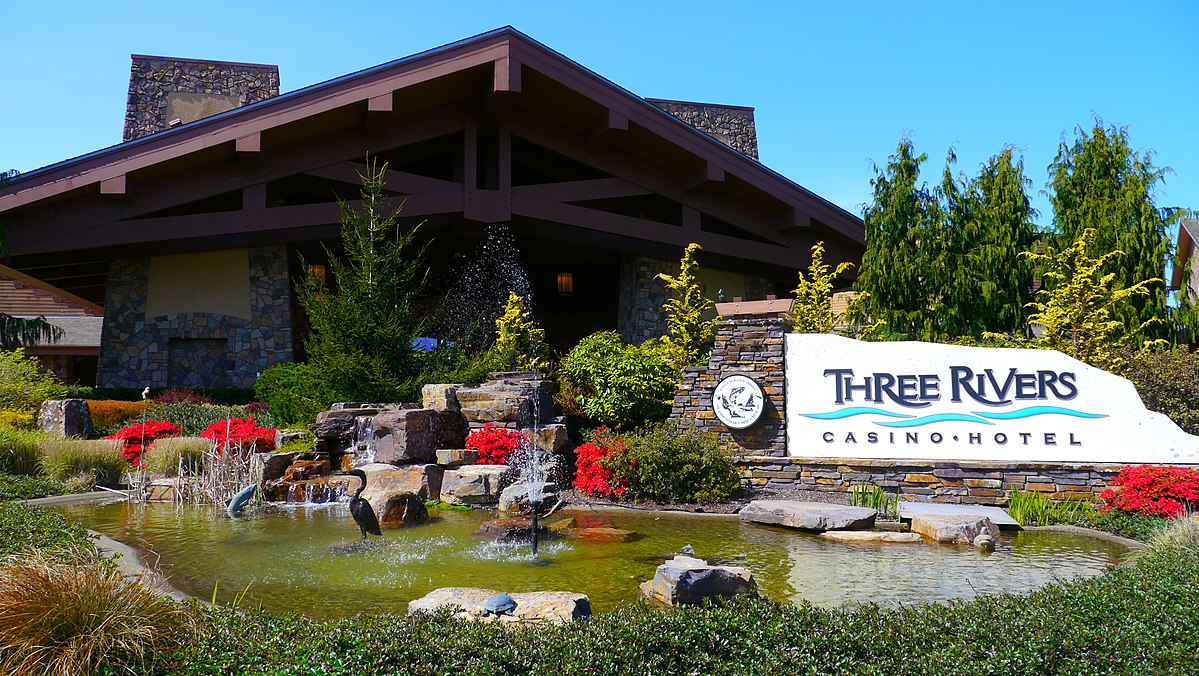 Opened in 2004, Three Rivers Casino & Hotel not only provides resources and opportunities for tribal members but, has become a huge source of community support in the Florence, Oregon region. The location regularly hosts country music jams with stunning light shows, comedy shows, special holiday brunches, golf tournaments, and many more events.
The facility is also one of the Southern Oregon Coast's largest employers. Their Community Cash program rewards residents and tourists for shopping locally, sponsors arts and theater programs, and donates to many local and regional non-profit organizations.
---
Related: Your Unofficial Guide to Florence, Oregon
---
There is plenty to do here besides gambling. Rent an ATV for a day at the dunes, get outside for a hike, visit Darlingtonia State Natural Site, check out the Sea Lion Caves, or walk downtown Florence's quaint old town area.
The hotel features an onsite bar, air-conditioned rooms, free WiFi, and safety-deposit boxes.
Click here to book your stay at the Three Rivers Hotel in Florence
Three Rivers Florence is located at: 5647 Highway 126, Florence, Oregon, 97439
Web: threeriverscasino.com/florence
2. Three Rivers Casino Resort, Coos Bay

Just south down Highway 101 (an hour, to be exact) is the smaller but newer of the two Three Rivers locations, but it's no less fun. 250 new games are currently in their lineup on the 15,000 sq. ft. gaming floor, and their restaurant, Cafe 1297, was recently named in the top ten local restaurants.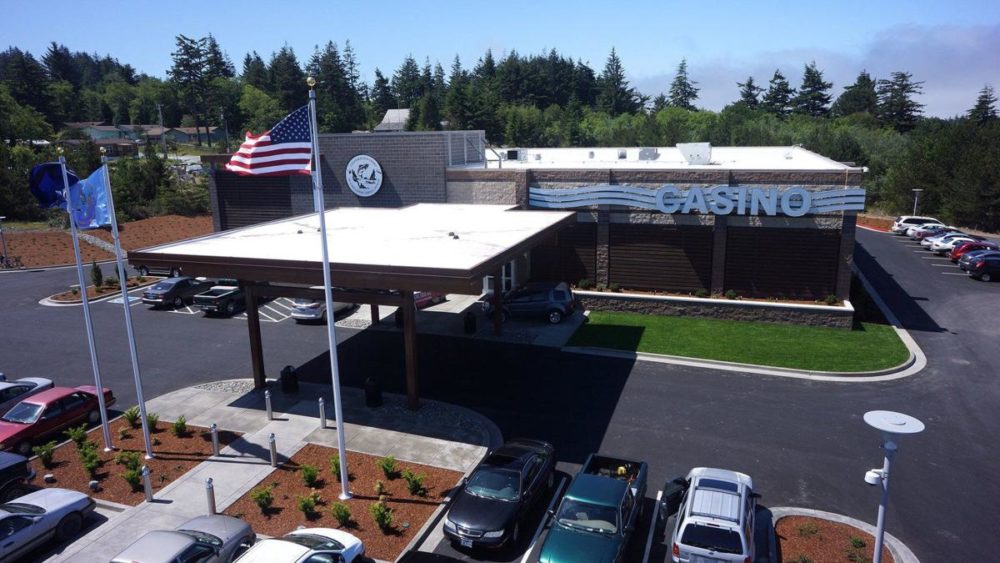 If you're working your way down the coast on a 101 road trip, this location is an easy choice for some entertainment on the side.
Three Rivers is located at: 1297 Ocean Boulevard, Coos Bay, Oregon 97420
Web: threeriverscasino.com/coos-bay
3. Spirit Mountain Casino
Spirit Mountain won the Best of the Willamette Valley in 2021 award, and it's not difficult to see why. This casino has always been a personal favorite of mine.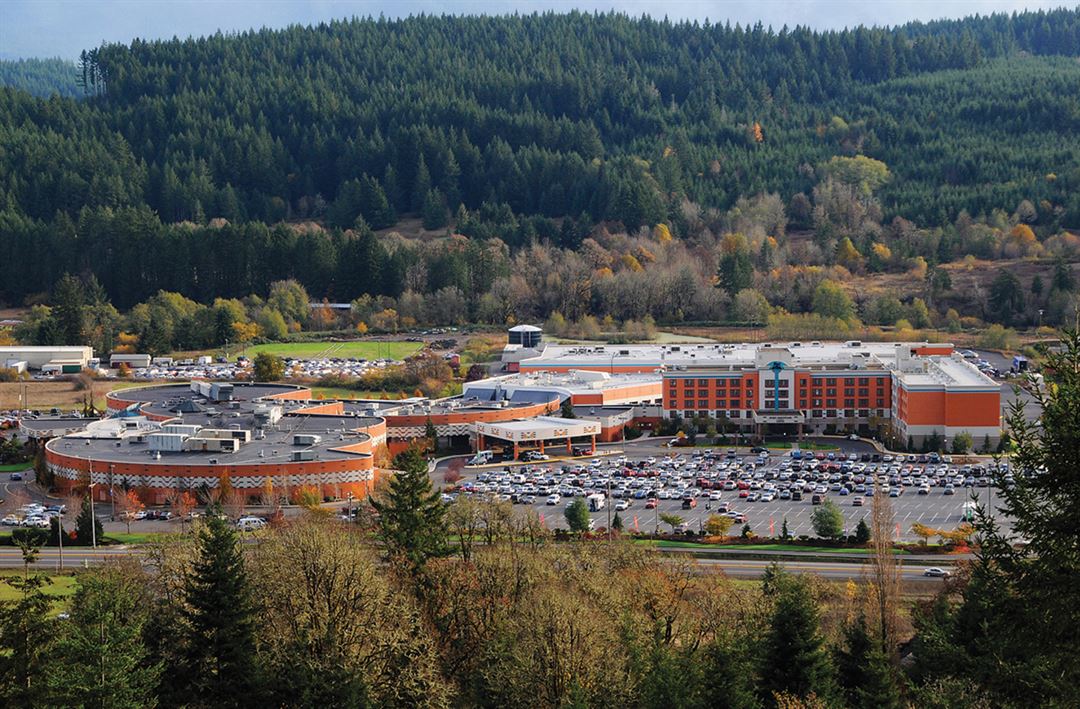 Located in Grande Ronde a mere half-hour from Lincoln City and the ocean, Spirit Mountain bridges a nice gap from the valley to the Oregon Coast. You'll find an entire host of 2000 slot machines and table games here; Black Jack, Roulette, Pai-Gow, Craps, and Ultimate Texas Hold-Em. In 2021, one lucky winner even hit a $1.6 million jackpot on one of their super-popular Buffalo Slot games. An onsite arcade is open to kids and adults alike for less-risky gaming fun.
Spirit Mountain features four restaurants/bars, sports betting, a well-known concert venue, and lodge with suites. Some of the big names who've played here include Chicago, Pat Benetar, Cyndi Lauper, and ZZ Top.

The casino is governed by The Confederated Tribes of Grande Ronde, and Spirit Mountain has become the Northwest's most successful casino and Oregon's top attraction, making it a vital part of the Tribes' effort to achieve self-sufficiency.
Spirit Mountain is located at: 27100 SW Salmon River Hwy, Grand Ronde, OR 97347
Web: spiritmountain.com
4. Chinook Winds Casino Resort

This beautiful casino and hotel is right on the beach in Lincoln City and has my favorite Friday Night Seafood Buffet in the entire state of Oregon (piles of crab legs, anyone?).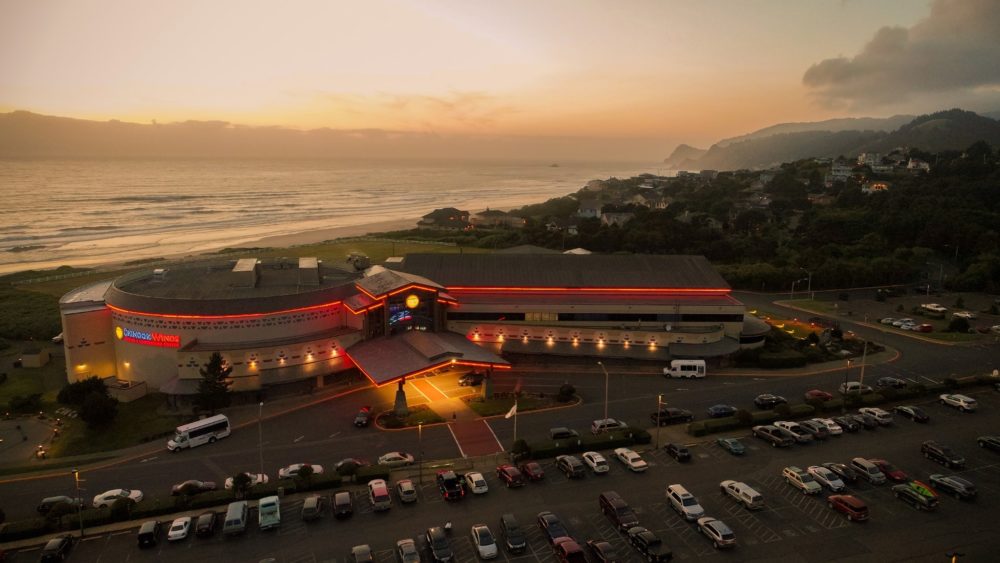 Chinook Winds is owned and operated by the Confederated Tribes of Siletz Indians of Oregon, and they are 100% committed to giving back to the community in every way possible. The tribe is extremely proud of its contributions through employment, monetary donations, and cooperative measures to the Siletz community, Lincoln County, and the state of Oregon, and have honored their tradition of sharing within the community by distributing more than $12 million through the Siletz Tribal Charitable Contribution Fund and other tribal resources. Chinook Winds has donated more than $3 million in cash and fundraising items since it opened in 1995.
The coastal casino offers the standard slots and table games, as well as a killer Bingo Night that draws locals and tourists alike. On the top floor, the Rogue River Steakhouse has beautiful 180-degree views of the Pacific Ocean. The nearby Chinook Winds Golf Course offers an additional restaurant and world-class 18-hole links, while the Play Palace and Games Galore Arcade give the kiddos a safe and supervised spot to hang out.
---
Related: Why Lincoln City is Oregon's Favorite Coastal Town
---
Rooms at the onsite hotel are spartan but comfy, and if you happen to indulge in too many adult beverages it's a short walk across the parking lot (don't ask me how I know this). Also, many rooms here are PET FRIENDLY, so feel free to bring your four-legged companion along. They'll love the nearby beach.
Chinook Winds Casino is located at: 1777 NW 44th St, Lincoln City, OR 97367
Web: chinookwindscasino.com
5. The Mill Casino
Heading south down the coast again, we come to The Mill Casino Hotel & RV Park, voted TripAdvisor's 2021 Best of the Best. Located in North Bend and owned by the Coquille Indian Tribe, the casino overlooks the beautiful Coos Bay, has over 200 waterfront rooms, more than 100 RV-sites, bay-view dining, over 700 Vegas-style slot machines, and table games.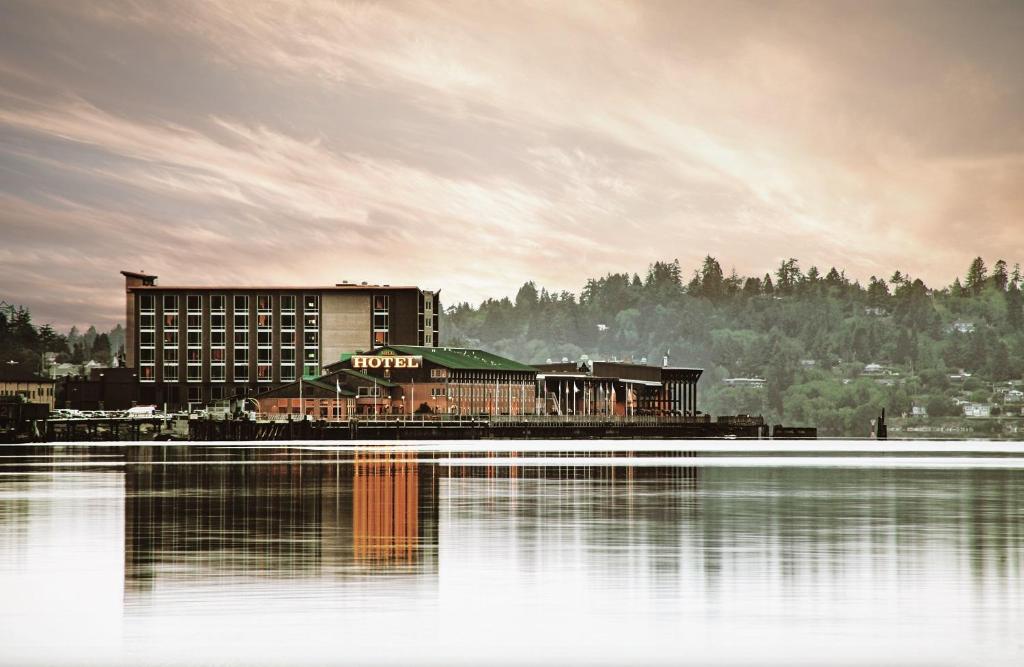 No less than five restaurants and bars are available to the public and guests. RV sites are equipped with full hookups, and some rooms in the hotel are PET FRIENDLY.
Since The Mill is situated on the coast there are literally endless things to do in the area, including beachcombing, hiking, fishing, and antique shopping. Shore Acres State Park is one of our very favorite places on the Oregon Coast and it's only a scant six-minute drive away. During high tides and storms, the park puts on an absolutely jaw-dropping display of wave activity that is not to be missed.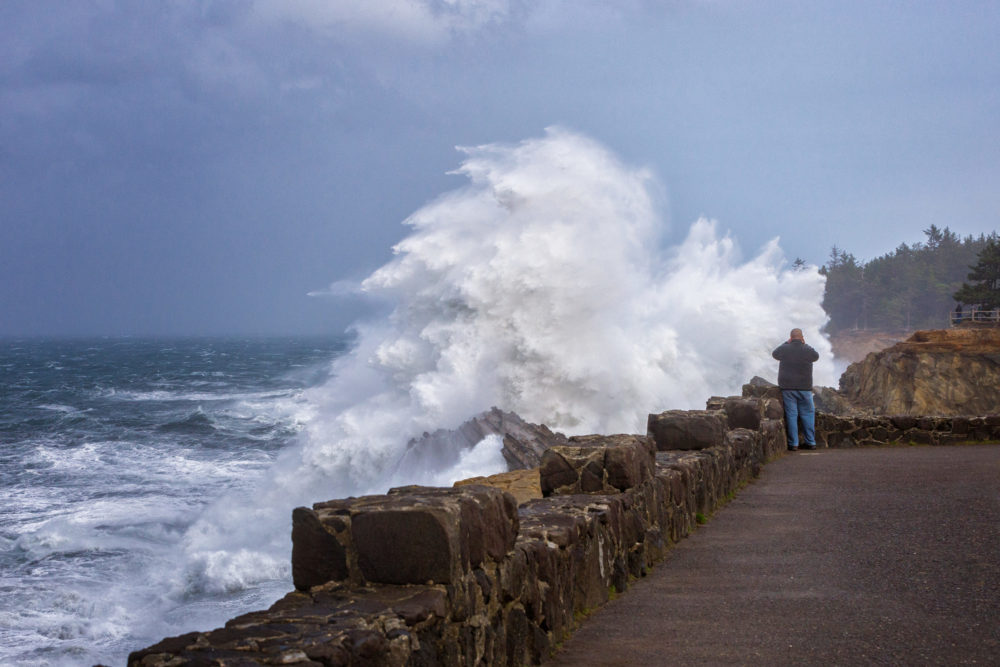 Book a room at The Mill Casino Hotel
The Mill Casino is located at: 3201 Tremont Ave. Hwy 101, North Bend, OR 97459
Web: themillcasino.com
---
Casinos in Central/Eastern Oregon
---
6. Wildhorse Resort And Casino
Nestled beneath the Blue Mountains of Eastern Oregon, Wildhorse Resort & Casino is located on the Confederated Tribes of the Umatilla Indian Reservation, and it's the perfect hub from which to explore historic Pendleton.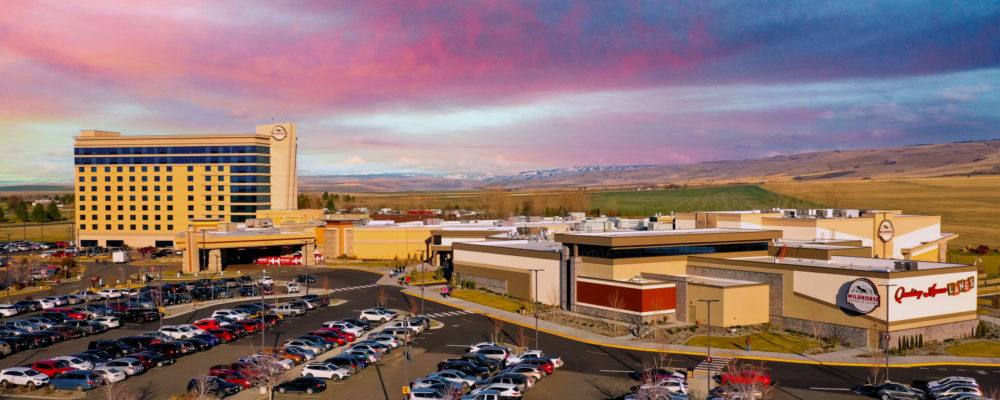 The Confederated Tribes of the Umatilla Indian Reservation (CTUIR) is a modern Tribal government representing the Cayuse, Umatilla, and Walla Walla people, who have lived in this region for thousands of years. Traditional games of skill and games of chance have always been part of their tribal culture, and in 1995 the CTUIR opened the Wildhorse Casino for this purpose.
Wildhorse Resort & Casino is the only Class III Gaming floor this far East in the Pacific Northwest. These are true Vegas-style slots, and there are over 1200 machines to choose from. 14 table games can also be found here, as well as live keno, bingo, and poker.

Adult gambling entertainment isn't the only activity offered at the resort, and there is a definite focus on family fun here as well. You can catch a new flick in Wildhorse's five-screen cinema, featuring premium surround sound, theater seating, and 3-D screens. The Children's Entertainment Center has all kinds of activities for kids ages 3-13: karaoke, arts and crafts, gaming consoles, a jungle gym, and so much more. The Family Funplex contains an awesome arcade and a 24-lane bowling alley.

Besides the 10-floor, high-desert view hotel with fitness center, hot tub, and dry sauna, Wildhorse also has a fully-equipped RV lot and tipi village with an outdoor pool.
---
Related: The Most Epic Oregon Trail Road Trip Ever
---
On your off time, take in the sights of the city. The Pendleton area encompasses what was the Old Oregon Trail, and you'll find plenty of history here, from ancient to modern. Visit the renowned Tamástslikt Cultural Institute to experience "10,000 years of native culture in a single afternoon". The Pendleton Underground Tours take visitors on a trek through the city's more sordid past, while the world-famous Pendleton Woolen Mills are still an important part of Eastern Oregon industry. Another famed annual event is the Pendleton Round Up, a rodeo that's over 100 years old and still takes place every late-summer in September.
Wildhorse Resort & Casino is located at: 46510 Wildhorse Blvd, Pendleton, OR 97801
Web: wildhorseresort.com
7. Indian Head Casino
(Note: The Indian Head Casino is temporarily closed due to staffing shortages with plans to reopen as soon as possible, however their website and Google Maps show they are open with events and specials ongoing as of January 2022.)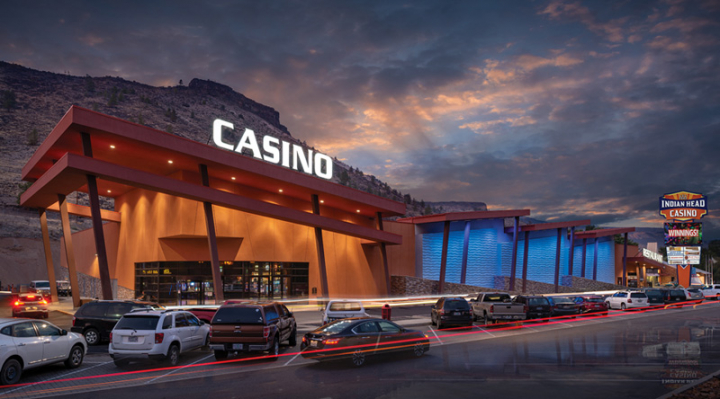 Centrally located in Warm Springs, Indian Head Casino is one of the first things you notice on US-26 as you descend out of the Cascade Mountains into Oregon's high-desert country. At just two hours from Portland, Oregon, the trip is a stunner as you pass by Mt. Hood through the forest.
Small but hopping, their mission is a gaming enterprise of the Confederated Tribes of Warm Springs which delivers quality entertainment, exceptional guest service, and goodwill to the community while providing positive returns.
Indian Head Casino is located at: 3236 US-26, Warm Springs, OR 97761
Web: indianheadcasino.com
---
Casinos in Southern Oregon
---
8. Seven Feathers Casino Resort
Seven Feathers Casino Resort ranks in the top 20 of Pacific Northwest properties and is one of the fastest-growing destination resorts in the region.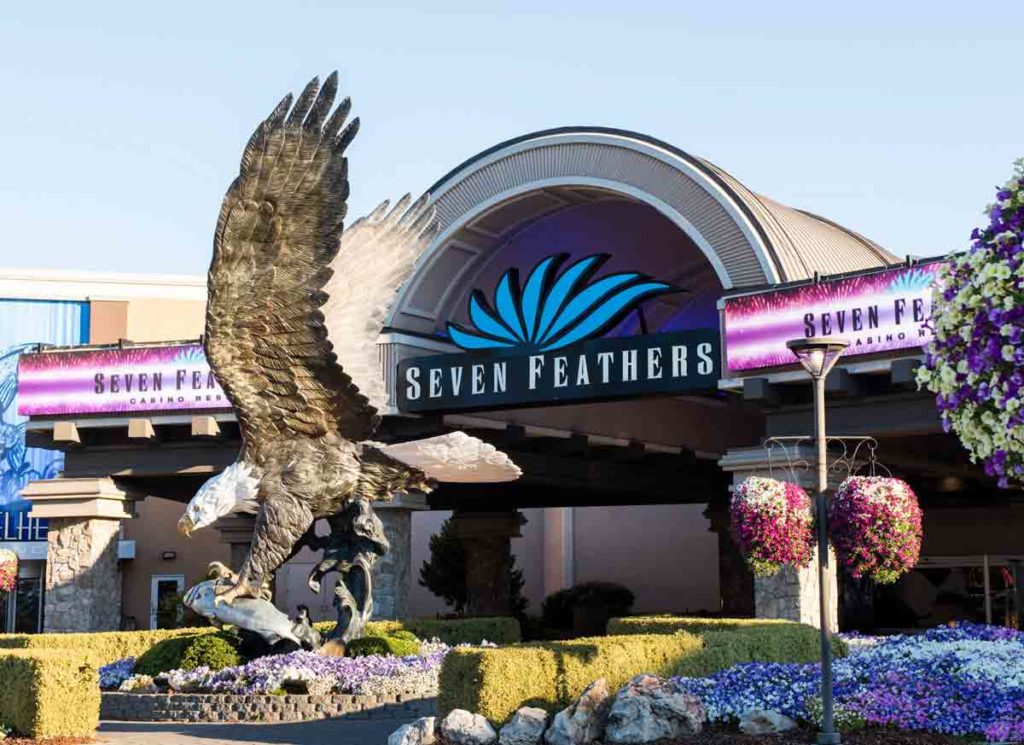 One of the biggest draws to Seven Feathers is the big-name entertainment frequently performing at the Interstate-5 casino and resort. Famous comedians, bands, singers, and sports stars love to make stops here.
In 1992, the Cow Creek Band of Umpqua Tribe of Indians opened the Cow Creek Bingo Hall which is now Seven Feathers Casino Resort. Today, Seven Feathers Casino Resort has over 900 slot machines, table games such as Blackjack and Pai Gow Poker, a Bingo Hall, and Keno in the 68,000 square foot gaming area. The American Bald Eagle sculpture out front, "Skookum Hyak", is 33-ft. high and weighs over 10,000 lbs. making it the largest bronze casting of an eagle in the world.
The little town of Canyonville is where the casino calls home, but it's also only 25 miles south of Roseburg and 45 miles north of Grants Pass, making it a great freeway stopover. Six restaurants and bars make for a great selection for hungry gamblers (I can personally vouch for a really good breakfast). The most unique offering at Seven Feathers is the full-service River Rock Spa which has treatments such as Swedish massage with aromatherapy, organic facials and body treatments, waxing, manicures, pedicures, and hair design from the full-service salon.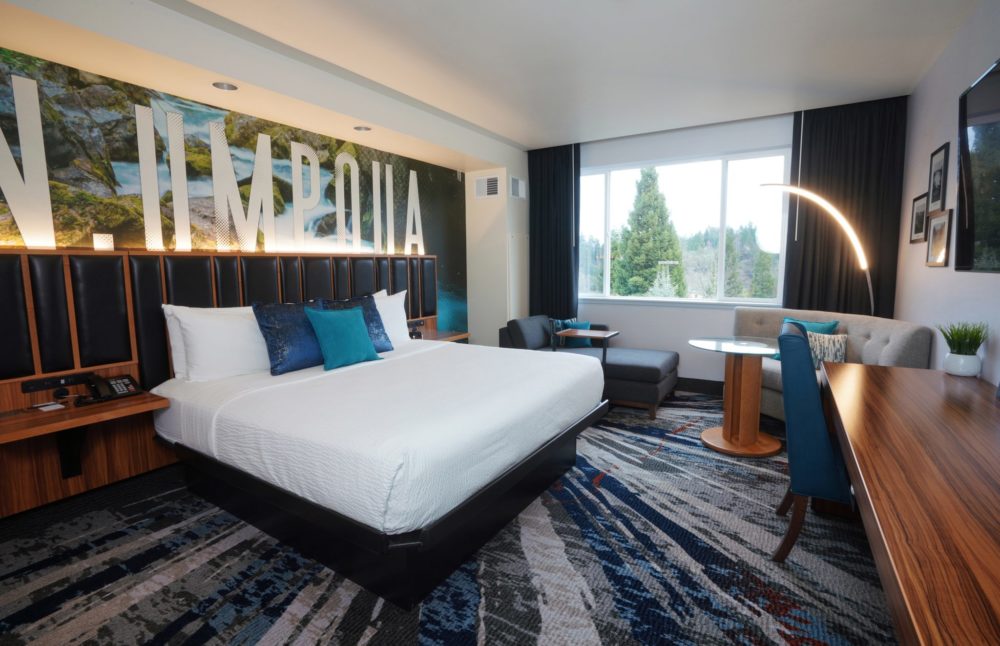 At 600 sq. ft. some of their hotel suites are larger than my first apartment and newly renovated. The nearby Seven Feathers RV Resort is incredibly spacious, and also has yurts available to rent.
Seven Feathers Casino is located at: 146 Chief Miwaleta Lane, Canyonville OR 97417
Seven Feathers RV Resort is located at: 325 Quintioosa Blvd, Canyonville, OR 97417
Web (Casino): sevenfeathers.com
Web (RV Resort): sevenfeathersrvresort.com
9. Kla-Mo-Ya Casino
Located just an hour from Crater Lake National Park, Kla-Mo-Yah is named for the Klamath Nations living here in the Chiloquin area since time before memory: Klamath, Modoc, and Yahooskin.
"Our legends and oral history tell about when the world and the animals were created, when the animals and gmok'am'c – the Creator – sat together and discussed the creation of man. If stability defines success, our presence here has been, and always will be, essential to the economic well-being of our homeland and those who abide here." –klamoyacasino.com
Whether you like to play golf, sail, fish, or simply just sight-see, you can easily do them all during the time you spend in the Klamath Basin where the casino is located.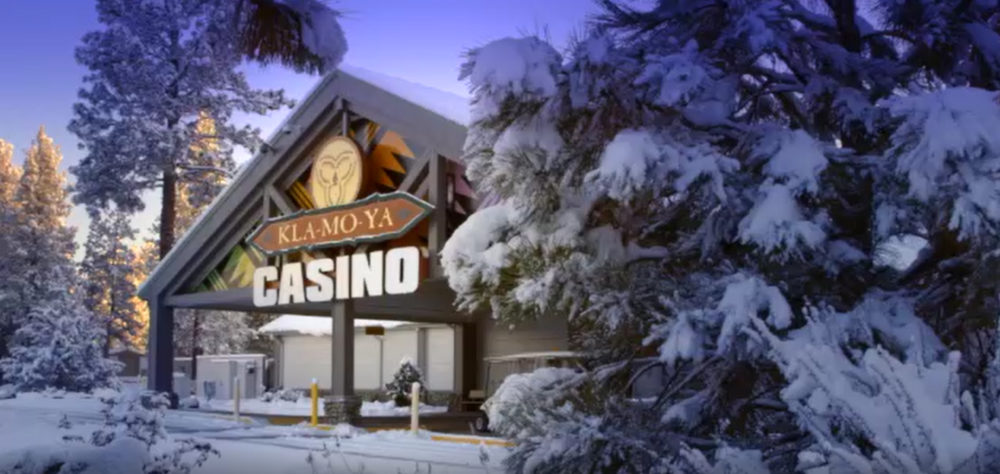 Kla-Mo-Yah offers 340 Vegas-style slot machines, a full-menu sit-down restaurant, onsite hotel, and RV Park.
Book Your Stay at Kla-Mo-Yah Sleep Inn and Suites Here
Kla-Mo-Yah is located at: 34333 US-97, Chiloquin, OR 97624
Web: klamoyacasino.com
---
Casinos in The Valley
---
10. Final Table Poker Club
Final Table is unique to this list because it's not a casino per se, but it is the largest and most spacious social gaming poker room in Portland, Oregon.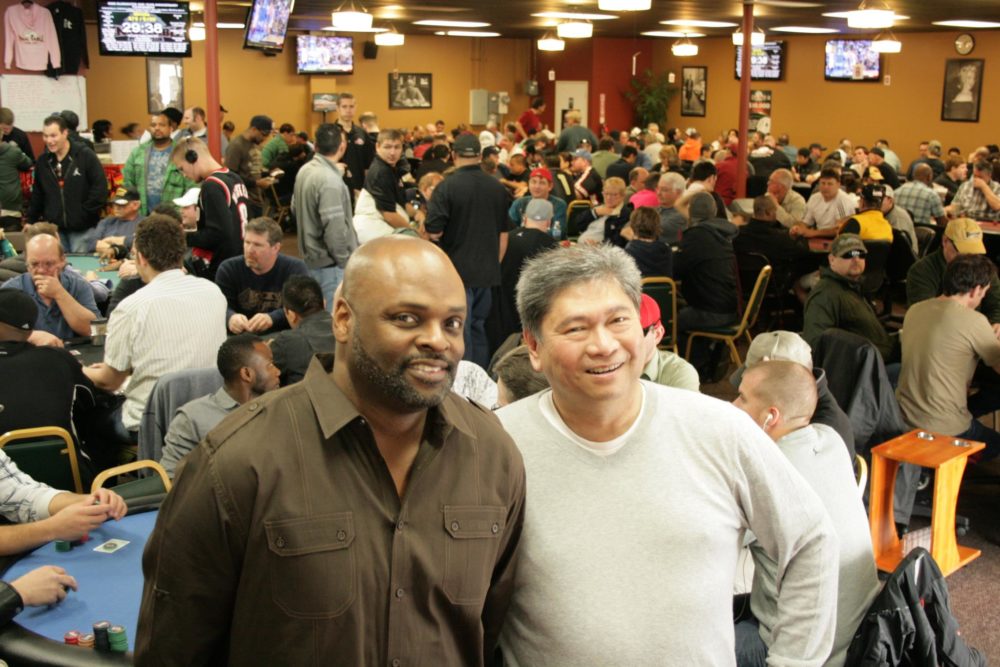 Their gaming space features 15 poker games, pool tables, video games, board games, and large-screen TVs for sporting events. You'll also find a bar (serving both alcoholic and non-alcoholic beverages) and a full cafe with reasonably priced menu items such as Fish'n' Chips, salads, breakfast, and ramen.
Final Table is a 21+ venue, and all buy-ins are redistributed to the players, a fact which online reviewers glow about. A $20 daily membership fee gives you access to the club for the entire business day.
Final Table Poker Club is located at: 2620 SE 122nd Ave, Portland, Oregon 97236
Web: pokerportland.com
11. Ilani Resort
Ilani resides on Cowlitz Tribal lands in Ridgefield, WA, and was developed by a partnership between the Cowlitz Tribe and Salishan-Mohegan (yes, the same Mohegan as the Mohegan Sun Casino in Las Vegas, NV).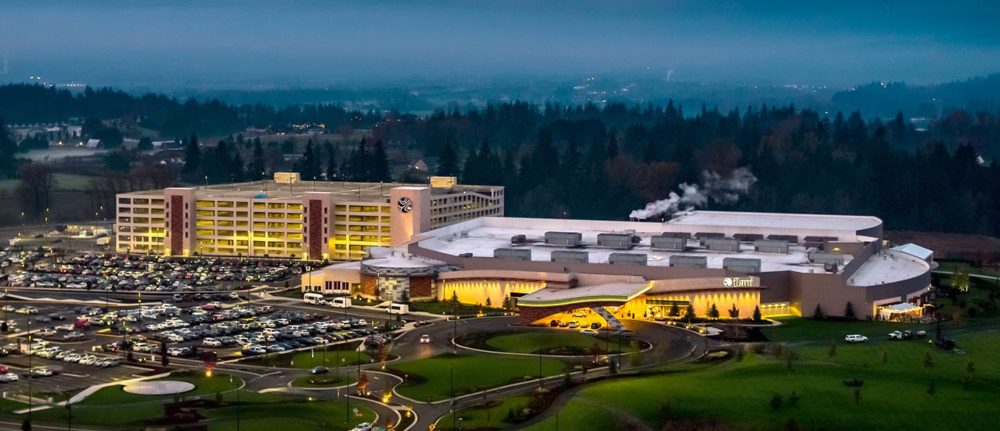 Pronounced as "Ay-Luh-NAY", this venue is easily the largest one on our list coming in at a whopping 100,000 sq. ft. of gaming space. That's a quarter of its total 400,000 sq. ft. area which includes 3,000 slot games, 75 gaming tables, 15 restaurants/bars and retail outlets, and a 2,500-seat meeting and entertainment venue.
In 2023 the next phase of Ilani is planned which will consist of a hotel with four-diamond level guest service and amenities including luxury rooms and suites, a full-service spa, an indoor-outdoor pool experience, and a rooftop restaurant with views of the beautiful Pacific Northwest mountains and the Columbia River.
As you can imagine, almost any card or slot game you desire can be found at Ilani. At only 30 minutes north of Portland it's also super accessible for Oregonians looking to test their gambling luck without driving very far outside of the Beaver State.
Ilani is located at: 1 Cowlitz Way, Ridgefield, WA 98642
Web: ilaniresort.com
12. Palace Casino
If massive casinos and large crowds aren't really your style, there are two smaller Cowlitz gambling venues just down the road in La Center, WA to choose from.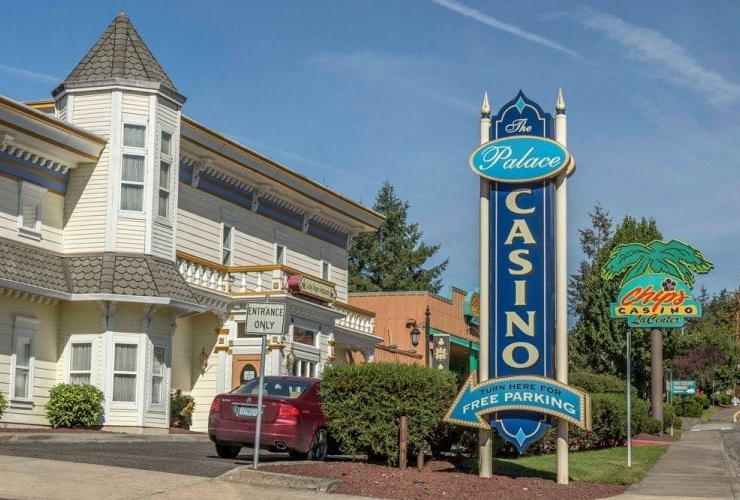 The first is Palace, a cozy little casino that offers no slots but excels in card games. Blackjack, Pai Gow, Baccarat, and Texas Hold'Em Poker are all part of the fun as well as the Lucky Dragon restaurant serving up seriously delicious Vietnamese, Chinese, and American options. Nosh on Hot Pot, Phở, Chim Cut Vietnamese Quail, Canh Bún Soup, Banh Mi Sandwiches, Soft Shell Crab, and more.
Palace Casino is located at: 318 NW Pacific Hwy, La Center, WA 98629
Web: nwcasinos.com
13. Last Frontier Casino

Last but certainly not least on our list is the second venue in La Center, WA; another small casino that sets itself apart from behemoth Ilani by offering the best in customer service.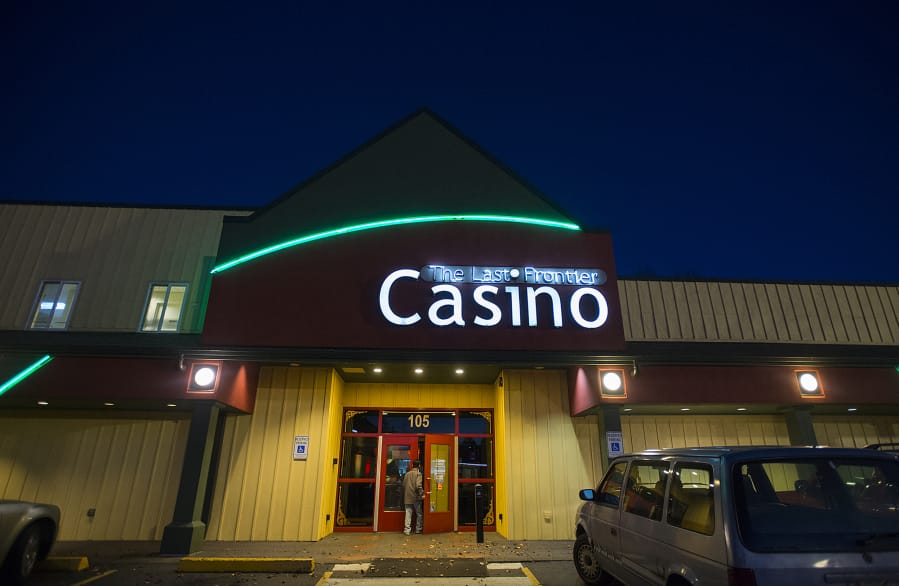 Like nearby Palace Casino, you won't find any slot machines at Last Frontier, but instead plenty of table games and jackpots. Blackjack, Double Deck Blackjack, Emperor's Challenge Pai Gow, Baccarat, High Card Flush, Heads Up Hold'Em, and Player's Edge 21 are to be found at 15 different tables. Meanwhile, the 24/7 restaurant cooks up traditional American food with Prime Rib Fridays and a senior menu. Some folks have been coming to Last Frontier on the regular for over 30 years.
The Last Frontier Casino is located at: 105 West 4th St, La Center, WA 98629
Web: lastfrontiercasino.com