The holidays are such a delicious time of year! Salt & Straw in Portland Oregon has decided to make this year even more delicious with holiday themed ice creams. These are the perfect flavors to take to your family get together or to enjoy at home with those closest to you. You'll definitely want to go back for seconds with these!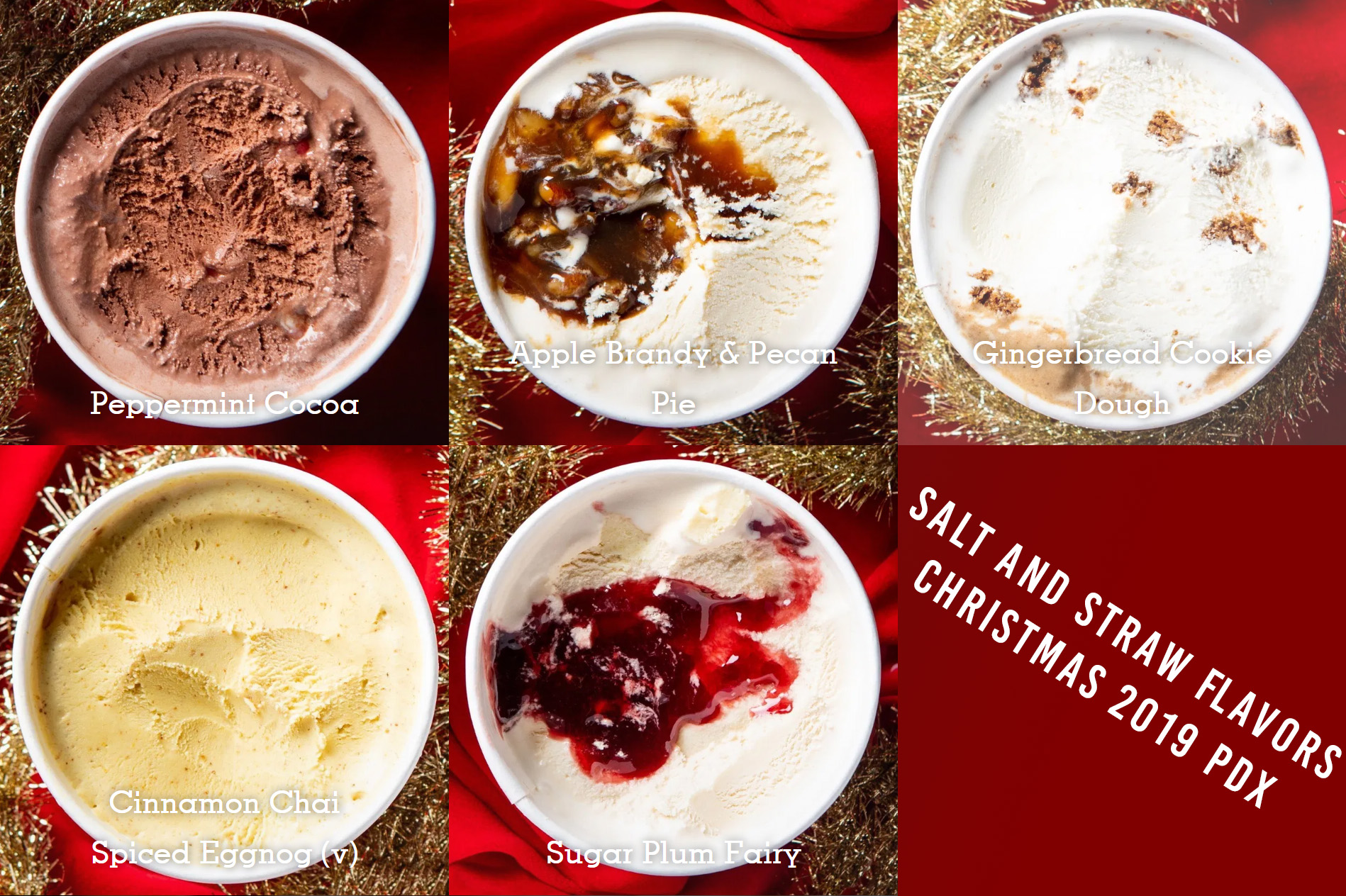 Through the month of December 2019, you can order their December Seasonal Pints of ice cream in the following flavors: Peppermint Cocoa, Apple Brandy & Pecan Pie, Gingerbread Cookie Dough, Cinnamon Chai Spiced Eggnog (v), and Sugar Plum Fairy. Yum!
Salt & Straw is famous on the West Coast and has shops located in Portland, Seattle, LA, San Francisco, San Diego and Anaheim.
You can visit one of the Oregon locations here:
Scoop Shops

3345 SE DIVISION ST, PORTLAND, OR – 11AM – 11PM DAILY – (503) 208-2054
2035 NE ALBERTA ST, PORTLAND, OR – 11AM – 11PM DAILY – (503) 208-3867
838 NW 23RD AVE, PORTLAND, OR – 10AM – 11PM DAILY – (971) 271-8168
100 A AVE, LAKE OSWEGO, OR – 11AM – 11PM DAILY – (503) 305-8267

Wiz Bang Bar

126 SW 2ND AVE, PORTLAND, OR – 12PM – 10PM SUNDAY – THURSDAY, 12PM – 11PM FRIDAY – SATURDAY – (503) 384-2150
Get their pints of Christmas flavored ice creams for $65 plus shipping here.
Will you be serving Christmas flavored ice creams this year at your family gatherings? Let us know in a comment and tag people you want to try these flavors with!