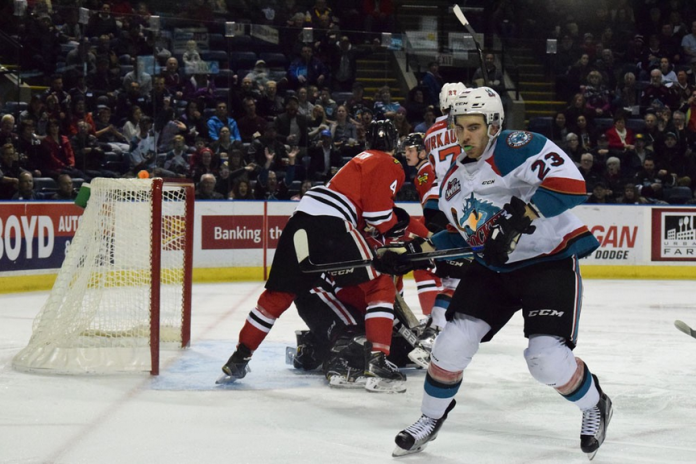 In the words of the great and dearly departed Yogi Bera, it was "Deja vu all over again." The first period wasn't as lopsided for shots as Game 1, and it also ended in a scoreless tie. The second ended with Kelowna on top, but only a 2-1 margin this time. The Winterhawks were massively outshot once again.
While they left the ice falling once more to Kelowna, this time by a score of 5-2, they did look better. They gave up goals in the second, but were able to answer back with Joachim Blichfeld's late period goal off a fantastic effort by Colton Veloso. There was hope.
.@joachimblich gets @pdxwinterhawks on the board, but how about @coltonveloso17? ????#KELvsPOR #WHLPlayoffs pic.twitter.com/erBi6pQTGA

— #WHLPlayoffs (@TheWHL) April 9, 2017
The third period scoring wasn't immediate either. Kelowna didn't notch their third goal until almost 15 minutes into the period. Ryan Hughes scored the Winterhawks second goal very late, but it was after the Rockets had grabbed their first empty-netter. They would add another for their fifth.
So while the 4-2 scoreline in Game 1 didn't really tell the story of the Rockets domination, the opposite could be said of the Game 2 scoreline. Cole Kehler stopped 38 shots from the 41 he faced, and while shots got out of hand (Kelowna 43 Portland 25) they were short-handed seven times. One of those Penalty Kills being a two-man advantage.
Call me crazy, call me optimistic, but I am not as down on this loss as Game 1. While they were still handily outshot, Kehler did about as much as you can expect from a goaltender in that situation, who also faced that many short-handed situations. I am thinking we'll see a stronger game from the Winterhawks back in Portland on Wednesday.