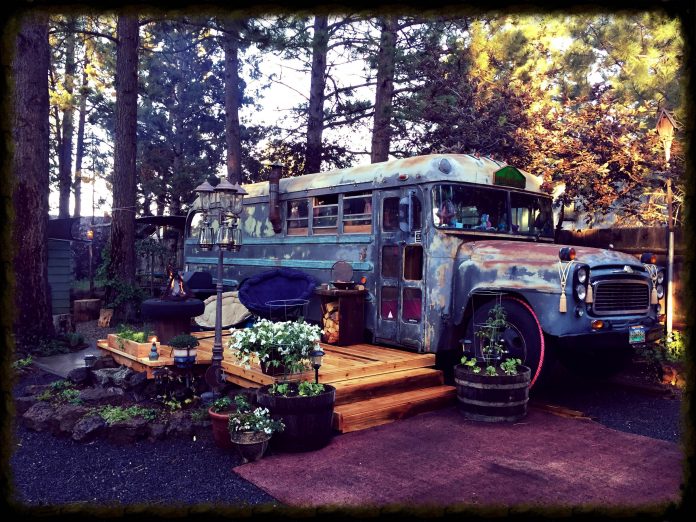 Recently I came across the Primrose Bus Conversion at
TinyHouseBlog.com
, and knew this was something I had to share with our readers at That Oregon Life. I reached out to the couple, Karin and Joseph Beal of Bend, Oregon, and asked if they would be interested in sharing their story with us.
In a short amount of time they got back with an amazing story of them living in their 1959 International Harvester bus in Bend.
Our story (From Karin and Joseph Beal)
Living Simply with Love
Sometimes we don't know that a moment is going to be a life changer, a major life event. Well this story is about that moment, which we didn't fully recognize was a moment until sometime later.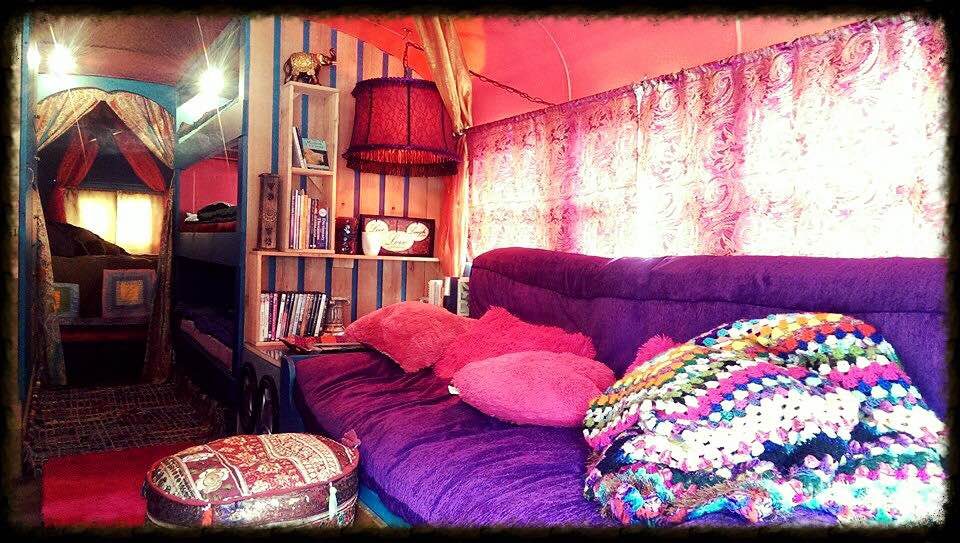 It's Wednesday afternoon at Burning Man 2013, I'm hanging out in our camps frontage on the couches with a bunch of camp mates, all that I just met three days before when I arrived. All of the sudden Joe gets called over to tell us a story about what happened the night before. My eyes and attention are completely focused on him as he comes and sits down next to me. This is the guy that built The Dream Swing, the beacon standing tall and bright right in front of our camp. I'm instantly enthralled in the way he was telling the story, the light in his eyes, the joy in his voice…it all made me lean in closer and closer. This is the moment; the Universe decided it was time for our worlds to run right smack into each other's hearts. In the story Joe is telling, a beautiful woman was leaning in to kiss him! I'm listening so closely that I'm leaning in towards him with my lips ready to be kissed. So he does. He kisses me!! From this moment on, we spent the rest of our Burning Man experience hand in hand, going deep, tears, laughter and exploration. We fell deeply in love.
Now how does one believe that a father in Oregon with 3 kids and a mom in California with 1 kid could ever make that work? Well, the universe kept conspiring for us. Through sleepless nights of Skyping, we discover even more how much a like we are, parenting, our love for nature, growing our own food, the desire to help others in need, and the biggest one, to live simply.
In February 2014 Joe goes to look at a 1959 International Harvester bus and falls in love. It has everything he has dreamed of and the price was just right. When he puts up his 1999 Astro Van conversion up for sale, it sells immediately for the asking price of the Harvester. It was meant to be!
Joe starts his rebuild full of ideas. The outside of the bus was left the way it has been for the last 25 years, painted by Mother Nature. The engine and wiring have been carefully gone through, to make travels safer and the ability to go further he added another 75-gallon fuel cell and a hitch to tow an art trailer with.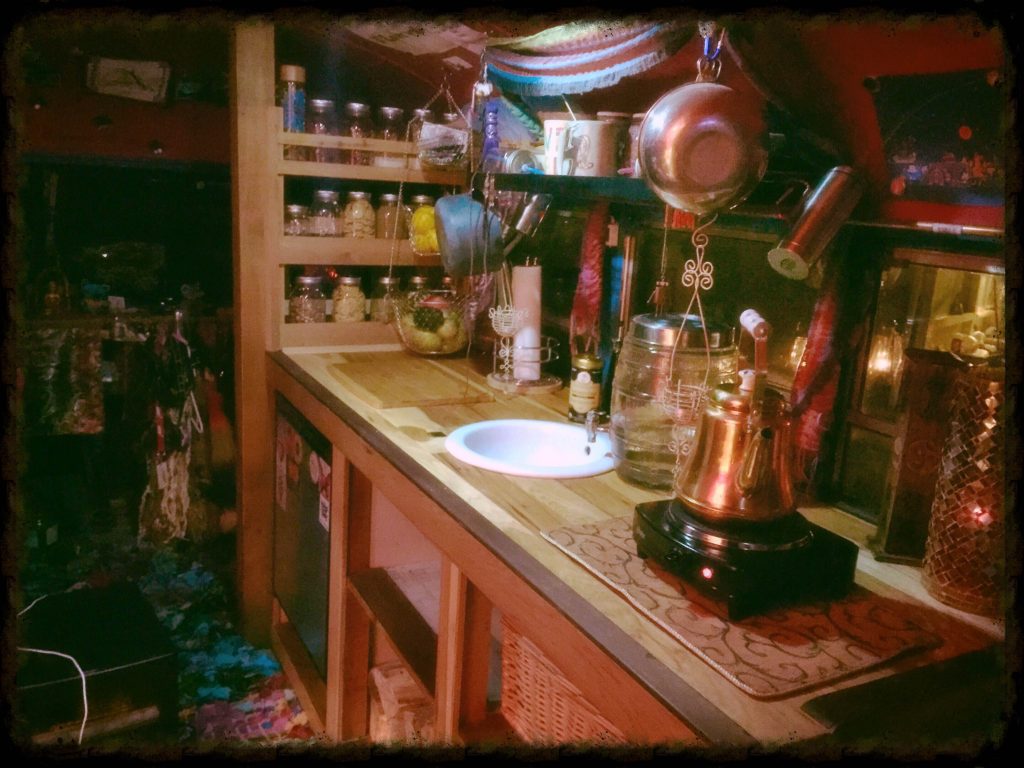 The inside of the bus is a different story, he guts it all out and starts from scratch. He was given his grandparents antique wood queen size bed frame and placed that in the very back. Making use of every square foot is very important in a small space like this, so after the bed everything was built with that in mind. He built three bunk beds on the right side for his kids that would also be an alternate storage space. From there he built a wooden bench, which holds the back up battery supply, and the speakers for the stereo. Across from the bunk beds, he built a cabinet with hanging storage for clothes, 3 drawers and a top to bottom pantry. Next to the cabinets, he re-installs the small vintage single wood stove! The smoke pipe cut smoothly through the side, and then strapped up the outside of the bus. Next, he built a wood countertop made out of upcycled wood flooring including a sink with no running water. He decided that eliminating running water would simplify life even further, like having frozen pipes in the winter. He used his creative skills and knowledge to build a bracket for a 3-gallon glass water jug with a spout. Then adding simple pluming to lead the water outside to a small grey water container when hooked up. Tooth brushing and face washing efficient! Simply perfect. Under the countertop, there is plenty of storage for fire wood and kitchen supplies.
Joe added a wood storage shelf at the end of the counter to hold all our glass jars, and hung a pot rack to hold some of his everyday items. The finishing touches is what makes this bus conversion a place we now call our palace. Joe painted the bus in the color scheme from a paisley curtain that would hang between the bed and the rest of the bus. The softness the purples, pinks, and golds mixed in with lots of pillows and nick knacks from a variety of adventures makes this space feel like a very cozy, warm and welcoming space.
June 2014 Joe gets commissioned to make a public art piece for Fresh Realm in Ventura…where I live. To make a long story a little bit shorter, Joe brings his kids down. We all go to the beach, water park and laugh a lot! Joe gets his art piece installed down town on a Main St right outside the FreshRealm office. Our hearts fell even more in love as our kids become friends and then call each other siblings without any direction from us. A thousand tears after saying good bye, my son sits me down and says, "Mom, I'm lonely. I have always wanted siblings and I want to move to Oregon!" We take a leap of faith and a month later, everything is figured out and we are headed to Oregon! I met Joe at Burning Man, since I had to drive my car up, this was a perfect midpoint to meet, not to mention this is where it all started. I will never forget the running tackle hug I got when I arrived! Priceless. Joe of course drove the bus down so I move my things into our beautiful home, who we would soon name Primrose. We play in the dust and dance all night. Our bus was our sacred palace for us to share with our friends and begin our life together. Tuesday night we head to one of the largest most epic flame throwing stages of them all to dance away to our friend JQ DJ set. Half way through the set we get asked to go dance on stage. Yikes!!! Then Joe gets handed a mic! What?!?! The music gets turned off…now I'm freaking out! Joe gets down on one knee and proposes to me. My world goes silent. Tears pour down my face. And a barely audible yes finally escapes my lips.
We are now living full time in our Primrose! When parked we are on Joe's parents property along with our four kids, two which live in the house with their grandparents and great-grandma and two in a studio that Joe built, as an addition on the property. I choose to leave the corporate world, to work side by side with my love, working for our own business. Älska Art, in Swedish means Love Art. Today, we love what we do everyday, together utilizing each others skills and demonstrating a different way of living to our kids and community around us. We have planted a rather large garden, and working on building a chicken coop. We desire to encourage our children to experience life in a much different way then most teens in today's society.
Primrose is part of reminds us everyday how beautiful a simple life can be.
From our Hearts to Yours, Karin and Joe