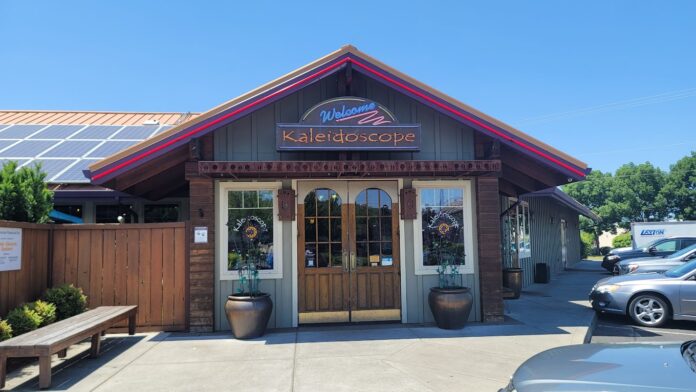 When you're in the Southern Oregon city of Medford and searching for a fun and welcoming restaurant to bring the whole family, look no further than Kaleidoscope Pizza! Medford serves as a gateway to adventure, with the Rogue River providing exhilarating whitewater rafting experiences and Crater Lake National Park being just a stone's throw away.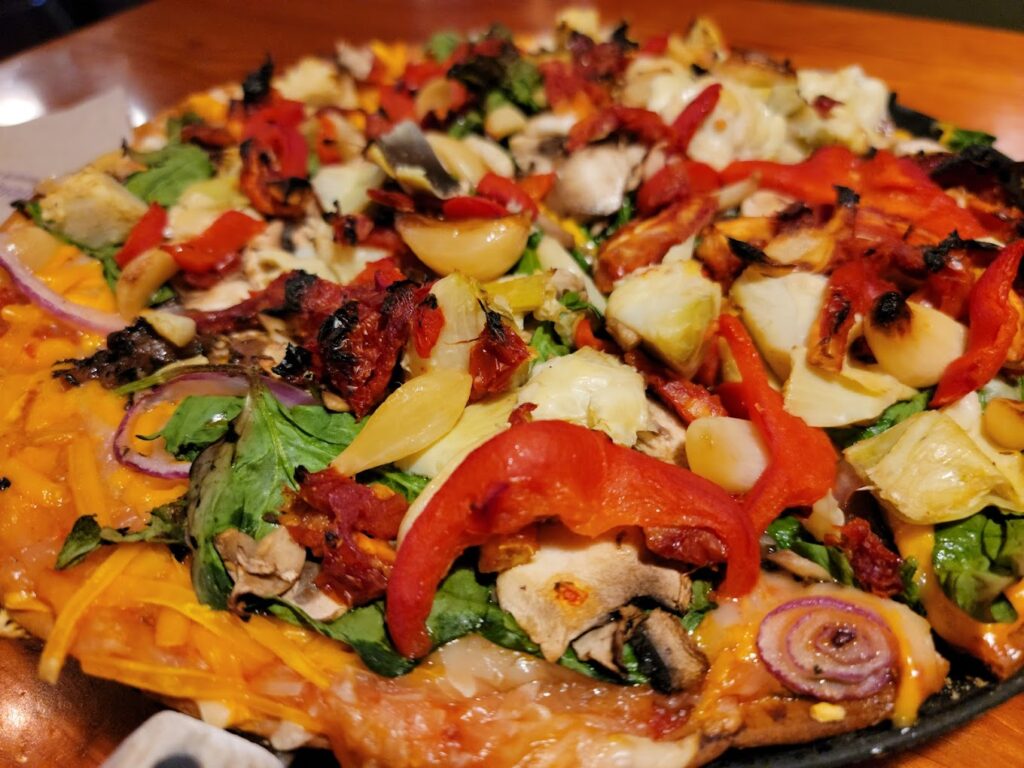 Kaleidoscope Pizzeria & Pub was started back in 2004 and for nearly 20 years has made themselves a part of the community serving some of the best pizza in Southern Oregon. And, they've garnered literally thousands of five-star reviews to prove it! Started by three friends who moved down to Medford from Alaska two decades ago, the owners named their restaurant after a kaleidoscope to reflect their openness to change and growth, and they're always ready to try out new recipes and approaches to better serve their customers.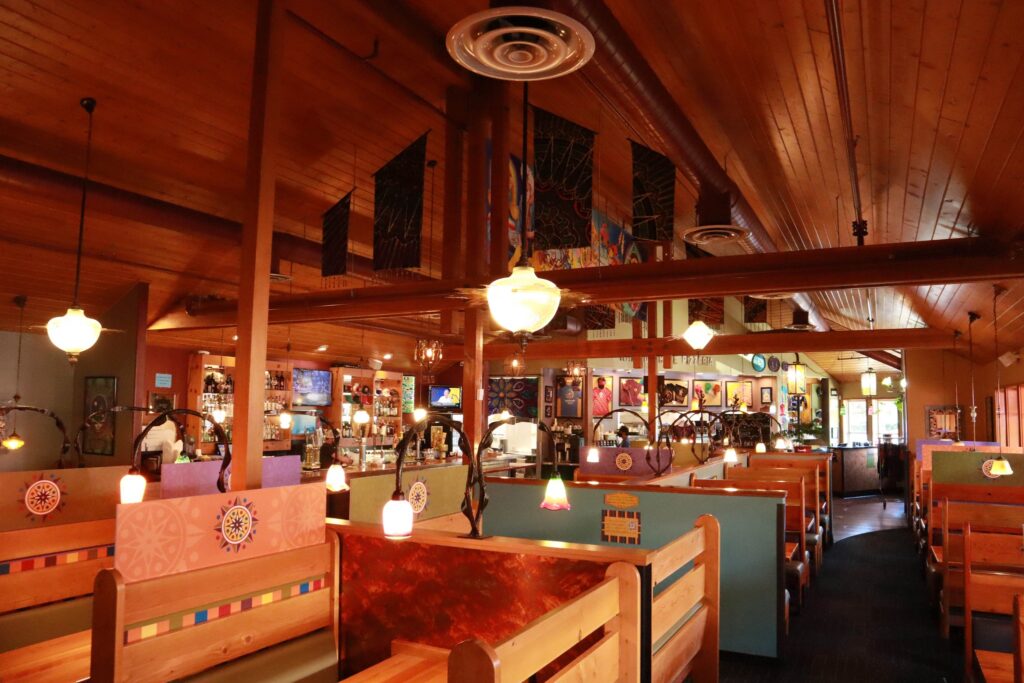 The name also gives you an idea of the lively and colorful restaurant you'll find inside with its vibrant murals, tie-dye tapestries, and mosaic artwork. There's also a ton of Grateful Dead decor since Jake Allmaras, one of the three owners, is a die-hard Deadhead. Throughout the restaurant you'll find framed concert posters, Jerry Bears dancing along the walls, and a life-size metal-art installation in the back patio of the band playing their instruments (which kinda has to be seen to be believed).
You'll no doubt feel comfortable at one of the big communal tables, cozy booths, or out on the huge back patio, but the real star of the show is the stone-baked pizza. Everything is made from scratch using 100% natural cheese, hand-stretched dough, and fresh local produce delivered daily.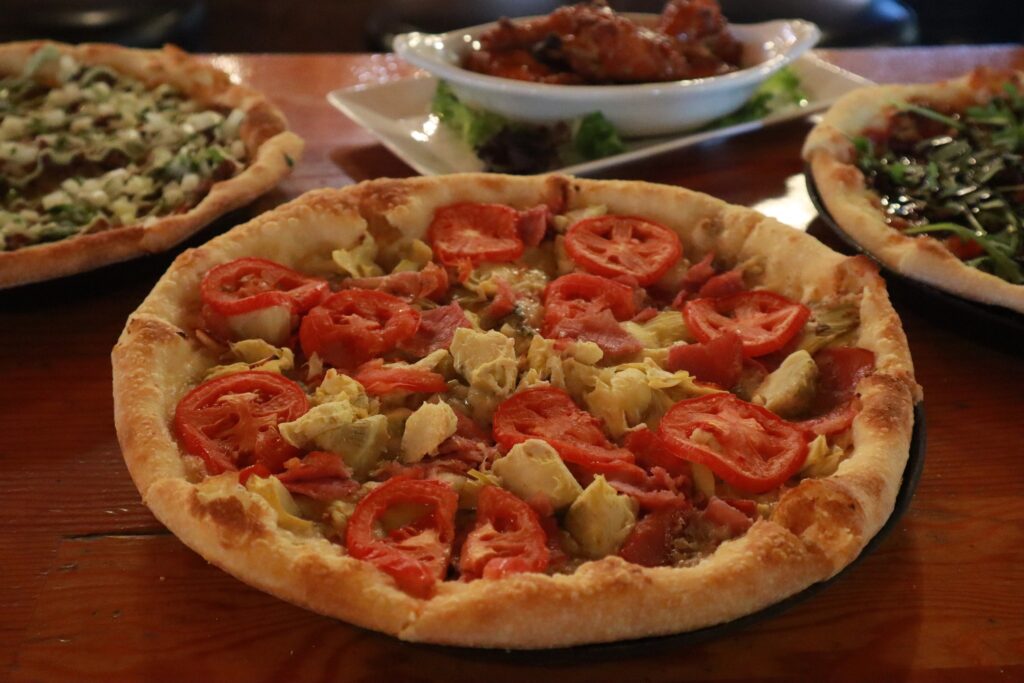 Their regular pizza crust is thinner, but you can request a thicker crust as well as a whole wheat or gluten-free crust. Try the crowd-favorite, Roxy Ann Pizza, made with roasted chicken, portabella mushrooms, roasted garlic, sun-dried tomatoes, oregano, mozzarella-provolone and marinara. Or, veggie lovers will be smitten with the Table Rock Pizza topped with artichoke hearts, Kalamata olives, spinach, sun-dried tomatoes, roasted garlic, mozzarella-provolone, feta, garlic and olive oil.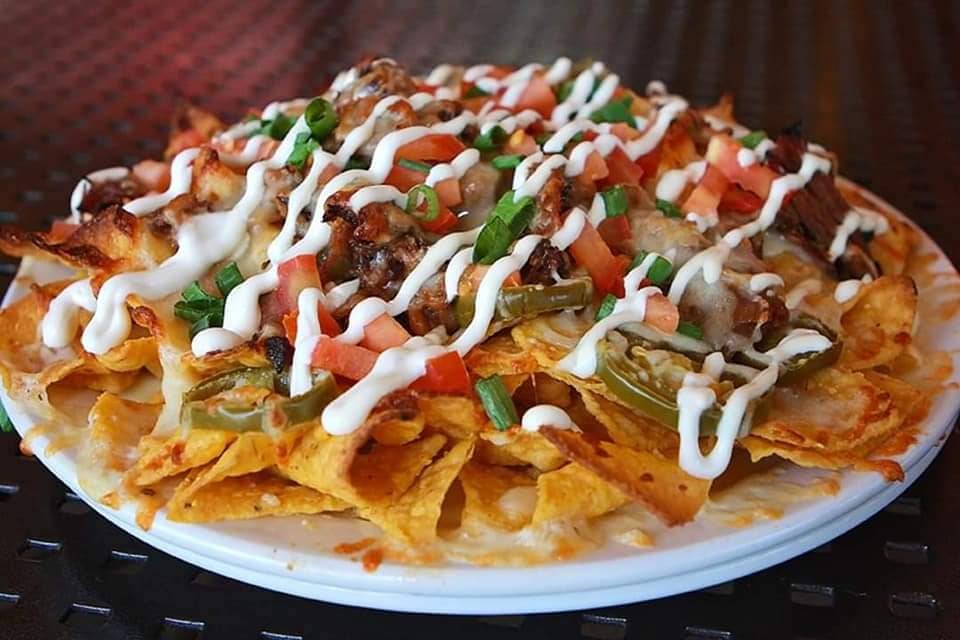 But pizza isn't the only thing they do well at Kaleidoscope! For the table, try ordering the Siskiyou Sticks that start with their classic mozzarella breadsticks, but are then covered in their housemade alfredo sauce then sprinkled with parmesan cheese, or the Pulled Pork Nachos with yellow corn chips, teriyaki pulled pork, pickled jalapeños, lightly smoked mozzarella-provolone cheeses, green onions, sour cream and diced Roma tomatoes. Customers also rave about their Spinach and Artichoke Dip made with artichoke hearts, cream cheese, garlic, spinach, basil, Romano, mozzarella-provolone and parmesan cheese and served with sourdough bread.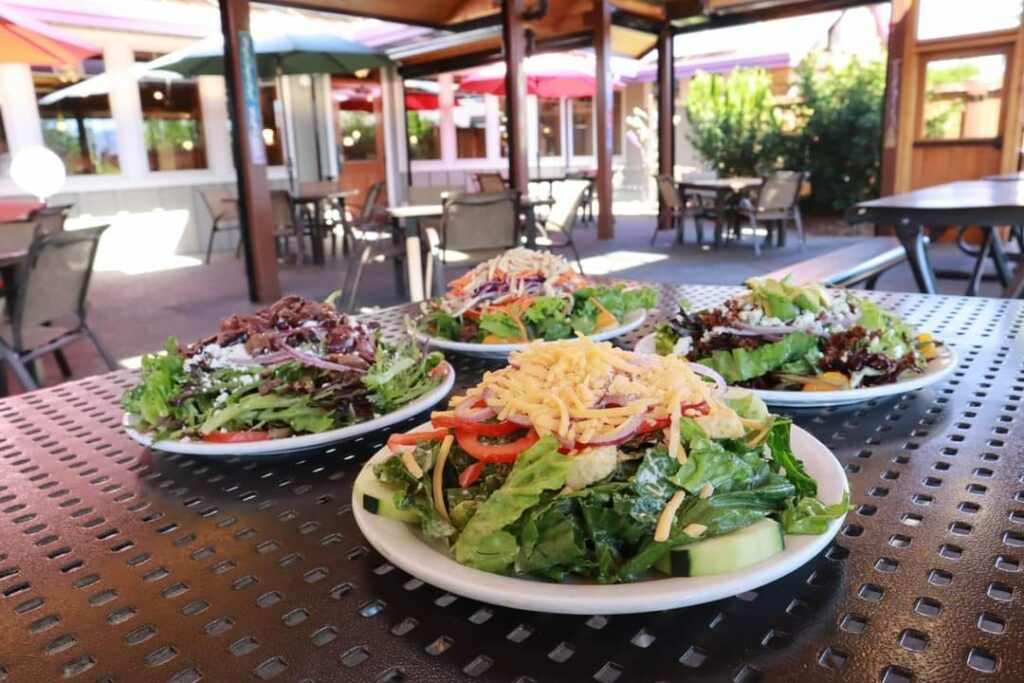 Their salads are also huge (great for sharing) and made to order. Try one of their freshly made salads like the Raspberry Vinaigrette with tender spinach, dried cranberries, candied walnuts, grapefruit, and raspberry vinaigrette dressing, or create your own. There's also tons of local beer and wine and a creative cocktail menu.
The restaurant is open for both lunch and dinner and offers a regular Happy Hour (called "Grateful Deals"), Monday through Thursday from 3:00pm to 5:0pm with discounts on both alcoholic and non-alcoholic drinks and food. They also sell pizza by the slice for lunch Monday through Friday.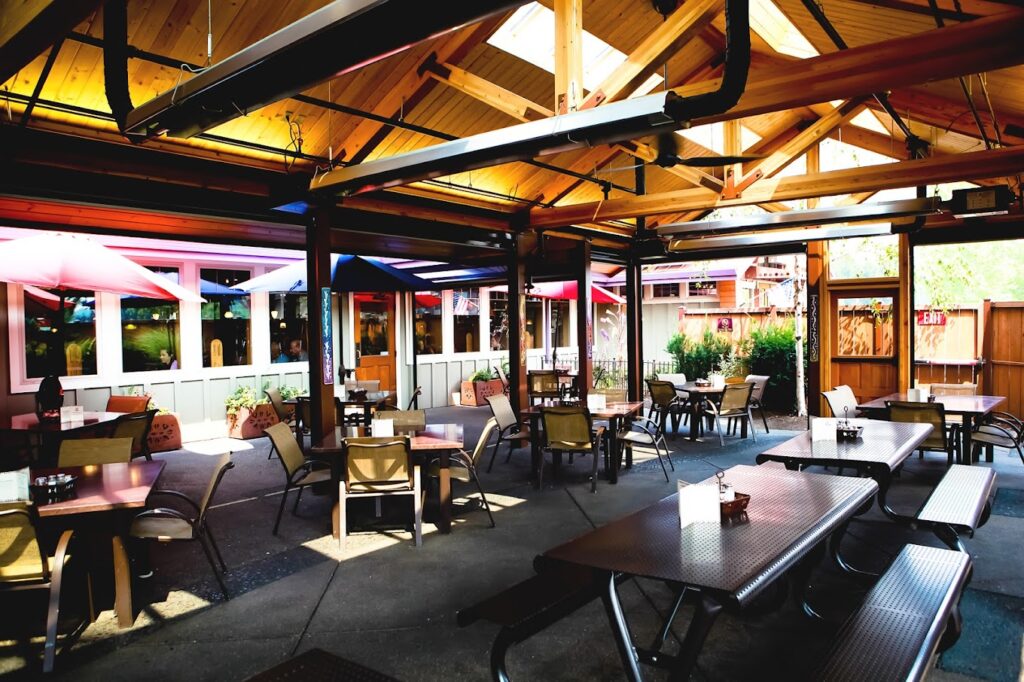 Kaleidoscope is also committed to giving back to the community and making sure their business practices reflect their values. You'll notice solar panels on the restaurant's roof as well as regular fundraisers like Feed the Hungry where the restaurant donates 100% of their food profits to Access, the Community Action Agency of Jackson County.
Kaleidoscope is open every day, and there can be a bit of a wait for pizzas to come out especially if you're there on a busy weekend. The pizzas are also on the more expensive side, but rising prices are par for the course these days and you can't beat the quality you get.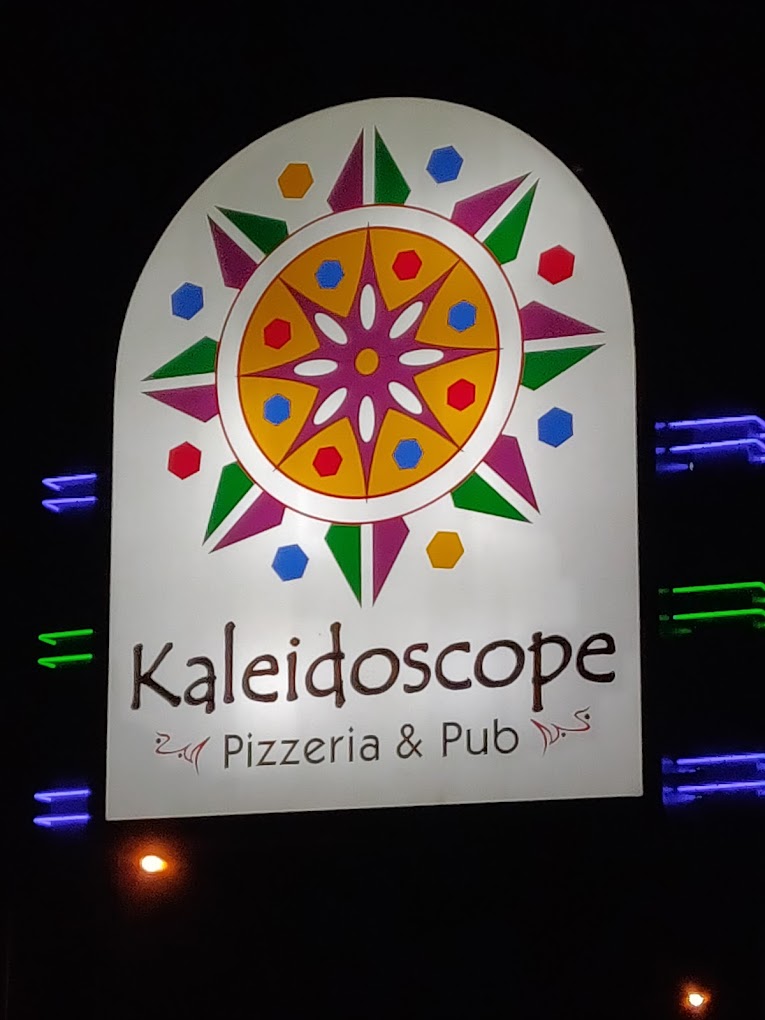 Hours:
Monday - Thursday: 11:00 am to 9:00 pm
Friday & Saturday: 11:00 am to 10:00 pm
Sunday: 12:00 pm to 8:00 pm
Address: 3084 Crater Lake Hwy., Medford, OR
Phone: (541) 779-7787