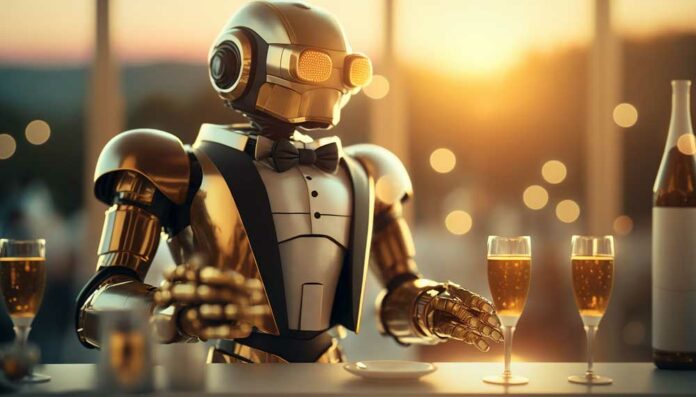 Wow, guys! You will not believe what's happening in our small, quiet town of Estacada, Oregon! Picture this: you walk into your favorite local haunt, The Cazadero, and instead of Sherry Andrus, the ever-smiling owner, or one of the human servers approaching, it's a 3.5-foot-tall robot named Plato. I know, right? Just like something out of a sci-fi movie!
Nestled on the picturesque banks of the Clackamas River, The Cazadero Steakhouse is more than just a restaurant for the residents and visitors of Estacada. This beloved icon, previously known as The Cazadero Inn, is where culinary magic happens. From luscious berry pancakes for breakfast to house smoked prime rib for dinner, the Cazadero serves a slew of 5-star dishes that tantalize your taste buds. All meals are carefully crafted from premium ingredients and prepared from scratch upon order. Now, this cherished local eatery has become the backdrop for an unexpected and exciting tale.
Sign up for monthly emails full of local travel inspiration and fun trip ideas. In each newsletter we'll share upcoming events, new things to do, hot dining spots and great travel ideas.
Some residents are thrilled with our shiny new buddy. They've embraced this change with open arms, and I can see why. Imagine being recognized by a robot and served your favorite beer as soon as you sit down? Cool, isn't it? Yet, for others, it's been a bit of a shocker, triggering a reaction of fear and anger. Some even pledged never to step foot in the restaurant again. Talk about a surprise!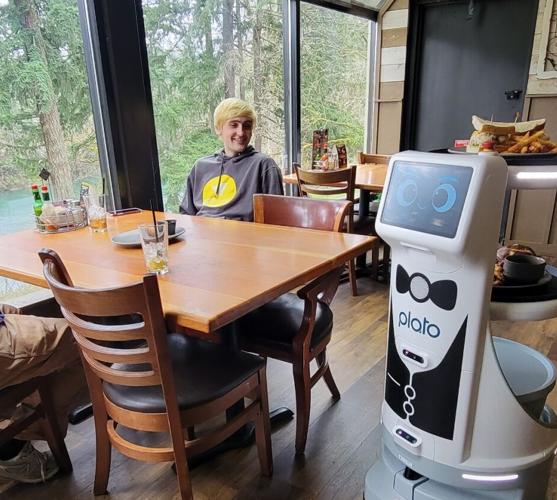 Sherry didn't bring in Plato to stir the pot, though. She's been having a tough time finding enough servers to keep the restaurant buzzing. With Oregon's minimum wage now sitting at a hefty $14.20 per hour and the rising food prices, it's been a bit of a bumpy ride for her since she took over in 2018. And, let's not forget about the challenge of luring servers to our remote location 45 minutes away from Portland.
RELATED: The 41 Best Oregon Mom & Pop Restaurants to Eat At in 2023
After some soul-searching, Sherry decided to give technology a whirl. She discovered Plato, a state-of-the-art service robot (or 'cobiot', as they call it) by United Robotics Group at a restaurant expo in Las Vegas. Now, the humanoid is not here to snatch away jobs. It's a tool to help human servers do their job more efficiently and handle more tables, especially during the busy shifts.
But, the introduction of Plato wasn't without some hiccups. Sherry faced an avalanche of angry comments when she announced our new robotic recruit on Facebook. And boy, did things heat up! Some brave souls leaped to her defense, highlighting how Plato could actually cut down the wait times and improve the service.
Despite the online outrage, the real-life response has been pretty chill. Except for an occasional request for a '100% human' experience, most of the regulars, like our Vietnam-era veteran Roy, seem to have taken a liking to Plato. I mean, who wouldn't want to say 'Hi' to a robot!
Unfortunately, Plato's presence has led to a drop in tips for the human servers. And that's heartbreaking because these guys work so hard and still offer exceptional customer service. Sherry hopes customers will continue to appreciate their efforts and keep the tips flowing.
So, folks, love it or hate it, it seems like technology has finally found its way to our little rural community. As much as we enjoy the charm of being a small town, we're growing and evolving. The robots are here, and they're ready to serve! Who would've thunk it, right? Well, one thing's for sure – dining at The Cazadero just got a whole lot more interesting!