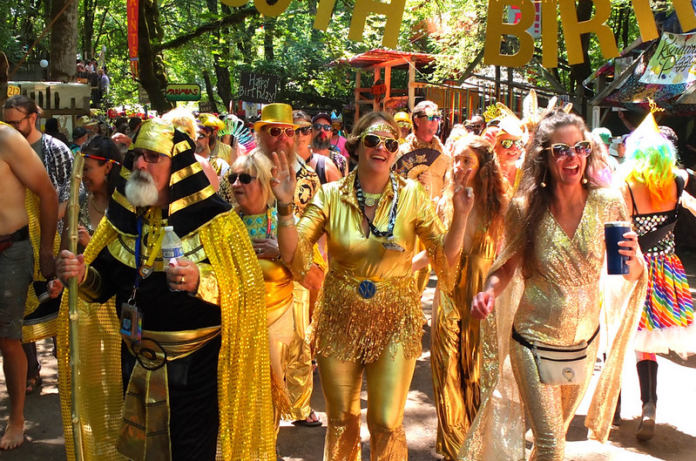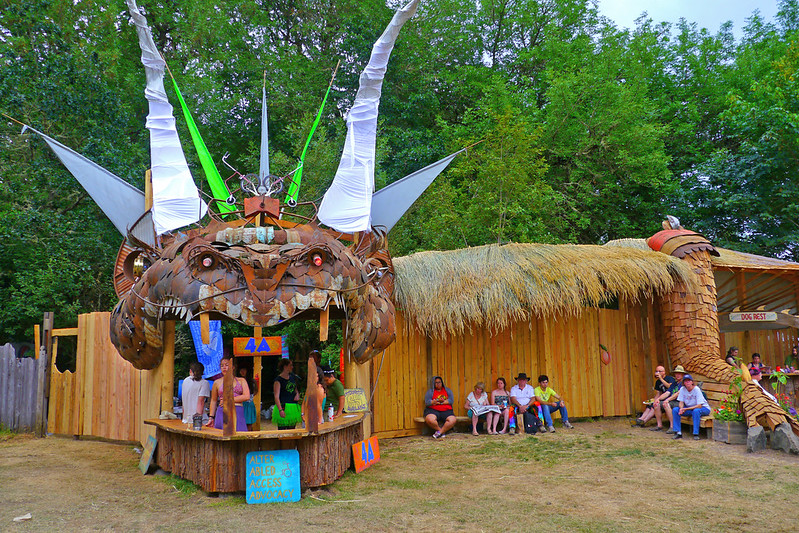 Inevitably, when I mention the Oregon Country Fair to anyone not familiar with it, they think I misspoke and meant to say county fair. No, you will not find a Tilt-A-Whirl, pie-making contest, or young 4-Hers showing off their prized sow here. The Oregon Country Fair is a decidedly different creature—the kind of counter-culture feast for the soul and senses that could only be dreamed up in the hippie mecca of Eugene, Oregon.
What is the Oregon Country Fair?
There's no better place to be in the second week of July than the Oregon Country Fair. If you've never been to the festival before, the photos simply don't do it justice and you have to see it to believe it.
Sign up for monthly emails full of local travel inspiration and fun trip ideas. In each newsletter we'll share upcoming events, new things to do, hot dining spots and great travel ideas.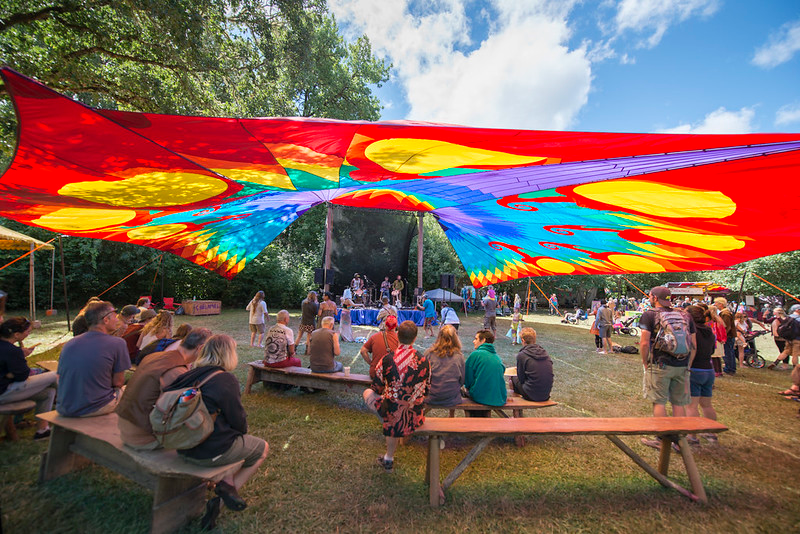 It's hard to fully prepare for what to expect at the Oregon Country Fair, but it helps to imagine of a combination of Portland's Saturday Market, Burning Man, a Renaissance Faire, and a Grateful Dead concert all mixed into one crazy three-day event, tucked in the backwoods of Oregon. Sounds fun, right?
This is a huge event, with approximately 45,000 attendees coming each year to see the parades, magic shows, costumed performers, dozens of musical acts, and to be part of the welcoming fair community that keeps showing up year after year.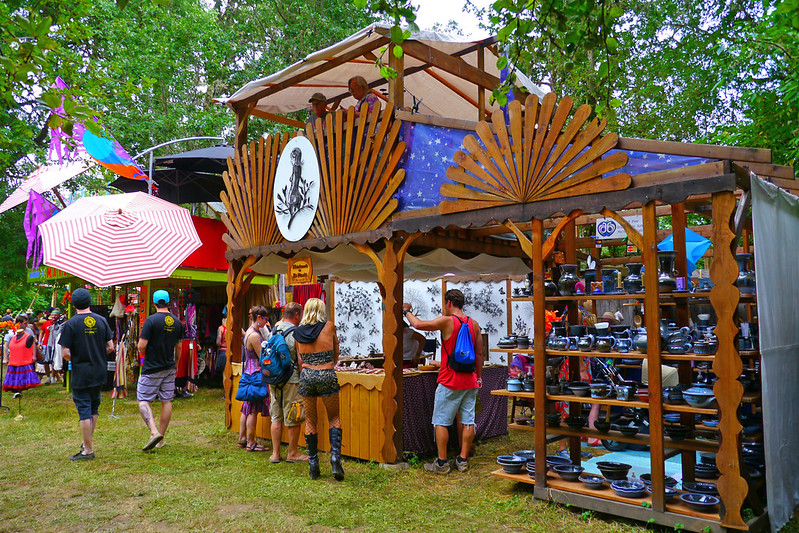 Here you'll find multiple stages for live performances, food vendors, craft merchants, drum circles, vaudeville acts, magicians, storytellers, topless women with butterflies painted across their chests, acrobats, yoga sessions, and stilt walkers to name a few.
History of the Oregon Country Fair
The Country Fair was first created in 1969 as craft fair to benefit a local alternative school. Over the years, the fair kept growing to include educational areas, a dance pavilion, eight different performance stages, over 300 craft booths featuring local artisans, and nearly 80 booths with tasty food.
Throughout it all, the fair has always been committed to sustainable practices, community involvement, and land stewardship.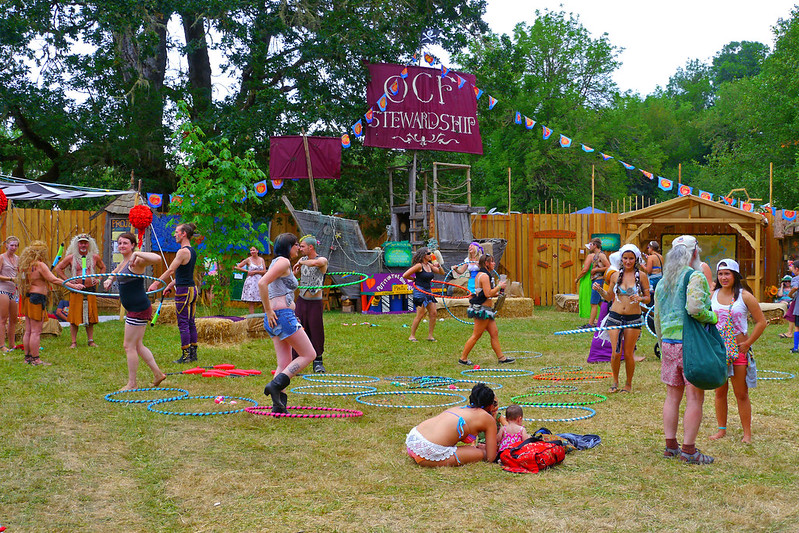 When is the Fair?
The fair runs for three days and always takes place the second weekend of July. Unfortunately, it took two summers off due to the COVID pandemic, but was able to make its grand return in 2022 to the delight of all.
The fair can and will sell out, especially on Friday and Saturday. Sunday tends to be less busy and is a good day to bring young kids. Additionally, they only way to get in is by purchasing passes ahead of time on the Country Fair website, either for a single day or a three-day pass.
Tickets for each day are $40-45, but kids under 12 are free. If you want to buy tickets day of, you'll need to do so in Eugene at the McDonald Theater or the Valley River Center.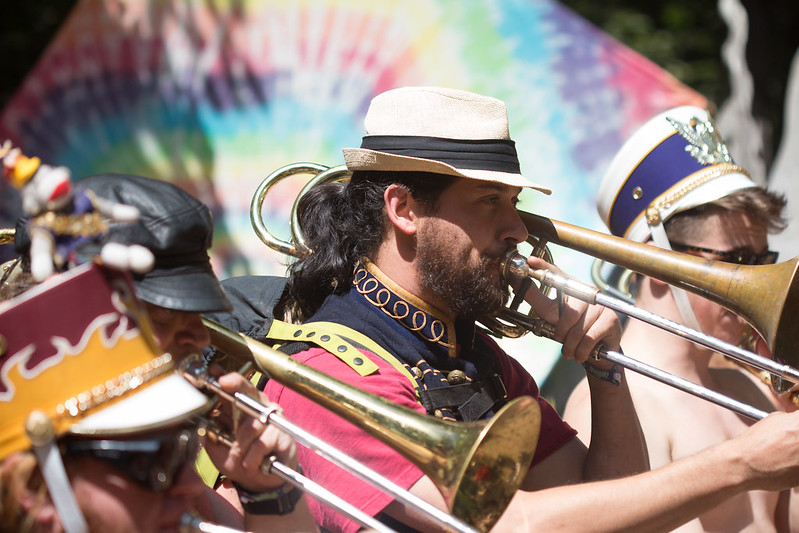 Getting to the Oregon Country Fair
The fairgrounds cover roughly 500 acres and are located in Veneta, Oregon along the banks of the Long Tom River. Veneta is about 15 miles west of Eugene along Highway 126, and you have a couple options for transportation.
There's a fairly large parking lot that costs $15 per vehicle, so carpooling is always encouraged. But the best way to get to the fair by far is the FREE shuttle bus! The bus leaves every 15-30 minutes from downtown Eugene at the Valley River Center and LTD downtown station, but you'll need to show your fair ticket to board.
Note that only service dogs are allowed on the fairgrounds, so leave your furry buddies at home.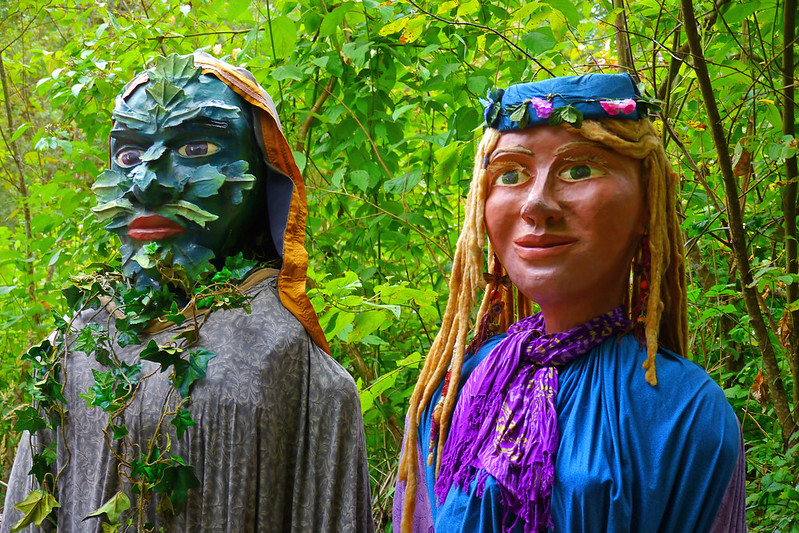 Things to do at the Oregon Country Fair
Shop for One-of-a-Kind Treasures
You could spend the entire day walking up and down the shady tree-lined path exploring all the booths. This is a great place to shop for gifts, find a treasure to take home, or grab a pair of fairy wings to don for the day. Other crafts include clothing, jewelry, art, candles, ceramics, toys, rocks and crystals, wood crafts, musical instruments, and furniture.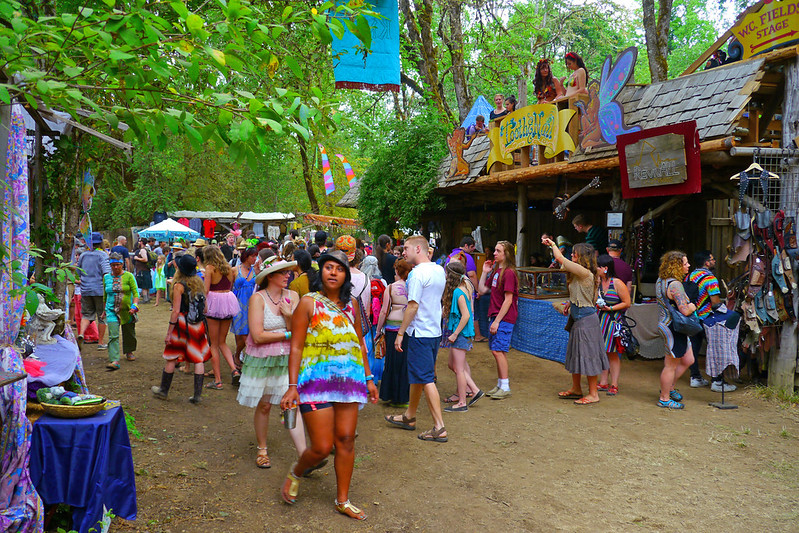 Eat All the Food
The food scene at the Oregon Country Fair is unreal, and you'll have a hard time choosing from the nearly 80 booths. Some crowd favorites include the potato knish from Knish Bliss, sausage-on-a-stick at White Bird's Cleveland Chicken, and the deluxe burrito from Ritta's Burritos.
Note that this is officially an alcohol and "drug-free" event, so don't expect a beer garden. Note also my quotation marks around "drug-free."
Be Endlessly Entertained
Honestly, you'll get all the entertainment you need just people watching at the Country Fair, but if you're looking for something different, there's always something going on no matter what you're into.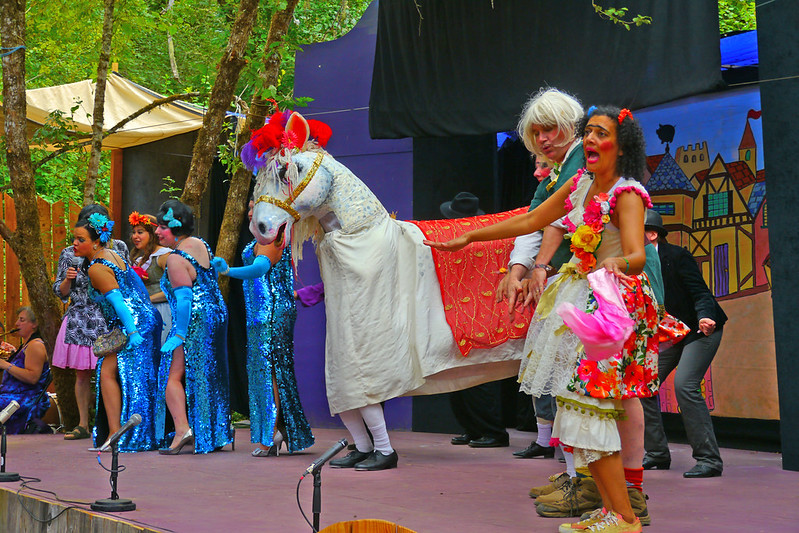 The Youth Stage is a constant stream of sing-a-long shows, story time, magic acts, and silly plays. Or, take the kiddos to the Mighty Tiny Puppet Theater to see dragons and fairies come to life.
The Main Stage features some truly great acts that this year include R&B artist Celisse, folk duo the Shook Twins, and the always-fun rock/country group Ashleigh Flynn & The Riveters.
Belly dance at the Caravan Stage, get friendly with your neighbors at Ecstatic Dance at the Dance Pavilion, or ground yourself with some meditation or yoga at the Yurt.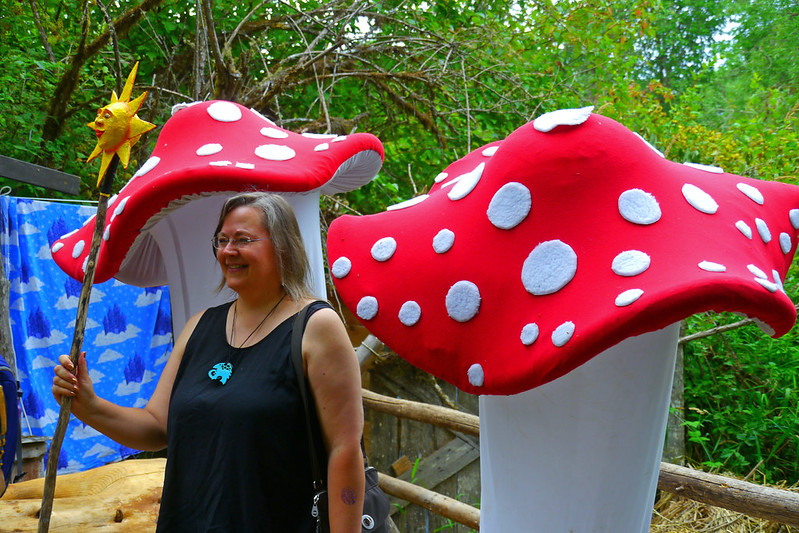 After Hours
If you're a vendor, volunteer, or community member that's worked the event, you're given a camping pass and can stay in the fairgrounds after the gates have closed to the public. Friday and Saturday nights usher in a very different vibe than the family-friendly affair that occur in the daytime.
At night, the fairgrounds turn into to a kind of rave scene, with light-up art installation, impromptu dance parties and parades, and widespread recreational drug use. In short, it's the most fun you've ever had with your friends in a mind-blowing (yet safe) location, but only those who work the fair can participate.
FAQ
I wanna party at night! Can I camp at the fair?
Probably not, but don't give up hope! The Oregon Country Fair is organized almost entirely by volunteers and preparing for it takes the whole year. The best way to get your foot in the door is to make friends with those already volunteering and attend work parties throughout the year.
Is there anywhere close to the fair to stay?
The are quite a few campgrounds close to the fair, but these can book up fast so snag a camp site as soon as possible. If you wait until July, your options will be limited.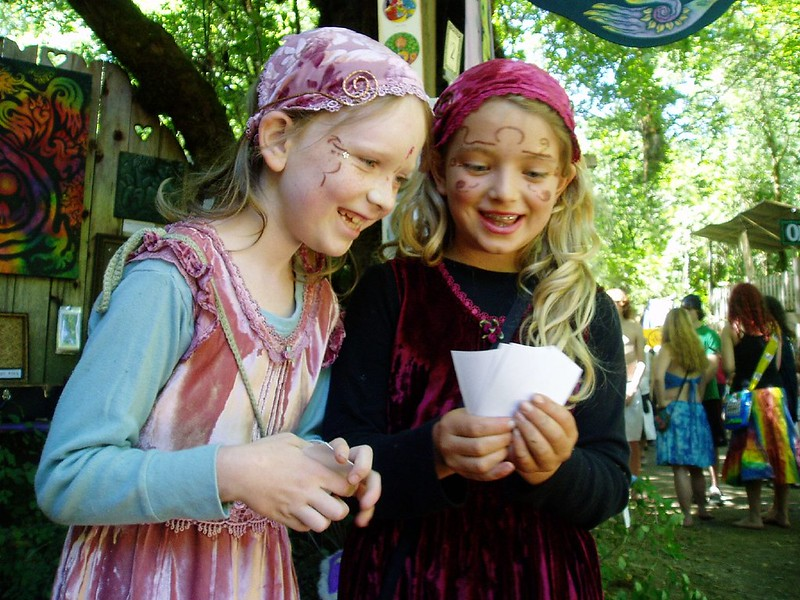 Is it family-friendly?
Yes!* The fair is super fun for kids (I speak from experience of actually having been a kid at the fair, and having brought a kid to the fair as an adult). Plus, they get in free so you may as well give it a shot!
There are tons of kid-centric activities options including art stations, face painting, costume making, and a playground. There are even two family-only areas, the Mellow Space and Groover's Grove, that you can take your littles to if they become overstimulated .
*There will be semi-naked and (some) fully-naked people. There will be plumes of marijuana smoke. As long as you're cool with this, then your kids will be too!