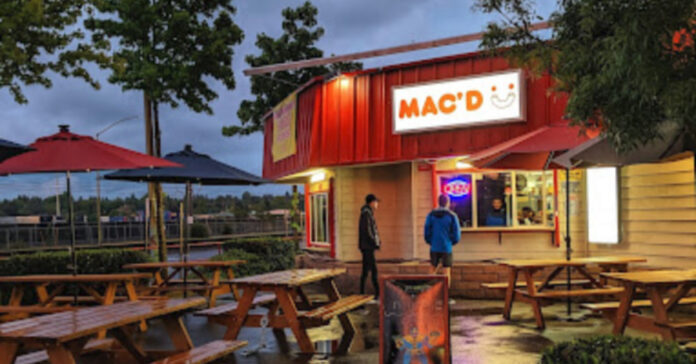 Located directly off SE McLoughlin Blvd in between the Brooklyn and Westmoreland neighborhoods, the MAC'D Window is part of the Commissary Kitchen, a corner that's packed with small local eateries including pizza, Mexican, and Korean and plenty of picnic tables to enjoy your food at.
The MAC'D restaurant chain started in San Francisco in 2017, but now has sister locations in both Los Angeles and Portland. And while it is technically a chain, it still retains that small-business-y, neighborhood feel.
Sign up for monthly emails full of local travel inspiration and fun trip ideas. In each newsletter we'll share upcoming events, new things to do, hot dining spots and great travel ideas.
Started by Chen-Chen Huo, a graduate from the Haas School of Business, and soon joined by his business partner Antony Bello who left his cushy job at Amazon to strike out in the restaurant industry, these two entrepreneurs are on a mission to change the way you think about this simple cuisine.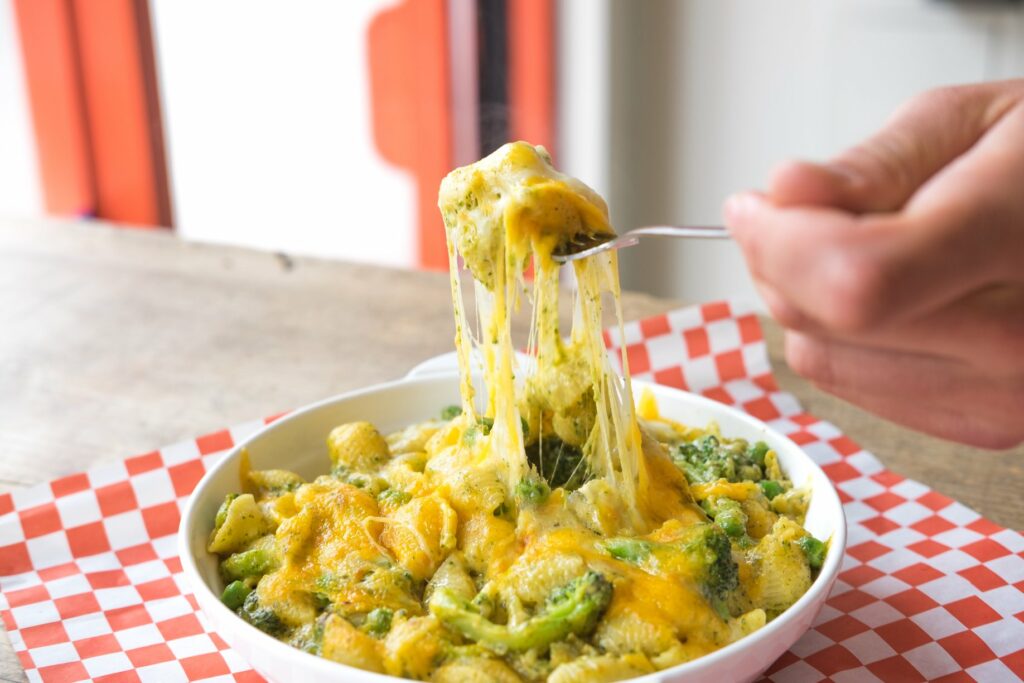 The Portland location, the MAC'D Window, opened doors (or windows, rather) in early 2019 and has been earning rave reviews ever since. As the name implies, the MAC'D Window isn't an indoor, sit-down restaurant. Rather, it's a pick-up only window, so you can either take it to go and eat in comfort of your own home or if the weather's nice, dine at one of the several covered picnic tables on the lot.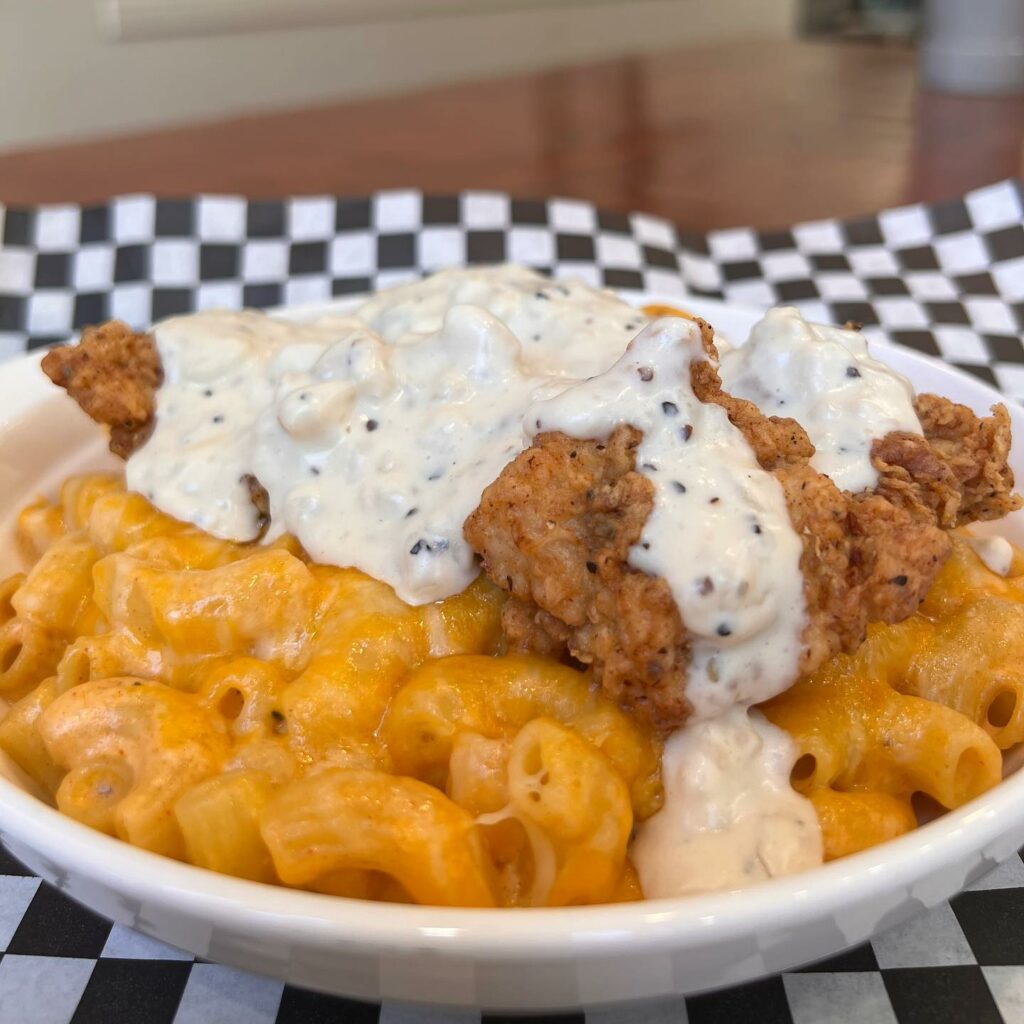 As an unexpected boon, their pickup window model helped keep this newly-opened business afloat when Covid struck because they already had the systems in place to serve customers delicious to-go food.
The genius of MAC'D is in its simplicity, and an easy way to understand how it works is to think of it as the Chipotle of mac & cheese: you choose your cheese sauce, your base (what kind of noodles you want), your mix-ins, and finally your topping. From start to finish it's custom, made-to-order mac & cheese at its finest.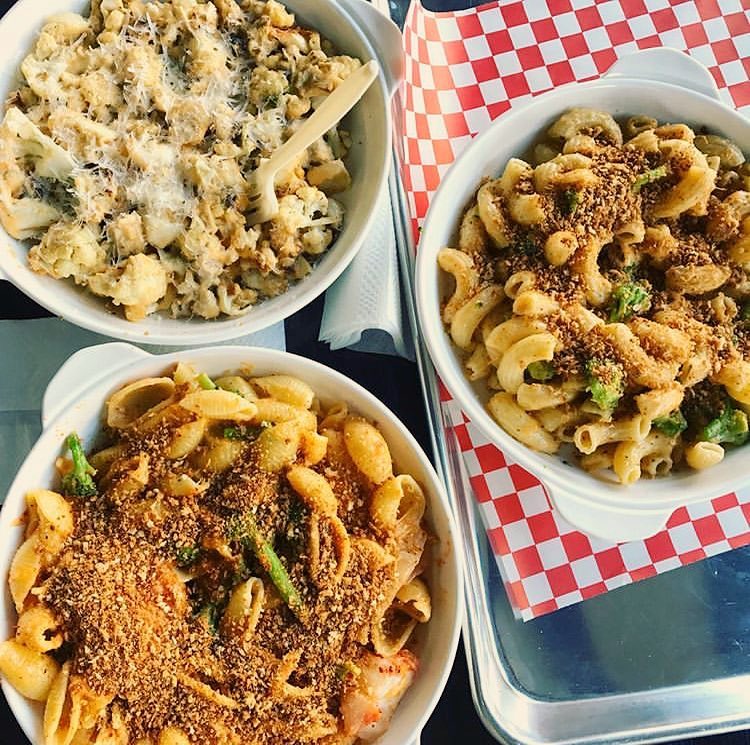 And, lest you think this place is solely for the carb and cheese-lovers, this comfort food is available in vegan and gluten-free options as well! For your cheese base you can choose from basic (a cheddar/jack blend with a subtle kick of their secret spice), buffalo (a crowd favorite), Hellapeño, pesto, goddess, or vegan.
Noodles options include shells, elbows, or cauliflower pasta. The mix-ins are where it really gets fun: choose from roasted broccoli, banana peppers, hot dogs (which makes me feel like a kid again), real crab, shrimp, or chorizo. But they're not done yet because you still get toppings! Choose from the likes of fresh-grated parmesan, truffle oil, Korean short rib, pulled pork, or—wait for it—hot cheetos!?! If you can dream it, you can eat it.
If you're in a hurry, you can also choose from one of their favorites including the BBC (buffalo, bacon, chicken and hot cheetos), or the Green Machine (pesto, broccoli, and peas).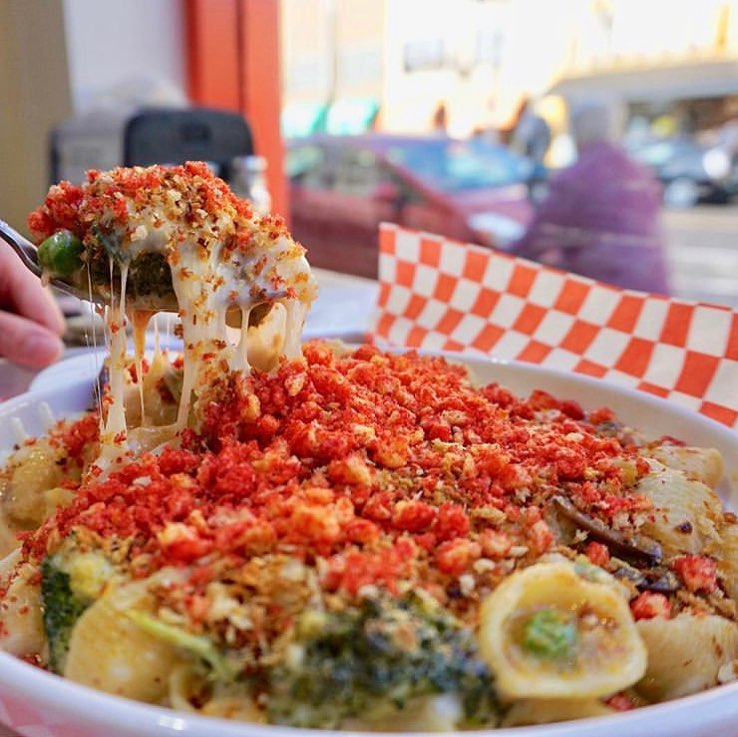 The prices are more than reasonable, especially when you take into account the size of the dishes. The generous portions allow you to share, save half for lunch tomorrow, or scarf the whole thing down in one go (we won't tell).
Many reviewers love how easy it is to order ahead and pick up for at-home dining. That said, it's great in the summer or on a sunny fall day to sit on the picnic tables outside. They also offer catering for events big and small, churning out trays of creamy, sumptuous mac to feed an army. They also team with all the major food delivery services like UberEats, Cavier, Postmates, Grubhub, and Doordash.
And, dear reader, I've been saving the best for last—they're open every night until 2:30 AM! Do you know how hard it is to find good food late at night in Portland? This city tends to shut down at 9PM, so we can all thank our lucky stars that MAC'D is fighting the good fight for us and helping to ease late night munchies and stave off morning hangovers one bowl at a time.
If all this isn't enough to convince you, take it from this reviewer: "I came here with a few friends, never having heard of it, and after eating there I can tell you that it's a crime more people haven't heard of this place. It was DELICIOUS, and the guy at the window (who I later found out was the owner from said friends) was an absolute delight to talk to. If you have a craving for good mac and cheese served by the friendliest guy ever, it's worth the trip."
Address: 5145 SE McLoughlin Blvd Ste F, Portland, OR 97202
Phone: (503) 688-8955
Hours:
Every day: 11AM – 2:30AM