Oregonians love their burgers, fries, and shakes, and as a result, we have a seemingly-endless array of hometown classic burger joints.
While Bonanza Drive-Up in Cottage Grove isn't too fancy, it has proven itself to be a favorite with locals and out-of-towners who have no problem making the trip just to get their fix. Cottage Grove is a small city located in western Oregon, about 20 miles south of Eugene. As of 2021, its population was approximately 10,637.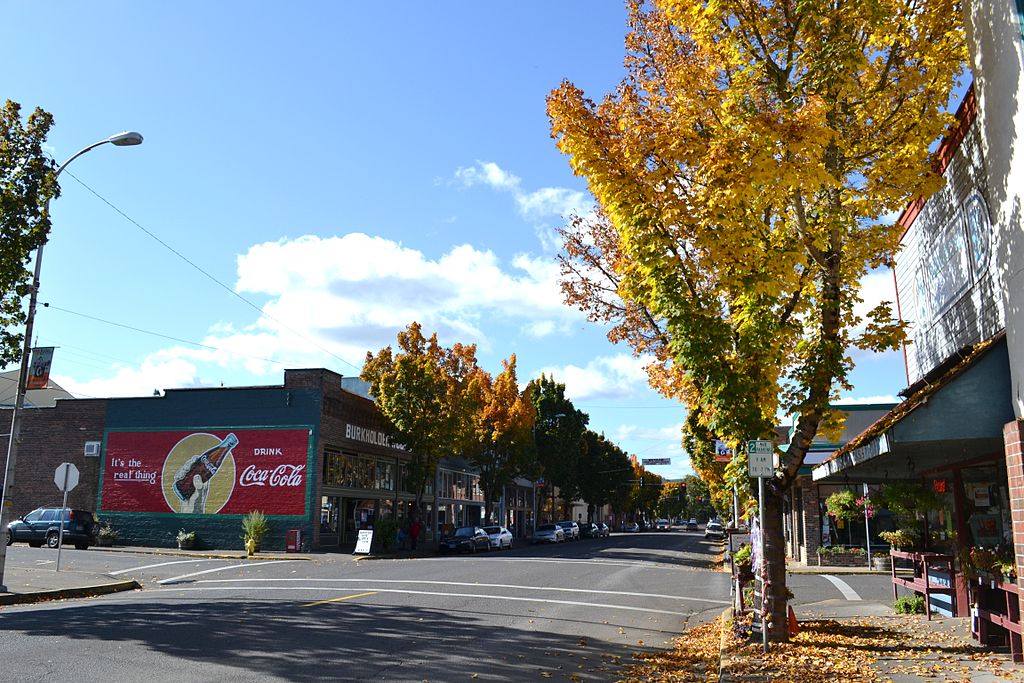 This charming town is known for its historic covered bridges, which are a popular tourist attraction. In fact, Cottage Grove has more covered bridges than any other city west of the Mississippi River, with six still standing today. In addition to its covered bridges, Cottage Grove is also known for its quaint downtown area, which is filled with unique shops, restaurants, and art galleries. Another fun fact you may not be aware of: The movie Stand by Me was filmed in the summer of 1985, mainly in the town of Brownsville, Oregon. The majority of railroad scenes were filmed here in Cottage Grove along the railroad track that went up the Row River – now that railroad track is the Row River Trail, allowing you to see these movie locations without difficulty.
This hole-in-the-wall burger joint is known for two things: burgers and ice cream. The menu features original and Chuck Wagon burgers. One happy visitor writes on Yelp, "Their regular burgers are a step above the fast food out by the freeway, BUT, the grass fed beef burgers are one of the best I've ever had."
All Chuck Wagon burgers are homemade from local, grass-fed beef from Willamette Valley. They're hand-pattied and served on butter-grilled buns. Most of these are 1/3-pounders.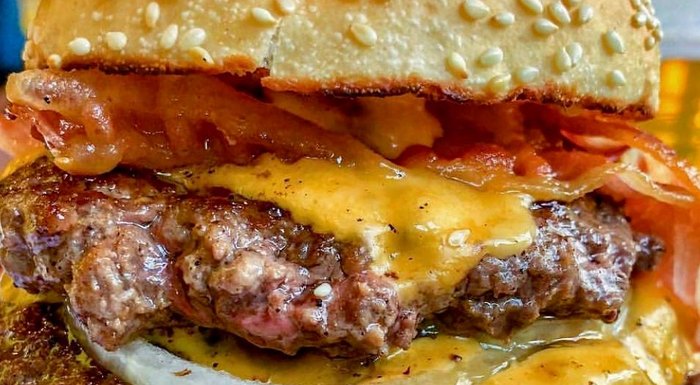 The Ponderosa Pounder Burger is made with a full pound of fresh-ground beef. Did we mention you better come with an appetite? Add a second patty for just $3.99 more, and you'll get two full pounds.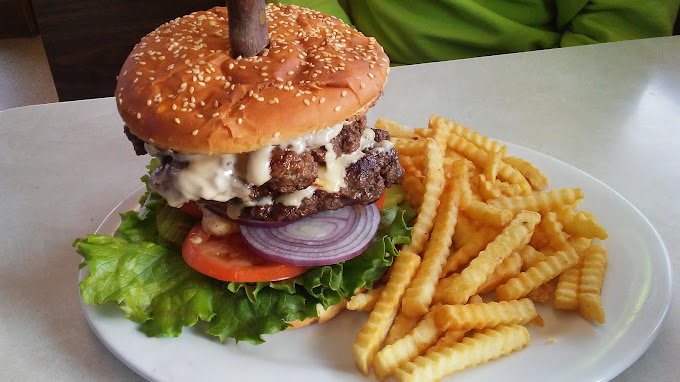 The Double Ponderosa Pounder burger can be ordered with either crinkle-cut or curly fries, either way, it's a lot o burger. You can see two of their smaller burgers next to it to get a better idea of how big it is.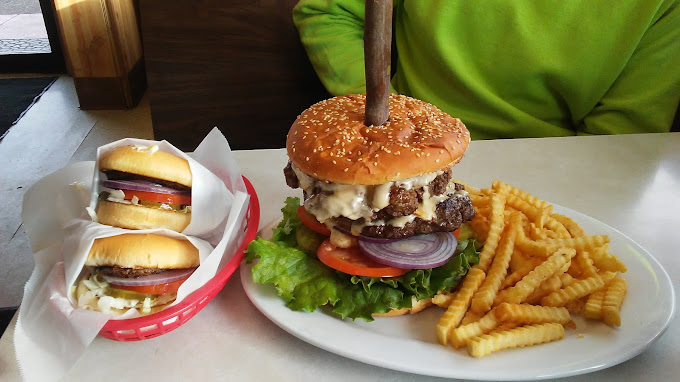 If you're not in the mood for a burger, they also offer a cheese steak basket, that tastes just as amazing as it looks. Here it is served up with some crispy tots.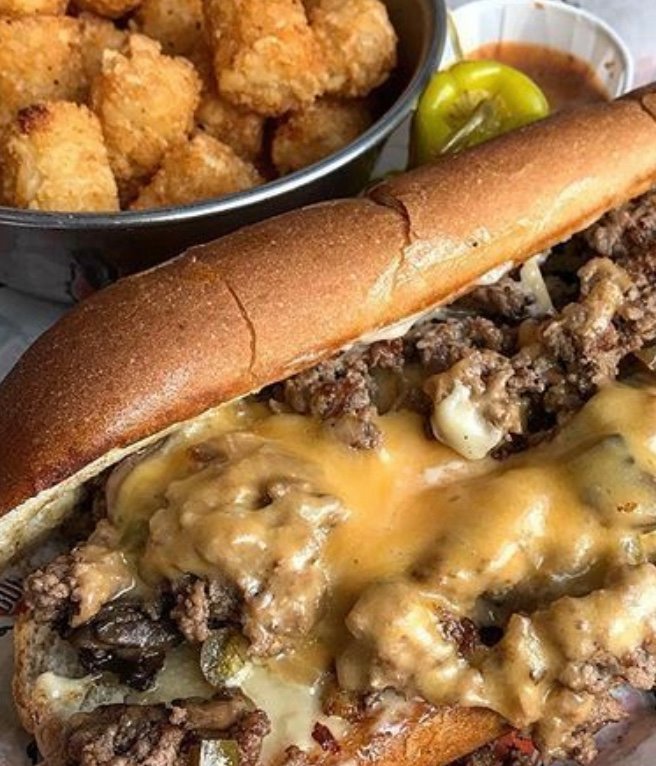 Still have some extra calories in your daily budget? Might as well go all the way with their Old Timey Milk Shakes. These heavenly shakes are made with nothing but the best, premium Umpqua soft serve and mixed with a variety of flavors. You'll also have the option to customize your shake as they offer different mix-ins.
If you are dining in, there's nothing better than getting your giant shake in a metal mixing cup!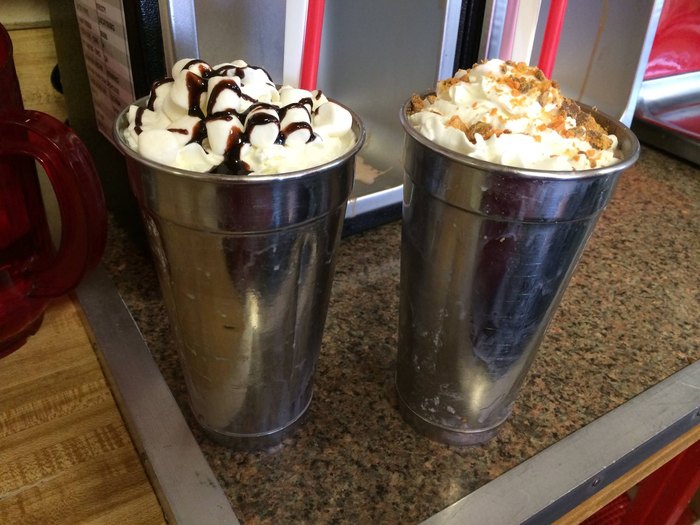 Also on the menu, perfect for those hot summer days, is their vanilla, chocolate, and twist cones. Huge root beer floats, banana splits and cyclones are also popular here.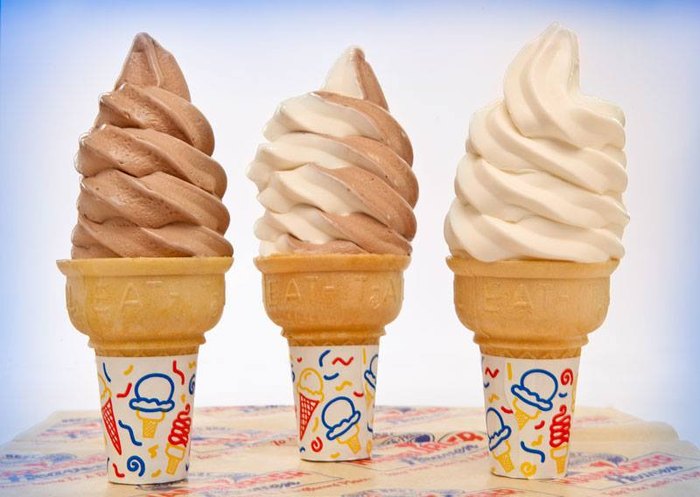 Have you had a chance to eat here yet? We'd love to hear about the experience! Check them out on Facebook for the latest updates. Don't forget to check out our 41 Best Oregon Mom & Pop Restaurants to Eat At.
Hours: 11 a.m. to 8:00 p.m., Monday through Saturday
Phone: (541) 942-4188
Address: 505 State Highway 99 South, Cottage Grove, OR 97424