McMenamins Grand Lodge was originally a home for poor, sick, and elderly Freemasons. In 1999, new facilities were built, and the property was acquired by McMenamins, a family-owned chain known for acquiring and renovating historical buildings. It's now a resort hotel located in Forest Grove, Oregon, known for its quirky decorations and its history of paranormal activity.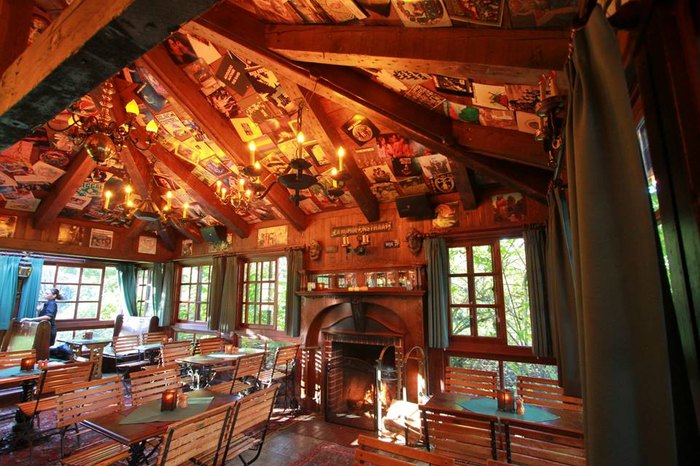 There's nowhere else in the world quite like the Grand Lodge Hotel. The owners have worked very hard to ensure that. When it was acquired in 1999, it was in serious need of renovation. The lodge had faced decades of financial trouble, as well as extensive damage during a storm.
The McMenamins created a work of art. The hotel sits on a 13-acre property–along with a separate cottage for orphans–with lush, walkable grounds, a year-round soaking pool, and a spa dubbed "Rubies."
The amenities don't stop there. The property features two restaurants–the Ironwork Grill and Pat's Corner–as well as three bars and a theater, which is quite large. Originally the property had 77 European-style rooms, but in 2017, they managed to add on 22 more.
All of the decoration is based on intricate lore, statements, and themes they've compiled to keep the guests fascinated by the grounds.
View this post on Instagram
The third floor has lighting inspired by the Grateful Dead and rooms named after famous literary passages. The idea is to catch each guest's eye with something odd, then invent a story to go with it. They'll have people roaming around, taking pictures, and posting their findings. They've uncovered a secret room, and there are hints of something hidden in the walls. This is all interspersed with vague references to Masonic rituals and philosophy, the perfect bait for a deep dive. It's genius, and some of their creations are very intriguing. It's also quite tasteful.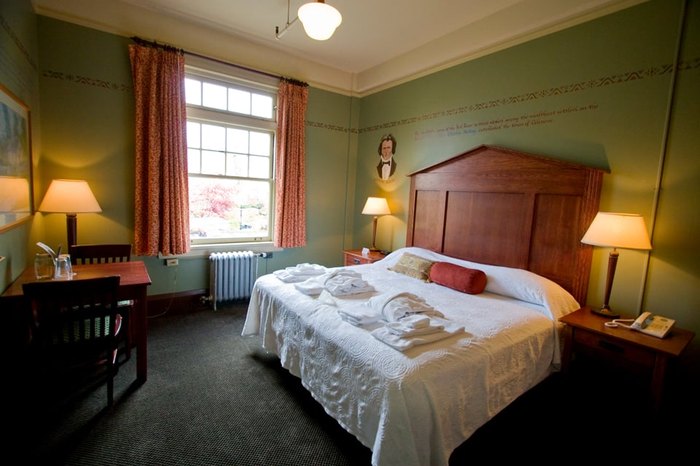 They do claim that the hotel is haunted, which–yes, it's a common gimmick, but it's not difficult to believe considering the fact that the lodge was used to house the elderly and disadvantaged for roughly 80 years. In fact, most people who believe in such things would probably just assume that it is haunted. It would have to be.
There are countless stories about strange paranormal occurrences–from jars flying off of shelves to shapes appearing in photographs. It's rumored that the lodge was forced to close because of a doctor that was experimenting on patients.
There's another story about an apparition dubbed the Lavender Lady who would leave the halls smelling like lavender when she appeared. Former residents said that she would pass out books, each with a hidden meaning. A member of their construction crew, Tony, swore that he saw her clear as day.
22 books were recovered during the renovation of their main entrance, all carrying her trademark scent, so the owners decided to name their attic rooms based on the titles of the books. Her likeness is painted on one of the doors. Details are vague, but she is believed to have been named Anna, and she is said to have lived there for many years before dying in the building.
The staff at McMenamins Grand Lodge receive constant reports from guests. They keep a record of everything that has happened in a binder, which is available to the public.