Anyone who's had the chance to drive along the Oregon coast has seen the little crab shacks, perched precariously on the cliffs or attached to the docks. Painted on the sides of the buildings are faded advertisements for 'fresh-caught' or 'live crab'.
Novelli's Crab & Seafood in Florence, Oregon
Crab shacks aren't fancy. Many have been battered by wind, rain, and sea, but don't let that fool you. They serve the best meals in the state, pulled right out of the ocean, and sent directly to your table. Some are local wonders, known mostly to those who live in the area; while others, like Novelli's Crab & Seafood in Florence, Oregon, have earned nationwide renown.
Sign up for monthly emails full of local travel inspiration and fun trip ideas. In each newsletter we'll share upcoming events, new things to do, hot dining spots and great travel ideas.
Located on the Port of Siuslaw Docks in Florence, Oregon, Novelli's Crab & Seafood is a simple metallic building floating in the water. It's not much. To get to it, you have to park and walk out onto the docks, where bunches of picnic tables serve as outdoor seating.
Novelli's serves fresh-caught, live crab, cooked crab, smoked salmon, and as their website advertises, whatever else they can catch for the day. The idea is that they will only buy from local fishermen, as opposed to corporate fleets. This helps to support the community and provide a regular income to those who risk their lives in the water every day. They're also part of a family of commercial fishermen, who have carried on the tradition of braving the tide, bringing their catch directly to their restaurant.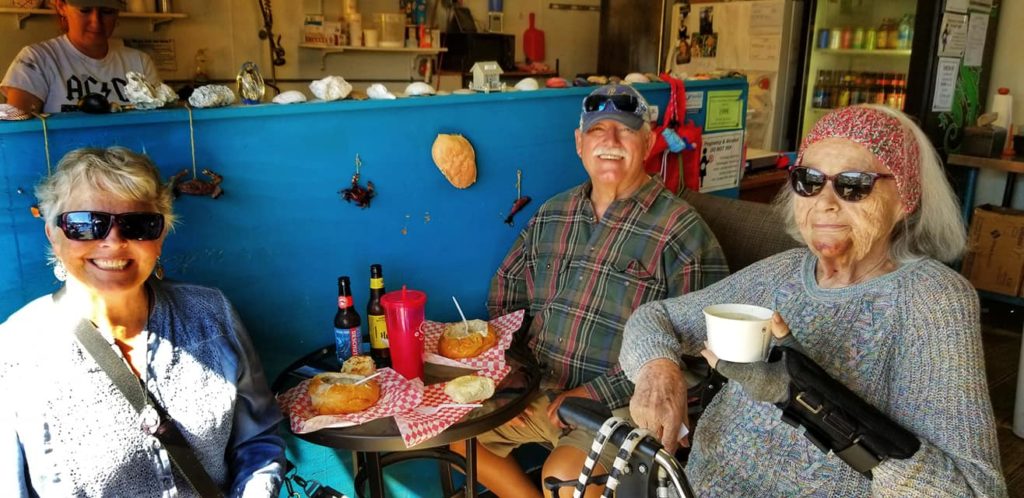 It's almost worth the risk. The fresh, oceanic taste is legendary, known to tickle the tongue and get your mouth watering with sea salt and succulent crustacean meat. There's nothing like it.
Their famous crab chowder is a gourmet delicacy. It's creamy, salty, tinged with pepper, and filled with juicy slices of fresh crab, served in an overflowing bread bowl. It goes great with their garlic bread, a local favorite. It's won plenty of awards. In fact, most years, it brings home the trophy at the local chowder festival.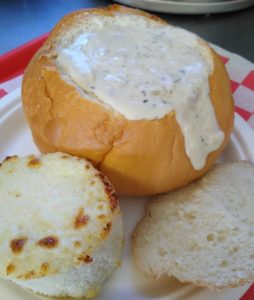 The restaurant is operated by Daniel (D.J.) Reynolds. It was started in 2014 by his mother and stepfather, Amber and Kyle Novelli, who were once the only active crabbers and fishermen that lived and worked in Florence.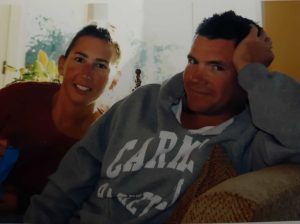 Whenever the weather allowed it, Kyle and Amber would take out their small boat, The Aquarius, to spend the early morning catching fish and checking their crab pots. When they were done, they'd drive up the coast to Newport to sell their catch, then on to Bend several hours away. It was a costly, exhausting experience, which is why, when Amber saw the building that would become Novelli's up for sale, she decided that she'd make people come to them, instead of the other way around.
Dungeness crabbing is considered one of the most dangerous occupations in the country. In order to get out to sea, crabbers in Florence are forced to drive their boats five miles to the bar, where the mouth of the Siuslaw River meets the ocean.
The water in the bar is shallow and treacherous. Swells can reach great heights, capsizing boats and tossing them around. It's far too dangerous to cross unless you do it early in the day. Even then, weather conditions often make it impossible.
Economically, crabbing provides little in the way of stability. Crabs are caught in pots and placed strategically across the coast. Those pots don't always get filled, and it's not always possible to go out and check them.
In an interview with Siuslaw News, Amber said that she was determined to keep going out, even in the face of danger and economic hardship, for the sake of Novellis Crab & Seafood. She said Novellis was like a floating home, where everyone could come talk and share their catch of the day. She also said she did it for her family. Novelli's had a uniting effect that kept them together.
In a tight-knit community like Florence, there are places where everyone goes, where they get their dinner on nights they don't want to cook, and where they hang out when they want to get out of the house. That's Novellis Crab & Seafood. It's a community hub.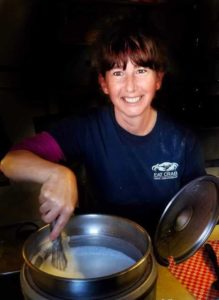 On Monday, June 29th, 2020, the Aquarius didn't make it across the Siuslaw Bar. At 1:50 a.m., the coastguard received a distress call. The Aquarius had struck the south jetty, and it was beginning to take on water. The crew, including Amber and Kyle, were forced to abandon ship. Their deaths were reported shortly after that.
Devastated by his mother and stepfather's deaths, but still carrying on his mother's determination, D.J. Reynolds sold the rest of the crab before closing the restaurant that day.
The future is always uncertain for crabbers, especially on the Oregon coast. But the casual, cheery ambiance, the devotion to extraordinary flavors, and the community surrounding Novellis Crab & Seafood are still there. D.J. was able to make it through, with the help of a Gofundme account and the support of Florence. He's now an award-winning chef, still serving his mother's famous chowder, and he's about to get a ton of recognition.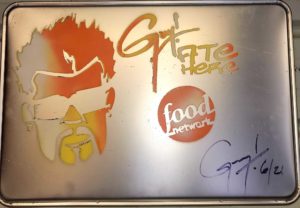 Novelli's Crab & Seafood will be featured on an episode of Guy's Family Road Trip, featuring Guy Fieri, on The Food Network. The episode is titled Camp Cooking Gone Wild, and it will air on June 10, 2022. Times do vary by region.
Planning a Visit
The crabbing industry is unpredictable. It's ruled by the weather and the behavior of the crabs themselves. Sometimes the tide is too high to go out. Sometimes pots don't fill up, and crab meat has a tendency to go bad very quickly. For that reason, supplies at Novelli's Crab & Seafood are limited. They will sell their crabs for the day, serve up the chowder they have available, and close their doors. The building also seems to require a lot of maintenance. On their Facebook page, there are numerous instances where they've had to close because of one reason or another.
So if you want crab, call ahead. Check the weather, and definitely get ready for something amazing. If you're lucky you might even be able to catch them on Doordash. For more information, check out their website here.