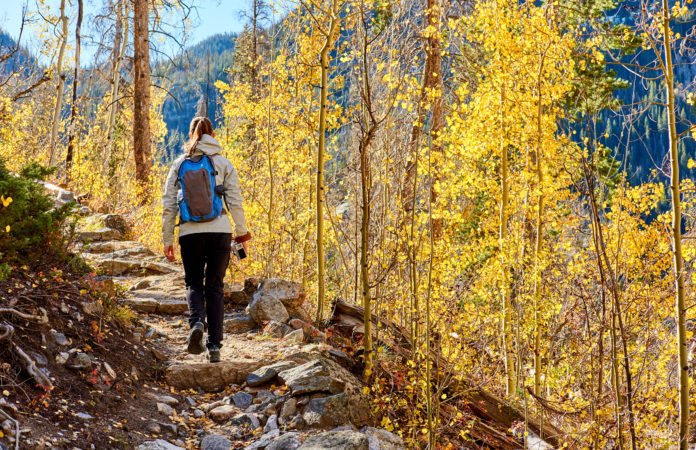 Warm hoodies, bonfires on the beach, visiting the pumpkin patch and watching the leaves change are just a few of the reasons I love fall foliage in Oregon. Autumn in Oregon is marked by crisp mornings, warm days and a beautiful array of colors as the foliage around our state begins to change. Fall is also a great time to get out and hike, explore Oregon's waterways, and make a trip to the coast before the weather turns for the winter. Here are five of our all-time favorite fall adventures to take in Oregon.
Canoe Klamath In Southern Oregon
Quaking aspens showing off stunning yellow and orange leaves, large pelicans swimming by, and big views of southern Oregon's high desert and towering mountains are waiting for you in Klamath County. Klamath has some amazing waterways and marshes that are perfect for canoeing and kayaking, and fall is the perfect time to visit because of the pelicans and changing leaves.
 

 

View this post on Instagram

 
Start your paddling trip on the Upper Klamath Canoe Trail which will take you on a 9.5 mile journey through a beautiful freshwater marsh. The trail is broken into four smaller segments if you want a shorter trip. Paddlers will love the mix of open lake, forest and marsh as they canoe this trail. Bring a lunch and make a day of it. Our favorite place to stay nearby is the Runny Y Ranch and Resort, and if you want to get a full weekend of adventure in, check out the nearby Crater Lake Zipline.
 

 

View this post on Instagram

 
Another popular place to paddle in Klamath is the headwaters of the Wood River. This can be accessed at Jackson F Kimball State Park, which is usually open from April 15th to November 1st. The waters are icy cold and crystal clear. Be sure to check beforehand if this park is open as there was recently a fire nearby.
 

 

View this post on Instagram

 
A great place to see pelicans and big mountain views while you canoe in the area is Eagle Ridge county park. Find more great places to paddle in Southern Oregon here.
Explore Oakridge By Mountain Bike
 

 

View this post on Instagram

 
Fall is the perfect time to go mountain biking in Oregon. With cooler weather and leaves bursting with fall colors, mountain biking is the perfect heart pumping adventure to get you outdoors.
Oakridge is an autumn favorite for many mountain bikers because the dense leafy foliage puts on a spectacular show. The North Fork Trail will take mountain bikers along the north bank of the Willamette River on a narrow single track. The gorgeous forest and rushing river will leave you in awe during your adventure.
More experienced riders will want to take on the longer and more challenging Alpine Trail. This 30 mile black diamond trail can be done in smaller sections or all at once. The trail is a single track with big views and lots of downhill.
Hike The Sky Lakes And Mountain Lakes Wilderness Areas
Southern Oregon is hiding two very special wilderness areas that are perfect for hiking, backpacking, horseback and mountain bike riding. The Mountain Lakes Wilderness is in the caldera of what used to be a huge 12,000 foot mountain in the southern Oregon Cascades. Inside the caldera are many small, pristine alpine lakes waiting to be discovered.
 

 

View this post on Instagram

 
This is one of the three original Primitive areas created in 1930 in Washington and Oregon, and is a beautiful place to explore. There are various trails that lead to these lakes, one of which is the Mountain Lakes Loop Trail, an 8.2 mile trail along the southern rim of the Caldera.
 

 

View this post on Instagram

 
Not far from the Mountain Lakes Wilderness is the Sky Lakes Wilderness. The Sky Lakes Wilderness is almost 114,000 acres that includes three major lake basins and stretches from the edge of Crater Lake in the north to highway 140 in the south.
 

 

View this post on Instagram

 
This wilderness area has icy springs, grassy meadows, and tons of crystal clear alpine lakes to discover. One study found the lakes in this wilderness area to be some of the most chemically pure water on earth.
 

 

View this post on Instagram

 
The Pacific Crest trail goes through the Sky Lakes Wilderness, along with many others such as the Mount McLoughlin Trail, which will excite experienced hikers and backpackers.
Fall is the perfect time to explore these wilderness areas because the days are still warm, but not blistering, and the snows haven't yet come in. The nights can drop below freezing, so do your research and prepare for all kinds of weather before setting out to explore these remote and beautiful areas. Many of the trails into these two wilderness areas are recommended for experienced hikers and backpackers. Research is so important before setting out on an unforgettable adventure like this.
Go Crabbing On the Oregon Coast
One of our favorite places to crab on the Oregon coast is Siletz Bay. You'll need a crab trap, bait, a shellfish license, a bucket, gloves and a crab measuring gauge.
 

 

View this post on Instagram

 
You can pick up a license at Bi-Mart or Scout Northwest Trading Co in the Lincoln City Outlet Mall. You can also buy or rent equipment at Bi-Mart or Siletz Moorage. The Siletz Bay is also the perfect place for clamming.
 

 

View this post on Instagram

 
Before you go crabbing or clamming call the Oregon Shellfish Hotline at 503-986-4728 or 800-448-2474 to check on shellfish safety closures.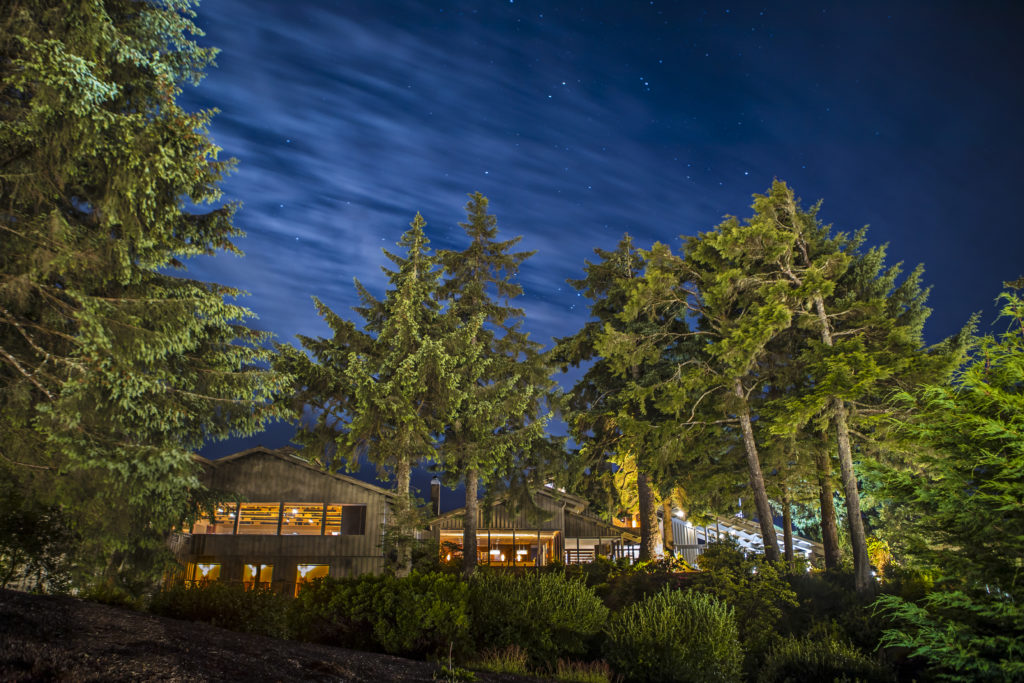 Our favorite place to stay nearby is Salishan Coastal Lodge. Salishan has an awesome bike park, beautiful rooms to relax in, an aerial adventure park and so much more.
Explore Oregon Fall Foliage At Silver Falls State Park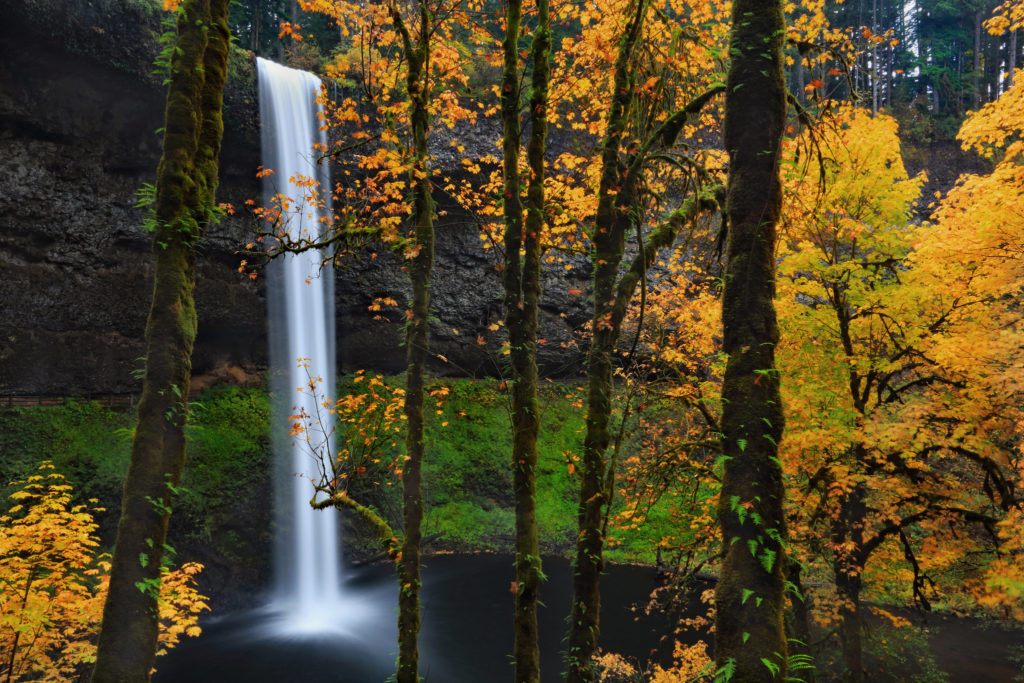 We love to visit Silver Falls State Park all year long, but the prettiest time to visit is in fall when the lush foliage changes to stunning fiery yellows and oranges.
 

 

View this post on Instagram

 
The Trail of Ten Falls is a moderate 7.2-mile loop that takes you to ten gorgeous waterfalls that you'll never forget. You can even walk behind some of them!
 

 

View this post on Instagram

 
What's your favorite place to visit in Oregon in the Fall? Drop a comment, and tag the friends and family you want to go on a fall adventure with this year!