Last updated on April 20th, 2022 at 01:18 pm
Crater Lake is the blue gem of the Oregon Cascades.  People travel from all over the world to see Crater Lake in all it's shining blue glory, but not many realize how many awesome hiking trails are nearby, both inside and outside of the park.  These trails won't disappoint and are the best Crater Lake hikes, perfect for any season.
Crater Lake Hikes You Will Love
---
1. Plaikni Falls Trail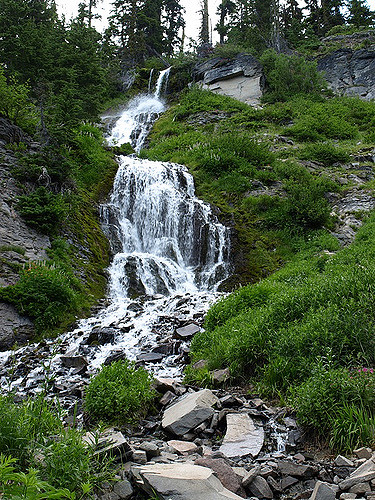 Within Crater Lake National Park is a very easy trail that leads to Plaikni Falls.  This is a small waterfall, but a popular destination nonetheless.  The easy 2.2 mile (round trip) trail leads hikers up through an old growth fir and hemlock forest, and is mostly shaded until you reach the falls.  The falls are surrounded by wildflowers.  This is not a trail to find solitude on, as it is usually crowded in summer months.  While it can be difficult to take good pictures of the falls because so many people are sitting in or around them, it's still a worthwhile hike.  You'll find the trailhead on pinnacles road.
2. Pinnacles Valley Trail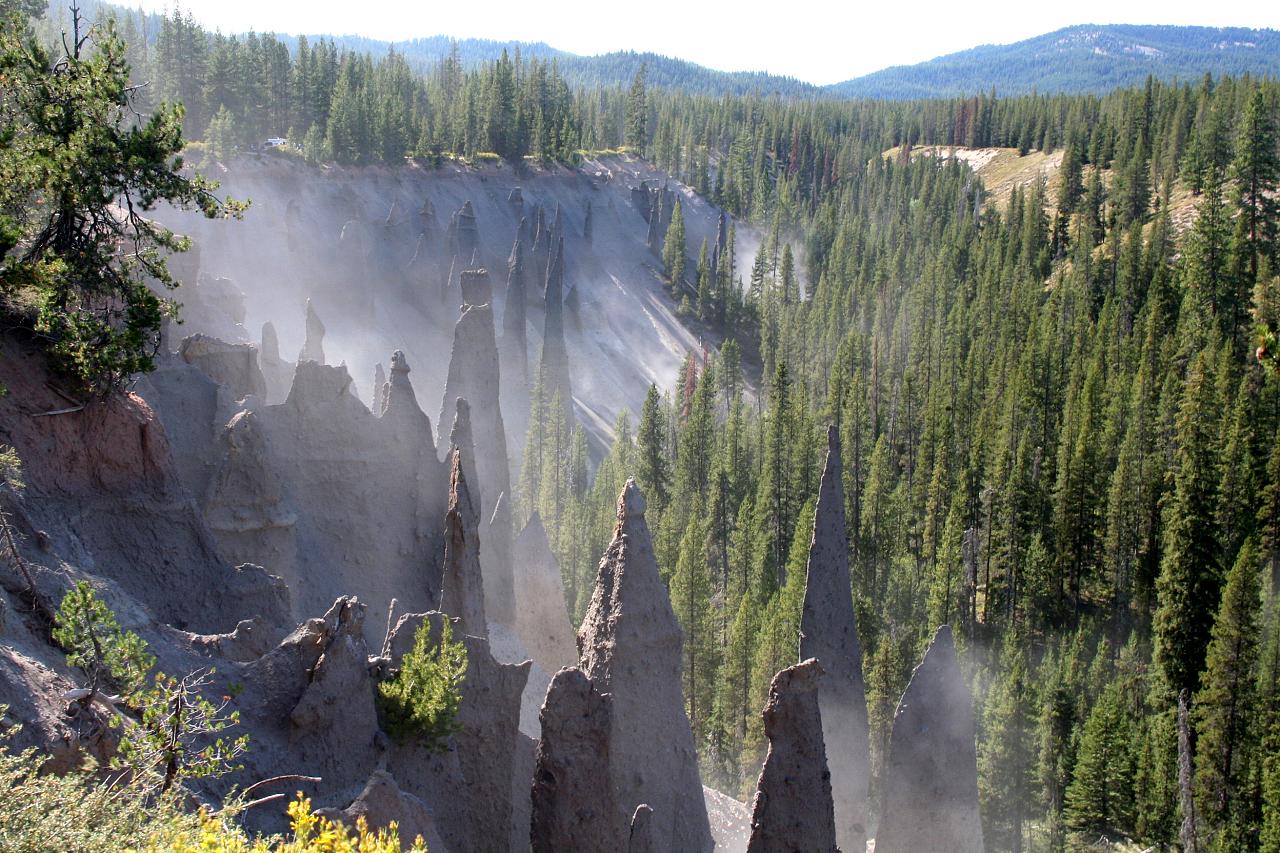 Also on pinnacles road within Crater Lake National Park is the Pinnacles overlook and Pinnacles Valley Trail.  The needle like Pinnacles are a strange and interesting sight.  These rocks were formed under sheets of volcanic pumice as the surface of the hot pumice cooled.  Steam and other gasses from the volcano were released through vents and tubes, welding the pumice into cement as they passed through.  Later, softer material surrounding the formations eroded away, leaving just the pinnacles.  The .6 mile trail is more of an easy walking path.  The road to the trail may still be covered in snow until early July.
3. National Creek Falls Trail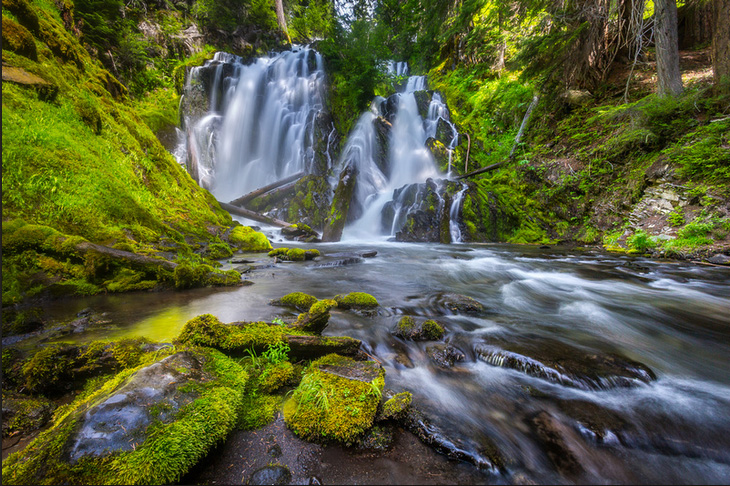 10 miles up the road from the Rogue River Gorge is the trailhead to National Creek Falls.  This is a .7 mile trail that switch backs down the side of a small canyon wall to National Creek and to the falls.  The trail is easy to navigate for an able adult, but children may need help as part of the trail gets steep.  It's not recommended to use the trail when it's snowy or wet.
4. Pacific Crest Trail within Crater Lake National Park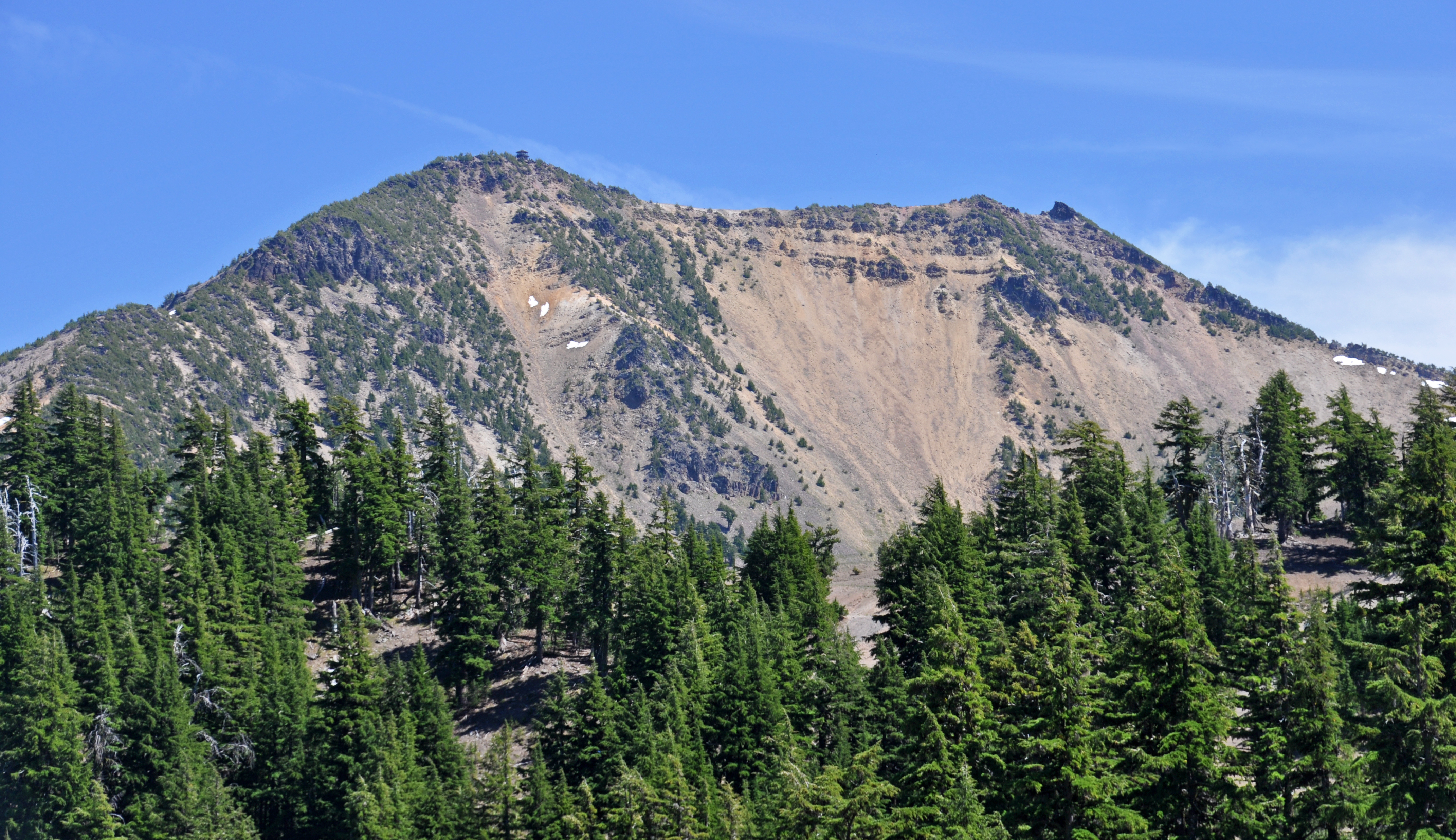 33 miles of the Pacific Crest trail are within the boundaries of Crater Lake National Park.  This portion of the trail crosses numerous streams and winds it's way through the forest.  While this portion of the trail doesn't give you views of Crater Lake itself, it's still a beautiful trail to take.  There is an official alternate route to the Pacific Crest Trail that goes along a portion of the rim and gives you views of the lake before reconnecting with the official Pacific Crest Trail.  Keep in mind that dogs are not allowed on any backcountry trails through Crater Lake National Park, including the Pacific Crest Trail.
PLEASE NOTE: Due to weather and snow some roads in the park may be closed, thus closing off easy access to certain trail heads within the park.  Due to Covid-19, some trail heads and facilities may be closed.  The situation with Covid-19 changes frequently.  Check the updated list here of which trails within the park are open and easily accessible.
Tips For Hiking Near Crater Lake Oregon
Check online to be sure the trail you want to hike is open before you go.  Be aware that some backcountry trails within Crater Lake National Park may require a permit to hike and camp on.
Let people know where you're going and when you'll be back.
Take a hiking GPS so you don't get lost.
Take a friend.  Hiking is always better with a friend.
Carry extra water and a nutritious snack such as gorp (trail mix), or protein bars.
Wear good, comfortable hiking boots or sneakers.  Take an extra pair of socks too (trust me, someone always gets their feet wet, and it's no fun hiking in wet socks).
Bring a jacket or rain coat and check the weather ahead of time.  Better to be prepared than cold and wet from the elements.  Weather at Crater Lake can be unpredictable and thunderstorms are common in spring and summer.  It can also get cold at night, and snow is known to hang around Crater Lake all summer, so it's advisable to bring something warm to carry in your bag just in case.
Be good to nature.  Stay on the trail when possible so you don't tramp down vegetation.  Leave nature alone.  This means not picking up pretty rocks, wildlife or vegetation to take home with you.  Pack it in, pack it out: whatever you bring in with you, make sure it comes out with you, even if it's just an apple core or other food waste, bring it out and throw it in the trash instead of leaving it for other hikers to find.  This also includes human waste.  Some trails don't have bathroom facilities.  Try to pack your waste out with you in a zipped plastic bag, but if you can't, live by the rule: 200 feet, 6 inches deep.  Bury human waste 200 feet away from water and at least 6 inches deep.  This means you'll have to bring a trowel to dig with.  Don't count on digging a 6 inch deep hole with a rock or stick, it just won't work.  Cover it up when you're done.  Try to leave whatever trail you're on as good as when you found it.
If you'll be camping at Crater Lake check out our list of good campsites here.
Note: Hiking and exploring are at-your-own-risk activities.