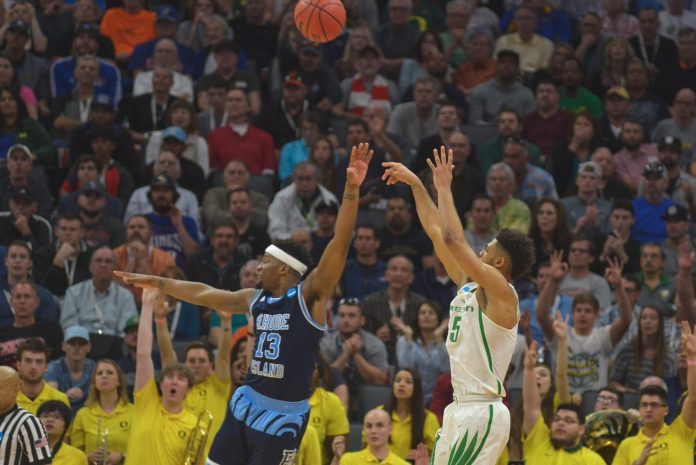 Down by 11 in the second half with the season on the line, the Ducks turned to Tyler Dorsey,  the sophomore guard from Los Angeles who teammates refer to as "Mr. March" due to his affinity for delivering on the sport's biggest stage.
Since the first game of the Pac-12 tournament, Dorsey has averaged 23.6 ppg while shooting a blistering 64.6% from the field (42-65, including 15-28 from three). Those are both well above his season average of 14.0 ppg on 46.4% shooting.
"My teammates have been having confidence in me," Dorsey said, "And I've been knocking down the shots."
And oh did he knock down some shots on Sunday.
Dorsey continued his torrid shooting streak with a virtuosic 27 points to go along with 5 rebounds and 3 assists against the Rhode Island Rams in the teams' second round showdown at the brand-new Golden One Center in Sacramento. Now only did Dorsey seem to deliver buckets whenever the Ducks needed them most, but he barely ever missed, finishing with a 9-10 shooting line.
Dorsey's big night helped the Ducks come from behind and beat a Rhode Island team that was riding a nine game winning streak and playing with a whole lot of confidence. It was apparent from tip off that the feisty Rhode Island guards were not going to be intimidated by the stage or opponent. They took and made ballsy shot after shot, then followed those shots up with some good, old-fashioned trash talk directed at their more nationally-recognized opponents.
Rhode Island's Stanford Robinson busting out the Hot Sauce moves tonight. #And1Mixtape pic.twitter.com/GBrYCyZ17f

— Nate Feken (@TheGreat_Nate) March 20, 2017
Behind a career night from Rhode Island junior Stanford Robinson – who went shot for shot with Dorsey for the majority of the night and absolutely bamboozled poor Casey Benson on the play featured in the video above, careless turnovers by the Ducks, and an uncharacteristically bad finishing night from Dillon Brooks, the Rams led much of the way, including by as many as 11 in the second half.
Every time it felt like the Rams were about to pull away and extend the lead into the 15-20 point range though, a Duck player would come up with a huge play to chip into the advantage. More often than not, that player was Tyler Dorsey.
"Tonight, Tyler gets five rebounds, he had three steals. When's he's playing as a player, not just a scorer, I think that's when his game really comes alive," Ducks head coach Dana Altman said after the game. "That scorer mentality, I want him to have. But defense and rebounding, when he focuses on those two he becomes a special player. I think that's part of the reason why he's exploded here lately, is that he's been a completely different player, offense, defense and the boards."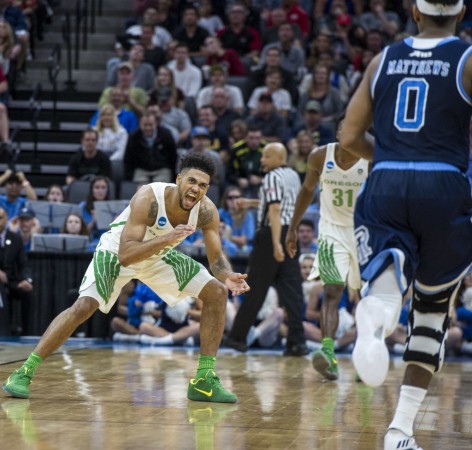 Altman has been vocal all season about Dorsey finding more ways to contribute other than just scoring. On two crucial second-half possessions, Dorsey managed to follow his coach's advice and make momentum-swinging hustle plays. He also scored after both because his name is Tyler Dorsey, and he gets buckets.
On the first one, he snagged an offensive rebound in traffic then put it back in for an And-1 that stopped a dangerous Rhode Island run. On the second, he anticipated a lobbed inbounds pass, stole the ball and took it down the court for the flush, cutting the Rhode Island lead to four.
Dorsey's biggest play of the game, and potentially the biggest shot of the tournament thus far, came with 40 seconds left and the score tied at 72 following a Payton Pritchard steal that gave possession back to the Ducks.
Dorsey isolated at the top of the key, hit his defender with a quick hesitation, and let fly from well beyond the college 3 point line.
Tyler Dorsey …ICE in his veins#MarchMadness pic.twitter.com/MsinBwV1pY

— Bleacher Report (@BleacherReport) March 20, 2017
That play took some serious guts. With 11 seconds on the shot clock and the stakes so high, it's the ultimate hero/villain shot. Make it, and you won a tightly-contested game and punched your team's ticket to the Sweet Sixteen. Miss it, and you're derided by everyone for settling for a contested 3 rather than pressing the defense and potentially drawing the foul (the Rams had 10+ fouls so any foul would have been two free throws).
Luckily though, this is Mr. March we're talking about, so naturally he canned it. If only we had Gus Johnson calling the play, it would have been 10000% better.
Looking ahead, the Ducks play in the Sweet Sixteen against the Michigan Wolverines in Kansas City on Thursday at 4:09 pm. Fresh off winning the Big Ten championship and upsetting #2 seed Louisville, Michigan may be the hottest team in the nation. This is the Ducks second straight year making it out of March Madness's opening weekend and into the field of 16.
Check back in with us later this week for the full game preview.
Other Notes:
Dillon Brooks didn't have his best game, finishing with 19 points on 20 shots, but he did pass Elgin Cook's as Oregon's all-time NCAA tournament scoring leader with 123 points scored.
Brooks also drew a huge charging foul against E.C. Matthews with 1:38 and the score tied at 72-72. It's tough even with replay to determine what the right call should have been, but Brooks did seem to lean to the side a bit and exaggerate the contact. I understand any Rhode Island anger over that very consequential call.
Dorsey has now scored over 20 points in five straight games.
Despite the game being played in Sacramento and Rhode Island not being known as some blue blood program with fanatical fans, there was a very large and very vocal contingent of Rhode Island fans at the game cheering on their team.
The Ducks outrebounded the Rams 15-9 on the offensive glass, none bigger than one by Jordan Bell that led to a three by (who else?) Tyler Dorsey which tied the game with less than two minutes to play.