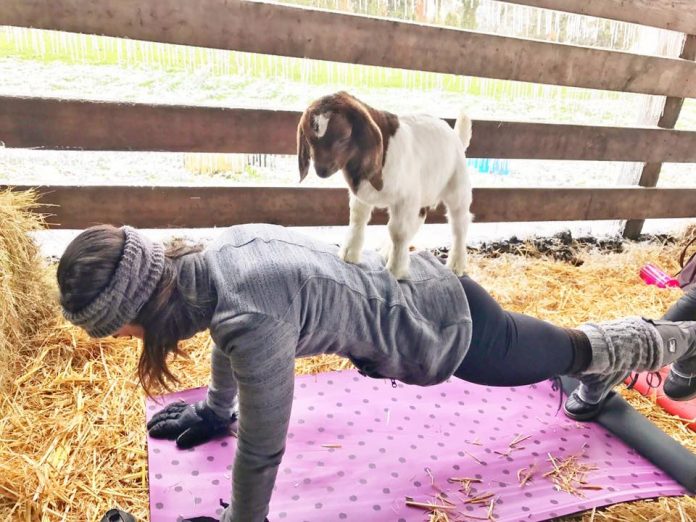 Last updated on March 2nd, 2017 at 08:26 am
Have you ever been in the middle of an intense yoga session, looked around at your fellow yogis and wondered to yourself, "Where are all the goats? Why are there all these people doing yoga, but there aren't any goats busy doing goat stuff at the same time?"
Well you no longer have to wonder because in classic Oregon fashion, someone filled a void in the marketplace that no one realized even existed or needed filling.
It's the fitness trend sweeping the nation, and it originated right in our backyard at No Regrets Farm in the Willamette Valley. Since its conception in 2016, Goat Yoga has been profiled by The Washington Post, The New York Times, CNN, VICE, FOX News, BBC, The Tonight Show with Jimmy Fallon, and many more. The waiting list for the next open class is currently over 2,000 people and growing.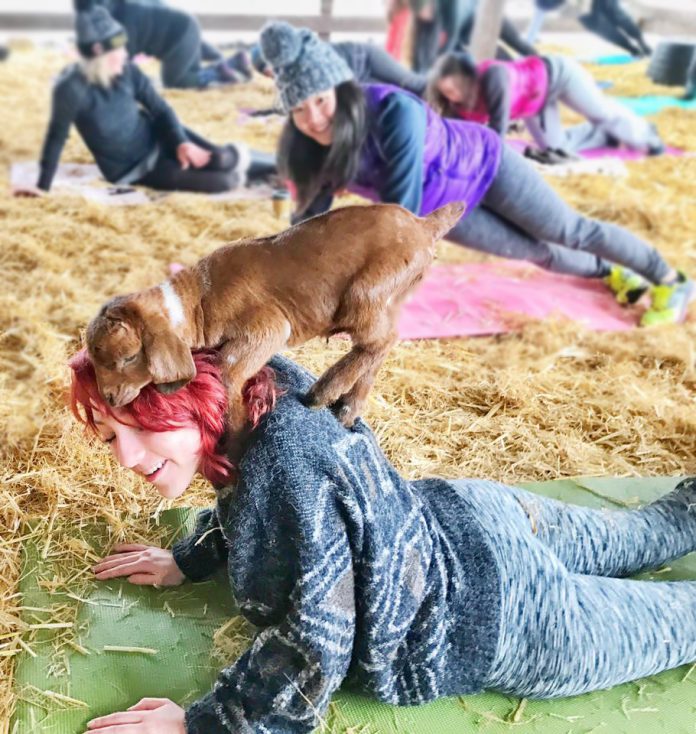 Goat Yoga combines the physical and mental benefits of yoga and animal therapy. Students (or yogis) are led in a standard yoga class by certified instructor, Heather Davis. Unlike the class at your local YMCA though, this one has 8 goats wandering around interacting with the yogis. As you strike a downward dog pose, a baby goat may brush against your shoulder or jump on your back.
Do people want goats running about when they're trying to find their center? The answer seems to be an overwhelming, "Yes!"
The Woman Behind It All
Goat Yoga is the brainchild of Lainey Morse, a Michigan native who has lived in Oregon for the past ten years. After being diagnosed with an autoimmune disorder and going through a divorce in 2016, Morse decided to spend more time at the farm with her goats. In them, she found a slice of tranquility and stability within the increasingly turbulent and charged world around her.
"Every day I would come home from work, sit out in my field and spend time with my goats," Morse told The Washington Post. "It ended up being so therapeutic to me. It's hard to be sad and depressed when you have baby goats jumping around you."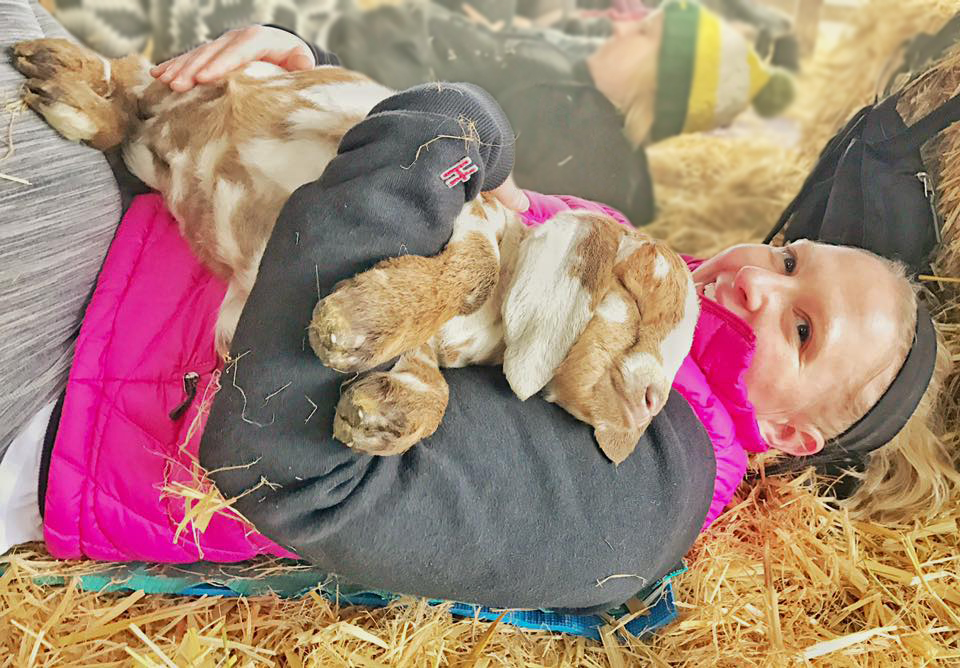 Morse decided that the joy she found in her goats should be shared with the rest of the world. She began hosting her friends at what she calls Goat Happy Hour, a stress-free time to just sit around and drink with goats.
"When you get baby goats, you get super popular. Everyone wants to come over to your house," Morse said. "People who are just having an off-day or are depressed will ask if they can come spend some time with my goats."
One of those friends, Heather Davis, is an accomplished yoga instructor in the disciplines of Hatha and Vinyasa yoga. She suggested to Lainey that No Regrets Farm would be the perfect place to hold a yoga class. The idea took off from there, and now Heather instructs several Goat Yoga classes each week.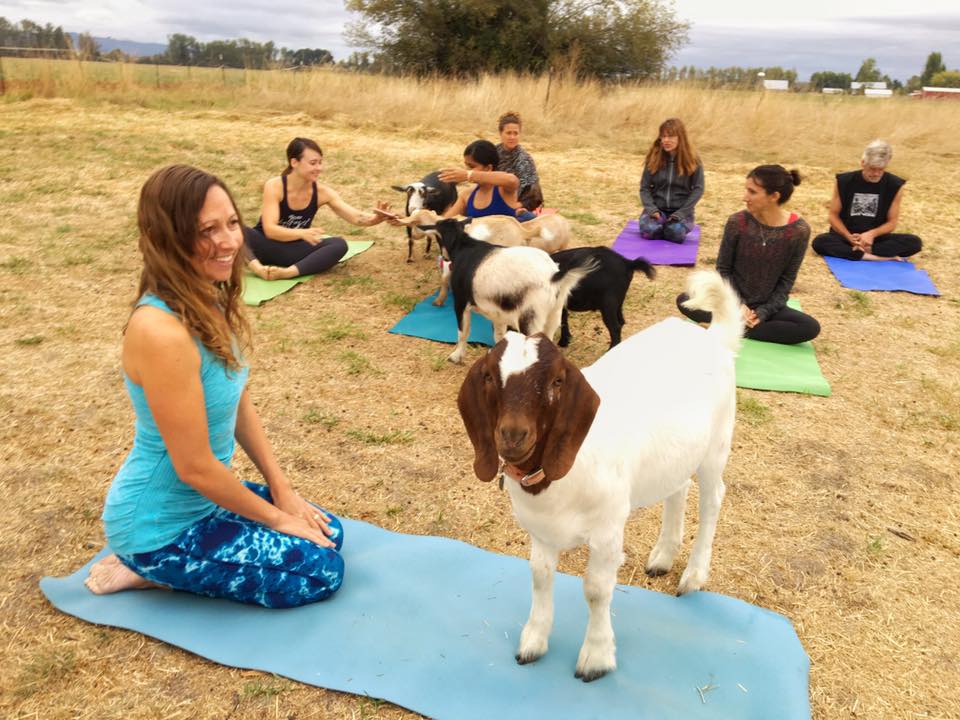 Lainey Morse has 8 goats, ranging in all different ages and sizes. They all have their own unique personalities and enjoying showing off and showing out for any attending yogis. On the new Goat Yoga website, there are profiles of each goat complete with adorable pictures.
According to Lainey, her goats love human attention and "basically think that people were put on Earth to pet them 24/7."
Lainey has plans of acquiring several more goats and expanding her brand further into the realm of animal therapy. She's seen the positive impact her goats can have, and she wants to deliver that to a wider audience, especially people who need the mental and emotional beneficial effects the most. In order to bring the joy of goats to the most amount of people, Lainey bought the Goat Yoga Mobile and will travel with her goats around the state of Oregon.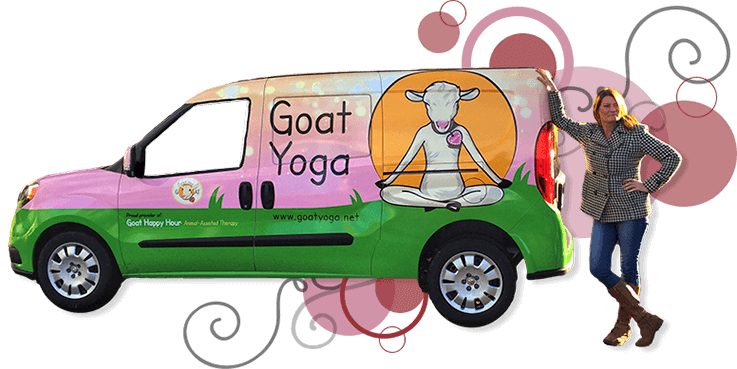 There are countless health benefits to interacting with a therapy animal. It lowers cortisol levels (primary cause of stress) while releasing Oxytocin (the chemical linked with bonding) and dopamine (the chemical linked with our internal reward system and happiness levels). Whether it's children with autism or a parent undergoing chemo, Lainey has found that everyone reports feeling better after interacting with the goats.
"I know it may sound silly, but it really helps people. It helped me when I went through this diagnosis, which was just awful. I have had people who had cancer come to the classes and they'll tell me, 'That helped my head more than anything I tried,'" Morse said. "It's not curing diseases or anything, but it's helping people cope."
Lainey isn't satisfied with just sharing the magic of Goat Yoga around Oregon though. She has plans to offer franchise opportunities to anyone who owns goats and wants to provide a similar experience.
If everything goes according to plan, this beautiful little slice of Oregon could become a new nationwide fitness trend in a short couple years. That Oregon Life will follow it closely as it develops.