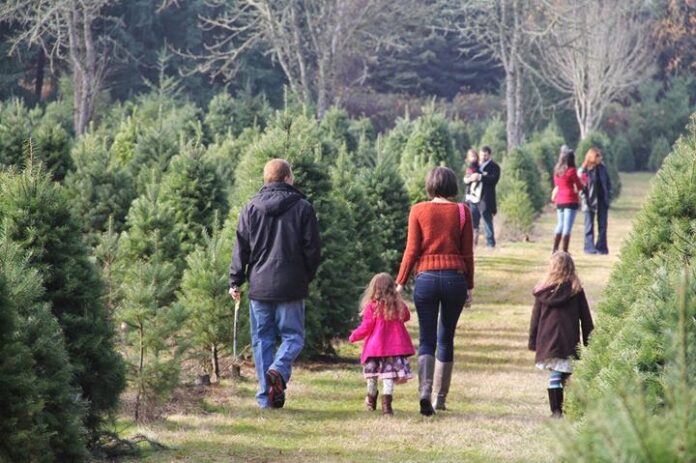 Imagine the crisp winter air, the scent of fresh pine, and the joy of finding the perfect Christmas tree to bring home for the holidays. Cutting your own Christmas tree not only creates an unforgettable family tradition but also supports local farms and promotes environmental sustainability.
What's more, Oregon is the best state in the county to get a Christmas tree, so you've got no excuse not to get out there and embark on this festive adventure! Let's explore the process, benefits, and joys of choosing to cut your own Christmas tree this holiday season!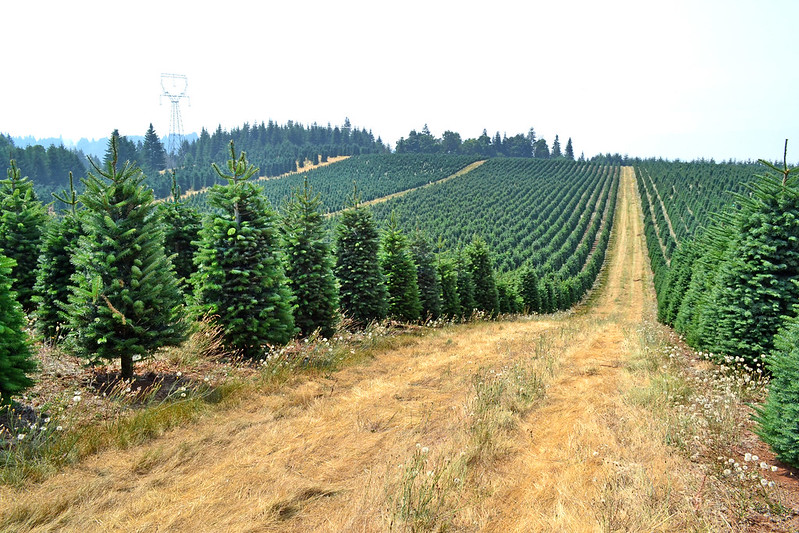 Key Takeaways
Cutting your own Christmas tree in Oregon is a fun and eco-friendly family tradition.

Research ahead of time to find the perfect tree farm in Oregon with the amenities, pricing options, and tools you're looking for.

When you cut your own Christmas tree, it not only helps support the local economy but also conservation efforts when you responsibly dispose of your freshly cut tree.
The Joy of Cutting Your Own Christmas Tree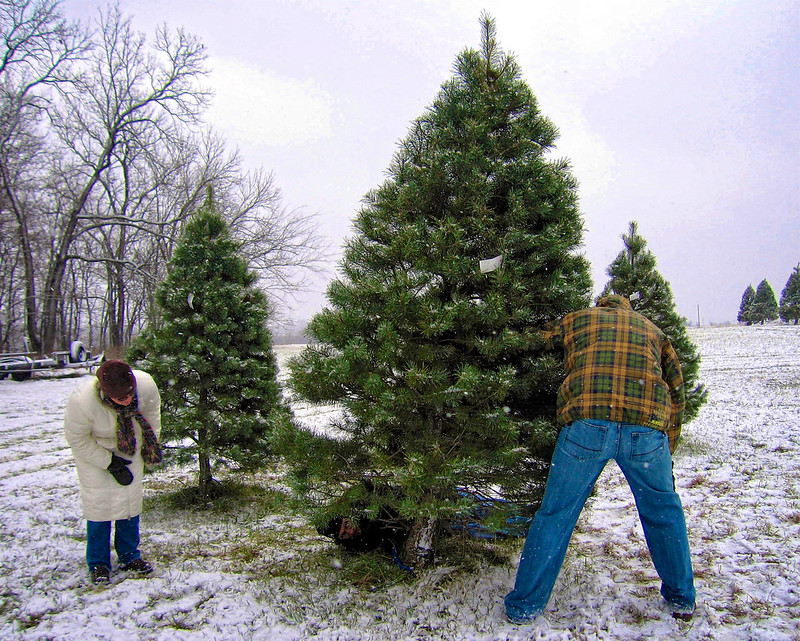 There's nothing quite like the experience of cutting your own Christmas tree. It's a fun family tradition that provides excitement, fresh air, and an appreciation for nature. Choosing a real tree over an artificial one means you're supporting local farms and bringing home a tree with a fresher, more fragrant scent.
Real Christmas trees are grown locally, providing valuable wildlife habitat, air filtration, and soil erosion prevention. Plus, they're recyclable and biodegradable, making them an eco-friendly choice.
Not only will you be creating lasting memories with your loved ones, but you'll also be contributing to safer and greener holiday traditions for future generations. Ready to find the perfect tree farm near you?
Fun Facts About Christmas Trees in Oregon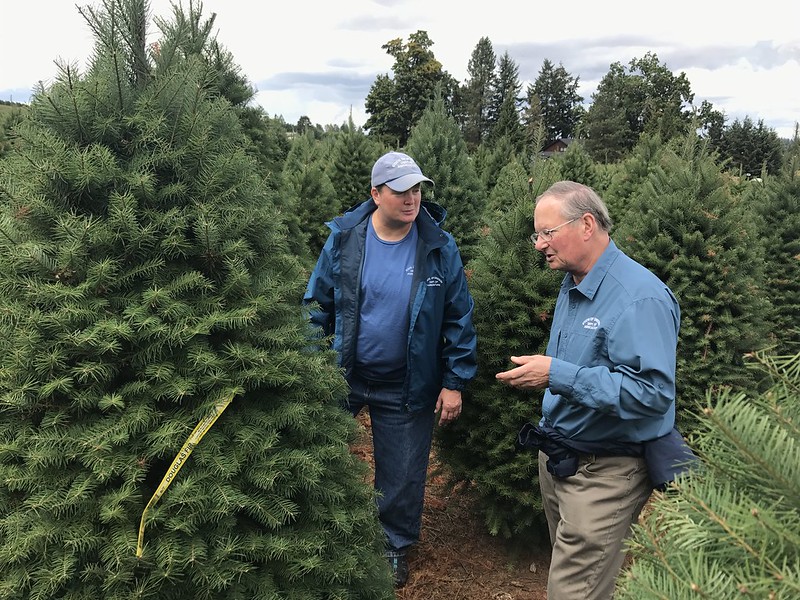 Did you know that Oregon plays a huge part in producing Christmas trees for the entire country? That's right, our very own Beaver State is kind of a big deal in the Christmas tree scene.
Oregon has a lot of trees and is second only to Idaho in the amount of land covered (24%) in National Forest.

No other state in the country grows more Christmas trees than Oregon.

Oregon is home to more than 1,000 Christmas tree farms.

A full 45% of the Christmas trees grown in Oregon are sent down to California.

Oregon's trees make up more than 30% of the Christmas trees sold across the country.

Oregon sells roughly 4.5 million Christmas trees a year, valued at more than $110 million.
Finding the Perfect Tree Farm in Oregon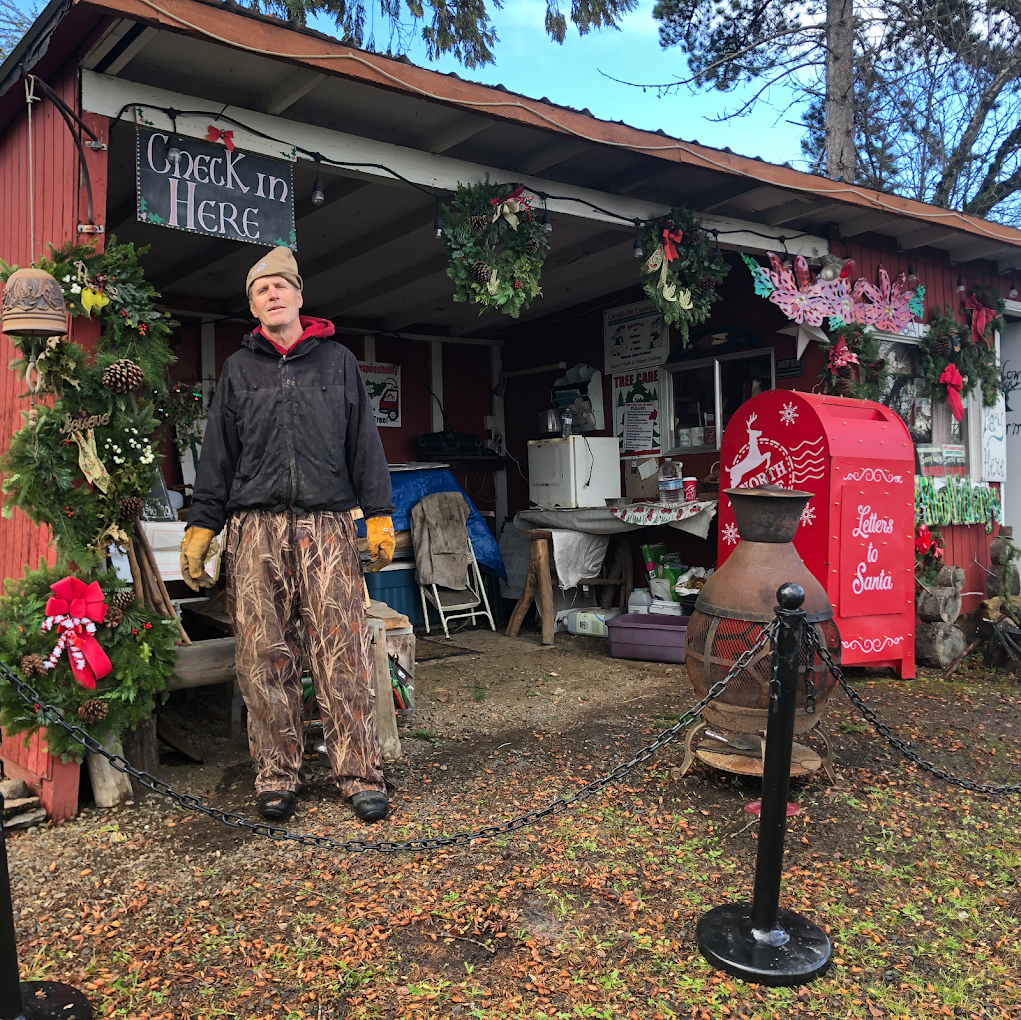 The success of your tree-cutting adventure hinges on locating the right farm. The good news is, no matter where you live in the state, you likely have one near you that's less than an hour drive away. You'll want a farm that offers a variety of tree types, amenities, and pricing options to suit your needs.
But how do you find the the best tree farm? Worry not - we've got you covered!
Types and Prices of Trees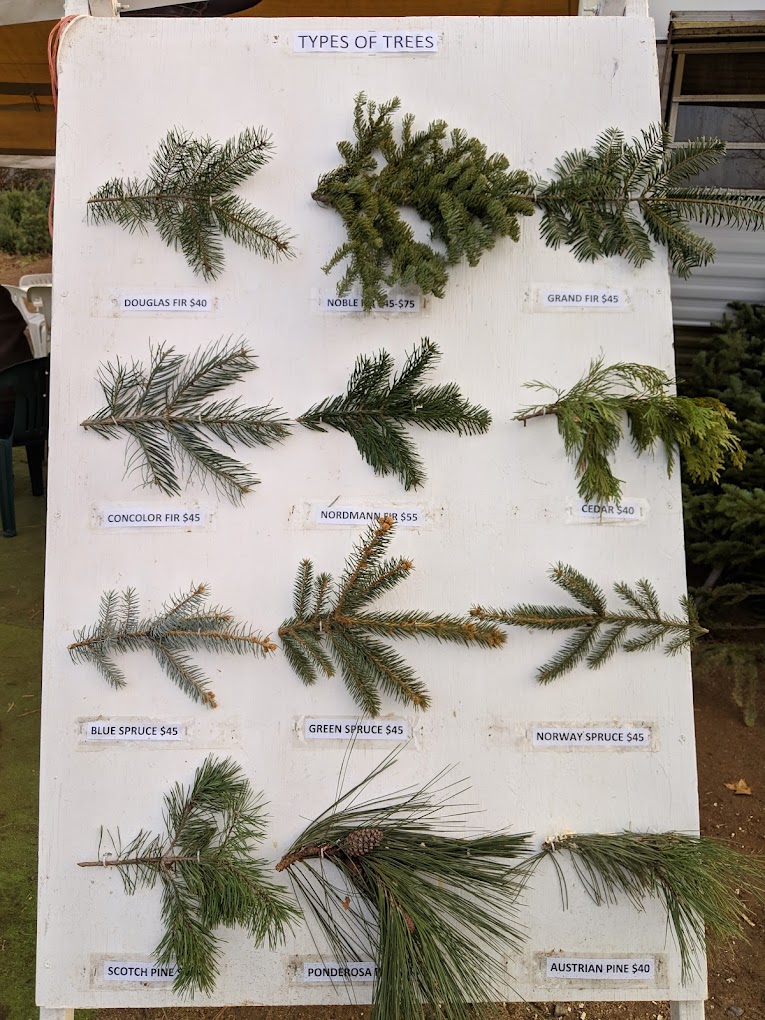 Each tree farm may offer different types of Christmas trees, but by the most common varieties in Oregon are Douglas firs, Noble firs, Grand firs, and Nordmann firs.
Although the Douglas fir is the most popular across the country for the deep green color and strong classic Christmas tree scent, Oregonians prefer the Noble fir that stays fresh slightly longer and won't shed as many needles.
But those aren't you're only choices! You may also find other species such as:
Fraser firs

Balsam firs

Colorado Blue Spruce

Monterey pine

Aleppo pine

Leyland cypress trees
Investigating the species available at nearby farms will help you make a well-informed choice. Take note of their size, shape, and needle retention to ensure you select a tree that suits your preferences and home perfectly.
Prices may vary depending on the species, size, and farm location. Some farms offer trees at a fixed price, while others may charge per foot.
In terms of payment options, most tree farms accept cash, credit/debit cards, and sometimes checks. Some farms may even offer online payment options or early tree reservation systems. It's best to check with the specific farm you plan to visit for their pricing and payment options to ensure a smooth and enjoyable visit.
Amenities and Activities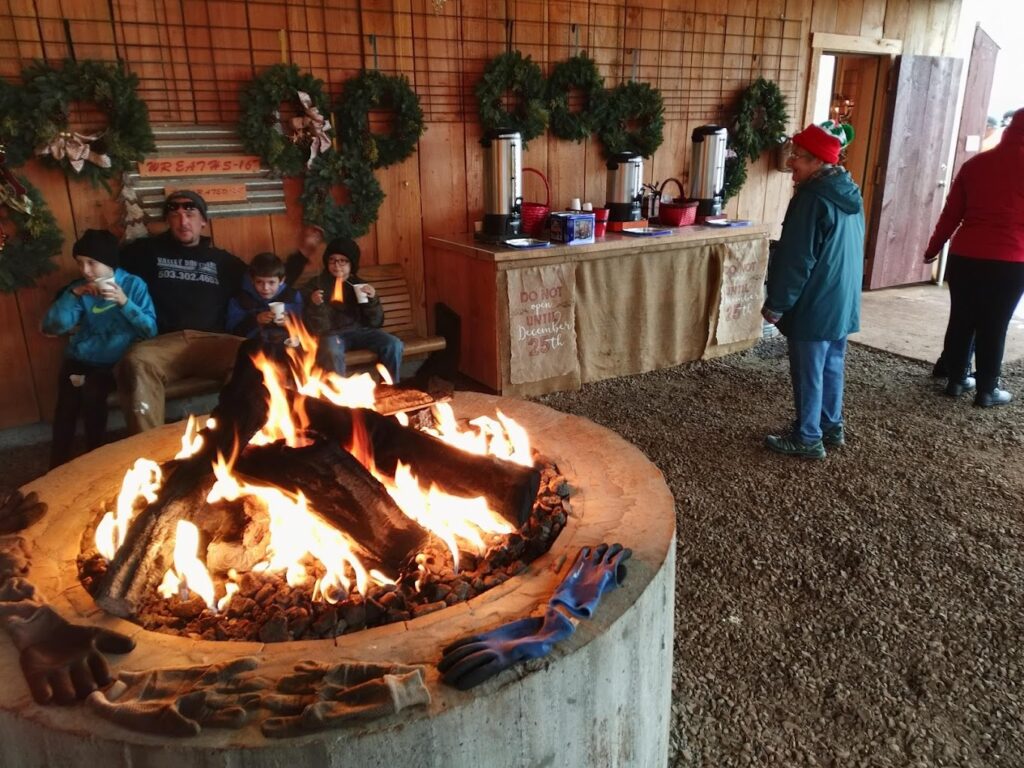 Visiting a Christmas tree farm often provides more than just trees. Many tree farms offer additional activities and services to turn this relatively simple activity into a memorable family outing. Depending on where you go you may find:
Wagon rides

Refreshments like hot chocolate and baked goods

Photo opportunities

Visits with Santa

Farm Animals

Making gingerbread houses

Farm stores
These diverse options can turn your entire tree-cutting adventure into an experience your whole family will remember the whole year long.
Check the farm's website before you go or give them a call and ask about the activities and amenities they offer before your visit. This way, you can plan your visit and ensure there's something for everyone in the family to enjoy.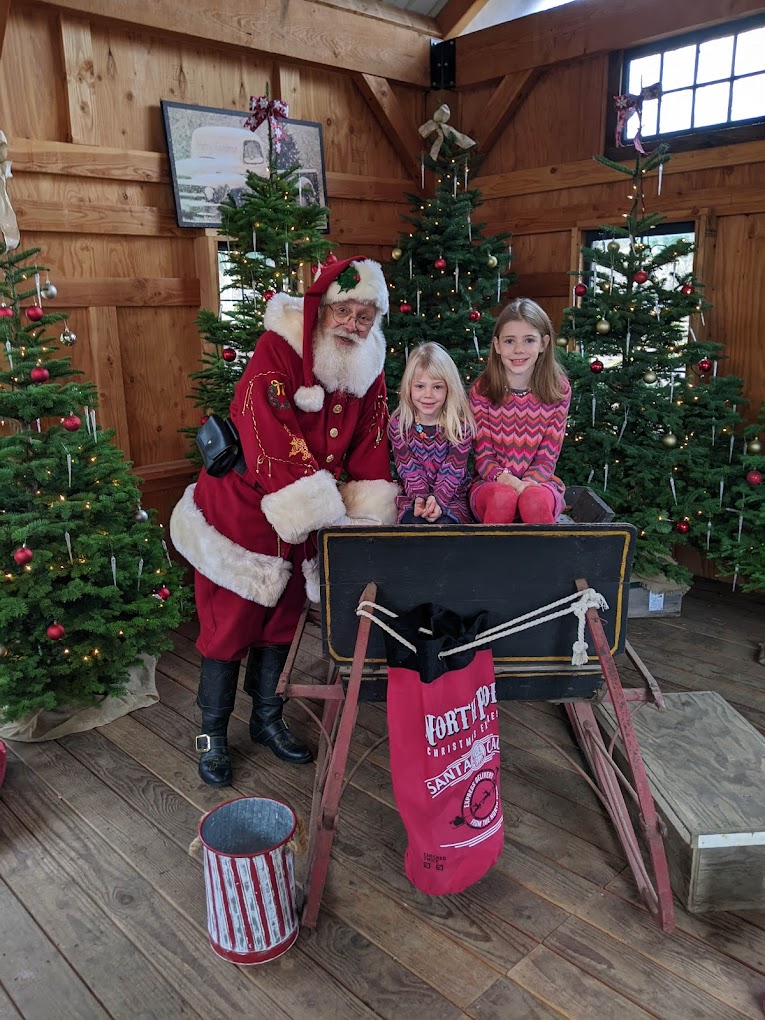 Finding the Best Christmas Tree Farm in Oregon
The best way to find a Christmas tree farm near you is to jump on the internet. Try searching "U-Cut Christmas trees near me" to get a good idea of what's around you. Then you'll want to double check their hours, prices, and what kind of tools they have available for customers to borrow. It's also a good idea to call ahead to make sure they're open when they say they will be.
You'll find the most options up and down the Willamette Valley and I-5 corridor from Portland all the way down to Medford, but there will also be great options along the coast and in Central Oregon.
Preparing for Your Tree Cutting Adventure
With your Christmas tree farm selected and expectations set, it's time to get ready for your tree-cutting journey to harvest trees.
Let's explore what to wear, what tools to bring, and how to prioritize safety during your excursion.
What to Wear
Dressing appropriately for cutting a Christmas tree includes:
Checking the weather forecast before heading out and layering up for extra warmth

Wearing comfortable pants and a warm jacket or a raincoat to protect yourself from the elements and potential hazards

Don't forget a hat, scarf, and work gloves to keep cozy.
As for footwear, sturdy and comfortable shoes or boots are a must. Wear a pair that provides good traction and protection from the elements and ones you don't mind tromping through mud with.
Snow pants can also be a great addition if you're cutting your tree in a snowy area, ensuring you stay warm and dry throughout your adventure.
Essential Tools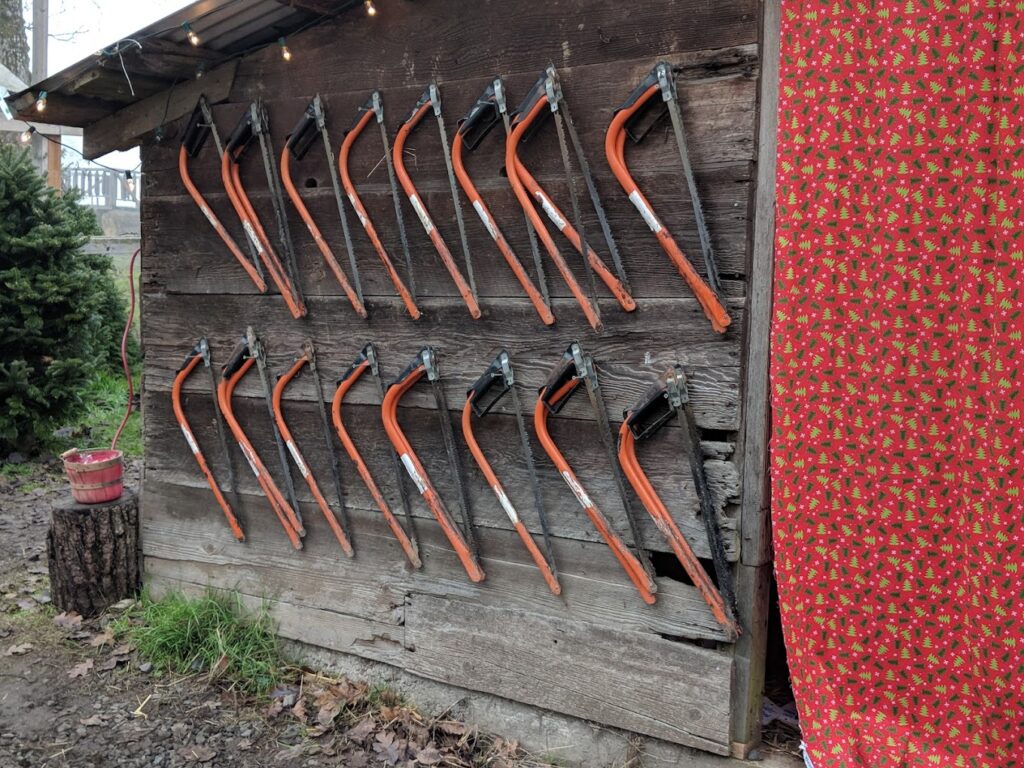 Equipping yourself with the right tools is vital to ensure a successful and enjoyable Christmas tree cutting experience. That said, many of the more established farms will provide all this for you, but you should always ask ahead to make sure you'll have access to the following tools:
A handsaw or pruning saw

A measuring tape

Rope or bungee cords

A tarp
A sharp, reliable saw will make cutting much more manageable, while a measuring tape will help ensure you've chosen the right size tree for your space.
Rope or bungee cords are necessary for securing your tree to your vehicle for transport, and a tarp can help protect your car from dirt and damage during the journey home. You can also lay the tarp down on the ground while you're sawing down your tree so your pants won't get dirty.
Safety First
A successful and enjoyable tree-cutting excursion is anchored on safety. Start by following any guidelines and precautions provided by the Christmas tree farm or national forest, and always prioritize personal safety while using tools.
Remember to wear appropriate clothing and footwear, as well as protective gear like gloves and safety goggles when using tools. Additionally, be mindful of your surroundings and choose a safe location for cutting your tree, avoiding any hazards or obstacles.
By prioritizing safety, you'll ensure a fun and accident-free experience for everyone involved.
Cutting Your Tree: Step-by-Step Guide
Armed with preparation for your tree-cutting adventure, you can now focus on how to select the right tree, master cutting techniques, and safely transport it home.
Let's dive into our step-by-step guide!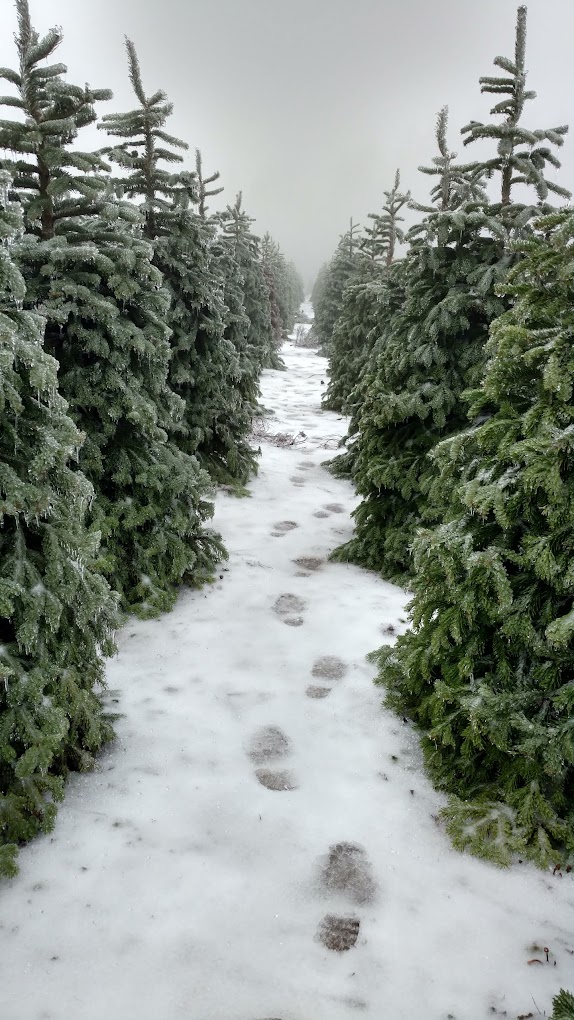 Choosing the Right Tree
When selecting your tree, you'll need to measure the height and width of the space you plan to place it in your home, and ensure it fits well within that area. Familiarize yourself with the tree species available at the Christmas tree farm, taking note of their size, shape, and needle-retention qualities.
When hunting for trees, look for vibrant green needles that are firmly attached. Gently pull on the needles to check the freshness. If they stay firmly attached, then it's likely fresh. By considering these factors, you'll select a tree that suits your preferences and home perfectly.
Proper Cutting Techniques
Employing safe and efficient cutting methods is vital during your harvest. Start by making a horizontal cut at a 45-degree angle, about one-third of the way up from the base. This technique ensures that the tree can absorb water optimally, keeping it fresher for a longer period.
Be sure to use a sharp saw or axe specifically designed for cutting trees. Avoid using dull or damaged tools, as this could cause unnecessary damage to the trunk and surrounding environment.
Transporting Your Tree Home
After cutting your tree, it's imperative to transport it home safely and securely. Here are some steps to follow:
Start by wrapping the tree in a protective covering like a tarp, blanket, or other material to prevent damage during transport. Note that some farms provide baling services.

Secure your tree to your vehicle with strong ropes or bungee cords.

Ensure it's firmly secured and won't move during transport.
Drive at a slow and steady speed, and make sure to unload the tree safely at home with someone's help. With these steps, you'll be ready to set up and enjoy your new tree throughout the holiday season.
Caring for Your Freshly Cut Christmas Tree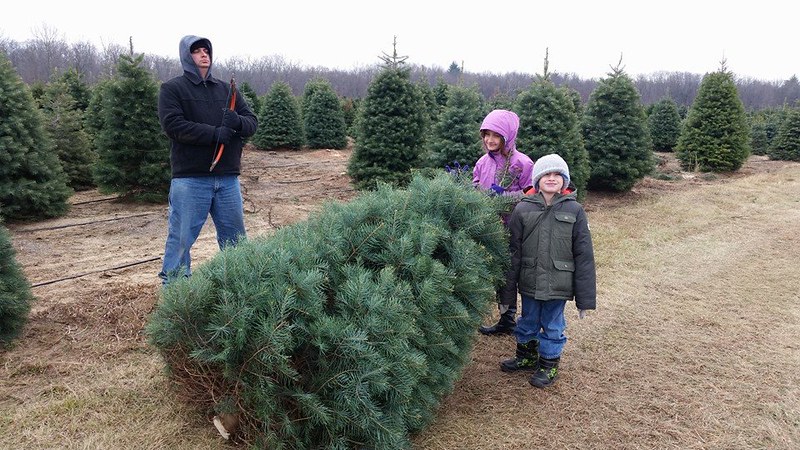 Once your tree is home it's time to set it up, decorate, and eventually, dispose of it responsibly. Let's explore how to maximize its beauty and minimize its environmental impact.
Setting Up Your Tree
To ensure your tree remains fresh and stable during the holiday season, it's vital to position and secure it correctly. Choose a location in your home that will protect it from any heat sources like radiators or fireplaces. Make a fresh cut at the base of the trunk right before placing it in the stand to help it absorb water and thrive.
Select a strong, reliable stand that can provide plenty of water for the tree. Ensure the stand is level and securely fastened.
Fill the tree stand with water immediately after setting up the tree and check the water level daily, topping up as necessary to ensure the tree is kept optimally hydrated.
Decorating Tips
Once your tree is set up, it's time to get creative and decorate it with lights, ornaments, and other festive decorations. You may want to wait a couple hours after setting up your tree to let it settle completely and open up before decorating.
Start at the top and work your way down, wrapping the lights around the branches. Next, drape garlands or ribbons in a spiral or zigzag pattern for added festivity.
When hanging ornaments, start with the larger ones and fill in with smaller ones evenly throughout the tree. Finish your masterpiece by placing a beautiful star or angel at the top. Your tree is now ready to shine and be the centerpiece of your holiday celebrations.
Disposing of Your Tree Responsibly
Once the holiday season ends, responsibly disposing of your tree is crucial. Most counties in Oregon offer Christmas tree recycling programs, where trees can be repurposed into bark chips and mulch. Alternatively, you may be able to cut it up into small pieces and place them in your curbside yard debris container. Make sure to remove all decorations and tinsel before recycling for the best results.
Another option is to chop it up and use it as mulch or compost in your garden. Or, consider donating your tree to a local organization for habitat restoration or erosion control.
By disposing of your tree responsibly, you'll minimize waste and support local conservation efforts.
Cutting a Christmas Tree in Oregon National Forests
Are you aware that cutting your own tree in national forests can be a unique Christmas experience? And it's affordable! With a Christmas tree permit, you can:
Venture into the forest

Select the perfect tree

Harvest it yourself

Support forest conservation efforts
Permits can be purchased online through recreation.gov for $5, and this is required to cut down anything in a national forest. There are ten national forests in Oregon that you can buy a Christmas tree permit for, so there's sure to be an option near you:
Deschutes National Forest

Fremont-Winema National Forest

Malheur National Forest

Mt. Hood National Forest

Ochoco National Forest

Rogue River-Siskiyou National Forest

Siuslaw National Forest

Umpqua National Forest

Wallowa-Whitman National Forest

Willamette National Forest
Be sure to follow the forest guidelines, such as:
Cutting in a densely forested area to help the remaining trees flourish

Checking for road closures

Having all the necessary tools for a successful Christmas tree cutting adventure in the great outdoors.
Supporting Local Tree Farms and Conservation Efforts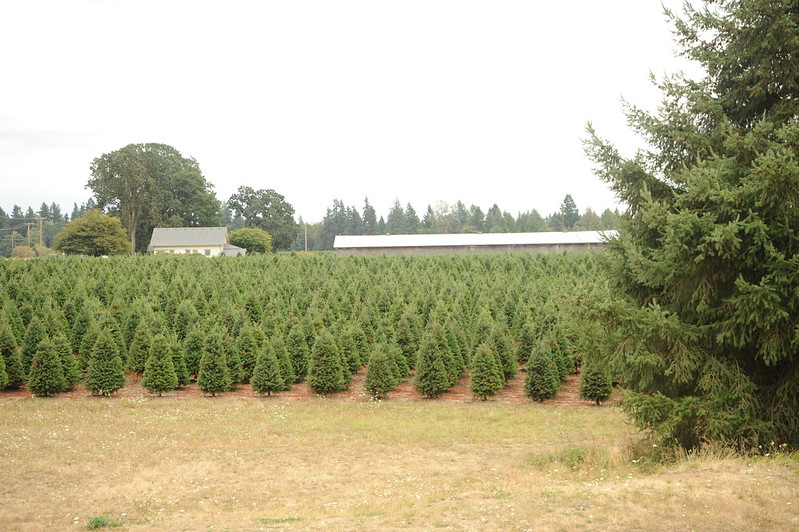 Selecting a real tree from a local farm or national forest comes with a host of environmental and economic advantages. By supporting local tree farms, you're contributing to the local economy and promoting sustainable practices. Real trees are also biodegradable and when recycled properly, can provide numerous environmental benefits such as:
Acting as a carbon sink, absorbing carbon dioxide and reducing greenhouse gas emissions

Providing habitat for wildlife

Preventing soil erosion

Improving air quality by releasing oxygen

Supporting local communities and creating jobs in the tree farming industry
Your purchase of a real Christmas tree can positively support local tree farms and conservation efforts, as well as significantly reduce the environmental impact of fake trees. This holiday season, consider choosing a real tree and supporting local farms and conservation initiatives.
Summary
Choosing to cut your own Christmas tree is a delightful and rewarding experience that creates lasting memories and supports local farms and conservation efforts. By choosing a real tree, you're making an eco-friendly choice that benefits both your family and the environment.
With our step-by-step guide, you're now equipped with the knowledge to find the best tree farm for your needs, prepare for your tree-cutting adventure, and care for your freshly cut Christmas tree.
So, bundle up, gather the family, and embark on a memorable tree-cutting journey that will become a cherished holiday tradition for years to come.