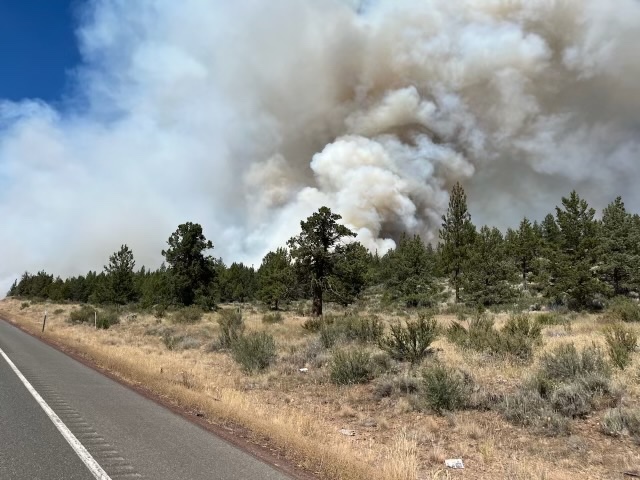 On Saturday, fire outbreaks riddled Oregon, leading to evacuation mandates, while fresh fires sprung up amid the state's high temperatures and arid conditions.
Here's an updated report on the substantial fire outbreaks across the state.
In the upper Fall Creek area east of Eugene, a new fire, christened the Bedrock Fire, spread across 80 to 100 acres. This information was provided by the Willamette National Forest. The Bedrock Fire is so named because it started in the Bedrock Campground, which has seen frequent fire outbreaks over the past decade. "The fire is actively spreading through timber," noted a recent Saturday night update. In the upcoming days, smoke may be visible from Highway 58 and from the towns of Lowell and Jasper.
UPDATE: Here's a look at the new Level 3 (GO NOW!) evacuations for the #GoldenFire in Klamath County. #FireWatch pic.twitter.com/Si0PuBBEEV

— Matt Hoffman (@matthoffmanwx) July 23, 2023
Firefighters are presently focusing on suppression and safeguarding private property in the vicinity, the report also mentioned.
It is anticipated that a Type 2 team will oversee the fire from Sunday. Bedrock Campground and nearby roads have been closed due to the fire.
"To ensure the safety of firefighters and the public, it is recommended to steer clear of the area," urged officials. Evacuation orders and a highway closure have been necessitated by the Golden Fire. This fire has spread rapidly across Bly Mountain, around 18 miles east of Klamath Falls, covering at least 200 acres. Highway 140E has been closed and level 3 evacuations — requiring immediate departure — have been ordered for nearby properties.
#GoldenFire: A number of tankers have been working the fire out of both the Medford & Klamath Air Tanker Bases. At this time we have not been able to confirm any VLAT's working the fire. Several LAT's are conducting drops however. Additional resources incoming throughout tonight. pic.twitter.com/HDHISpHn4d

— MedfordAlert.com (@MedfordALERT) July 23, 2023
Several fire teams and aircraft are presently battling the fire. The Emergency Conflagration Act has been invoked for the Golden Fire by Gov. Tina Kotek, authorizing the Oregon State Fire Marshal to summon additional resources to preserve life and property.
The Golden Fire was first reported on Saturday around 1 p.m. For updates on Highway 140E, visit TripCheck.com.
In response to the Golden Fire, an evacuation shelter has been opened by Red Cross Cascades at Bonanza Schools (31610 Mission St., Bonanza). A fire in the Warm Springs Indian Reservation, west of Simnasho, has spread across 1,200 acres.
Fire teams worked tirelessly overnight to establish a rough containment line to limit the spread of the fire. The goal is to keep the fire within defined boundaries and limit its expansion in the southeast near timbered areas as northern and western winds blow.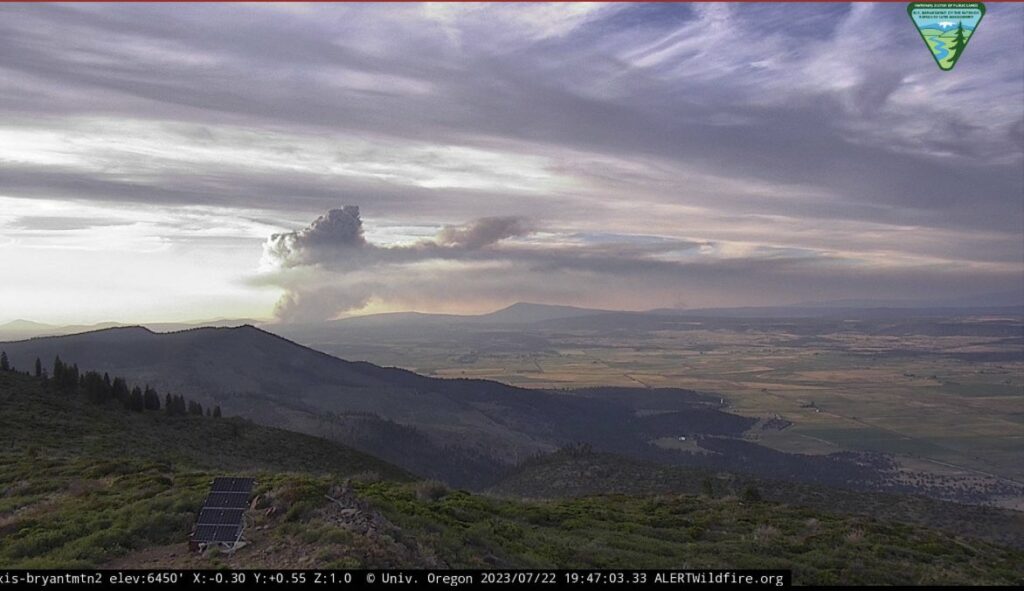 The Flat Fire, Oregon's largest wildfire, has expanded to 18,500 acres, with over 1,000 firefighters tackling the situation.
The fire is active near the town of Agness, close to where the Illinois and Rogue rivers meet. Pacific Northwest Team 3 has assumed control of the fire management and so far, they have been successful in keeping the fire within its containment lines.
There is a wide closure area, and a level 2 evacuation warning, implying "be prepared to go" from Agness to Quosatana Creek. Curry County is distributing evacuation alerts via Everbridge, which delivers notifications over the phone.
On the South Sister climbers trail near Moraine Lake Trail, a fire caused by human activity was reported. Smokejumpers have contained the fire to a small area.
Fire teams "are currently conducting mop-up operations and will remain on site throughout the night," according to Central Oregon Fire Information.
The South Sister climbers trail, which leads to the state's third highest mountain, is a popular route in Oregon. Despite the fire, the trail was not closed on Saturday but it made for a busy scene. "While there are no trail or area closures, we urge people in the area to maintain a safe distance from firefighters," Central Oregon Fire Info said.
The fire was reported at noon on Saturday, but has stayed confined to one-tenth of an acre.
"This fire is caused by human activity," Central Oregon Fire Information confirmed.
Over the past few years, there's been an alarming increase in wildfires in Oregon. This spike can be traced back to a number of crucial factors. Climate change has brought about more intense heatwaves and prolonged dry spells, which are ideal conditions for wildfires. Additionally, the accumulation of burnable plant matter, an unintended consequence of long-standing fire suppression strategies, has provided ample fuel for these fires. Human activities also play a substantial role in this escalation, with careless actions causing inadvertent fires and instances of intentional arson. Consequently, the recent years have seen a drastic rise in the occurrence, severity, and duration of wildfires in Oregon, presenting serious implications for both the management of fire emergencies and the safety of local communities.