The Central Oregon coast town of Lincoln City is an unexpected location for an authentic German pub, but you'll find one here nonetheless! At Autobahn 101 you won't see BMWs and Volkswagons speeding down the 101 highway (in fact, cars slow down to a crawl as they wend their way through the small towns dotting the Oregon coast).
What you will find is a kid and dog-friendly German restaurant serving up tasty beer, brats, schnitzels, burgers, and sandwiches.
Autobahn 101 was first opened in Lincoln City in 2016 and since that time has accumulated a loyal army of customers, both locals and out-of-towners alike. When it was time for the original owners to part ways in late 2021, they graciously handed over the reins to Cezara and Ivan Cherdivara.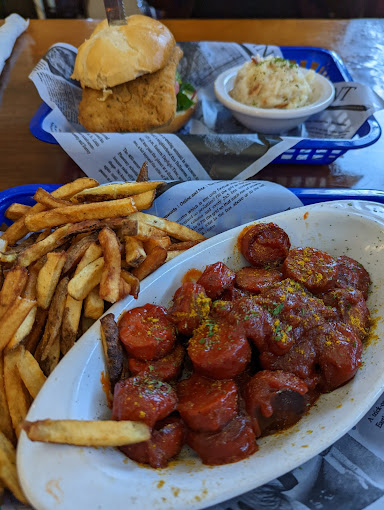 The Cherdivaras are originally from the eastern European country of Moldova where they ran a Mediterranean restaurant, but have now been locals on the coast since 2002. Since October 2021, they've continued offering the same popular German fare and welcoming atmosphere, much to the delight of their dedicated patrons.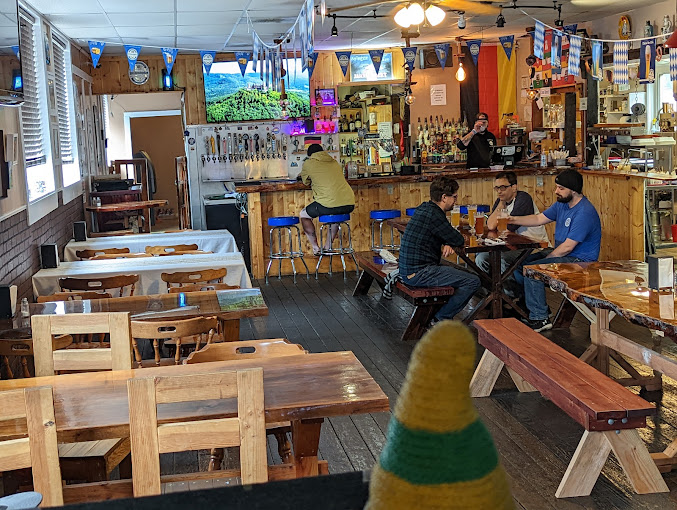 When you walk through the doors, you'll first be hit with the aroma of fresh-baked breads, sausages, and fragrant spices.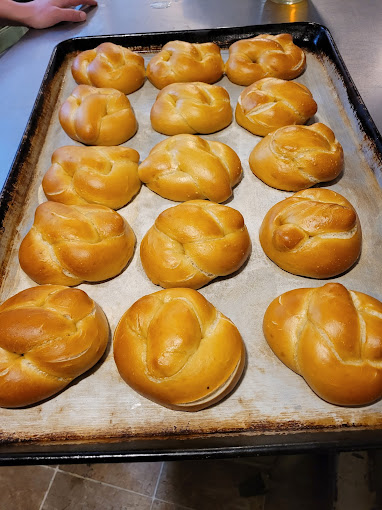 The menu is predominantly traditional German food, but also features inventive American crossover options like the "Don," if you can handle it!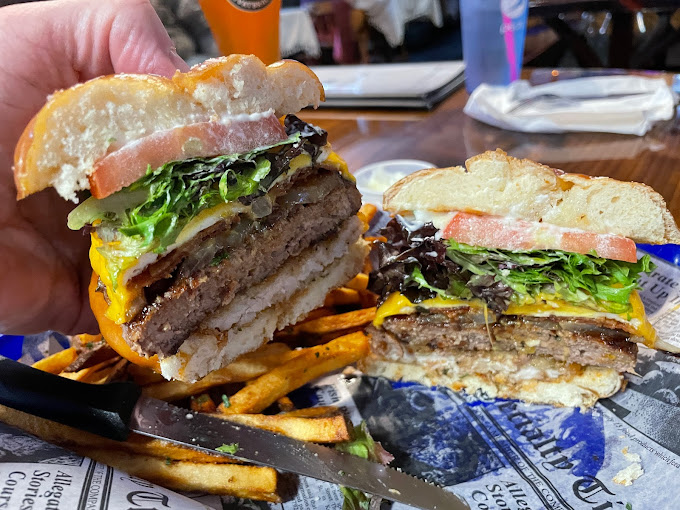 This baby comes stacked high with a ⅓ lb Bavarian burger, wienerschnitzel, bacon, and a fried egg! If this isn't the perfect pairing of German and American food, I don't know what is.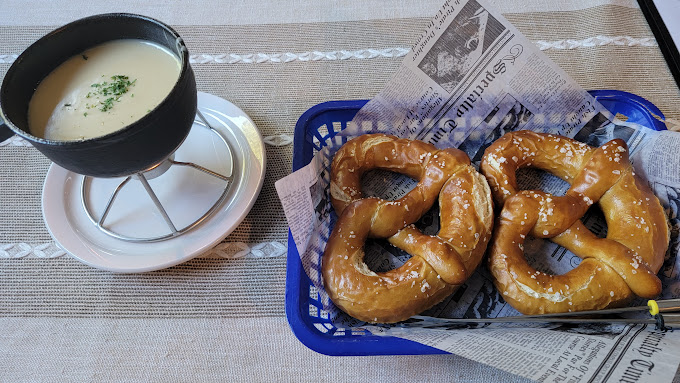 Other crowd favorites include beer cheese fondue served with fresh brats and wursts, house-made pretzels, brötchen (a traditional German roll), sauerkraut balls, schnitzel, and potato pancakes served with sour cream and applesauce. 
How about this Brat Burger? This mouthwatering Bratwurst Patty is served on a hjomemade salted Pretzel Bun with Sauerkraut, melted Swiss & 1000 island dressing. The burger comes with a choice of fries or German potato salad.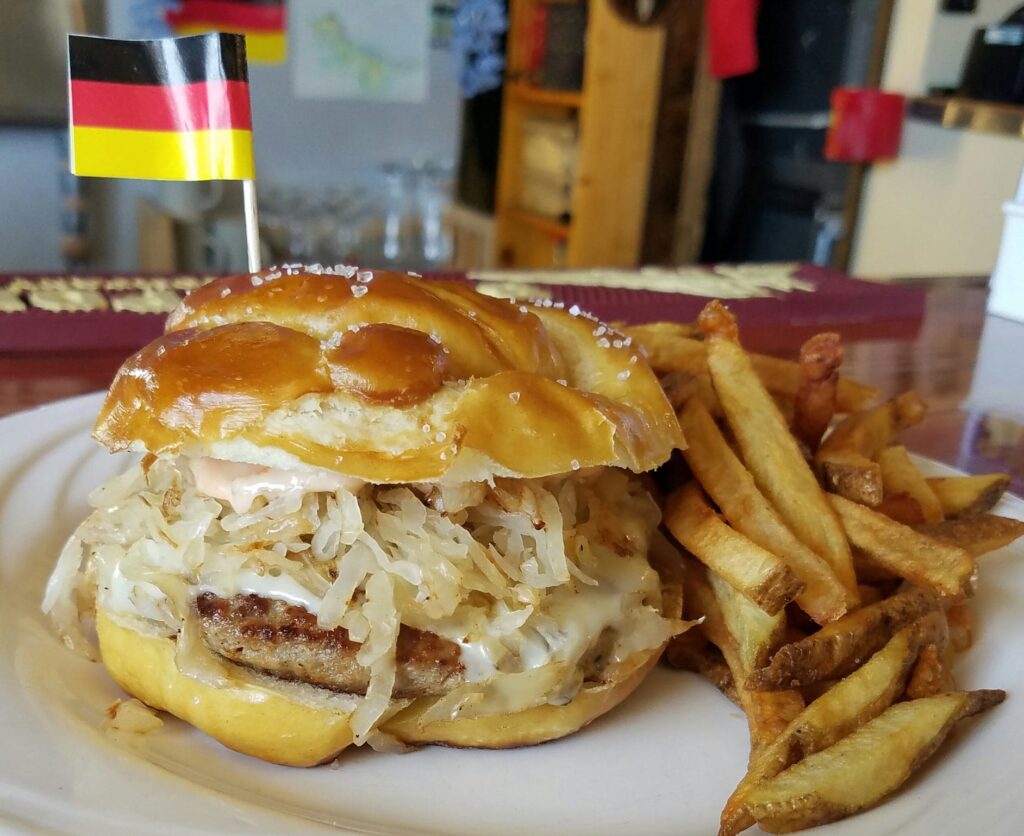 Although everything served up at Autobahn 101 is delicious, some notable dishes include the Chicken Spätzle Alfredo made with spinach, onions, red pepper, and mushrooms all covered in their housemade creamy alfredo sauce.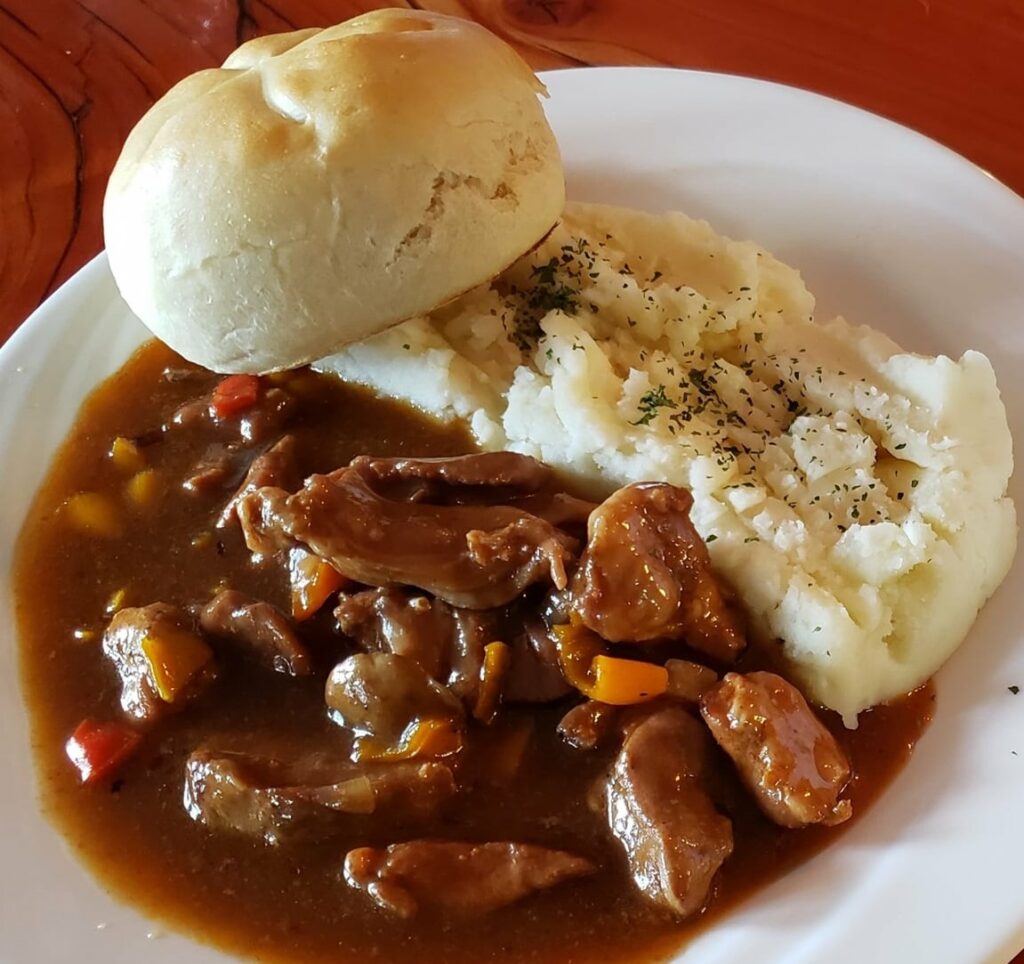 And though it's generally thought of as a humble meal, they also have some of the best cabbage rolls (krautrouladen for all you aspiring German speakers) in the state. They're made with the perfect blend of pork and beef sausage and served with spatzle that only your German grandmother could make (or in my case growing up, my best friend's German grandma). This is German comfort food in all its splendor.
Round out your meal with an indulgent slice of German chocolate cake, apfelkuchle (apple fritters), or deep fried Oreos for dessert.
Now onto the booze! It wouldn't be a real German pub without several beers on tap, and Autobahn 101 has excellent choices for both imports and local brews.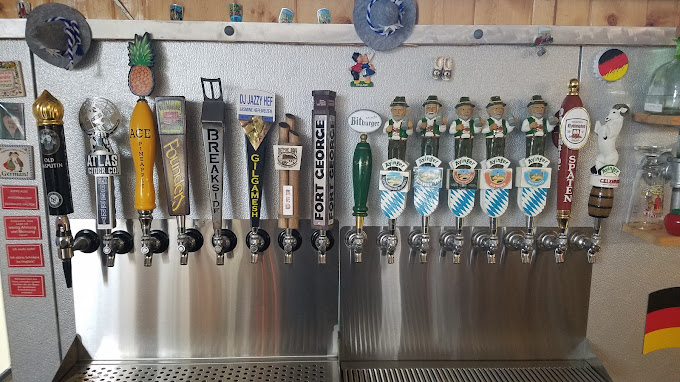 Try the award-winning Ayinger Celebrator from Bavaria, a Bitburger pils, or support the local Oregon breweries like Fort George, Depoe Bay Brewing Company, and North Coast Brewing Company (okay, so this one's actually in Mendocino County in California but we love our neighbors!).
They also have a full bar for cocktails and house-made gluhwein (a German mulled and spiced wine) for that extra bit of warmth on a cold, rainy day.
You can spend your time chatting with your friendly bartender, or play pool, pinball, or Ms Pacman with your friends while you imbibe on great food and drinks, and maybe catch a fútbol match on tv.
They also have a kids corner to keep the little ones entertained, board games (Jenga, anyone?), and frequently host live music on the weekend or fun paint-and-sip parties for larger groups. The tables, bars and walls are full of Bavarian tchotchkes like ornate beer steins, antique tea pots, bottles, German flags, cuckoo clocks, and commemorative plates.
On the coast, it's easy to grow tired of the only food options being seafood or standard pub fare, so if you're looking for something a little different, pop in to Autobahn 101, a cozy German pub with a true neighborhood feel.
Address: 1512 SE Highway 101, Lincoln City, OR 97367-2346
Phone: (541) 614-1811
Hours:
Thursday: 12 – 8PM
Friday, Saturday, Sunday:  12 – 9PM
Looking for more awesome restaurants to try in Oregon? Here are 41 mom & pop restaurants in Oregon you don't want to miss.