Oregon's weirdest roadside sights take many forms. In the area where I grew up in Washington County, Oregon there were three of those kitschy monuments everyone had to point out as we drove by (read on to see the ones I'm talking about). For instance, if you didn't wave hello to Harvey the Rabbit there was something seriously wrong with you. His grinning face alongside TV Highway was and still is irresistible.
Here's a list of some of our favorite Oregon roadside wonders from all over the state, with a little backstory on each. Of course, leading off is Harvey himself.
1. Harvey the Rabbit, Aloha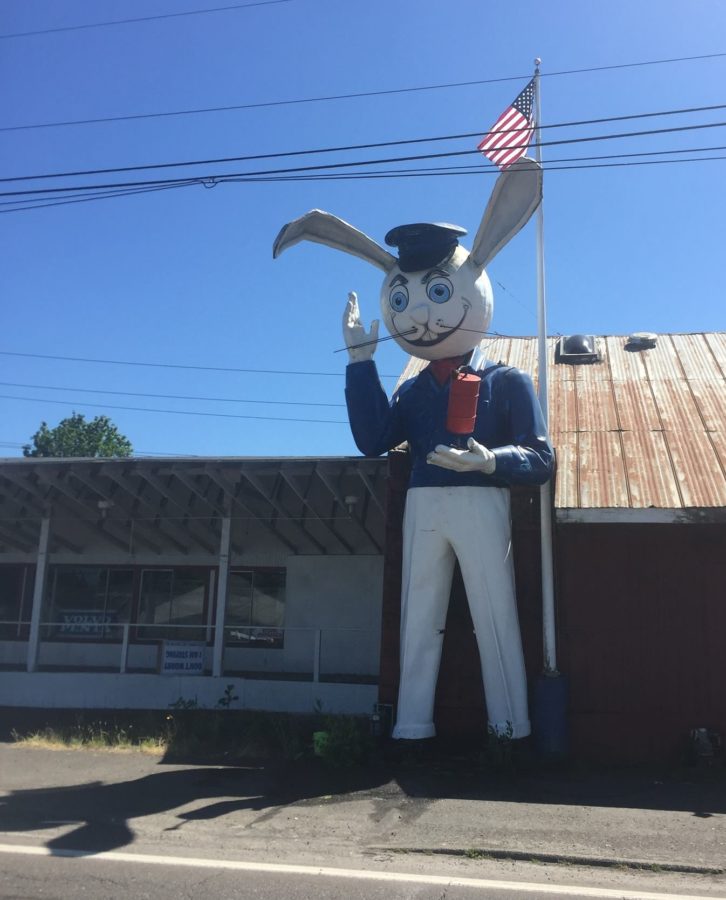 Harvey's story begins with the Columbus Day Storm of 1962. Ed Harvey owned Harvey's Marine, a boat and repair store in Aloha, Oregon. Ed was a wizard with fiberglass, so when a customer brought in a massive and storm-damaged Texaco "Big Friend" statue he knew it was fixable. Problem is, the customer never came back for his statue, and Ed was left with a headless fiberglass body to store.
Then Ed had a brainstorm. One of his favorite films featured Jimmy Stewart and a giant, invisible rabbit named Harvey. And rabbits supposedly brought good luck. "At boat shows, we'd have a guy walk around in a rabbit suit," Ed said in the 1990s. "Then we got the idea to put a rabbit head on the big man."
Ed Harvey passed away in 2017, as did the legacy of Harvey's Marine, but despite the closure, the giant smiling rabbit will live on. He's a state landmark.
Harvey the Rabbit is located at 21250 SW Tualatin Valley Hwy, Aloha, OR.
--------------------
2. Dog Bowl, Portland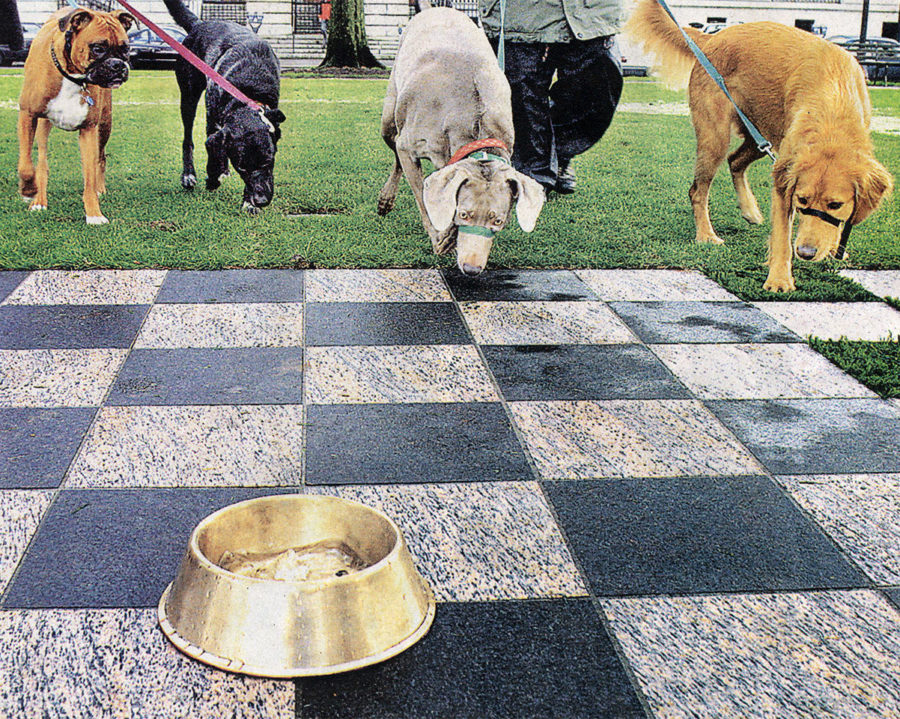 In the spirit of the famous Downtown PDX "Benson Bubbler" drinking fountains for humans, artist William Wegman created this canine version in 2002. The installation features a cast-bronze dog bowl set on an 8x10' checkerboard, reminiscent of a linoleum kitchen floor.
You can find the doggy drinking fountain in the North Park Blocks between Davis and Everett streets. GPS: 45.52469°N -122.67897°W
--------------------
3. Bigfoot Says "Hold My Beer", Crescent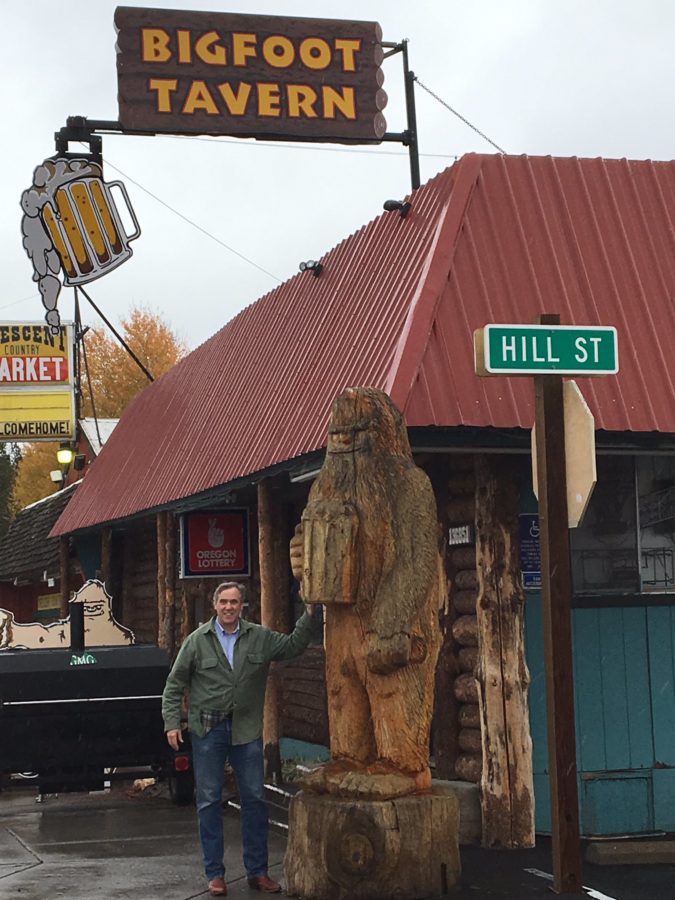 Even Senator Merkley couldn't resist posing for a photo op with this loveable beer-holding 'squatch. Crescent is a quaint unincorporated community along US 97, south of Bend, Oregon. Incidentally, the town has a few other wood-carved ornaments worth checking out (like the giant angry-looking bear holding a salmon). The Bigfoot Tavern is also a great little stop for a burger and a brew if you're so inclined.
Bigfoot and the Bigfoot Tavern are located at 136851 US-97, Crescent, OR, 97733.
--------------------
4. The "Ghost Towne" of Short Bridge, Foster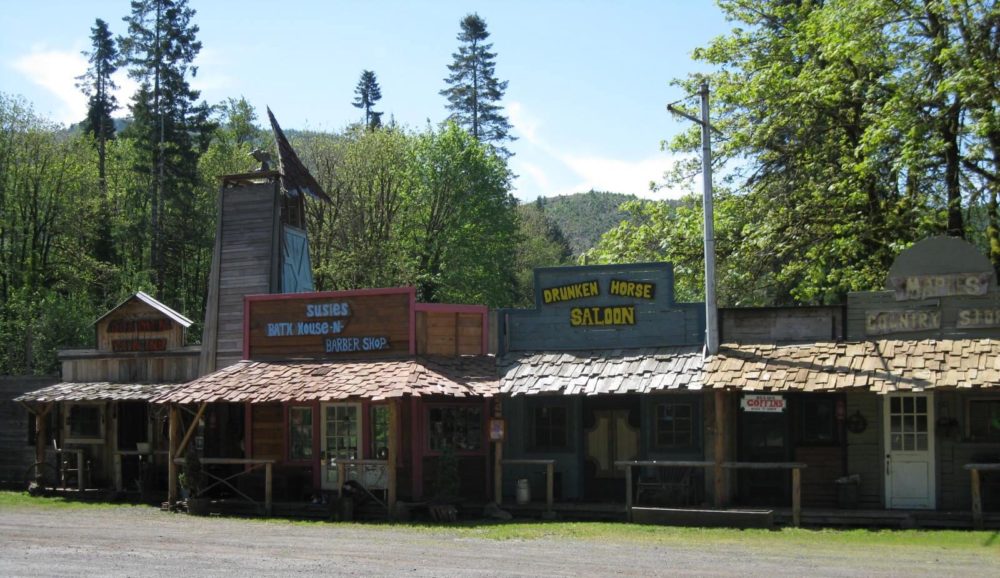 Oregon DOES have its share of remarkable real-life ghost towns, but this is not one of them.
The Highway 20 roadside pullout of Short Bridge is only a facade, but the "ghost town" is such a fun little pit stop, especially for kids. Venues include a town undertaker, the "Drunken Horse Saloon", and "Slim's Cafe". Whoever built this creation was sure to add all the details, right down to a WANTED poster for Jesse James. Appropriately, the highway is the route of the old Santiam Wagon Road which was the original crossing over the Cascade Range to Sisters, Oregon.
"Our goal for the Short Bridge Ghost Town is to keep our local history of this area alive for our children and others so that it does not die," a 2013 Facebook post by Jeanne Lahodny reads. "We hope each and every one of you stop by and see our ghost town as we made it for all of you."
Short Bridge is located going east on Hwy. 20 at milepost 39 near Cascadia State Park.
--------------------
5. Pulpit Rock, The Dalles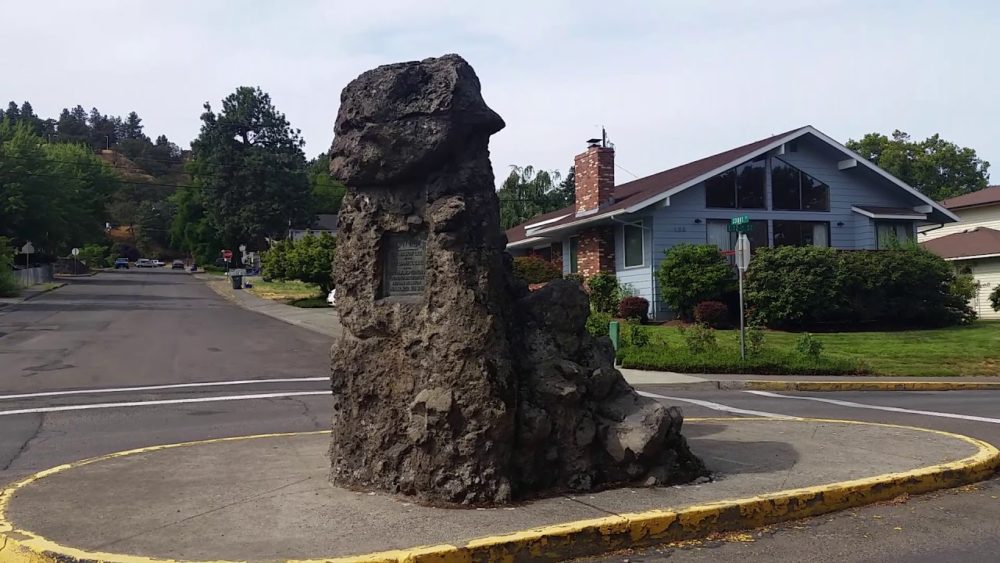 Pulpit Rock is the last remnant standing of what was the 1838 Wascopam Mission. Although it's a natural formation, the rock was used by early Methodist preachers at the mission to preach from, hence the moniker "Pulpit".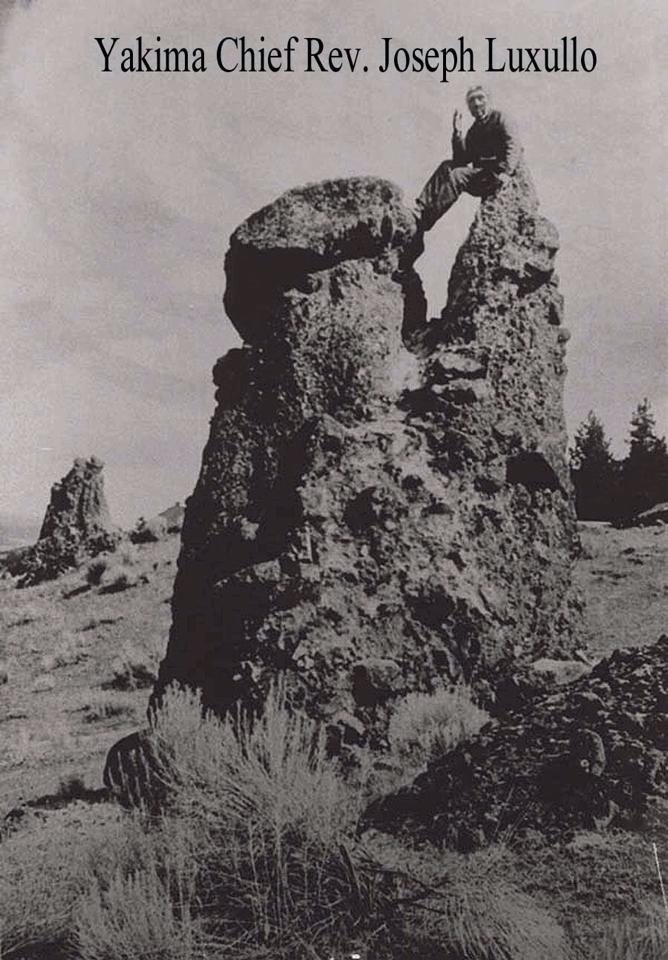 The Wascopam Mission is long gone, but the City of The Dalles, Oregon chose to simply build around the rock instead of removing it. Because of its historical value, the monolith still stands in the middle of the road in a residential neighborhood. Good on The Dalles for preserving an important piece of Oregon history.
Pulpit Rock is located at the intersection of E 12th and Court Streets, The Dalles, OR.
--------------------
6. The Oregon Caveman, Grants Pass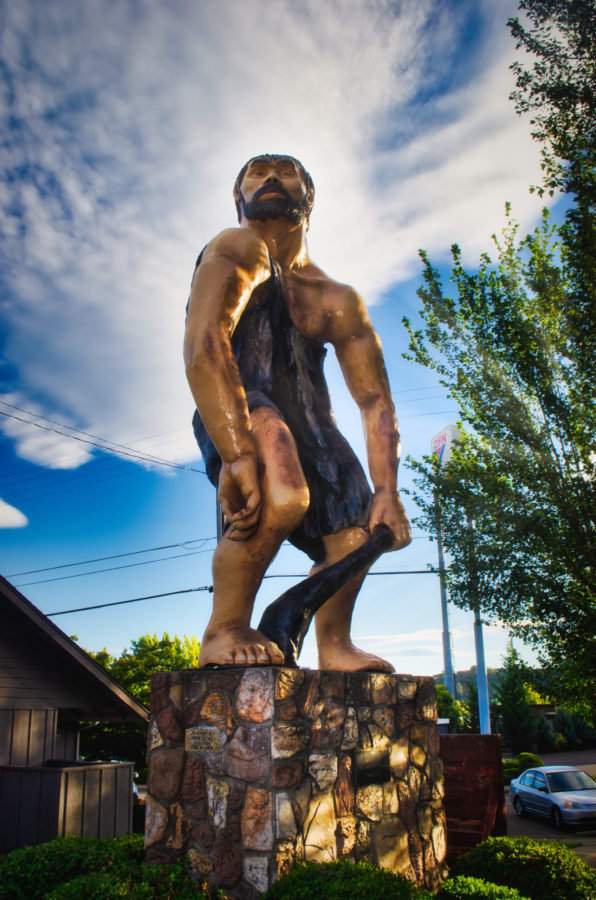 Cavemen are all over Grants Pass. Okay, not really, but because of the close proximity of the Oregon Caves National Monument, you can find the name "Caveman" all over town including the high school. It's their mascot!
In the 1960s, folks wanted to draw more tourists into Grants Pass, so they formed "The Oregon Caveman Booster Club", selfied themselves clad in skins all over town, and had a giant neanderthal statue erected. The fiberglass cave-dude first appeared in 1971 and has withstood arson, vandalism, and tagging, still stooping proud with his club in 2021.
Find Mr. Caveman in front of the Grants Pass Visitors Center at 1982 NW Vine St, Grants Pass, OR.
--------------------
7. Shoe Trees, Various Locations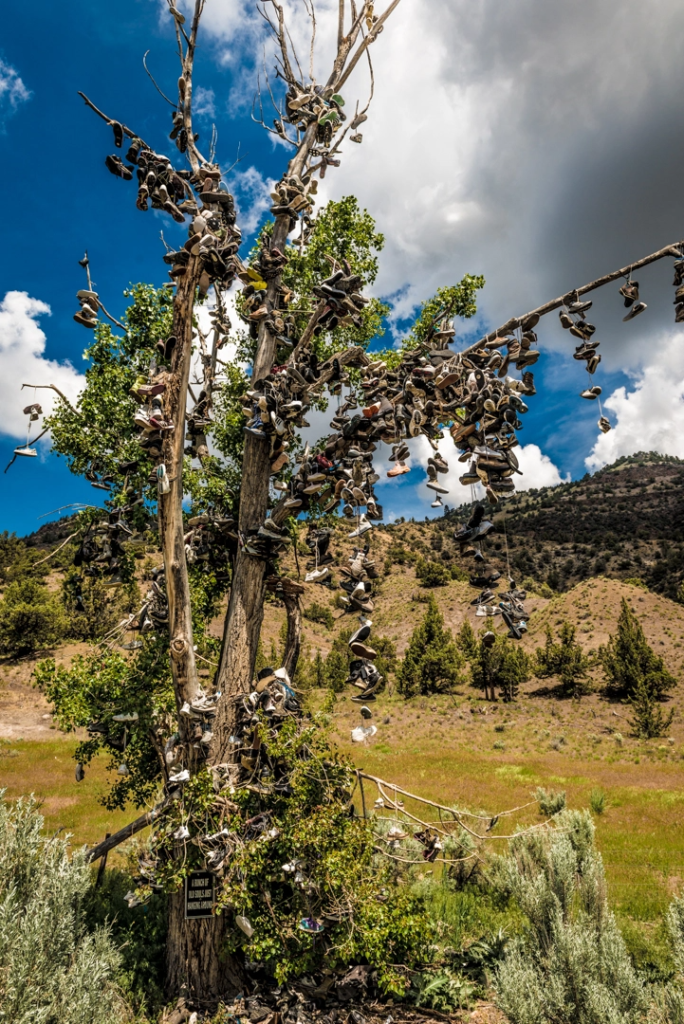 I don't know how these get started, but they are ALL OVER central and eastern Oregon. The first one I remember seeing was actually on the beach somewhere around 2012, but since then they appear randomly when I'm driving Oregon highways.
Ones that are confirmed to exist are near Mitchell, Alfalfa, Bend, Tumalo, and Juntura. Let us know where other shoe trees "hang out" around the state.
--------------------
8. The Bates Motel Sign, Vale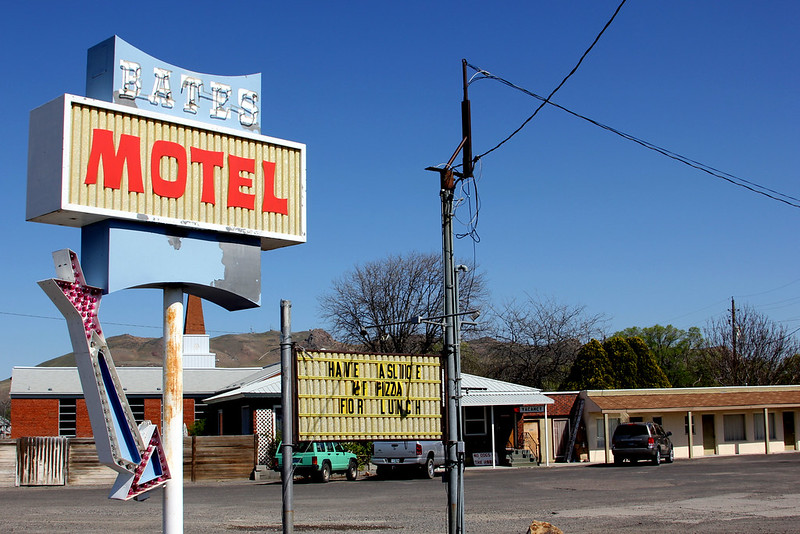 No, it's not really THE Bates Motel of Alfred Hitchcock's Psycho fame, but you can actually stay here as long as you don't mind that guy named Norman.
JUST KIDDING. Helpful Yelp reviews include:
Great spot, good service, clean, and great big white fluffy towels. No smoking rooms and include a kitchenette." --Robbie B., 2015
The proprietor, Norman, was very kind. Ask to see his taxidermy collection." --Jack L., 2020
The Bates' are wonderful and there is NOTHING creepy about any of their rooms. They have always treated me just like family. Stop judging them on the movie, the movie only has their sign in it. Great rooms and delicious pizza." --Viv V., 2021
Find the Bates Motel at 1101 A St W, Vale, OR 97918
--------------------
9. Smiley Face Made Out of Trees, Willamina/Grande Ronde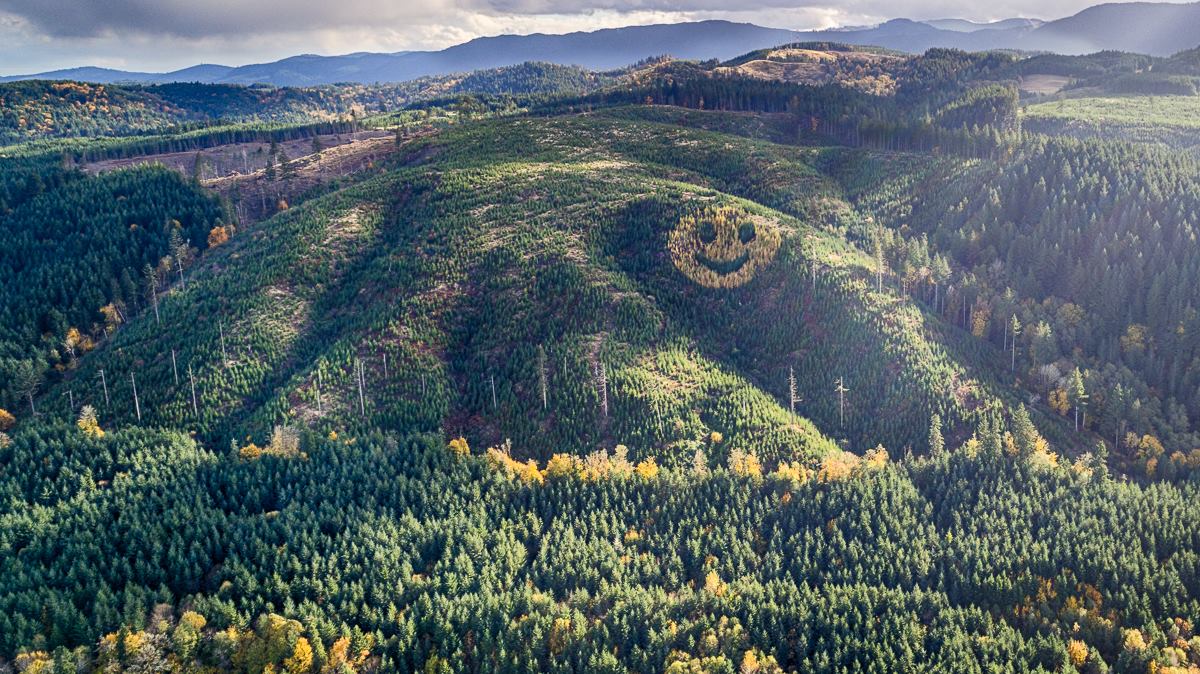 Hampton Lumber owns the site along Hwy. 18 where somebody decided travelers needed to see a happy vibe. Those somebodies were David Hampton and former timberland manager, Dennis Creel. When Hampton Lumber harvested the site in 2011, they knew the area was highly visible to people zipping down the highway so David and Dennis saw an opportunity to have a little fun. They used a rope to measure the main circle out and the eyes and mouth were triangulated from that point. Douglas fir was planted for the eyes and mouth and the rest of the face was filled out with Larch, which turns golden in the fall before dropping its needles.
The trees will be harvested again one day, only to be replanted again in the future.
The giant smiley becomes highly visible as winter approaches, so keep an eye out on US 18 between Willamina and Grande Ronde. (Heading east out of Lincoln City, the face appears on the right.)
--------------------
10. The Troll Bridge, Portland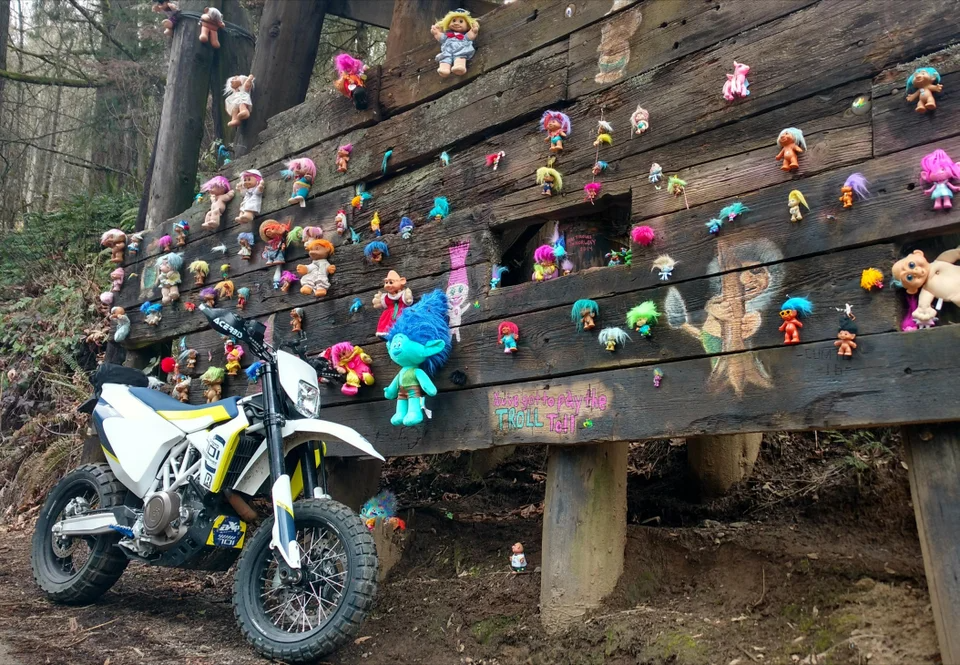 Like the shoe trees, here's another "nobody quite knows why" location. Trolls do notoriously go with bridges, so I suppose it makes sense that folks would spend years nailing troll dolls beneath the McNamee Train Trestle.
To get to the troll bridge, head northwest out of Portland on NW St Helens Road. Take a left along McNamee Road and you'll soon reach the bridge. Don't forget to bring a troll to add to the colony. GPS: 45.6473, -122.8477.
--------------------
11. World's Tallest Barber Pole, Forest Grove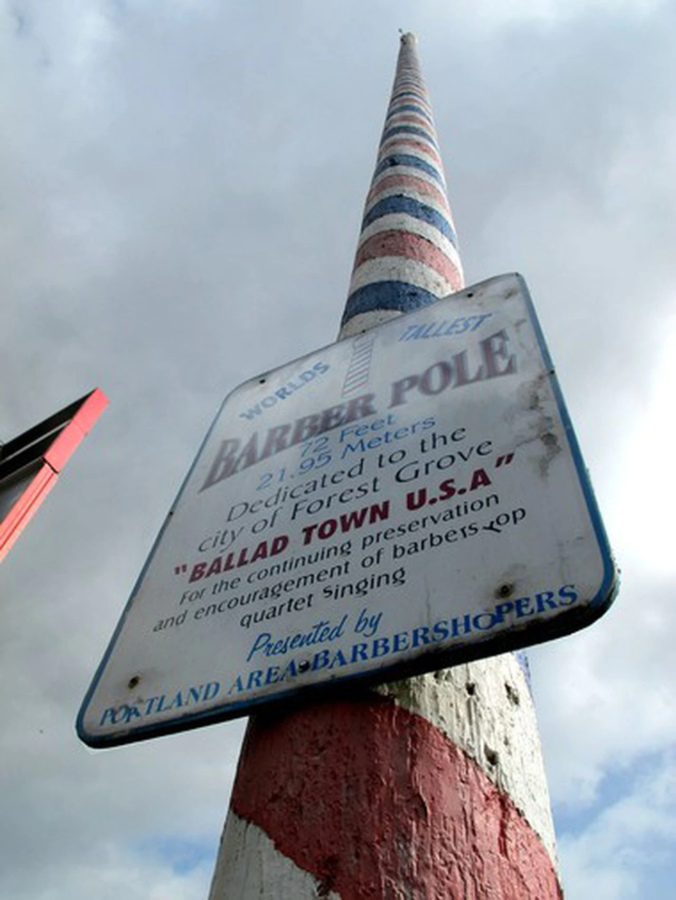 Sometimes you just have to say, "I know I can do better than that". In 1973, Barbershop Quartet singer Chuck Olson saw the 40-foot Barber Pole in San Antonio, Texas, and knew Oregon could beat it. He and his fellow quartet members hand-painted the pole, locally donated from a lumber company. The finished 73-foot piece of wood was presented in front of Portland's Memorial Coliseum and earned a Guinness World Record certificate that day. Afterward, Olson donated it to the City of Forest Grove a.k.a. "Ballad Town USA" where it still remains.
The pole is located on the west side of Hanson Stadium at Pacific University, just south of the intersection of 26th Avenue and Main Street near Lincoln Park, Forest Grove, OR, 97116.
--------------------
12. A&W Root Beer Family, Hillsboro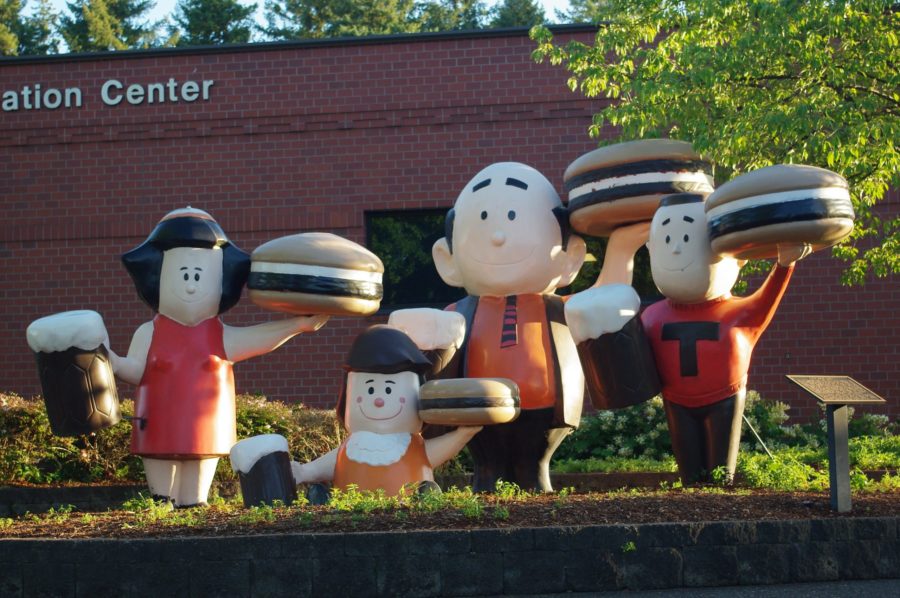 The A&W Burger (or Root Beer, depending on who you talk to) Family first appeared in 1963 when the restaurant introduced four choices of hamburgers and their corresponding Burger Family members: Papa Burger, Mama Burger, Baby Burger, and Teen Burger. The fiberglass statue of Papa Burger is 8.5 feet tall, and believe it or not, Papa's mug is the size of a small child at 3-feet tall. Although a new mascot was introduced in 1974, many restaurants kept the Burger Family instead of getting rid of them.
When the Hillsboro A&W Restaurant closed in the early 1970s, the Burger Family was sent to Shute Park where it remains today. At some point in the 1990s, Teen Burger was stolen and never recovered. The city managed to locate a twin Teen Burger in Longview, WA, and had him shipped to Hillsboro to complete the family. Let's hope they stick together for years to come.
Visit the Burger Family at the Shute Park Aquatic and Recreation Center, 953 SE Maple St, Hillsboro, OR 97123.
--------------------
What are your favorites of Oregon's weirdest roadside sights and places? Let us know in the comments.