Do you ever find yourself thinking, "I wish this mundane, run-of-the-mill hotel was more awesome"? Maybe you're wishing for someplace more retro, more treehouse, more Airstream, more historical. More SOMETHING. Look no further. We've got your checklist of some of the most downright out-of-this-world Oregon lodging. Read on for a list of the best Oregon motels and places to stay.
1. Caravan - The Tiny House Hotel
Caravan was and is the first tiny house hotel in the country, and they've been doing their thing since 2013. Located right in the heart of Portland's Alberta Arts District, the little rentals are situated on an urban lot and form a circle around a central gathering space. There is a BBQ, fire pit, Adirondack chairs, ping-pong table (upon request), and lots of funky, locally made metal, stained glass, and recycled art. They even offer all-you-can-eat S'mores with vegan marshmallows, organic graham crackers, and Fair Trade chocolate to boot.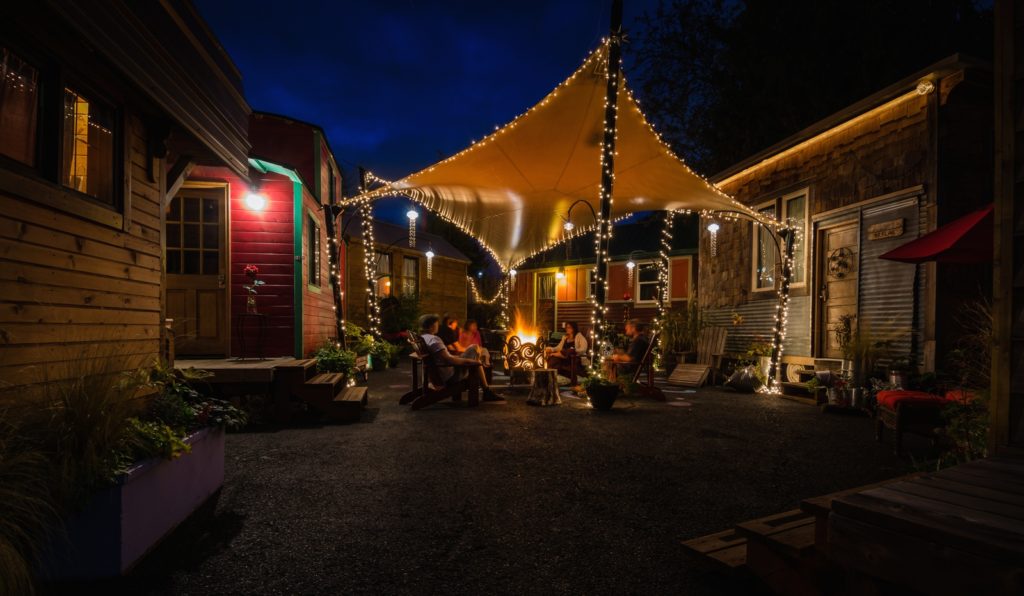 Amenities include high-quality bedding and linens, handmade quilts, plenty of kitchen supplies, Italian coffee makers and organic coffee, bathroom amenities like Fair Trade shampoo and soap, off-the-beaten-path travel books, maps, Portland magazines, local art, and lots of information about tiny houses. Each tiny house comes equipped with a microwave, stove-top burner, refrigerator, and a high-end sound machine in case you like to listen to relaxing sounds when you go to sleep.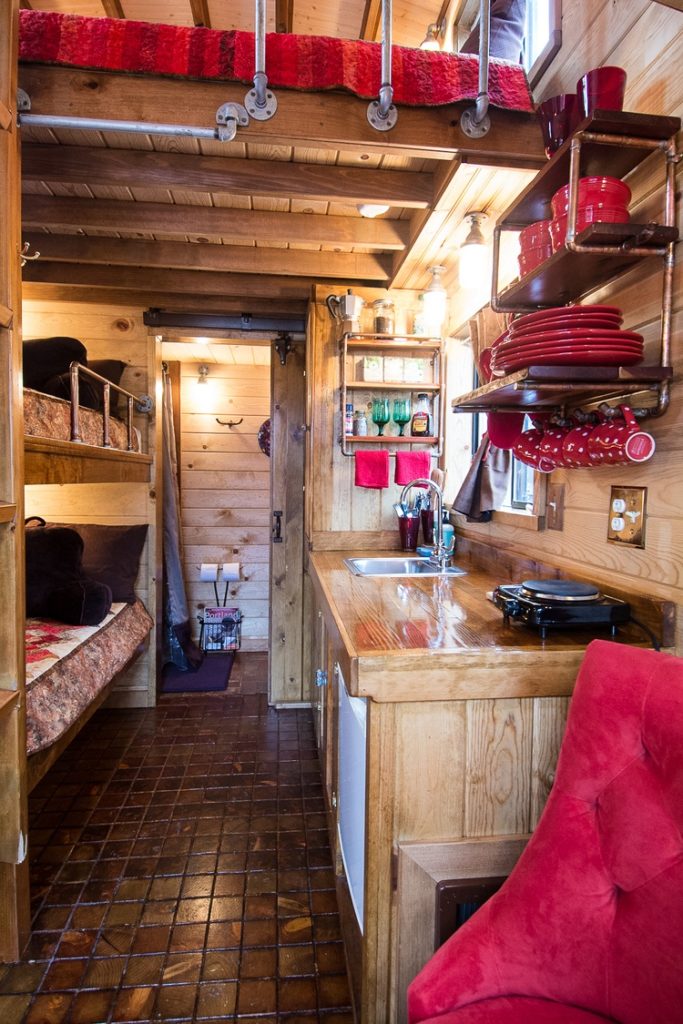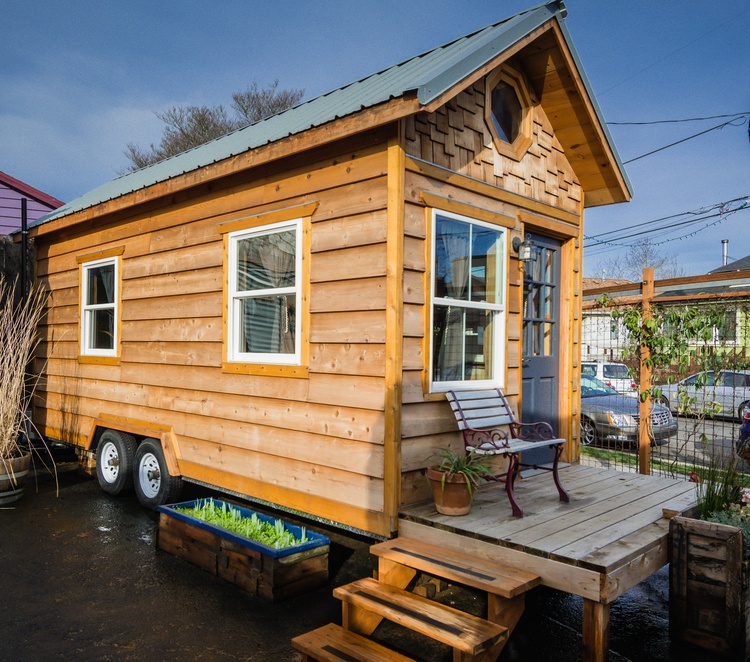 Monthly stays are also available for much lower than the average Portland apartment rental. This is Oregon lodging at its finest (and tiniest).
To reserve a tiny house, click HERE.
Follow Caravan Tiny House Hotel on Facebook.
2. The Swan House from Twilight
You liked the books, ADMIT IT, darnit. Bet you never thought you could stay where Bella Swan lived with her dad Charlie in the movie adaptations. Wrong. You can.
Sign up for monthly emails full of local travel inspiration and fun trip ideas. In each newsletter we'll share upcoming events, new things to do, hot dining spots and great travel ideas.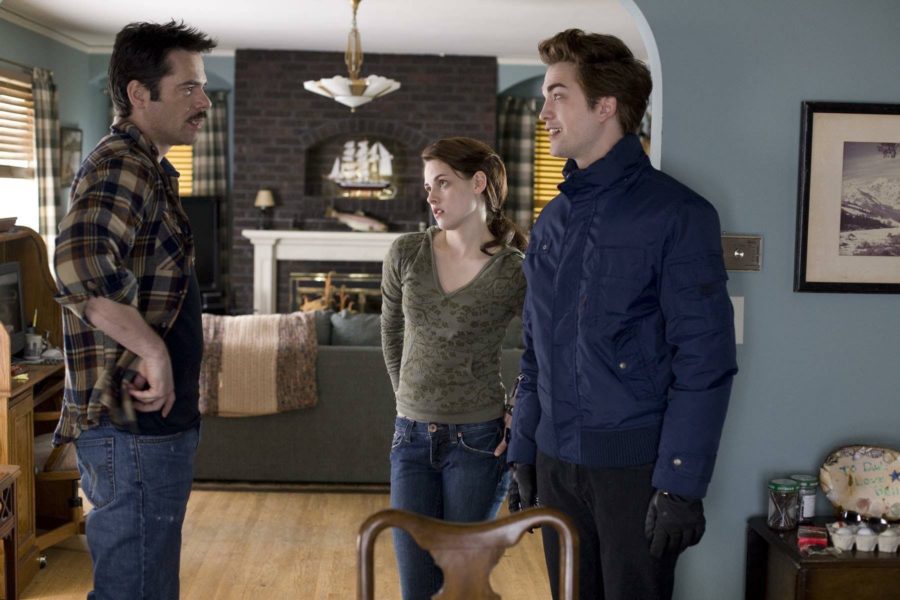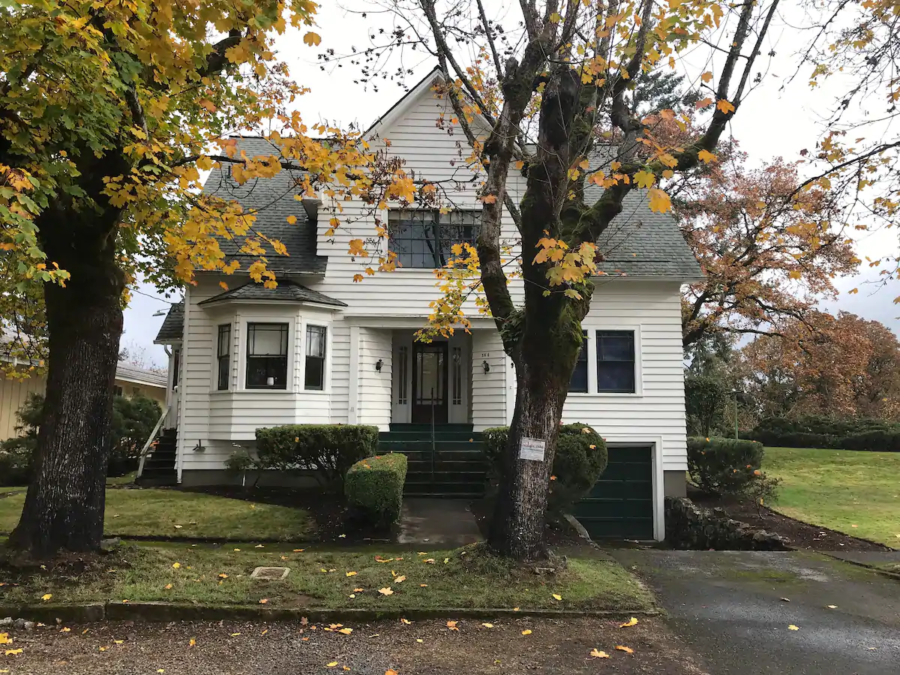 The charming 1930s home used in the Twilight films is actually right here in downtown St. Helens, Oregon, just a bit north of Portland. The AirBnB home has been so popular that hosts Amber and Dean are booked a full year out, and reservations for the following calendar year are opened on the corresponding 1st of the month at 9am PST sharp. If you are fortunate enough to grab up a rental slot, you'll have access to the entire three-bedroom house and yard. The owners have carefully chosen all the decor to be as true to the movie aesthetic as possible and the home is filled with Twilight keepsakes and details at every turn.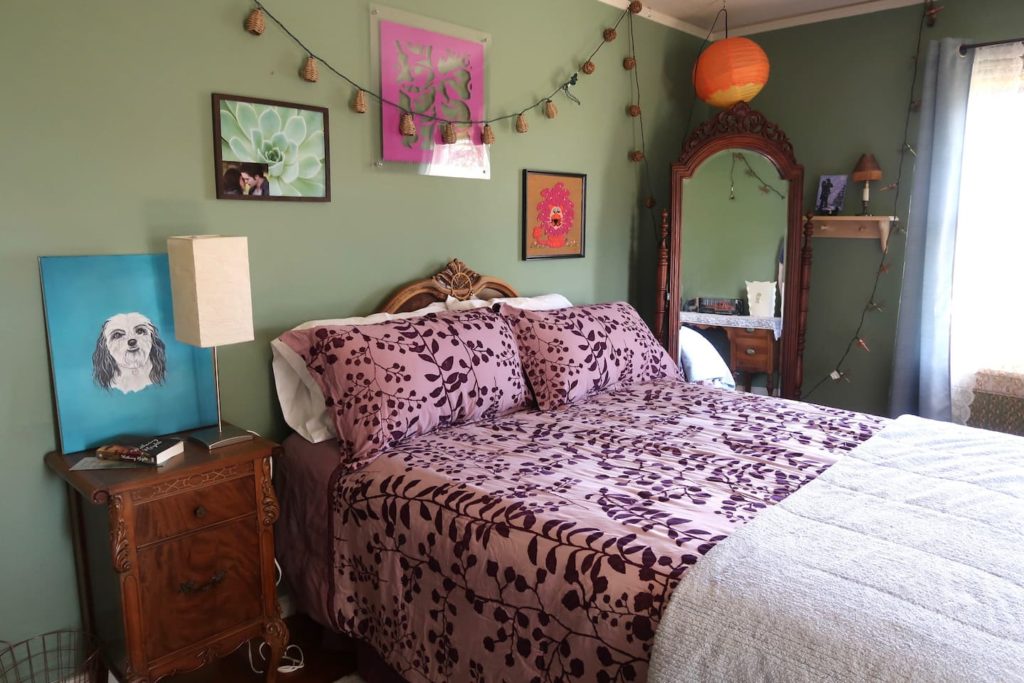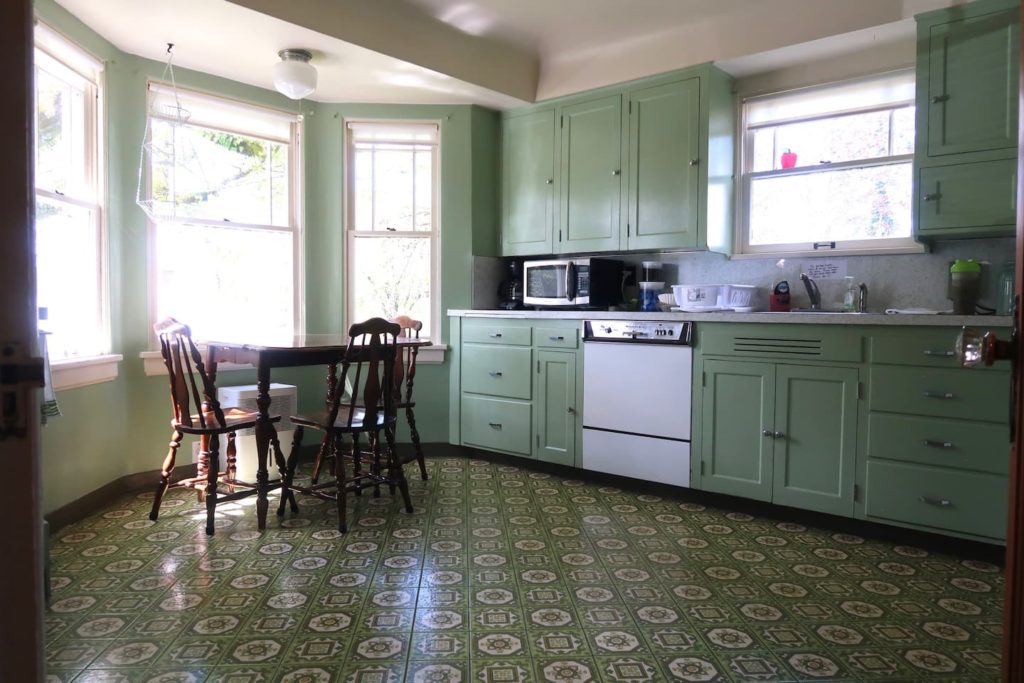 Book for Team Edward or Team Jacob HERE.
3. Itty Bitty Inn
It may be little, but it fiercely goes where no one has gone before and it's a vintage geek's DREAM, although you may want to avoid wearing a red shirt.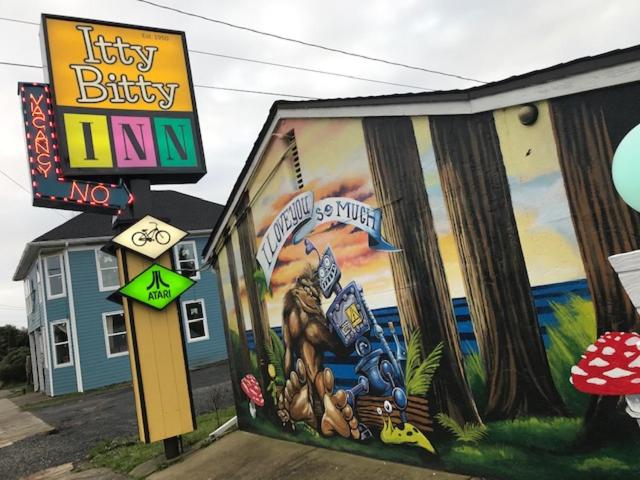 Located in North Bend on the Oregon Coast, the Itty Bitty Inn has charm in spades even though it only has five rentable rooms. Choose from That 70's Room, The Tiki Cha Cha, or my personal favorite, The Star Trek Enterprise Room. Itty Bitty has been providing a friendly stay for road-weary Hwy. 101 travelers since 1950. House policies include "no smoking - no pets - no smoking pets" and the possibility of doing The Robot upon check-in. Need a charging station for your Tesla? They have that. How about a vintage Atari console for your room? They have that too.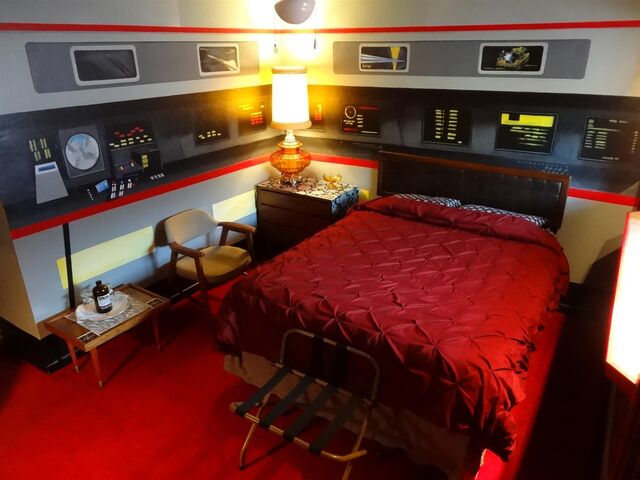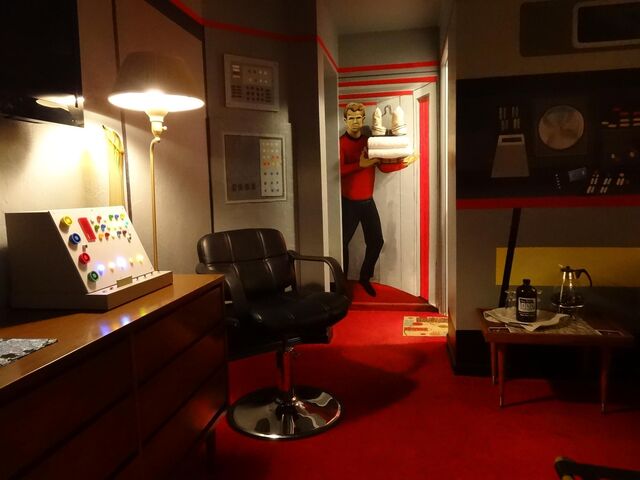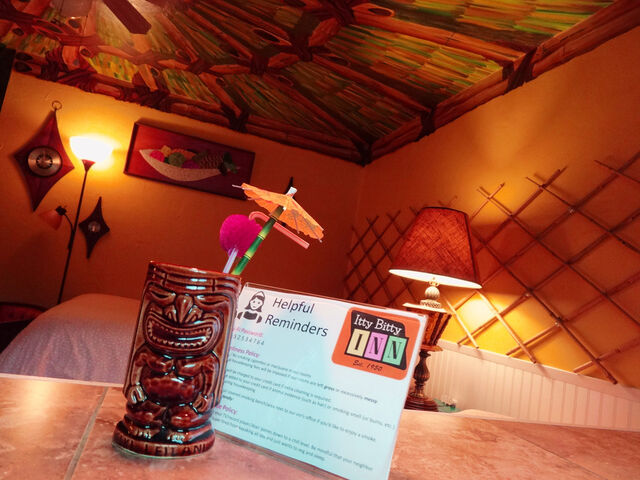 Did I mention the parking lot Digeridoo and drum jam sessions? Freshly prepared Tiki drinks? How about that the Itty Bitty Inn has won Trip Advisor's "Best Of" Oregon Lodging awards for three years in a row? Yeah, I'm definitely parking my starship here on our next trip south.
Follow Itty Bitty Inn on Facebook.
4. The Vintages Trailer Resort
Driving west on Oregon Highway 18 at night, a glow becomes visible on the horizon. As you draw closer, a multitude of tiny white lights become visible, adorning the trees in their glimmer. Eventually, a cluster of vintage Airstreams appears beneath the branches and you feel as if your car has just entered a time-warp of a wormhole into the near distant past.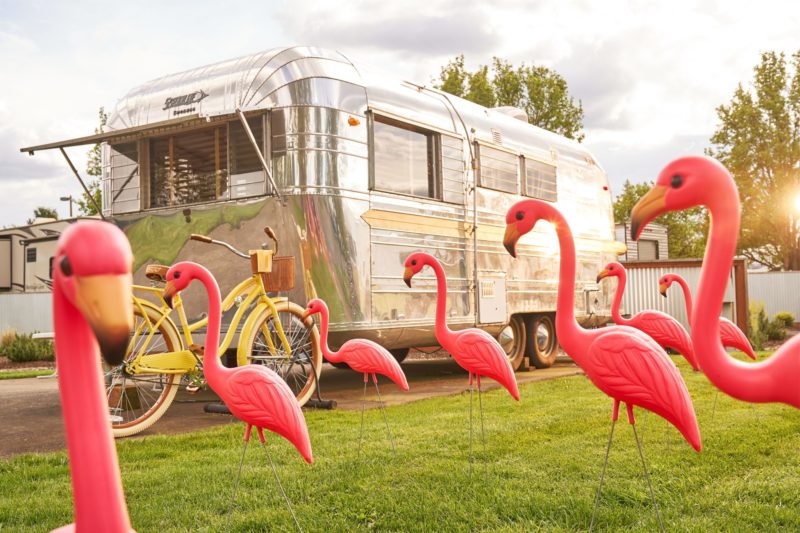 The Vintages is adorable.
They specialize in the quintessential glamping experience. Featuring 35 fully restored trailers, each with their own grill and set of cruiser bikes, some even have large soaking tubs (howdy bubble bath!). Plus, wide-open spaces and a minimum of 18 feet between each accommodation make the resort the ideal getaway in the Willamette Wine Country (the resort is located near Dayton and the Yamhill River).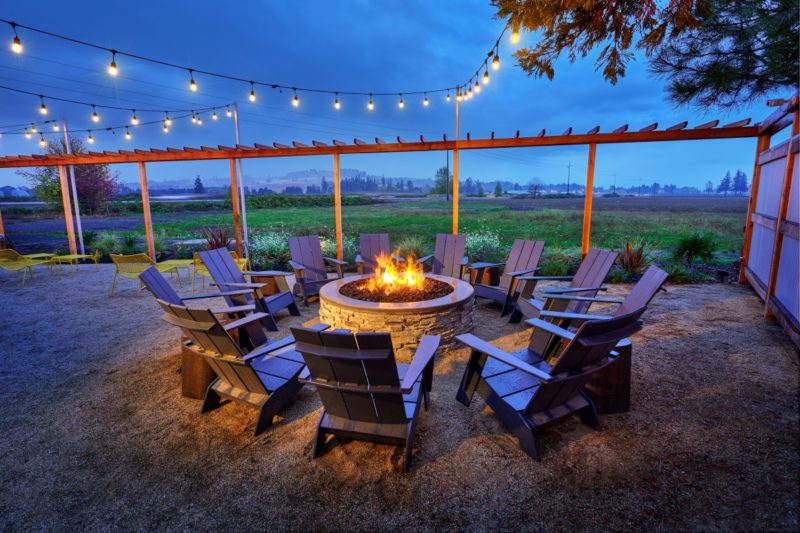 So many amenities are included onsite like a general store, communal firepit area, private baths and showers, and a seasonal pool. Rentable trailers range from a 1948 Westwood to a 1977 Airstream Sovereign, and each is decked out to the nines.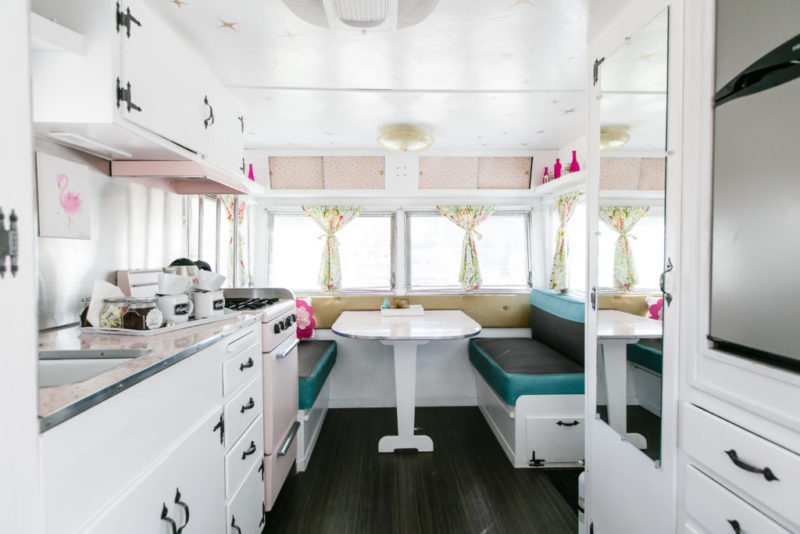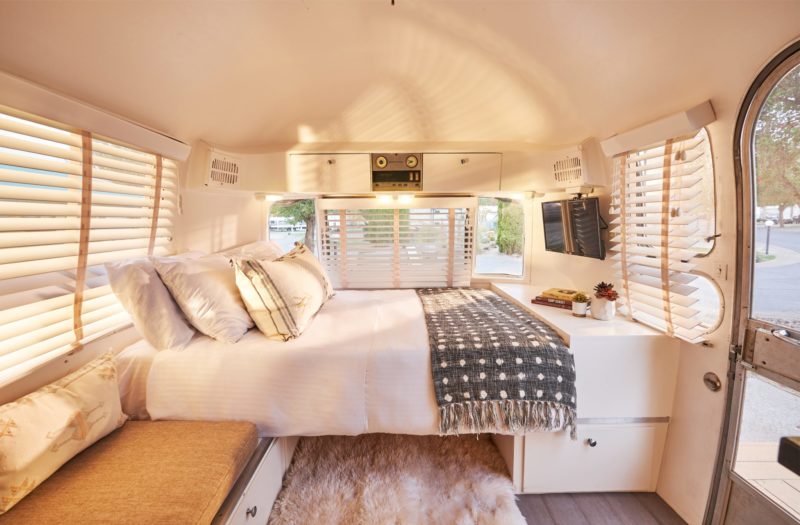 Space reservations can be made HERE.
5. Sylvia Beach Hotel
This classic inn makes all the best-seller lists in more ways than one.
The Sylvia Beach Hotel overlooks the waves of the Pacific and historic Nye Beach in Newport, Oregon. Each of the 21 rooms in the National Register designated building has a literary theme, from classic authors to contemporary novels, and love-it-or-leave-it: no phones, televisions, or wifi are included. This is truly a place to curl up with a good book and unplug.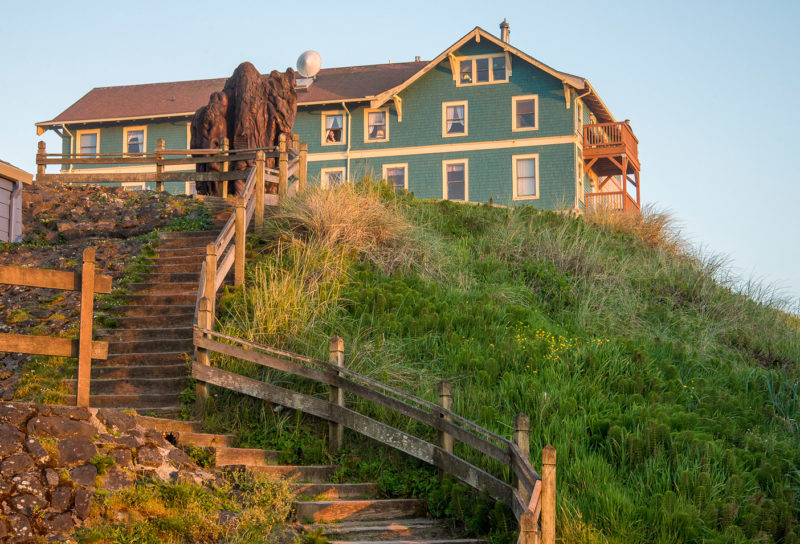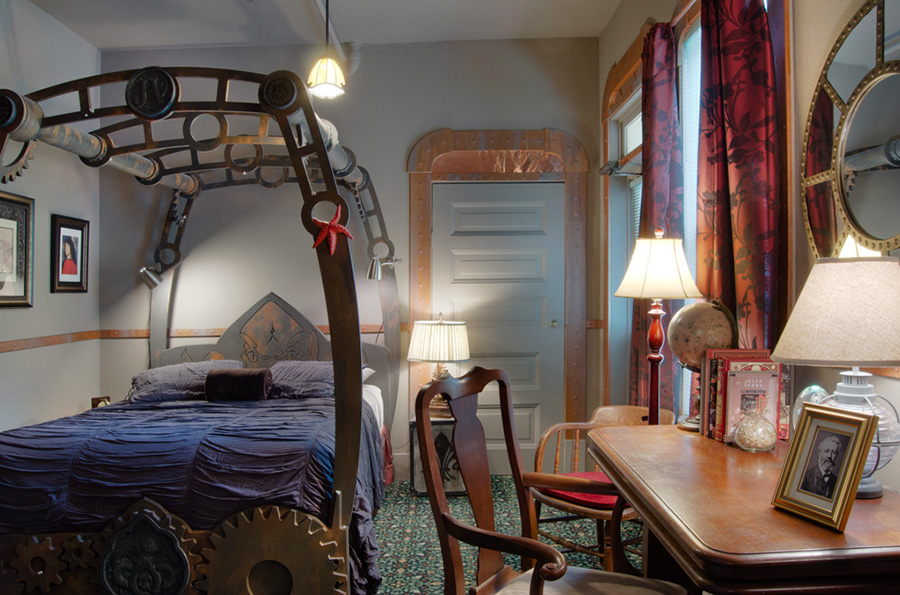 This Oregon lodging features a vintage 3rd-floor library complete with cozy couches, reading nooks, and tables full of cards and board games. A scrumptious breakfast is included with your stay before you head out to explore Nye Beach and run down to the ocean. Dinner is served nightly in the vintage-inspired dining room and offered with wine-pairings. Sylvia Beach is the perfect location to read, get lost in thought, fall in love, and just simply BE.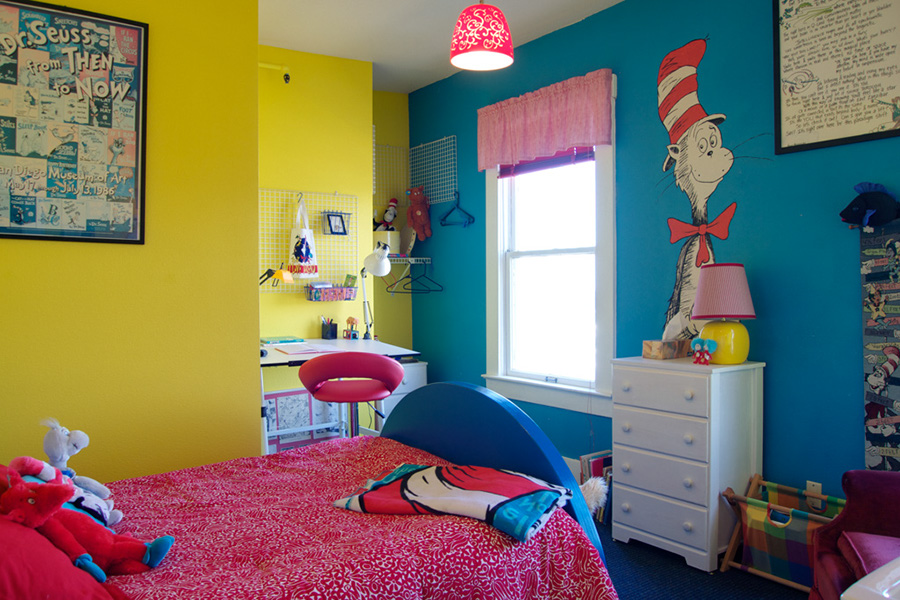 In true unplugged fashion, the Sylvia Beach Hotel does not take online reservations. For booking and inquiries please call 541-265-5428.
Visit their website HERE.
Follow Sylvia Beach Hotel on Facebook.
6. Lion and the Rose Victorian Guest House
Do you desire the life of a bygone era? Perhaps you fancy lacey ruffled sheets and rose-embellished bathrooms. Looking for a place to sport your spats and corsets? This historic  Portland mansion is for you.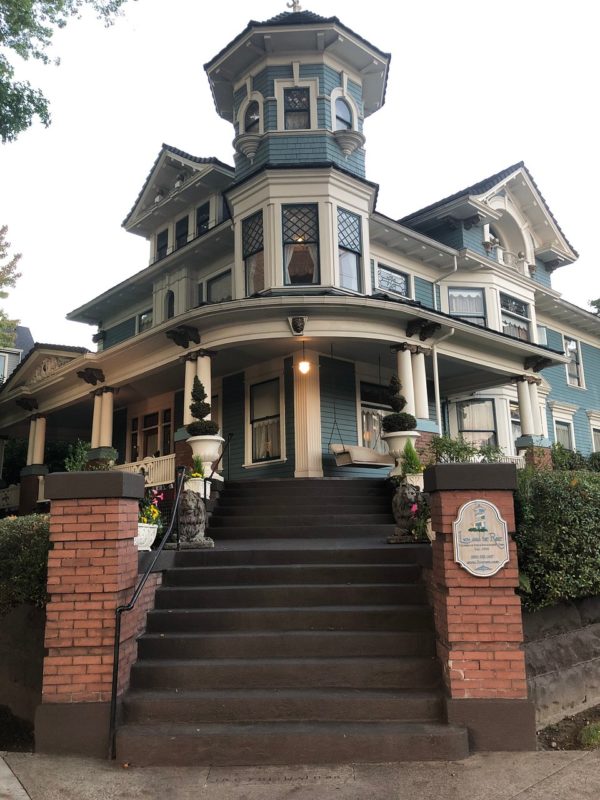 This majestic Queen Anne home was built in 1906 for Gustav E. Freiwald, a prosperous German immigrant, owner of the Star Brewery, and real estate speculator. The Freiwald House is a unique blend of Craftsman form and Victorian detail and is listed on the National Register of Historic Places.
Owners Dusty and Steve are self-proclaimed "high-tech refugees" who moved to Portland in 2002 after living in San Francisco for 25 years. "We felt 'called' because we knew the house was meant to be shared," says Steve. "It is a lot of work, but as innkeepers, we meet new people every day who we would otherwise never encounter," added Dusty.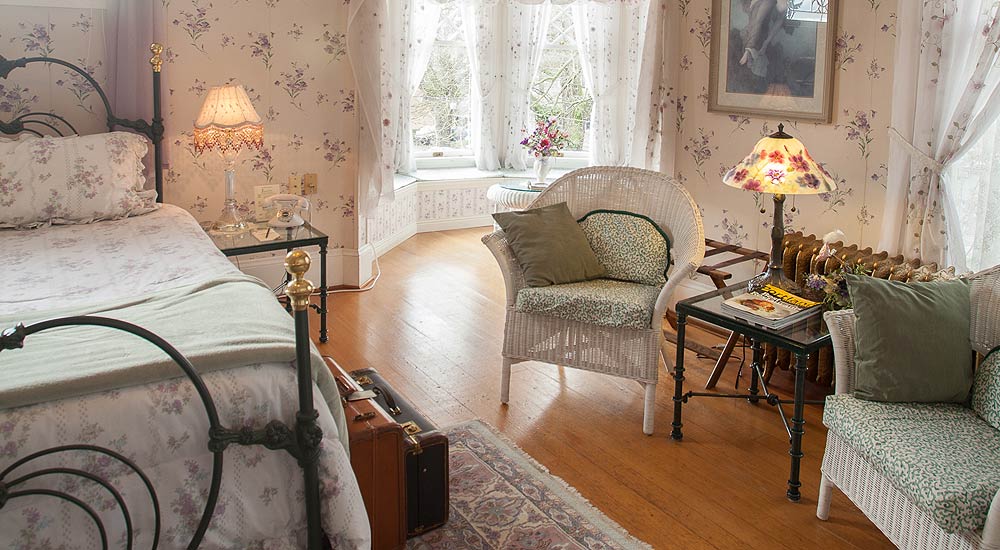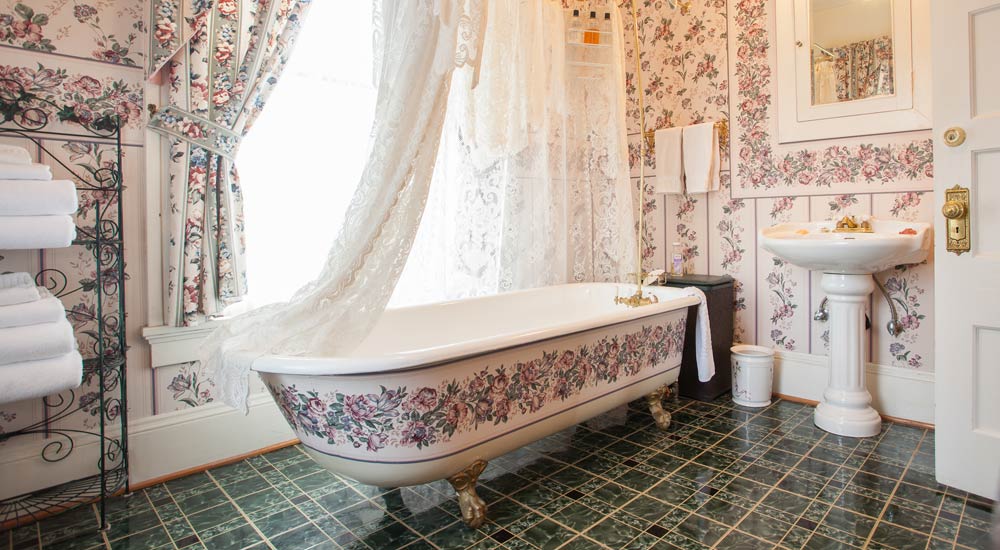 The inn features eight beautifully decorated rooms, varying options for customizing your stay, high-speed internet, and a short walk to some of the Irvington District's best restaurants.
The Queen approves the reservation of your stay HERE.
Follow Lion and the Rose on Facebook.
7. McMenamins Grand Lodge
I grew up in Forest Grove, Oregon, so I remember the Grand Lodge when it was still the stately Masonic Retirement Home. Not that it isn't stately still. And grand, with all the McMenamins flair Oregonians have come to know and love.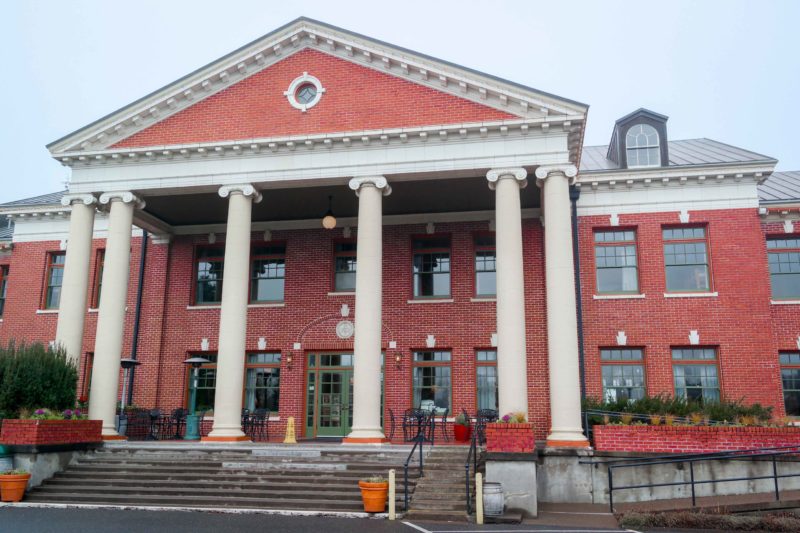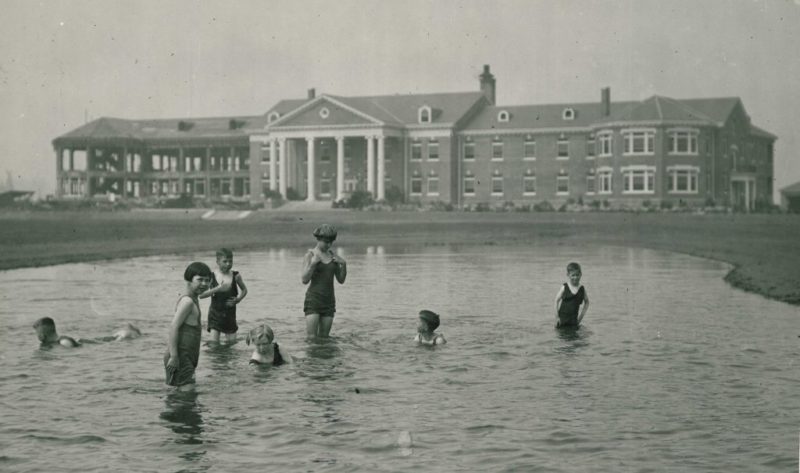 Rooms in this historic 1922 building are themed with love, from musicians to authors. In fact, the Bob Marley and Jerry Garcia rooms are two of my faves. Staying here is replete with things to do. Nosh on well-known McMenamins fare (I've always gone for the Captain Neon Burger washed down with a Ruby Ale) in one of five restaurants and bars on the property. Take in a show at the Grand Lodge Theater, get beautified in Ruby's Spa, or take a night-soak in the outdoor heated pool oasis surrounded by natural rock formations and lush green flora.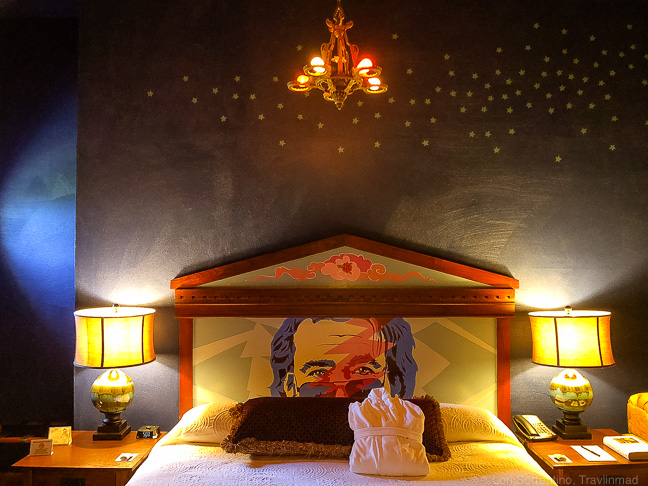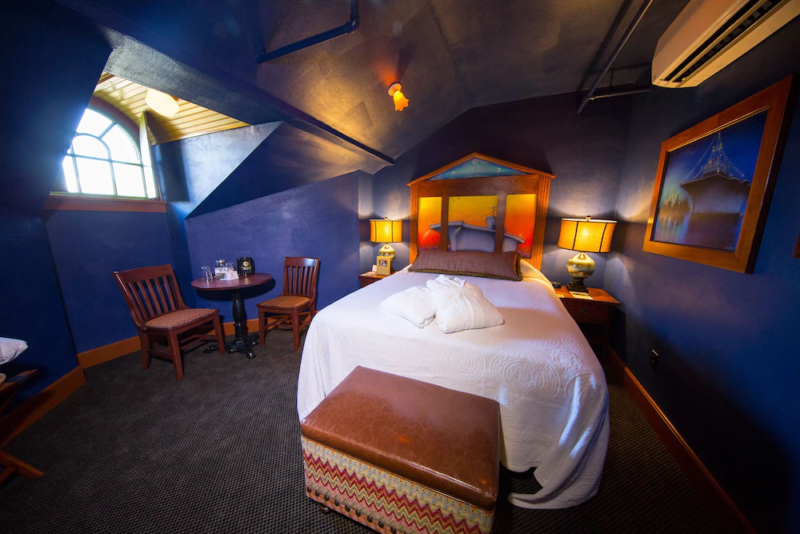 Soak your cares away with a room reservation HERE.
Follow the Grand Lodge on Facebook.
8. Compass Hotel Medford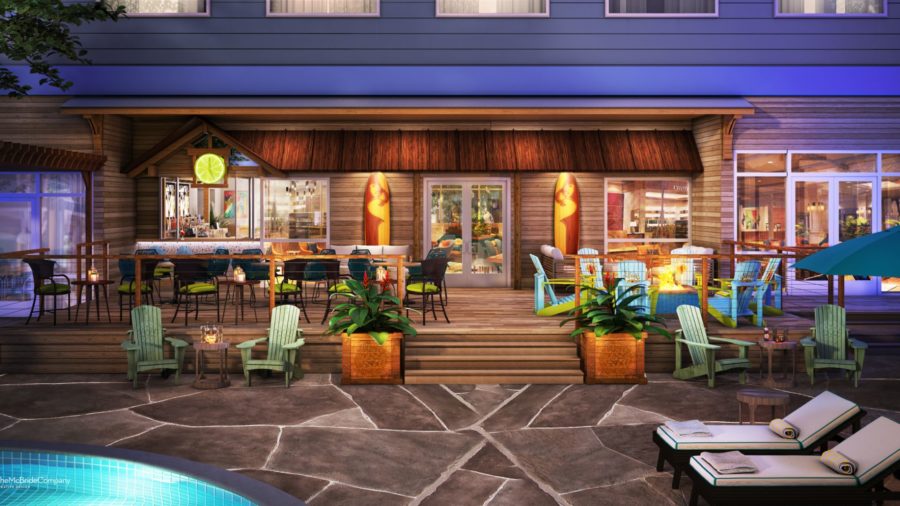 Set to open in early 2022, this one has us very excited. Compass by Margaritaville promises on its website that "the Compass Hotel Medford will provide an island-inspired paradise for travelers searching for the Margaritaville state of mind". I mean, I'm no Jimmy Buffett, but this sounds pretty okay to me.
The 111-room complex is being constructed on land owned by the Coquille Tribe under their guidance. "This hotel represents a very important step for the Coquille Tribe's economic development vision for its Medford properties and for the economic recovery of the South Medford and Phoenix area," said Coquille Tribal Chair Brenda Meade. "We are fortunate to have a partner like Margaritaville join us in this exciting endeavor." Tropical Oregon lodging without the flight. We love it.
Keep your shaker of salt handy for new developments and booking information HERE.
9. Wolf Creek Inn and Tavern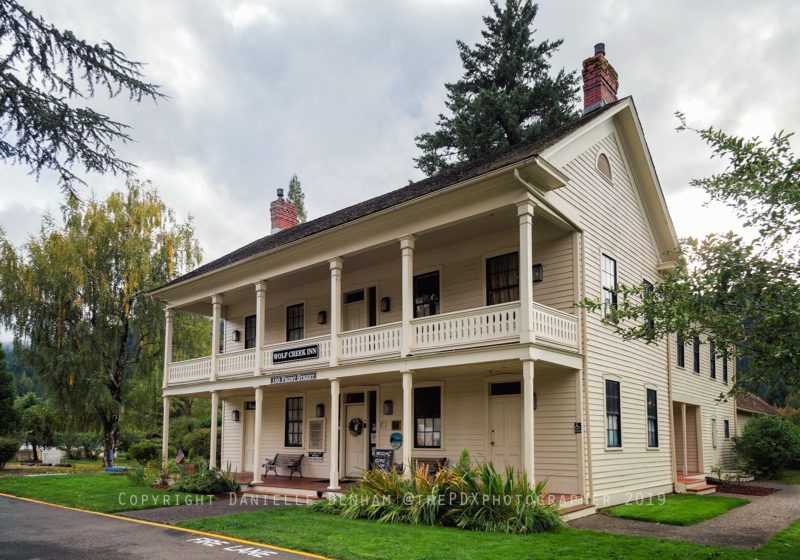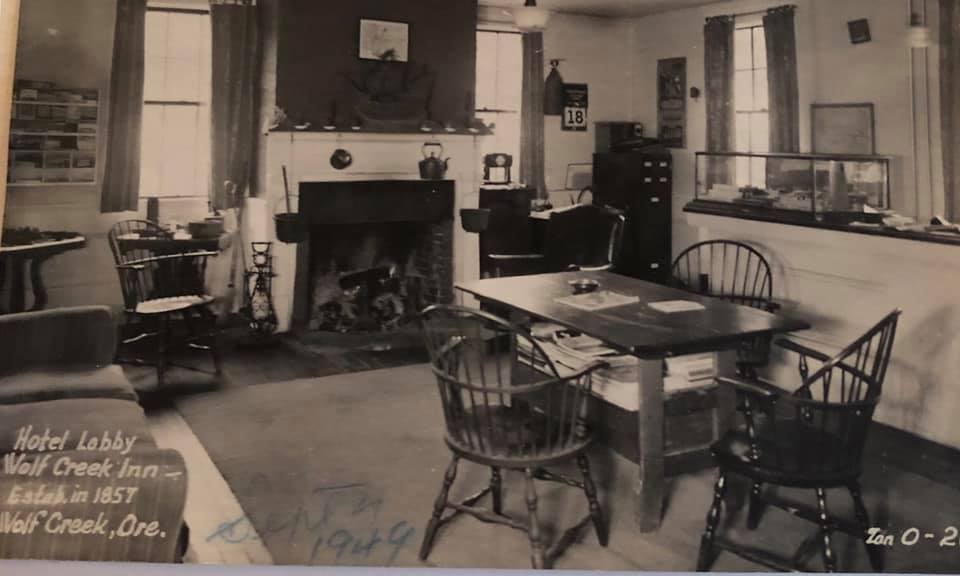 The 136-year-old Wolf Creek Inn is the oldest continually operating hotel in the Pacific Northwest. Charming as all-get-out and purportedly haunted, Jack London and Clark Gable loved staying here back in the day. You can even stay in Gable's favorite room (while London's is only on display currently).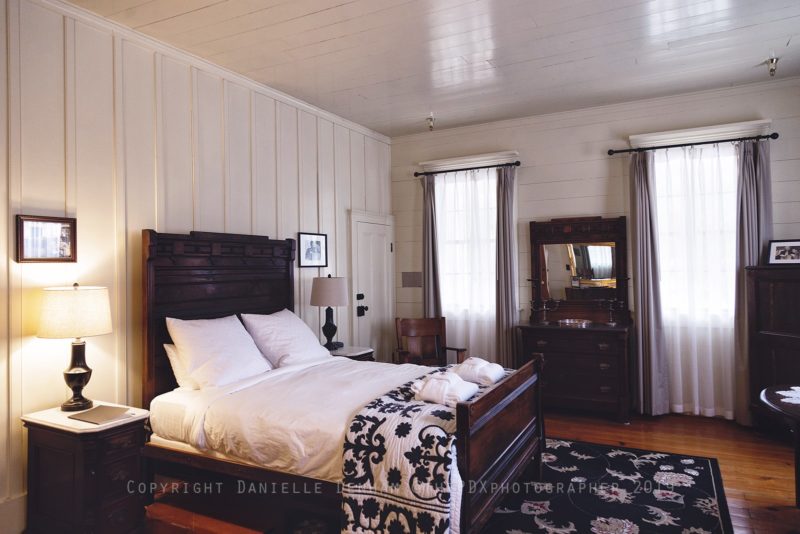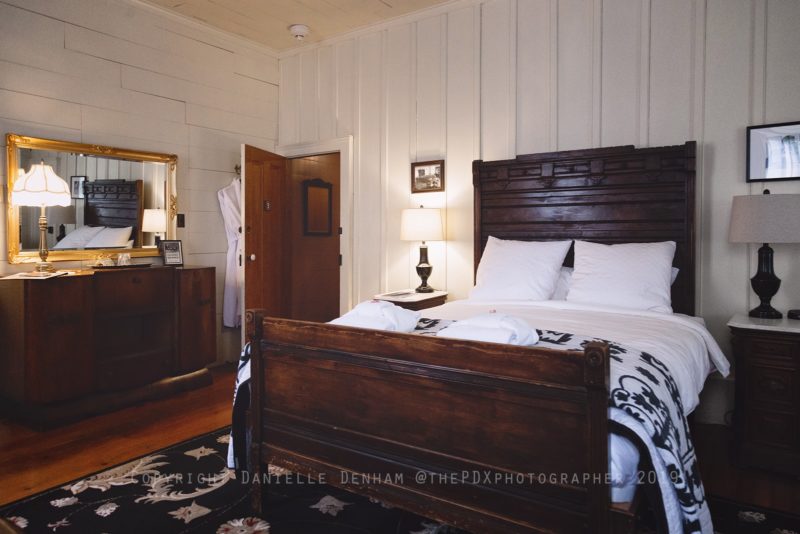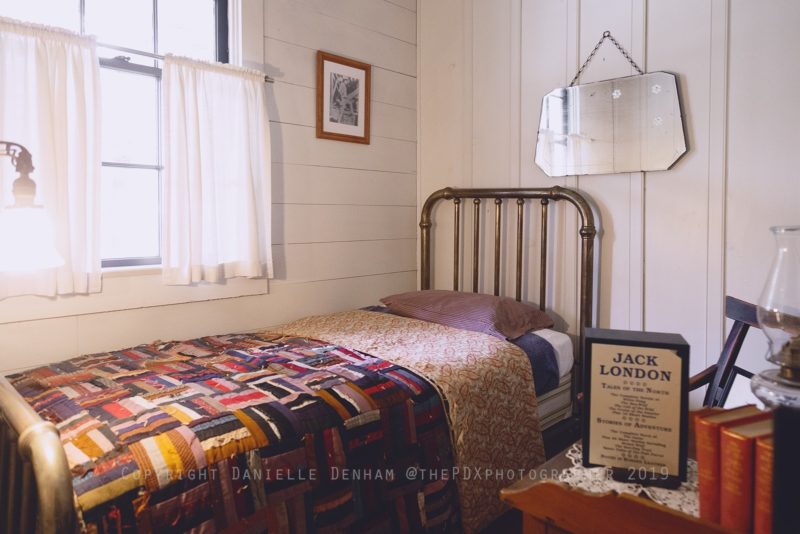 At one time, the inn operated as a working stage stop on the Applegate Trail (with rooms renting for $.75 a night), so if you love history this is definitely a must-stay location. Southern Oregon adventure opens up from here with hiking, wineries, and activities on the nearby Rogue River.
"Frankly my dear, I don't give a booking" HERE.
Follow the Wolf Creek Inn and Tavern on Facebook.
10. My Tiny Wine Wagon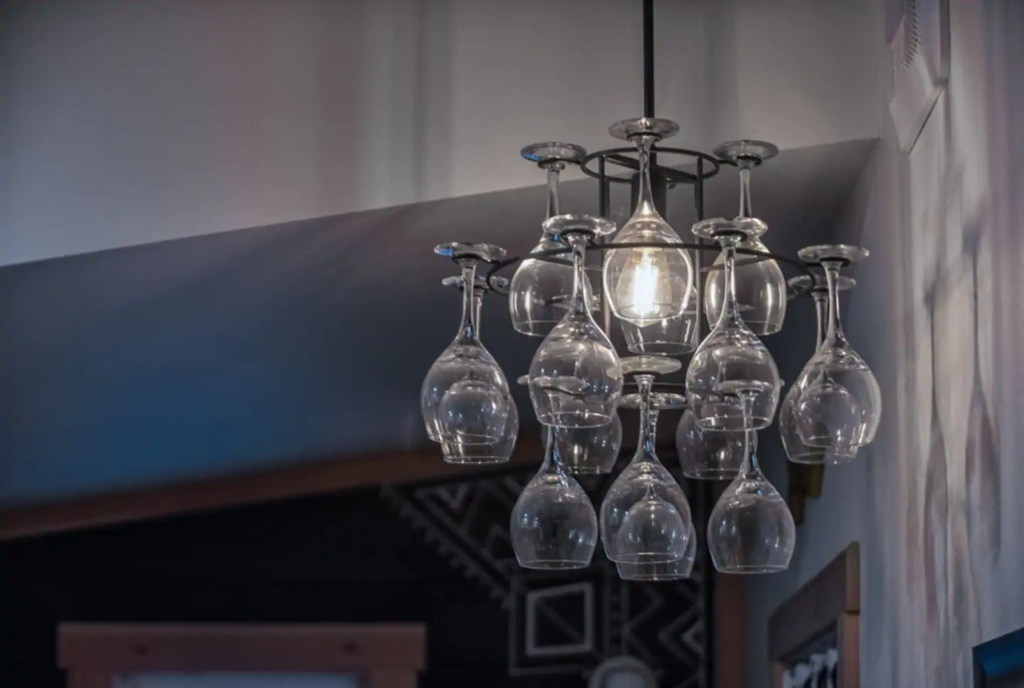 I cannot overstate how much I love wine.
This stylish tiny home is one of four that are rentable at the aptly named Tiny House Village AirBnB complex in Sherwood, Oregon, but the Wine Wagon is definitely our favorite. Perfectly decorated inside (the chandelier contains functional wine glasses!) and out, this cozy trailer is pet-friendly and is actually roomy enough to accommodate three guests. What this tiny house may lack in space, it more than makes up for with amenities like a fresh air shower, BBQ with burner, and plenty of counter space for working or dining.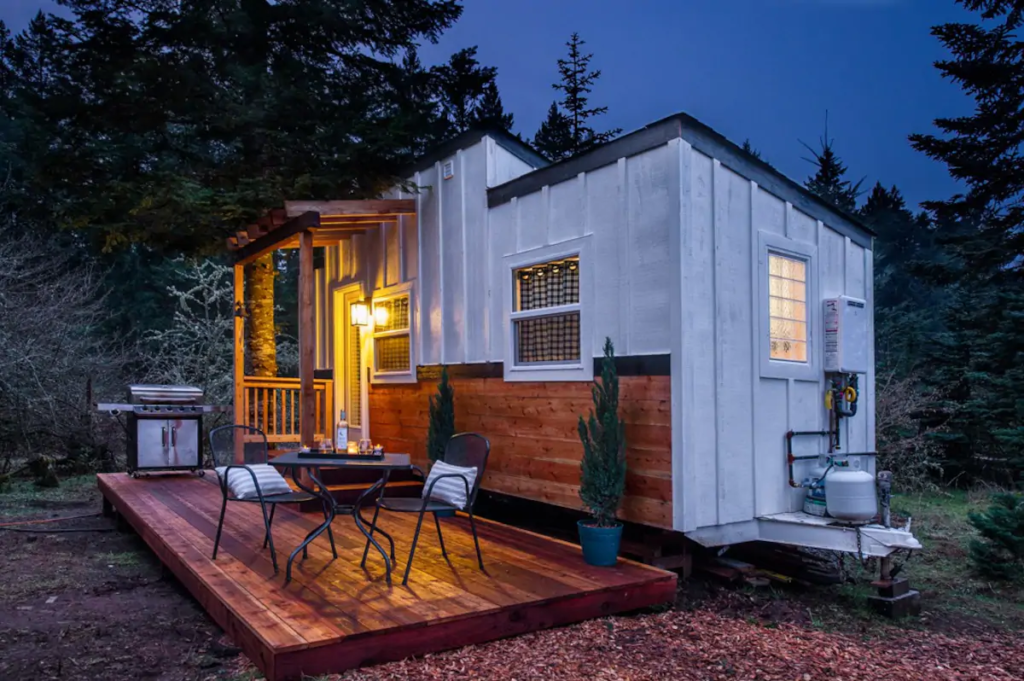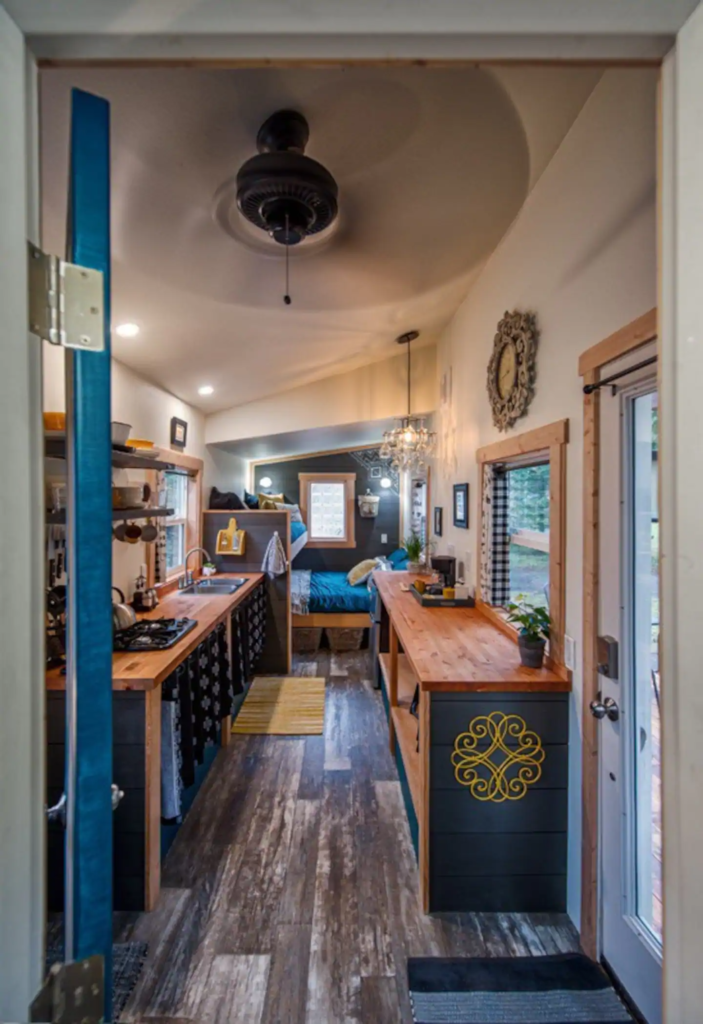 Reserve your space in the Wine Wagon here: airbnb.com
Check out the entire My Tiny House Village complex HERE
Follow My Tiny House Village on Instagram and Facebook.
11. The Hobbit House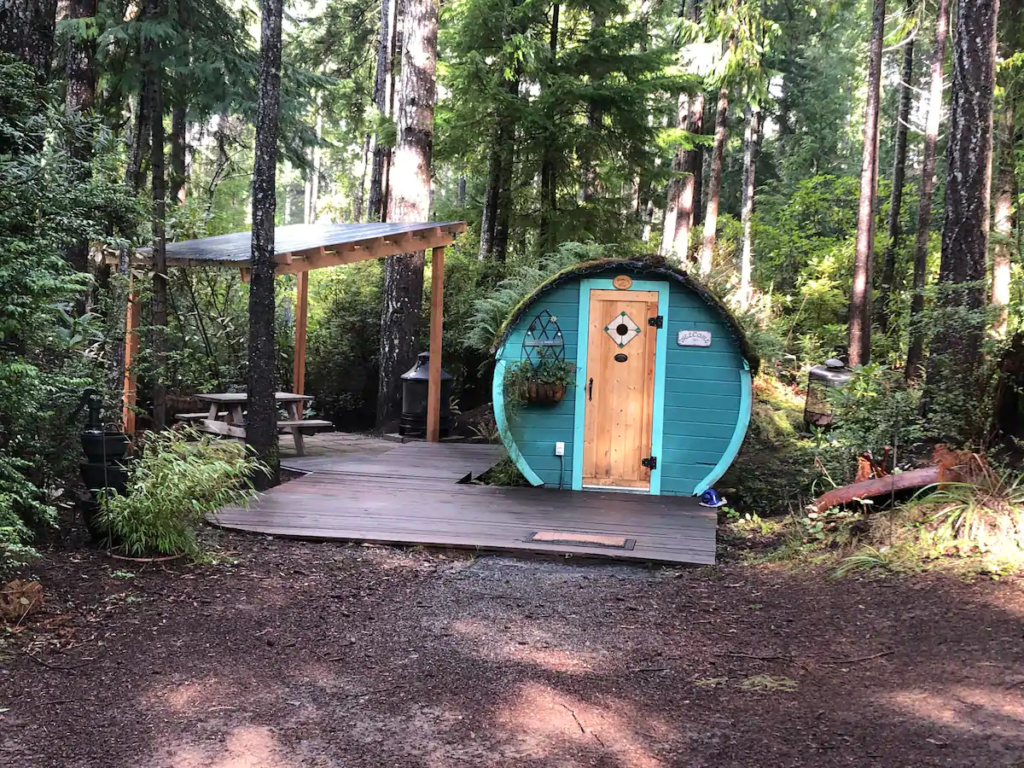 A 40-acre working ranch surrounds this sweet tiny-home near Bandon, Oregon. Glamp your heart out here in secluded woods with your own private bath a short walk away, outdoor fireplace, and cooking-area. Just don't forget to bring your own supplies and utensils; this is private camping without the tent. Accommodations include one queen bed, but no pets are allowed. "Not all who wander are lost".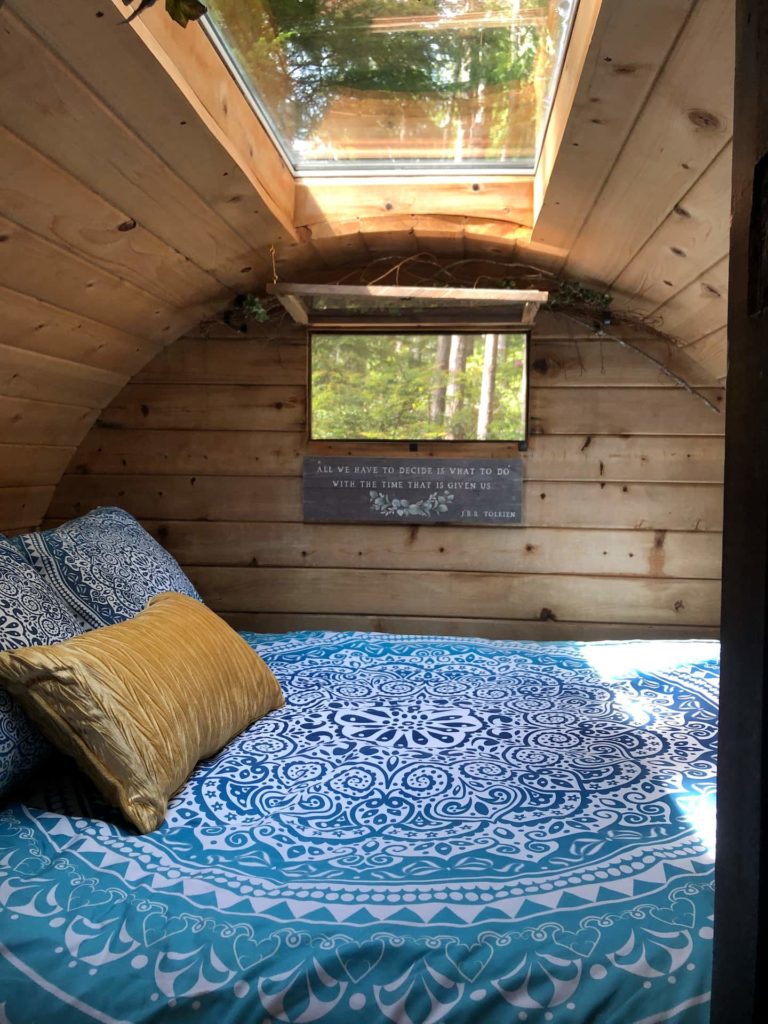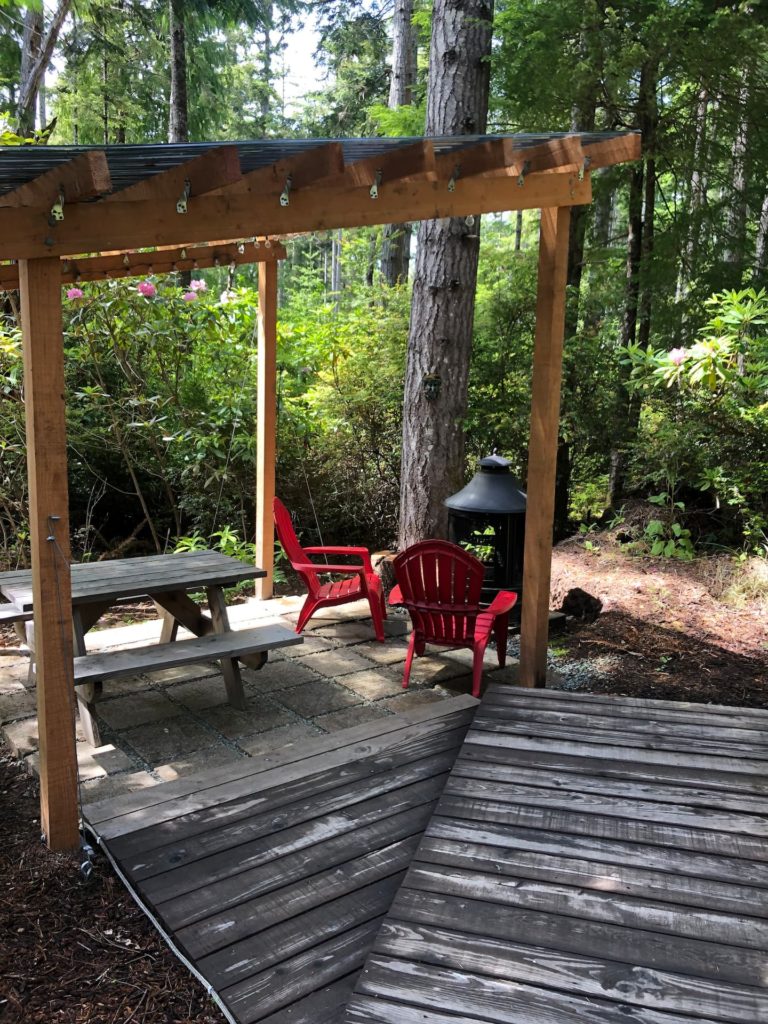 Book the Hobbit House here: airbnb.com
12. Heartland Treehouse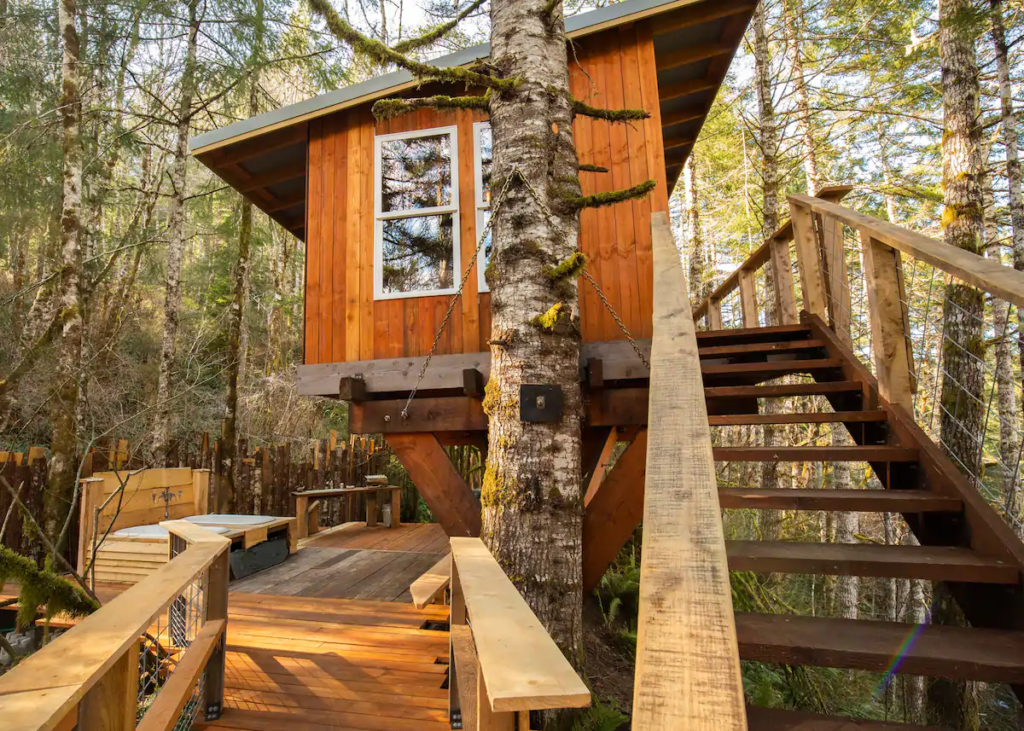 Have an entire treehouse to yourself in Langlois near the Southern Oregon Coast. This AirBnB may just be the perfect getaway, perched between two massive fir trees overlooking a steep river canyon. It features twin outdoor tubs, a single king bed, kitchen, and firepit. The sounds of a nearby waterfall will soothe you to bed at night and gently wake you in the morning. Owner Kean says, "my home is a short walk or drive away and I will be happy to help guide your adventure on Oregon's South Coast. Your treehouse home is secluded, comfortable, and perfect for getting blissed out and recharged." We say "YES PLEASE".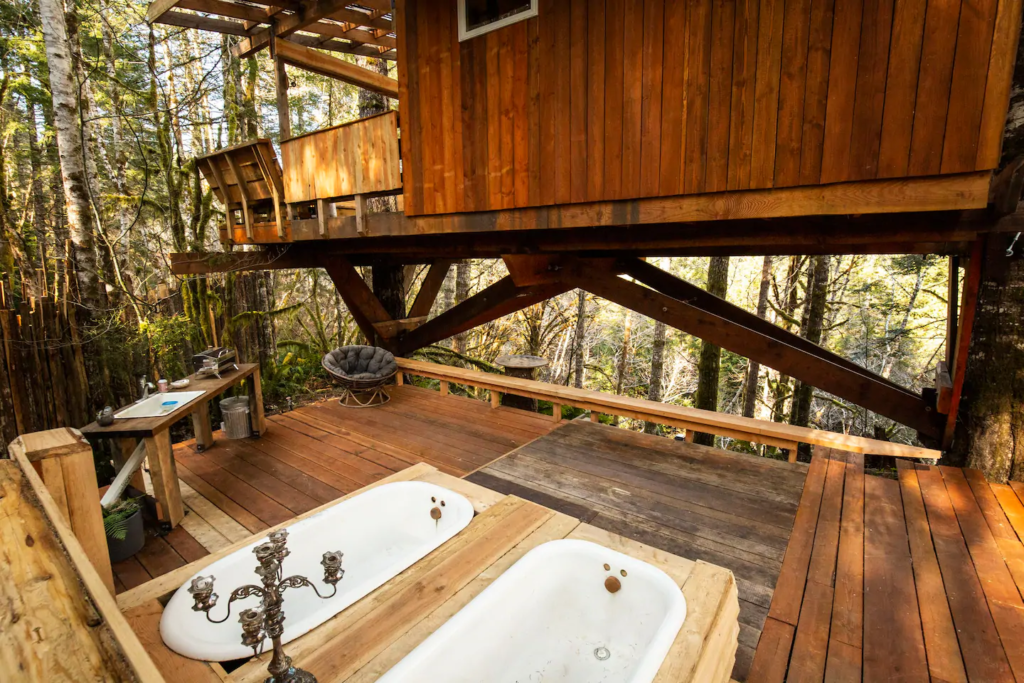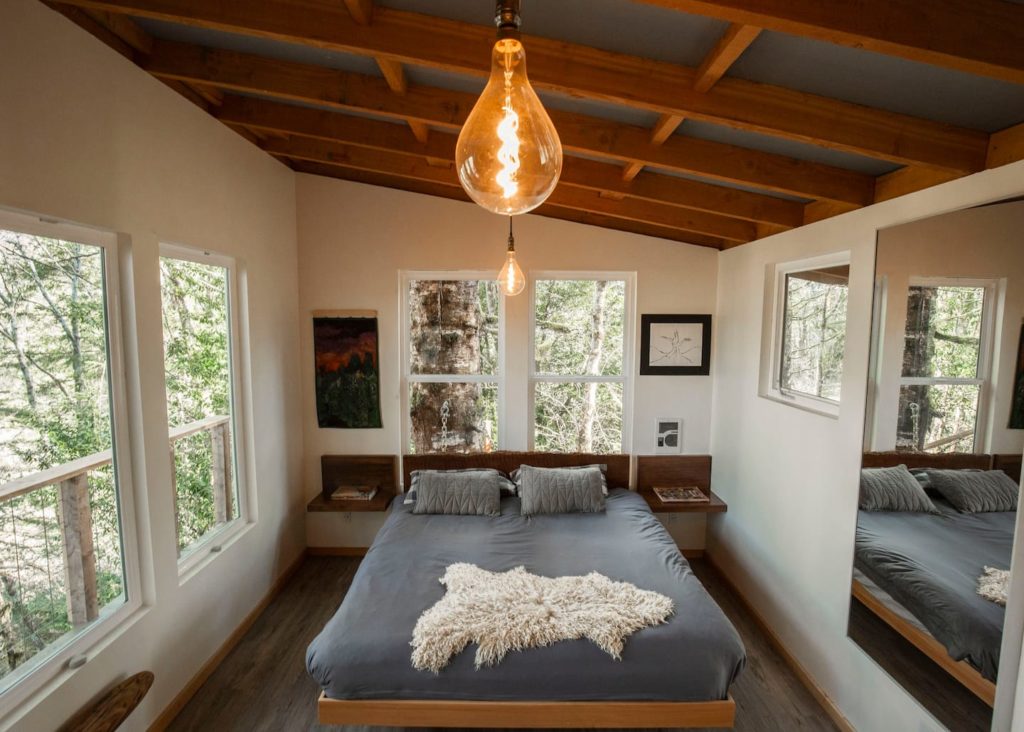 Book your stay at Heartland Treehouse here: airbnb.com
Follow Heartland Treehouse on Instagram.
Have any favorite themed spots we missed? Let us know in the comments.